These Ninja Foodi Brussel Sprouts are made in the air fryer till perfectly crispy on the outside and tender on the inside. This brussels sprouts recipe will seriously convert anyone who doesn't normally care for them. I am living proof of this, trust me. You're going to love this easy side dish.
Air fryer brussel sprouts flavored with bacon and maple syrup are totally different from your typical steamed-on-the-stovetop, cabbage-flavored sprouts. These are SO DARN DELICIOUS! Who knew brussel sprouts could be so exciting?
Brussels used to have a bad reputation. These days they appear on the menus of the finest restaurants as both a side dish and appetizer.
This post may contain affiliate links. If you make a purchase after clicking a link, I may earn a small commission AT NO COST TO YOU. As an Amazon Affiliate, I earn from qualifying purchases.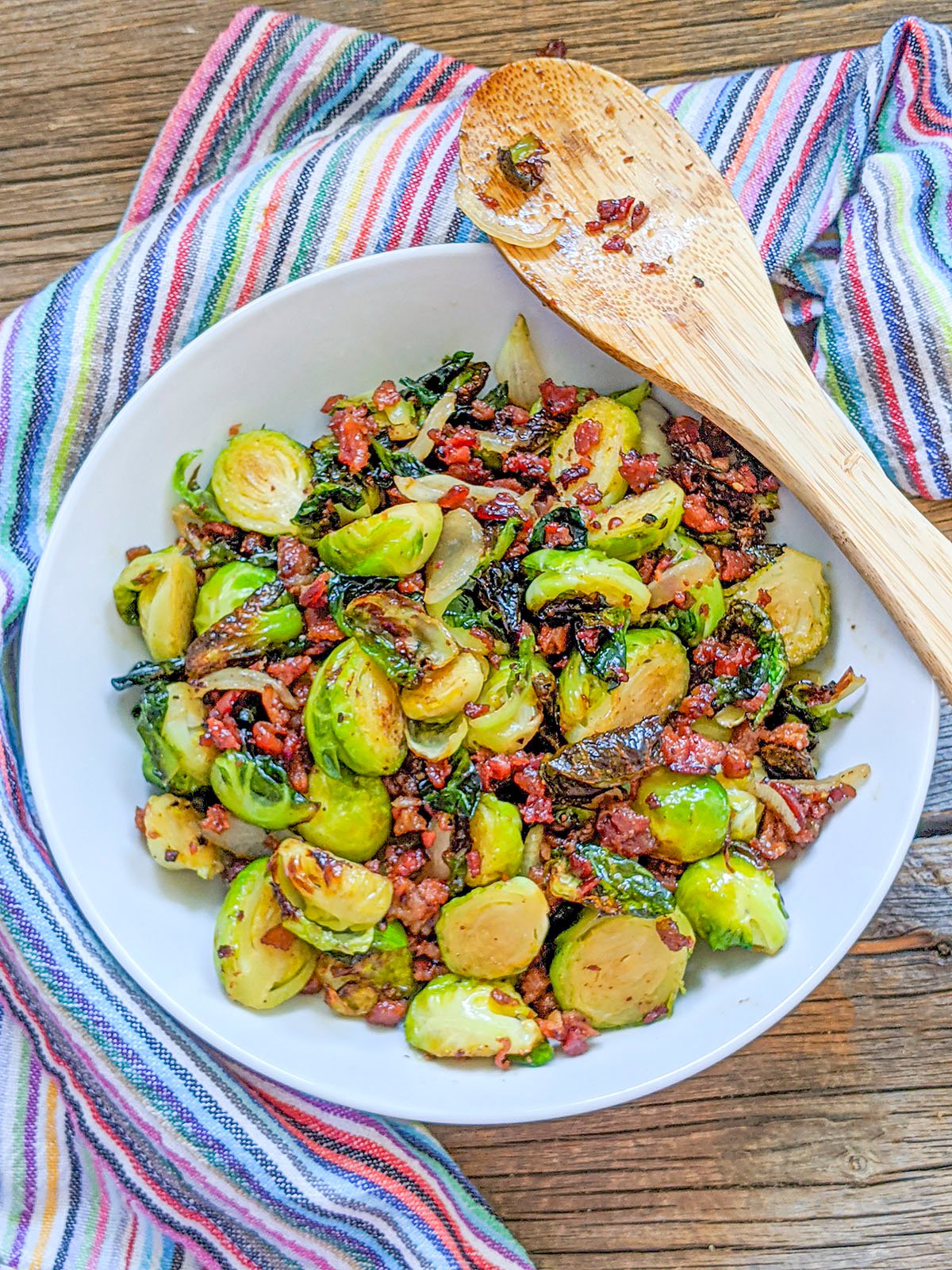 Ninja Foodi Brussel Sprouts
To say I didn't like brussel (or, brussels) sprouts is an understatement. My mom didn't cook them very often, and when I had them at other people's houses, I NOW know they were overcooked.
Brussels of days past were green, mushy, and had a strong odor reminiscent of mini cabbages. No amount of melted butter or cheese sauce could mask their unpleasantness for me. Fast forward another, ohhh.. (a lot of) years… I had them as a side at a new restaurant in my city.
When I say this side dish knocked my socks off, metaphorically, my socks blew to the moon. These sprouts were crispy, and crunchy, with a very mild and nutty flavor.
I was in love.
Crispy Brussel Sprouts in the Air Fryer
If you've followed me for a while, you'll know I love my Ninja Foodi. It's a pressure cooker, slow cooker, steamer, and dehydrator all in one. And, of course, an air fryer too. The latter of which gets a lot of use in my kitchen. Roasted brussels sprouts prepared on a sheet pan used to be my go-to method for preparing brussel sprouts, but this air fryer method is much simpler and yields better results.
If you are new to the Ninja Foodi, take a peek at my guide to using the Foodi for the first few times. It gives tips and tricks and interesting info to make your pressure cooking journey a seamless one.
You can cook full, flavorful stews, most perfect rice, chicken wings, Holiday hams, short ribs, and even dessert!
So, after a few trial and error efforts using my Foodi, I feel I finally achieved the perfect level of crispiness on the outside, and tenderness on the inside for these little gems. While I do sometimes use a rimmed baking sheet for roasting, air frying is definitely one of the best ways to prepare brussel sprouts, and is also my favorite way to enjoy them.
Then I embellished and added some other amazing ingredients, and I hasten to say that I think this recipe for Ninja Foodi Air Fryer Brussel Sprouts will convert any brussels sprouts hater into a lover.
Why You'll Love Ninja Foodi Brussel Sprouts Recipe
Like other cruciferous vegetables, brussels sprouts are a top source of nutrients, including Vitamin K which plays a key role in helping the blood clot, and preventing excessive bleeding.
The crisp outside contrasts nicely with the tender inside.
Ease of preparation
BACON
Good source of dietary fiber
Faster than roasting in the oven
Ingredients:
Brussel Sprouts – Fresh is best.
Butter – If you only have margarine, that will do, but butter is best!
Bacon – I used Costco's brand of bacon crumbles because that's what I had on hand when making these for photos. I've used regular and thick-cut bacon and fried them in bits as well. Use your favorite bacon for the best flavor.
Onions – Sweet onions work fantastic here, but if you have regular yellow onions, that's fine.
Maple Syrup – Please use high-quality maple syrup. Maple-flavored pancake syrup is not the same thing.
Kosher Salt
Pepper
Oil
Equipment Needed
Ninja Foodi (Air Fryer)
Large Bowl
How to Make Ninja Foodi Brussel Sprouts
For more detailed instructions for these sprouts, look at the printable recipe card below.
Step One: Prep the brussel sprouts. It's important to wash and trim up the ends of the sprouts. They tend to be woody and a bit dried out so we want to remove those parts, along with any loose or funny-looking leaves.
Step Two: Cook the bacon and the onion slices in the Foodi on the saute function until the bacon is crispy and the onions are tender. Remove them and set them aside.
Step Three: In a bowl, toss the sprouts in a little olive oil, salt, and ground pepper. Add the seasoned brussel sprouts, and add the chicken stock.
Step Four: Continue to saute the sprouts until they're slightly tender and bright in color.
Step Five: Begin to air crisp the sprouts after most of the liquid has been absorbed. Air fry the sprouts until golden brown, crispy on the outside, and tender inside. Then add the bacon and onions back. Air fry for another minute to incorporate the flavors.
Step Six: Turn off the machine and drizzle in the maple syrup. Give it a good mix and it's ready to serve!
What to Serve with this Air Fryer Brussel Sprouts Recipe
Air-fried brussels sprouts pair well with just about any protein. Here are some popular recipes:
Brown Sugar Pecan Maple Glazed Ham
Variations and Substitutions
If you want to switch up the sweetness in this recipe, you could substitute Pomegranate Honey Sauce, or a balsamic glaze for the maple syrup. A little lemon juice or balsamic vinegar, instead of the maple syrup, would be nice too.
Substitute honey for the maple syrup.
Add red pepper flakes for a bit of heat.
Storage and Freezing
Leftover brussel sprouts will keep well in an airtight container or plastic bag in the fridge for up to four days. I wouldn't recommend freezing them if you want to retain the crispiness that you achieved through air frying.
To reheat them, add a bit of butter to the Foodi and saute them again quickly to reheat. Alternatively, you could also do this in a skillet on the stove. Lastly, you can microwave them, but they will not retain any of the crispiness with this method.
Recipe Tips and Tricks
How do you choose the best brussel sprouts?
Quality means everything. You want to look for fresh, unblemished little cabbage-looking globes, with tightly attached leaves. Look for bright green heads, They should be firm to the touch and not soft at all. Choose sprouts that feel tightly compacted and hard when squeezed.
Also, smaller brussels sprouts tend to be sweeter, while larger sprouts taste more cabbage-like.
Should you cut brussels sprouts in half before cooking?
Yes, I recommend cutting larger brussels sprouts in half before cooking, as it creates more surface area for them to caramelize and get crispy. It will keep them a similar size as the smaller sprouts for more even cooking. You may leave small sprouts intact but cut a cross symbol through the stem. The stem is the toughest part of the brussel sprout and the cross helps them cook at the same rate as the tender area.
Can I make this with other brand-name air fryers?
Certainly. The only difference to the method of cooking will be that you'll saute the sprouts in a skillet on the stovetop first to get them a bit tender, and then simply transfer them to your air fryer at the same temperature for the same amount of time.
Do you have to soak brussels sprouts before cooking?
It's not necessary and in fact, soaking them may make it difficult to get those outer leaves crispy if they've taken on too much water. All that's required is a good rinse, and to towel blot them dry before proceeding.
Why aren't my sprouts getting nice and crispy?
If they were still a bit wet when you started sauteing them, they may take a lot longer to get crispy. Also, be sure that you added the oil to the sprouts while they were in the bowl as the oil/fat is needed to make them crispier, and quicker.
Do I need to spray the basket before cooking the sprouts?
They are already coated with olive oil and don't stick to the basket at all.
Just wondering, but can I eat Brussel Sprouts raw?
Yes, you sure can. There's a great salad using shaved brussel sprouts from Love and Lemons that my friend tried and she said it was delicious.
Well, I hope I've convinced you to give these delicious air fryer brussel sprouts a try. I can tell you that I was converted when they're cooked this way! If you give this delicious side dish a try, please let me know.
~Joanne
Related Side Dishes To Try
3-Minute Maple Cinnamon Instant Pot Carrots
Mediterranean Roasted Vine Tomatoes
Ninja Foodi Brussel Sprouts
Deliciously crispy and mild in flavor, these air fryer Ninja Foodi brussel sprouts are crispy and yet tender, with a maple sweetness that everyone will love.
Ingredients
1 pound brussel sprouts, rinsed and patted dry.
1 cup bacon crumbles (about 10 pieces of bacon)
½ large onion, peeled and sliced
½ cup of chicken or vegetable broth.
¼ cup, maple syrup
2 tablespoon butter or margarine
1 tablespoon oil
as desired, salt and pepper
Instructions
Cut your rinsed and dried brussel sprouts in half, lengthwise. Trim the woody ends off of each side as well. Remove any loose leaves.
In a bowl, toss the sprouts in oil, salt, and pepper. Give them a good stir to cover all the sprouts. Set aside.
Add the butter, bacon, and onions to the inner cooking pot of the Foodi. Season with salt and pepper.
Press sear/saute and saute the bacon and onions together until the onion is tender and translucent. (3-4 minutes). Remove from the pot and set aside.
Transfer the sprouts into the cooking insert. Add the broth and saute the sprouts for about 8 minutes or until they are beginning to get a bit tender. Stir occasionally.
Once they are softening and most of the liquid has been absorbed, select "Air Crisp" on the Foodi panel. Choose 390 degrees for 10 minutes. * See notes.
Air fry the sprouts, checking on them every 2-3 minutes to ensure they aren't getting too dark in one spot. Stir them once or twice during the air frying time.
When they are almost finished and they've reached the crispiness that you prefer, open the lid and add the bacon mixture, and drizzle in the maple syrup.
Stir and Air crisp a final 1-2 minutes.
Enjoy!
Notes
If you don't have chicken or vegetable broth, water can be used as well.
I found that depending on the size of the sprouts, most times I don't need the full 10 minutes of air frying. However, if the sprouts are particularly large, sometimes the extra time is needed for crisping. Just lift the lid and keep an eye on them as they get crispy.
The crispiness of the leaves is what adds so much lovely flavor to the sprouts. You want them crispy and browned, but not burned and black so again, keep an eye on them as they cook.
Nutrition Information:
Yield:

4
Serving Size:

½ cup
Amount Per Serving:
Calories:

316
Total Fat:

19g
Saturated Fat:

7g
Trans Fat:

0g
Unsaturated Fat:

11g
Cholesterol:

51mg
Sodium:

662mg
Carbohydrates:

24g
Fiber:

3g
Sugar:

15g
Protein:

14g
All nutritional information is based on third-party calculations and is only an estimate. Each recipe and nutritional value will vary depending on the brands you use, measuring methods, and portion sizes per household.