There's no better way to amp up basic dishes, especially milder type dishes that could use a little 'oomph'. This delicious Pomegranate Honey Sauce is perfect for just that – and so many other things!!!
**HEY!! DON'T FORGET TO PIN THIS POMEGRANATE HONEY SAUCE PIN TO YOUR FAVORITE PINTEREST BOARD TO SAVE FOR LATER!!**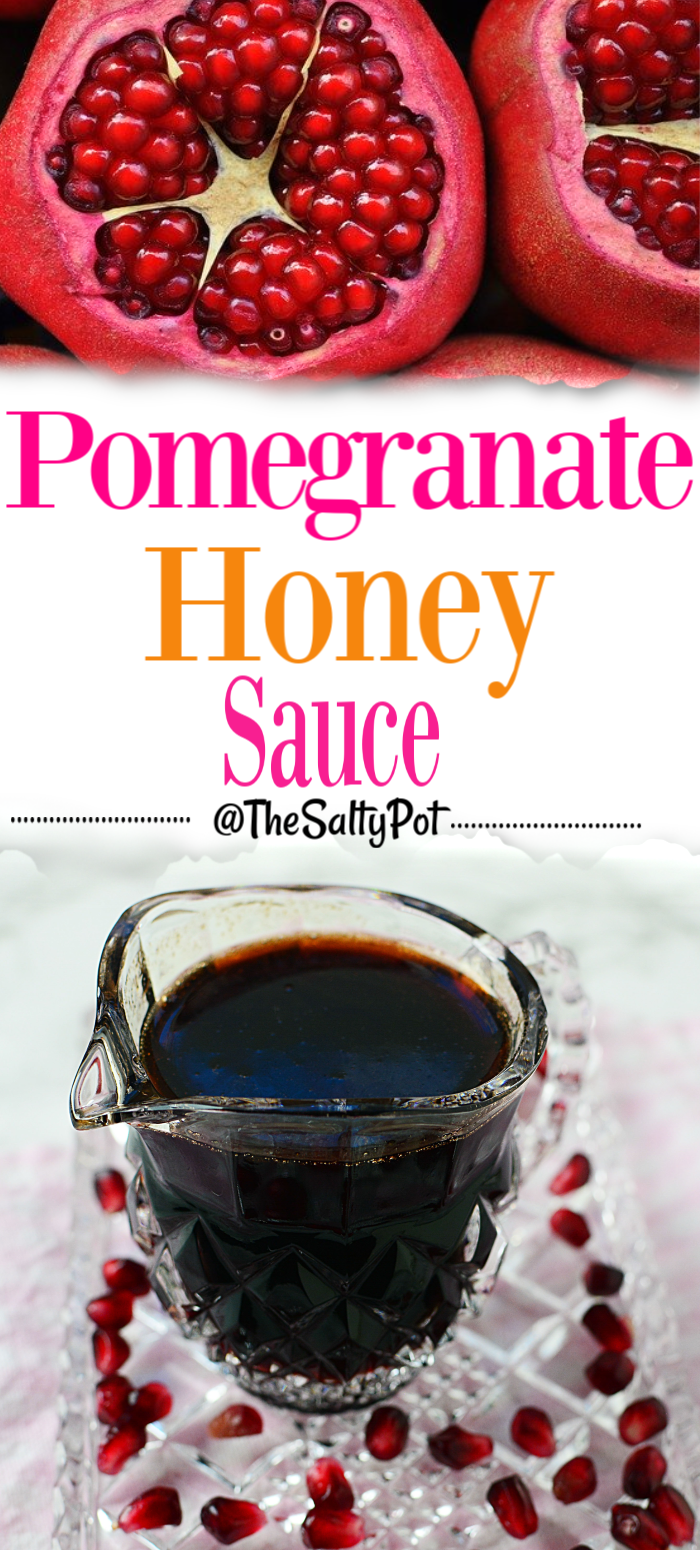 This post may contain affiliate links. If you make a purchase after clicking a link, I may earn a small commission. As an Amazon Affiliate, I earn from qualifying purchases.
TANGY AND SWEET POMEGRANATE HONEY SAUCE
This time I'm back with another tangy and sweet, and surprisingly delicious sauce that you can whip up yourself, with just a handful of ingredients!
What's more, you can also stock up on the sauce and save it for future use, or when you have some unexpected guests at home.
A Little Backstory On Da Sauce…
This sauce packs in two key ingredients- pomegranate juice and honey. These two characters make a concoction that's not just a winner for your taste buds, but for your health too!
Why you ask? Well, that's because pomegranates are among the most powerful and healthy fruits out there. They're loaded with antioxidants and anti-inflammatory agents, and are super helpful for your skin too!
The honey I use is a raw, unpasteurized honey, like this one here. Honey is classified as a superfood and is well documented for its use in natural medicine remedies for literally CENTURIES!!!
Getting Started With This Honey Pomegranate Sauce
To get started with the sauce, you'll need the hero of the dish- that's right- pomegranates!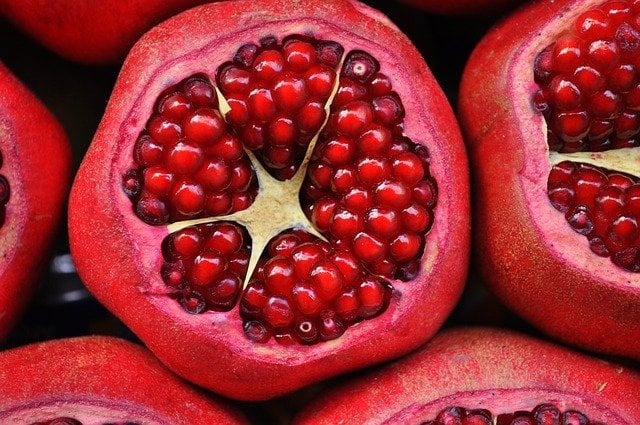 So you have two options here. If you want the easy way to make this sauce, choose purchased pomegranate juice, but be certain that the only ingredient is pomegranates.
This is brand suggestion is unsponsored, but this is the brand of pomegranate juice that I used: Pom brand Pomegranate Juice . It's so yummy, even just for straight-up drinking!!
However, if you'd like super fresh juice, and you'd rather stick to extracting the juice from the fruit itself (which can be a tad bit tricky), here's helping you do that, the easy way!
Here my pretend boyfriend Jamie Oliver shows you how to cut open, de-seed and juice your own pomegranates. His method is great, but one more method is to simply open them up, take the seeds out and put them into a blender. Blend and then sieve off the seeds and pulp.
I would recommend Jamie's method first as then you won't have some of the bitter pith mixing in with the seeds and juice that might slightly change the flavor of the pomegranate juice.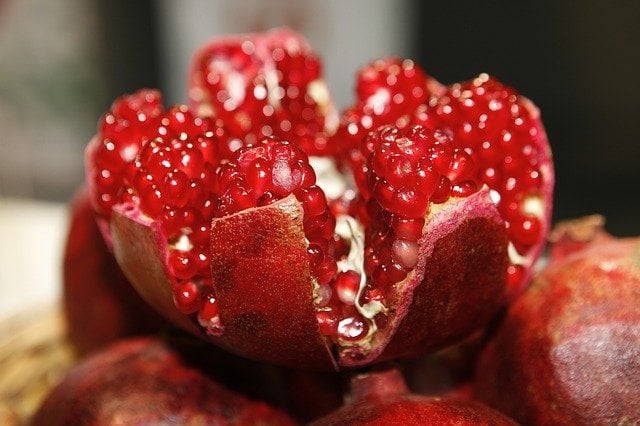 How Many Pomegranates Do I Need To Make My Own Juice?
Each pomegranate will yield about ½ cup of juice, so you should be safe if you buy about 4 – 5 large pomegranates.
And, if you have leftover seeds that you haven't juiced, you can use them for so many other applications like sprinkling in salads, or even just a healthy snack for the little one's lunches!
Ok, so now you have the juice all ready to go!
(don't be drinkin' it now. I know it's hard to resist, but then you'd have to go back out and purchase more pomegranates. And that would be a drag. Ask me how I know about this….. )
Nailing The Pomegranate Honey Sauce!
Now that you have the juice ready, it's time to get started with creating the sauce itself. Guess what? You need just one additional ingredient, and you're done.
Start by pouring your pomegranate juice in a medium pot and allowing it to come to a simmer on low-medium heat.
Reduce the juice until it reduces down to almost half of its original volume. Once that happens, take the pot off the heat and mix in the honey. Begin with a bit first, and then taste to add more if you need it.
CAUTION… once the honey is added, the sauce becomes hotter than hades, so be SURE to cool it down on the spoon before you taste it and burn your mouth out.
Allow it to cool down. As it cooks, it'll thicken the mixture, and that's it! Your pomegranate sauce is all done.
Serving Suggestions For Your Pomegranate Sauce
Ready to put that delicious sauce to use?
I love to team the sauce up with roast vegetables!

It can also turn out to be a wonderful drizzling sauce for your fish, chicken, and meats.

Plus, if you're a salad person, the sauce can give your bowl a nice punch of flavor as a dressing with its sharp tanginess.

Try it slightly warmed on creamy vanilla ice cream!
How Long Will The Sauce Keep For?
The sauce should keep easily for a week in the fridge, as long as it's covered tightly. The honey is a great preservative so it will help keep it fresh as well.
Also, it stands to reason that the fresher the juice you use, the longer it will last in the fridge.
Can I Freeze This Pomegranate Sauce?
I think you could. I haven't done it myself but if I were to freeze the sauce, I would put it into ice cube containers and freeze them individually. Then I'd let it thaw and heat the sauce from there. I can't say the consistency would be the same as using it from fresh, but it would be just as tasty!

Helpful Tip:
Try and remember to reserve some of the seeds to the side so that you can use those to sprinkle on top of the dish that you're using the sauce for. The seeds add a great burst of freshness plus the crunch is an awesome texture element as well!
Plus those little cutie patootie jewel-looking seeds look so adorable scattered over pretty much anything you put them on! (Maybe even Jamie Oliver himself… haha!! Ok, j/k. Ahem.. ok, back to business. )
Also, if you're looking for another fruity-type sauce, take a quick peek at my  Pink Grapefruit Syrup! You'll never believe just how delicious this is on ice cream!! Wholly Moley!!
So there you have it my gorgeous lovelies!! When you make this sauce, I totally need to hear what you used it on!! I love this sauce so much so any new ideas would be HUGELY welcomed!! Pics would be even better!!
Thanks so much for stopping by The Salty Pot today, and I hope you have a truly awesome day!! See you next time!
~Joanne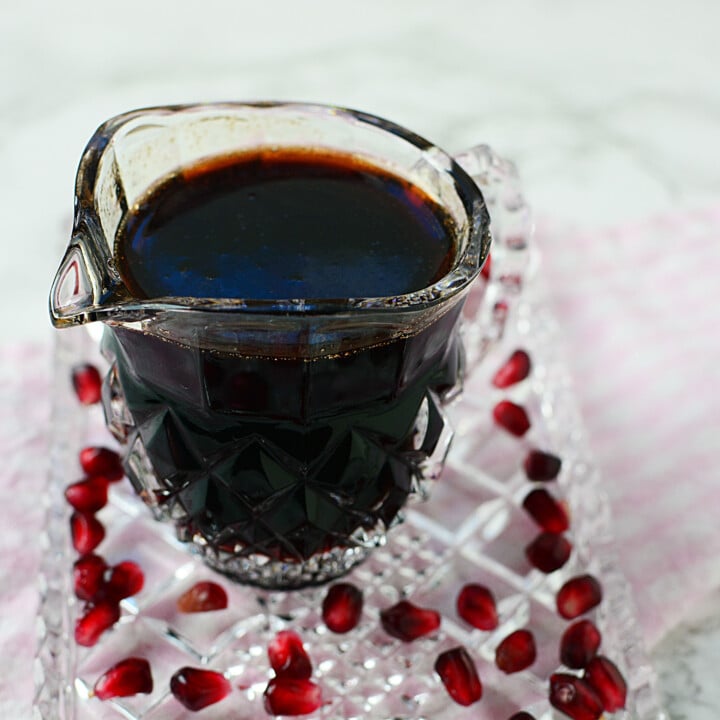 POMEGRANATE HONEY SAUCE
A beautiful, tangy and sweet honey pomegranate sauce to pep up so many of your favorite dishes! It's easy to make and is so versatile! Everyone I've served it to, LOVES IT!
Ingredients
2c pomegranate juice
2-3 tablespoon raw honey
***see notes for extra information***
Instructions
(If you are wanting to make your own pomegranate juice, see the body of the post on how to make that)
Transfer the pomegranate juice into a heavy bottom pot. Bring to a boil.
Boil the juice so that it reduces down to half, if not more, volume from when you started. ½ - 1 cup of reduced juice is a good place to start.
Remove the pot from the burner and begin to add the honey. Add the honey one tablespoon at a time. *see notes*
Let the sauce cool to a comfortable temperature. The sauce must cool from the initial heat because, with the addition of the honey, the sauce is EXTREMELY hot. It needs to cool to thicken as well.
Notes
1. If you are making your own pomegranate sauce, to begin with, use approximately 4 - 5 pomegranates. Each pomegranate will give you approximately ½ cup of juice.

2. It's important to taste the sauce as you go. BE SURE TO COOL IT DOWN ON THE SPOON BEFORE YOU TASTE AS IT GETS SUPER HOT WITH THE HONEY IN IT!!! You should add as much honey that is palatable to you. I used two tablespoons, but add to your preference!

Nutrition Information:
Yield:

4
Serving Size:

2 tablespoons
Amount Per Serving:
Calories:

163
Total Fat:

0g
Saturated Fat:

0g
Trans Fat:

0g
Unsaturated Fat:

0g
Cholesterol:

0mg
Sodium:

13mg
Carbohydrates:

42g
Fiber:

0g
Sugar:

42g
Protein:

0g