Easy Instant Pot Mississippi Roast: It's savory, incredibly tender and the gravy is beefy with a super light tangy flavor from the pepperoncini peppers. The gravy is SO delicious, you could sip it. Just saying because you know I might know someone who did.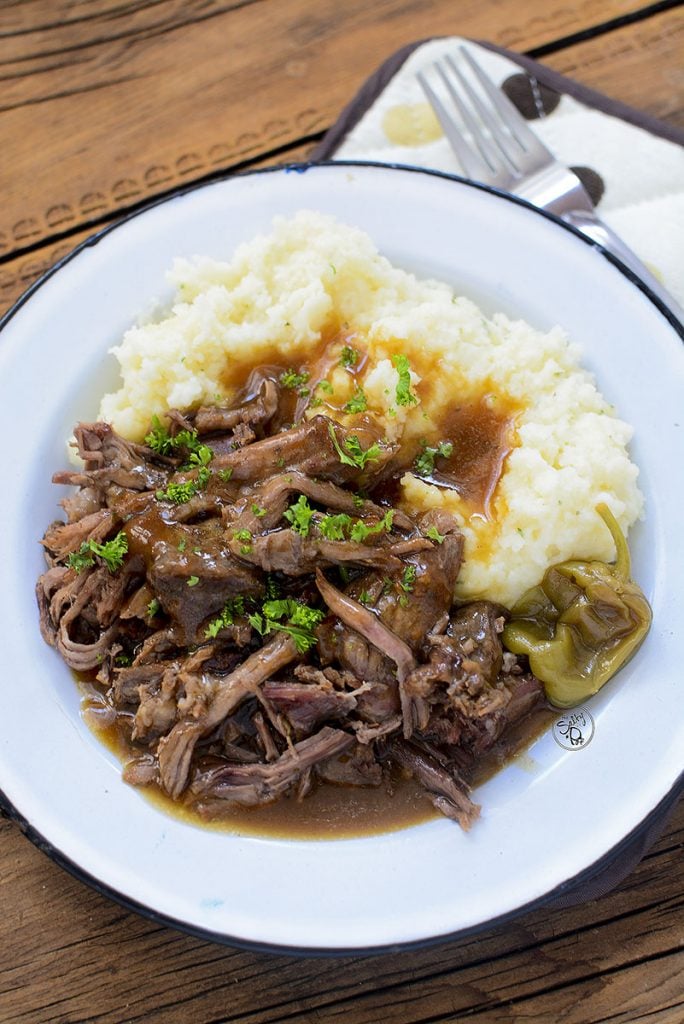 Pressure cooking roasts is a great way to make a tough roast tender in no time!
Instant Pot Mississippi Roast
Tougher roasts and pressure cookers are seriously, the best of friends. When the roasts are cooked under pressure, they transformed into tender, juicy, incredible dinner roasts. The fact that the roast is tough is actually the best part! They are typically inexpensive to buy and have more flavor (believe it or not) than higher-end, tender roasts.
And using a pressure cooker puts that tough roast on the table far quicker than if it were oven-roasted. Just like my crazy easy Instant Pot Pulled Pork, this beef roast is just as easy, super tender, and can be on the table in no time!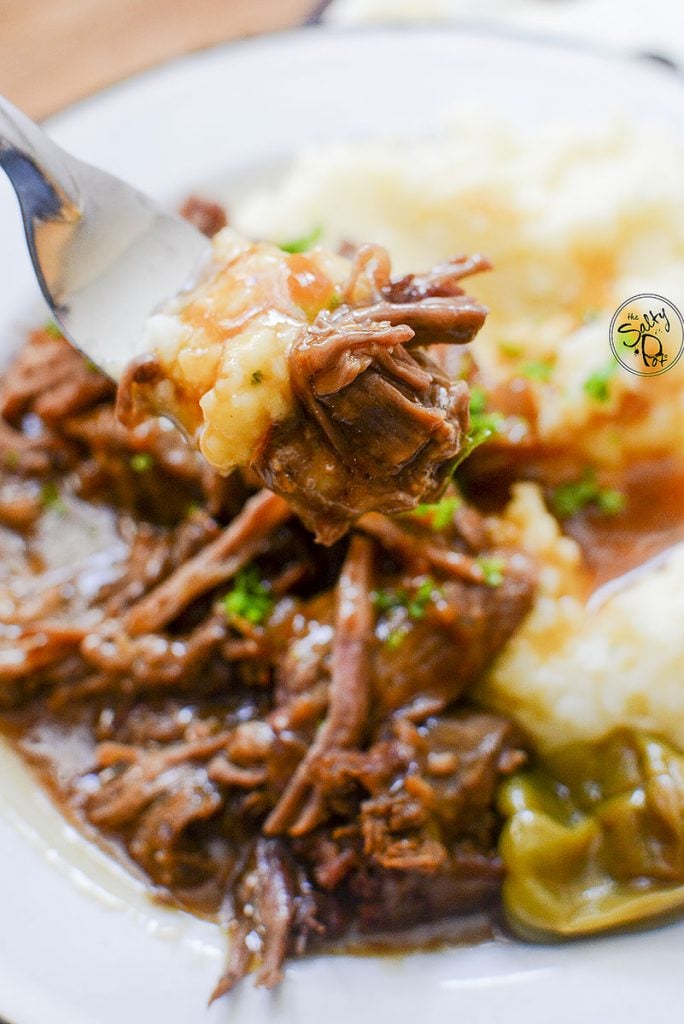 Ingredients Needed
Beef roast: Usually, you'll see a Mississippi roast made with a beef roast. A 3 – 4lb roast is perfect and fits well inside the pot. Using a cheaper, tougher cut is ideal because they generally have more flavor and respond really well to pressure cooking.
Au Jus Seasoning Packet: Knorr or Mckormic makes a nice Au Jus seasoning and can be found usually in the seasoning packet aisle at the grocery store.
Ranch Seasoning Powder: Hidden Valley Ranch is usually the most popular packet for this recipe, but there are a lot of other brands that can be used here that taste just as great.
Pepperoncini peppers: These peppers don't make the recipe spicy. They have a very mild bite to them that is mellowed by the cooking, and they come in a jar of pepperoncini juice that adds a really nice tang. You'll be using both the peppers and the juice, so don't discard the liquid from the jar.
Beef Broth: Low sodium is ideal to use because the seasoning packets can be higher in sodium.
Butter: I recommend using real butter here and not margarine.
Pepper: Just a light sprinkling will do. Salt is not necessary for this recipe due to the other ingredients having salted flavor profiles.
Cooking Mississippi Roast in an electric pressure cooker
Whether your roast is cooked in the Instant pot or the Ninja Foodi pressure cooker, the cooking method and times will be the same.
And the best part is the steps to making this Mississippi roast are incredibly easy!
Sear the roast. I highly recommend not skipping this step because searing the roast creates a Maillard reaction. Essentially, it's browning the roast that creates a deeper, more intense flavor on the beef. Skipping this step makes the roast seem almost 'steamed' in a sense. It's really worth your time to sear the roast – the flavor payoff is huge. If you want an interesting read that really explains how the Maillard reaction intensifies the flavors of food, Serious Eats has a great article that explains all of that.
Add the broth and sprinkle the packets over the top of the roast.
Add the pepperoncini peppers and the jar liquid.
Don't forget to put the butter in there as well!
Set it to cook and you're off to the races. You can go and get other tasks done while dinner is cooking. I love digital pressure cookers for that reason!
Can I use a gravy packet instead of the Au jus packet?
To make this dish and call it Mississippi Roast, I would say no, you can't. Basically, because the gravy packet usually has thickeners (or more thickeners than Au Jus), the drippings after cooking won't be the same. However, if all you had on hand were gravy packets, you could try making my Instant Pot 3 Packet Roast, which uses a gravy packet and is equally delicious as this succulent beef roast recipe!
Incidentally, after trying this recipe and loving it, and you were wondering if you could make it with chicken instead, you most definitely can. Just sub in the same amount of chicken as it calls for beef.

I did that same thing as with my 3 packet roast, I also made a 3 Envelope Chicken as well. All of these are amazingly delicious!
Can I make this Mississippi Roast in a crockpot instead?
Sure! The ingredients would be the same and for a 3 – 4lb roast, you'd cook it on low for approximately 6 – 8 hours.
Can I start out with a frozen roast in my Instant Pot or Ninja Foodi?
Yes. I've personally never tried it, but it is possible.
The thing to keep in mind is that you can't sear the meat, so you'd miss out on forming extra flavor through the Maillard reaction. Also, the roast will take ⅓ of the time longer to cook, plus the pot will take a lot longer to come to pressure.
That's being said, I HAVE cooked frozen ground beef in the instant pot before and it worked out well. I'm suspecting any difference between them is that one is ground and the other is whole muscle fibers and it might create a difference in the texture of the roast if cooked from frozen.
It's also not recommended to cook a whole muscle roast from frozen in the slow cooker because the meat will be left at an unsafe temperature for too long.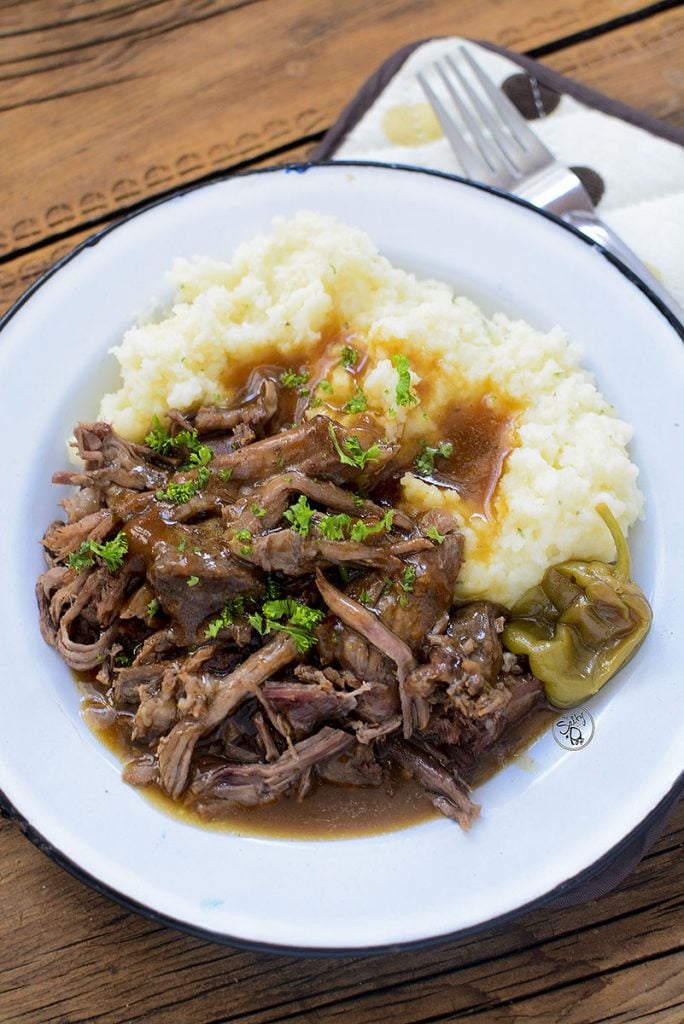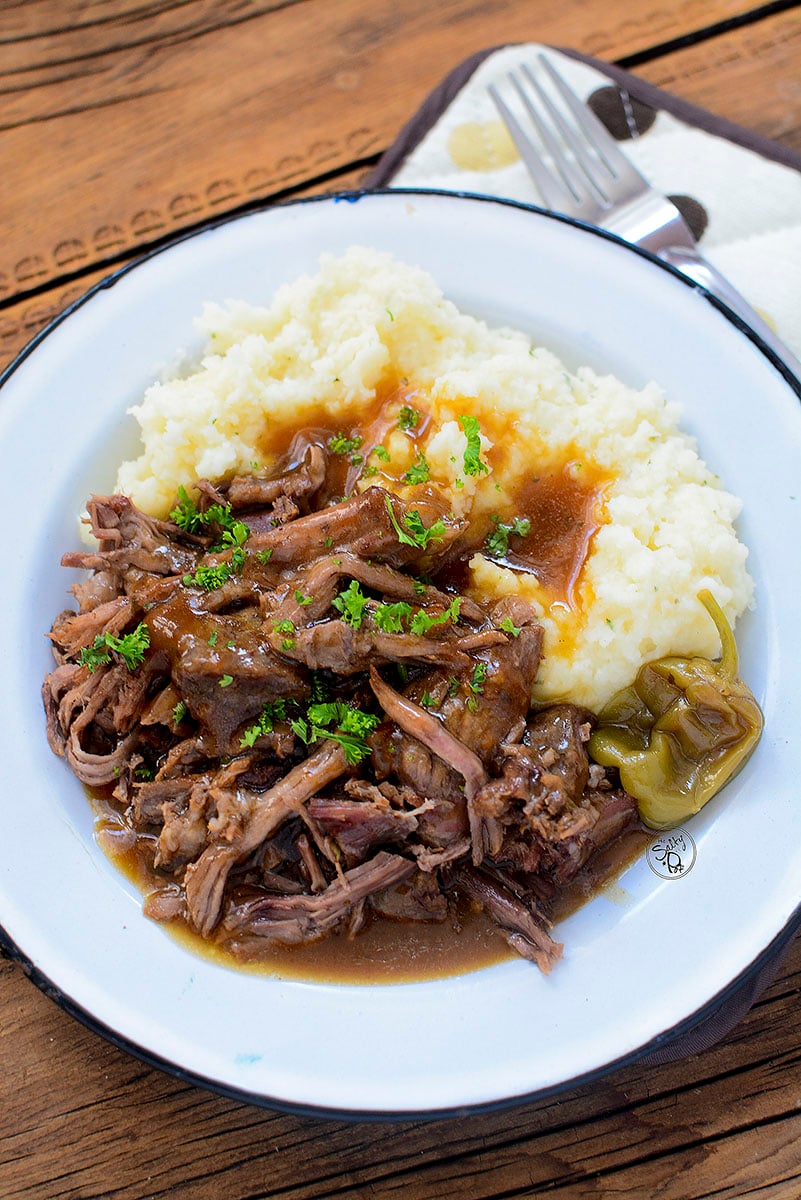 What can I serve with this pressure cooked roast beef?
Oh honestly, the sides are endless! Here are a few options that you could try:
Instant Pot Loaded Mashed Potatoes
Cooked rice
Harvard Beets
Buttered Egg Noodles
And if you wanted to keep it relatively low carb, you could serve them with this Instant Pot Cauliflower Mash recipe or even these Low Carb Hash Browns!
Can you freeze leftover Mississippi Pot Roast?
You absolutely can. Just be sure to freeze it in a freezer-safe container with the meat and gravy together. Remember to allow a small amount of room for expansion while it freezes.
To thaw, remove from the freezer and keep in the fridge overnight.
Also, leftovers will stay fine in the fridge for up to 4 days in an air-tight container.
How can I serve the leftovers from this Instant Pot beef roast?
There are some great options here!
Cut up into smaller shreds and sauteed in a frying pan with fresh fried eggs. Serve that over toast!
Reheat and serve on toasted buns with some gravy drizzled over it.
Make some tacos! Serve with cheese, tomatoes, sour cream, and salsa. That would be outstanding!
Get some pizza dough and make a calzone with the beef, adding peppers, onions, and cheddar cheese.
Well, I hope I've persuaded you to give this Instant Pot Mississippi Roast a try. It's a fantastic recipe that when people try it, they absolutely love it!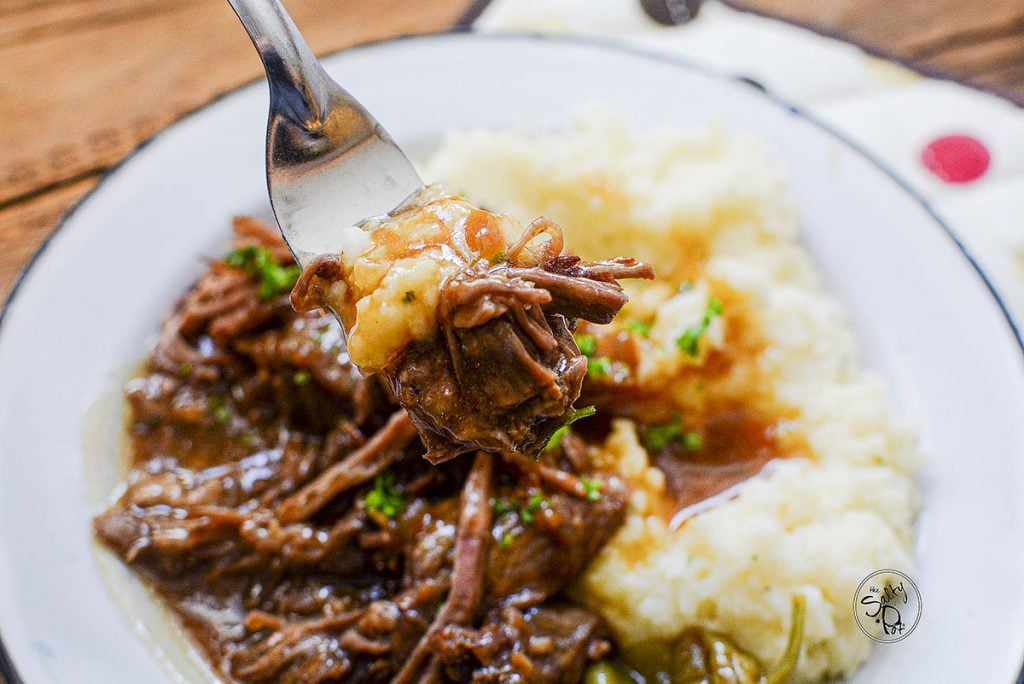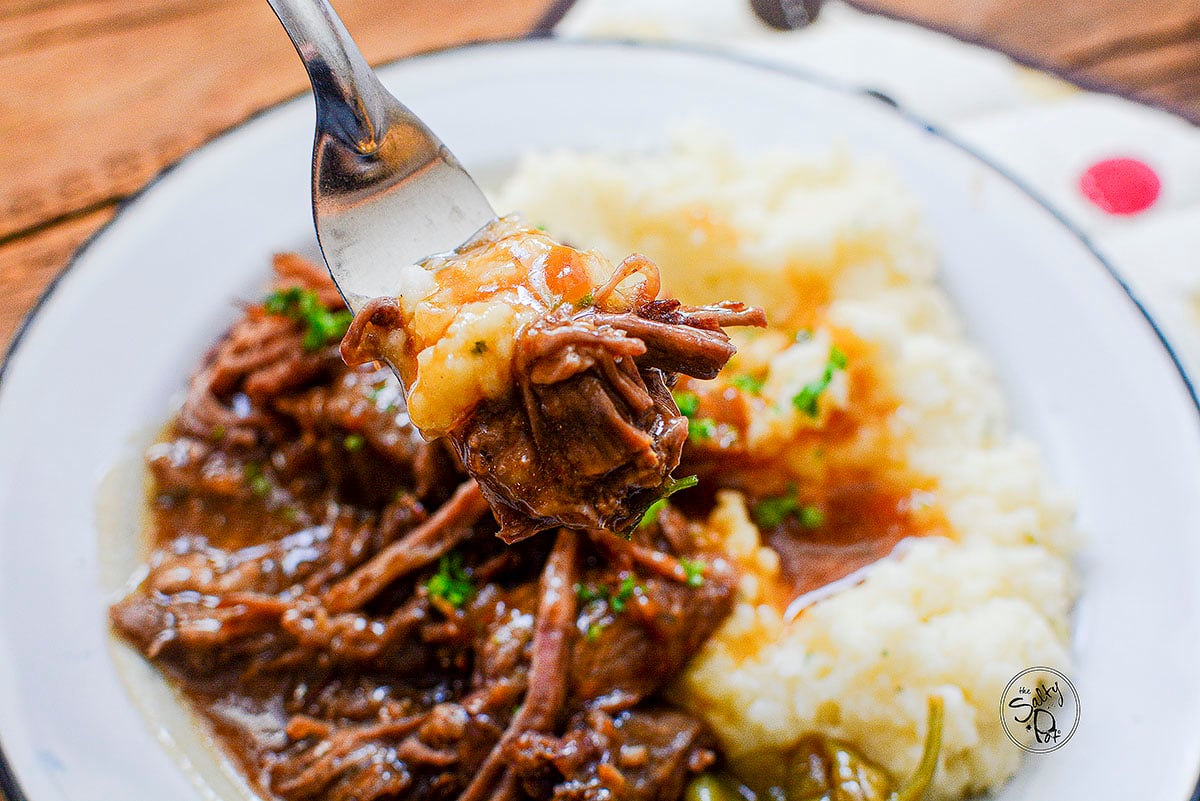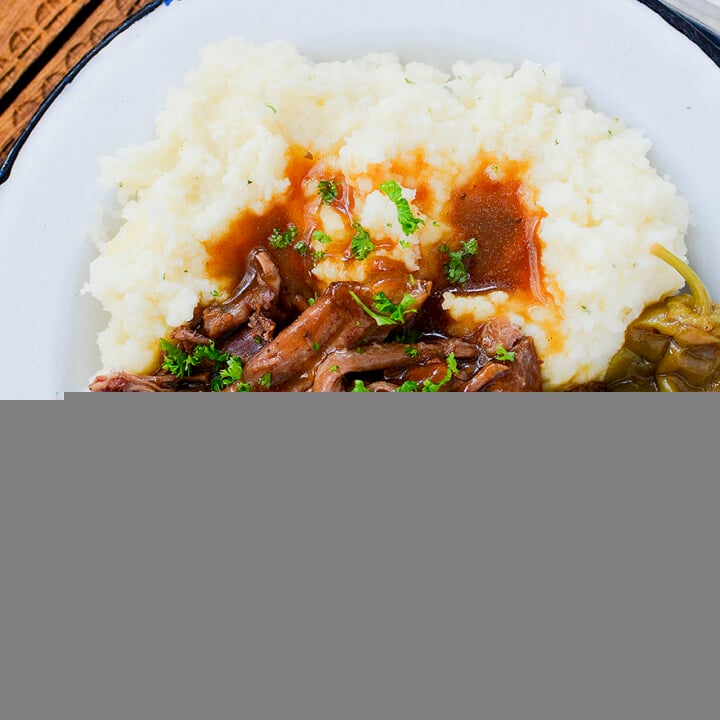 Easy Instant Pot Mississippi Roast
Additional Time:
15 minutes
Total Time:
1 hour
25 minutes
Instant Pot Mississippi Roast is incredibly tender with a rich, savory gravy that's perfect over potatoes or rice. Using a digital pressure cooker makes cooking this roast an absolute breeze!
Ingredients
1 Beef roast, 3-4 lbs (see notes)
1c pepperoncini juice
3-5 Pepperoncini peppers
½ c beef broth, low sodium
½c butter
1 packet Au Jus powder
1 Packet Ranch seasoning powder
1 tbs oil for frying
2 tablespoon cornstarch + 3 tablespoon water for a cornstarch slurry (optional).
Instructions
1. Add the oil to the Instant Pot bowl and press saute to start warming up. When the oil is hot, add the roast and sear on all sides for 2-3 minutes each.
2. Remove the roast and add the beef broth. Scrape any fond that has stuck to the bottom of the pot. (This is pure flavor gold, don't discard it!)
3. Add the roast back into the pot. Sprinkle the packets over the top of the roast.
4. Add the peppers and the pepperoncini juice over the roast. Add the butter on top of the roast as well.
5. Place the lid on the top of the pressure cooker and move the toggle switch to 'seal'.
6. Press manual cook on high for 60 minutes. When the cooking time is up, allow the machine to do a natural release for about 15 - 20 minutes.
7. If the pin hasn't fallen to signal there is no longer any pressure in the pot, release any remaining pressure by moving the toggle switch to 'vent'. Open the lid AWAY from your face carefully.
8. Carefully lift the roast out of the pot. (see notes)
9. With two forks, begin to shred the roast. When completely shredded, add the meat back to the gravy in the pot. If you want to thicken the gravy, turn the machine back on to the saute function. Bring the gravy to a boil and add the cornstarch slurry. Mix to thicken and then add the meat back to the pot.
10. Give the meat a good stir to help absorb even more gravy. Serve and enjoy!
Notes
1. Use a beef roast that is typically tough. Shoulder cuts and hind cuts are best because tougher cuts are usually more flavorful. I used a Sirloin tip roast, but a nice chuck roast works beautifully as well.

2. When lifting the roast out of the pot, I recommend using a set of sturdy flippers to move it in one piece. The roast may be very tender that it will fall apart with just using tongs.
3. After removing and shredding the beef, you decide that you want the gravy thicker, add the cornstarch slurry before you add the meat back to the pot.
Nutrition Information:
Yield:

8
Serving Size:

1
Amount Per Serving:
Calories:

269
Total Fat:

16g
Saturated Fat:

9g
Trans Fat:

0g
Unsaturated Fat:

6g
Cholesterol:

44mg
Sodium:

1218mg
Carbohydrates:

27g
Fiber:

1g
Sugar:

7g
Protein:

5g
All nutritional information is based on third-party calculations and is only an estimate. Each recipe and nutritional value will vary depending on the brands you use, measuring methods, and portion sizes per household.