When I say these are the easiest hot ham and cheese sandwiches I've made, I truly mean it. Now, these aren't your typical loaf of bread ham and cheese sandwich. These are … well, kinda amazing actually. Buttery and cheesy, with a tiny little kick from the (optional) pepper jack cheese. OH yeah, when I say easiest, I might even mean tastiest as well.
EASY HOT HAM AND CHEESE SANDWICHES
The reason why these sandwiches are so easy to make it because there's no buttering of the bread, piece by piece. No individual type assembly. It's all done in one dish.
Baked in one dish.
Cut in one dish.
Served, in one dish.
What Ingredients Do I Need?
All the ingredients are EASILY obtained by your nearest major grocery chain! That's the beauty of this recipe! It's a sandwich, but hot, cheesy, hammy, and not like your typical two pieces of bread sandwich!
You will need:
Crescent dough tubes– (I knowww right?? So really, these sandwiches could be called Easy Hot Ham and Cheese Croissant Sandwiches!!.. rats, why didn't I think of that earlier??) lol
Sliced Ham (Your favorite deli ham is the best choice for this.)
Sliced Cheese (I used pepper jack here for the nice tiny kick, but you gorgeous reader, feel free to use any sliced cheese you prefer!)
Dijon Mustard – Do you have any Grey Poupon?? haha… – ok, I'm showing my age here. Your favorite dijon mustard is perfect here.
Butter– (melted)
Parsley – fresh is best, but dried works great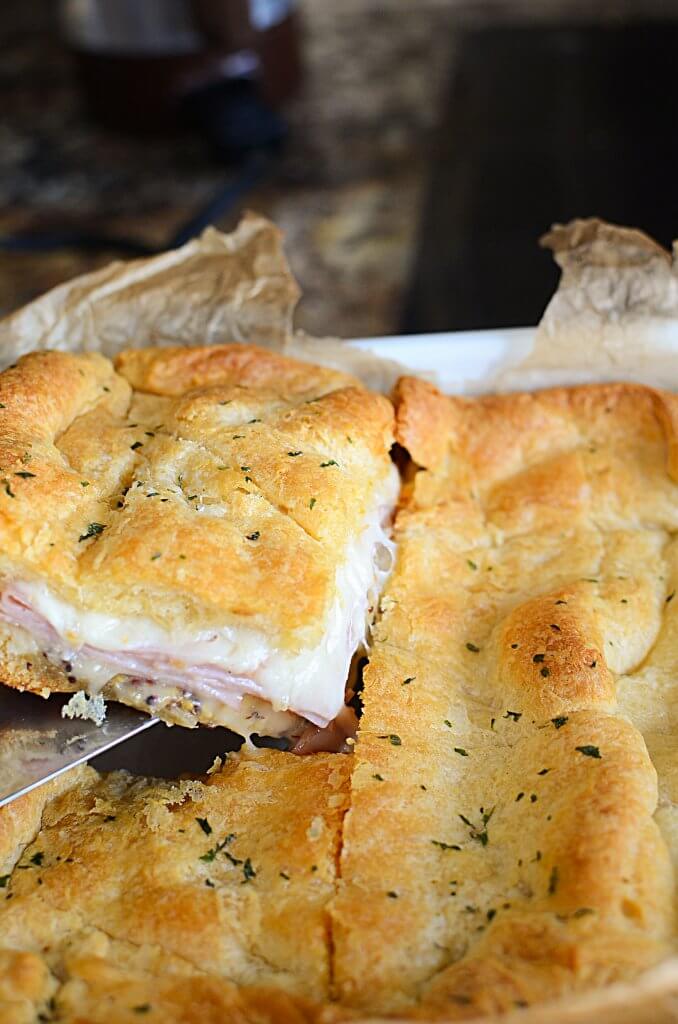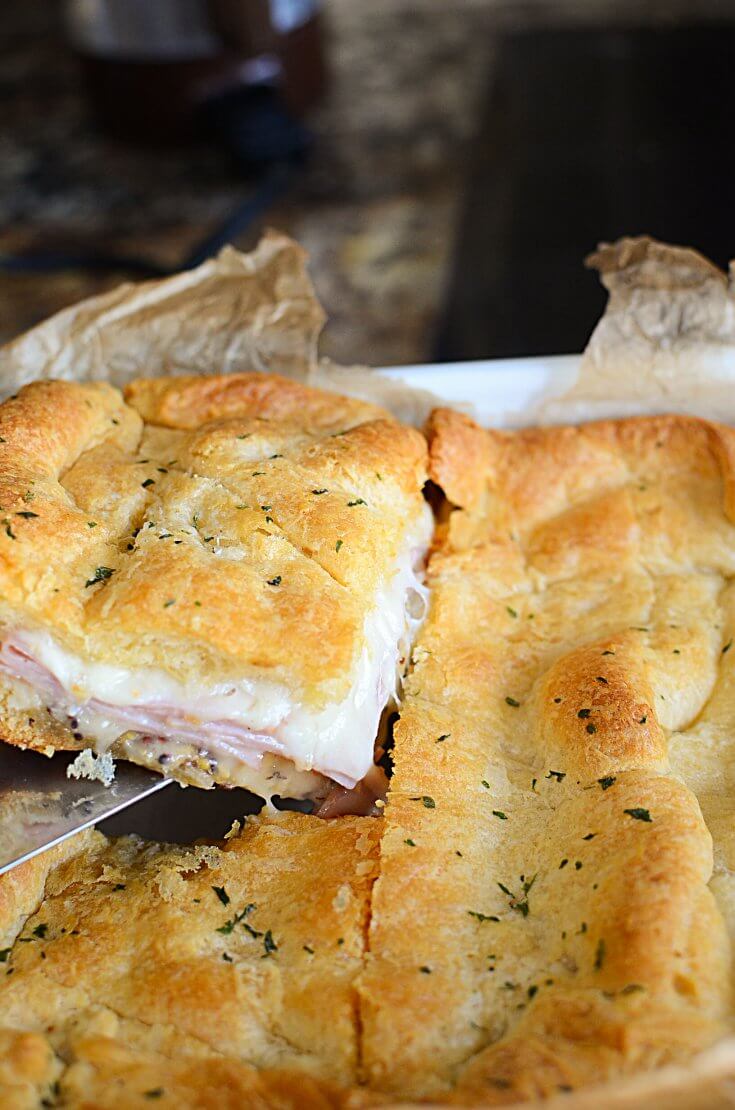 What Types of Cheeses Can I Use?
Really, you can use any type you prefer. I used pepper jack because it there are extra spices and peppers embedded in the cheese slices that add extra flavor. However, you don't have to use that if you don't like spicy flavors. Just use a cheese that melts really well. You could use:
Cheddar
Mozzarella
Havarti
Marble
Swiss
Even a sliced blue cheese if the feeling struck you..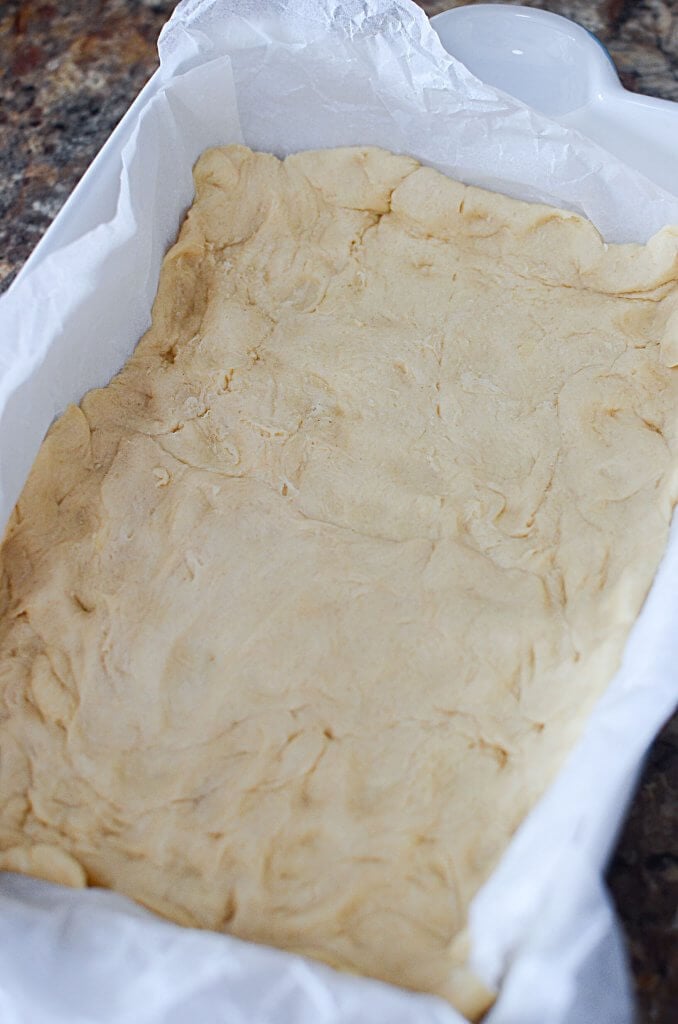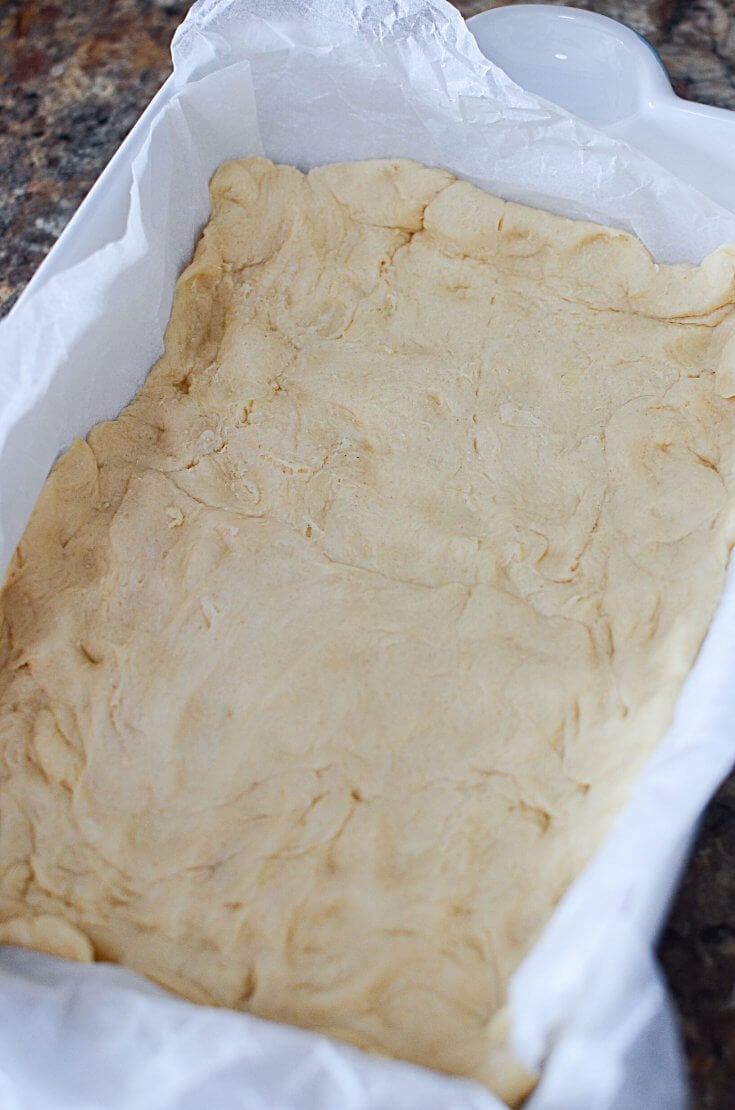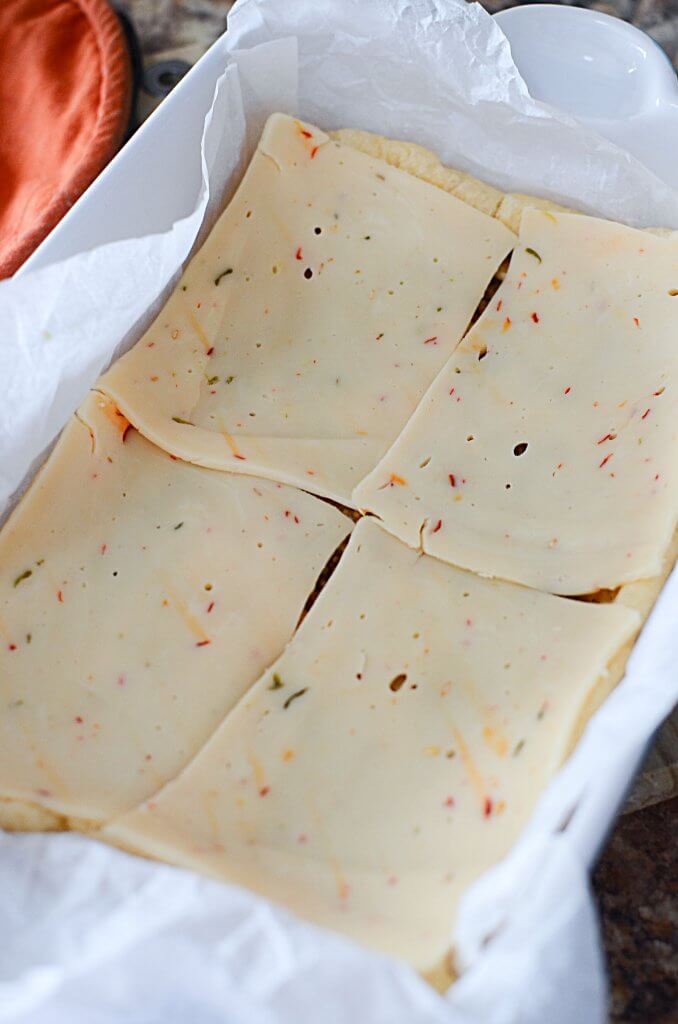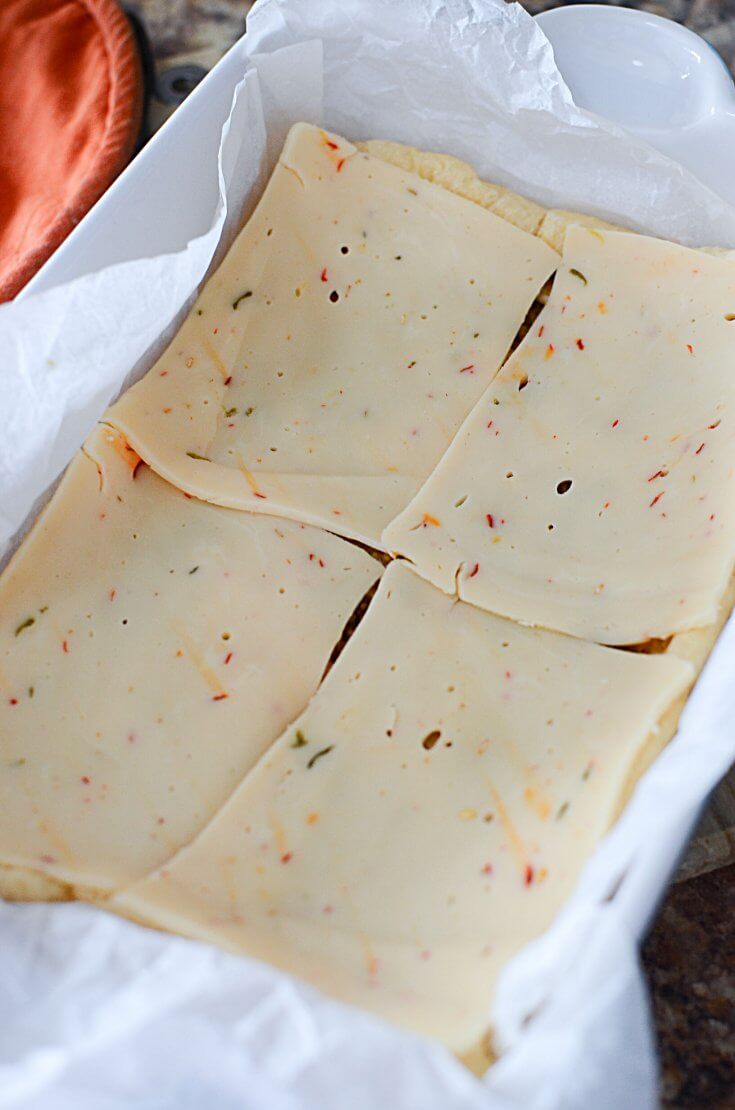 Can I Add Extra Types of Meat?
Yes of course! I used a black forest ham with this recipe, but you could certainly mix up the types of ham (honey ham, sandwich ham, etc) or even added some other types of deli meat if you chose to. I would just be a little conscious of cheese and meat pairings when you're deciding on what to use.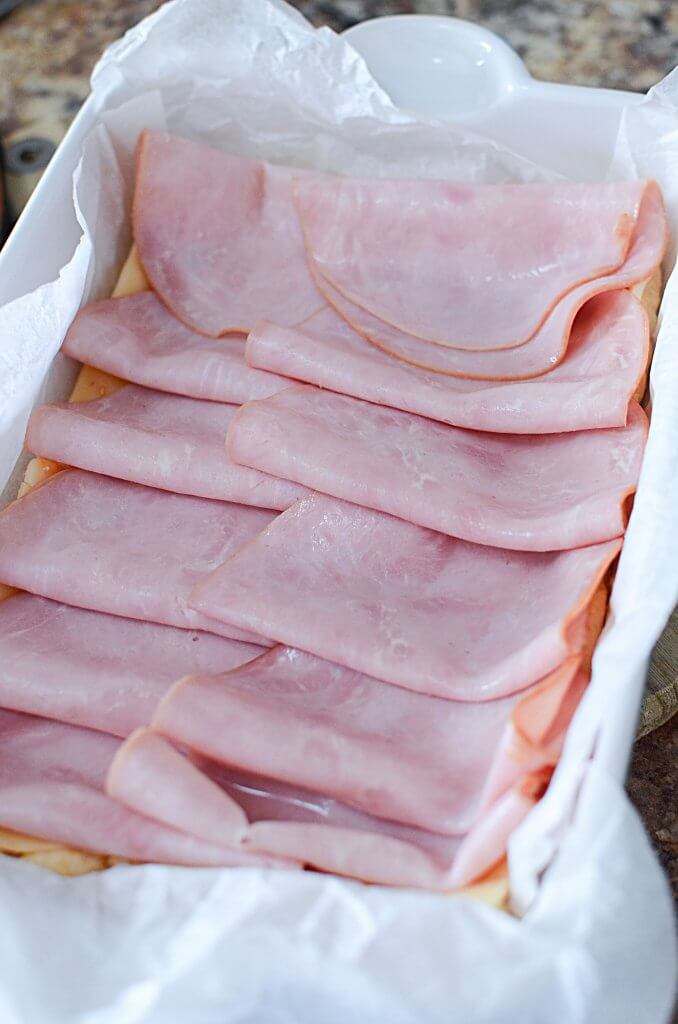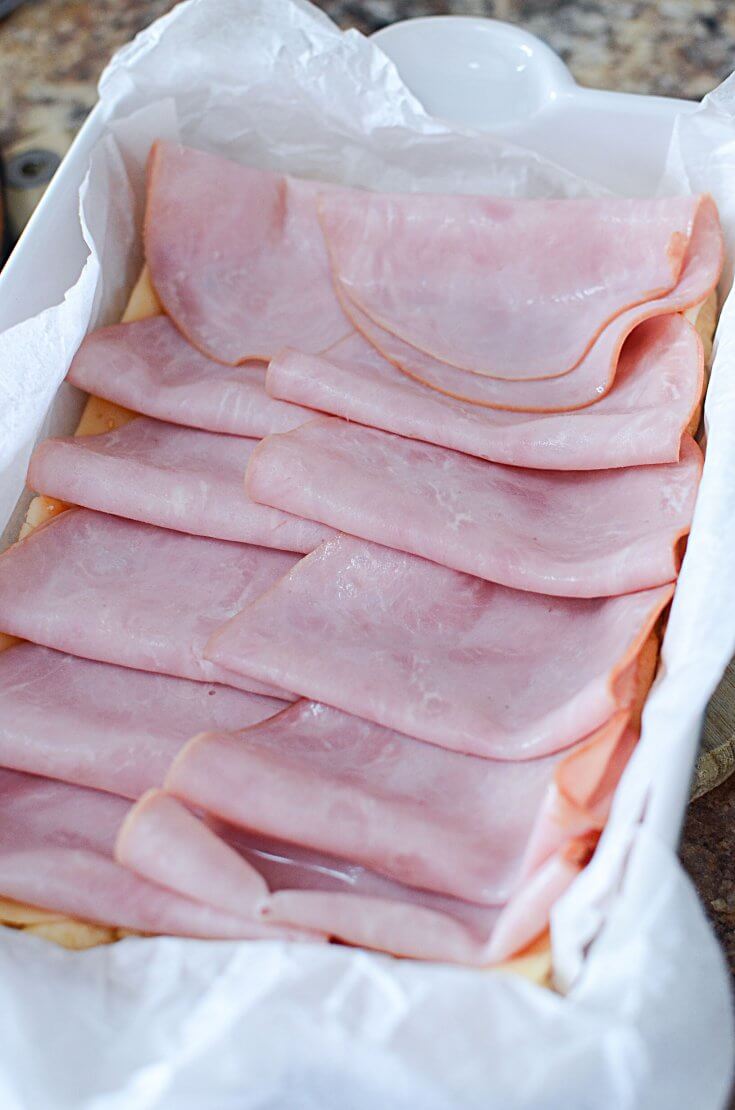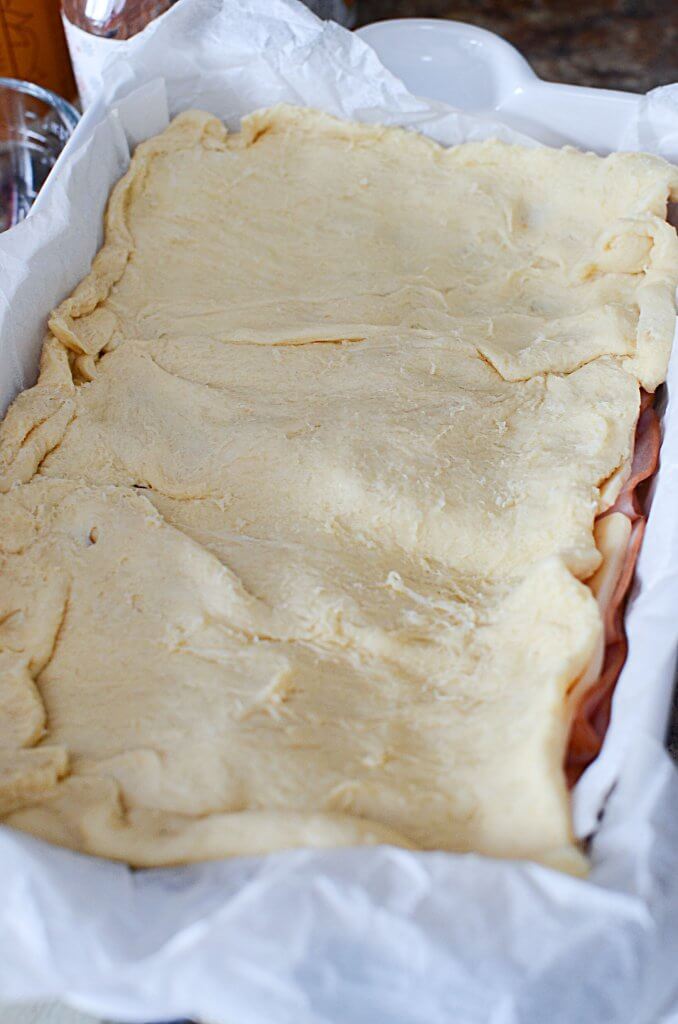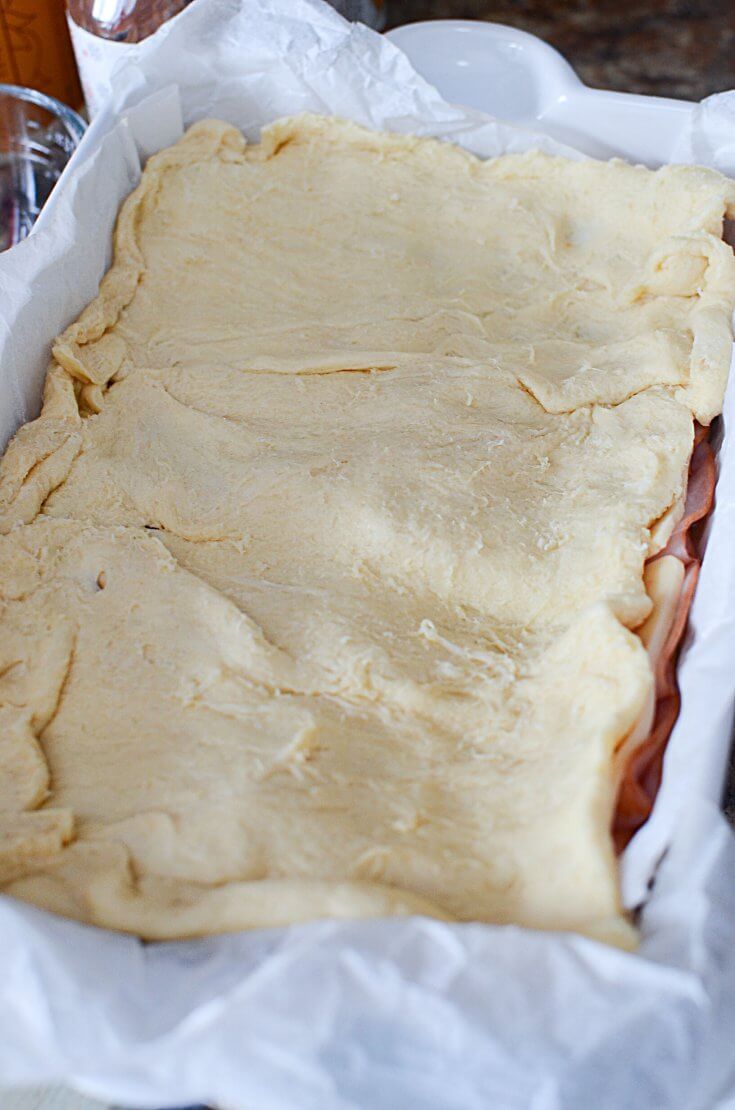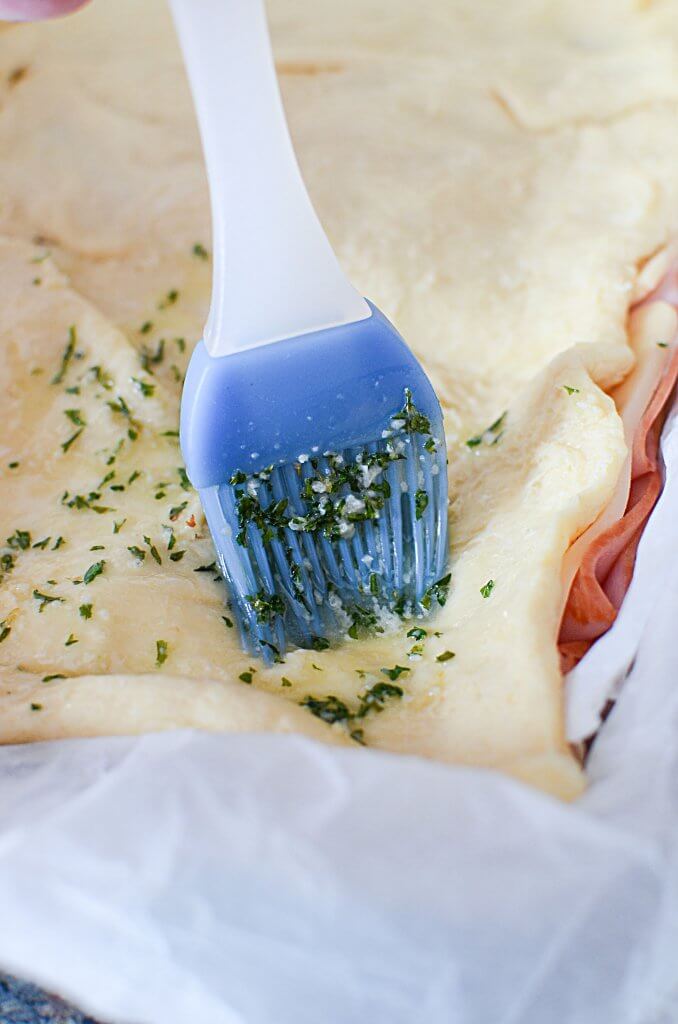 How Do I Assemble This Hot Ham Sammy?
The trickiest thing (which isn't tricky at all) is the croissant (crescent) dough. When it comes out of that 'jack in the box' tube, and you unroll it, you'll just have to press the seams together because they are perforated for the croissant roll-ups. Other than that, it's simple!
Preheat oven
roll out dough
place in pan and pre-bake
remove and spread the mustard and layer the toppings
place the final bunch of dough on top
butter and bake!
They come together pretty darn quick and easy, so you can feed a few ppl all at once. AND, if you make two at a time, you can feed a crowd! Plus, if you are feeding an even bigger crowd, you can make these Easy Italian Sliders and/or my Chicken Cordon Bleu sliders as well! They are seriously a hit at EVERY function I make them for!
Lastly, if you're looking for a side dish to serve these delectable sandwiches with, try this delicious Creamy Dill Potato Salad from Stacey @ Southern Discourse, together they'd make the perfect meal!!!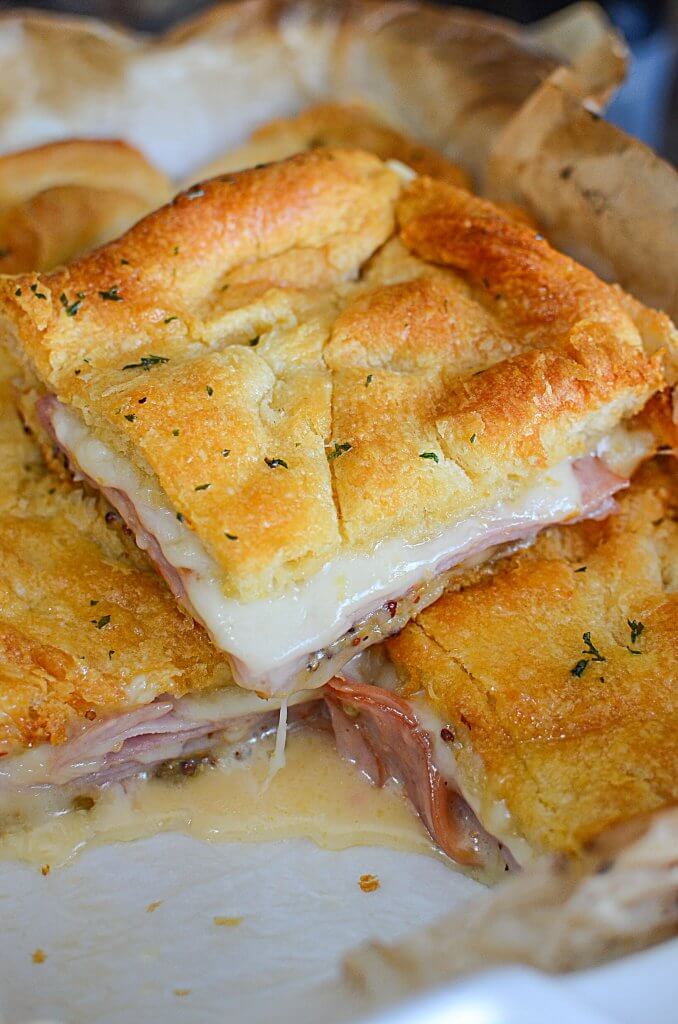 Tips for making these hot ham sandwiches:
be sure to press the seams together in the dough as much as possible (unless you want to cut them in small triangles after they bake, which is an option)
let the sandwiches rest a few minutes after they come out of the oven. That cheese is lava hot, so you don't want anyone to burn themselves!
store brand croissant dough usually works just as well as brand name croissant dough. So if you have access to that and can save some money, use that!
use dry parsley instead of fresh when putting in the butter. Fresh parsley seems to clump up too much.
add some minced garlic or garlic powder to the melted butter for even more flavor! (which I did, but is totally optional!)
Well, there you have it, folks! I hope that when you try these delicious and incredibly easy hot ham and cheese sandwiches that you give me a shout below and let me know what you thought! Did you switch up the meat or the cheeses? I'd love to hear about it! Thanks so much for stopping by The Salty Pot today, and have a fantastic day!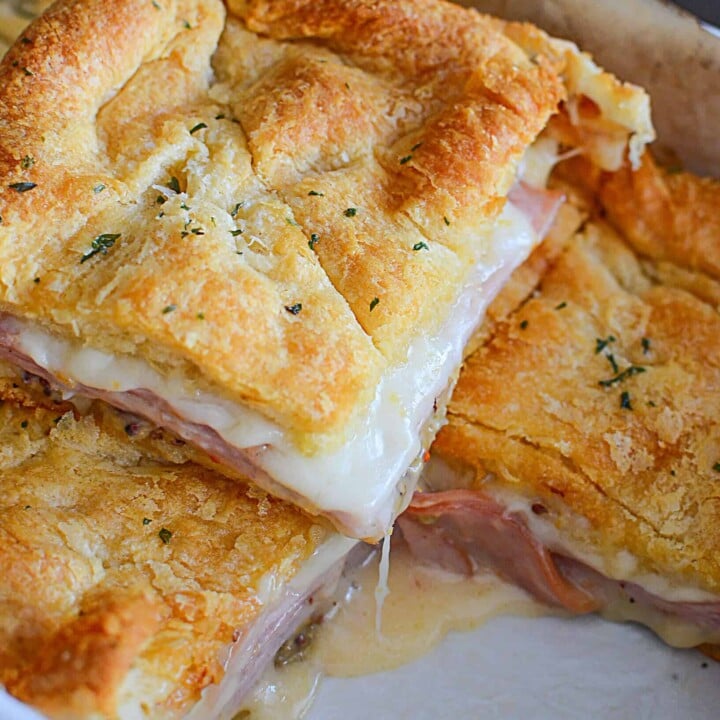 Easy Hot Ham and Cheese Sandwiches
Flaky, cheesy and hammy, these Easy Hot Ham And Cheese Sandwiches are super delicious and can feed a bunch of people at a time! Perfect for a crowd, parties and game day!!
Ingredients
2 cans Pilsbury crescent dough
12 pieces of deli ham (your favorite)
8 slices of Pepper Jack Cheese
1-2 tablespoon Dijon Mustard
3-4 tablespoon butter, melted
1 teaspoon parsley, dried
½ teaspoon garlic, minced or dried
Instructions
Preheat the oven to 375
Take the dough out of the tube and roll it out. Press the seams together to form one large piece of dough.
Line or grease a 7 x 11 baking dish with parchment paper or nonstick spray.
Lay the dough down in the baking dish and bake for the time required on the tube. Remove when cooking time is up.
Spread the dijon mustard over the top of the cooked croissant bread.
Layer on 4 pieces of cheese or as much cheese as you would like to cover the surface of the bread.
Fold each ham peice in half and layer on top of the cheese.
Top the ham with the remaining slices of cheese.
Remove the second batch of dough from the tube. Again, pinch the seams closed, and place on top of the cheese slices.
In a small bowl, melt the butter, and add the parsley and garlic. Brush on top of the dough.
Bake in the oven for 20 - 25 minutes or until the dough is golden brown on top, and the sandwiches are heated through and the cheese is nice and melty!
Remove from the oven and let rest for 5 minutes to cool slightly as the cheese will be VERY hot and can burn easily! Enjoy!
**Oh! Don't forget to pin this pretty hot ham and cheese sandwich pin to your favorite Pinterest board to save for later!! **