As you know, my life motto is to make things easy. This also applies to chicken wings. Namely, GARLIC PARMESAN WINGS.
Whether you do them in Ninja Foodi or in the Instant Pot, these pressure-cooked wings turn out finger lickin, lip smackin', slap your own butt, tasty in NO time at all!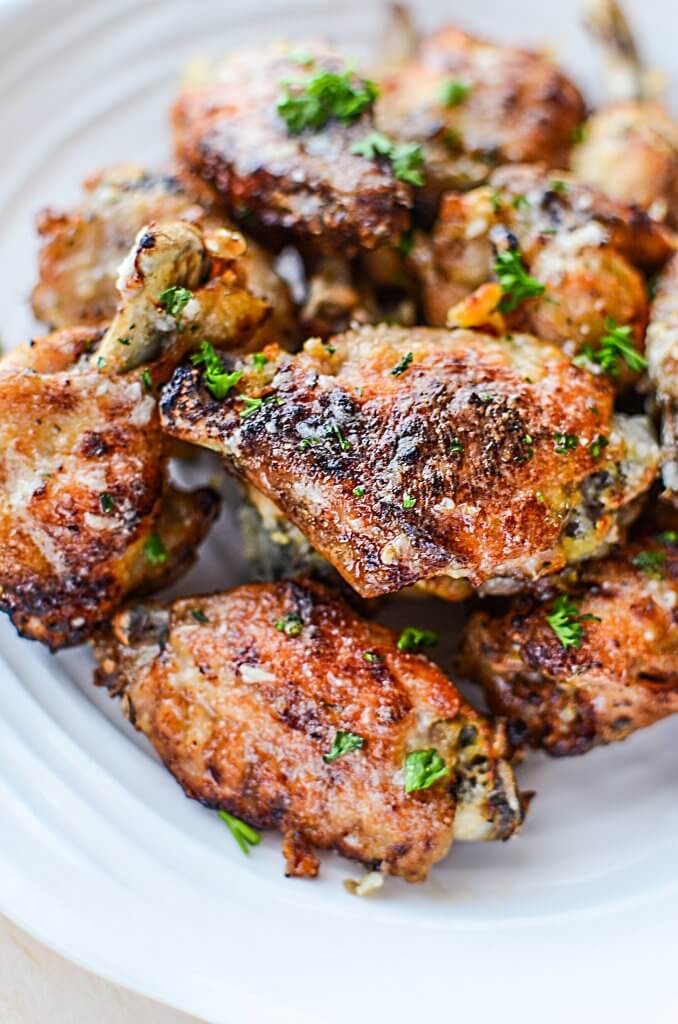 Ninja Foodi Garlic Parmesan Chicken Wings
I think you'll be hardpressed to find someone who doesn't like chicken wings of some sort. If they don't like flavored wings, there's even the old standby of plain or salt and pepper. But then there's those who like a KICK! But hey now, I'm not talking just a spicy kick, I'm talking a garlicky kick! These garlic parmesan chicken wings fit that bill! Crispy, buttery, garlicky, with that salty flair from the parmesan cheese. It's truly kind of addicting!
By the way… if you eat these, and you're on a date, make sure your date eats them too. Garlic kisses are totally fine if both people have eaten them – it kinda cancels each other's garlic breath out. LOL!
These can be made both in the Ninja Foodi and the Instant Pot. The directions are the same, only when it comes to the crisping part, the crisping can be done in the Foodi directly, but you'll have to broil them in the oven for the Instant Pot. No biggie, they both taste the same in the end!
What do I need to make these amazing Garlic Parmesan Wings?
Well my lovely reader, I'm sure you have all the ingredients right in your pantry! Let's see:
chicken wings, of course (I did a dozen, but you can do more)
butter
Parmesan cheese
GARLIC
italian seasoning
chicken broth
lemon juice
When making these Garlic Parmesan Chicken Wings, does it matter how many wings I pressure cook at once?
Nope! Sure doesn't! You can cook as many as you'd like at one time, however – I'd probably not cook more than two dozen at a time – and I'll explain more about that below! (see recipes notes!!)
How do I pressure cook chicken wings?
Easy! First, let's talk about seasoning. You'll want to season your chicken wings before you pressure cook them. Season them for at least 30 minutes to even do them in the morning to cook later! The longer the better will add to that super awesome flavor. So clean your chicken and pat dry. Lay them out on the board and season them liberally. Put them in a sealable bag, add a tablespoon of oil and seal the bag. Give them a good squish up! Put them in the fridge for as long as possible.
Ok, so now the cooking part!
Place the liquid at the bottom of the Ninja Foodi bowl insert (or the Instant Pot bowl insert).
Carefully place the wings in the liquid. Pressure cook for 7 minutes on high.
Make your sauce.
When they're done cooking, do a quick release, remove the wings and set them aside for a moment.
Drain the liquid in the pot, place the rack in the bowl, put the chicken back on the rack.
Air crisp them to total crispy perfection as you baste them with the sauce you made!
Eat, Eat, Eat!! (don't forget napkins!)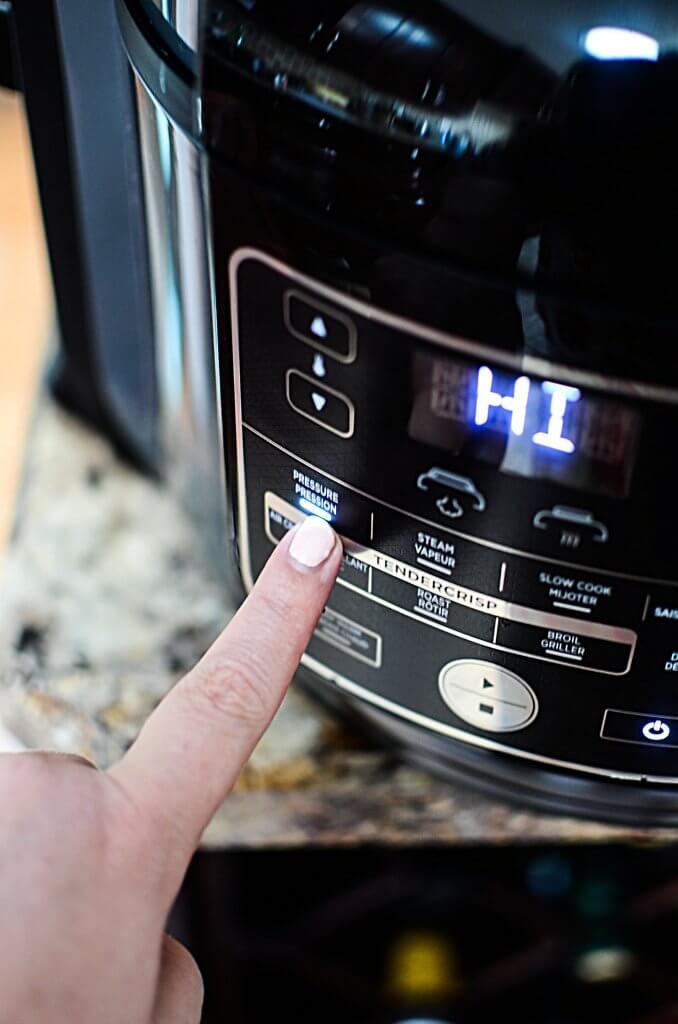 Just how buttery and garlicky and cheesy are these chicken wings?
Oh love. Take all the buttery garlicky cheesy flavors you've ever tasted, and just bring them up a notch. You want to know why? The LEMON JUICE. Just that little added bit gives such a punch to the wings. You don't really even taste the lemon, it just brightens and intensifies the rest of the ingredients! Keep in mind, all these ingredient amounts are pretty much a guideline. If you like, REALLY dig garlic, then go big on the garlic flavor! Add more! Like them a parmesan flavor for the garlic parmesan wings more? Then my dear reader, add more parm!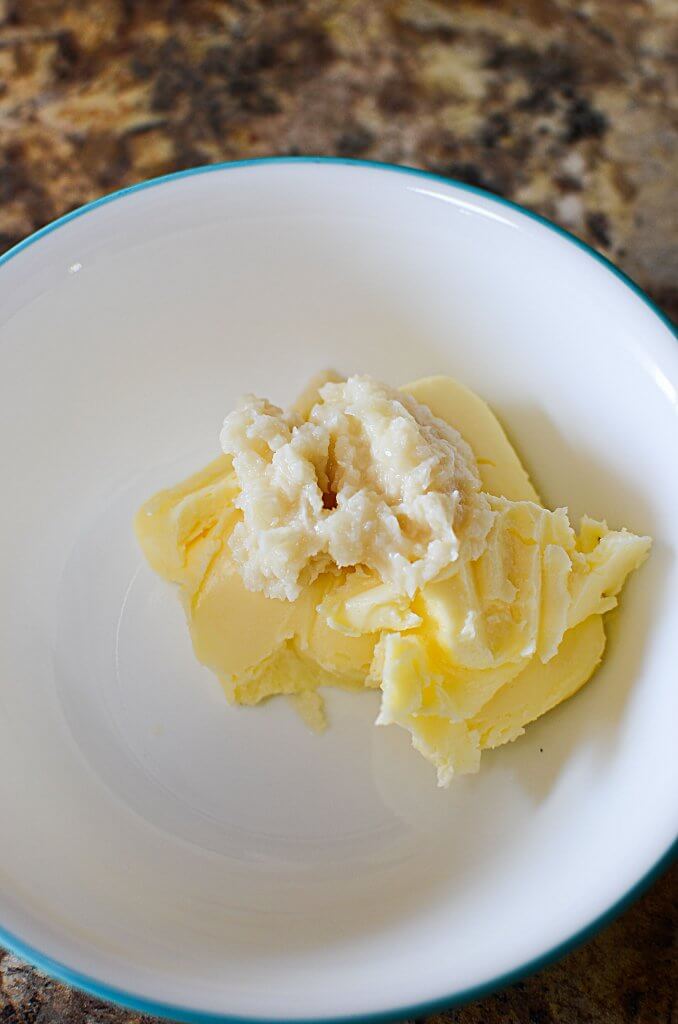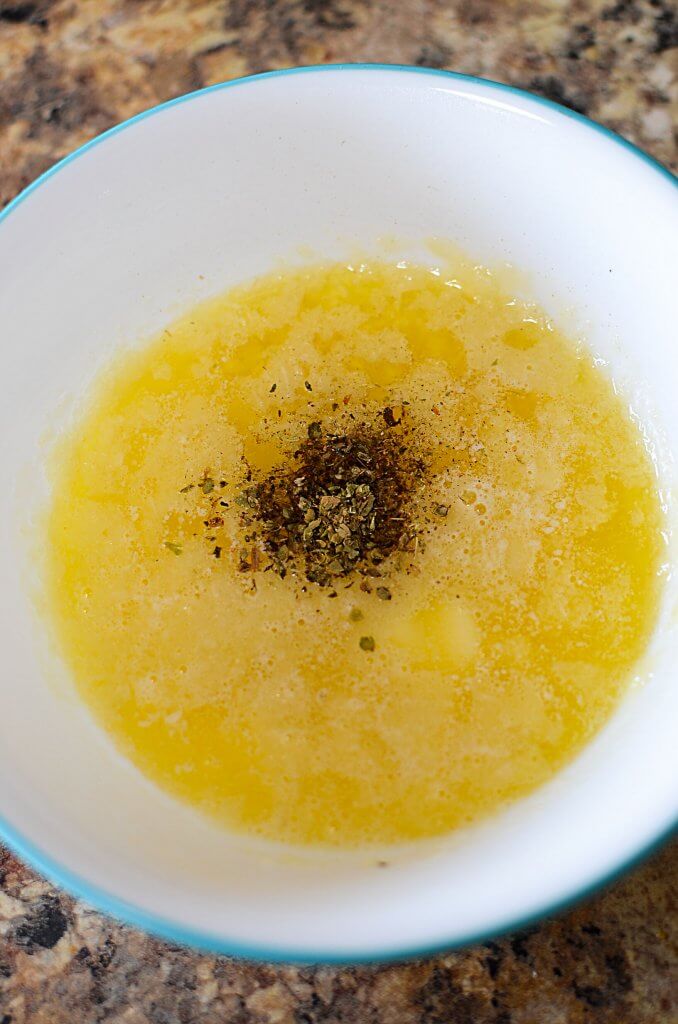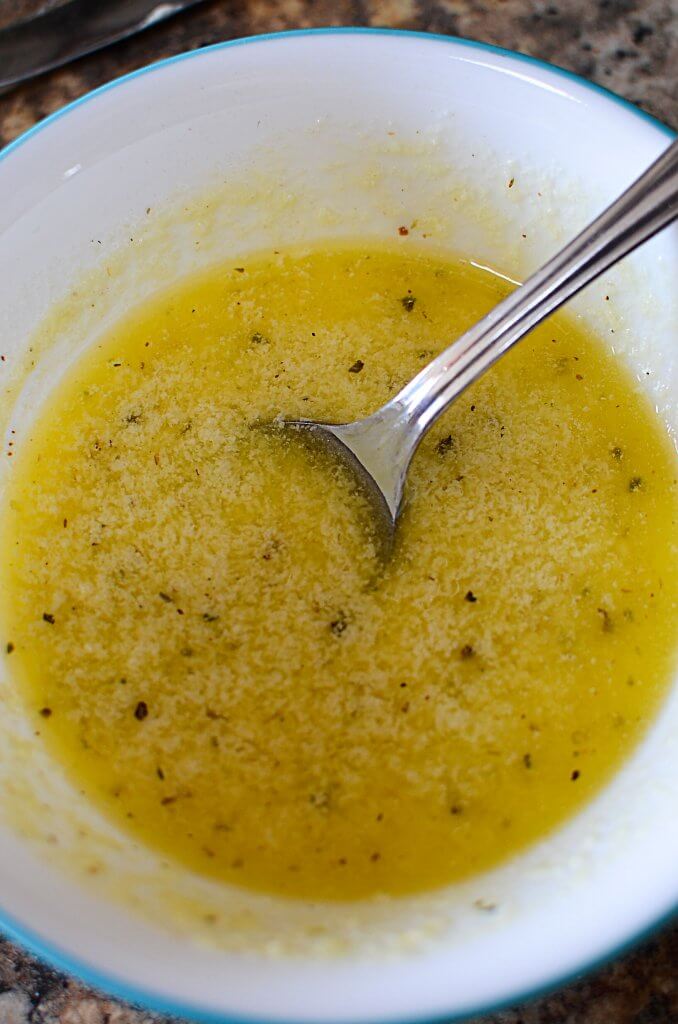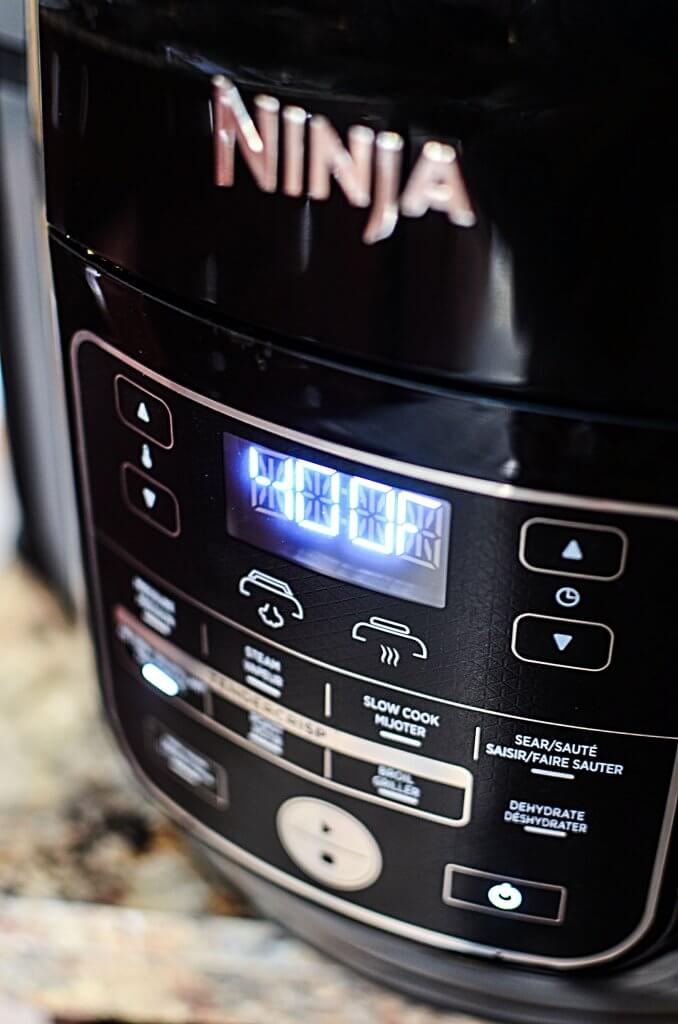 What about other Foodi Chicken Wing Flavors?
I got you covered on this!! If you're looking for more flavors to try with chicken wings, how about these Sweet Chili Chicken Wings from Erhardts Eat? They're all recipes for chicken wings done in the Ninja Foodi, so why not make all three!?!?!?!! Yum!!!
Don't these Garlic Parm Wings made in the Foodi look amazing??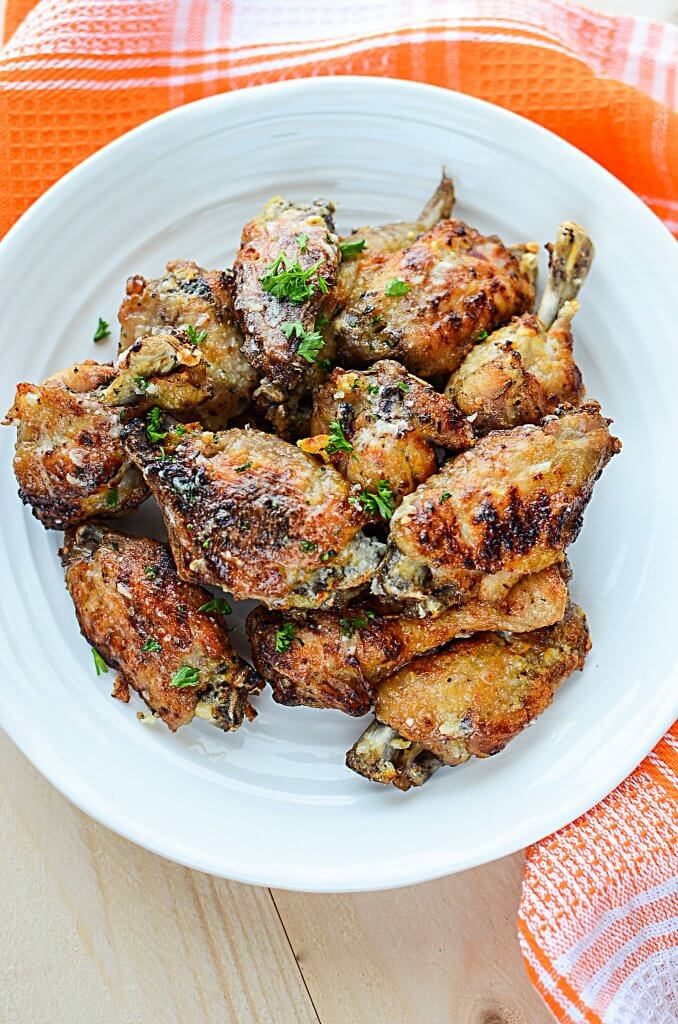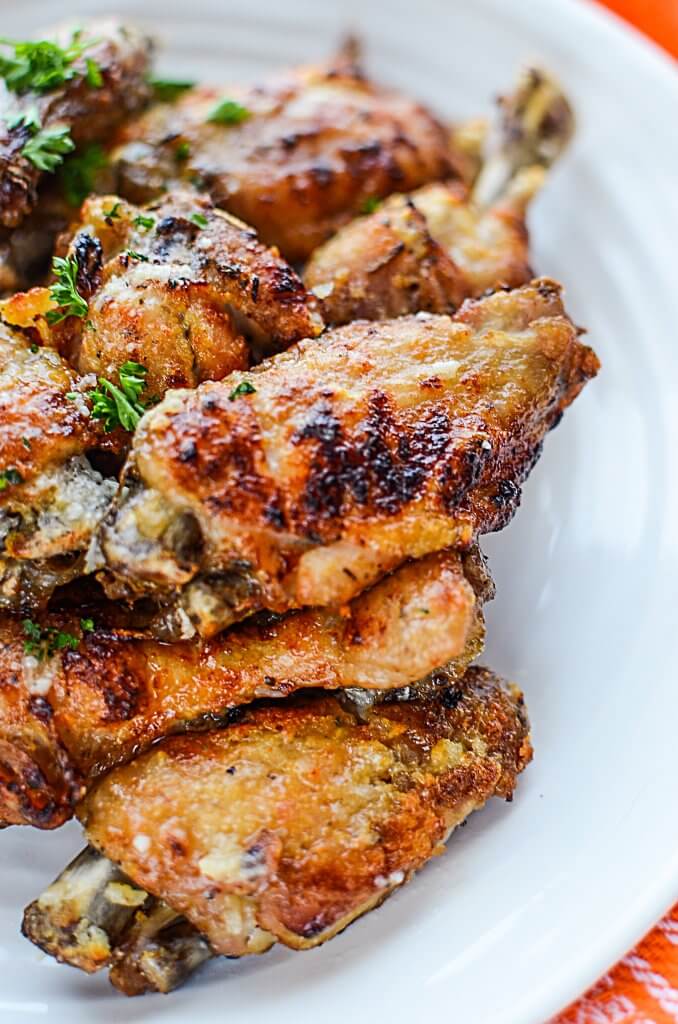 I hope that you give this Garlic Parmesan Chicken Wing recipe a shot. If you do, please give me a shout out below and let me know what you think! Did you change up the recipe at all? Did you add more garlic? Share your ideas and thanks so much for stopping by The Salty Pot today!
** DON'T FORGET TO PIN THIS GARLIC PARM CHICKEN WING RECIPE TO YOUR FAVORITE PINTEREST BOARD TO USE LATER**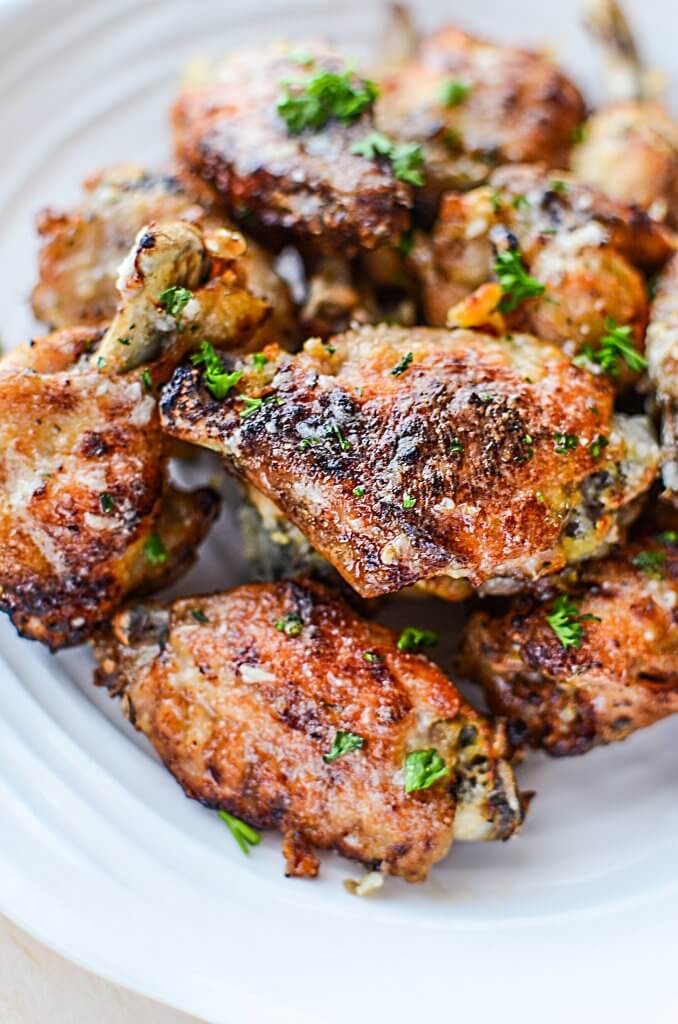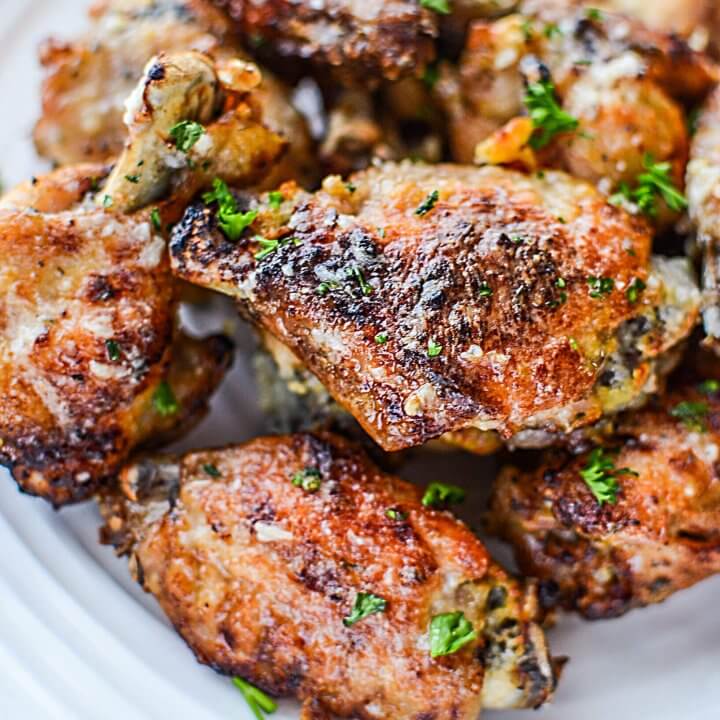 Ninja Foodi Garlic Parmesan Chicken Wings
Additional Time:
15 minutes
Crispy, garlicky, buttery, with that salty tang from the parmesan. One wing tastes like more and more! They're super delicious!
Ingredients
12 Chicken wings , *I used 14, there was plenty of sauce for basting
1 tablespoon olive oil
1 cup chicken broth, *water will work, the broth lends more flavor
as desired salt and pepper
⅓ cup butter
1 teaspoon garlic, minced, *use more garlic here if you love garlic!
1 teaspoon garlic powder
⅓ cup parmesan cheese, grated
¼ teaspoon italian seasoning, dried
¼ teaspoon lemon juice, *can go up to a half tsp, but taste as you go
Instructions
Lay your washed chicken wings out on a board. Pat Dry. Season with garlic powder, salt and pepper.
Place the wings into a ziplock bag and add the olive oil. Seal the bag and squish the wings around to distribute the seasoning well. Marinate for 30 minutes or more.
Pour the chicken broth in the bottom of the Ninja Foodi bowl insert. Place the wings in the broth. Cover with the pressure cooking lid, and place the toggle switch into the seal position.
Pressure cook for 7 minutes, then do a quick release.
While the wings are cooking, make your basting sauce. Melt the butter and then add the salt and pepper, Italian seasoning, lemon juice, minced garlic, and parmesan cheese. Taste for your seasoning preference at this point. Make any adjustments.
Remove the wings, drain the liquid, and place the crisping rack in the insert bowl. Place the wings on the top rack and begin to air fry.
I used the air fry function at 400F degrees for 15 minutes. I didn't actually USE the full 15 minutes but kept peeking (as they suggest on the lid) to watch them until they got to my desired crispiness. I air crisped them for approximately 12 minutes
As they air crisp, you will want to keep basting the wings with your garlic parmesan sauce. Put as much or as little on as you like!
**note: if you are using an instant pot, pressure cook the wings for the same amount of time but then finish the crisping part in the oven, under the broiler, until you've reached your desired crispiness.
Nutrition Information:
Yield:

12 wings
Serving Size:

12
Amount Per Serving:
Calories:

170
Total Fat:

14g
Saturated Fat:

6g
Trans Fat:

0g
Unsaturated Fat:

7g
Cholesterol:

39mg
Sodium:

374mg
Carbohydrates:

5g
Fiber:

0g
Sugar:

1g
Protein:

6g