Aaaahh.. iced coffees. Creamy coffee flavors with a chilled icy kick. But they're expensive to buy, right?!! Not if you make them at home. Bring on the INSTANT POT ICED COFFEE CONCENTRATE!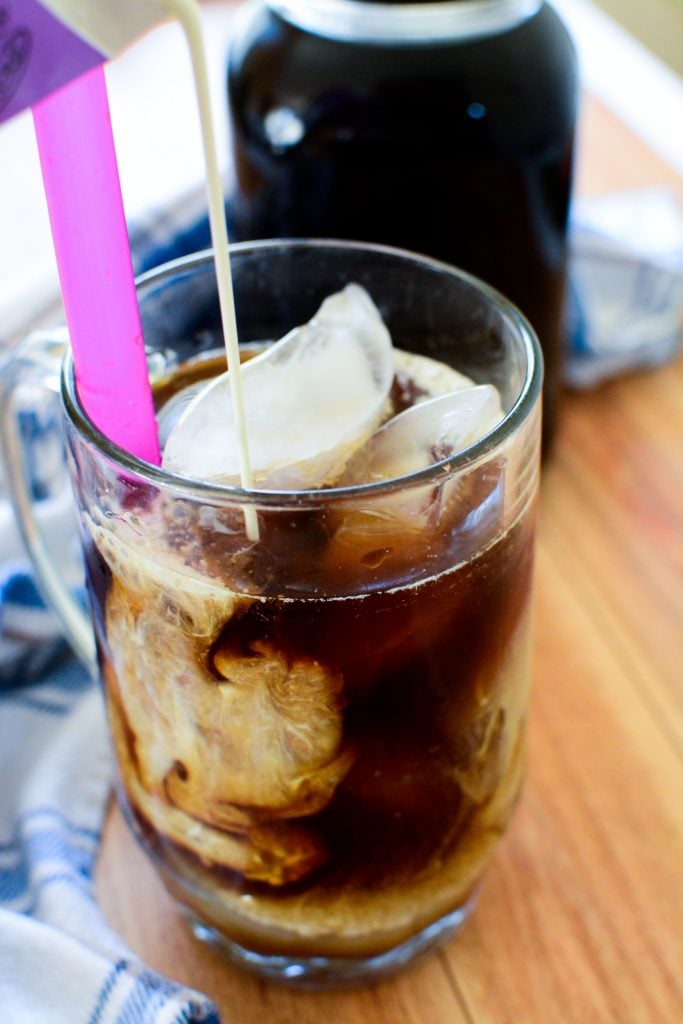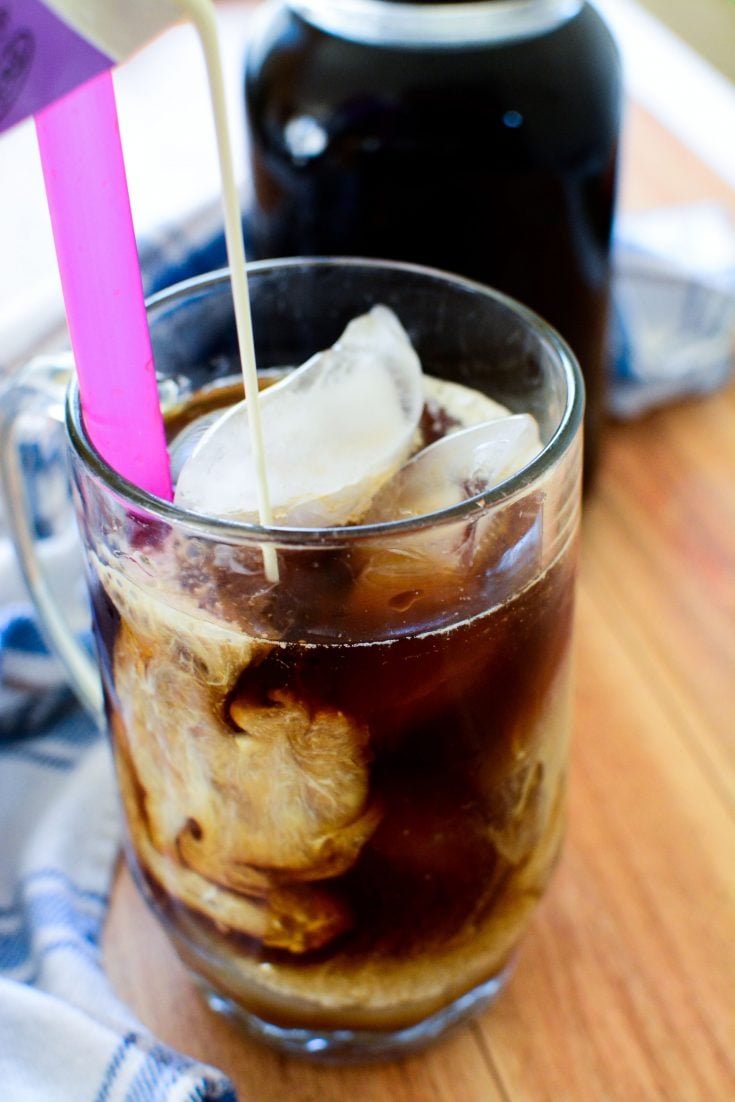 INSTANT POT ICED COFFEE CONCENTRATE
So you could simply make a coffee and wait for it to cool down and then put it over ice, but it's just not the same thing, right? Iced coffees are a tad stronger because that ice, when melting, waters down the coffee flavor.
And let's just talk about the price! You can buy one at one of the most popular coffee shops in the world, and you'll spend close to 5 bucks a shot with each one! (In my neighborhood, anyway).
So why not make them at home? It's easy to do and you'll be loving your iced coffees all summer long, on the cheap!
Let me tell you, I'm the first to admit I'm not a coffee snob like some of my friends, and they might proclaim the ONLY way to have iced coffee is over a cold 'brewed' (pour-over) method. Ok, not a problem.
No one is saying their method is wrong, but I happen to LOVE this method! It's quick, convenient, and gives me another yummy, useful way to use my Instant Pot!
What Can I Use This Coffee Concentrate For?
You could make iced coffees, like we are talking about today, or you could also use it to make hot regular coffee. As my friend Nancy suggested, homemade Frappuccinos would be incredible!
Also, you could add it to your baking when making cakes or loaves. It's especially good when mixed with chocolate cakes!
How Do I Make Instant Pot Iced Coffee Concentrate?
SIMPLE! So we'll be using the Instant Pot, obviously. Now, if you're new to using this handy dandy pressure cooker, no worries. I have this Instant Pot Guide For Beginners post that you can take a peek at that will make you feel a bit more comfortable working with the appliance.
That being said it's a matter of using the Instant Pot to extract as much coffee flavor from your favorite coffee grinds, in an intense, concentrated sort of way! You'll be pressure cooking the coffee grinds in the water to create a concentrate so that you can simply make your instant pot iced coffees at your convenience!
Simply said, you'll add the decaf coffee grinds to the water and use the pressure cooker function for an amount of time, and then separate the coffee grinds from the concentrate when it cools. But, there are a few specific things you'll want to keep in mind.
Brand of coffee
Type of water
Strength of concentrate
Steeping time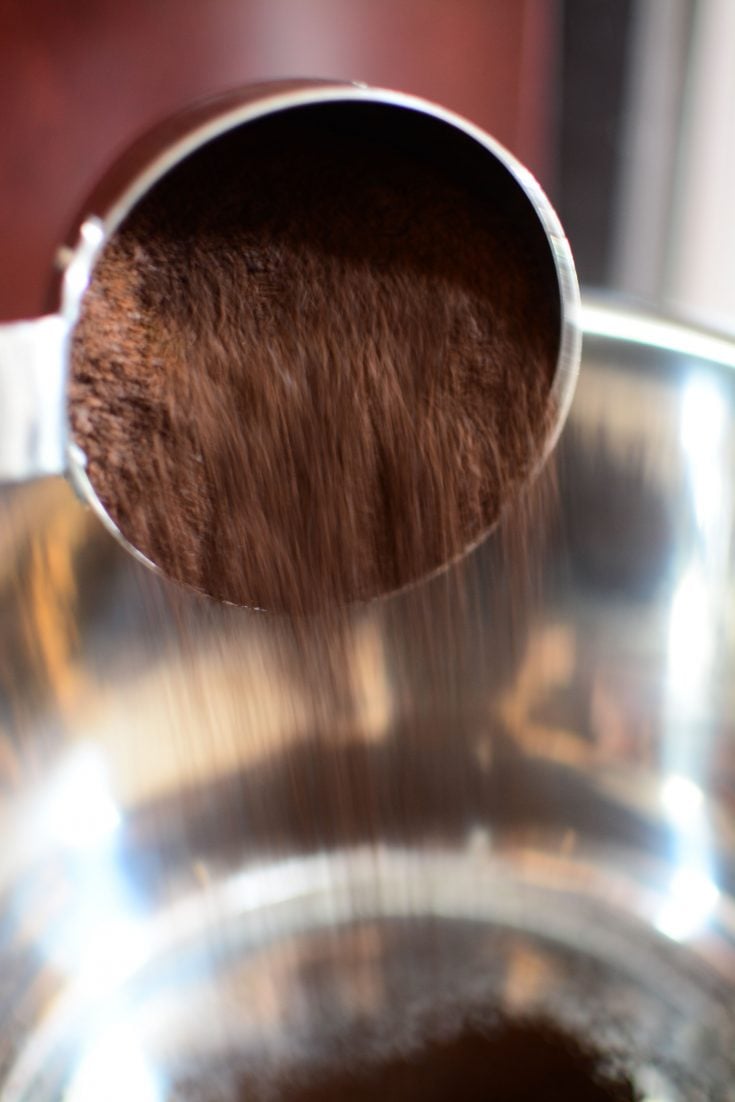 Can I Use Any Brand Of Coffee?
You bet! You can use your favorite brand. Myself, I prefer a decaf (gasp, I know),  Americano blend, but use whatever is your favorite. This recipe is meant to be used with decaf coffee and the concentrate will be very (too) strong if you used regular caffeinated coffee. You'll want to be sure the grind is a normal grind, not course, and not fine. If the grind is too fine your concentrate will be too 'sludgy" if that makes sense.
What Type Of Water Do I Use?
Ok, well you can use regular tap water of course. However, I would suggest using filtered water if possible. It makes for a much smoother coffee flavor and is worth the extra work to buy the filtered over using regular tap water.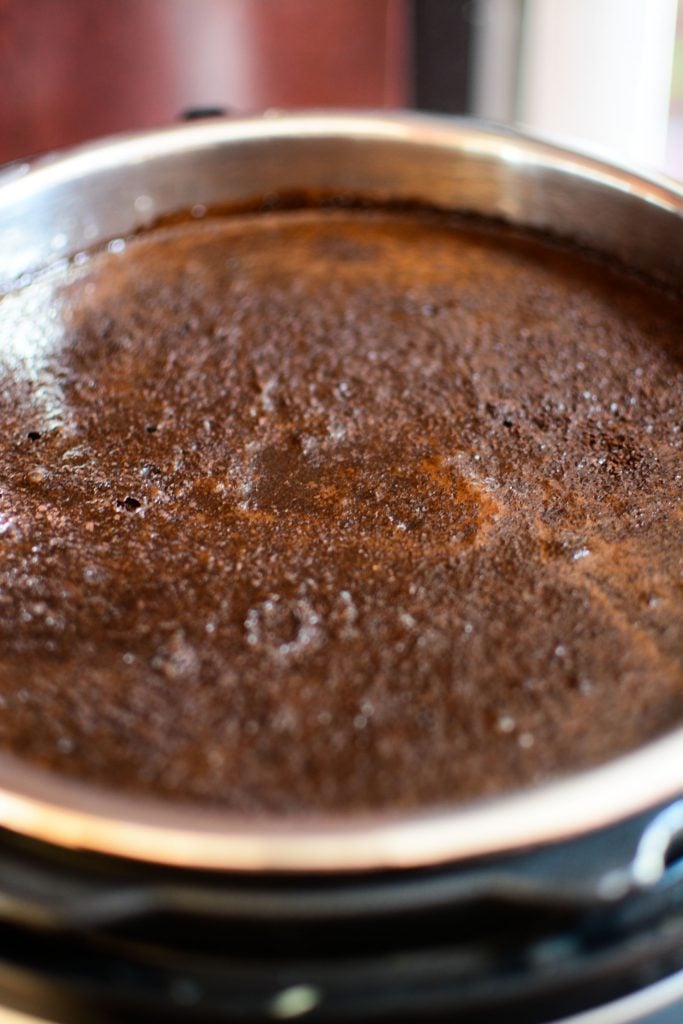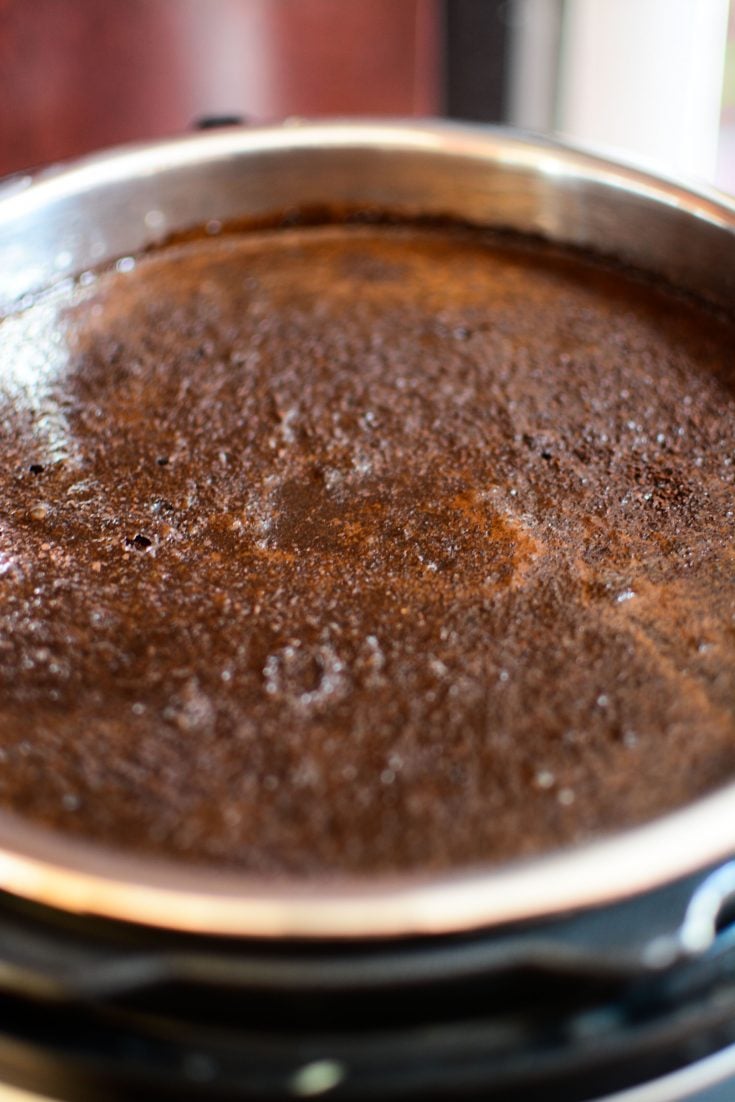 How Strong Can I Make The Concentrate?
Technically, as strong as you want. The strength of the coffee concentrate will come from the length of pressure cooking/steep time, as well the amount of coffee grinds you use, to begin with. I used 1 ½ cup of grinds to a full (max line) Instant Pot of water. That was plenty strong for me, but you should use your discretion as to the strength you'd like it to be.
Keep in mind that this recipe is meant to be made with decaf coffee grinds, but if you use a regular grind, the more coffee grounds you use, the stronger the caffeine levels. The Salty Pot cannot be held responsible for the effects of too much caffeine, so please proceed with caution. This is why I used decaf coffee for this recipe! This concentrate recipe is meant to be MIXED WITH EQUAL AMOUNTS OF WATER for the final iced coffee. You should not drink this concentrate straight!
Can I Pressure Cook / Steep The Grinds Longer?
Sure can! Again, if you're looking for a stronger brew, feel free to pressure cook / steep the grinds for longer than I did. That being said, there will come a time that the grinds are 'spent' and will not make the concentrate any stronger. If you want it SUPER strong, then I would use a darker roast.
(Keep in mind though, the more grinds you use, the more caffeine that will be present if you use a caffeinated blend of coffee, so one needs to practice caution. The Salty Pot cannot be held responsible for the consequences of ingesting too much caffeine. This is why I used a decaf coffee for this recipe)
Also, for a fresher taste, try and grind your own beans if possible, just before using them in the Instant Pot.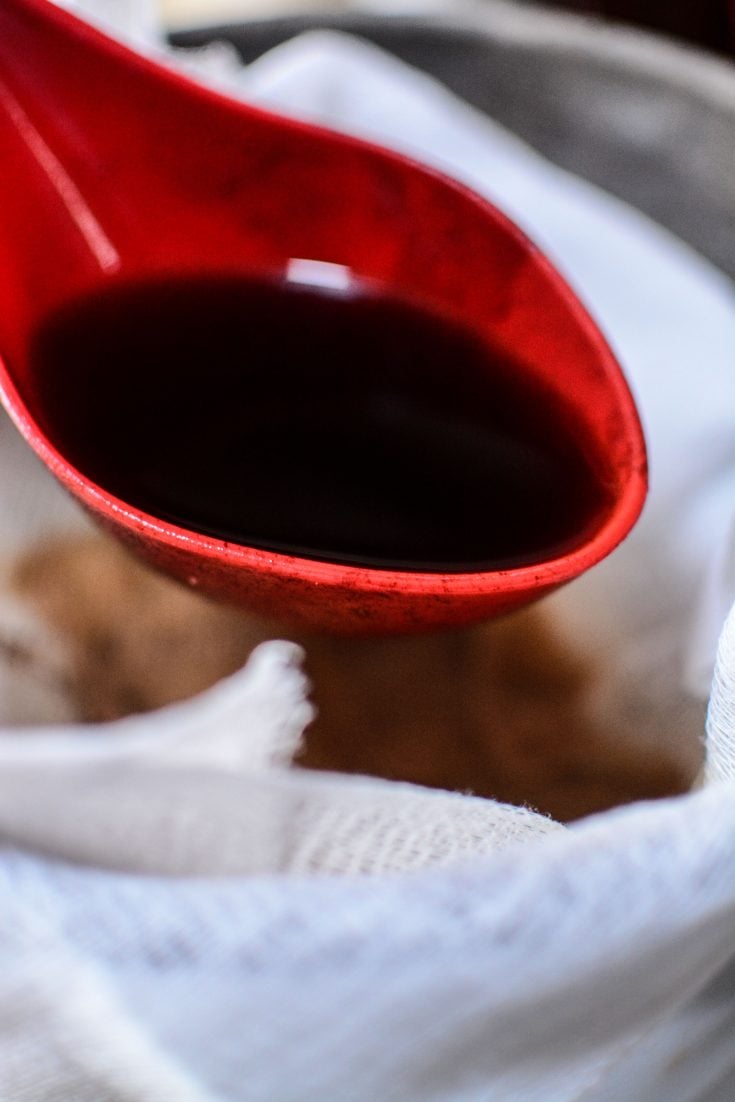 Can I Use Flavored Coffee Grinds To Make This Instant Pot Iced Coffee Concentrate?
Yes! Feel free to use any flavored decaf coffee grinds you'd prefer. Some suggested flavors could be:
Hazelnut
Vanilla
Dutch Chocolate
Caramel
How Would I Serve My Coffee Concentrates?
So because it's a concentrate, you will want to play a little bit with the ratio of concentrate to water. If you want a stronger cup of iced coffee, then use more concentrate than water.
With my brew, I use about half water and half concentrate. Of course, if you make your iced coffee stronger, then you'd use less water. It's all trial and error until you find the perfect ratio.
As for serving, I like to use a little bit of coffee cream and sugar in my iced coffees. But again, feel free to have them just as you wish.
Black iced coffee
With a bit of cream and sugar
Add some flavored syrups
Add some whipped cream on top
Use crushed/minced ice to make a slushy
Add some Baileys Irish Cream for an adult kick!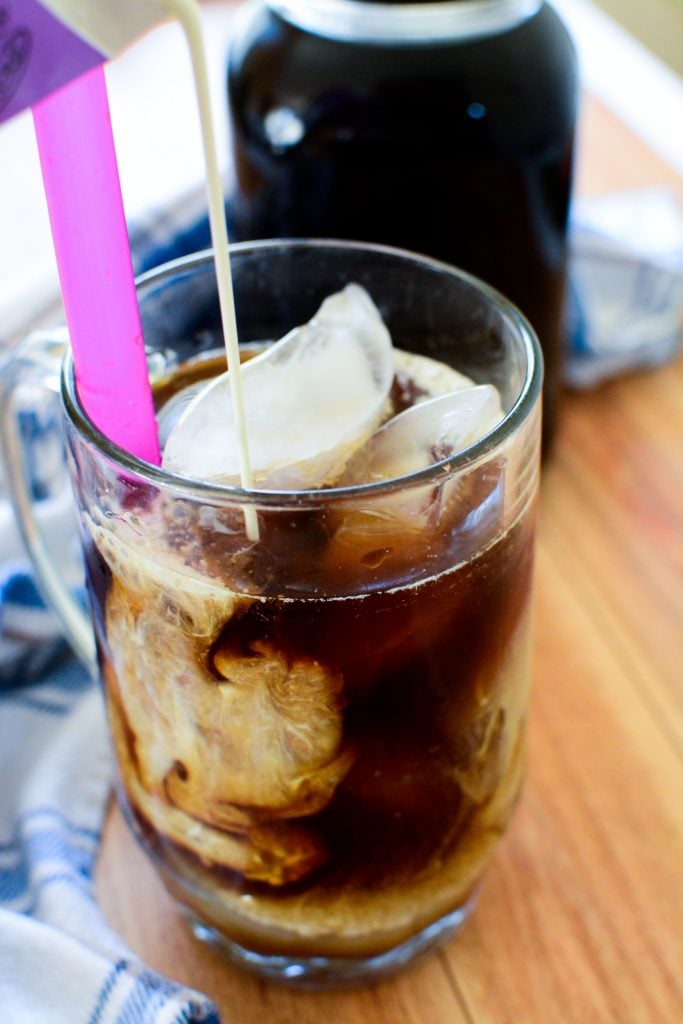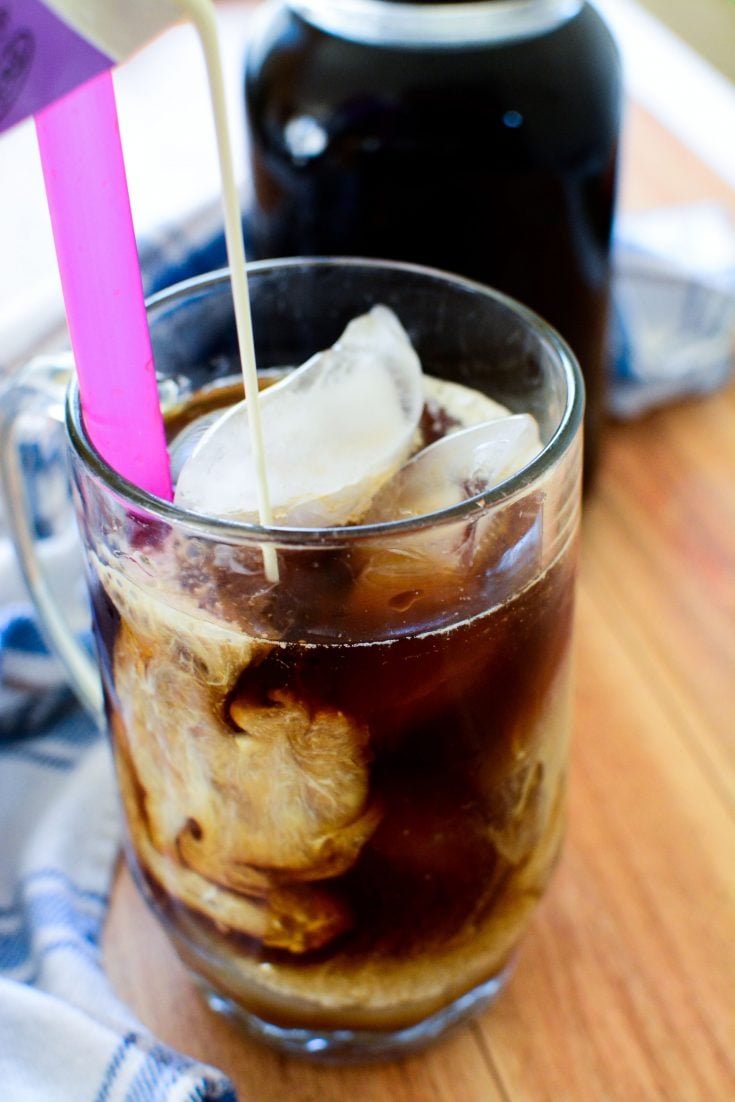 How Else Can I Serve This Coffee Concentrate?
Well, I recently tried a little experiment! I made the coffee concentrate like normal, and then when it cooled, I poured some into ice cube trays along with pouring some heavy whipping cream into some of the ice tray compartments as well.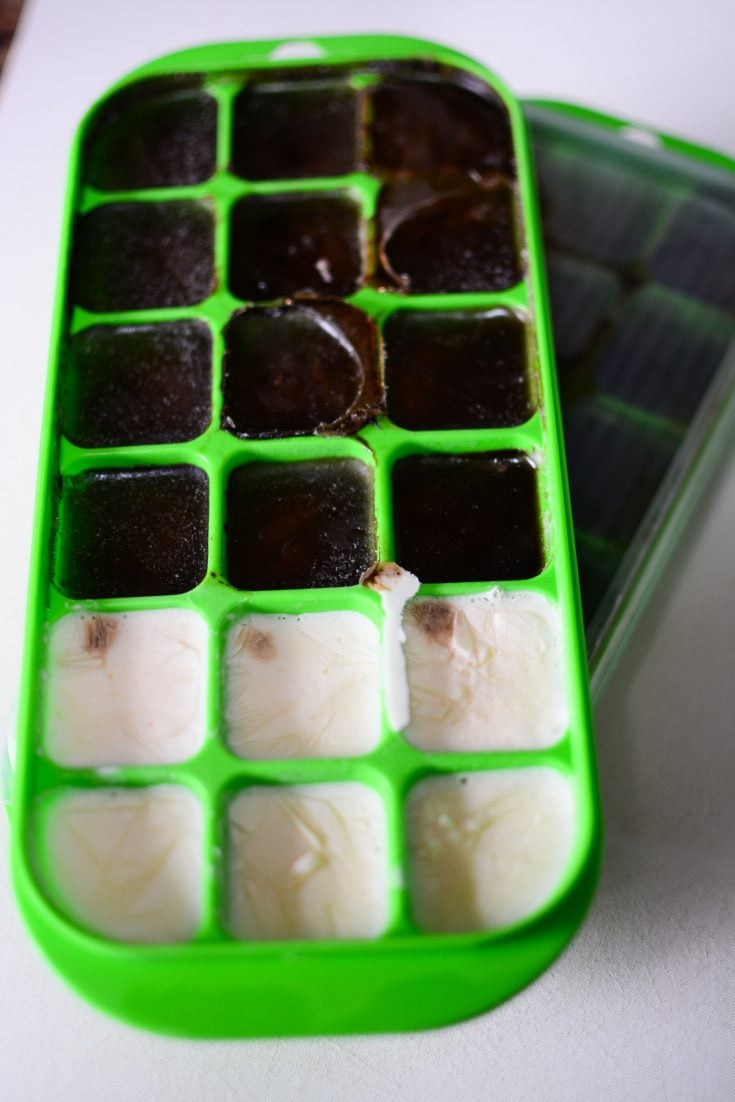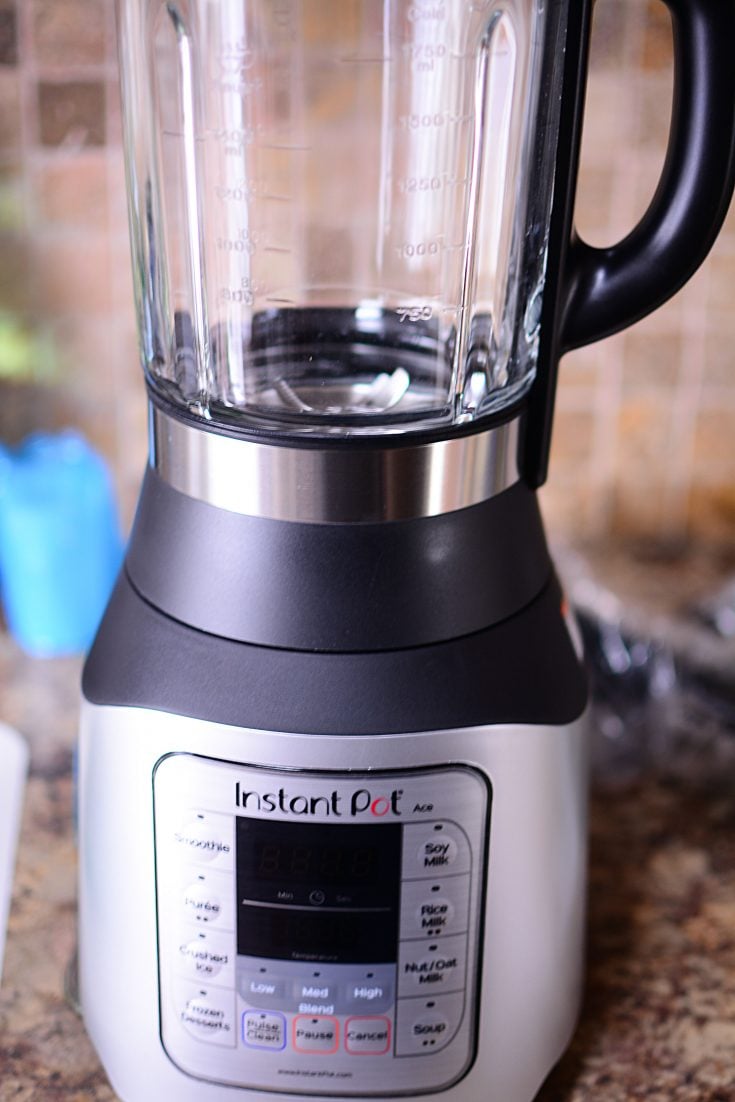 I froze them for a few hours, and then removed them from the tray. I added them to my new beast of a blender!! The good folks at Instant Pot hooked me up with a fantastic Ace Blender that made quick work of those cubes!

Seriously guys, when I say this blender is a beast of a machine, it truly is. There are SO many things you can do with this blender and it literally pulverizes things right to a puree!!
Plus… YOU CAN MAKE SOUP RIGHT IN THE BLENDER!!! It has a heating element in the carafe so that when you set your ingredients in there, you program it for soup, and can LITERALLY walk away from it and let it do its thing!! It will boil/cook the soup right in the carafe! It's the coolest thing ever! Just wait till you see what else I have in store for this super cool appliance!
Ok, so back to the drink! I added the cubes, both coffee, and cream, to the blender. I added extra concentrate and extra cream, and a bit of sweetener.
Then I put in about two tablespoons of chocolate syrup and PRESTO!!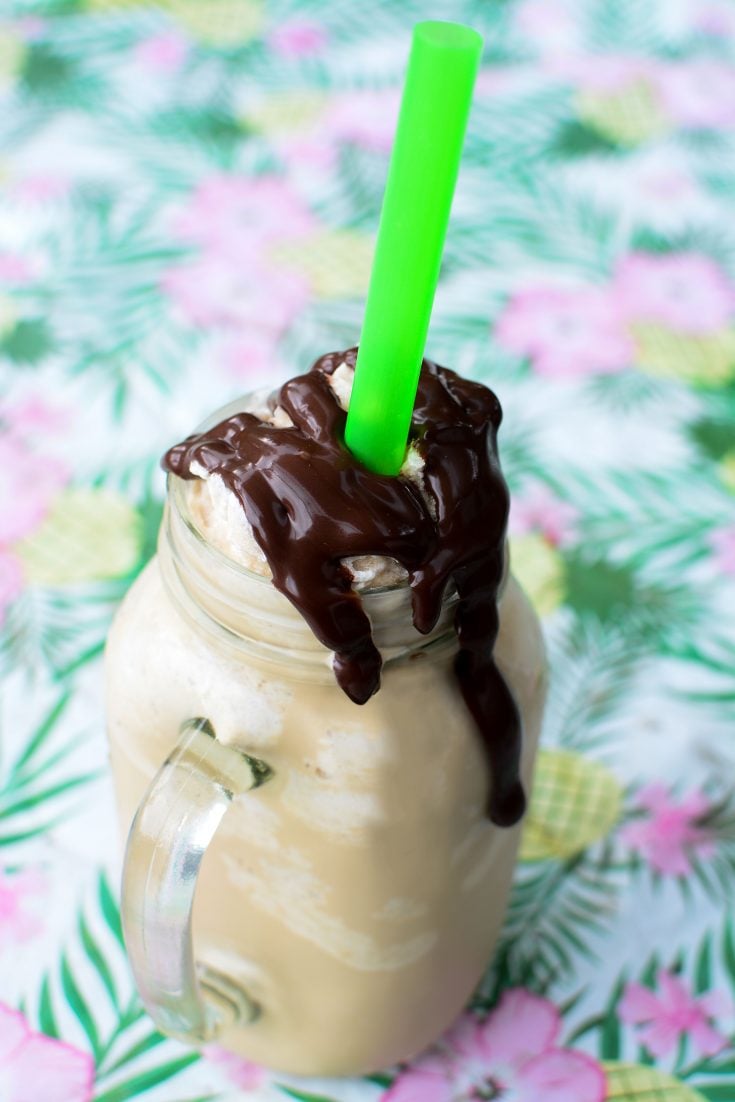 ICED MOCHACCINO!!!!!
This was so incredibly delicious!! Think of the ways you could switch this up!!
– Flavored coffee ice cubes
– Flavored Creamers
– IRISH CREAM additions to make a grown-up coffee Slurpee!!!
– Whipping cream on top
– Added vanilla and cinnamon to the blender for even more flavor!The possibilities are literally endless with this concept! I love Instant Pot Appliances!!
I hope that you can see how versatile this coffee concentrate can be. I know it saves me a ton of money (and time) when I make this at home. If you're interested in making your very own boozy coffee creamer, I have a post on the blog for you take a peek at as well. It's super easy! Lastly, you can actually use this concentrate to make a HOT coffee as well by simply adding boiling water to the concentrate (instead of cold water) to enjoy a hot cup of coffee!
Thanks so much for stopping by The Salty Pot today, and when you make this concentrate, I'd love to hear what you thought of it and how you prefer to drink it!
***DON'T FORGET TO PIN THIS INSTANT POT ICED COFFEE CONCENTRATE RECIPE PIN TO YOUR FAVORITE PINTEREST BOARD TO SAVE FOR LATER***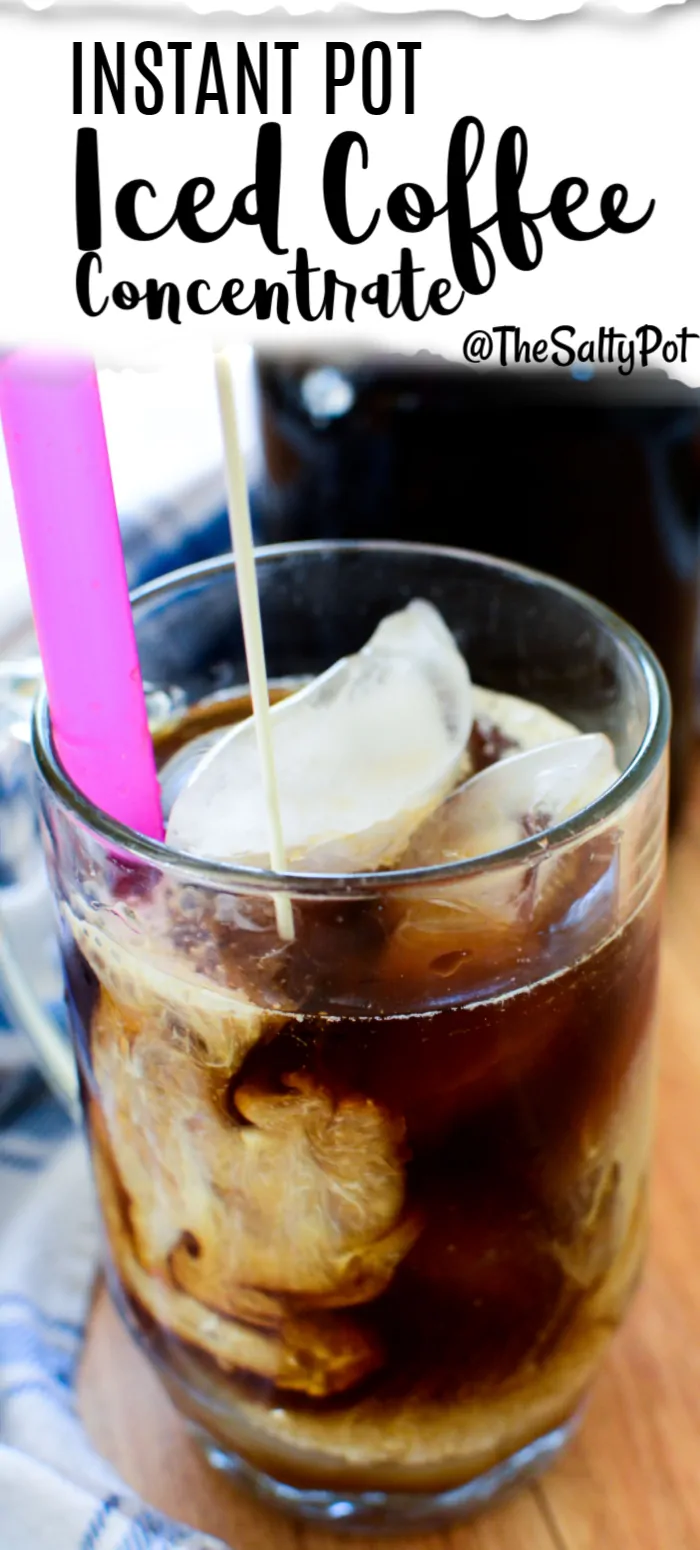 Instant Pot Iced Coffee Concentrate
Total Time:
2 hours
7 minutes
An Instant Pot Iced Coffee concentrate that's perfect for making creamy iced coffee all summer long!
Ingredients
1 ½ cup fresh decaf coffee grinds (regular grind)
18 c water (see notes)
Instructions
Add the decaf coffee grinds to the instant pot bowl insert
Add enough water to come to the MAX on the pot (approx 18 c) **see notes
Press manual , high pressure for 5 minutes
After the cooking time is up, let it do a natural release until the pin drops and it's safe to remove the lid.
Leave the coffee mixture in the pot until it is totally cooled down to room temp.
Line a colander with cheese cloth and set it inside another bowl.
Ladle the coffee concentrate through the colander to remove the grinds. **see notes
Store the coffee concentrate in jars and chill until you are ready to use.
When making the iced coffee, use a half and half ratio of water and coffee concentrate and mix well.
Garnish with heavy cream or coffee cream and sugar if you prefer. Enjoy!
Notes
** Add enough water to come to the MAX line on the inside of the pot.. I measured it to be 18 cups, and I have an 8 quart Instant Pot.
**The strength of the concentrate will depend on how long you let the grinds steep. I let mine steep until the Instant Pot had completely cooled down naturally, up to about 2 hours.
You can leave it longer if you wish, however, coffee grinds will eventually be 'spent' with steeping time. If you wish the concentrate to be stronger, then use more grinds.
Advisory: The stronger the coffee, the more the caffeine that will be present in the concentrate if you use regular, caffeinated coffee. Please take caution with how much you consume. Too much caffeine can be harmful and The Salty Pot cannot be responsible for any adverse affects resulting from ingesting too much caffeine.
Nutrition Information:
Yield:

32
Serving Size:

4 oz
Amount Per Serving:
Calories:

0
Total Fat:

0g
Saturated Fat:

0g
Trans Fat:

0g
Unsaturated Fat:

0g
Cholesterol:

0mg
Sodium:

4mg
Carbohydrates:

0g
Fiber:

0g
Sugar:

0g
Protein:

0g