If you like beef short ribs, I highly recommend you try these BBQ Beef Short Ribs! Cooking them in the Ninja Foodi makes them succulent, tangy, and positively delicious!
This post may contain affiliate links. If you make a purchase after clicking a link, I may earn a small commission AT NO COST TO YOU. As an Amazon Affiliate, I earn from qualifying purchases.
***** This post was updated on May 15, 2023.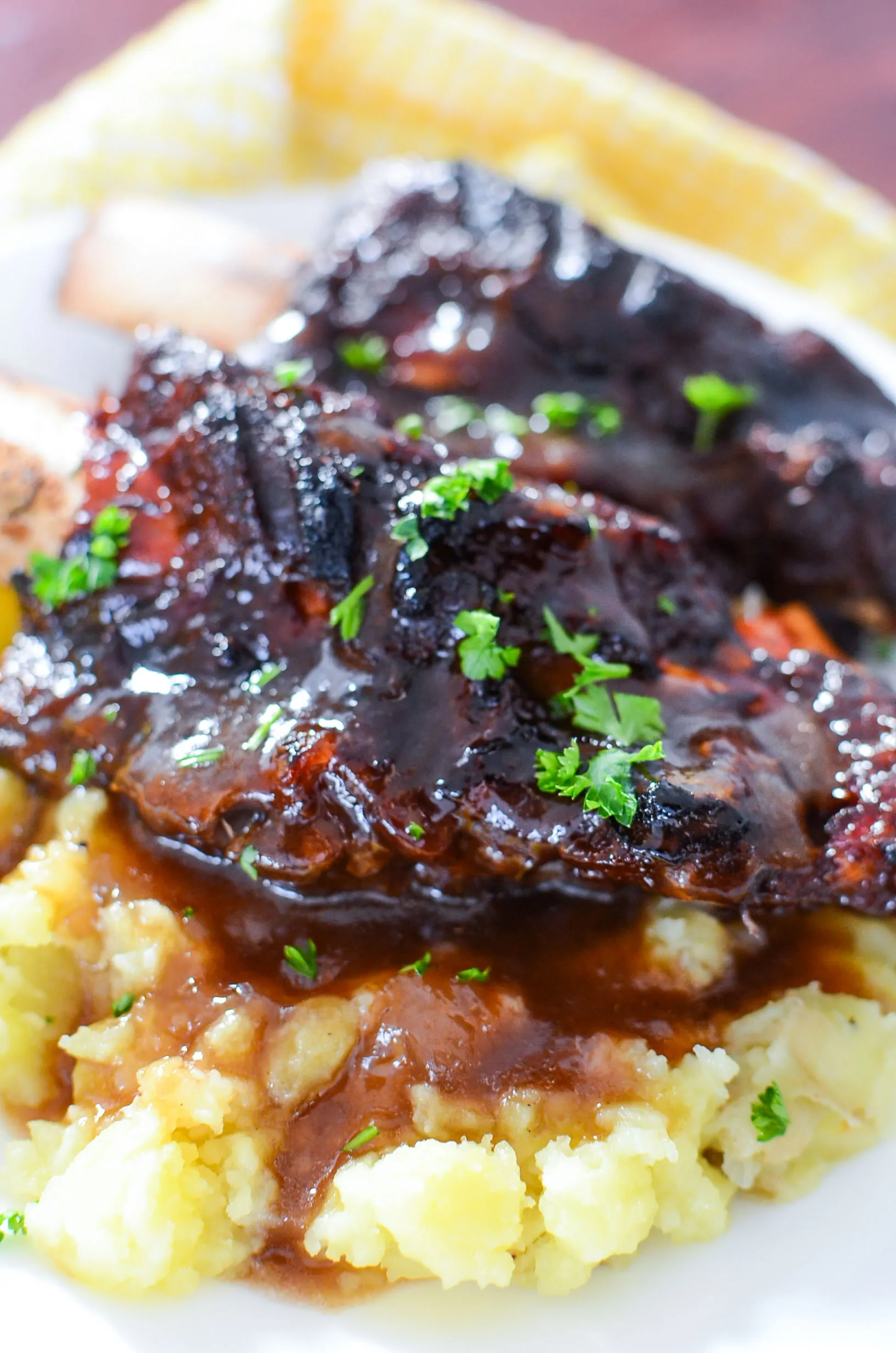 NINJA FOODI BBQ BEEF SHORT RIBS
One of the most amazing things about cooking these beef ribs in the Foodi is that not only can it pressure cook the ribs, it also crisps up the outside of the ribs so that you get that crispy 'char' type of texture.
It's one of my favorite food items in the world, seriously!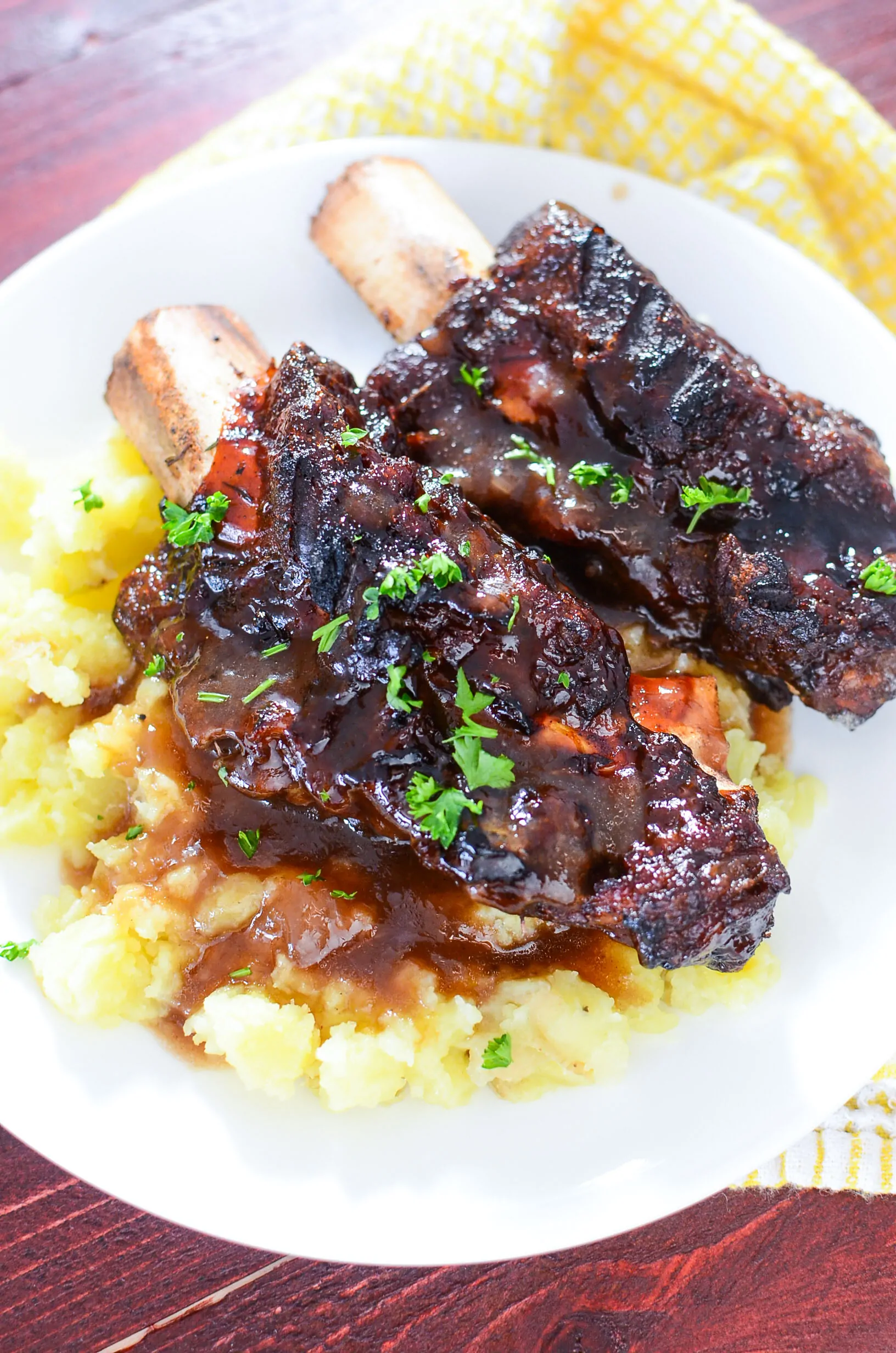 Differences Between Beef Short Ribs and Regular Beef Ribs
So in my research, I learned that, according to The Barbecue Bible, beef short ribs are from the lower portion of the rib area on the cow. These are known as "plate ribs".
These are different than back ribs, as they are from the upper portion of the rib area of the cow, and are usually trimmed a lot of their meat, so are a bit leaner than short ribs.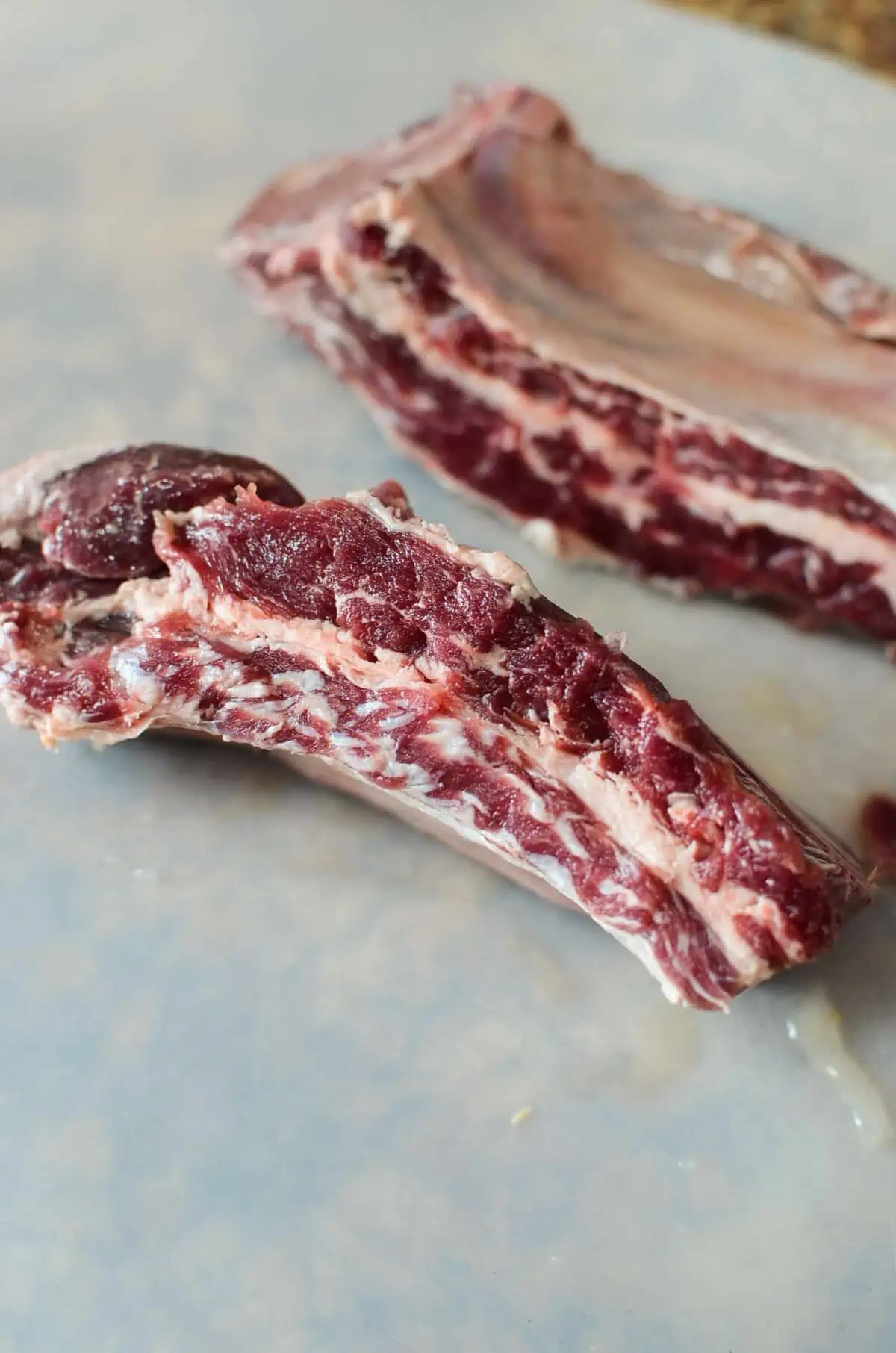 Cooking BBQ Beef Short Ribs
I only cooked two ribs as it was only for myself but after I made them, I wished that I'd made A LOT more to have as leftovers! The ribs were tender and succulent, and the sauce was tangy, savory, and incredibly delicious.
You'll want to pressure cook them first because short ribs are quite tough, so to just outright grill them, or oven roast them in a short amount of time, without tenderizing them first, just won't produce a nice finished dish.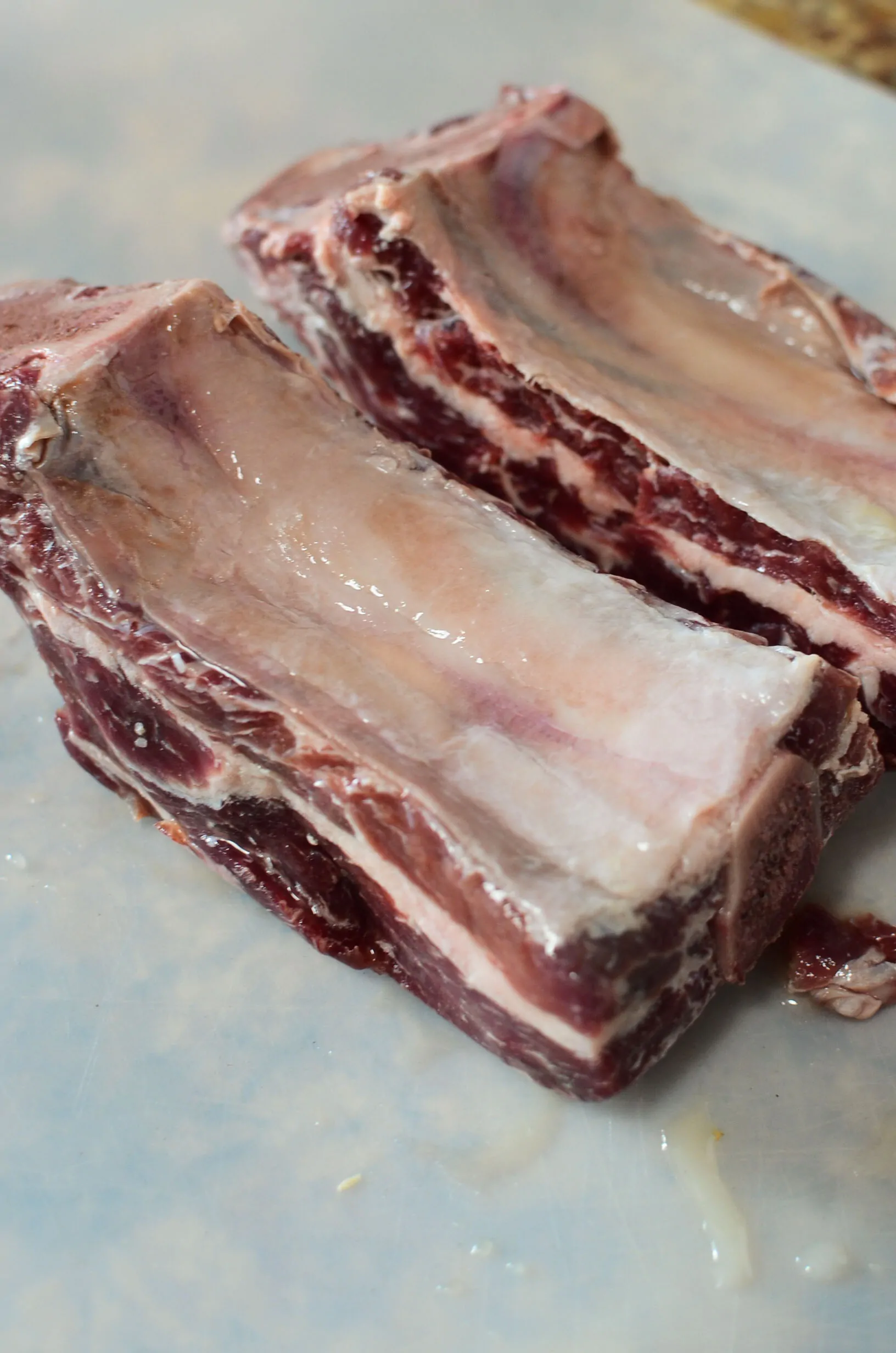 I seasoned the ribs generously before I pressure-cooked them. I prefer to season at every stage of cooking to create layers of flavor!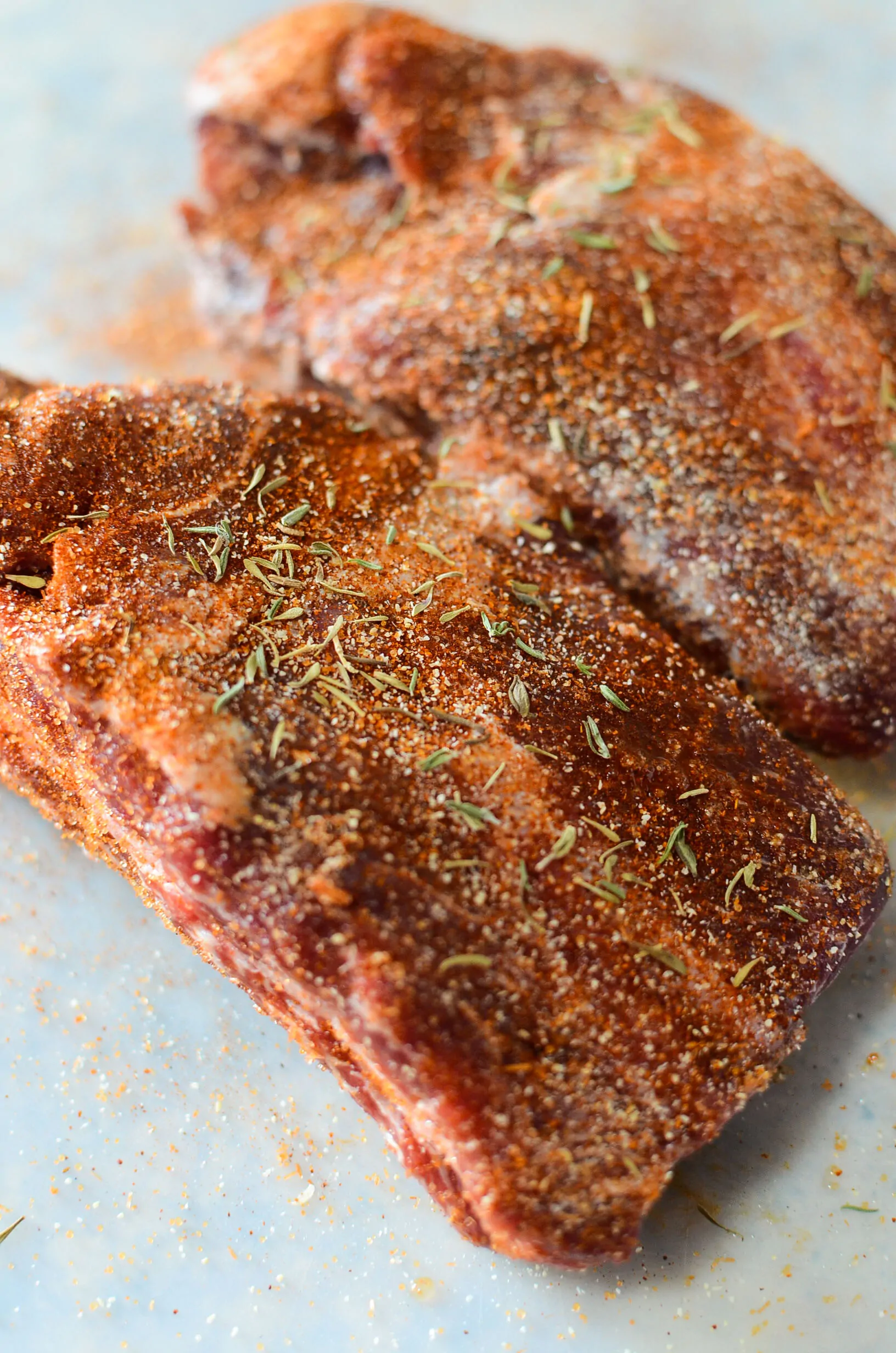 So if you've cooked with the Ninja Foodi before, you know it needs liquid in the pot to be able to come to pressure.
So again, layering flavor here is the key, so why use just water when you can use wine? 🙂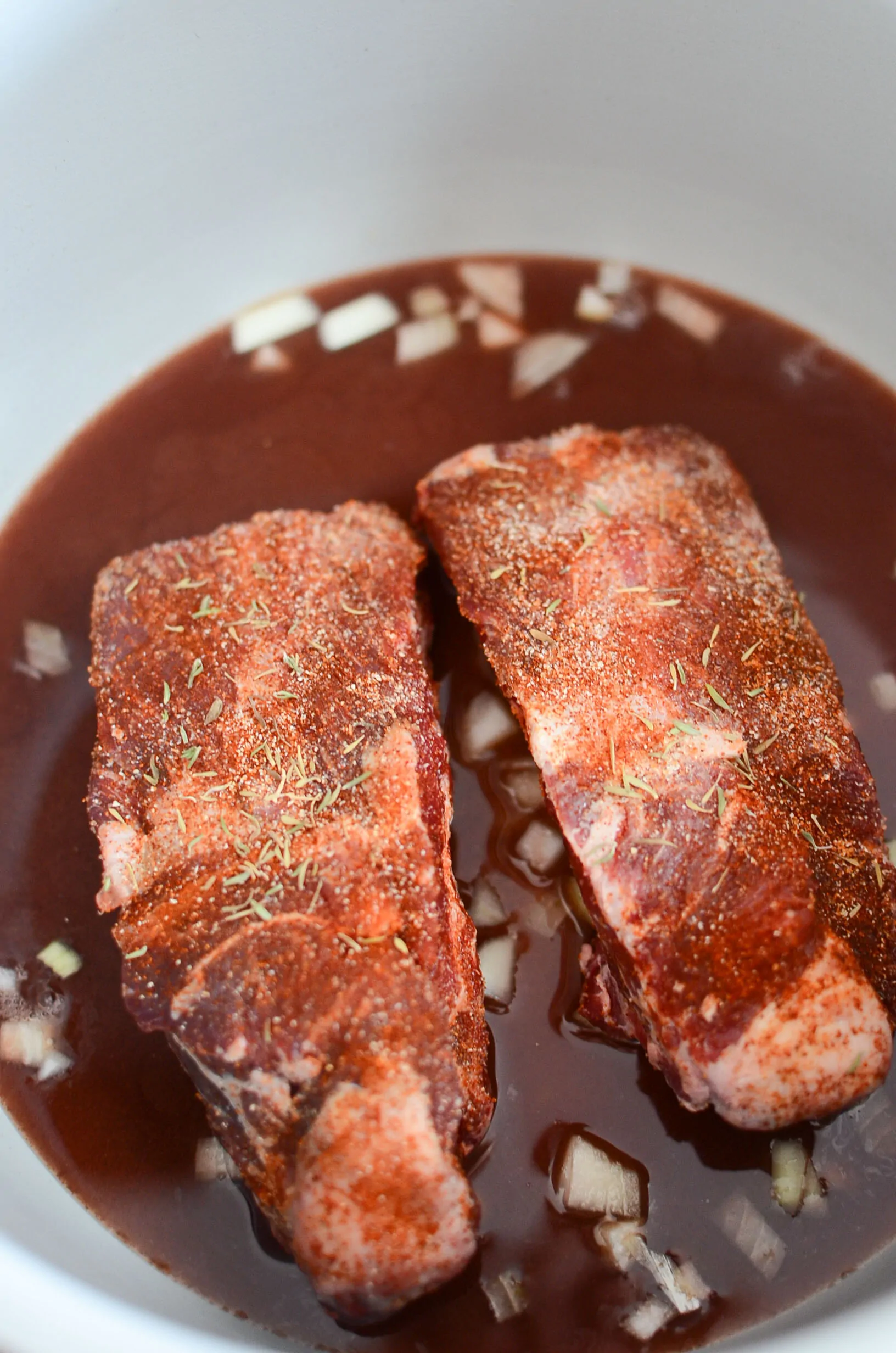 Sealing this magical appliance up with the ribs nestled inside, we pressure cook those babies for 40 minutes.
If you want to cook more than two ribs at a time, there's no problem with that! (and I recommend it!)
Just know that the pressure cooking time is exactly the same.
No need to increase it.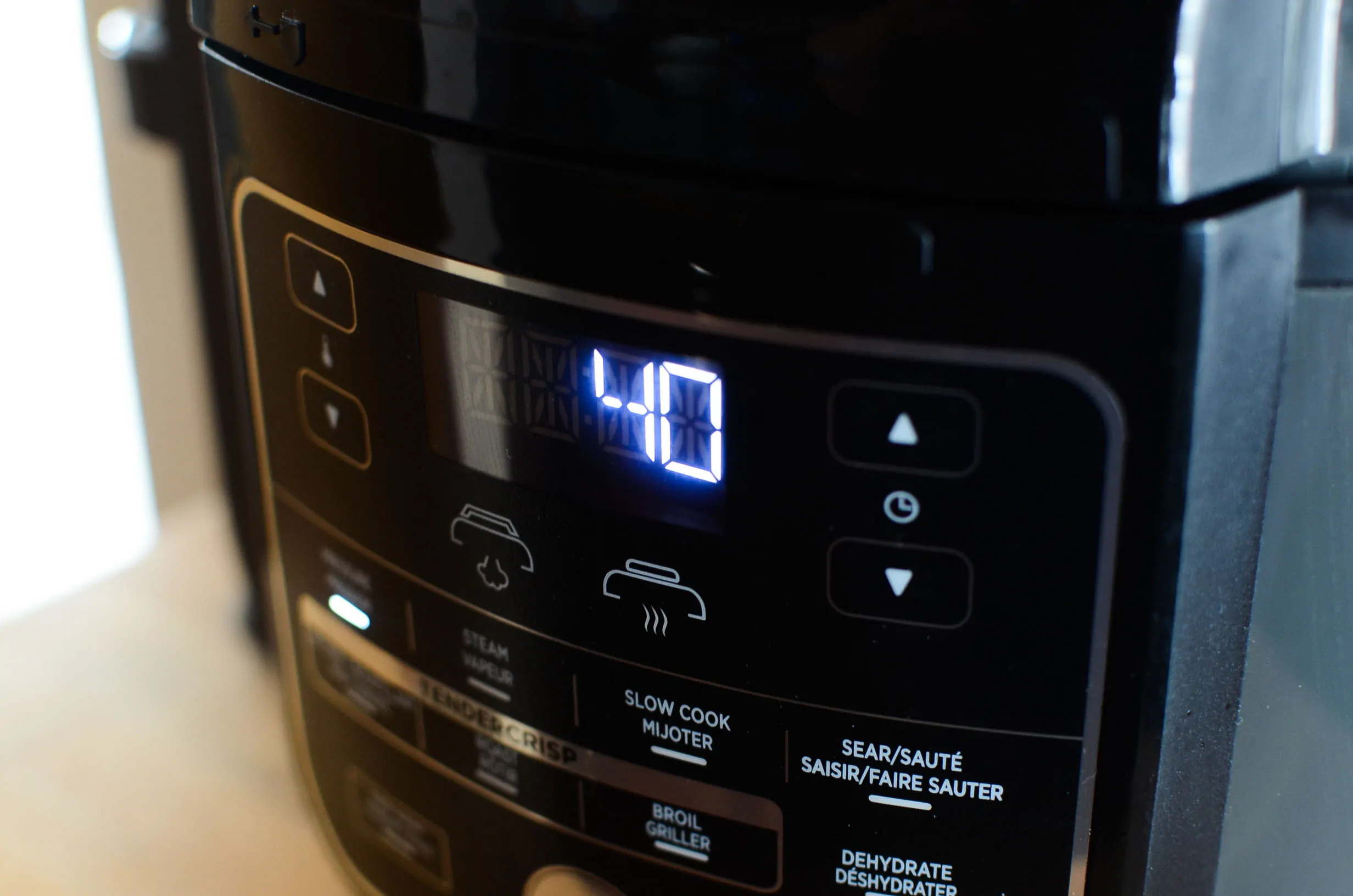 So when the cooking time is up, then the yummy crisping part begins!
Don't drain those cooking liquids!! We'll be using them in a bit!
Place the rack in the bowl and you're off to the races!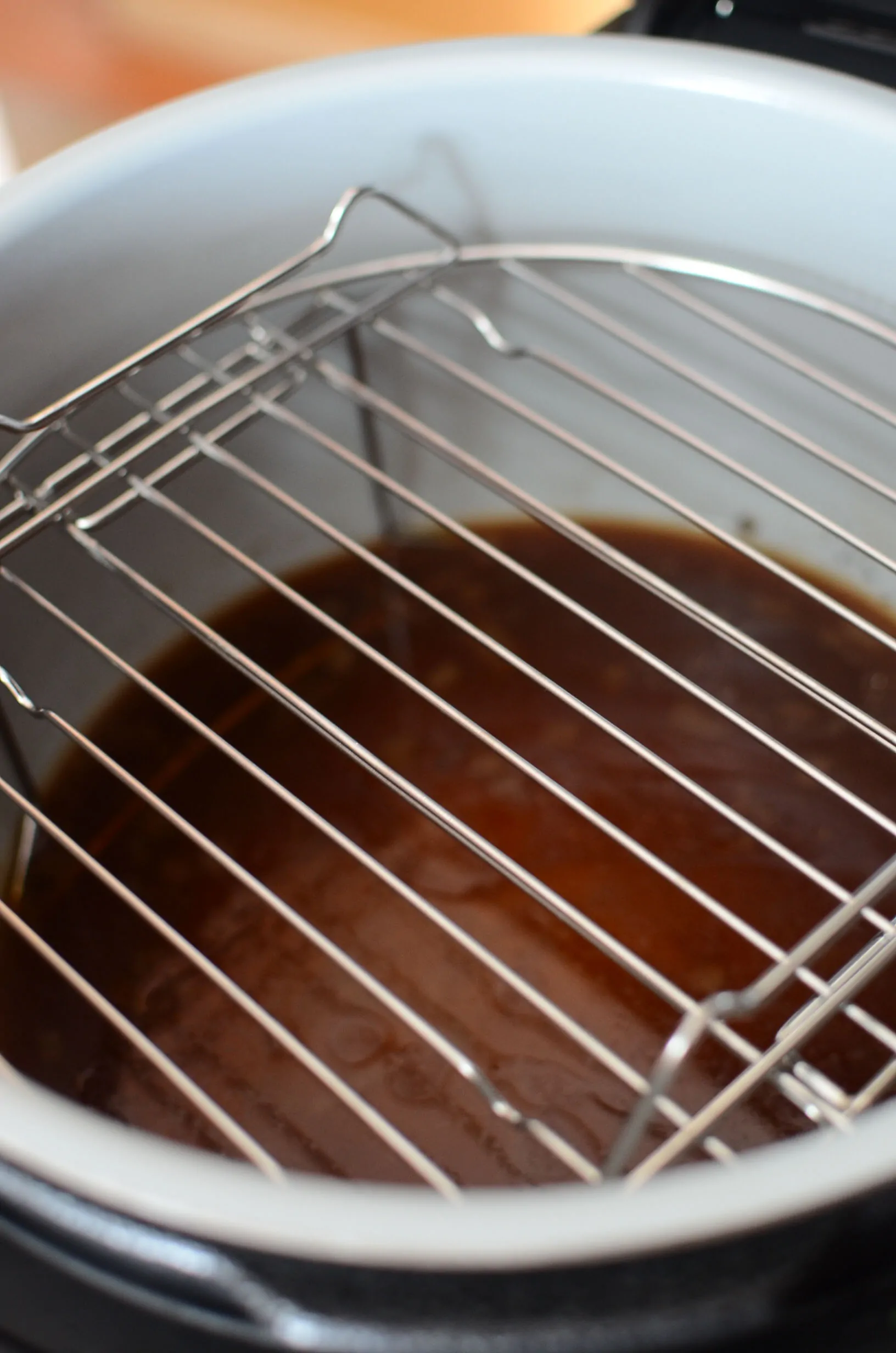 GENEROUSLY slather BBQ sauce over the short ribs. I used Kraft Chicken and Rib, (not sponsored), but there are eleventy billion different sauces out there – use your very favorite!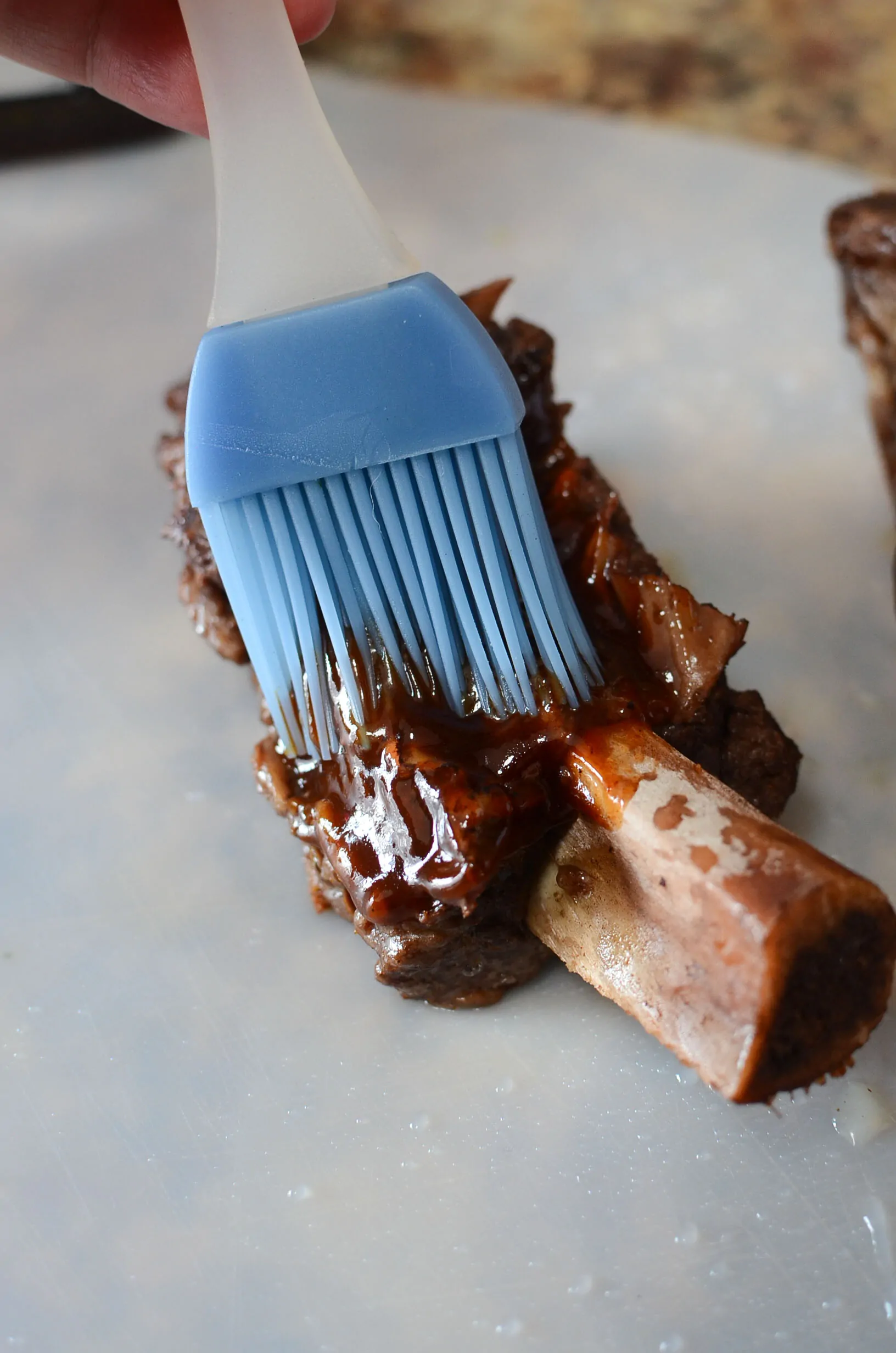 Set the Foodi to the Air Crisp function, and crisp away!
Don't ever leave flavor behind in the pot, guys! Use a cornstarch slurry and thicken up those pan dishes to pour over some soakable mashed potatoes!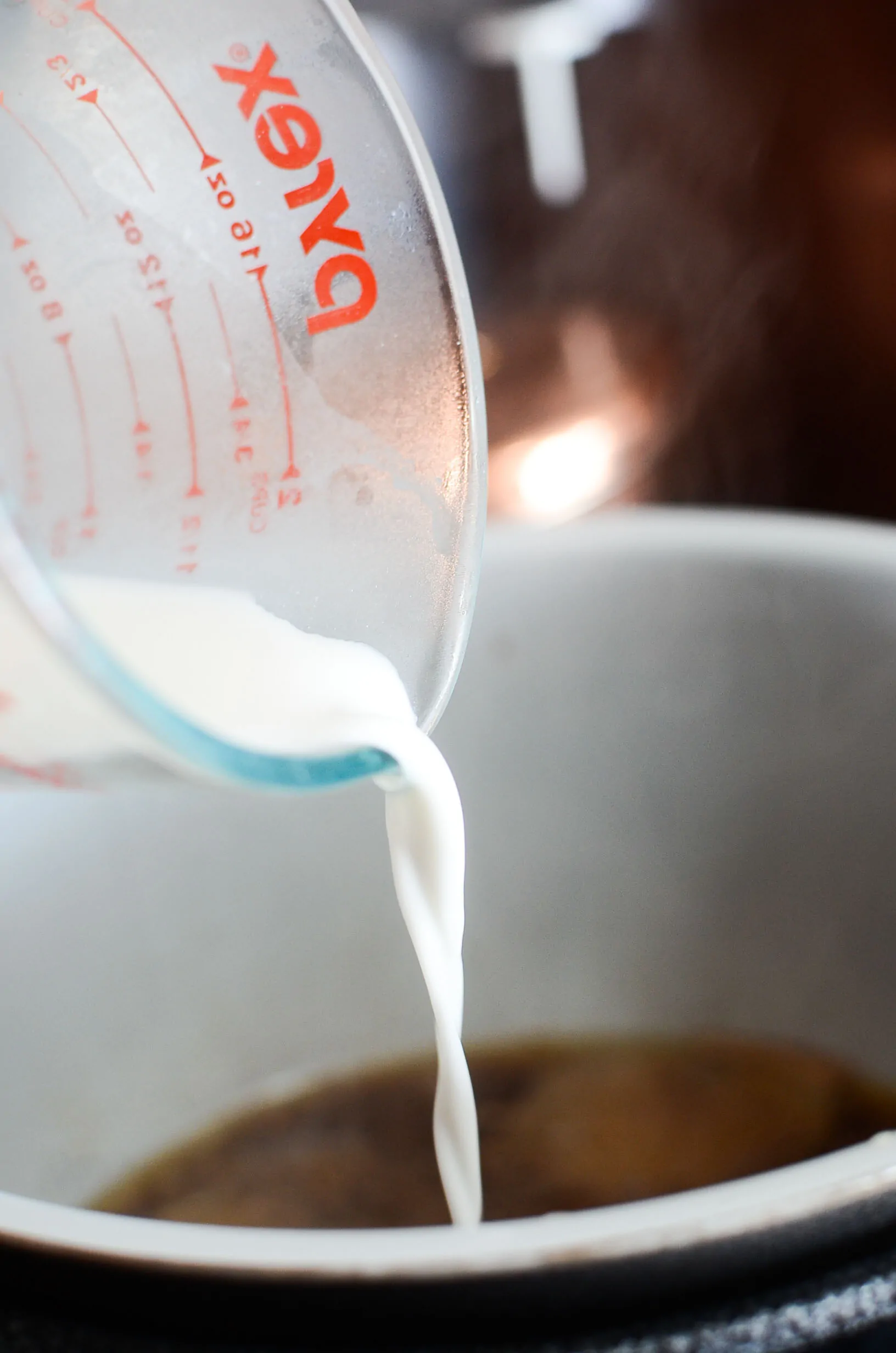 As I write this, my mouth is literally watering for those ribs. I was SO happy with the Ninja Foodi and how I was able to make these all in a "one pan" sort of thing!
Could I Do These With Pork Side Ribs or Beef Back Ribs?
For sure! The pressure cooking time would probably be slightly less, but the saucing of the ribs, air crisping, and making the sauce would all be the same.
Can I Start Out With Frozen Ribs?
You can start with frozen ribs, for sure. I would run them under some water so that even though they are frozen, you can season them and the seasoning will stick to the ribs. Then, proceed as normal with the recipe.
If all the ribs are separate like mine are, the only difference with using frozen ribs will be the 'come to pressure' time. Starting with frozen ribs just means that it will take longer for the Foodi to come to pressure during the pressure cooking phase.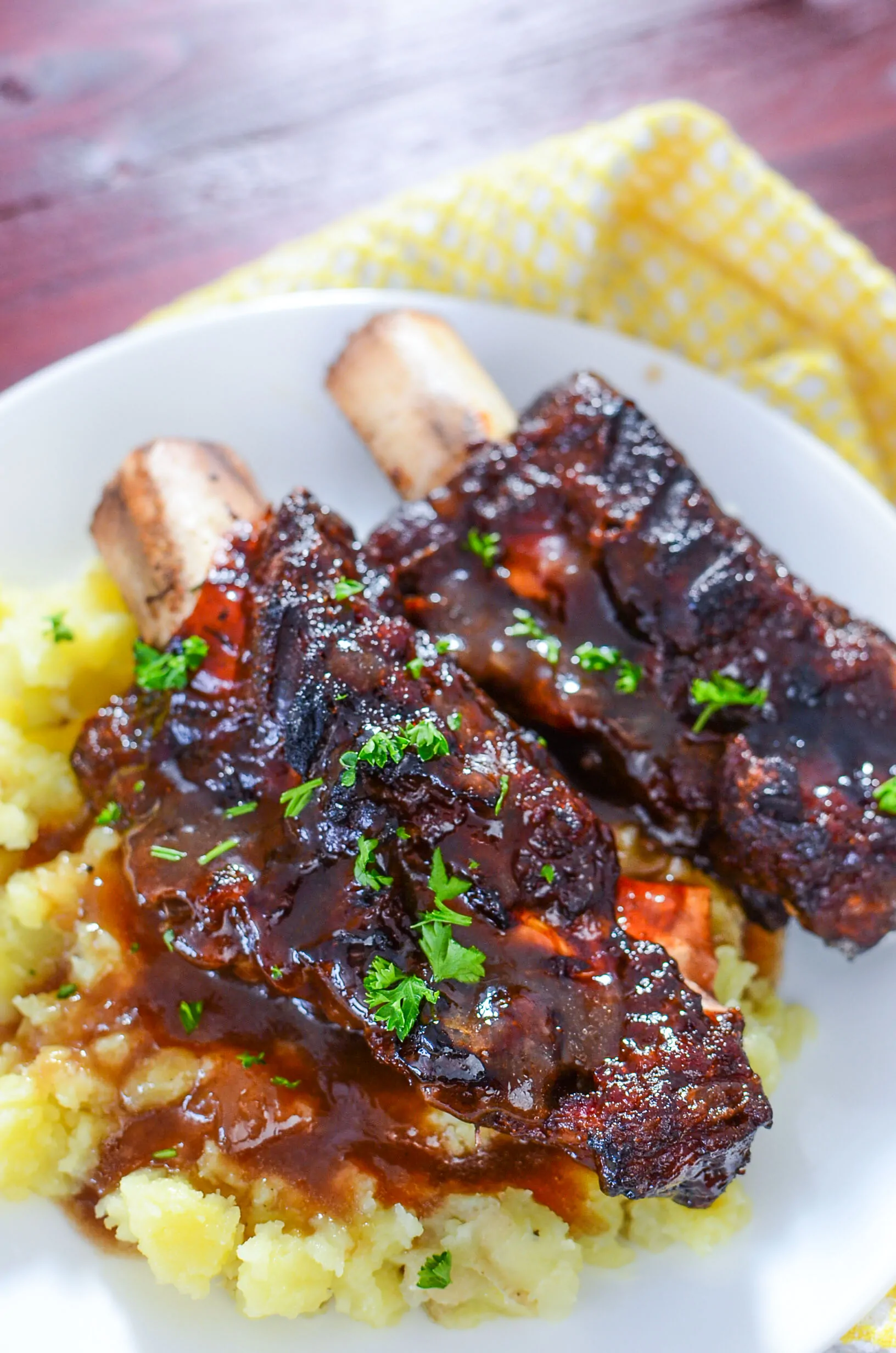 What If I Don't Want To Use BBQ Sauce?
Well, that's just crazy talk. haha!! I'm just kidding. You can absolutely go sauceless! (great keto/low carb option as well!)
An idea would be to use beef broth to pressure cook with and don't add wine. Then simply thicken that into a gravy of sorts.
That would be equally as delicious!
To make these sauced, Keto BBQ Short Ribs , use a low or no sugar sauce, thicken with Xantham gum, and serve them with a keto Instant Pot mashed "potato'
Yes! The cooking method would be totally different though. You would want to cook them 'low and slow' in a roasting pan with a lid to keep in the moisture.
You'd be looking at roasting the short ribs for at least a few hours in order to break down the tough connective tissue. Add sauce near the end.
Incidentally, if you have an Instant Pot, you could use that, and then, of course, sauce when they are done cooking and broil in the oven.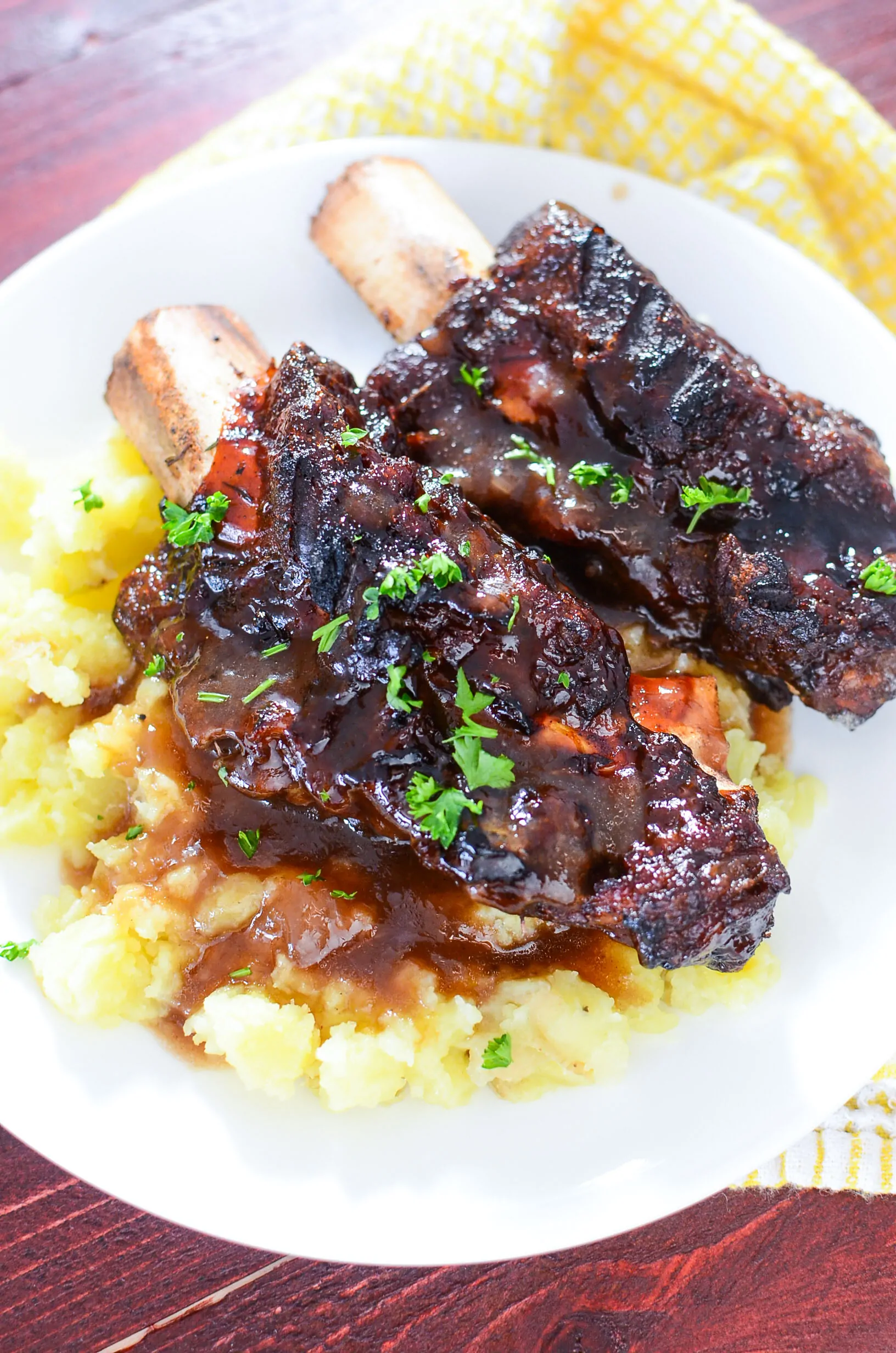 What Is A Perfect Side Dish For These BBQ Beef Ribs?
Ideally, my preference would be mashed potatoes. That being said, feel free to serve them with rice or even quinoa.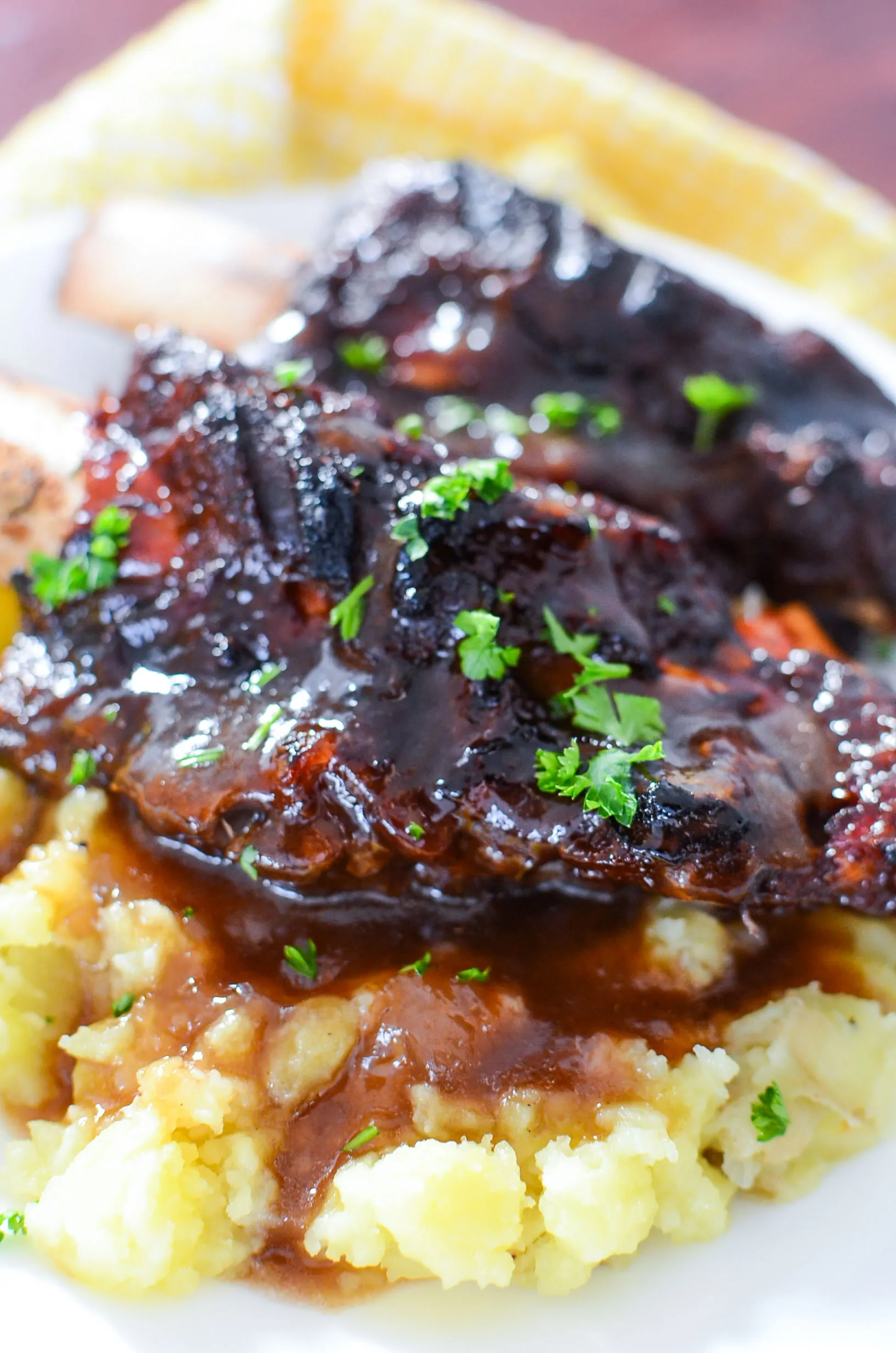 If you're not too familiar with the Ninja Foodi appliance, take a peek at this article that talks all about it, and should give you some hints and tricks to feel more acquainted with it!
When you make these BBQ Beef Short Ribs, I'd be thrilled to hear how they turned out for you, and if you made any changes to the recipe! Thanks so much for stopping by The Salty Pot today, and I hope you have a fantastic day (and a lip-smackin' dinner!!!).
Ninja Foodi BBQ Beef Short Ribs
Additional Time:
10 minutes
Ninja Foodi BBQ Beef Short Ribs are flavorful and delicious with tender meat that falls off the bone. Pressure cooking these ribs is the only way to go when cooking short ribs.
Ingredients
2 Beef Short Ribs (see notes)
¼ c Red Wine
¾ c Beef Stock
¼ c Diced Onion
½ c bbq sauce
Seasoning as desired:
Seasoning salt
Garlic Powder
Onion Powder
1 tablespoon Cornstarch (see notes)
Instructions
Season the beef ribs with the seasonings above, to your preference.
Add the onion, wine, and broth to the bottom of the Foodi cooking bowl
Close the toggle switch to sealing
Pressure cook on manual, high, for 40 minutes.
Do a natural release for 10 minutes, and then carefully release any remaining pressure until the pin drops and it's safe to open the lid.
Remove the ribs to a plate.
Generously brush the bbq sauce over the entire surface of the ribs. Place the ribs back into the pot, on the top rack of the air-crisping rack.
Air crisp the ribs for 10 minutes, watching them closely so as not to burn. Feel free to flip them halfway through.
Remove the ribs to rest and take out the rack.
Mix up the slurry and pour into the pan juices in the pot to thicken.
Spoon over the ribs and enjoy!
Notes
Cooking more than 2 ribs at a time is fine. The cooking time and steps are all the same. A cornstarch slurry is mixing the cornstarch with 2 tablespoon water.
Nutrition Information:
Yield:

2
Serving Size:

1
Amount Per Serving:
Calories:

453
Total Fat:

20g
Saturated Fat:

9g
Trans Fat:

1g
Unsaturated Fat:

11g
Cholesterol:

85mg
Sodium:

1334mg
Carbohydrates:

39g
Fiber:

1g
Sugar:

25g
Protein:

25g
All nutritional information is based on third-party calculations and is only an estimate. Each recipe and nutritional value will vary depending on the brands you use, measuring methods, and portion sizes per household.
** DON'T FORGET TO PIN THIS BBQ BEEF SHORT RIB RECIPE PIN TO YOUR FAVORITE PINTEREST BOARD TO SAVE FOR LATER!!**