So you're lookin' to get your wing eatin' on are ya? I know.. I know. Chicken wings are possibly one of the best foods on this planet, hands down. And.. not only are chicken wings (done crispy) some of the most amazing things, having Teriyaki Chicken Wings just levels them up that much more!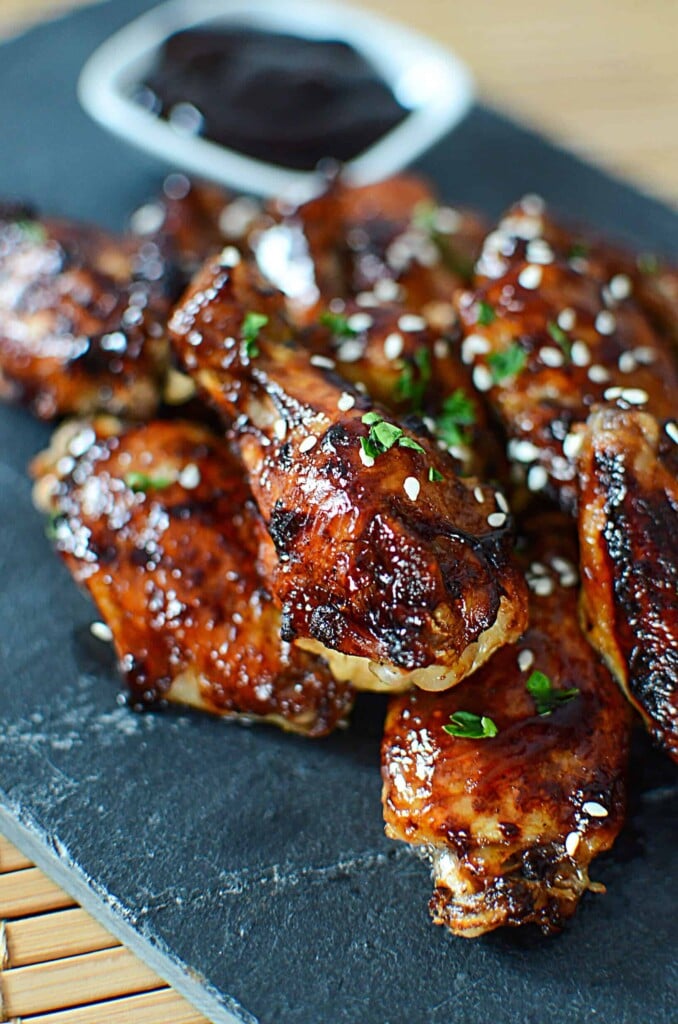 NINJA FOODI TERIYAKI CHICKEN WINGS
There are so many flavors of chicken wings to made out there. IN fact, I've already made two different flavors that are really popular on this blog! Check them out!
– Ninja Foodi Garlic Parmesan Wings
– My famous recipe for Sweet and Spicy Chicken Wings on Skewers
Also, if you're looking for more chicken wings done in the oven, check out these crispy Oven Baked Wings from Simply Stacie!
And, if you have more than just wings to cook, (like chicken pieces), this Crispy Buttery Buffalo Baked Chicken done in the oven is spectacular!
While those chicken wings above are incredibly delicious, these Teriyaki Chicken Wings are EQUALLY as yummy! I like the slightly sweet, slightly salty flavors with a hint of ginger that makes up teriyaki sauce, and when they're cooked in the Ninja Foodi………… well omygosh.. they're simply amazing. For real. 🙂
Can I make these teriyaki wings in the Instant Pot as well?
You bet! The pressure cooking time and method are pretty much the same, except where you would broil the chicken in the Foodi, you would simply broil them in your oven! Simple Dimple!
What about the Teriyaki Sauce for these Chicken Wings?
Ok, because I like SIMPLE, I used a bottled brand. HOWEVER, there's nothing saying you can't make your own sauce if you'd like!
Ok, So For These Teriyaki Chicken Wings, What Do I Need?
Well, my lovely reader, I'm sure you have all the ingredients right in your pantry! Let's see:
Chicken Wings, of course (I did a dozen, but you can do more)
Chicken Broth
Teriyaki Sauce
Ginger Powder
Salt and Pepper
season the wings!
Add the broth….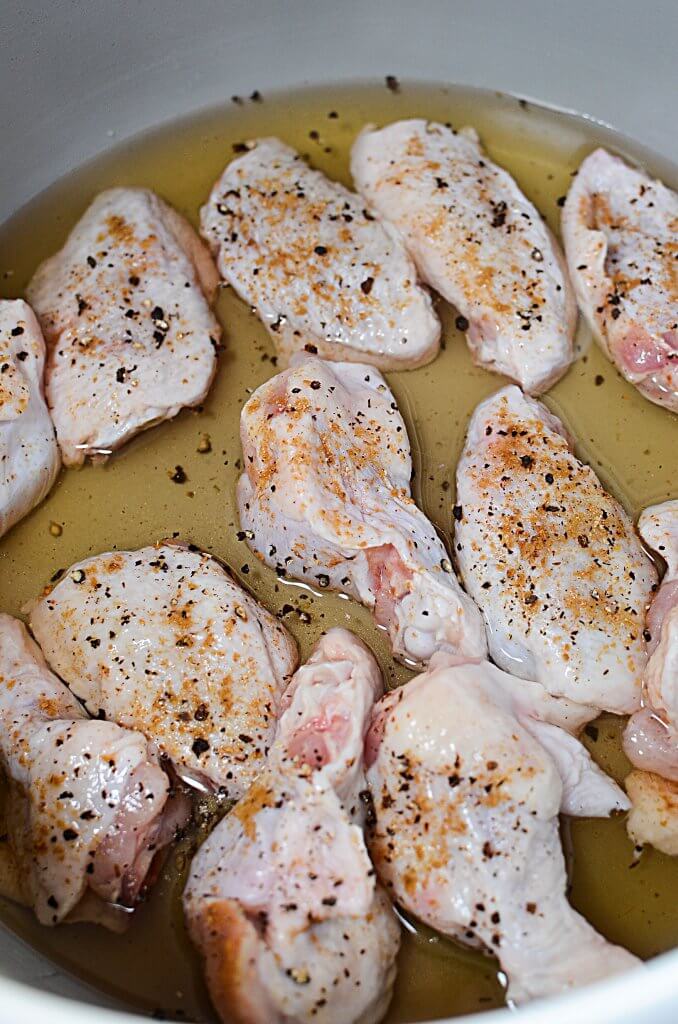 Gettem' in the tub!
When making these Teriyaki Chicken Wings, does it matter how many wings I pressure cook at one time?
Absolutely not. You can cook as many as you'd like at one time. Now, having said that, it's probably not a good idea to cook more than 2 dozen at once. Basically, because you want to make sure all the wings are cooked evenly, and then in the air crisping step, the more you do, the more batches you'll have to make.
Tips for making these wings the best:
Don't start out with frozen wings. Use only fresh.
Pat the wings with a paper towel to remove most of the excess moisture. The skin needs to be patted dry from most of the moisture (not dripping wet) for the dry and liquid seasonings to stick to them.
When putting in the chicken stock during the pressure cooking stage, carefully put in the stock and then place the chicken wings around it, careful to not wash off the seasoning from the wings.
When removing the wings, use tongs to take them out. They're easiest to use as they will grab the wing from the sides to help keep it together. Careful not to scrape your pressure bowl though!
You could even marinate these wings ahead of time with the dry seasonings for up to a few hours for added flavor! Be sure your seasonings are fresh, as they will have the best potency.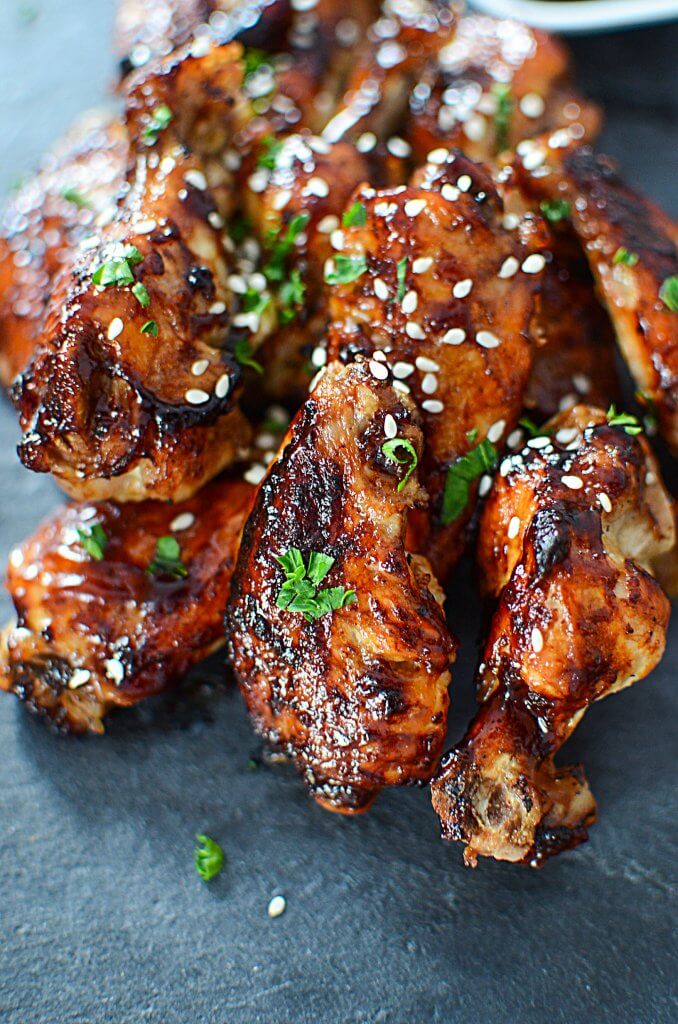 Garnishes for these awesomely delicious Teriyaki Wings.
sesame seeds (as I did)
green onion, minced
parsley
or, even Trader Joes Everything Bagel Seasoning. (Crazy idea, but think, it has sesame seeds, garlic, and honestly, the poppy seeds will add nice texture!)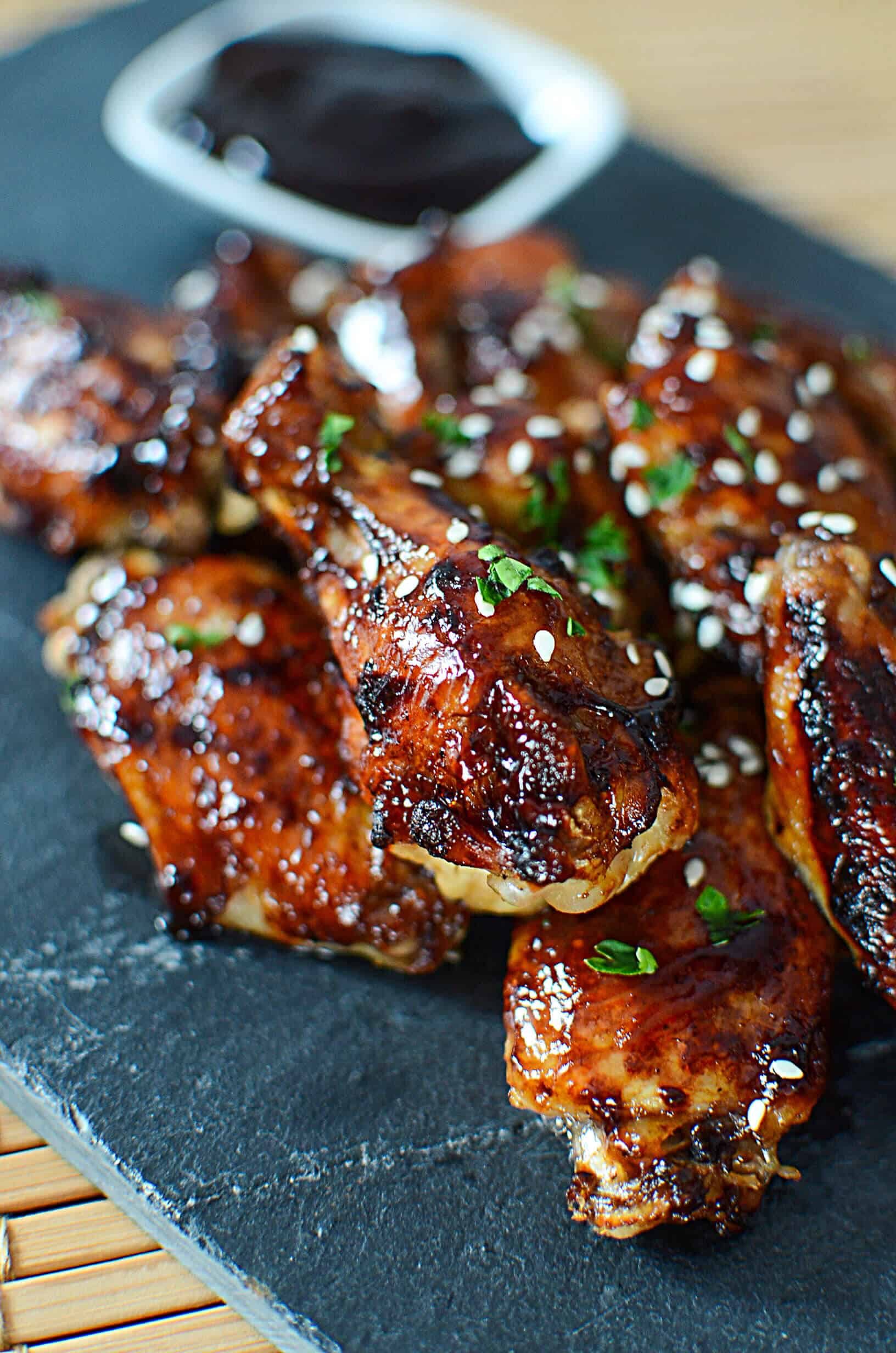 Ok! So that about wraps it up for today! I hope that if you try making these wings, that you'll let me know below what you thought of them, and tell me your favorite garnish! Thanks so much for stopping by The Salty Pot today!
If you're looking for more amazing Ninja Foodi chicken wing recipes, check out this Ninja Foodi garlic parmesan chicken wings: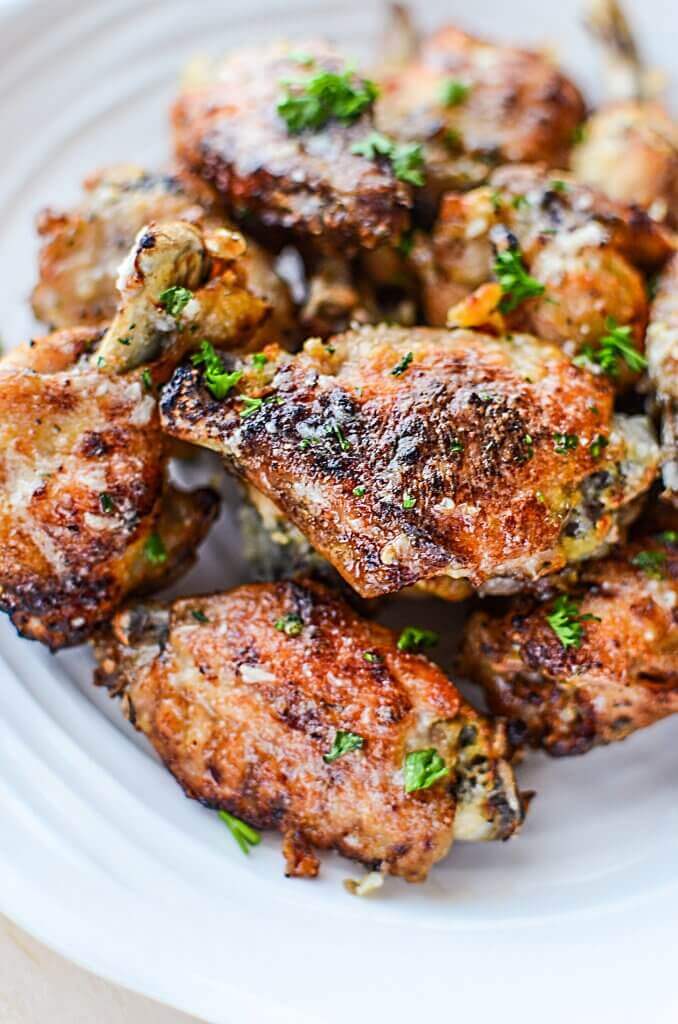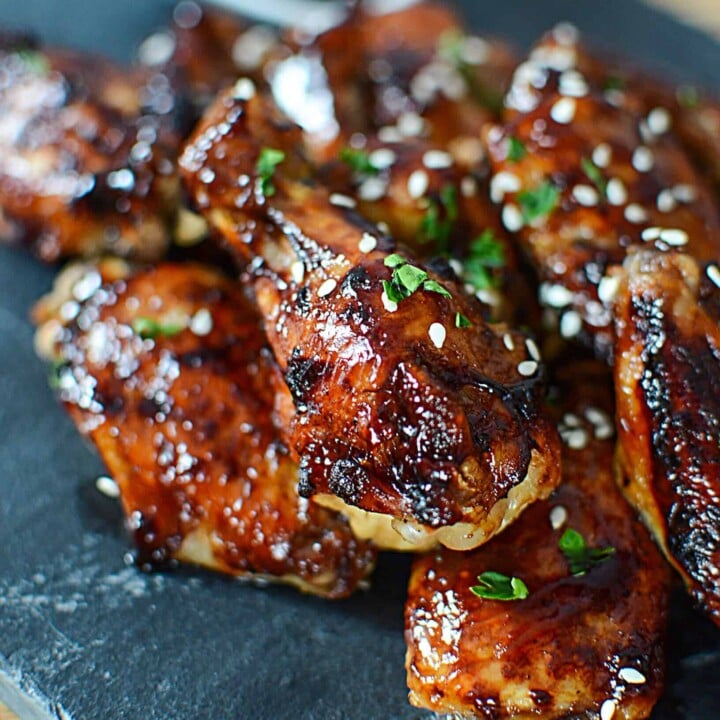 Ninja Foodi Teriyaki Wings
A super crispy and flavorful chicken wing! These Ninja Foodi Teriyaki Chicken Wings are PERFECT for game day, or any celebration because they're done in a flash in the pressure cooker!
Ingredients
12 chicken wings
1 tablespoon ginger powder
as desired, salt and pepper
1 cup chicken broth
1 cup teriyaki sauce
Instructions
Wash and pat dry the chicken wings.
Season with salt, pepper and ginger powder
Add the chicken broth to the Foodi bowl
Place the chicken wings into the bowl, careful to not splash off the seasonings
Pressure cook for 7 minutes (or until you've reached 165 degrees).
When cooking time is up, quick release any remaining pressure until the pin drops. Carefully remove the lid.
Remove the wings with tongs, and drain out the liquid in the cooking bowl.
Place the air crisping rack into the bowl and carefully add back the wings.
With a basting brush, brush the wings on both sides with your favorite teriyaki sauce.
Air crisp the wings at 400 degrees for approximately 15 minutes or until you've reached the desired crispiness on the wings. Because you can lift the lid while air crisping, you can also add more sauce the wings as you are crisping them.
When finished air crisping, carefully remove them and garnish with sesame seeds or your favorite garnish!
Enjoy!
Nutrition Information:
Yield:

12
Serving Size:

1
Amount Per Serving:
Calories:

239
Total Fat:

14g
Saturated Fat:

4g
Trans Fat:

0g
Unsaturated Fat:

10g
Cholesterol:

120mg
Sodium:

1105mg
Carbohydrates:

4g
Fiber:

0g
Sugar:

3g
Protein:

22g
OH! DON'T FORGET TO PIN THIS NINJA FOODI TERIYAKI CHICKEN WINGS PIN TO YOUR FAVORITE PINTEREST BOARD TO USE LATER!!!