Seriously, making this easy crockpot chicken is one of the simplest ways to cook a chicken. Follow these instructions for the juiciest, most flavorful rotisserie-style chickens you've ever had!

EASY CROCKPOT CHICKEN
We've all picked up one of those rotisserie-style roasted chickens at the grocer's, right? Convenient, yes. Frugal, no. Sometimes those birds can be super expensive!
And, if you're picking one up for dinner for 6 pm, they've been sitting out since 3:30 pm under those heat lamps…. well, we all know that the chicken is going to have the consistency of chalk. Dry dry dry.
How Do You Cook A Whole Chicken In The Crockpot? 
It's easy as pie! Luckily this little appliance makes a super easy slow cooker chicken! It's basically prep the chicken, set the appliance, and go about your business! But we have to cover some house rules first for safety. Safety first, my people!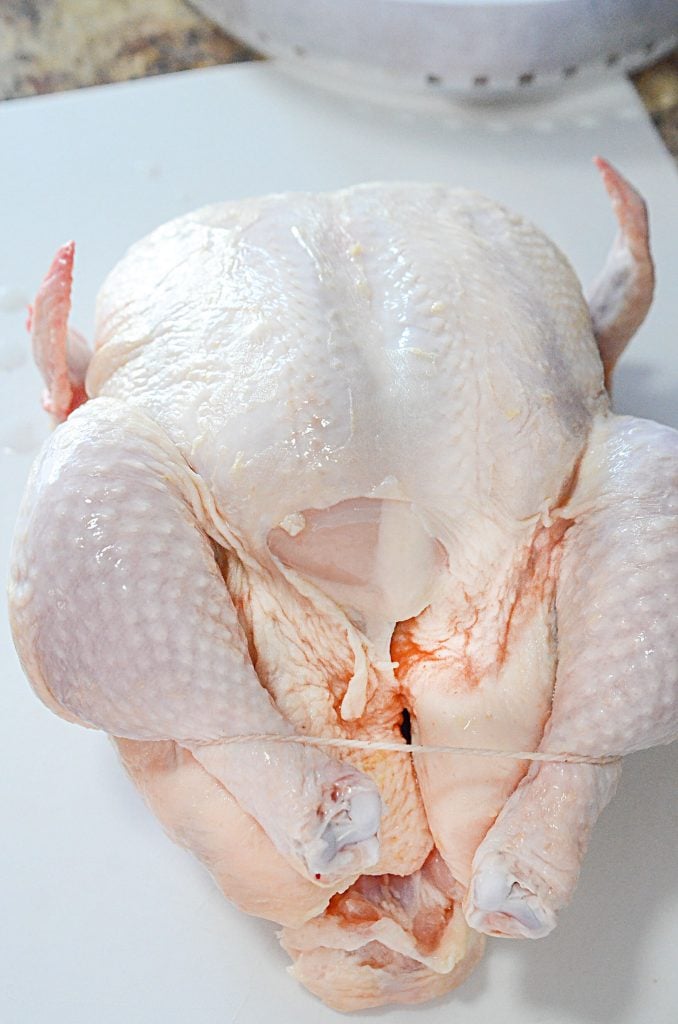 Pat your chicken dry using some paper towels so the seasoning will stick much better
Is It Safe To Cook A Chicken In A Slow Cooker Whole?
You bet! Although, there are some guidelines to follow. It's not recommended to cook the chicken from frozen as it may take too long for the chicken to come to a safe temperature in between thawing and cooking.  So, it's best to start out with a thawed chicken.
Another tip you might want to consider is to take a few celery sticks or carrots and place them in a crosshatch type fashion on the bottom of the slow cooker bowl to create a 'rack' of sorts for the chicken to sit on. This is not imperative, but some people prefer to do this so the chicken doesn't sit in all the chicken broth while it cooks.
Today, I didn't use this method and it turned out delicious but I thought I'd give you that option in case you wanted to try it out!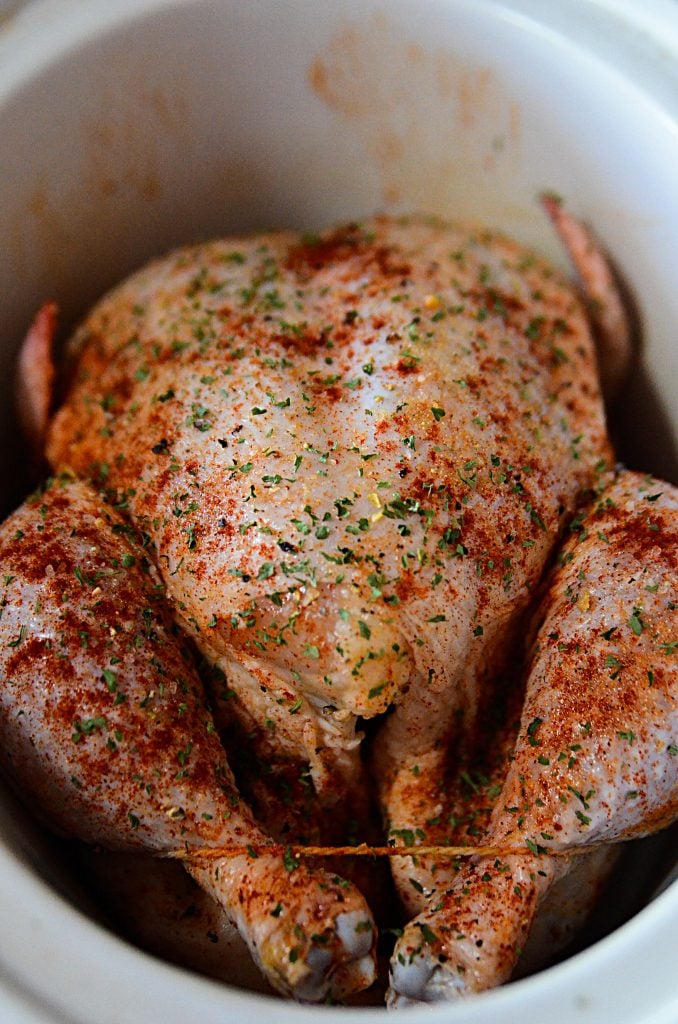 Season your chicken well and then place it in the slow cooker bowl.
Can I Cook A Stuffed Chicken In A CrockPot Safely?
I would say no. A stuffed chicken creates a dense environment on the inside cavity of the bird and will take much too long for it to come to temperature. That being said, I would put a few lemon slices or onion slices inside the cavity for some added flavor. However, putting a traditional bread type dressing/stuffing inside the raw bird to cook in a slow cooker is not safe.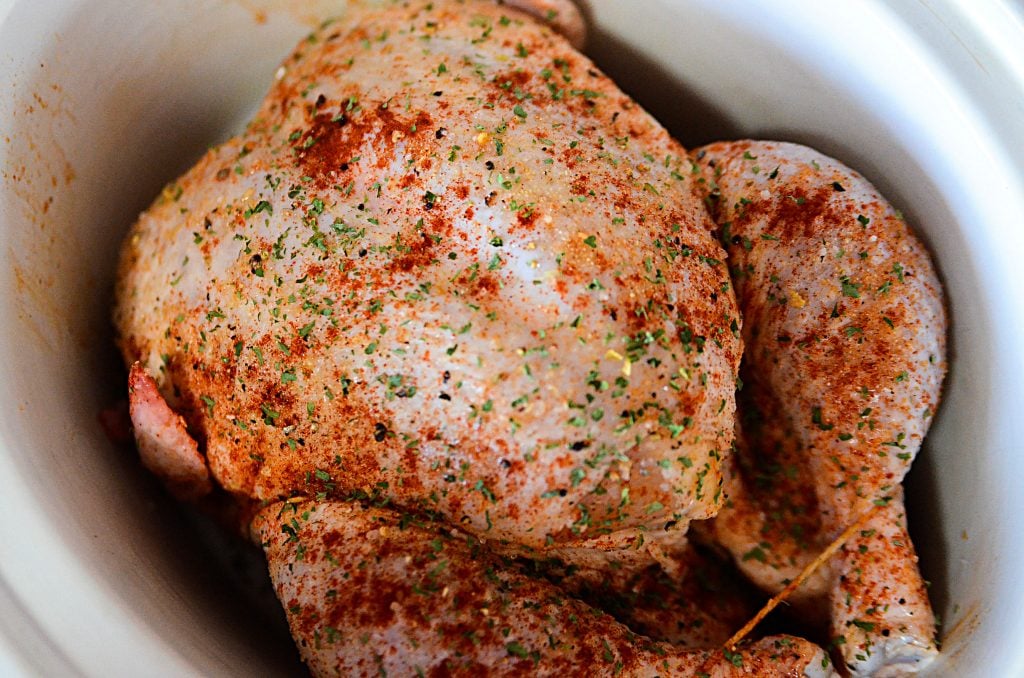 Add the chicken broth or water. Put the lid on and let it cook!
Is It Possible To Overcook A Chicken In A Slow Cooker?
Yes. This would easily be done by cooking it on high for too long. The heat of the crockpot will overcook the bird, causing the internal juices to evaporate from the meat, and result in a very dry, chalky tasting bird. Particularly the breasts of the chicken will be the first to dry out.
When cooking the chicken, you want to reach an internal temperature of 165 when tested at the thigh area.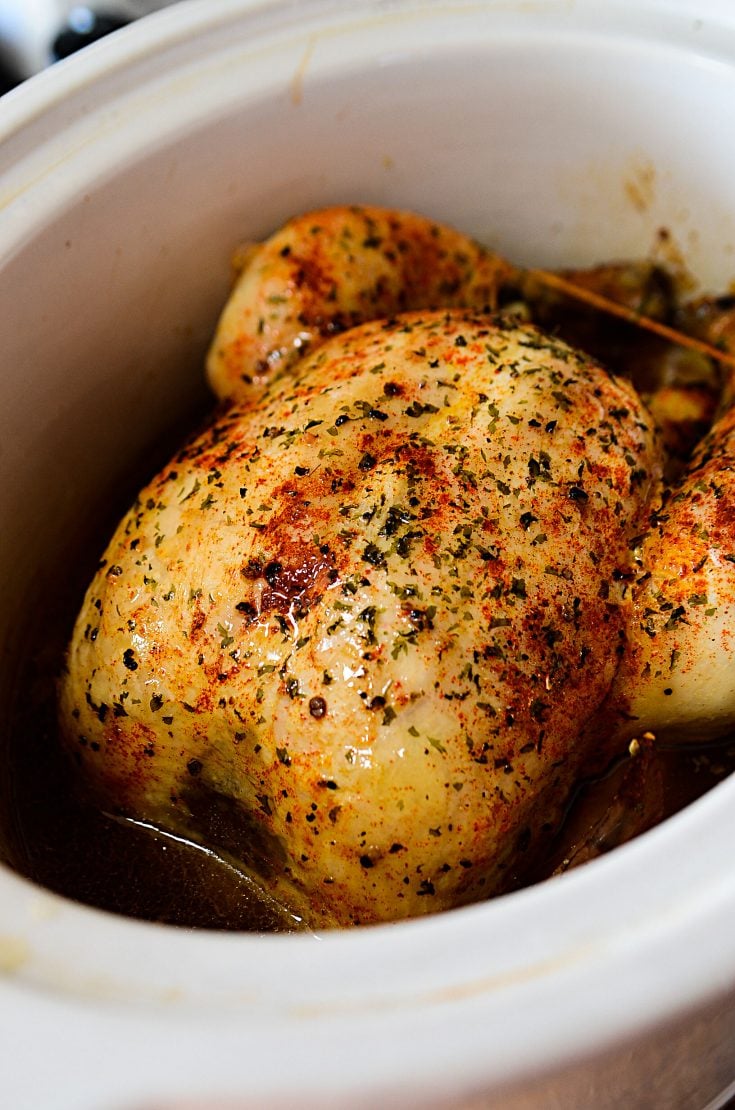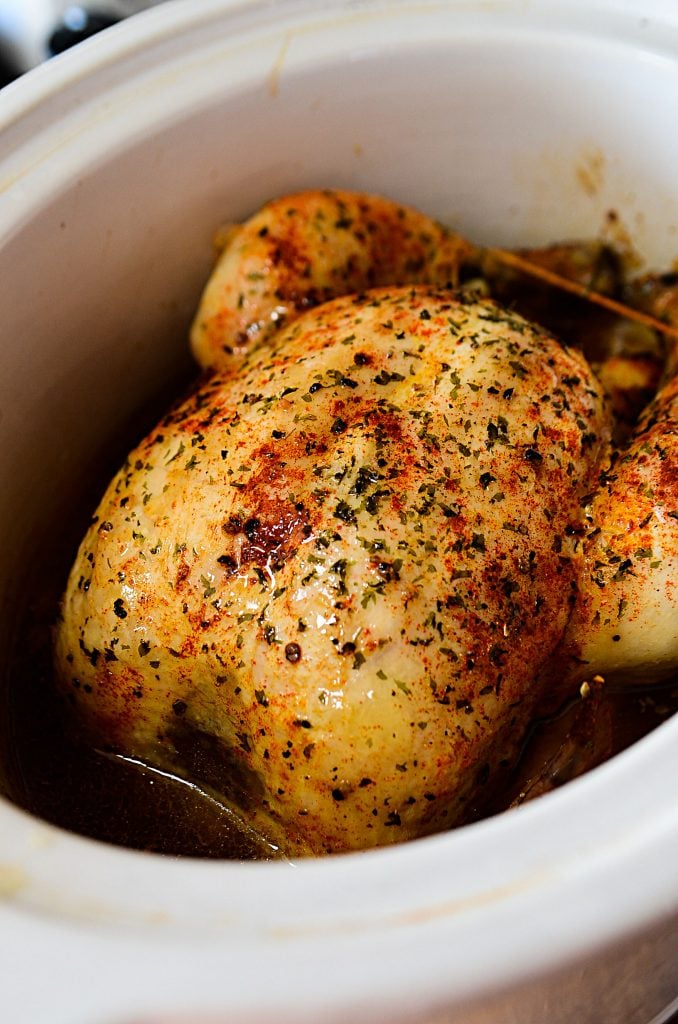 See how pretty and juicy this chicken is? Yummmaaay!!
Can I Get The Skin Crispy In A Crockpot?
Unfortunately, you cant, BUT I have a way for you to make it nice and crispy if you choose to!!!! The reason that it doesn't is that the slow cooker cooks with hot moisture/steam and so the skin doesn't get a chance to dry out and crisp up. The way to achieve that yummy crispy skin is to carefully remove the chicken from the crockpot and transfer onto a baking sheet.
From there, you would simply broil the chicken in the oven for a few minutes to get the skin crispy.
There are some appliances like the Ninja Foodi which will pressure cook AND crisp up the skin all in the same pot, like with this Roasted Chicken in the Ninja Foodi recipe. But I've crisped up the skin MANY times simply under the broiler in the oven after the chicken is cooked in the crockpot.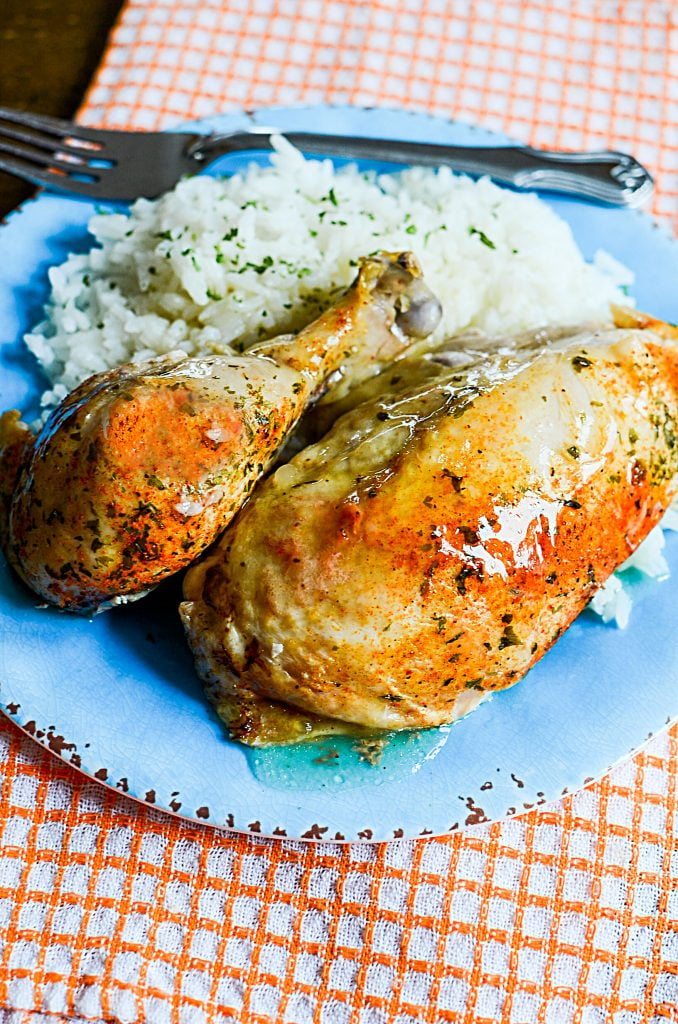 What Can I Serve Along Side This Roasted Chicken?
Oh the possibilities are endless!! You could serve:
Classic mashed potatoes and carrots
Mashed cauliflower if you want to keep your dinner low carb/keto
Rice Pilaf (or even regular plain rice)
Roasted sweet potatoes
A nice fresh garden green salad
Stuffing prepared in separate from the chicken
Even a frozen mixed vegetable heated through with a herbed, seasoned butter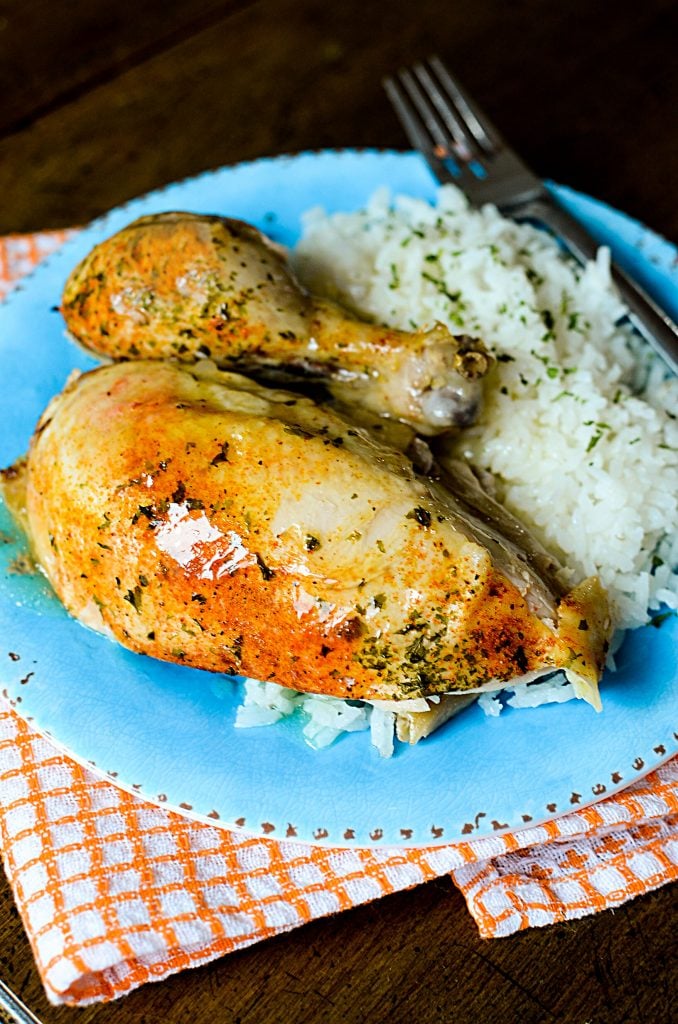 Can I Make A Gravy With This Easy Crockpot Chicken?
Absolutely. This is why the recipe is called Easy Slow Cooker Chicken! After the chicken has cooked and is resting, transfer the cooking juices that have collected in the slow cooker and put them into a pot. Bring them to a quick boil and mix in a cornstarch slurry. That will thicken the juices up really quick into a luscious yummy gravy!
Just remember to do a final taste test on the gravy to set your seasonings correctly.
Can I Freeze The Leftover Chicken?
Yes, most certainly! (and it's encouraged!) I would remove any bones and skin (save those to make a nourishing chicken bone broth!). Place the chicken into an airtight glass container and freeze up to 3 months. To use, thaw in the fridge overnight, or use a microwave to thaw the thicken quickly. You could use the leftovers for:
I hope that after you make this easy crockpot chicken that it will become a dinner that goes on regular rotation in your household. Not only is this recipe incredibly simple to make, but it's also so versatile with the leftovers to make more meals (and more bone broth with the bones!). When you make this meal, I'd love to hear how you switched it up with the seasonings, or what you used to make with the leftover chicken!
Thanks for stopping by The Salty Pot today, and I hope you have a fantastic day!
***DON'T FORGET TO PIN THIS EASY CROCKPOT CHICKEN RECIPE TO YOUR FAVORITE PINTEREST BOARD TO USE FOR LATER!!***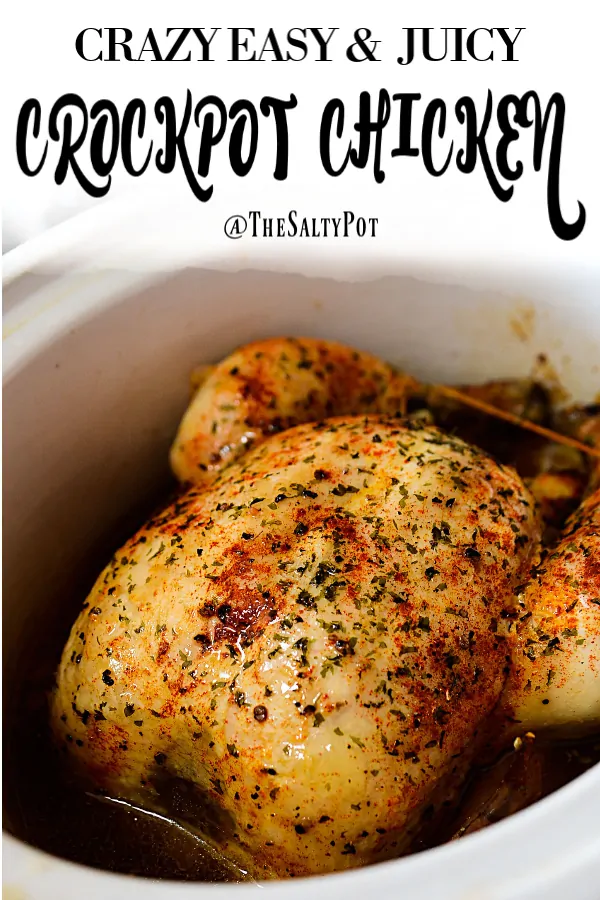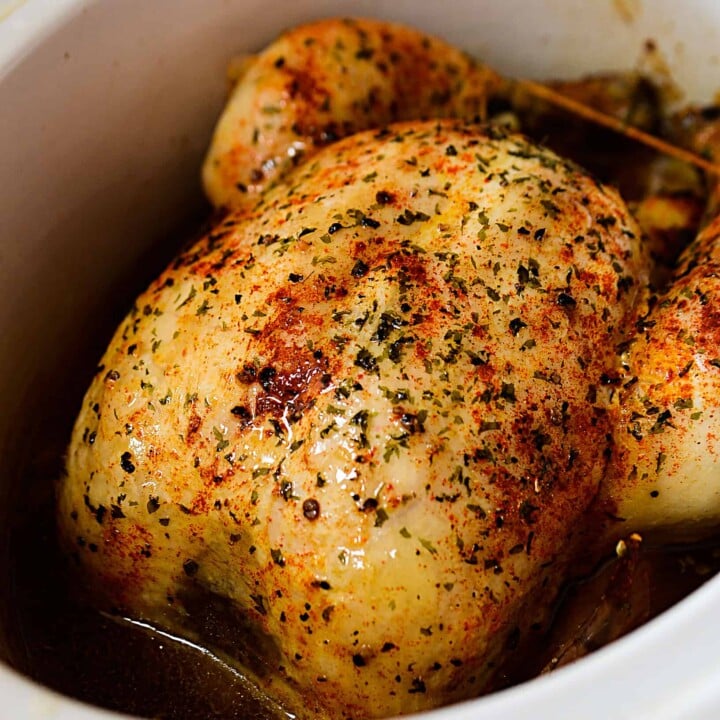 SUPER EASY CROCKPOT CHICKEN
Additional Time:
10 minutes
Total Time:
5 hours
20 minutes
This super easy crockpot chicken is one of the easiest ways you'll ever cook a chicken. This is the juiciest, most flavorful rotisserie style chickens I've ever had! 
Ingredients
1 chicken, 3 - 4 lbs
1 cup chicken broth/water
1 tsp paprika
1 tsp garlic powder
1/2 tsp onion powder
1 - 2 tsp parsley, dried
1/2 tsp poultry seasoning
as desired, salt and pepper
2 celery stalks or carrots *optional
Instructions
Pat dry the chicken with some kitchen paper (paper towel)
Season the chicken with the paprika, garlic and onion powder, parsley, salt and pepper, and poultry seasoning if using
Optional step: Take the celery or carrots and place them in the bottom of the slow cooker bowl as a 'rack' for the chicken to sit on.
Add the chicken broth / water to the slow cooker bowl
Place the seasoned chicken in the bowl, resting on the vegetables if you used them.
Cover with the lid and cook on high for 4 - 5 hours. Test your chicken at the 4 hour mark with a thermometer in the thigh area. When the juices run clear and the chicken reaches 165F, the chicken is done.
Remove the chicken carefully and let it rest, tented with foil. If you are making a gravy with the drippings, now is the time to do so.
Let the chicken rest 10 minutes, and then carve! Enjoy!
Notes
TOP TIPS FOR MAKING THIS CHICKEN:

1. Season the chicken on the inside with extra seasonings if you prefer. This adds extra flavor but is an optional step.

2. Peel the carrots and wash the celery ribs if you are using them for the 'rack' for the chicken. (Optional step)

3. Using chicken broth instead of water will add extra flavor to your chicken and chicken gravy.

4. It's highly recommended to use a kitchen thermometer for testing to see if your chicken is cooked to the right temperature.

5. To 'tent' the chicken, use a piece of foil the length of the chicken. Loosely cover the chicken on a cutting board with the foil to allow all the juices to redistribute throughout the chicken