It's called Instant Pot 3 packet roast for one reason. You use 3 packets of seasonings to make it, but it should be called Magic Roast because it's THAT CRAZY GOOD.
Instant Pot 3 Packet Roast
So I'm telling no lies here when I say something magical happens when you combine these three packets of seasonings together to make this roast. I was skeptical, but this recipe kicked my skepticism in the pants. And I'm kinda happy to admit that, to be honest.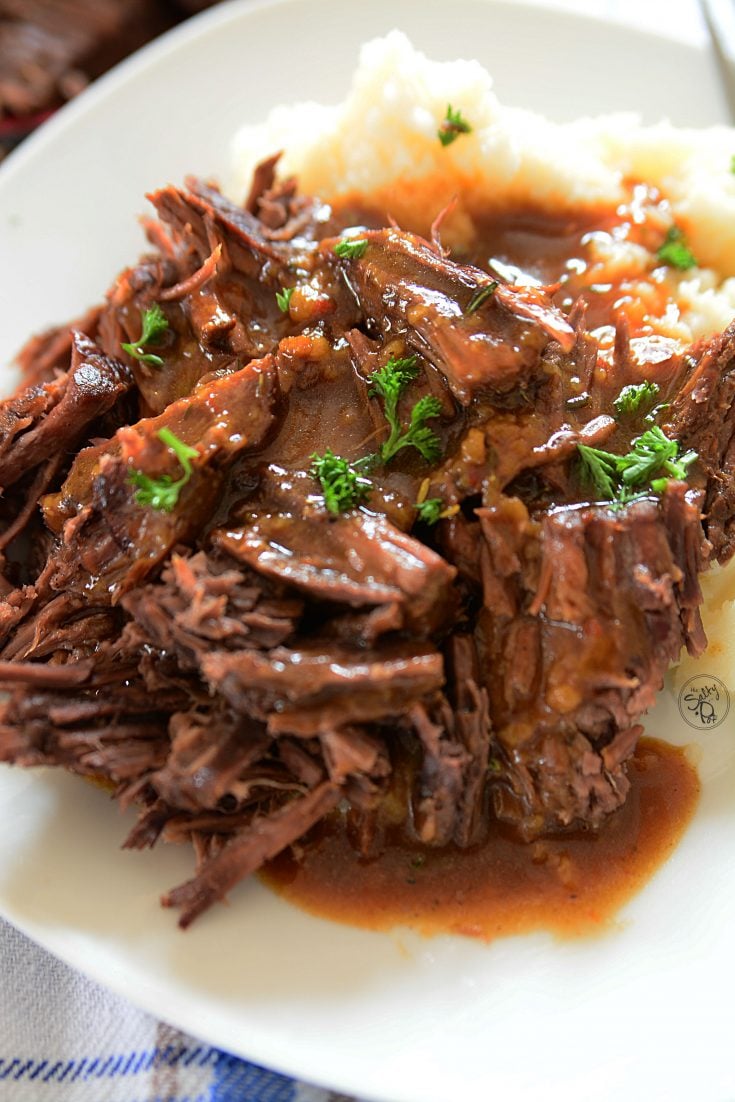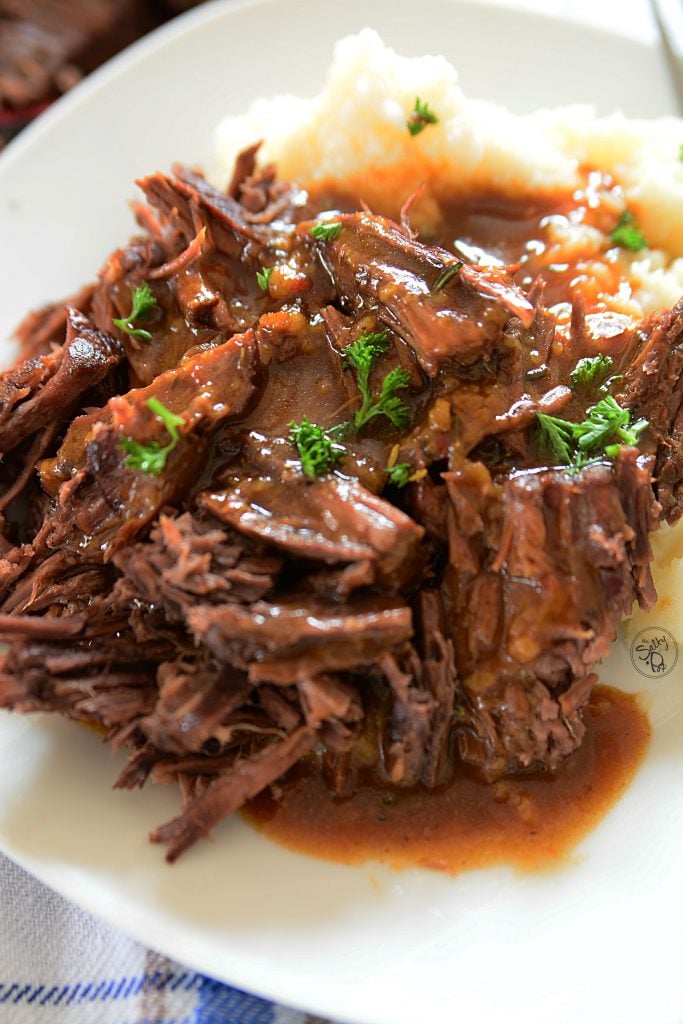 How Do I Make This 3 Packet Beef?
Pffffttt! Girl (or guy), this recipe is ridiculously easy! I literally thought to myself that it can't be that delicious when my friend Carla from Adventures of a Nurse told me about it. She said to make this recipe, you won't be sorry.
I am not. (sorry.) Nor will you be.
Even my mom's eyes lit up like fire and a huge smile showed up on her face when she tried it. And if you know my mom, you know she's hard to impress.
Ok, so you need your Instant Pot. Using a pressure cooker is the best way to tenderize a tough, economical piece of beef. If you've just received your Instant Pot and you're a little hesitant to start working with it, take a peek at this Instant Pot For Beginners Guide that I put together. It will help you feel a bit more at ease working with the cool appliance!
Place your beef roast in the pressure cooker and add the packets.
Add the water or beef broth.
Cook.
Done like dinner. (well, it is dinner. )
See how easy it is??
Incidentally, if you're looking for something to serve with this awesome roast beef, take a peek at these Instant Pot Totally Loaded Mashed Potatoes, or if you wanted to go the low carb route, you could try these Instant Pot Cauliflower Mashed Potatoes.
What Would I Serve With This Roast Beef?
I prefer to serve mashed potatoes with it. However, you could serve
– quartered and boiled potato chunks
– rice
– mashed cauliflower if you're low carb
– you could even serve this on toasted buns or pieces of bread for a hot beef sandwich.
– any other starchy vegetable side dish (corn, sweet potatoes, etc)
Can I Substitute The Packets?
I would say no because, without these packets, you're changing the recipe into something other than a 3 packet roast. That being said, I have another recipe on the blog that uses a pork shoulder roast that's similar to this recipe. It's called Instant Pot Mississippi Pork Dip Sandwiches.
Oh wow, they were INCREDIBLE if you like pork dip sandwiches!! It's just as easy to make as this 3 packet roast, it just uses a few different seasonings!
What Cuts Of Beef Can I Use For This Recipe?
You'll want the toughest, cheapest beef roast you can find. The instant pot is a pressure cooker, and when it cooks the meat under pressure, it REALLY tenderizes it. So using an expensive beef roast would be a complete waste of money.
Use cuts such as:
Chuck
Rump Roast
Brisket, etc.
In Canada, we use cuts called:
Outside/Inside Round
Blade
When using the Instant Pot for these roasts, they turn out really tender and delicious. Like you used an expensive cut!
Also, using cheaper cuts of meat really help with the flavor of the roast. The tougher the cut, the more flavor it will have.
What if I don't want to use ALL the packets?
I would still use the 3 packets because the flavors are meant to meld together really well. If you're concerned about the roast being too seasoned, then still use equal parts of the packets, but maybe cut it back to half the amounts that are in the package.
This 3 envelope roast is so delicious that you'll want to use the rest of those packets up fast so they won't go stale!
Can I Make This Beef Roast In A Slow Cooker/Crock Pot?
You sure can! Of course, it will need a lot more time to cook in a slow cooker rather than the Instant Pot, but the flavors will be the same!
Prepare the roast exactly the same as you would the Instant Pot, but cook the roast on high for 5 – 6 hours or low for 8 – 9 hours.
Delish!!

Can I Freeze The Leftovers?
Absolutely!! Freezing the leftovers will stay good in the freezer for up to two months in an airtight container. However, I would freeze the beef separate from the gravy if you have leftover gravy as well! You could make:
Hot Beef Sandwiches
Shepherds Pie
Beef Hot Pockets
Or, simply make up extra 'tv dinner' type meals that you can simply heat and eat!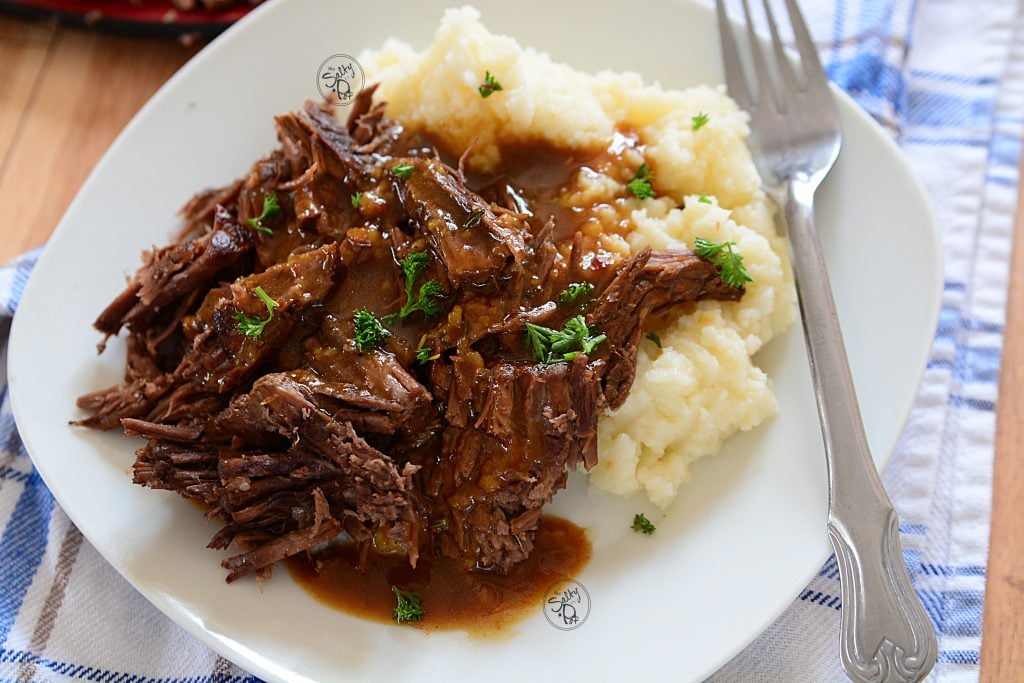 I hope you can see the versatility in this amazing instant pot 3 packet roast. It's really so delicious, it has to be one of my all-time favorite meals. When you make this roast beef, I'd love to hear what you thought of it, and how you might have changed the recipe!
I'm always open to new ideas! Thanks so much for stopping by The Salty Pot today and I hope you have a wonderful day!
**Don't forget to save this Instant Pot 3 Packet Roast pin to your favorite Pinterest Board to save for later!**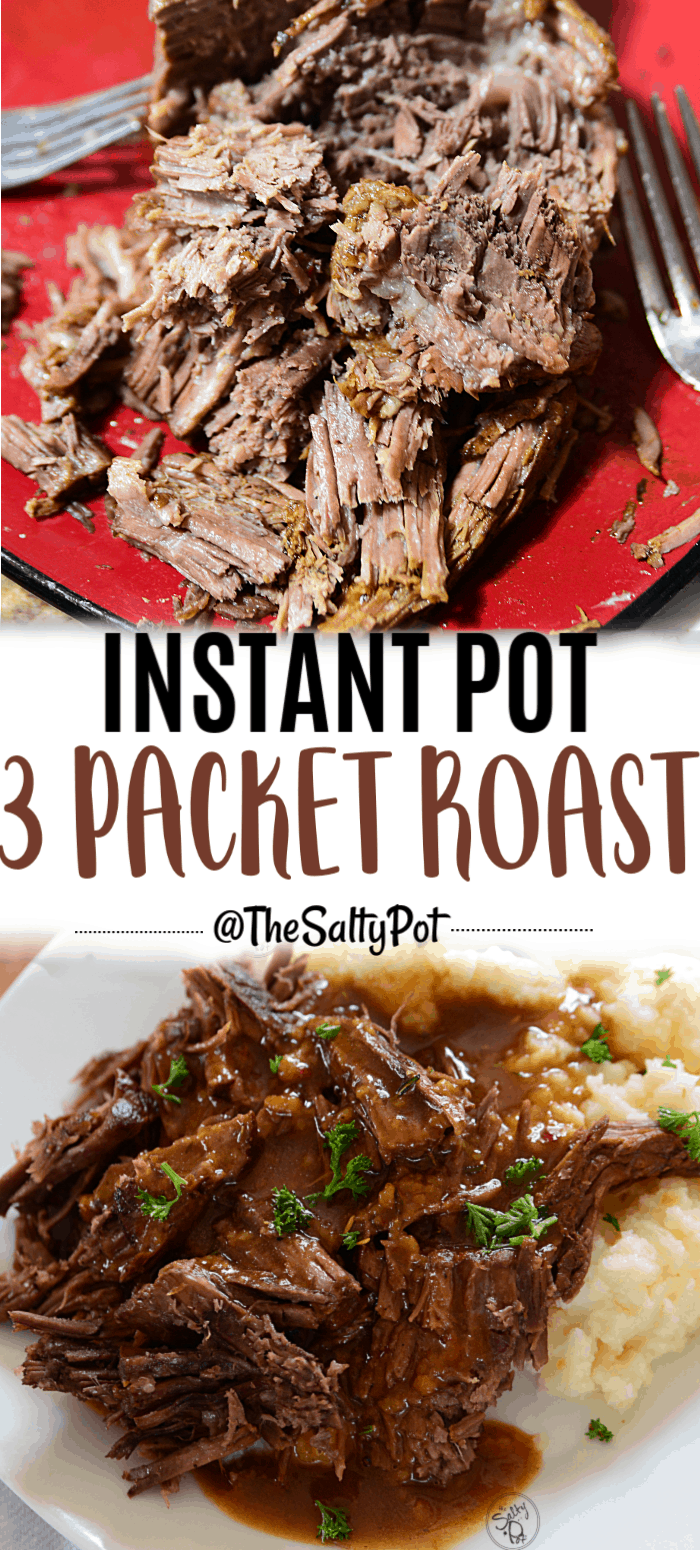 Yield: 1 roast
CRAZY DELICIOUS INSTANT POT 3 PACKET ROAST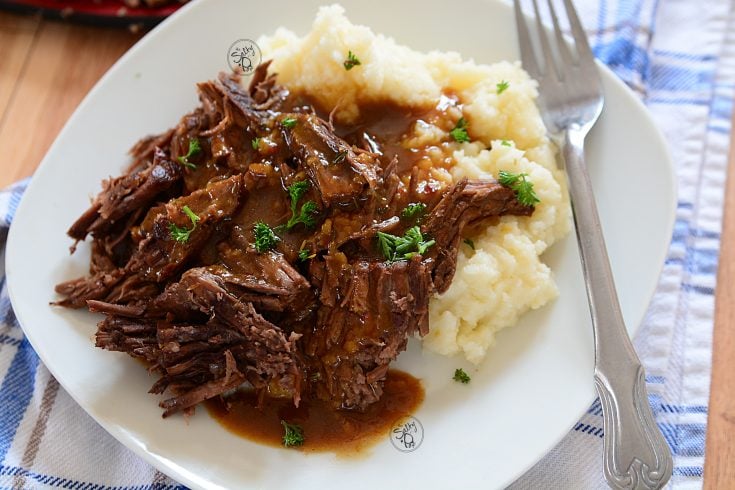 This Instant Pot 3 Packet Roast is so easy to make in the pressure cooker! It's tender, savory and it makes its own gravy! Win win!
Cook Time
1 hour
30 minutes
Total Time
1 hour
33 minutes
Ingredients
1 3lb beef roast (tough cut)
1 packet of ranch seasoning (powdered)
1 packet of italian dressing mix (powdered)
1 packet of brown gravy mix (powdered)
1 cup beef broth (low sodium) (or water)
1 Tbsp cornstarch + 2 Tbsp water (slurry)
Instructions
Turn the Instant pot on to 'saute' and brown the roast on all sides.
Sprinkle all the packets over top the roast
Add the beef broth (or water)
Place the lid on the pot, place the toggle switch to sealing, and press manual, high pressure for 90 minutes.
Do a Natural Release for 15 minutes and then a Quick Release to release the rest of the pressure in the pot.
Carefully remove the lid.
Remove the roast to a plate to rest
Press the saute function. Make a slurry of the cornstarch and water to thicken the gravy. Add it to the pot and stir until it thickens.
With two forks, begin to shred the beef roast.
Serve the roast over potatoes or rice and drizzle the gravy over the top. Enjoy!
Nutrition Information:
Yield:
6
Serving Size:
1/2 lb
Amount Per Serving:
Calories:

722
Total Fat:

45g
Saturated Fat:

18g
Trans Fat:

0g
Unsaturated Fat:

21g
Cholesterol:

273mg
Sodium:

857mg
Carbohydrates:

5g
Fiber:

0g
Sugar:

1g
Protein:

70g