Ham pot pie you say?? Yes my Salty Pot Sweethearts – HAM POT PIE! It's like chicken pot pie, but SO much better!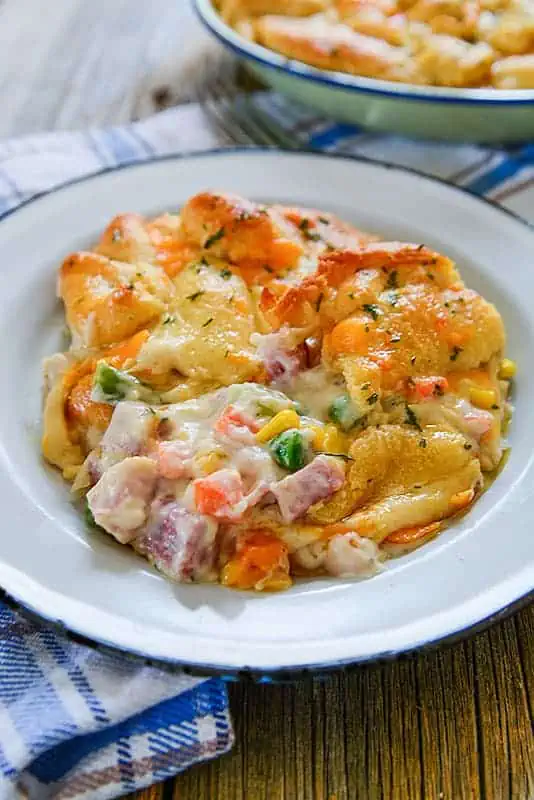 HAM POT PIE
So we've all had the infamous chicken pot pie, yes? Creamy white sauce, ham, and veggies, all wrapped up cozy like with the pie pastry shell. It's one of the most famous comfort foods around. And what makes it even better? Well, this spectacular dish is made using leftover ham.
Incidentally, if you were looking for a super delicious ham recipe, feel free to take a peek at this Brown Sugar Maple Pecan Ham recipe or at this Roasted Ham with Peach Glaze recipe!
So, back to the pastry shells for the pot pie. Some people use two shells, one of the bottom, one of the top, but I prefer to use only one.
No need for those extra calories, right?…………. or maybe?? lol
Personally, I am not a huge fan of tons of pastry, so I prefer to just use the one layer. Having said that, feel free to use two if you're a pastry lover!!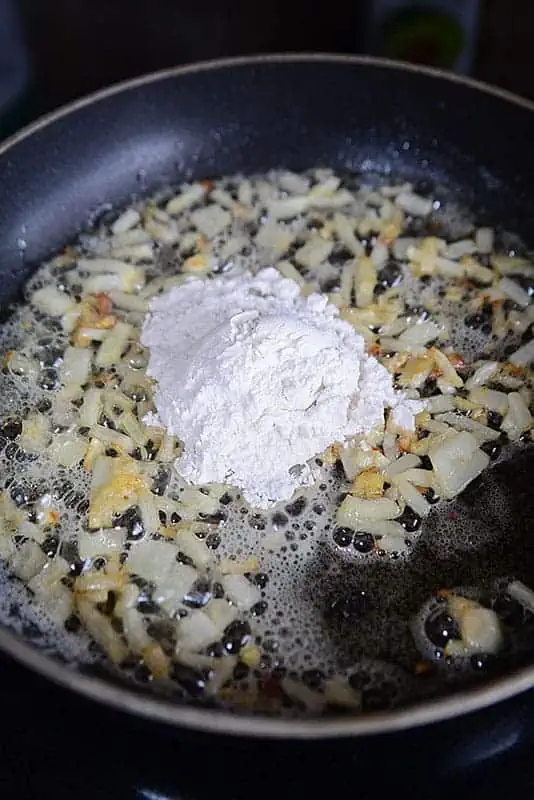 What Do I Need To Make This Ham Pie Dish?
Well, seeing that it's a ham pie, ham would be the first ingredient. Making this for a way to use up leftover ham is perfect!
If you don't have leftover ham, buying a ham steak and dicing it up will be perfect as well. Anyway, you will need:
Ham
Onions
Frozen veggies
Cheddar cheese
Flour
Chicken stock
Cream
Prepared Crescent Roll Dough
Spices and seasonings
Butter/oil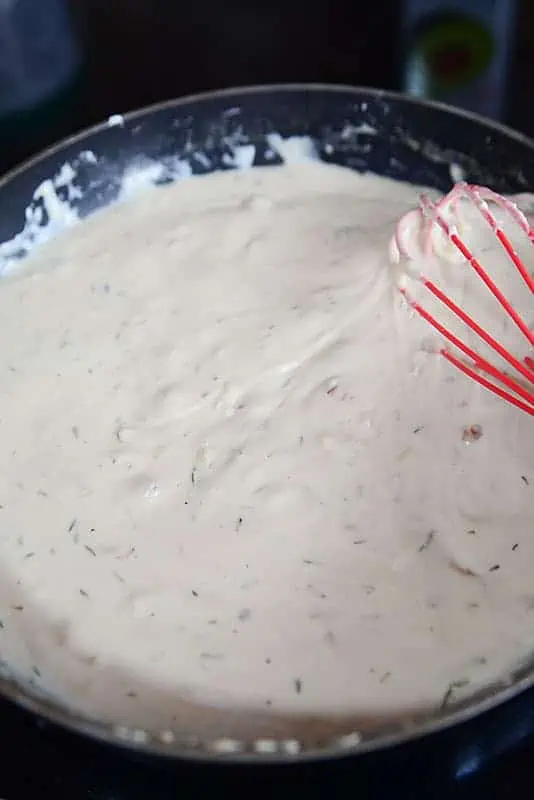 Can I Make This Ahead Of Time?
Absolutely! I would make this recipe up until the point where you put the croissant dough on the top. So do all the steps to where you have the cheese on the top before the crust.
You could wrap the dish in plastic wrap and keep in the fridge until you're ready to bake. Then, simply lay down the dough, and you're off to the races!
I would make this pretty pot pie a day or two ahead of time.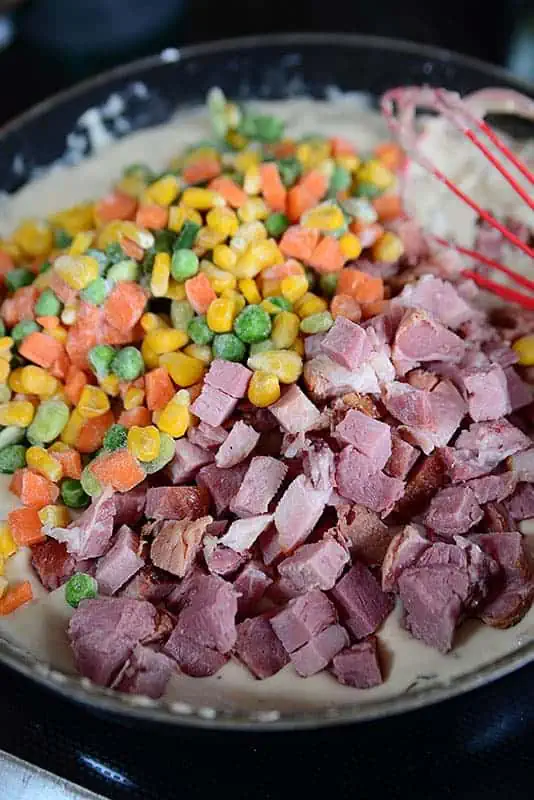 Can I Freeze This Pot Pie?
Yes! Again, I would freeze it at the point where you put the shredded cheddar on top. Then, on the day you are ready to cook it, thaw, put the croissant dough on the top, sprinkle a bit of cheese and you're good to go!
I wouldn't cook it from frozen though. The cooking times would be off and of course, the croissant dough would most likely burn before the rest of the pie was cooked.
Freeze this dish for up to two months.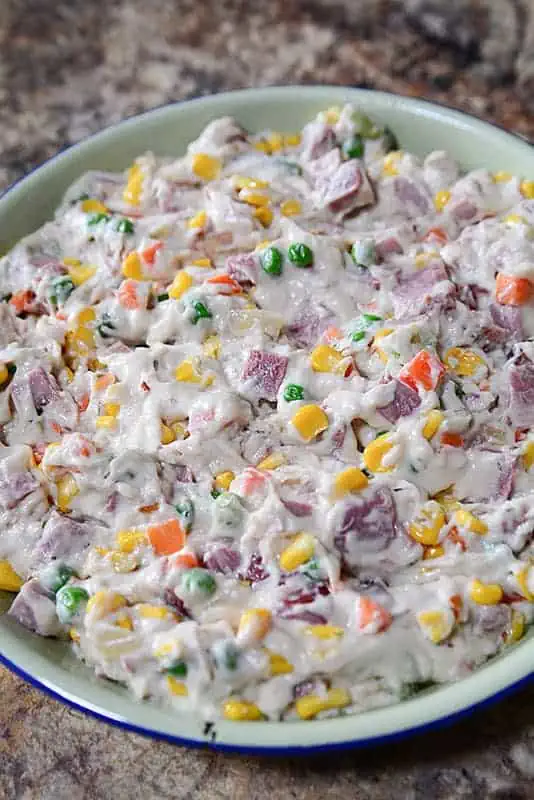 How Can I Make This Recipe Gluten Free?
I would use gluten free pie crust and for the flour component, I would also use gluten free flour. Most hams are gluten free, you should just check the ingredients to be sure. If you wanted more information on gluten free diets, check out this information I found about gluten free sauces and such.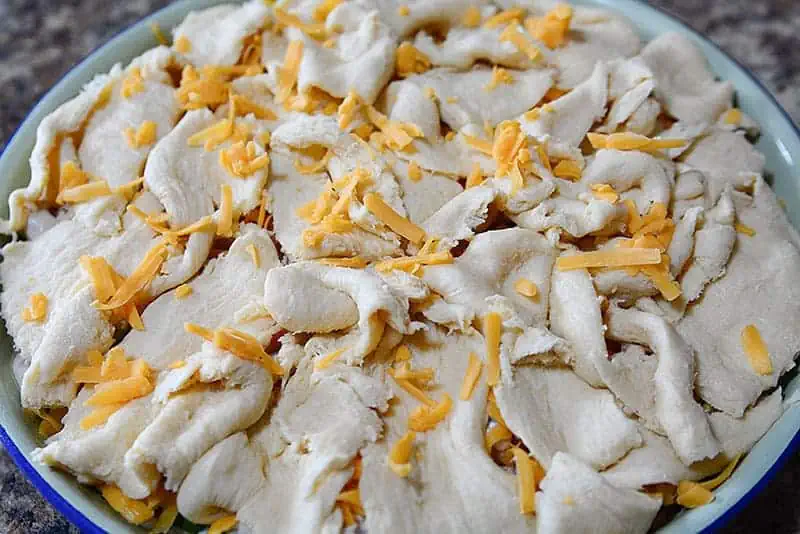 Can I Switch Up The Vegetables In This Pie?
For sure! You can add pretty much any veggies that you prefer. However, the only thing I would suggest is that you keep the SIZE of the bite of vegetable, around/close to the size of the pieces of ham you diced up.
Simply for easy eating, and easy cooking!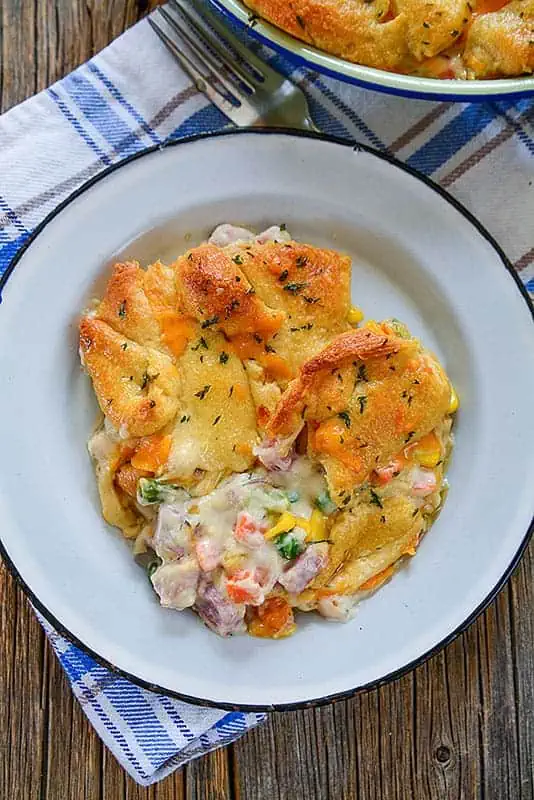 Can I Use A Pie Crust Instead Of The Crescent Roll Dough?
Yes. I prefer to use the crescent roll because it bakes up flakier and such, but you can certainly use the traditional pie crust like on chicken pot pies. Just remember to brush some egg wash on top of the pie crust to help it get golden brown.
As an added tip for this Ham Pot Pie, when it comes out of the oven, feel free to brush some melted butter over the top just to be super extra decadent! Go big or go home, right? 😉
I hope you enjoyed this leftover ham recipe, and if you switch it up, or even when you make it as written, please let me know what you thought about it! Thanks for stopping by The Salty Pot today, and if you'd like, come on over and join the Salty Pot Facebook Page and be part of the Salty Pot Family!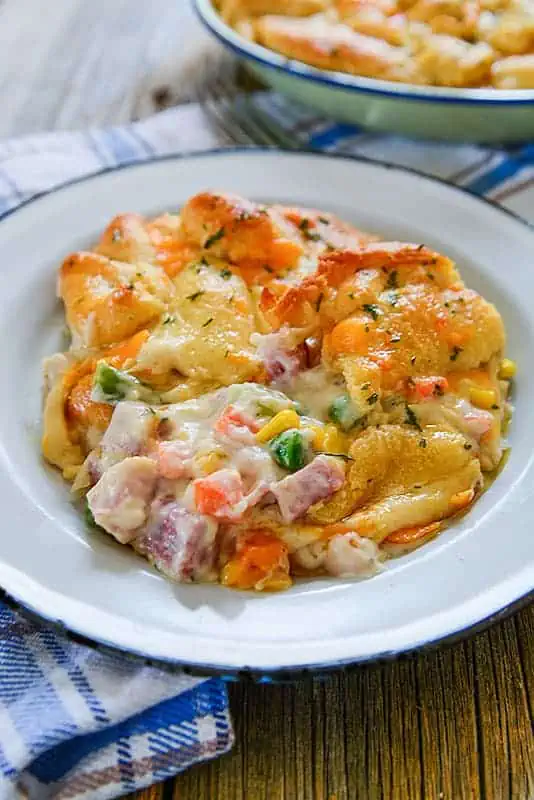 **DON'T FORGET TO SAVE THIS HAM POT PIE PIN TO YOUR FAVORITE PINTEREST BOARD TO USE FOR LATER!**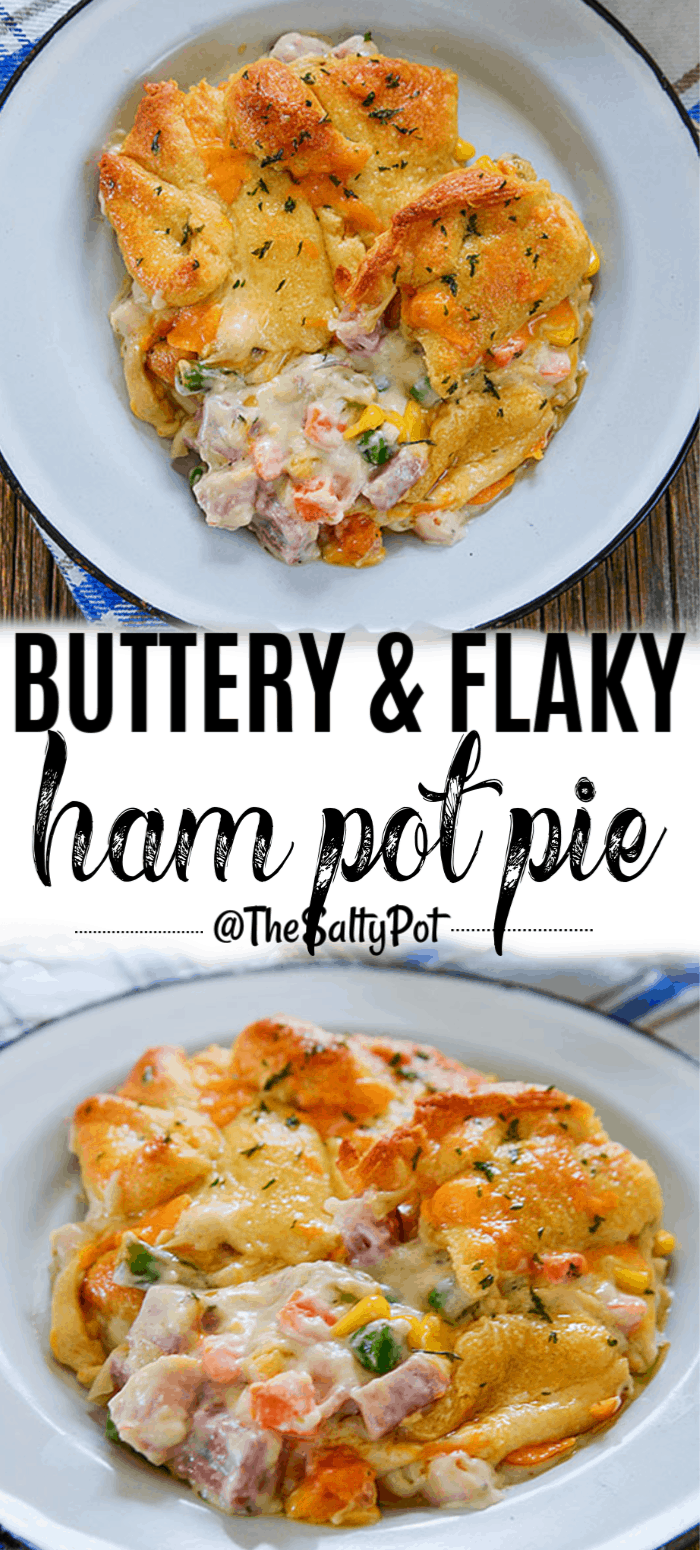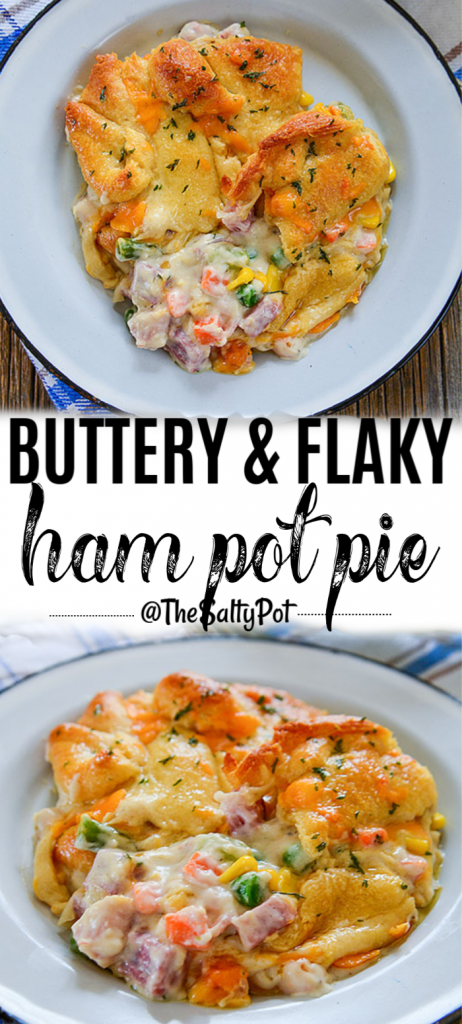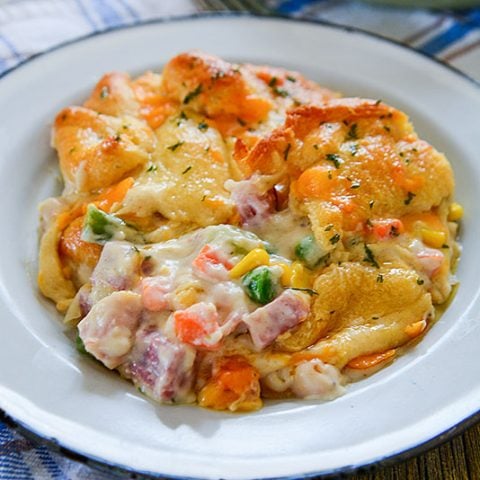 FLAKY & BUTTERY HAM POT PIE
A flakey, buttery, and decadent Hot Ham Pie that's a perfect recipe for your ham leftovers! It's like chicken pot pie, but BETTER!
Ingredients
2C ham, diced into smallish bite size pieces
2C mixed veggies, can be frozen
1/2 onion, diced
1 C chicken stock (see notes)
1/2 C heavy cream
1/4 c all purpose flour
1/2 tsp garlic powder
1 tsp thyme,dried
1/4 c butter
1 can prepared croissant dough
1 C shredded cheddar
Instructions
Preheat oven to 350.
in a frying pan, begin by melting the butter and sauteing the onions.
Add the flour and let the roux cook until you get a bit of color with it, a light golden brown.
Add the chicken broth in batches, along with the cream. Stir until thickened. If you need extra liquid to thin the mixture, add the extra chicken stock by tablespoons.
Add the ham,, garlic powder, thyme, and frozen vegetables. Mix well. Transfer into a greased pie dish
Top with 3/4 of the cheddar cheese
Open the can of prepared croissant dough and rip it in pieces and place on top of the pie.
Sprinkle the remaining portion of shredded cheese on top of the pie.
Bake on another baking sheet to catch any spills. Bake for approximately 35 - 40 minutes or until the top dough layer is cooked thoroughly and the pie is hot and bubbly.
Remove from the oven and let cool slightly before serving. Enjoy!
Notes
** You may need extra liquid if the sauce gets too thick. Use chicken stock or water here, by the tablespoon.
Nutrition Information:
Yield:

8
Serving Size:

1 C
Amount Per Serving:
Calories:

406
Total Fat:

27g
Saturated Fat:

14g
Trans Fat:

1g
Unsaturated Fat:

10g
Cholesterol:

74mg
Sodium:

680mg
Carbohydrates:

27g
Fiber:

2g
Sugar:

3g
Protein:

15g