Forget boring meals; it's time to add some pizzazz to your recipes. This Ninja Foodi Roasted Ham & Spicy Peach Glaze is sure to rock your world and impress your family. There is just something about the aroma of cooked ham that makes you feel like it is the holidays. You can enjoy this tasty meal any time of year, and it is terrific for potlucks and parties too.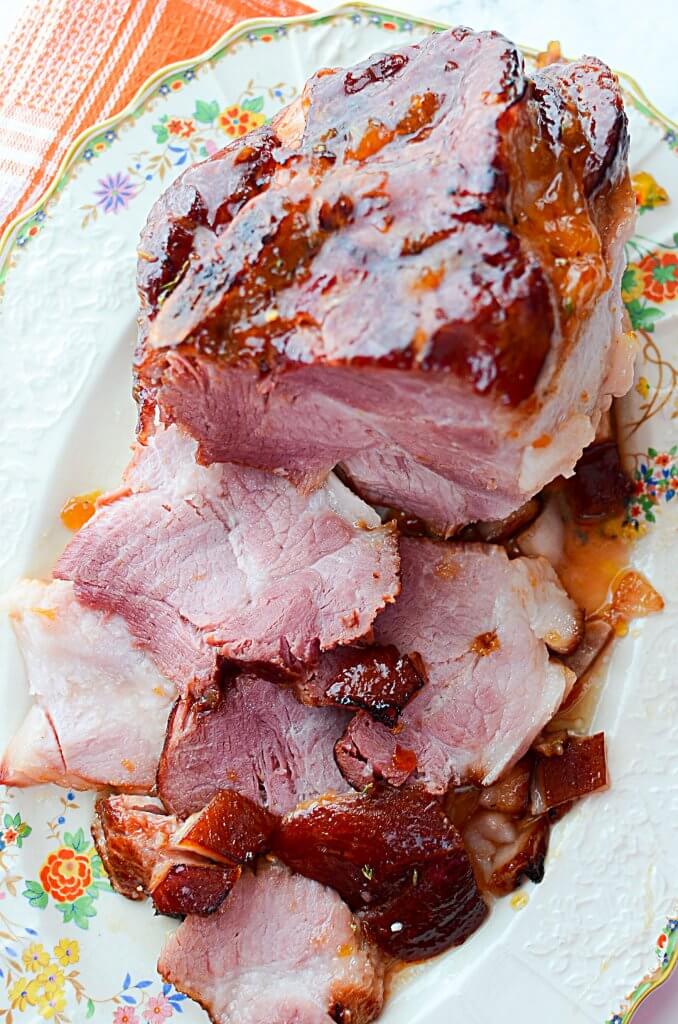 Mouthwatering Ninja Foodi Ham & Spicy Peach Glaze
The peach glaze on this baked ham is the perfect marriage of sweet and spicy. The best part is that you can adjust the ingredients to fit your likes and dislikes. For example, you can doctor the sauce up by adding a pinch of thyme, pepper, and some dried chili flakes until you reach your desired hotness. If you are like me, then you like a little bit of a bite! But if you are serving this dish to people who like the spice to be more subtle, then you can adjust.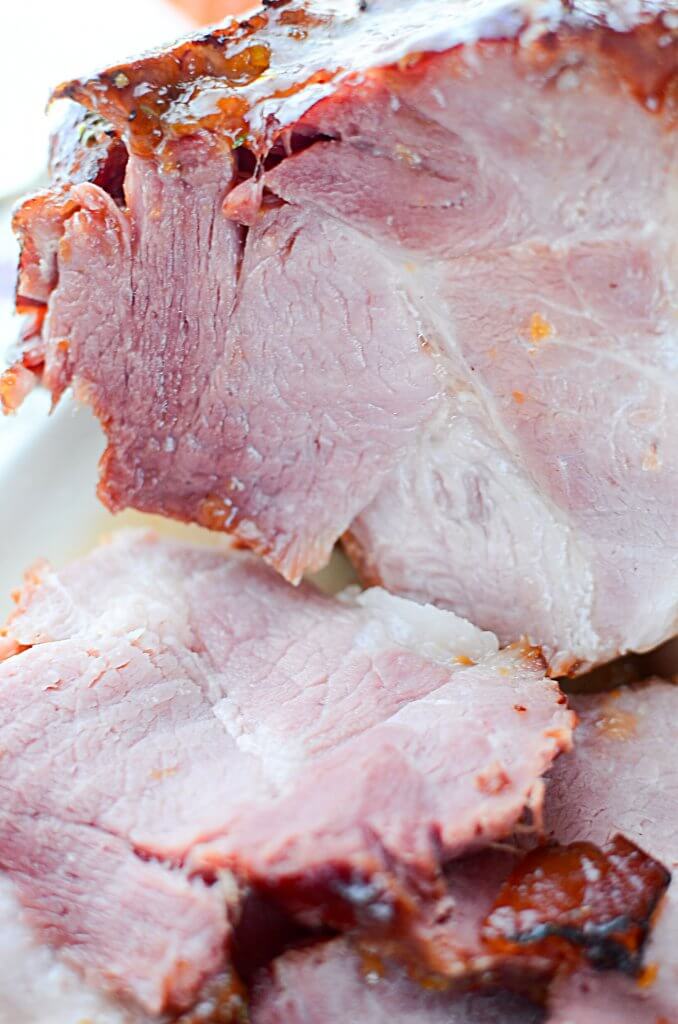 The Ninja Foodi is the hottest kitchen gadget on the market right now! It is basically a pressure cooker, and an air fryer all rolled into one. Isn't that the coolest thing ever? Imagine all the meals and recipes you can make with this awesome machine. If you aren't sure what model to buy, you should check out this Ninja Foodi Cooker. After you cook with it the first time, you are going to be in love!
Which Ham Is Better: Bone In Or Boneless?
There are several things to take into consideration when deciding which type of ham you want to use. A bone-in ham is going to give you a juicy, tender cut of meat that isn't dry. One thing that is important to me about using ham with a bone is you can always use the leftover bone in other recipes. Bone-In ham is going to take longer to cook because it wasn't precooked when you started. Spiral hams are great because they have been pre-cooked so they just need to be heated up throughout. Also, a bone in ham is going to be a little more difficult to cut up and make look pretty but the good news is that as long as it is heated properly, it doesn't matter if it isn't cut perfectly.
Slice diamond shapes into the fat cap of the ham to help render the fat and keep your Foodi ham moist!
What Is The Difference Between A Ninja Foodi And An Instant Pot?
While a Ninja Foodi can do the same things that an Instant Pot can do, they are far from being the same thing. Just like the Instant Pot, the Ninja Foodi can be used as a slow cooker, pressure cooker and you can saute foods. Here is where they differ, with the Ninja Foodi you can also air fry your food. This machine is out of this world incredible! I love that you can use it so many ways and it cuts your cooking time down so much.
Dollop about 2 tbsp of peach preserves into the water and whisk to dissolve. Use this at the bottom of the Ninja Foodi pot to pressure cook your ham for extra flavor!!
How Do You Know If A Bone-In Ham Is Fully Cooked?
When you are cooking a ham, you want to use a meat thermometer and check the internal temperature. The center of the ham (closest to the bone but not touching it) needs to reach at least 140 degrees Fahrenheit before it is safe for consumption. If you are using a spiral ham, they are all already pre-cooked, but they taste better when they are warmed up.
A Few Helpful Tips To Make This Juicy And Delicious Ninja Foodi Ham
You can use either store-bought peach preserves or homemade when you are making the glaze. Either way, if you notice bits of peaches on the ham, then you know it is going to taste even better. It adds to the overall texture and flavor of the recipe.

Did you know that scoring the fat on top in diamond shapes to help keep the ham moist? When it is done cooking, you can either remove it or leave in on. Be prepared that you are going to be biting into some astounding ham!

I love to use the water that is in the bottom of the Ninja Foodi by adding 2 tbsp. of preserves. This will enhance the flavors while it pressure cooks. You can also use plain water or chicken broth too.

Once your ham is almost done cooking, I like to broil it in the Ninja Foodi, so it has a sweet caramelization on top. You just have to keep an eye on it because it has such a high sugar content that it can burn very quickly.
Directions To Make This Foodi Ham in the Instant Pot:
This ham can be prepared exactly the same with as the directions say for the Foodi, except for when you want to broil the ham, you will need to take it out from the Instant Pot bowl, and place it into a baking pan or baking sheet.
Glaze the ham as directed, and place under the broiler and watch it VERY CAREFULLY! The ham will begin to caramelize and you must watch it closely so the sugars don't burn. Enjoy!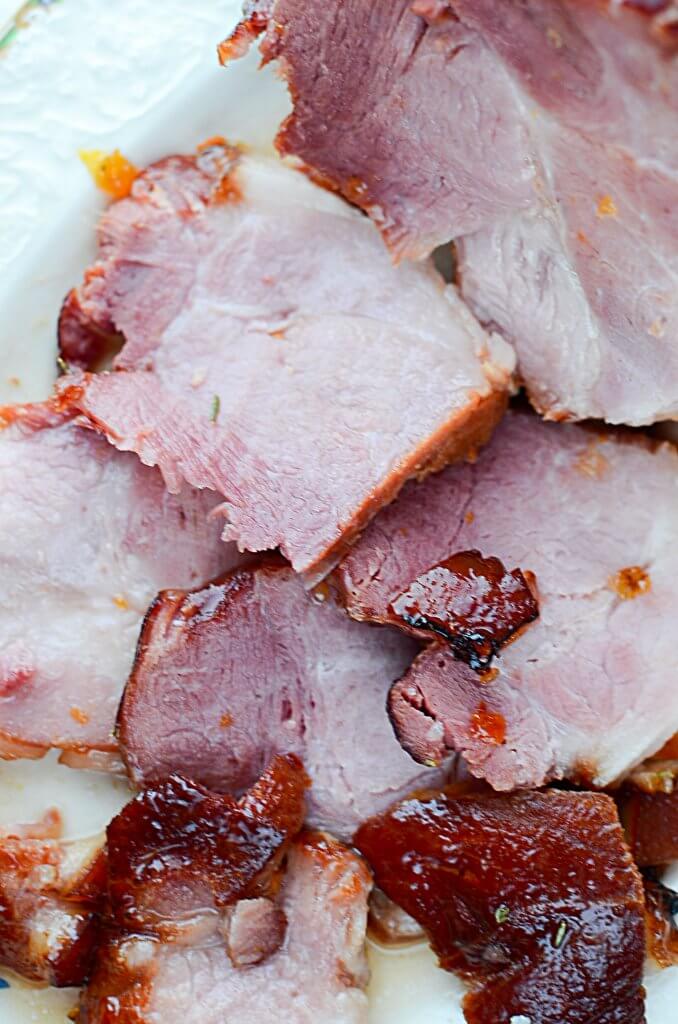 It's all pretty easy to do with this Ninja Foodi. It's like making an Instant Pot Ham, but waaaay better because of the broiling aspect right in the pot! So when you've taken the ham out of the pot, feel free to use the "gravy" to drizzle over the top of the ham if you wish.
This fantastic Foodi Ham will be incredible served with rice, potatoes, cauliflower rice, vegetables, etc etc etc! (I've been known to just eat the ham and that's it!! Hey —- no judging! 🙂 Thanks for stopping by The Salty Pot today!
******* DON'T FORGET TO PIN THIS NINJA FOODI HAM RECIPE TO YOUR FAVORITE PINTEREST BOARD TO SAVE FOR LATER!!*******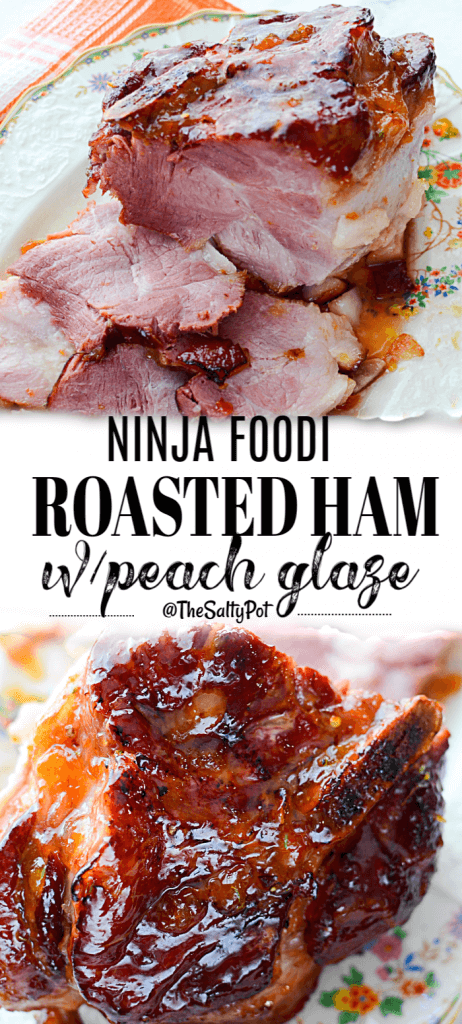 Yield: 8 people
NINJA FOODI: Roasted Ham with Peach Glaze
This delicious Ninja Foodi Ham with Spicy Peach Glaze is something that's unique yet made with ingredients you have in your pantry! Pressure cooking a ham is one of the easiest and best ways to ensure a cooked ham with all the juiciness you'd come to expect it should have!
Additional Time
10 minutes
Ingredients
1 Ham, bone in, not fully cooked, 3.5 - 4 lbs
1 cup peach preserves, (slightly heated for ease of use)
1 cup water
as desired dried chili flakes
1/4 tsp thyme, (dried)
1/4 tsp pepper
Instructions
Wash and pat try ham. With a sharp knife, carefully score marks across the fat cap of the ham, mindful not to cut too far into the fat, staying clear from the meat. Now score the other way, to form a diamond shape in the fat cap.
Place into the Foodi cooking bowl.
Place two dollops of peach preserves into the cup of water and whisk to dissolve. Pour over the ham.
Using the pressure cooking lid, place it on top of the unit, and move the toggle switch into the "sealing" position.
Pressure cook on high for 30 minutes, doing a 10 minute natural release when the cooking time is up. Move the switch to venting to release any more pressure and open the lid away from you when the pin has dropped.
Test your ham with a meat thermometer, and if it's reached 140 degrees, you're good to go! If it hasn't reached that point, pressure cook again on high for 5 minute increments until you reach that point.
In a bowl, combine the peach preserves, chili flakes, pepper and thyme. Mix together and baste over the top of the ham.
Place the air fry lid on the top of the ham and Broil the ham until you reach the desired caramelization over the top of the ham. Be careful to watch it closely, as the sugar in the peach preserves can burn quickly!
Let the ham rest for 10 minutes before removing from the bowl and carving. Feel free to drizzle some of the pan juices over the sliced ham for serving. Enjoy!