So it's tomato season (or maybe it's not) and you have some extra tomatoes you want to use up! These Mediterranean Roasted Vine Tomatoes are CRAZY simple…. and CRAZY delicious!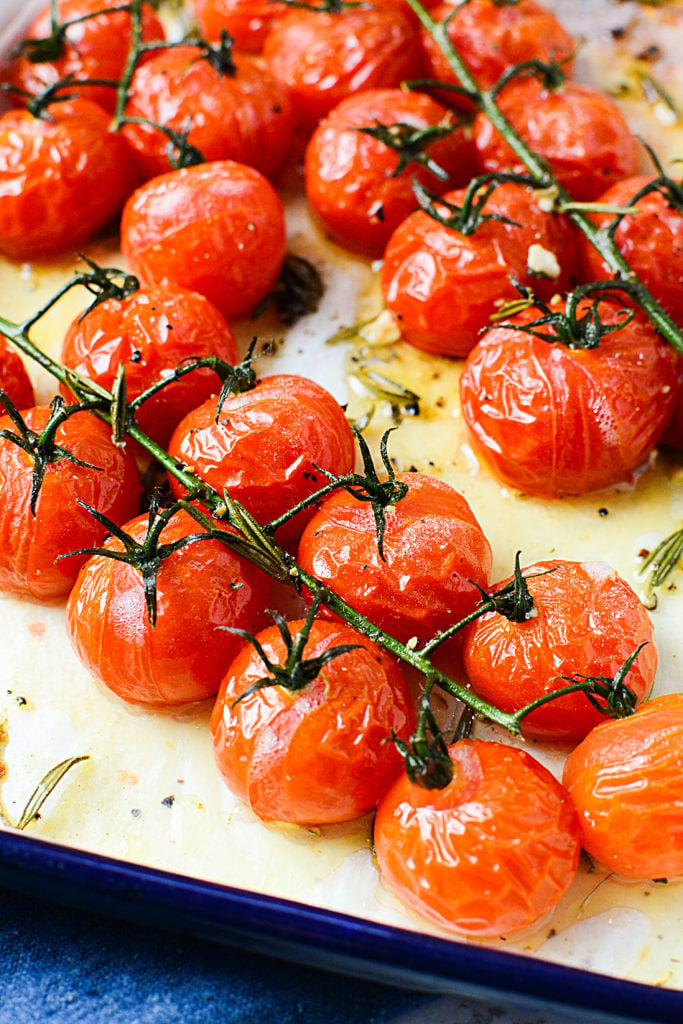 MEDITERRANEAN ROASTED VINE TOMATOES
Believe me when I tell you these adorable little tomatoes are huuuuge flavor bombs when you're done making them! I don't know what it is about roasting tomatoes but it seems to bring out this sweetness and juiciness that's just totally addictive!
Plus, you can't go wrong with how easy it is to make these cute little red flavor nuggets! They are seriously one of my favorite ways to prepare tomatoes.
Easy Ingredients for Roasted Vine Tomatoes
What recipe can't be adored that has simple ingredients, right? These delicious roasted vine tomatoes only require a few ingredients:
-Fresh tomatoes still on the vine (get as fresh as possible)
-Fresh rosemary sprigs
-Good oil, like olive or avocado
-Salt and pepper
-Splash of lemon juice
But wait…. the ingredients above are what I use for my usual recipe to make these roasted tomatoes. But today, I used this: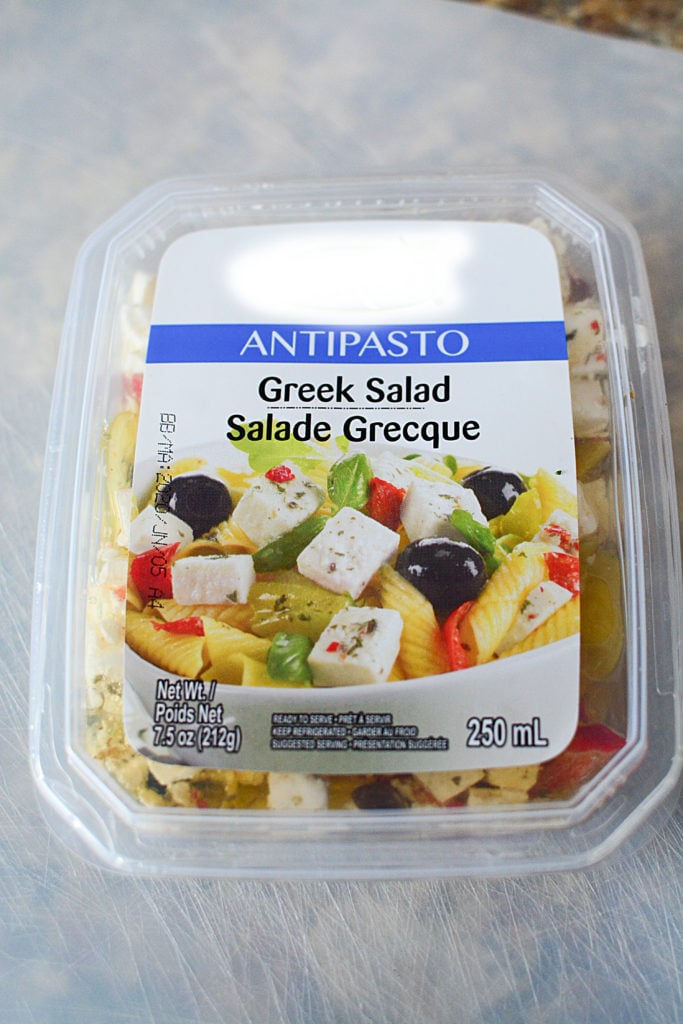 I blocked out the brand name of this mix because at the end of the day, it doesn't matter which brand you use. As long as you can find a mix of feta cheese, black olives, peppers and spices, it will work with this recipe. You're not using the contents of the package (although you could!), but just using the flavored oil portion.
I had this on hand because I was making Mediterranean Pork Chops. So I didn't want to use all the oil this mix was packed in, so it worked perfectly to use it with the tomatoes!
Handy Hint:
If you CAN find a mix like this at your local grocer's, and you're using some of it for a salad, or whatever, use the other half to add to your roasted tomatoes AFTER they come out of the oven! You won't want to add the feta cheese and such before as it will just melt from the heat.
I just drizzled some of the oil from this package, I didn't use the contents.
BUT.. if you can't find it, no worries, use the ingredients I listed above for the regular recipe and enjoy!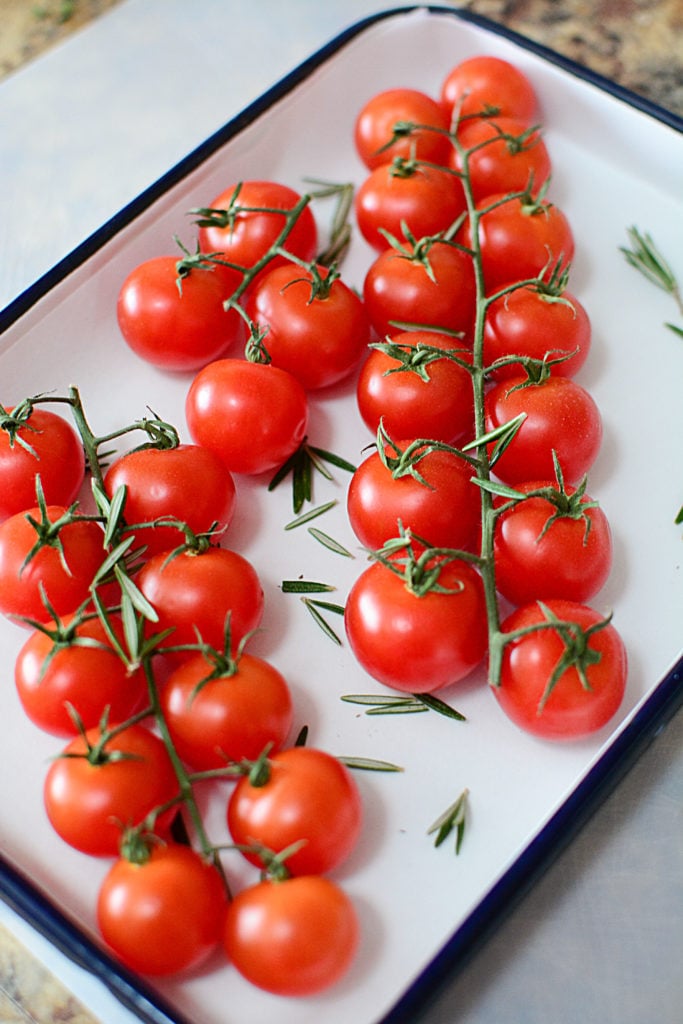 What To Do If You Don't Like The Skin Of The Tomato
Ok, so it's entirely possible to make this dish without having the skin of the tomato on the fruit. (Yes, tomatoes are a fruit!). It will be a bit laborious, but it's totally possible.
It basically involved blanching the tomato in boiling water for a few seconds or so. The skins will fall right off.
I have a simple tutorial on How to Peel Tomatoes for you take a peek at if you'd like, here on the blog.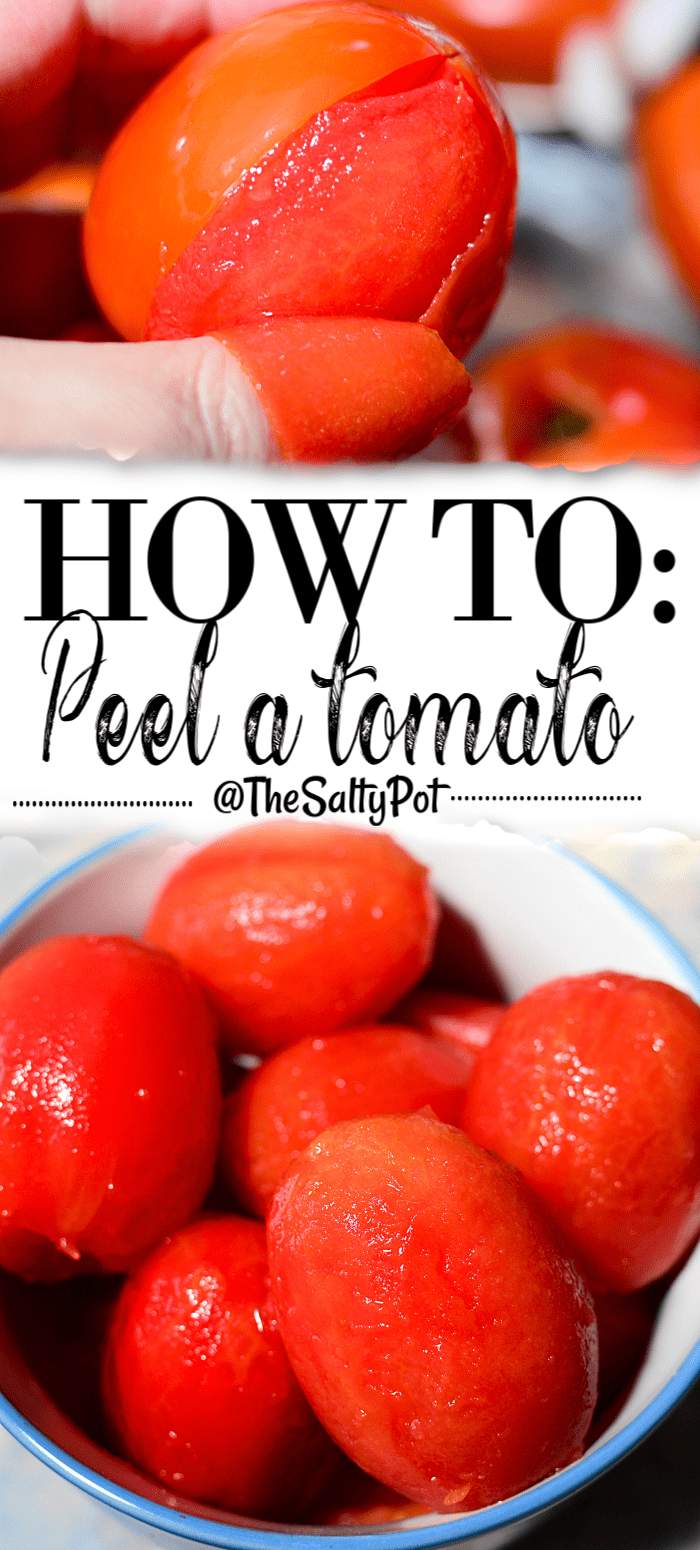 But because these are slightly smaller than regular tomatoes, it might be a bit fiddly, thus removing the whole idea of this dish being a super easy side dish. Also, keep in mind that after the cooking process is finished, the skins may wilt a bit, making it easier to just scoop out the inside of the tomato!
What Size of Tomato Can I Use For This Roasted Tomato Recipe?
So the tomatoes I used were a cocktail sized tomato, still attached to the vine. They are a perfect size if you ask me, but if you only have baby tomatoes in your garden to use, or slightly larger than the cocktail size, then go ahead and use them!
Just remember to adjust your cooking time. The smaller the tomato, the less cooking of course, etc.
I just recommend that you don't use a huge tomato. The flavor won't be the same, the cooking time will be a lot longer, and most of the larger tomatoes are used for slicing tomatoes to use in sandwiches.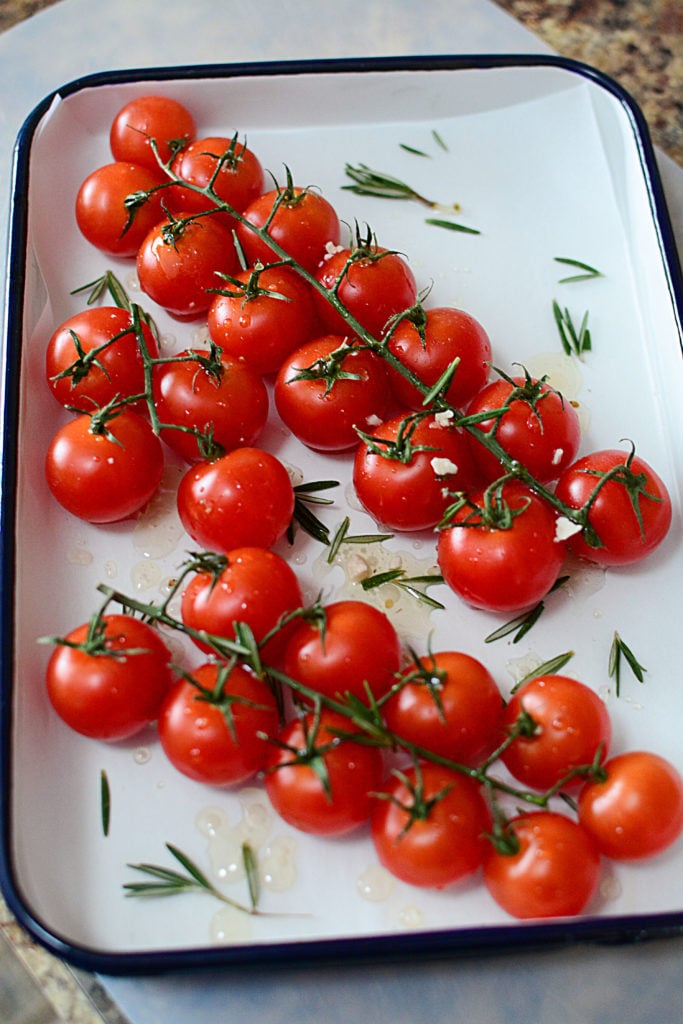 Does The Vine Add Flavor To The Dish?
Honestly, no, not really. The vine is there for pretty esthetics, so if it bothers you, go ahead and pull the tomatoes off the vine. They may roll around in the baking pan a bit, but it's not a big deal.
What Other Herbs Can I Add To The Tomatoes?
You could try adding some fresh or dry oregano. Oregano is a common Mediterranean herb/flavor that would compliment the tomatoes well. You can also use dry rosemary if you'd like or even rosemary powder if you have it on hand.
I prefer to use fresh rosemary because it's more tender when eating it with the tomatoes.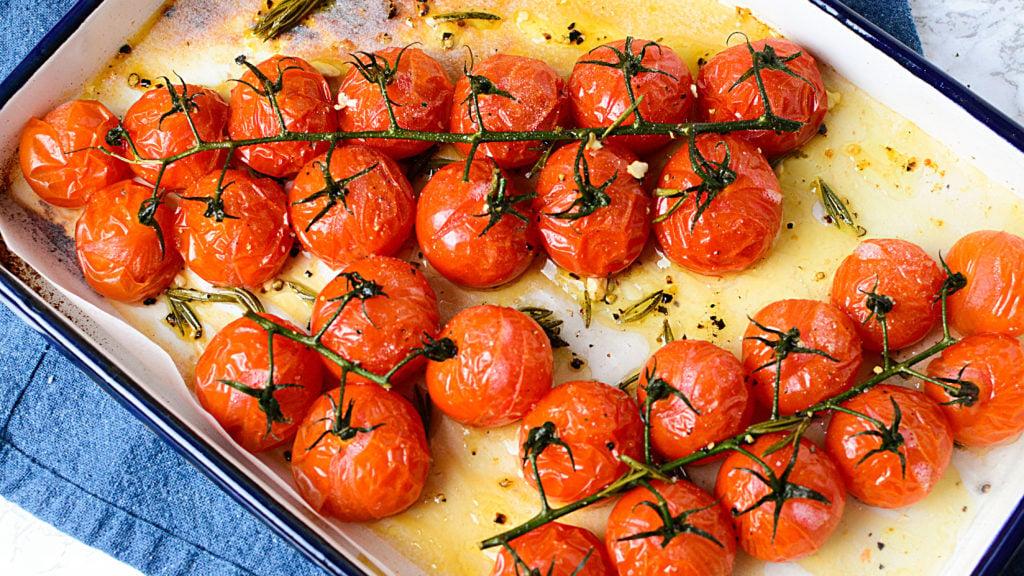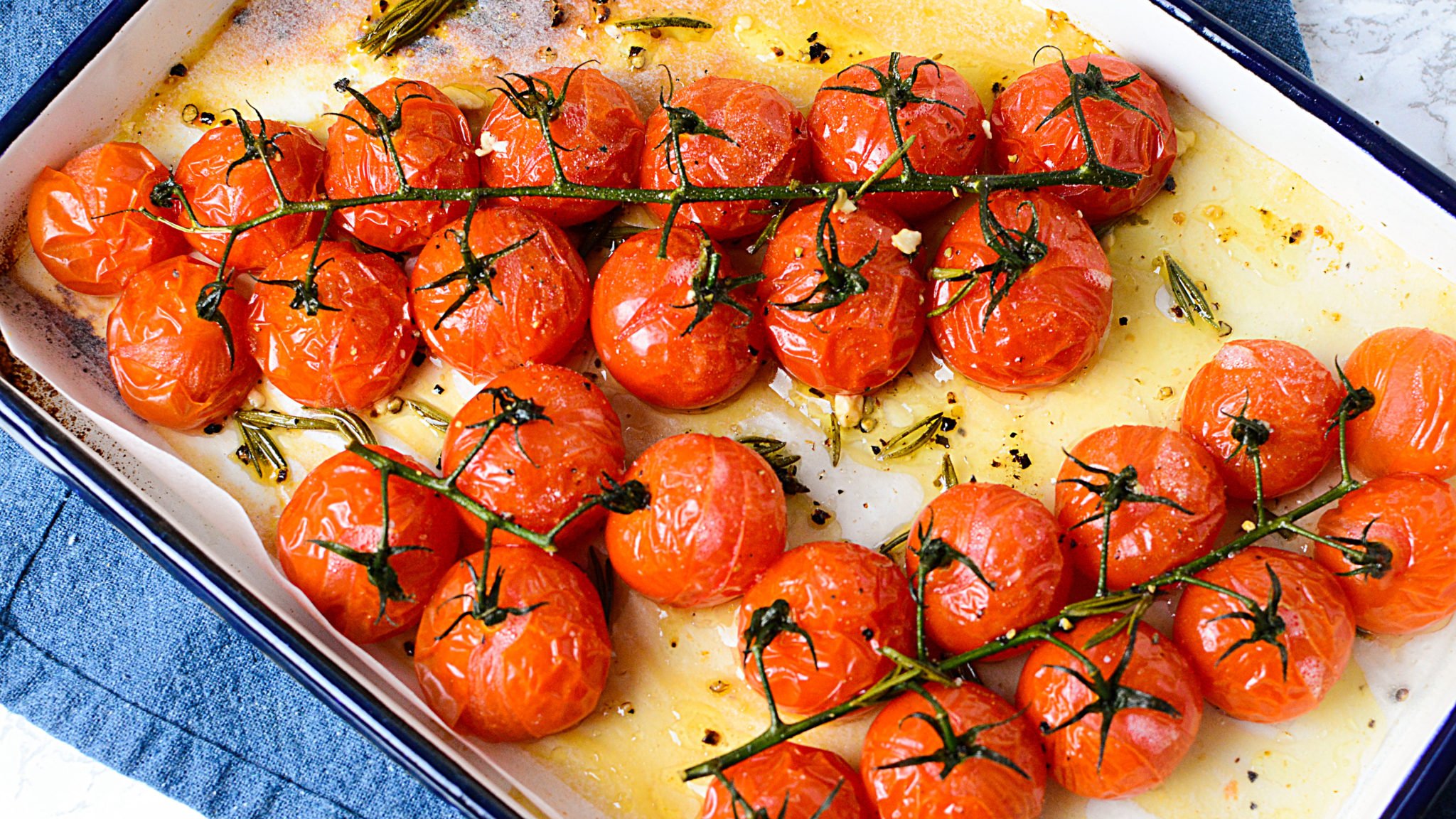 Can I Freeze These Roasted Vine Tomatoes?
Ok, well, yes and no. The only way I would freeze them would be if they were fresh, in a freezer-safe bag, with the oil and other seasonings added. So when the day comes to roast them, simply place the contents of the bag into the baking dish and you're off to the races. Don't thaw them before cooking.
I do not recommend freezing the roasted tomatoes AFTER they are cooked. I think that they might freeze nicely, but the thawing is where they would let you down. The tomatoes will let go of even more of their water, which holds a lot of the flavor.
The best option is to freeze the tomatoes, still on the vine, but plain with no seasonings or oil. That way, you can add them frozen to the baking dish, add the oil and seasonings, and roast. Just remember to allow for extra roasting time as you are starting out with frozen tomatoes and will need longer to cook.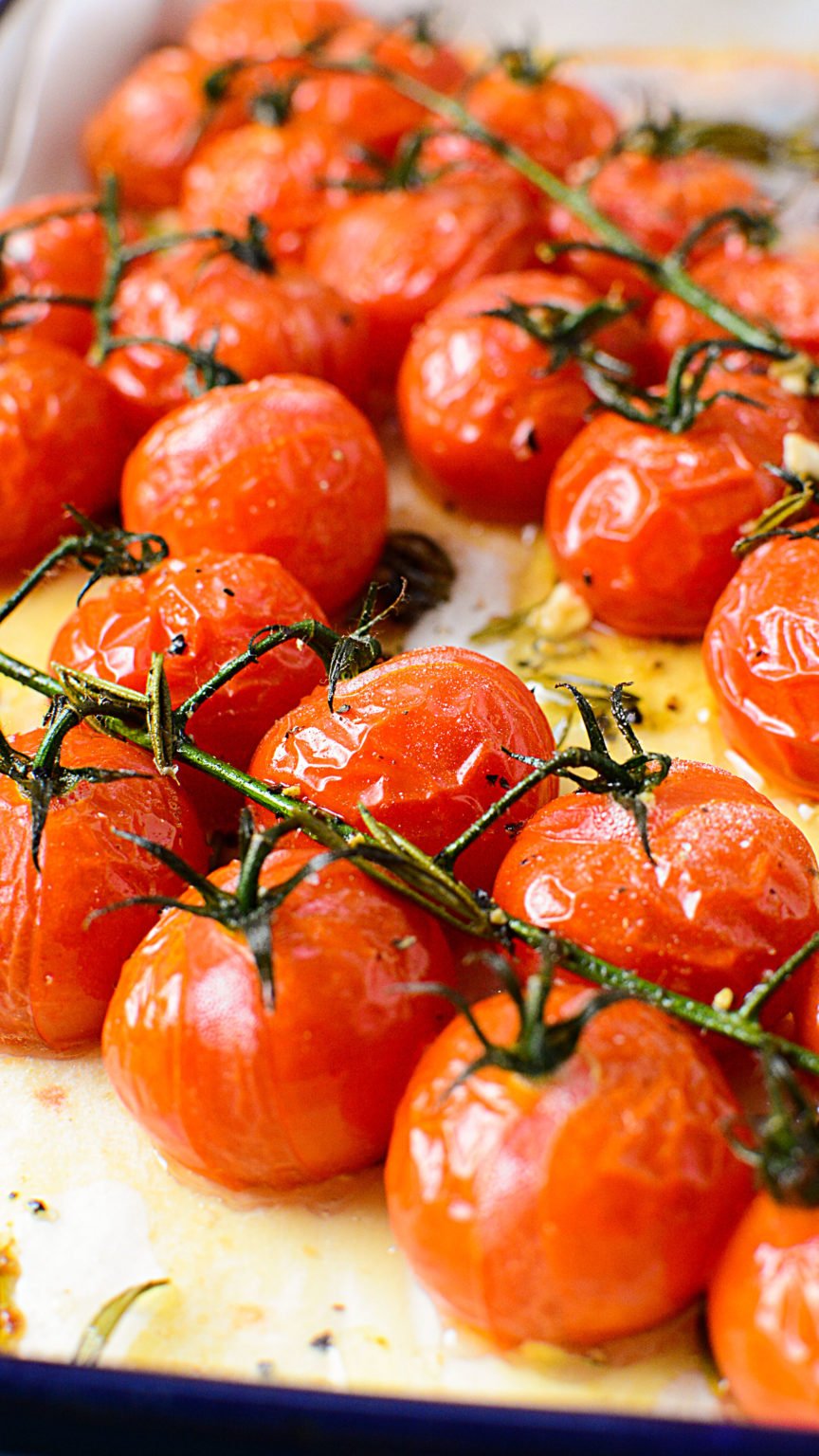 What Do I Serve These Roasted Vine Tomatoes With?
The list is really endless! You could try:
grilled fish
grilled or roasted pork souvlaki
almost any type of chicken dish
grilled ribs would be awesome
or take a look at my recipe I served them with – Grilled Mediterranean Pork Chops!
I just like these tomatoes as a side dish because they are so versatile and they pretty much go with anything. Plus, if you keep the vine on, they are kinda fancy and impressive (you know, all 'cheffy' lookin') lol. People like the way they look on a plate.
Ok, so there you have it, folks! I hope when you make these awesomely easy and delicious Mediterranean roasted vine tomatoes, you'll let me know what you thought of them! Did you change the recipe at all? Let me hear about it!!
And, as always, thank you SO much for stopping by The Salty Pot today, and I really hope you have a fantastic day!!
~Joanne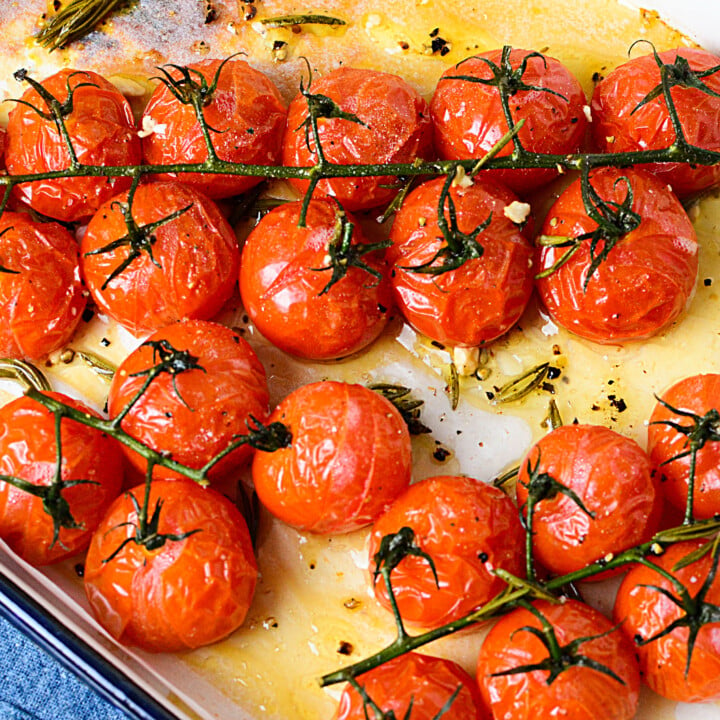 Mediterranean Roasted Vine Tomatoes
Yield:
12 ounces roasted vine tomatoes
Sweet small tomatoes still on the vine are roasted with mediterranean flavors until they become lusciously soft, delicious and juicy!
Ingredients
12 oz vine-ripened tomatoes
2 tablespoon Mediterranean flavored oil (SEE NOTES!)
2 sprigs fresh rosemary
splash of lemon juice
as desired, salt and pepper
Instructions
Preheat the oven to 350
Rinse tomatoes while still on the vine, and pat dry.
Place them into a 9 x 7 baking dish lined with parchment paper for easy cleanup (or grease the pan).
Drizzle with the oil and sprinkle with the salt and pepper.
Remove the rosemary leaves from the stem and sprinkle on and around the tomatoes
Roast in the oven for 30 - 35 minutes or until the tomatoes' skin has softened, wrinkled and split open.
To serve, carefully pick up the tomatoes with a serving spatula to keep them attached to the vine for a pretty presentation. Drizzle any pan juices over the tomatoes along with a few drops of lemon juice per serving!
Enjoy!
Notes
Cooks notes:
1. Use tomatoes that are as fresh as you can find for the best flavor results. That being said, if you have some tomatoes that are slightly soft but with no blemishes or funky parts, feel free to use them up. Never waste food! The flavor will still be very nice!
2. The Meditteranean oil I used was simply from a package of antipasto mix packed in oil that I bought. If you don't have that on hand, using a good olive oil, salt and pepper with a drizzle of lemon juice will do just fine! Heck.. even just oil, salt and pepper will do as well! (I do recommend using the fresh herbs though!)
3. My tomatoes were the cocktail size. So they were bigger than regular cherry tomatoes but much smaller than a roma variety. They would be about the size of a baby plum. By all means, use cherry tomatoes or larger tomatoes if that's all you have on hand. Just don't use those big honkin' beefeater tomatoes the size of a child's head... they're just too big. LOL - Just keep in mind the cooking time, according to the size of the tomato you use.
4. I highly recommend lining the pan with parchment paper for easy cleanup!
Nutrition Information:
Yield:

2
Serving Size:

6oz
Amount Per Serving:
Calories:

156
Total Fat:

14g
Saturated Fat:

1g
Trans Fat:

0g
Unsaturated Fat:

13g
Cholesterol:

0mg
Sodium:

156mg
Carbohydrates:

7g
Fiber:

2g
Sugar:

4g
Protein:

2g
***DON'T FORGET TO PIN THIS MEDITERRANEAN ROASTED VINE TOMATOES RECIPE TO YOUR FAVORITE PINTEREST BOARD TO SAVE FOR LATER!***