These Air Fryer Veggie Burgers are SO delicious, it's really difficult to tell the difference between real and alternative meat-made burgers. Juicy and savory, they have a nice char-like crust that makes them outstanding for an alternative meatless burger.
This post may contain affiliate links. If you make a purchase after clicking a link, I may earn a small commission AT NO COST TO YOU. As an Amazon Affiliate, I earn from qualifying purchases.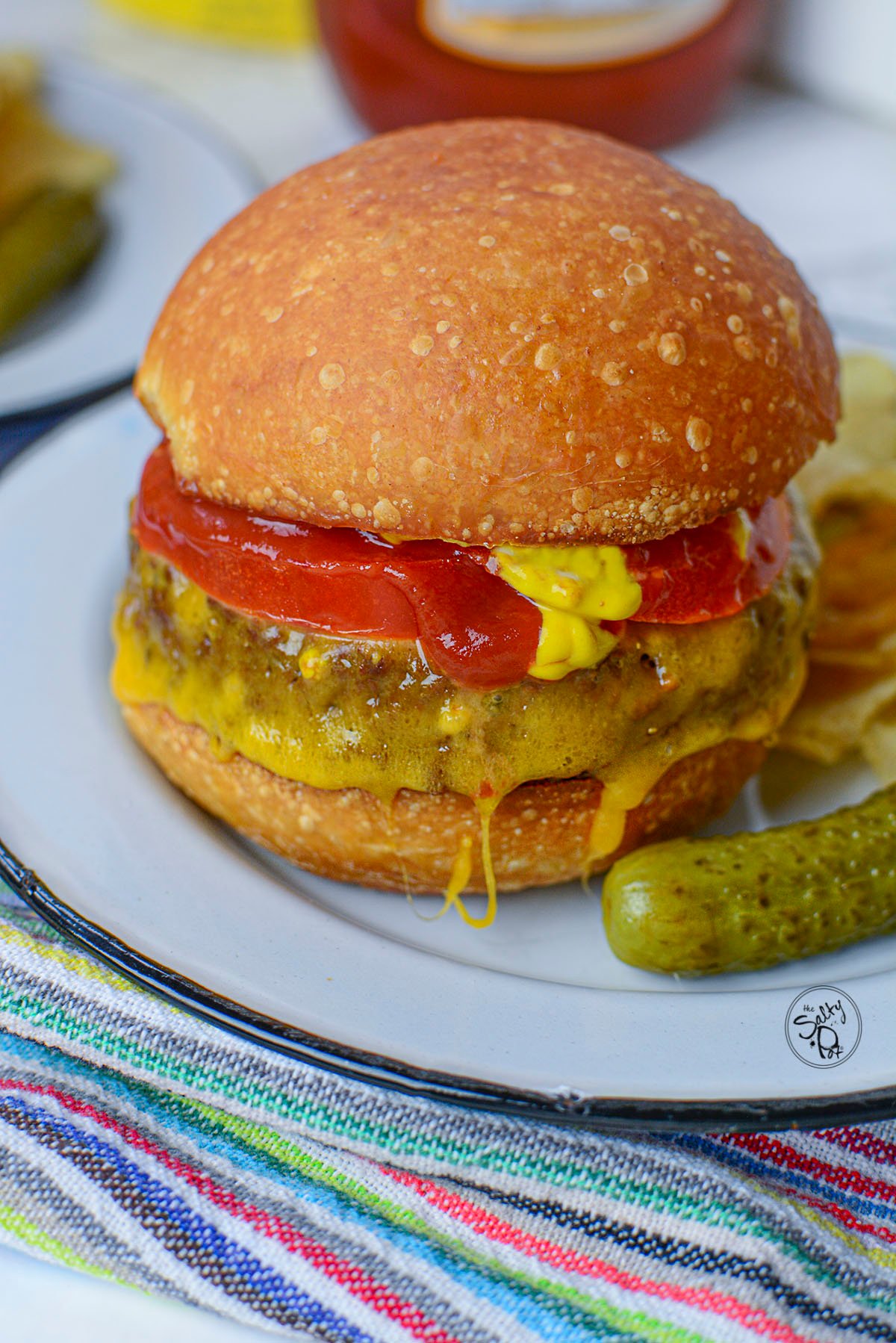 Air Fryer Veggie Burgers
Veggie burgers are a great alternative to meat for those looking to eat healthier by reducing meat consumption, saturated fat or even reducing their environmental impact.
And the air fryer does a fantastic job of whipping up juicy veggie burgers that everyone will love, quickly and easily.
While you can use this cooking method for traditional veggie burgers, these are best done with newer meat substitutes like Impossible Burger and Beyond Meat burgers.
These products have a texture and flavor that is much closer to traditional beef burgers, are completely plant-based, and is what I used today to make these incredible alternative meat burgers!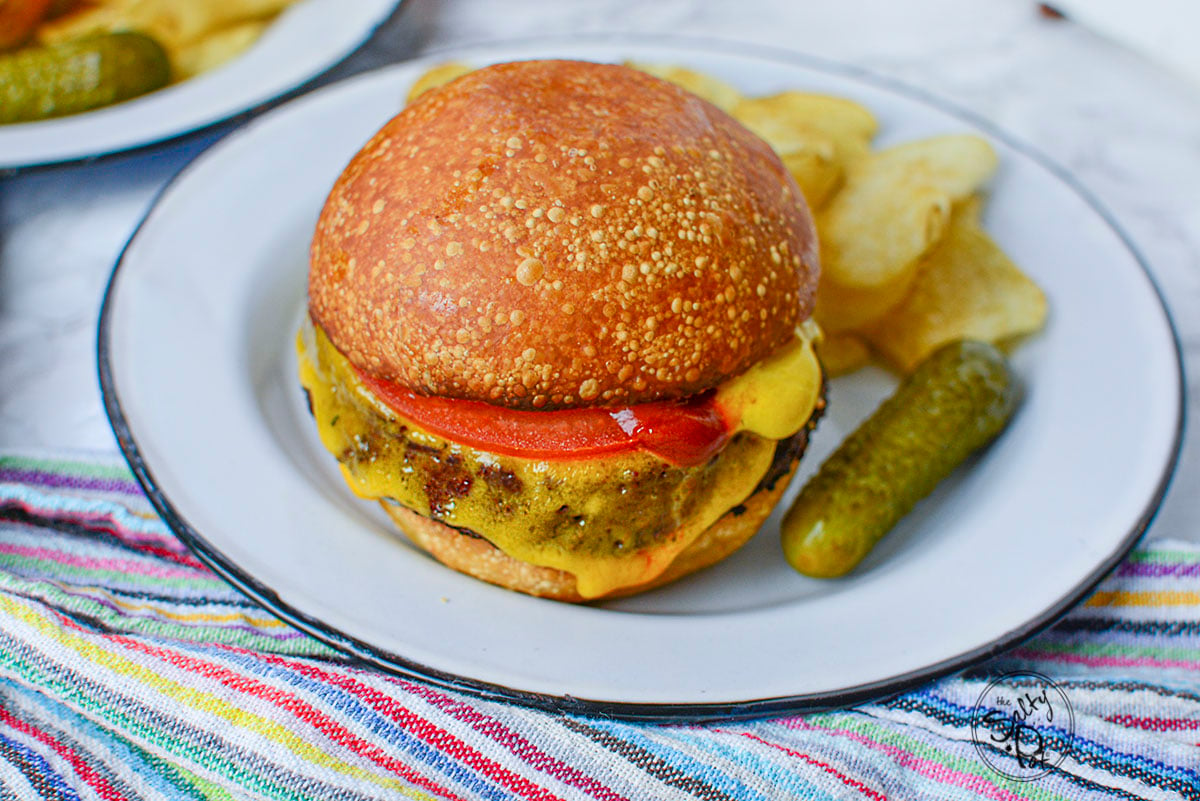 Ingredients
Alternative Meat Burgers: I purchased ready-made, fresh Impossible Burgers for this recipe, but you can make your own burgers by buying loose Impossible or Beyond Meat burger "meat", and follow your own burger recipe to air fry them.
Buns: Fresh is best. Pick your favorite type of hamburger bun but be sure to toast it before moving on with the recipe!
Cheese: I used American cheese because that's what I had on hand. However, you should use your favorite cheese, even a strong cheese like provolone or even blue cheese if that's your thing!
Montreal Steak Spice: I put this stuff on EVERYTHING. If you don't have any, use your favorite steak spice on these burgers.
Condiments
How to cook a veggie burger in the air fryer
As always, to get the perfect crispy texture you want to preheat your air fryer before cooking. Preheat your Air Fryer to 400 degrees.
Spray your veggie burgers with oil on both sides to help keep them juicy and improve the crispy exterior.
Season the patties.
Add your veggie burgers to your air fryer after it preheats, setting it for 5 minutes.
Halfway through cooking flip your veggie burgers to ensure an even cook.
Why you should cook your veggie burgers in the air fryer.
First, the air fryer gives them the perfect texture that's appealing and more enjoyable for those looking to reduce their meat intake or wish to switch to a vegetarian diet.
The goal with using the air fryer to cook veggie burgers is to get that really crispy outer layer that makes Beyond Meat burgers and Impossible Burgers taste the closest to a regular hamburger patty that's grilled.
They cook a lot faster in the air fryer than they would on the grill because the air fryer uses a hot circulating heat that is more intense than the grill.
Lastly, let's not forget about the buns. To improve ANY burger, in my opinion, the bun MUST be toasted. It warms them, gives a toasty yummy flavor to them with a crispy edge, and helps them stand up to condiments and the juicy patties without going soggy.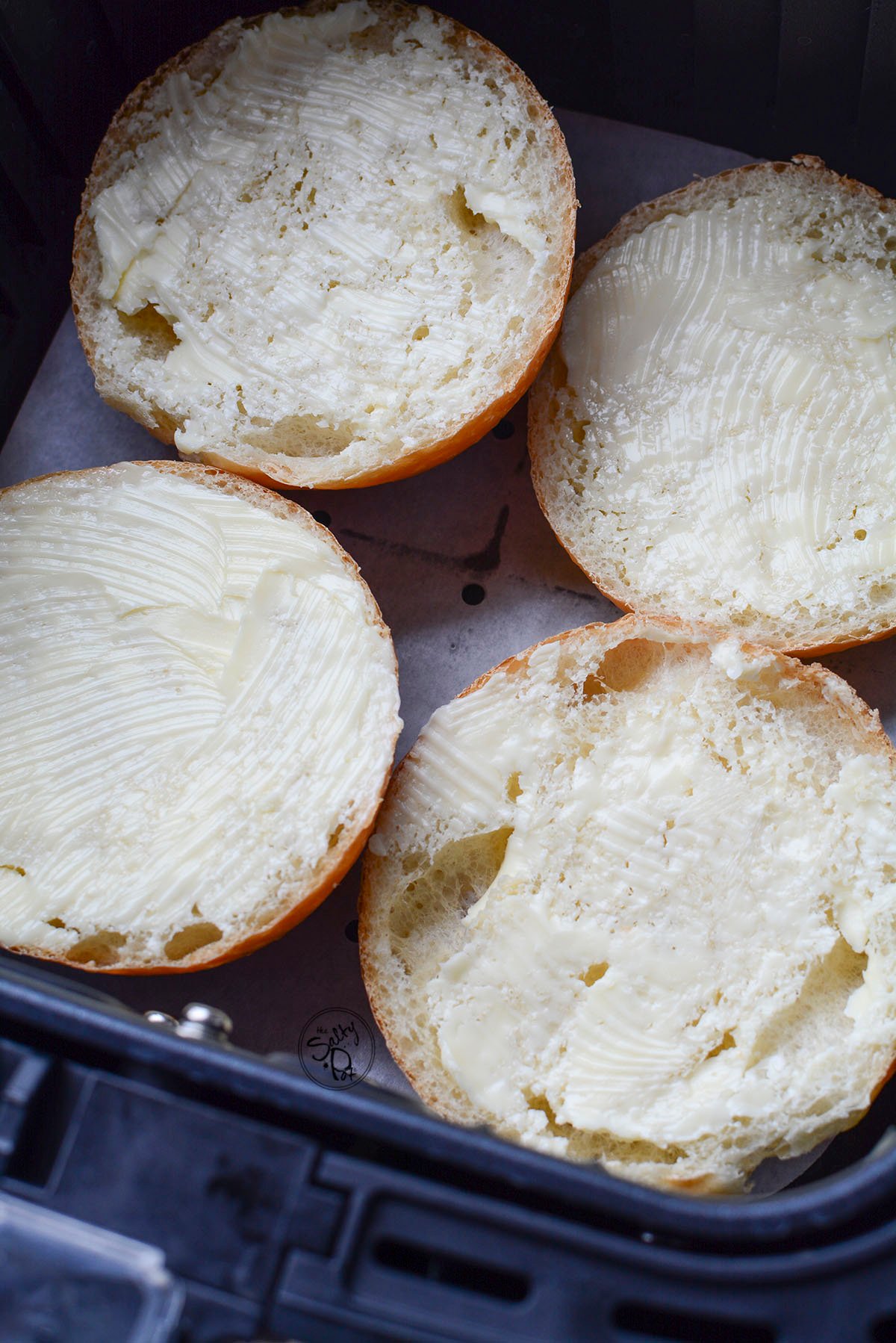 Questions You Might Have:
Can you cook frozen Beyond Burgers in an air fryer?
Absolutely! Whether they are Beyond Meat or Impossible burgers, you can cook them from frozen in the air fryer. After preheating the air fryer for 5 minutes, I let them cook for a couple of minutes to thaw the outside. Top the fryer, drizzle or spray with oil, season, and continue to air fry for about8 minutes, flipping them halfway through until they are cooked through and have reached an internal temperature of 165 degrees Fahrenheit.
Can you get sick from eating an undercooked Impossible Burger or Beyond Meat burgers?
It's possible, yes. You want to handle the burger and/or the patties exactly as you would handle raw ground beef patties. Keep them refrigerated until you're ready to use, keep track of the expiry date on the package, and be sure to cook them to the temperature indicated on the package.
Level up your burger!
Try a few different things to level up or make your burger unique to you.
Cheese: Try different types of cheese to melt on top of the burger patty. Add a kick by using some spicy jalapeno cheddar, or some pepper jack. Use a creamier cheese like havarti. Strong cheeses like provolone and smoked gouda would be fantastic.
Condiments: No need to just stick to your usual mustard and ketchup. Try adding buffalo hot sauce, flavored mayonnaise, bourbon onion jams, etc, to give those burgers a flavor bomb!
Buns: Cheddar buns, onion buns or buns sprinkled with Everything but the Bagel Seasoning would be great!
Additions: Spicy pickles, hot mustards, curry ketchup, heck, even a layer or two of crispy potato chips on top of the burger would be unique and delicious!
The artificial meat market has come a long way in the past few years and you can even find a vegetarian or vegan bacon option to make your own bacon cheeseburgers at home.
Have fun and build your veggie burger just like you would eat a regular burger or get a bit more adventurous and try something new.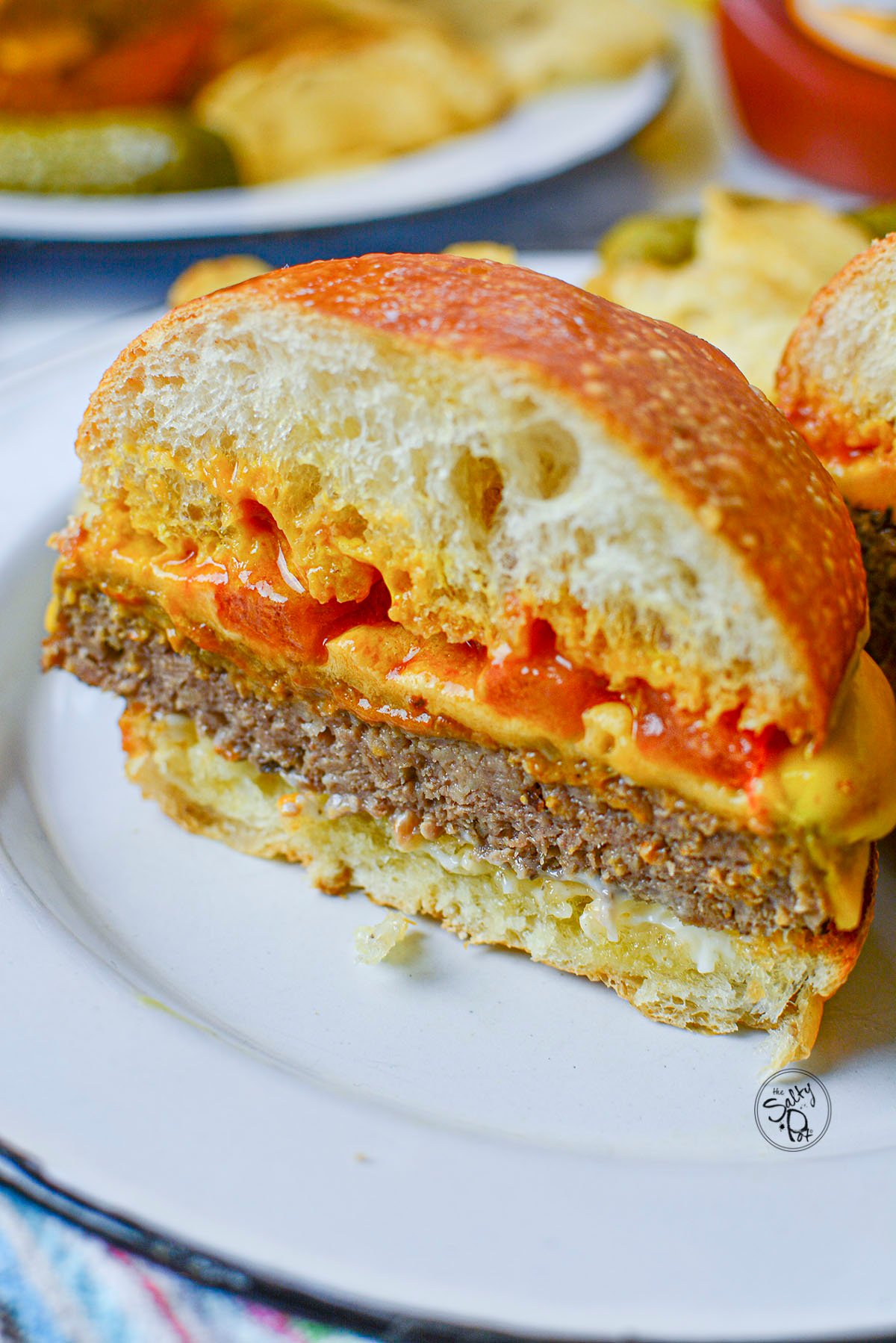 Choosing what to serve with your burgers
The options are endless here. Try my Air Fryer Zucchini Sticks, or my Easy Slow Cooker Baked Pineapple Beans – they are DELICIOUS! If you wanted something more substantial, serving the burgers with a Zesty Cheese Doritos Mac and Cheese, or even a Crock Pot Baked Potato would be super tasty!
Have you tried cooking a veggie burger in the air fryer? Let me know below, I'd love to hear about your experience!
~Joanne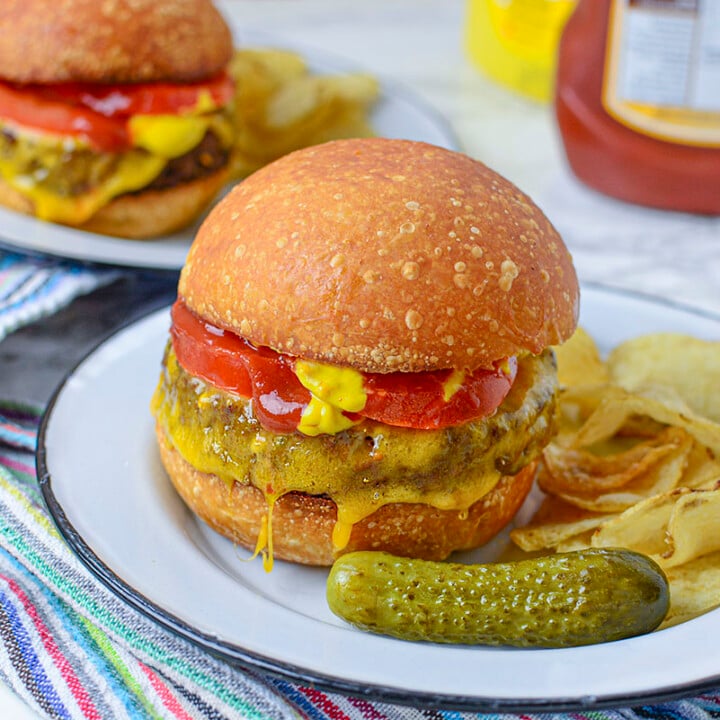 Air Fryer Veggie Burgers
Juicy with that crispy, seasoned outside, these air fryer veggie burgers are not only easy to make, they're so delicious your family won't be able to tell they're not real beef.
Ingredients
2 Impossible burger patties
2 hamburger buns
2 slices of American cheese
mustard
ketchup
1 slice of tomato
1 teaspoon butter
2 teaspoon Montreal steak spice.
Oil for drizzling or spraying the patties.
Instructions
Preheat the air fryer to 400.
While the air fryer is heating, slice the buns in half and butter all four pieces.
When the air fryer has reached temperature, place the buns, buttered side up, in the air fryer basket and toast them at 350 for a couple of minutes. Keep checking on them and remove them when the sides are toasted. Watch closely because they can burn easily. Remove and set aside.
Season the burger patties with Montreal steak spice.
Carefully put the patties into the air fryer. Spray or drizzle them with oil.
Air fry at 375 for 8 - 9 minutes till they are cooked through and have developed a crusty, crispy edge. Internal temperature should be past 165 F.
Remove the patties and let them rest while you prepare the burger buns.
Place the burgers on the buns and enjoy!
Notes
I used Impossible meat burgers, but you can also use Beyond meat patties as well. Don't forget to season them well!
Use fresh buns, butter and toast them in the air fryer.
Get adventureous with your condiments to make this burger unique to you!

Nutrition Information:
Yield:

2
Serving Size:

1 burger
Amount Per Serving:
Calories:

834
Total Fat:

43g
Saturated Fat:

16g
Trans Fat:

0g
Unsaturated Fat:

23g
Cholesterol:

147mg
Sodium:

1406mg
Carbohydrates:

68g
Fiber:

1g
Sugar:

6g
Protein:

44g
All nutritional information is based on third-party calculations and is only an estimate. Each recipe and nutritional value will vary depending on the brands you use, measuring methods, and portion sizes per household.