I know, I know, you're thinking…… ' Ummmmmm ……. what? …..Brown Sugar Pecan Maple Glazed Ham?????? Yessssss!! Oh, my dear gorgeous reader – don't knock till you try it!!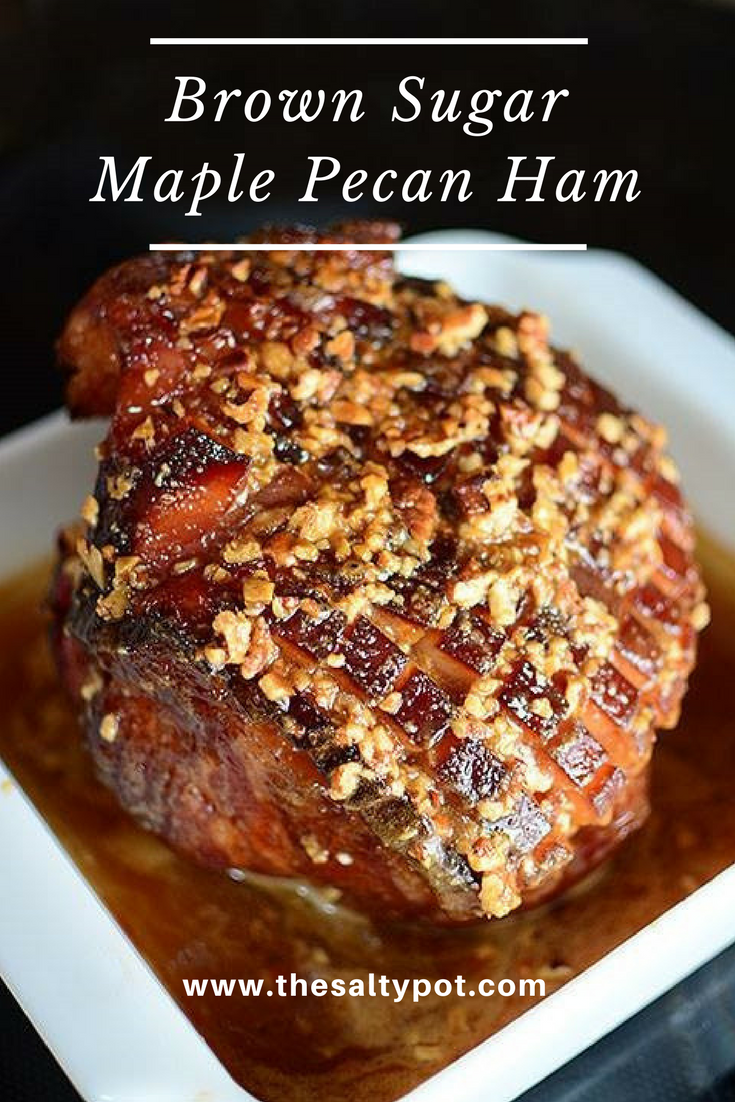 Brown Sugar Pecan Maple Glazed Ham Recipe
A dear friend of mine said she had bought a ham (the small shoulder type ham, not the spiral cut hams), and her family wanted turkey instead for their holiday meal. She asked if I wanted it.
" DOES A BEAR POOP IN THE WOODS???!!" I said before she could actually finish the sentence. (I didn't really say that, but I kinda thought it.. lol) I mean, come on, can you blame me? My thrifty ass being offered free and delicious, premium salted and smoked pork for FREE?? You bet I'm going to accept!
You know.. it would be SUPER rude of me not to anyway, right??
So next came the preparation plans. I didn't want to simply just bake it. It actually came with a little seasoning packet of some sort of spices but I knew I could rock the seasoning on that ham like no one's business. I wanted something cool… something unique… something super tasty of course. Brown sugar is a given with ham.. they're best friends flavor wise. How could I spin that?
I wish I could take full credit for the utter genius of the idea, but no, it was my friend who came up with Brown Sugar PECAN Maple Glazed Ham. We all know brown sugar, maple and pecans go amazingly well together. The flavors would be nutty, sweet, molassessy (HEY.. it SHOULD be a word!), and honestly, a PERFECT pairing with a salty smokey ham!
Let's talk about all the hams…. lol
Now, before we begin, a quick word about ham. Some hams come fully cooked and smoked, and simply need reheating. Other hams come smoked, brined, but not fully cooked. These hams need to be fully cooked completely through, so they will take a bit longer in the oven. Check your labels to know what type of ham you have before starting. Today we are working with the uncooked variety.
Some hams (but not all), come with netting on them, but if yours does, not worry. It's super fine and you'll want to simply start to peel away the netting like an orange, on the ham. Start from the top or bottom of the ham, and slowly, going in small movements, lift the netting away from the ham. It may start to lift some of the flesh of the ham at times, so just take a knife and hold the meat down as it separates from the netting. Do your best with this. If it tears the meat a tad, no big deal. It's all going to the same place.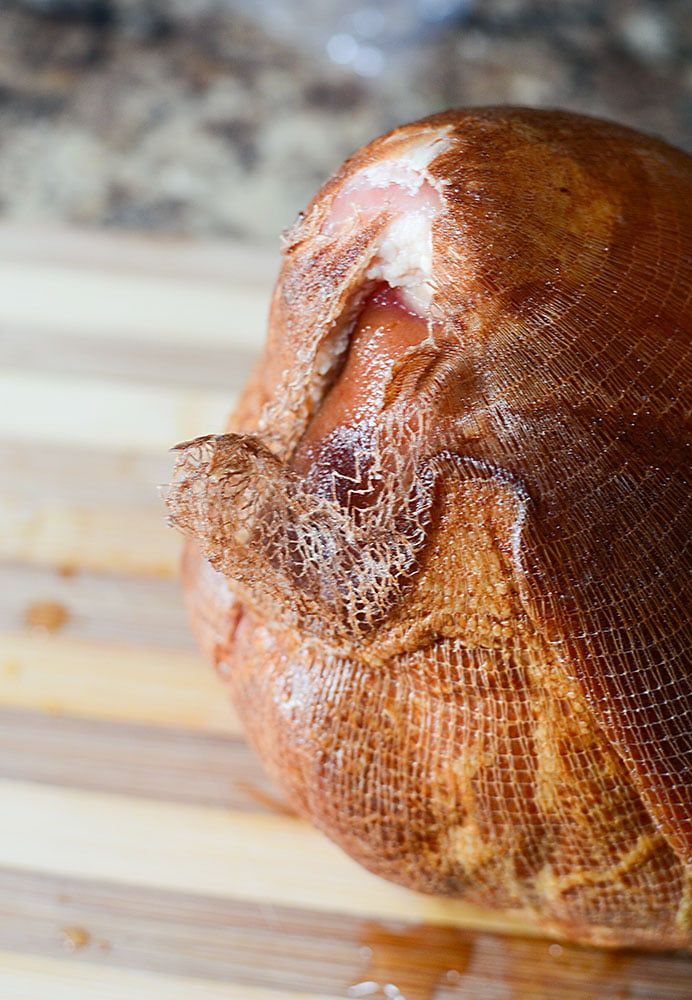 How do I cook the ham??
Ok, so wash the ham, and pat dry. Hopefully, the ham will have a fat cap (squarish looking patch with skin and fat still attached to the ham). Most people might cut this away but for the love of all things moist and juicy (ok, that sounded strange), LEAVE it there. It helps to keep the ham from drying out in the oven as it bakes.
With a sharp knife, score a diamond or square pattern into the skin and fat, trying not to cut into the meat of the ham. If it happens, it's not the end of the world… so don't worry.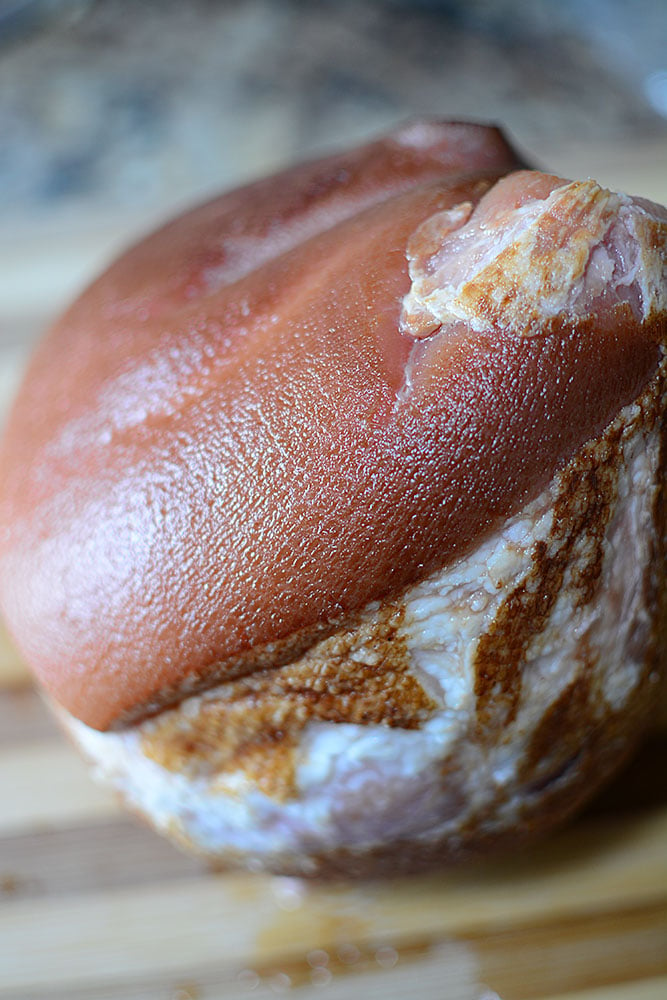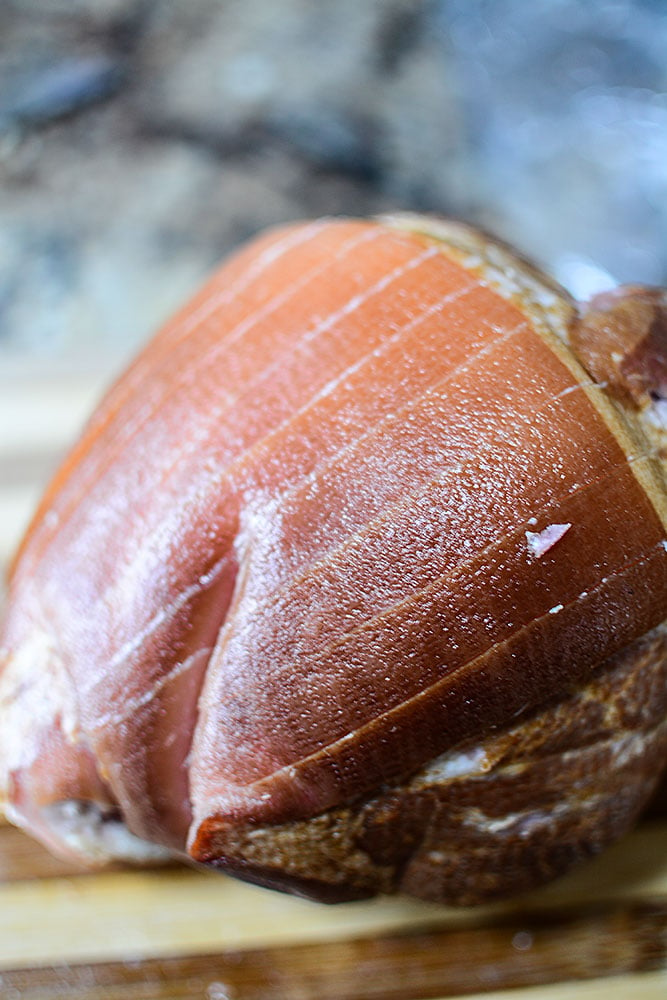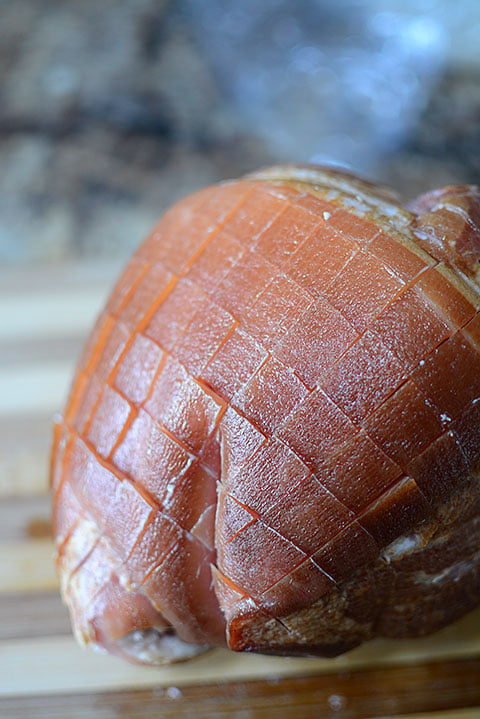 Place the ham into your baking vessel and add 1 cup of water or chicken broth.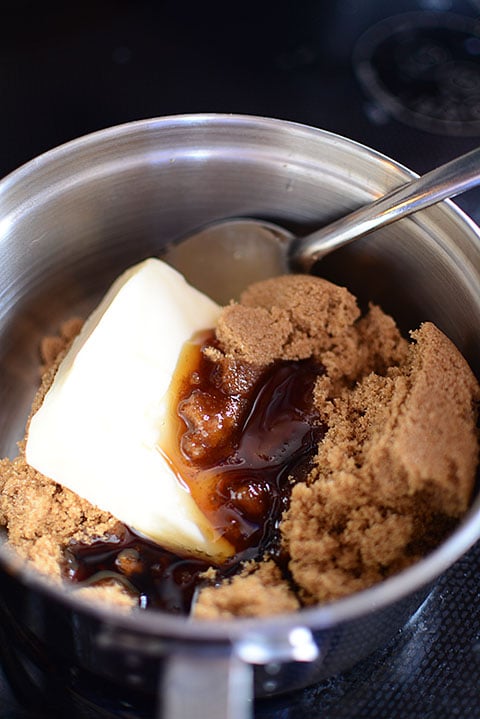 Place it into a preheated oven at 350, and bake it, uncovered, for about 30 minutes per lb or until you reach an internal temperature of 145 degrees . In the last half hour of baking, make up the brown sugar maple glaze.

Baste the ham with the glaze every 10 minutes or so. Be generous with the glaze as you're only basting for 30 minutes or so. In the last 10 minutes of the basting, then sprinkle the pecan pieces over the top, making sure they get stuck in the sticky glaze. Continue roasting for the last ten minutes.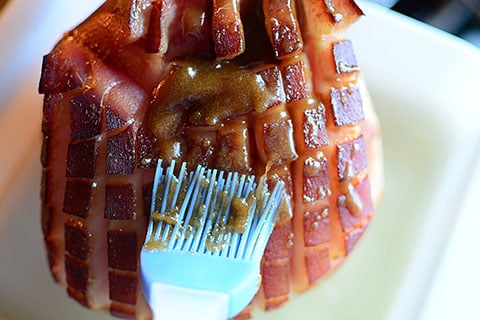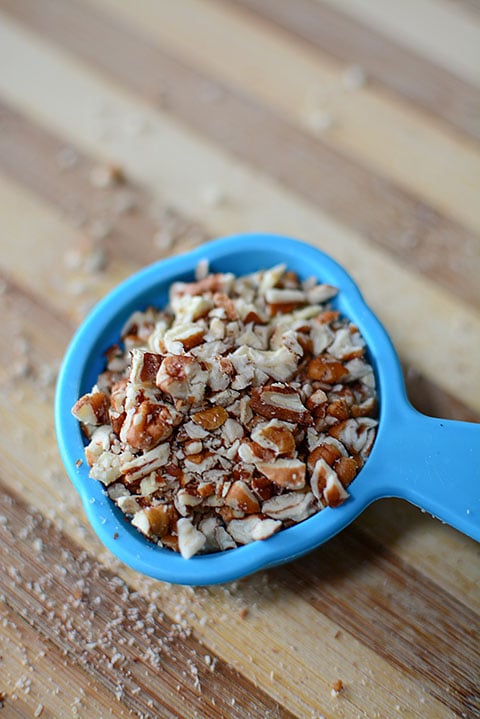 If you want a deeper, toasted and caramelized look to the top of the ham, then broil it for a few minutes but BE WARNED lovey, the nuts and the sugar burn faster than you can say wholy crap it's burnt…… or something like that. So I'll say it again.. watch it like a hawk!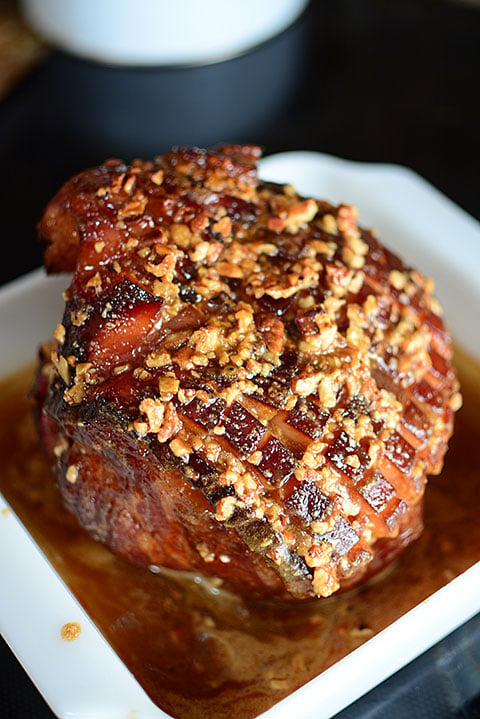 Remove from the oven and let it rest about 5 minutes. There are pan juices that are sweet and salty, and make a nice "au jus" type of thing to drizzle on top of the ham if you feel you want it even juicier, which is never a bad thing.
Need something to serve with this beauty? Try my Maple Pecan Sweet Potato Boats orrrr… if you're craving some complimentary flavors as a side, try my instant pot creamy mashed potatoes with caramelized onions! It's a hit every time I make it!!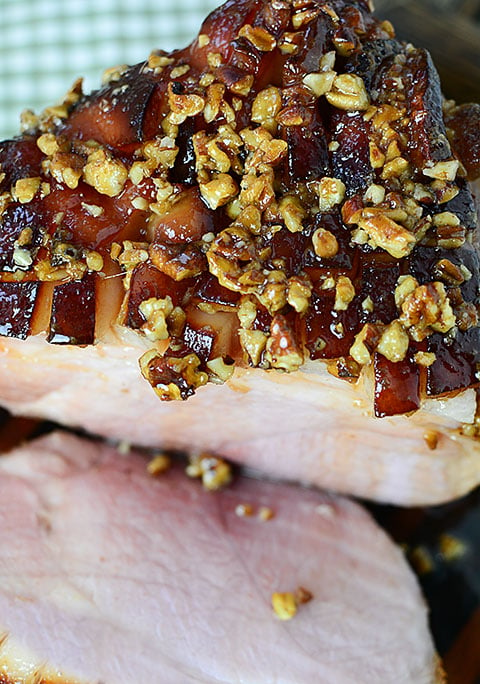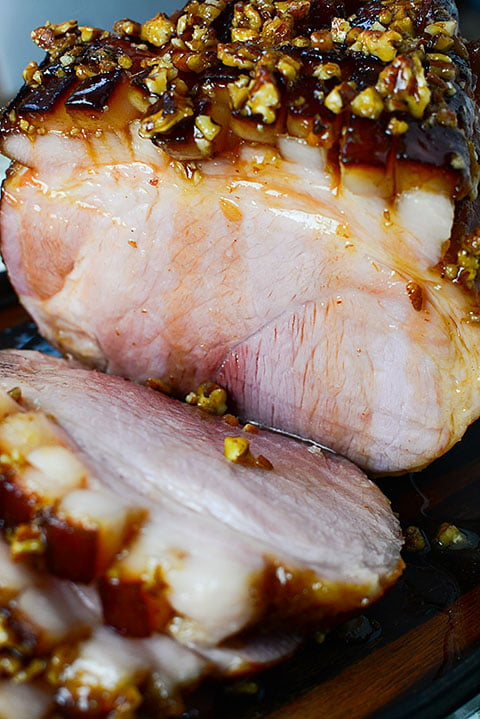 The flavor of the ham with the saltiness, the sweetness, and the nutty slight crunch from the pecans just set this main attraction apart from anything else you've had. It's pretty darn amazing if you ask me, and it's even better when it's free! Hey, when it comes to Brown Sugar Pecan Maple Glazed Ham – I got no shame in my game!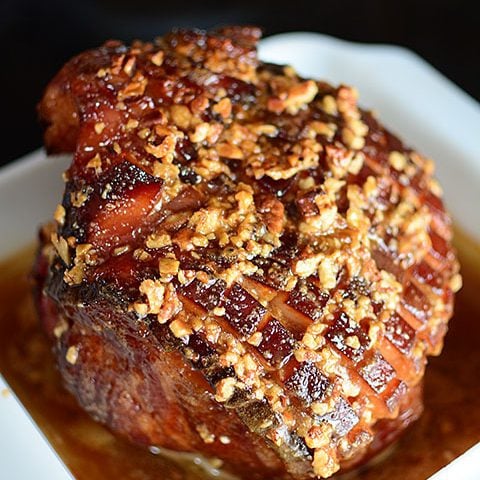 Brown Sugar Pecan Maple Glazed Ham
Total Time:
3 hours
15 minutes
A baked ham that hits all the flavor cravings! Sweet hints of maple and a nice nuttiness all pair well with the saltiness of the ham. It's an absolutely delicious way to make a baked ham!
Ingredients
1 bone in ham, approx 6 lbs
1/2 c butter
1/2 c brown sugar
3 tbsp maple syrup
1/3 c pecan pieces
1 c water or chicken broth
Instructions
Preheat oven to 350
Remove the netting from the ham if present
Wash and pat dry
With a sharp knife, score the fat cap deep enough to just go through the fat but not score the meat in a diamond or square pattern
Place the ham in the baking dish and pour the water in the bottom
Bake uncovered until for 30 minutes a lb or until the internal temperature reaches 145F
In the last 30 minutes of roasting, make up your glaze. Combine the brown sugar, butter, and maple syrup together in a saucepan. Melt and then begin glazing the top of the ham every 10 minutes.
In the very last 10 minutes of roasting and the final baste, sprinkle the pecans over the top of the ham.
If you desire a more caramelized top, quickly broil the top until you reach the desired color but watch as the sugar will burn very quickly.
Remove from the oven and let rest for 5 minutes.
Serve!
Nutrition Information:
Yield:

10 -12
Serving Size:

1/3 lb each
Amount Per Serving:
Calories:

381
Total Fat:

18g
Saturated Fat:

6g
Trans Fat:

0g
Unsaturated Fat:

8g
Cholesterol:

142mg
Sodium:

2020mg
Carbohydrates:

12g
Fiber:

0g
Sugar:

11g
Protein:

44g
***DON'T FORGET TO PIN THIS BROWN SUGAR PECAN MAPLE GLAZED HAM RECIPE TO YOUR FAVORITE PINTEREST PIN FOR LATER!!***