Ninja Foodi Beef and Mushroom stew is a delicious mix of super tender beef in a really savory gravy. Along with the added mushrooms and other veggies, this stew is not only simple but will be a regular on your family's menu!
This Beef Stew is so easy and can be made in any almost any electric pressure cooker!
Ninja Foodi Beef and Mushroom Stew
I love this recipe because it's really SO versatile. You can add and omit most ingredients and make this hearty stew different every time. Not a fan of mushrooms? No prob! Leave them out! Like turnips instead of potatoes? No prob! Add those instead of potatoes.
As long as the ingredients you are adding are similar in cooking time to what you are replacing, it's all good!
Ingredients for Beef Stew:
Beef stew meat – I prefer to buy the beef in cut form from the grocery store, but that doesn't mean you have to. If you have a roast that's on the tougher side, feel free to slice it up into 1″ pieces and go from there. Many times it's cheaper to buy a tougher roast and cut it yourself anyway.
Mushrooms – I had a full pint of fresh mushrooms that I wanted to use for this recipe because in my book, beef and mushrooms are best friends. If you're not a fan of mushrooms, you can omit them. Also, canned mushrooms are totally fine as well to use in this recipe.
Carrots – Feel free to add as many as you'd like here. Personally, I find that carrots add a sweet taste to whatever they are in, and I'm a salty/savory type of gal, so I limited the carrots to 2 medium-sized ones.
Potatoes – I used baby reds for this stew. Again, use whatever type of potato you have on hand. Peel them or not. The key is that the potatoes are cut all roughly the same size. ….. bite size .. lol.
Onion – Again, same thing here – use what you have on hand. I just used a regular yellow onion.
Celery – I LOOOVE my celery so I used almost 3 stalks in this recipe, but adjust it to your liking. The celery will add a savory, herbaceous flavor to the stew.
Gravy Packet – Using a beef gravy packet is perfect for this stew. It helps thicken it as well as adding extra flavor. If it's not your thing to use packets, you can leave it out and add more cornstarch slurry at the end to help thicken it more.
Beef Broth – A low sodium beef broth is perfect here, but use what you have on hand. If you make your own beef bone broth, this is the most ideal time to use it!
Seasonings – Nothing out of the ordinary here. S&P, garlic, and I used some Italian Seasoning as well as some of my personal favorite, Montreal Steak Seasoning.
Making it Right
This recipe is for a Ninja Foodi Beef Stew, but in reality, it can be made in pretty much any electric pressure cooker. If you have an Instant Pot, that's totally fine. The only method that would be different would be a stovetop, manual pressure cooker because the cooking times would be different.
Also, if you wanted to make this stew a Slow Cooker Beef and Mushroom Stew, that's completely doable as well. The only difference is you would saute the beef in a frying pan before you added it to the slow cooker. Cook on low for about 6-7 hours, or high for 4-5. You would want to add your vegetables halfway through the cooking time so they don't go too soft unless you prefer a really soft vegetable in your stew.
Incidentally, if you are new to the Foodi, I have a Beginners Guide to the Ninja Foodi that can give you some extra information that might make you feel even like a pro when you work with it!
Ok, so let's get to making this in the Ninja Foodi.
The steps are pretty easy to make this stew. Basically, you want to season and sear the beef in the pot. After that, remove the beef, add the mushrooms. Give them a good sear, and then add all the vegetables and meat to the pot. Add your broth, and pressure cook. Release the extra steam, and thicken the stew further if you wish.
Done like dinner!
Speaking of dinner, this stew is so simple to make, it's just like my Ninja Foodi Beef Short Ribs recipe, and my Ninja Foodi Cornish Hens. The cornish hen recipe is very similar to one of my most popular recipes on the blog, Ninja Foodi Roast Chicken!
Serving suggestions
I prefer to just butter up some nice fresh bread and dip that into that yummy beefy gravy! To me, that's all you need. However, I understand that sometimes you want a little something else.
You could leave out the potatoes and make some mashed potatoes on the side to serve the beef and mushroom stew over.
You could try serving over a regular (or brown) rice with extra veggies included for even more nutrition.
Cooked Quinoa is also another great idea to serve it over. Quinoa is actually a seed, but it's filling and tastes very much like a grain.
Believe it or not, adding a dollop of sour cream is excellent in this stew. It makes the gravy creamier when mixed in and adds a fresh note to the beef and mushrooms in the stew.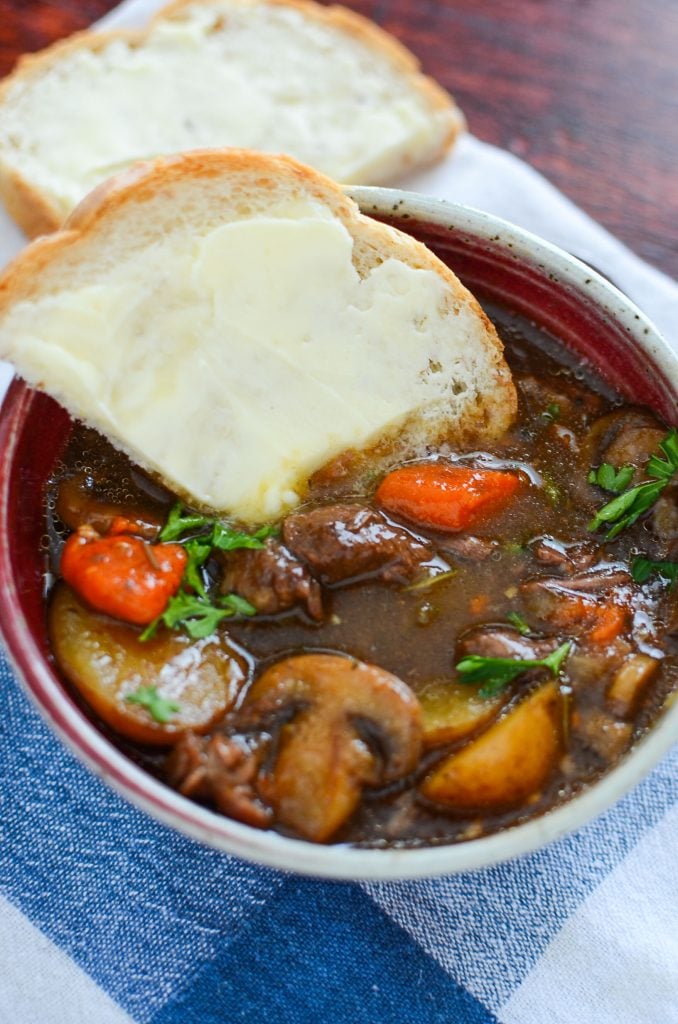 Storage
Refrigeration – This Foodi Beef and Mushroom stew will last up to 5 days from the day you made it. Please store it in an airtight container, and it will reheat nicely in the microwave or stovetop!
Freezing – You can totally freeze this stew after you make it. It's nice to freeze in individual portion sizes that way if only one person wants some stew, they can, and others can prepare something else rather than taking out the entire amount of the stew to thaw. This pressure cooker beef and mushroom stew will be perfect in freezer-friendly, air-tight containers for up to three months.
You can even use a heavy duty freezer bag, put the cooled stew in the bag and push out all the air. Freeze flat on a baking sheet, and then store in the freezer so it doesn't take much much room and it thaws a lot quicker.
Thawing – You can thaw it overnight in the fridge and then reheat on the stove, or thaw in the microwave in a microwave-safe bowl according to the manufacturer's directions.
Ninja Foodi Beef and Mushroom Stew
Additional Time:
5 minutes
Tender beef, savory gravy and perfectly done vegetables are in this Ninja Foodi Beef Stew. The mushrooms add that umami flavor that you can't get from anything else. It's a hearty stew that tastes like it took all day to make, but came together in a snap in the pressure cooker!
Ingredients
2lbs Beef Stew Meat, cut in 1" chunks
1 pint of mushrooms, cleaned and sliced
2 carrots, sliced
3 celery stalks, diced
½ onion, sliced
1lb potatoes, cut in bite-size pieces (see notes)
1 beef gravy packet
1 ½ c beef broth, reduced-sodium
2 teaspoon garlic, minced
1 ½ teaspoon Italian Seasoning
2 teaspoon Montreal Steak Seasoning
Oil for sauteing
Salt and pepper as desired.
Cornstarch slurry - 1 generous tablespoon cornstarch to 2 tablespoon water. (See notes)
Instructions
Season the meat with salt, pepper, garlic, and Italian seasoning.
Press saute on the Ninja Foodi and drizzle enough oil in the pot to saute the beef. (about a Tbsp).
Saute the beef getting some caramelized color and flavor on them. You may have to do this in batches.
Remove the beef to a plate, and add the mushrooms. Let the mushrooms sit for a few moments to also gain some golden color. Add a small pinch of salt and pepper the mushrooms as well as to the other vegetables waiting to go in with the pot.
When the mushrooms have softened, add the carrots, celery, and onion to the pot.
Saute those ingredients, stirring them around for a few moments. Add the beef and potatoes.
While everything is sauteing in the pot, prepare the gravy packet by mixing it in with the broth and sprinkle the Montreal steak spice in as well.
Pour into the pot with the meat and veggies.
Add the pressure cooking lid and turn to seal. Pressure cook on high for 30 minutes. After the cooking time is up, release the steam and slowly take the lid off, opening it away from your face.
Give the stew a stir. Turn the pot onto saute again and add your cornstarch slurry. Stir until thickened. Serve and enjoy!
Notes
Use whatever you prefer (or have on hand) for the potatoes. Cut them into bite-size pieces if they are large potatoes, but if you are using baby potatoes, simply cut them in half. I didn't peel my potatoes because I prefer the skin for texture and nutrition, but you can certainly peel the ones you use if you prefer.

If you don't want to use the gravy packet, you may have to use a bit more cornstarch slurry to achieve the thickness you prefer in the gravy.
Nutrition Information:
Yield:

8
Serving Size:

1
Amount Per Serving:
Calories:

391
Total Fat:

11g
Saturated Fat:

4g
Trans Fat:

0g
Unsaturated Fat:

7g
Cholesterol:

113mg
Sodium:

517mg
Carbohydrates:

34g
Fiber:

3g
Sugar:

3g
Protein:

41g
All nutritional information is based on third-party calculations and is only an estimate. Each recipe and nutritional value will vary depending on the brands you use, measuring methods, and portion sizes per household.