3 Minute Maple Cinnamon Instant Pot Carrots?? Yesss! They are buttery, mapley and ohhh so perfect for getting healthy carrots into the bods of those fussy eaters!!
3 MINUTE MAPLE CINNAMON INSTANT POT CARROTS
This post may contain affiliate links. If you make a purchase after clicking a link, I may earn a small commission AT NO COST TO YOU. As an Amazon Affiliate, I earn from qualifying purchases.

Humble, yet incredibly delicious, these instant pot carrots can be an excellent side to practically any dish you want to pair it with. Plus, considering all the healthy stuff that carrots pack in, there's no way you won't want to give this a try.
Also, seeing that my instant pot carrots recipe combines the flavors of cinnamon and sweet maple, even those super fussy (sigh) people in your life will find it absolutely divine!
Lastly, the recipe is super easy to make too! Winner Winner…. carrot dinner?… (ok, not quite the right dingle to it, but you get what I'm saying!)
Here's how you can get started on it!
First, Picking the Right Carrots
Picking the right carrots is actually the first part of the process when it comes to recreating this dish in your kitchen. You may think that you would absolutely have to stick to baby carrots for this recipe (as most instant pot carrot recipes call for) but that's actually not true!
In fact, baby carrots are actually just regular carrots- cut up in the shape of 'baby' carrots, so you're actually paying for a service you don't need. Sure, if you want to pay extra for having those perfectly rounded carrots, that's not a problem but regular bagged carrots will do!
Also, you could add some extra interest and flavors by using a "Rainbow Mix" carrot. These come in different colors like deep burgundy, red, purple and a golden yellow. They come out seasonally at the grocer's, but they are fun to work with.
The best carrot to use for these instant pot carrots would be ones that are as fresh as you can possibly get. Carrots are in season in the fall and will hold very well in proper storage, but again, for the very best tasting carrot, the ones bought at your local farmers market in the fall will provide you with an absolutely perfect side dish!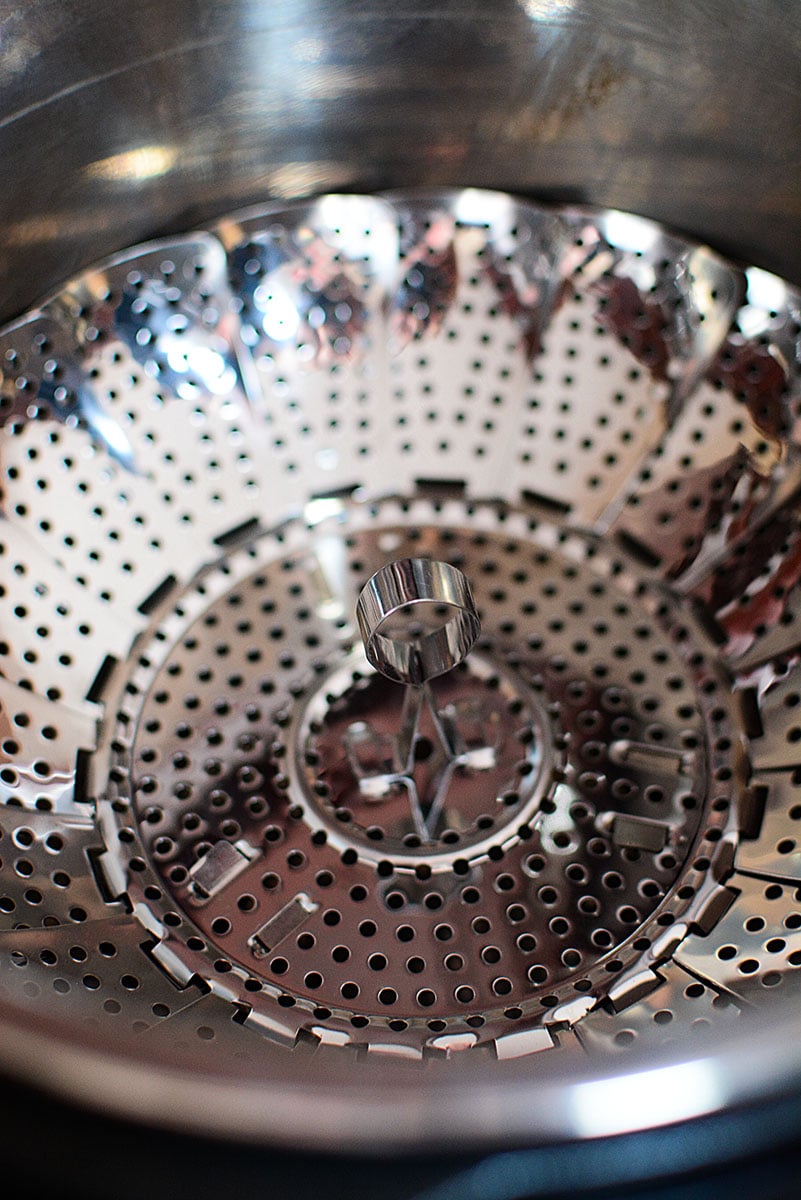 FUN Fact about Carrots!
Did you know that one carrot alone can provide all the vitamin A that your body needs on a daily basis?!?!?! ONE CARROT!!! That kinda blew my mind when I read that in the farmers' almanac!!
Getting Started on these Instant Pot Carrots
So once you have your peeled and carrots cut up (or baby carrots if that's the way you want to go), all you really need to do is cook the carrots until just perfect and then add the warm flavors along with the buttery glaze and you have a flavor bomb that's just amazing!
I put the carrots in a handy vegetable steamer right in the pot. Now, you could simply place the carrots right into the water, right into the pot, but honestly, I really think that pressure cooking the carrots in a steamer basket really helps retain the sweet flavors from the carrots.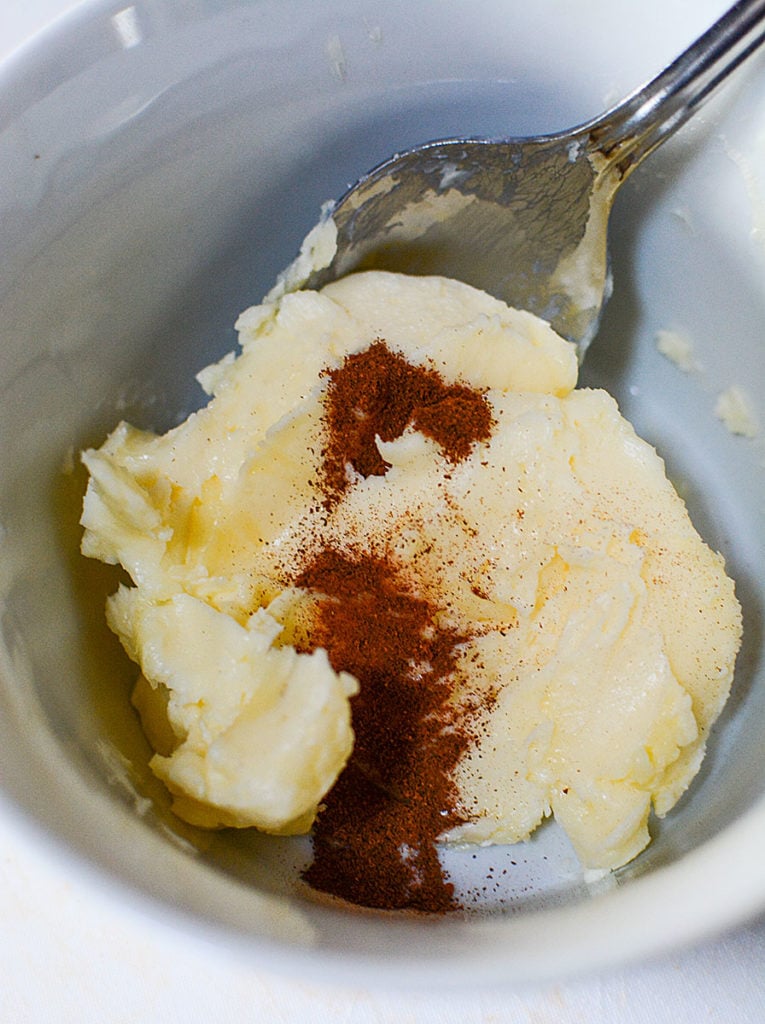 This is the steamer that I'm talking about. It's cheap and super handy for even in the pot, stovetop veggie steaming too. I love it.
Most recipes that have cinnamon powder as an ingredient may recommend you sprinkle it in with the carrots at the time of cooking.  I find that the cinnamon sort of clumps up heavier on some pieces of carrots and hardly any on others.
So, I prefer to add the spice in along with the butter and the maple syrup. Incorporating these flavors all together in with the butter helps retain a much evener flavor of cinnamon across the entire dish. Plus, you can also control the amount of cinnamon that you'd like in a much easier way- start with just a little and then add more if you like.
You might want to swap butter with margarine for the recipe, but I would recommend sticking to the butter instead. This is because margarine usually contains a lot of additives and preservatives and still doesn't replicate the deliciousness of butter.
And then there's maple syrup, which you can consider swapping for honey and maplhttps://amzn.to/3ouv5Ope extract in a pinch, but trust me on this, there's nothing better than the original one! 
The maple syrup will also add a nice shiny glaze to the carrots.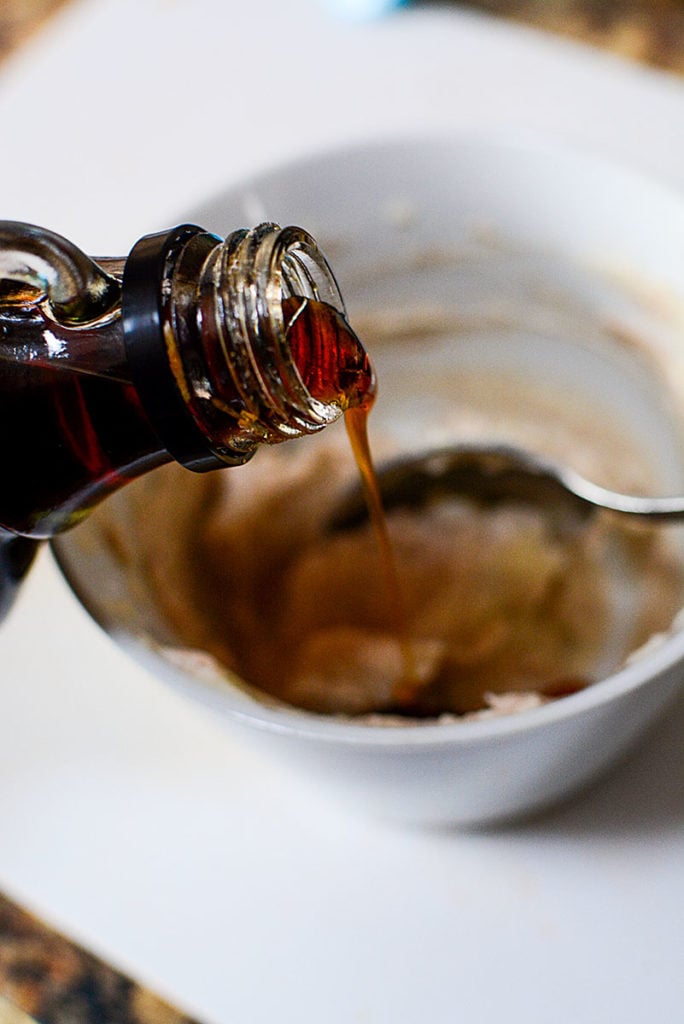 Let's Talk Cooking Times For These Instant Pot Carrots!
Ok, so we all know, if you have a pressure cooker, the time it takes the pot to come to pressure isn't counted. So the actual cook time is 3 minutes, but it might take 5 minutes for the pot to come to pressure.
The 3 minute cooking time is based on a finished carrot that has a tender bite, but somewhat kind of firm still. If you want an even softer cooked carrot, (one that might be crushed with a fork if pressed with no pressure), then I would cook it for another minute.
If you're unsure, why not cook them for the three minutes, and if they are still slightly too firm for you, then put the top back on the pot and press saute and give them a few extra minutes on saute in the pot BEFORE adding the butter and stuff. That way you'll know if based on the cooking time, which texture you prefer to cook them till, 3 minutes, or 4.
Will the Instant Pot Carrots Freeze Well?
Absolutely. Freeze them in an airtight, freezer-safe container for up to a month. I would recommend, however, to let them gently thaw before heating them up. Sometimes I've tried to heat them from frozen and because they are the perfect texture when I originally cooked them, I reheated them too far and they became mushy. So if you let them thaw completely, then a simple quick reheat is all you need and you can judge the timing perfectly.
Serving Suggestions
Some of the best ways to serve these maple cinnamon instant pot carrots is to have them as a side for pretty much any meal. Ok ok ok.. pizza,.. not so great of a pairing.. BUT.. how about:
A side dish to Super Crispy Chicken Thighs with Lemon Butter Sauce?? Savory chicken with a sweet side of carrots – yum!!
What about some roast beef? This Savory 3 Packet Instant Pot Roast Beef would be PERFECT with these carrots! While the roast is resting, whip up the carrots!
These carrots would even work awesomely with a Vegetarian Pulled Pork and rice! It really goes to show that these maple cinnamon carrots go with pretty much anything.
And the very BEST part of this instant pot carrot recipe? The carrots are so tasty and sweet, that your little fussy eaters (or big fussy eaters!!) won't be able to say no to this side dish! It's so easy to make, it's one of those recipes that need to stay in a weekly rotation. Lastly, don't forget how these buttery maple cinnamon instant pot carrots are healthy too, which means you'll also be getting a punch of all that vitamin A and fiber while you're devouring it all. Yay!!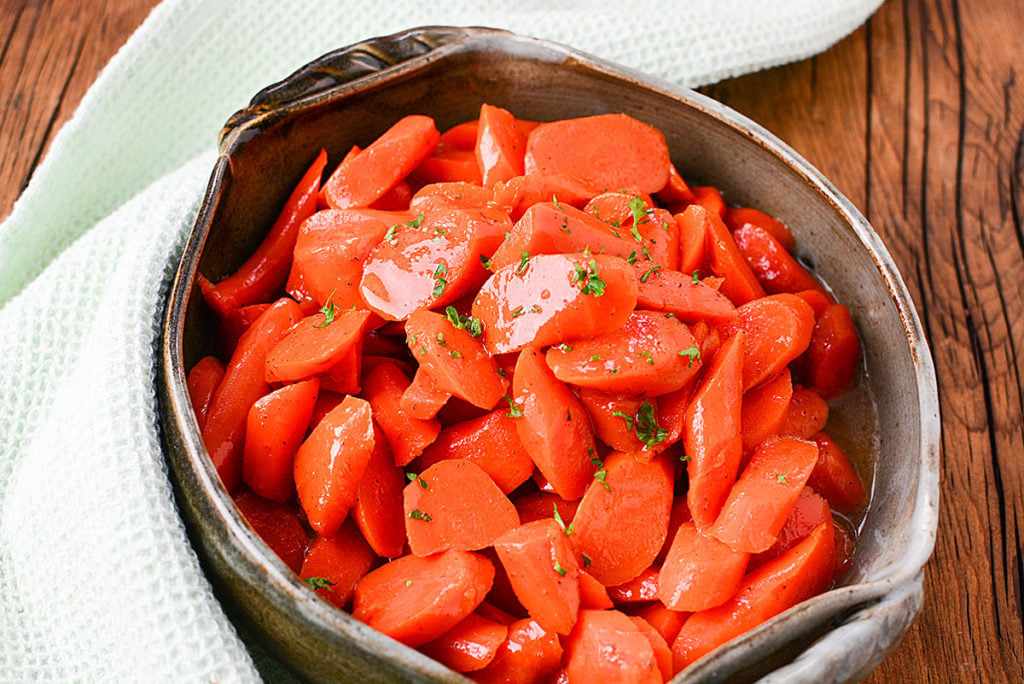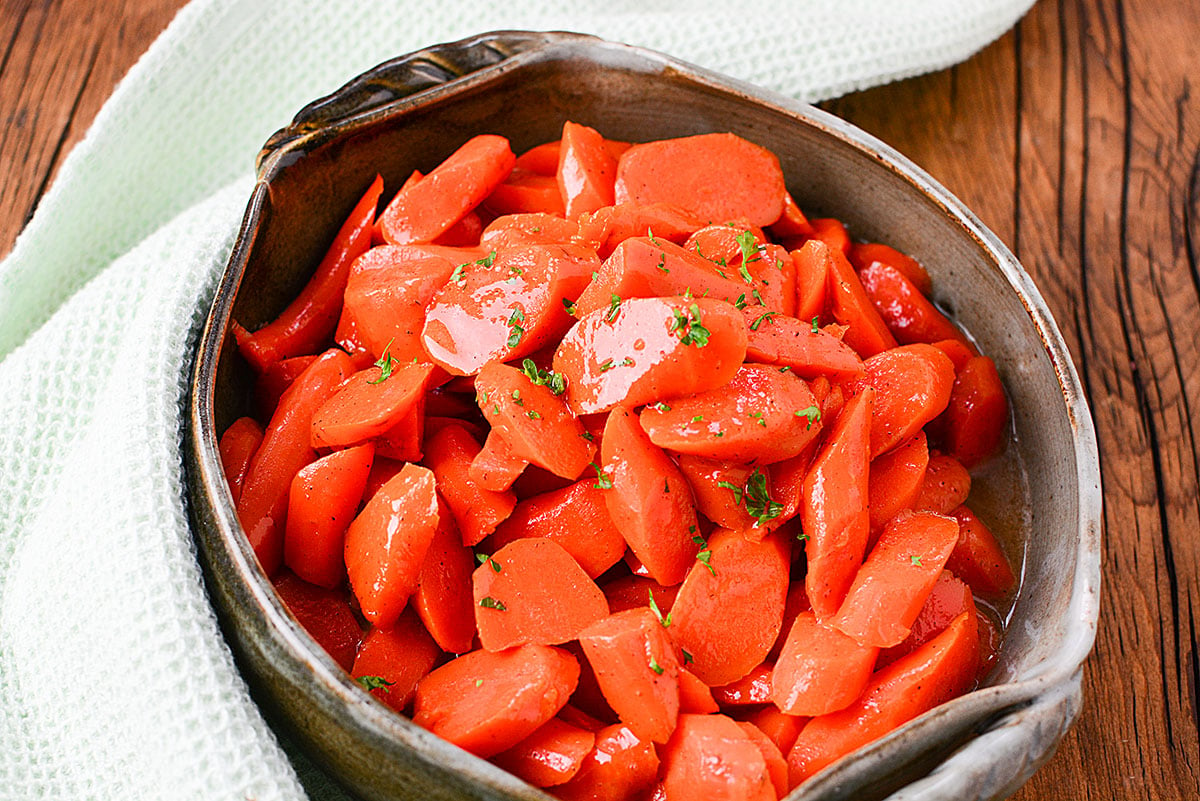 Ok, so thanks so much for stopping by The Salty Pot today and when you make this recipe, I'd love to hear from you! Leave a comment below, or visit my facebook page and become part of The Salty Pot family!
~Joanne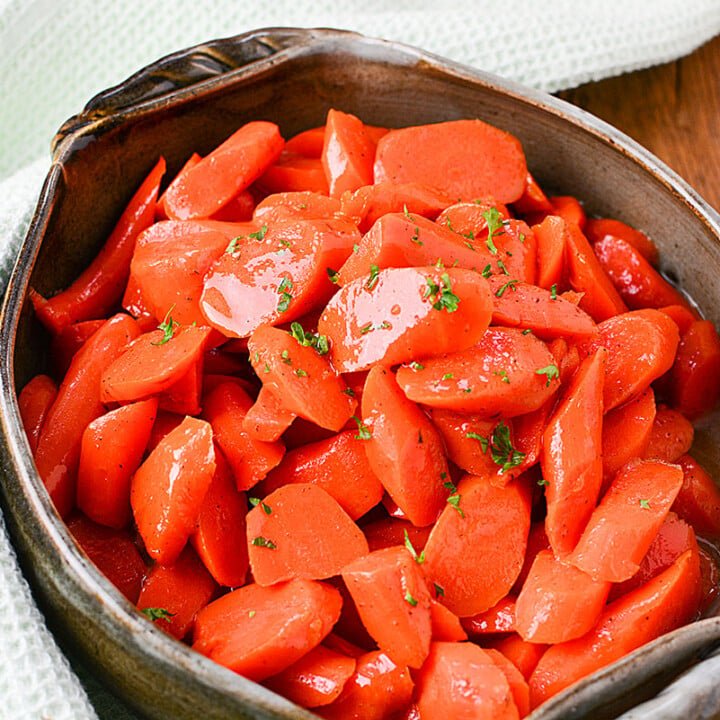 MAPLE CINNAMON INSTANT POT CARROTS
Buttery tender instant pot carrots glazed with a maple cinnamon butter sauce. These carrots are perfectly tender but not mushy and the combination of the maple and cinnamon is PERFECT for adding extra interest to otherwise sometimes bland carrots!
Ingredients
1 pound carrots
1 cup water
¼ cup butter
2 tablespoons maple syrup (or to taste)
¼ teaspoon cinnamon
Instructions
Begin by peeling and slicing the carrots.
Add the water into the bottom of the Instant Pot inner pot.
Add the metal steamer basket to the pot and place all the sliced carrots into the steamer
Close the lid and place the toggle switch into the "seal" position.
Press manual, high pressure for 3 minutes. (see notes)
While the pot is cooking the carrots, in a small bowl, combine the butter, cinnamon and maple syrup. The butter might look a little odd after mixing them together, but it's fine as the butter will melt and everything will be incorporated later.
After cook time is up, and the silver pin has dropped, remove the lid AWAY from your face as to not burn yourself.
Carefully and using pot holders or protective silicone pot holder mitts, lift out the steamer basket holding the carrots and set aside. Drain the liquid from the inner pot and then replace the pot back into the instant pot.
Transfer the carrots back into the instant pot, leaving the basket behind.
Add the butter maple syrup mixture to the carrots. Replace the lid and let sit for 3 minutes for the butter to melt. After the butter has melted, carefully toss the carrots to distribute the sauce. Enjoy!
Notes
1. Use the freshest carrots you can get.
2. Pressure cooking the carrots for 3 minutes will result in a carrot that is nicely tender but not overly soft. If you prefer your carrots very soft, then add one more minute onto the cooking time.

Nutrition Information:
Yield:

4
Serving Size:

½ cup
Amount Per Serving:
Calories:

168
Total Fat:

12g
Saturated Fat:

7g
Trans Fat:

0g
Unsaturated Fat:

4g
Cholesterol:

31mg
Sodium:

161mg
Carbohydrates:

16g
Fiber:

3g
Sugar:

10g
Protein:

1g
***DON'T FORGET TO PIN THIS MAPLE CINNAMON INSTANT POT CARROTS RECIPE TO YOUR FAVORITE PINTEREST BOARD TO SAVE AND USE FOR LATER!***