Whether it is an elaborate meal you're preparing for some guests coming up, or are just looking for a simple and easy side dish for your favorite cut of meat, this super easy cheesy asparagus alfredo is the answer. Quick to make and with just a handful of ingredients, you just can't go wrong with this one!!!
Perfect for Spring: Asparagus Alfredo Side Dish!
Ok, so I'll be the first to say that perhaps this asparagus side dish could be made more in a healthy way, but hey, we want EASY and QUICK, yes? Sometimes.. just sometimes, we can compromise a tad and use a prepared sauce to make our life easier!
No shame in our game, girl! (or guy, lol)
If you want to make the sauce from scratch, take a peek at this 'from scratch' method to make an alfredo sauce from Buns in my Oven.
Ok, so let's get started!
Which Ingredients Do I Need?
Making asparagus alfredo is easier than you'd think. All you really need is a few fresh stalks of the vegetable, some bottled alfredo sauce, seasonings and mozzarella cheese!
Of course, you can always add in other ingredients of your choice and modify the recipe according to yer taste buds!
Switching Up The Asparagus Alfredo
Here are some ways you can switch up this asparagus alfredo dish:
Pasta: How about adding some pasta to the mix?? Yummy!! Of course, please pre-cook the pasta to al dente and then mix it with the alfredo sauce. Also, I would also recommend chopping up the asparagus into 1-inch pieces so that it mixes in easier with the pasta that you use.
Chicken: Why not try adding some cooked chicken? Mixing in some cooked chicken (diced, cubed or shredded) would be AMAZING! Talk about a one-pan dinner right there!
If you wanted a bit of a crunchy topping on it, you could always add some panko crumbs with a bit of Italian seasoning added, OR, how about some of those lovely fried onions from the can? That would be fun! – hmmmm… I think I'll just have to try making that!!
Other Veggies: If you have other veggies sitting in the fridge, waiting to be used, why not add them to the mix? You could add some sweet peppers, onions, broccoli, chopped carrots – (or carrot ribbons!!!!), cauliflower, etc.
Now, if you use any of the longer cooking veggies, it would be a great idea to par-boil them or slide in the microwave for a few minutes before adding them to the asparagus dish because asparagus cooks quicker than those other veggies.
So, Why Asparagus Though?
So there are a ton of things you can make with alfredo sauce, but why would you really want to opt for asparagus? Well, that's because this nutrient-dense green veggie packs in a ton of potassium, antioxidants and fiber, and is super low when it comes to the ole' calorie content!
Also, Studies have found that this veggie can support heart and bone health, and can be extremely healthy for pregnant women, considering the iron and folate it contains. Woohoo! Healthy babies!
And finally, because asparagus paired with alfredo sauce is well…… just plain DELICIOUS!!
Making Asparagus Alfredo Right
Okay so you've got everything ready, and now's the time to get started and actually make it!
Start by washing the asparagus and removing the woody part off of the stalks- it should just naturally snap off.
How to remove the woody part naturally:
1. Take the asparagus spear and hold each end in both hands.
2. Bend the stalk closest to the root end, and where the spear breaks is where the woody part ends.
3. You can pretty much line the rest of the stalks up and cut the same amount off of each one because the woody ends will all come up approximately to the same area.
You can keep the asparagus it's full length or chop it in half if that's what you prefer or as mentioned earlier, cut them into one-inch pieces if you're going to be adding pasta.
Place them in the baking dish you'll be using with a drizzle of oil. Season. Mix them up to distribute the added ingredients.
Top it with some alfredo sauce, and then add a generous helping of mozzarella cheese on the top, and that's it- it's done!
Easy peasy, right??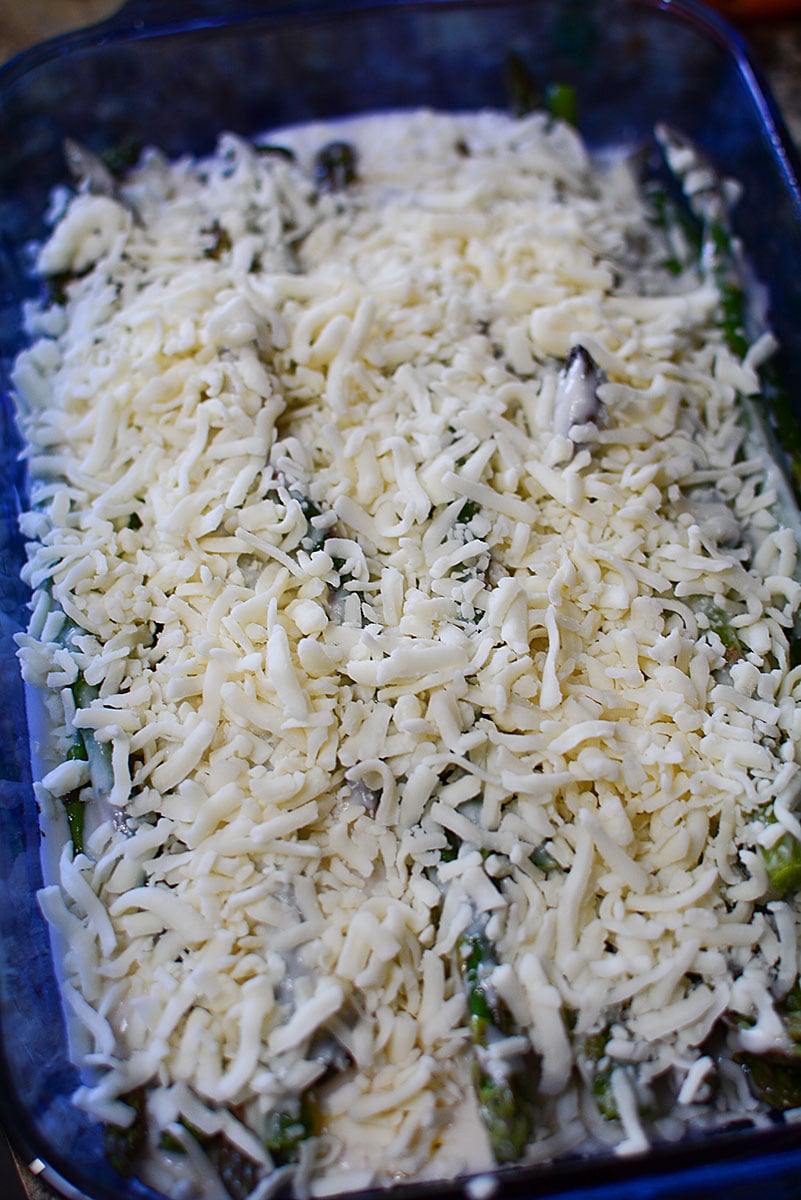 Tips and Tricks
If you're not too keen on the idea of using bottled, store-bought alfredo sauce, you can easily whip up some of it homemade, or even make it in a large quantity and store it for future use! Using bottled sauces may not be the healthiest, but they can sure turn out to be a lot of help when you're trying to cook in a time crunch.
You might want to consider freezing this dish, but I would strongly advise against it. That's simply because asparagus tends to turn soggy once you freeze it, and no amount of reheating will get it back to hold its shape.
This recipe, as I mentioned earlier, works amazingly well with most meats, and to pair it with starchy veggie, try potatoes, sweet potatoes or rice!
You can also top it with some fresh chopped herbs or a sprinkle of pepper powder or red pepper flakes to lend it a spicy kick of flavor.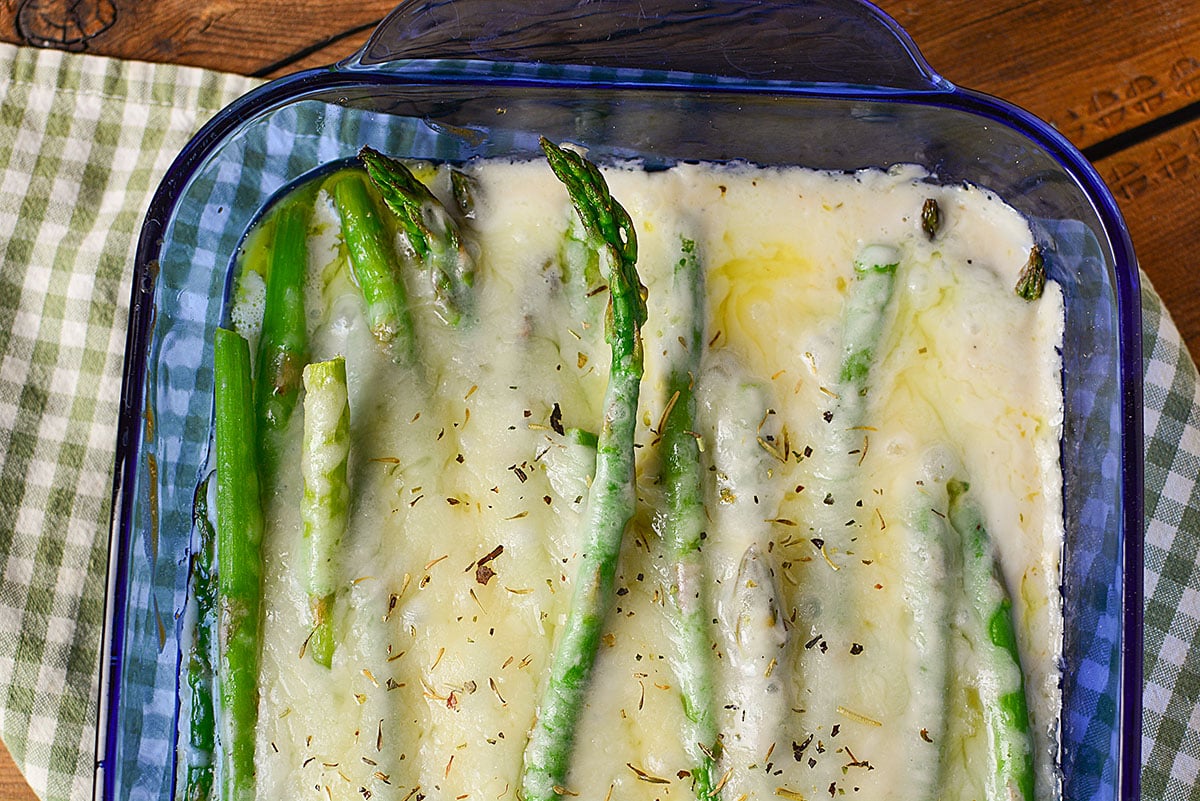 This is one of those side dishes that have a pretty low effort investment but has a huge flavor payoff. Creamy, cheese asparagus alfredo is decadent but not stodgy, so the cheesiness is there, but the freshness of the asparagus just makes it a super balance between the two!
What To Serve With This Asparagus Alfredo
Actually, you can pretty much serve this asparagus side dish with any protein that's your favorite. You could serve it with this amazing 3 Envelope Roast that's on my blog. It has to be one of my most favorite (and popular!) posts on the blog because it's crazy delicious! The asparagus would pair amazingly with it!
If you wanted another side dish, I would serve these Instant Pot Sweet Potato Mash with Maple Butter Recipe, or these 3 Minute Maple Cinnamon Instant Pot Carrots because both sides have some sweetness in them which will contrast nicely off the cheesy asparagus and alfredo sauce!
I really hope that when you make this dish, you let me know how you switched it up! Did you add other veggies? What did you serve it with? Let me know down in the comments or shoot me an email if you'd prefer at joanne@thesaltypot.com!
Thanks so much for stopping by The Salty Pot today, and I hope you have a truly fantastically cheesy day!! (Haaahaaa, see what I did there?? 😉 )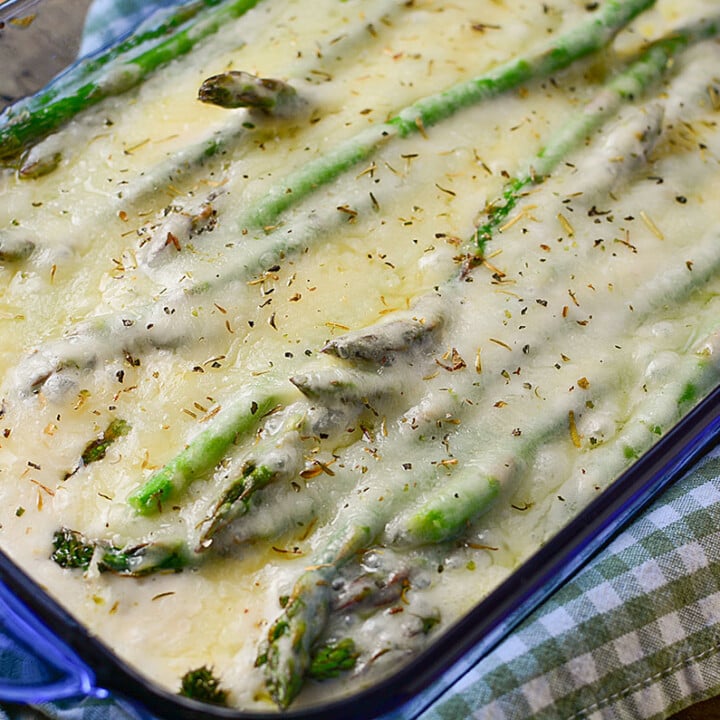 Easy Cheesy Asparagus Alfredo
Cheesy, decadent, and insanely easy to make! And the bonus is that this cheesy asparagus alfredo side dish goes with almost ANY main you serve it with!
Ingredients
1 lb fresh asparagus
1 bottle alfredo sauce, 14 oz
2 tablespoon olive oil
1 teaspoon garlic powder
1 teaspoon italian seasoning
as desired, salt and pepper
2c shredded mozzarella (or any other good melting cheese you prefer)
Instructions
Preheat the oven to 350
Place the cleaned and trimmed asparagus into a shallow baking dish
Drizzle the oil over the asparagus and season with the salt, pepper, Italian seasoning and garlic. Shuffle the asparagus around to distribute the oil and seasonings over all the spears.
Pour the alfredo sauce into the baking dish with the asparagus.
Sprinkle the cheese over the top of the asparagus and sauce. **Optional step, sprinkle a bit more of the Italian seasoning over the top of the cheese.
Bake in the oven for 18 - 22 minutes or until the cheese is fully melted and the asparagus is cooked through.
Serve with rice or potatoes to help absorb more sauce, and enjoy!
Notes
1. Use only fresh asparagus. Trim the woody ends off the spears.
2. You can leave the asparagus whole or cut it in shorter lengths according to your preference.
3. Adding different vegetables is an option, - please see the body of the post to see suggestions!
4. There's nothing wrong with using bottled sauce, but if you prefer to make your own, I've linked a recipe for that in the body of the post for your convenience!
Nutrition Information:
Yield:

5
Serving Size:

3-4 spears
Amount Per Serving:
Calories:

551
Total Fat:

48g
Saturated Fat:

27g
Trans Fat:

2g
Unsaturated Fat:

17g
Cholesterol:

127mg
Sodium:

1155mg
Carbohydrates:

13g
Fiber:

2g
Sugar:

3g
Protein:

20g
These calculations are approximate and will depends on your individual serving size and the bottled sauce that you use.
***DON'T FORGET TO PIN THIS EASY CHEESY ASPARAGUS ALFREDO RECIPE TO YOUR FAVORITE PINTEREST BOARD TO SAVE FOR LATER!***