These easy Italian sliders are best when they're served warm from the oven because the cheese is melty and gooey, and the assorted deli cuts sandwiched between the cheese are incredibly delicious.
Lastly, the browned, buttery tops of the sliders just make these crowd-pleasing sliders a must for any occasion!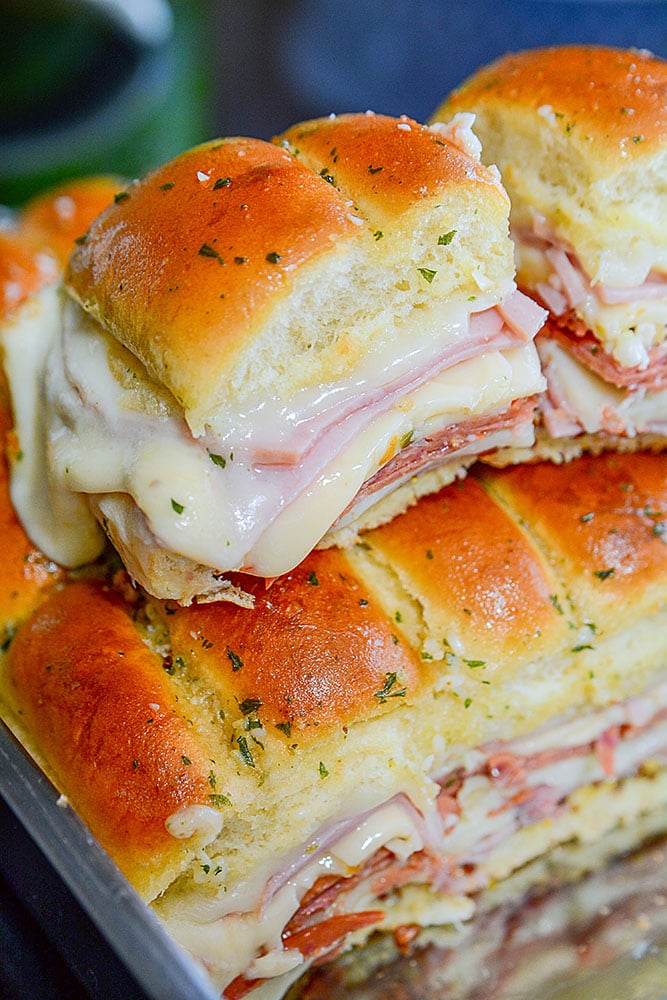 Super Easy Italian Sliders
There's not much to say about these cute little slider buns except they're super easy, super tasty, and can easily feed a crowd! With minimal effort, these adorable little munchies will bring smiles to all who sample them!
And then just watch.. everyone wants the recipe – this can be our little wonderful secret!  Wanna know how to make these easy Italian sliders?
How do I make these tasty Italian sliders?
You want to start off with a dozen tray buns. Or rolls, Or whatever you might want to call them. They should be connected so that it makes making the sliders so much easier.
Making sliders one at a time is laborious and boring. We want quick, easy, and delicious!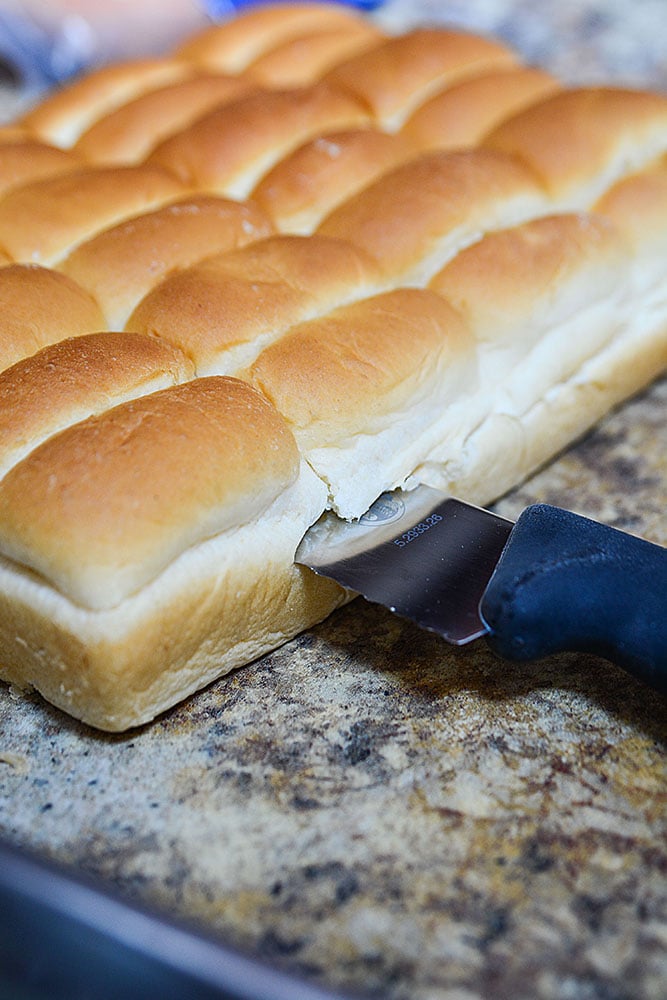 So you'll want to preheat the oven to 350. Taking a long knife, cut the whole tray of buns HORIZONTALLY. Take your time with this, you'll want to do it as evenly as possible. If you dip here or there or get it a bit crooked, big deal. It all tastes amazing in the end anyway!
Spread the buns with the grainy mustard. No grainy mustard? No problem, use:
yellow mustard
Dijon mustard
honey mustard (it won't make it so much Italian after that, but it WILL make it tasty, and that's all that matters here!)
The meats I used for these sliders are ham, salami, and mortadella deli meats. You can use whatever you'd like, but if you want an Italian flair, stick to the salami's, capricolas, and such. 
For the tray of buns, I used about 6 – 8 slices EACH of all three types of meat.
Adding cheese to these easy sliders
Now for the cheeses. Again, go for what you prefer, but to keep these in the Italian realm, go for things like Provolone, or even Mozzarella.
If you wanted to be extra, you could even grate some parmesan over the tops of the meat before placing the top row of buns on, and really, who can be mad at extra yummy cheese on their Italian sandwiches? Not me.
Heck, even using a cheese snuggled up with some peppers could be used, which would be even more delicious.
I'm drooling as I write this. Seriously.
Ok, so just basically layer your meat and cheese on the buns, and then replace the top. Melt the butter/garlic/parsley mixture, brush it on, and voila!!
Throw that pretty deliciousness into the oven.
After the sliders have warmed through, and the cheese has melted and the tops of the buns are golden, take them out and let them sit for just a few minutes.
You want a yummy slider recipe that's not hot as blazes right?? lol.
Let them cool slightly so you don't burn your taste buds to shreds.
How do I feed more than 6 – 12 people with these cute easy Italian sliders??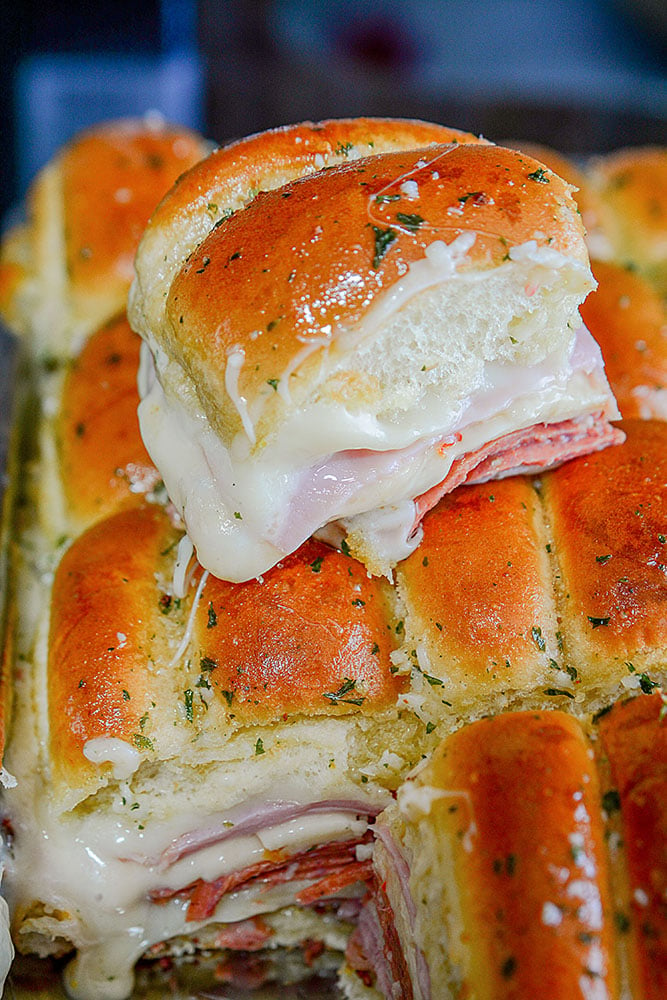 It's incredibly easy to double the recipe.
I probably wouldn't bake more than two sets of sliders in the oven at one time, unless you have a gigantic oven, .. which hey, you might… in such case, go to town and do your thing!
But yes, doubling or even tripling this recipe is easy as pie and so you can feed as many people as you want – that's what's so great about this recipe.
It's super easy to feed a crowd!
If you're looking for a few other sandwich-y type recipes, click to check out this Instant Pot Mississippi Pork Dips recipe, or these buffalo chicken boats. All those recipes are designed for super easy party food! 
Also, if you're looking for a super cute side to serve with the sliders, how about this Easy Creamy Broccoli Salad from Inspired Taste? I think this salad is so delicious and would pair easily with any of the other sandwiches I mentioned.
Oh! I almost forgot. I have another slider recipe that's just fantastic – my Chicken Cordon Bleu Sliders! These are excellent if you enjoy those specific flavors and are just as easy to make!
Can I make these sliders ahead of time?
Yes, absolutely. Assemble the sliders up to the point of putting on the buttery topping. Wait until you're ready to put them into the oven to butter them up.
You could make them the morning of the day you want to serve them. Place them in the dish you'll bake them in, assemble, and then cover tightly with plastic wrap and keep them in the fridge until you're ready to bake.
Can I freeze these sliders?
I really wouldn't. They're best when fresh.
Thank you SO much for taking the time and stopping by The Salty Pot today! I hope you have a wonderful day!! (and a wonderful party!! 😉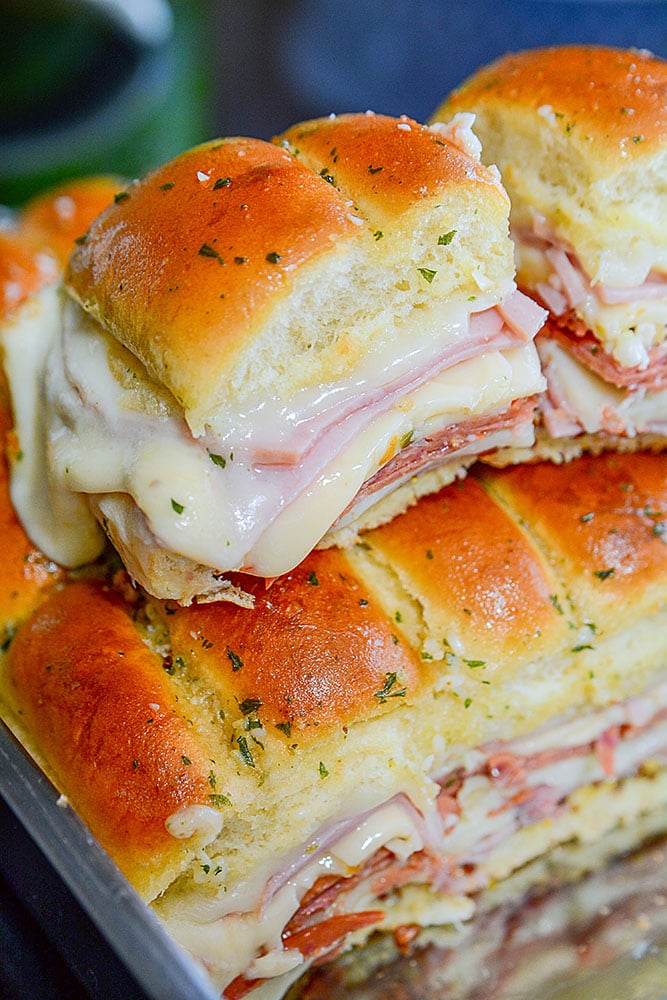 Easy Italian Sliders
These Easy Italian Sliders are made up of savory deli meats, provolone cheese, seasonings, and deliciously fresh buns. When served warm, the flavorful meats with the melty cheese make this combination of slider requested over and over at all the functions!
Ingredients
12 buns, a tray of buns
6 - 8 ham slices
6 - 8 salami slices
6 - 8 mortadella slices
12 - 18 provolone slices
2-3 tablespoon grainy mustard
¼ c butter
1 tablespoon minced garlic
as desired, parsley
Instructions
Preheat oven to 350
Cut the tray of buns horizontally
Fit the bottom buns (still attached to eachother) onto, or into a baking sheet or pan
Spread with the mustard
Begin layering the pieces of mortadella, then slices of cheese, then the salami, then the cheese, etc.
When all layers are done, replace the top layer of the buns.
Melt the butter and add the garlic and parsley. Brush onto the top of the buns
Bake in the oven for approximately 12 - 15 minutes or until the cheese has melted and the tops of the buns are browned.
Remove and let rest for 10 minutes, then cut and serve!
Enjoy!
Notes
Be sure to use the freshest ingredients possible. The buns should be soft and fresh as they will crisp up nicely in the oven.
Feel free to mix up the cheeses to what you have on hand or what your preferences are.
If you don't have a seedy dijon mustard, regular dijon works, or even a ball park mustard does as well, but use sparingly.
Nutrition Information:
Yield:

12
Serving Size:

1 bun
Amount Per Serving:
Calories:

438
Total Fat:

24g
Saturated Fat:

12g
Trans Fat:

0g
Unsaturated Fat:

10g
Cholesterol:

80mg
Sodium:

1394mg
Carbohydrates:

26g
Fiber:

1g
Sugar:

4g
Protein:

29g
All nutritional information is based on third-party calculations and is only an estimate. Each recipe and nutritional value will vary depending on the brands you use, measuring methods, and portion sizes per household.
**BEFORE YOU GO, DON'T FORGET TO PIN THIS ITALIAN SLIDERS RECIPE PIN TO YOUR FAVORITE PINTEREST BOARD TO SAVE FOR LATER!!**