Instant Pot Taco Tortellini Casserole has tender cheese-filled pasta with zesty taco-flavored beef, and oh, did I mention the cheese?
It's an inexpensive dish that I absolutely love and is requested by my family at least once a month.
This post may contain affiliate links. If you make a purchase after clicking a link, I may earn a small commission AT NO COST TO YOU. As an Amazon Affiliate, I earn from qualifying purchases.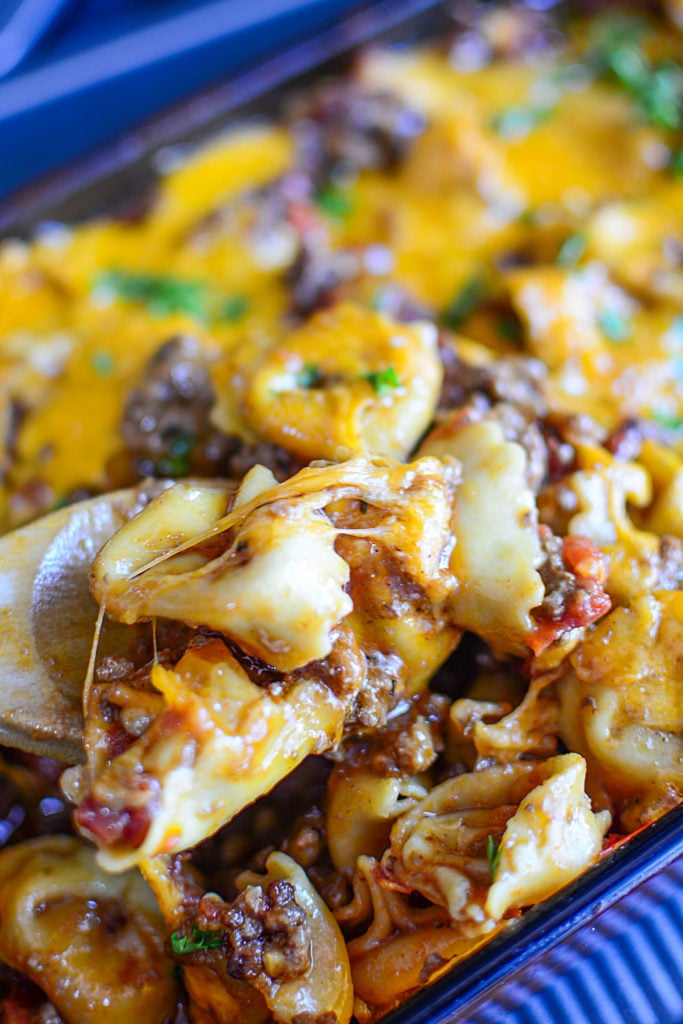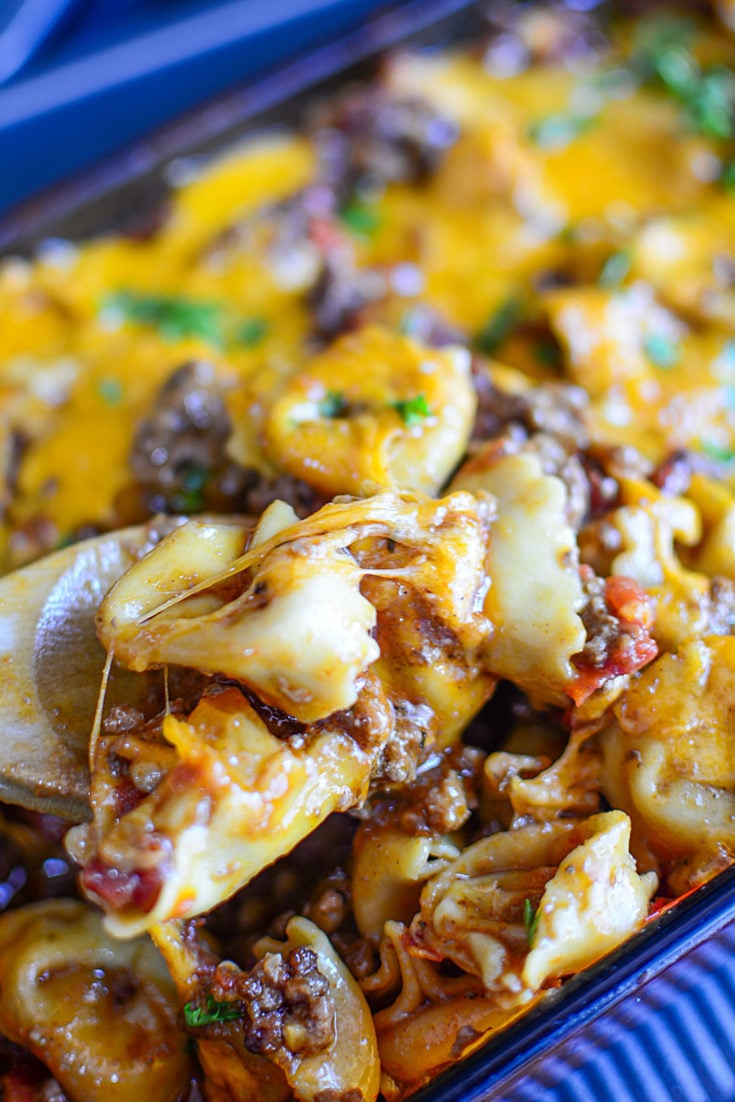 Instant Pot Taco Tortellini Casserole
I made this dish one night because it's all I basically had in the fridge and pantry. I didn't want to order out, and I"m SOO happy I didn't!
This yummy dish is super easy to make and is awesome because it's a one-pan dish! (or, I should say, it CAN be a one-pan dish!). Regardless, there's minimal cleanup and effort input for a huge flavor payoff!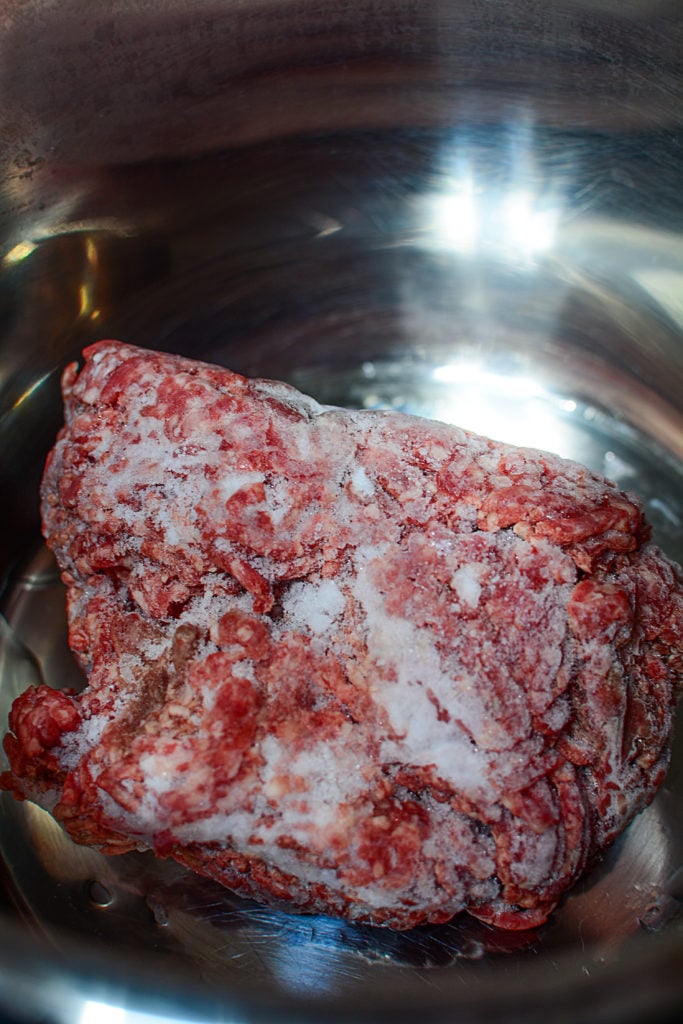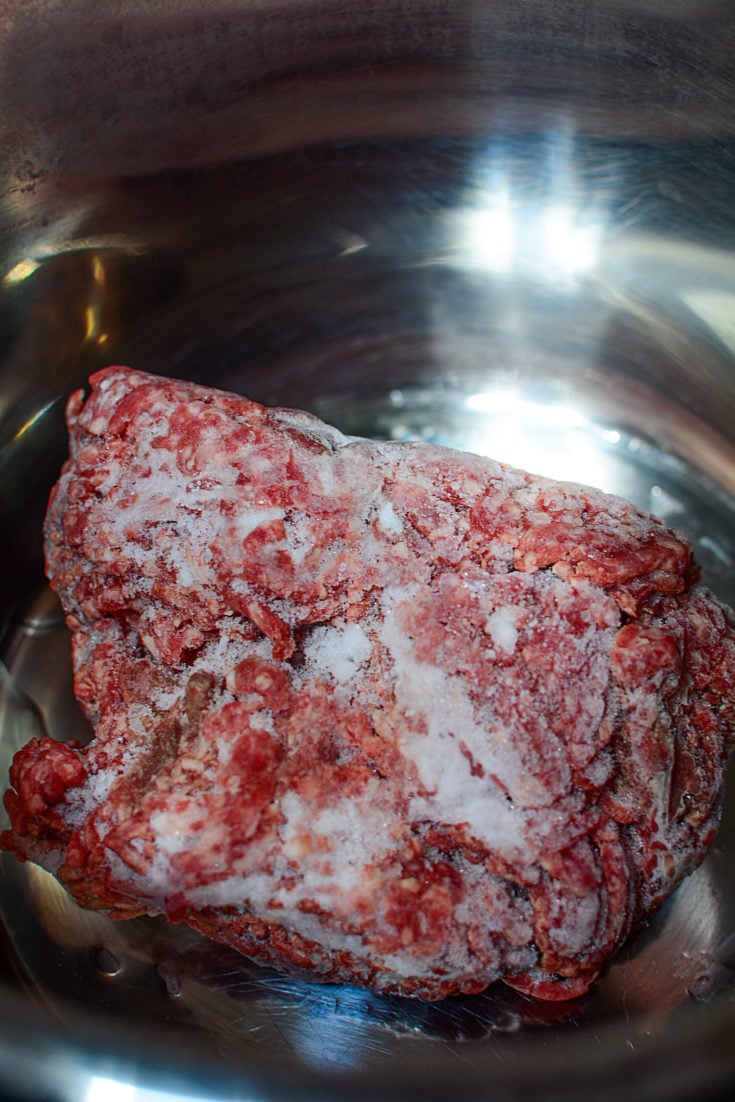 Cooking the ground beef from frozen
First, do I have to use the Instant Pot for this tortellini casserole?
Ok, no, absolutely not. I used the Instant Pot because it makes things pretty darn quick, and as I said, it takes the place of a few pots and pans. If you don't have one, it's not a problem. I will leave the directions in the recipe card for you to follow for those of you have don't own a pressure cooker.
Incidentally, if you have an Instant Pot but you're a little shy about using it, here's a little guide I wrote for beginners to get more comfortable with their Instant Pot.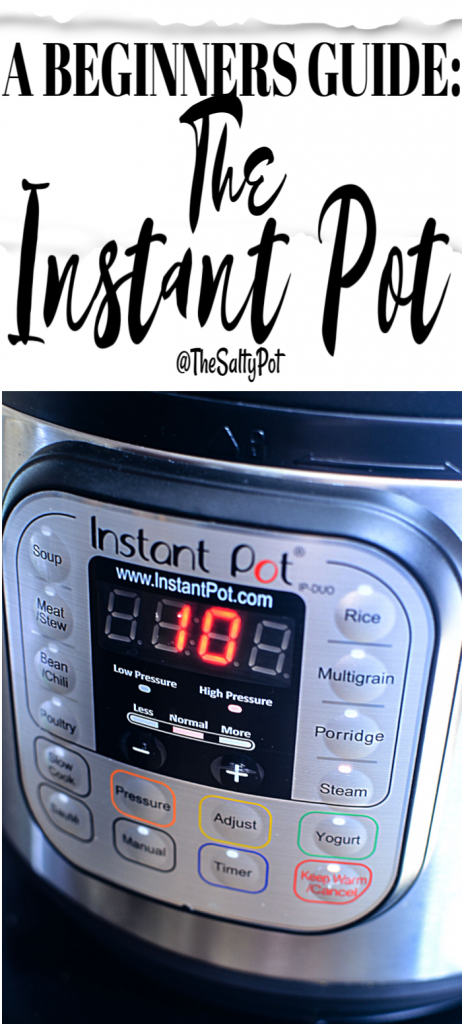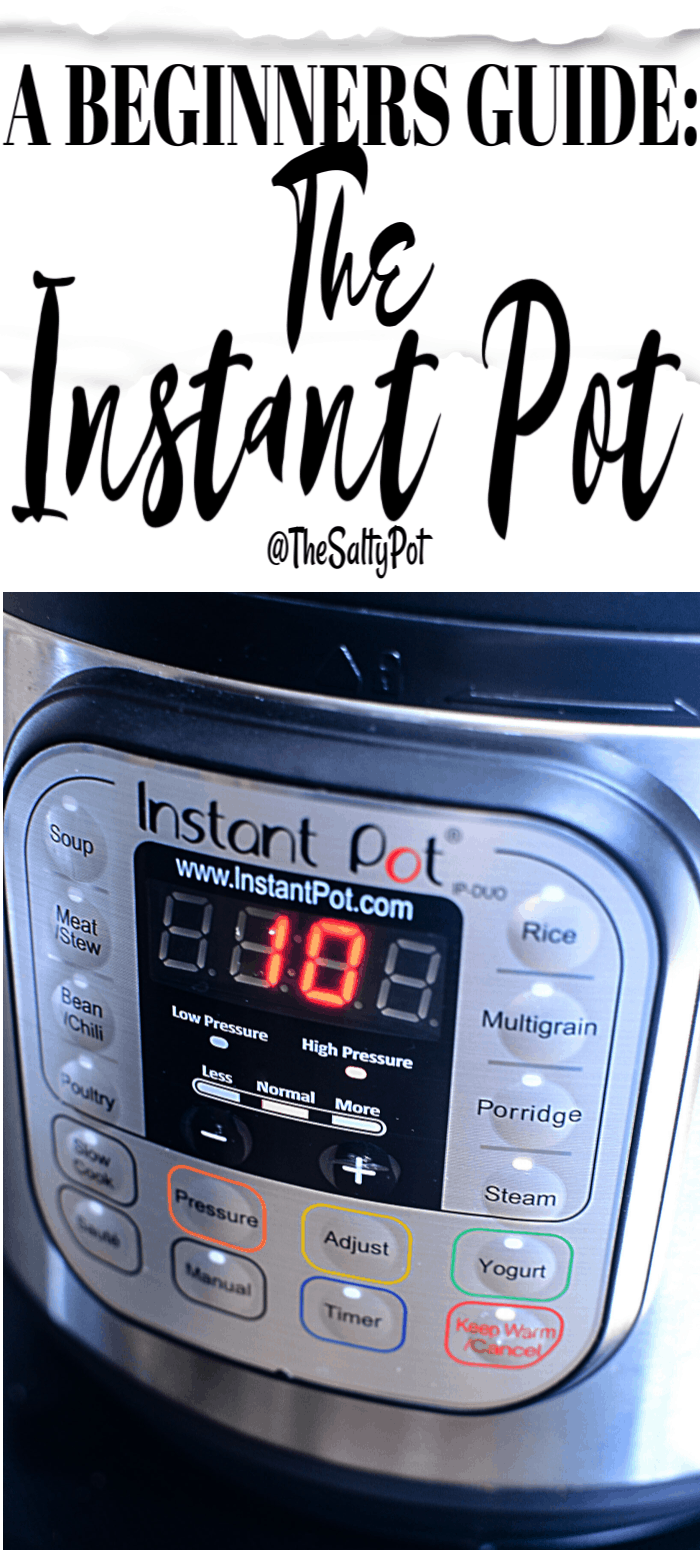 BTW! If you have a NINJA FOODI, by all means, use that gorgeous appliance!!! It's even better because it's TRULY a one-pan deal with this dish because the lid can be changed out from pressure cooking and you can do all the browning/crisping still all in one pan without touching your oven!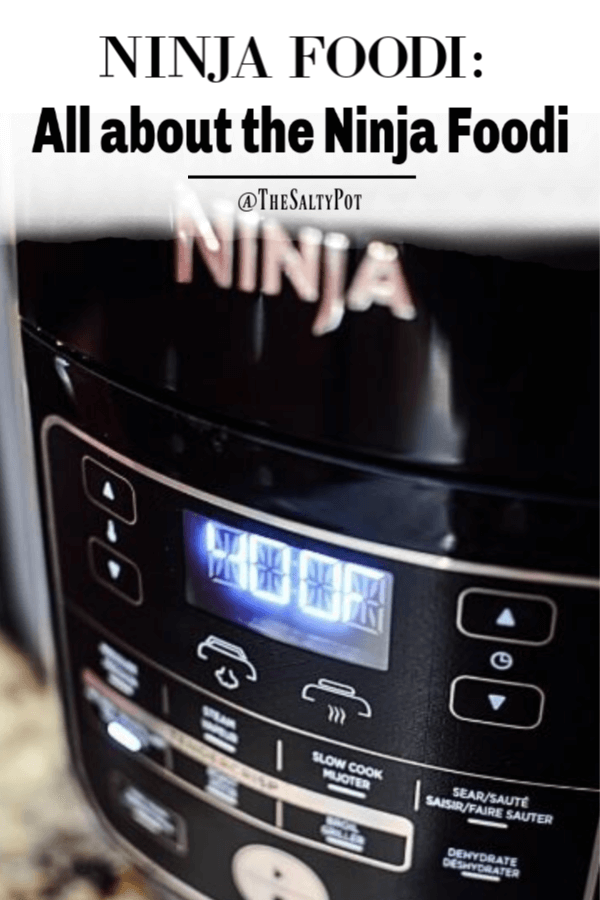 Not sure what a Ninja Foodi is? Here's a little bit of info for you to read to familiarize yourself with this amazing pressure cooking (and slow cooking, and dehydrating, and baking, etc etc ) appliance!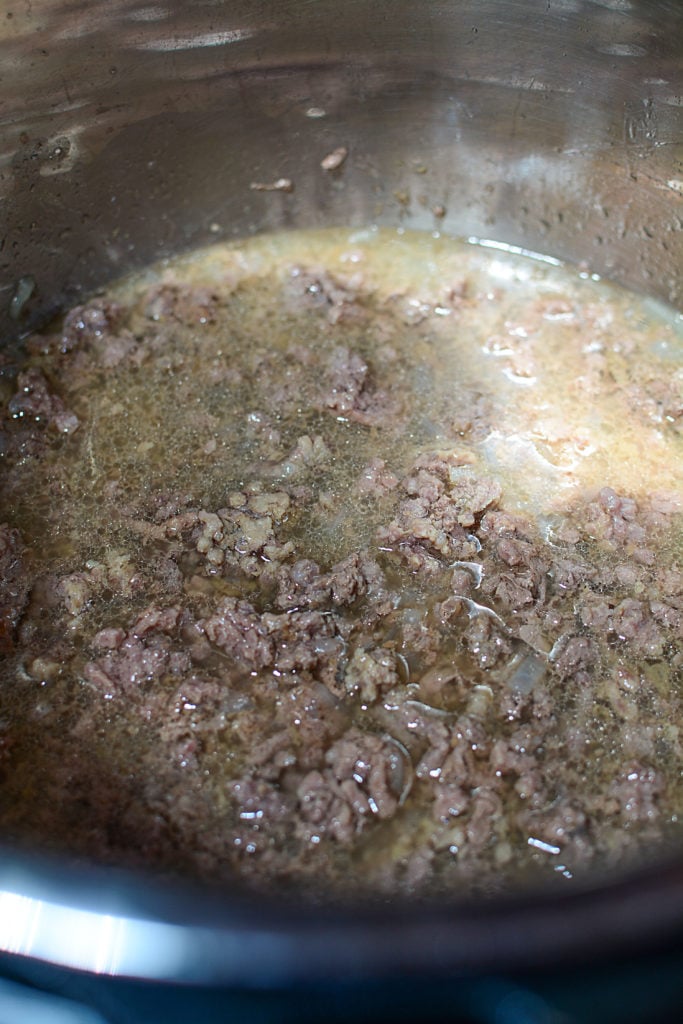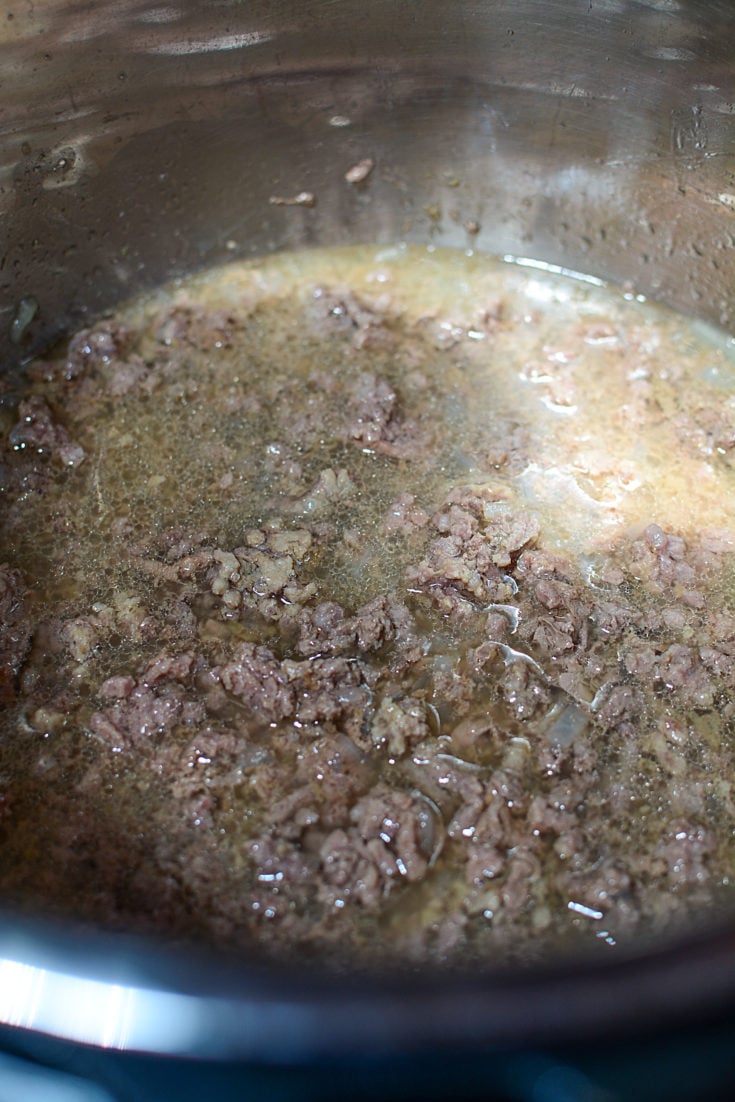 Pressure Cooked Ground Beef
What is Tortellini again?
Tortellini are little ring-shaped pasta that is filled with a variety of different ingredients. Mainly cheese (ricotta and such) or meat. If you're wanting to learn more about why these are sometimes referred to as 'belly button' pasta, take a peek at this article from our friends over at Wikipedia!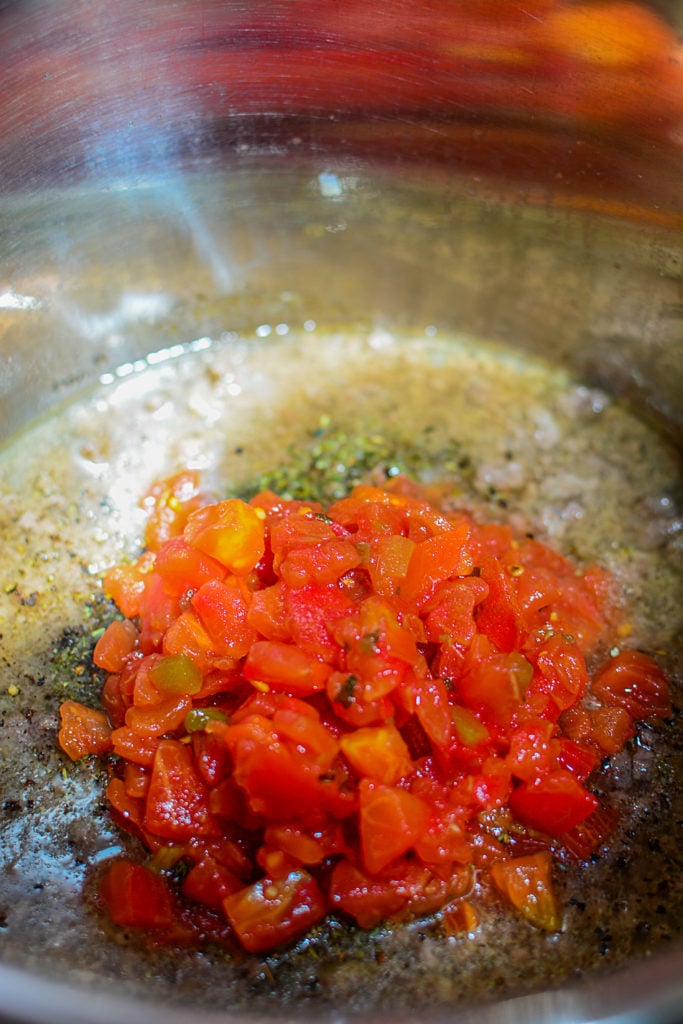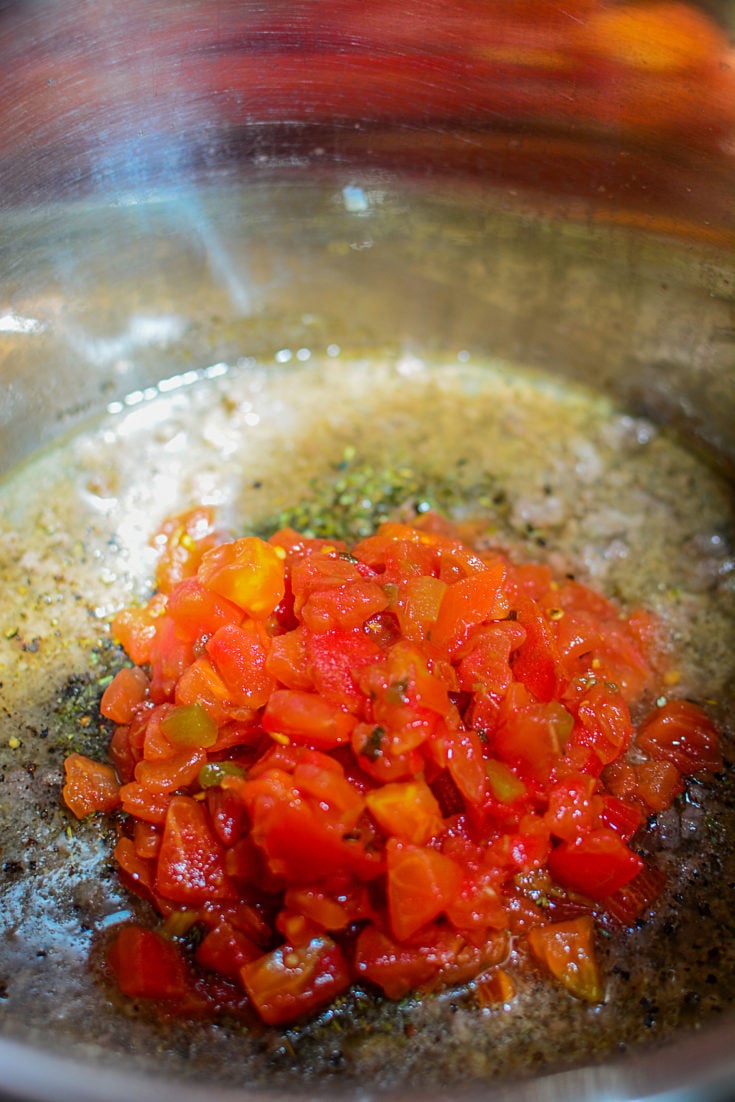 Adding diced tomatoes
I don't mind the ricotta flavored tortellini, but can I use a meat-filled one instead?
My lovely reader, you can use ANY flavored tortellini that strikes your fancy. IN fact, if using tortellini isn't your thing, you can use whatever pasta you prefer, but then at that point, I would simply cook the pasta stovetop so it's exactly the texture you prefer.
I would be here for eleventy billion years trying to give you cook times for different types of pasta. LOL!
A lot of them are the same to be honest, but there are some that might require a tad longer in the Instant Pot than others, and I seriously don't want you to be unhappy with your dish!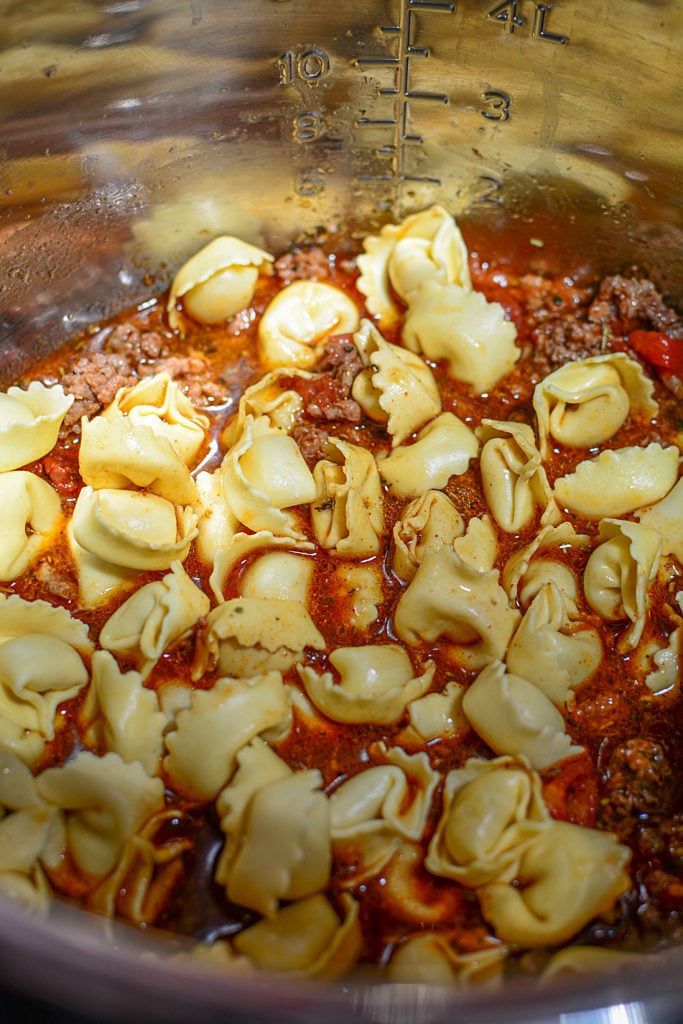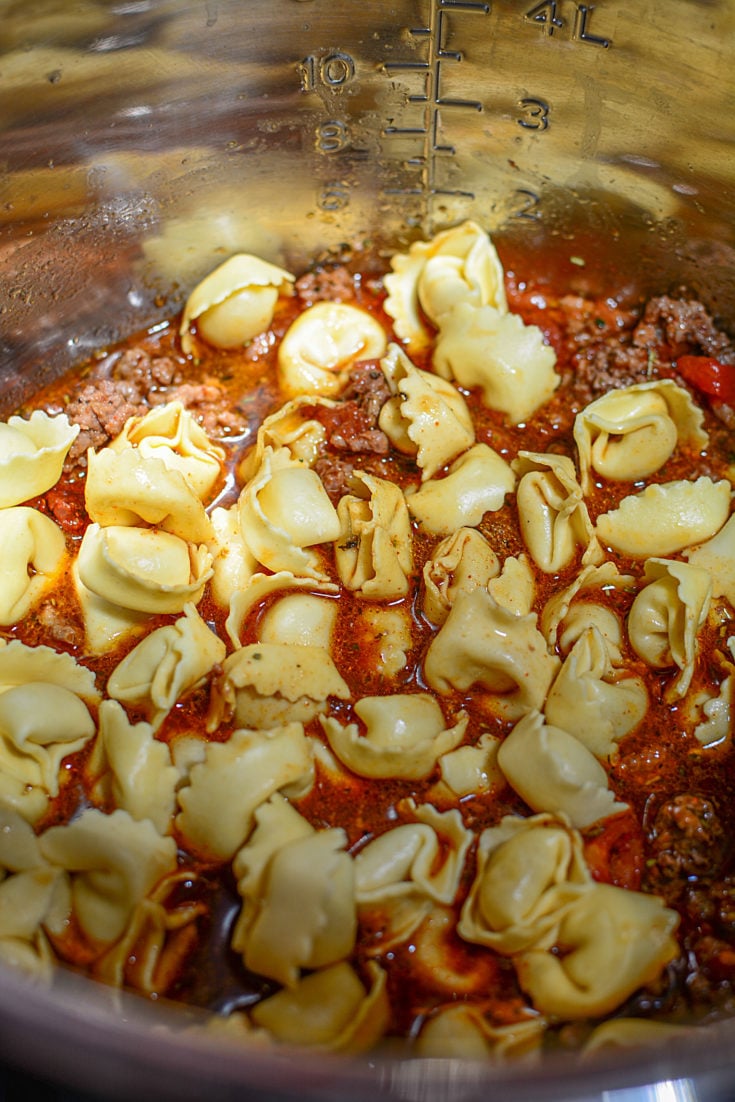 Adding the tortellini
Why do you say that the cooking time is ZERO minutes?
Basically, because all the ingredients are already cooked before you get to that point in the recipe, so the only thing requiring cooking is the tortellini and it's fresh. It's not dried like other pasta that you purchase dried on the shelf.
Fresh pasta takes hardly any time at all so really, it's basically the time the pot takes to come to pressure that's needed to cook the tortellini to a nice al dente texture. Dried kinds of pasta will take longer to cook, hence the recommendation to cook your pasta separate on the stove and add it when the cheese goes in.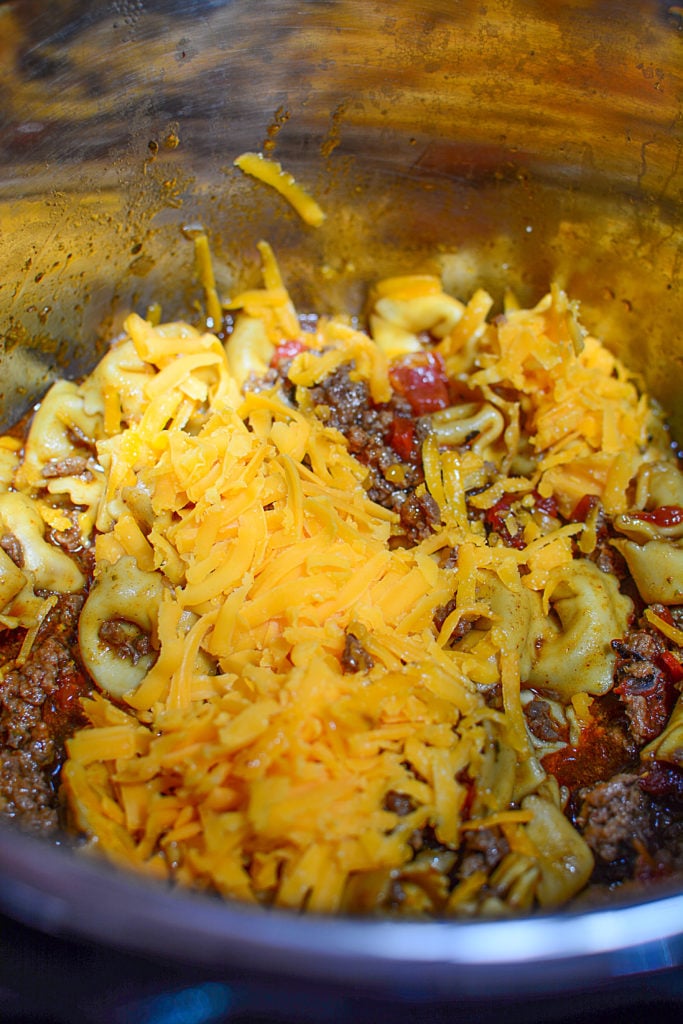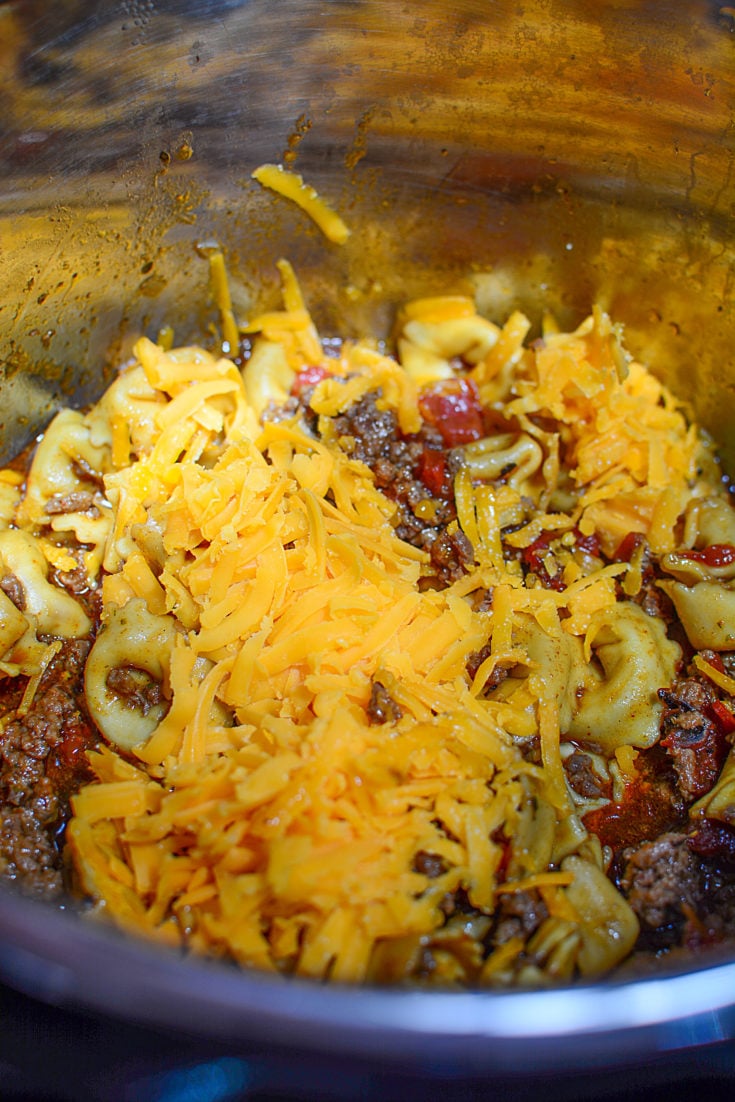 Adding the shredded cheese
Using a Homemade Taco Seasoning Instead…
I make my own homemade taco seasoning on the regular. I like it because I know what is exactly in the spice combo, and I can also control the sodium levels. Also, it's great because sometimes if you want a particular dish to taste a bit more on the chili side… or a bit more on the cumin side.. you can use your own spice recipe and then augment the flavors from there without too many issues.
With a commercially prepared spice mix, it's a bit harder to do that because you might start out with a heavy cumin flavor, to begin with, and as my mother says – you can always add more, but you can't take it away.
Homemade Taco Seasoning
Can I use a different protein besides ground beef?
Yes, not a problem most times. I will say a few things here though about different proteins. If you used a ground chicken or turkey, I would definitely taste the cooked mixture after you added the taco seasoning, just for your flavor preference.
Ground turkey and chicken often are a little more mellow in their flavors so you might want to amp up the flavors with a bit more taco seasoning.
You could also use a ground sausage if you want, but be mindful of the type of sausage you use. Sausage including Mexican flavors would be ideal, but Italian would ok as well. Those are the only two I would use. I've seen sausage flavored with maple and apples and that would be … *gag* .. a huge mistake to use in this dish. LOL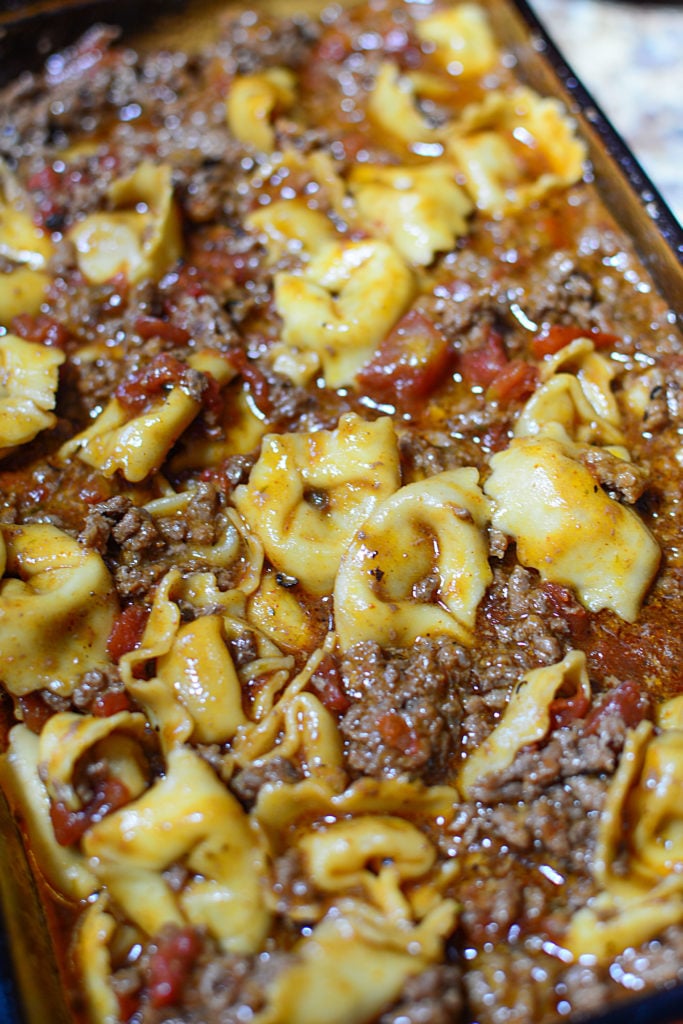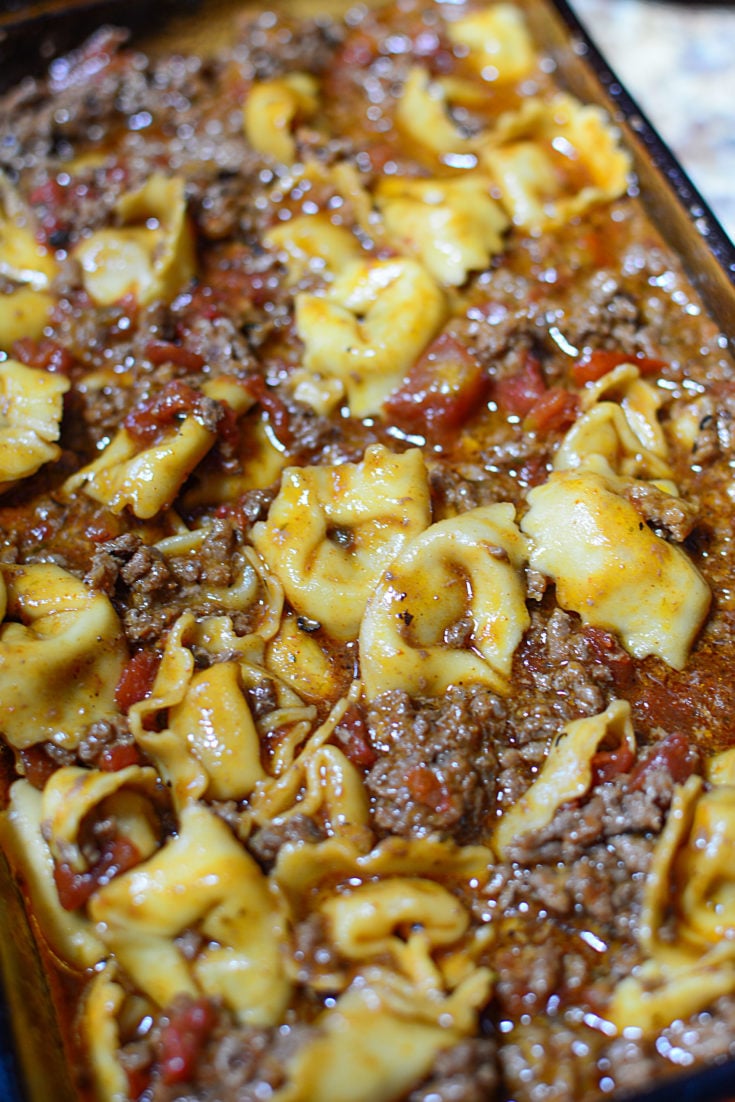 In the casserole dish before adding more cheese and broiling
You could also use ground lamb if you preferred as well, but again, just be sure to taste the cooked mix of meat and taco seasoning to adjust for your preferences.
Oh, and if you are in a hurry like I was that day, you can totally cook the beef FROM FROZEN. Easy Peasy! You simply have to do a quick pressure cook on the beef before you proceed to the rest of the recipe.
I didn't mind cooking my beef from frozen in the Instant Pot because to thaw it in the microwave required a closer eye so that it doesn't get rubbery, and then you still have to fry it. This way, it goes right from frozen to cooked all in one pot without having to sit and watch it.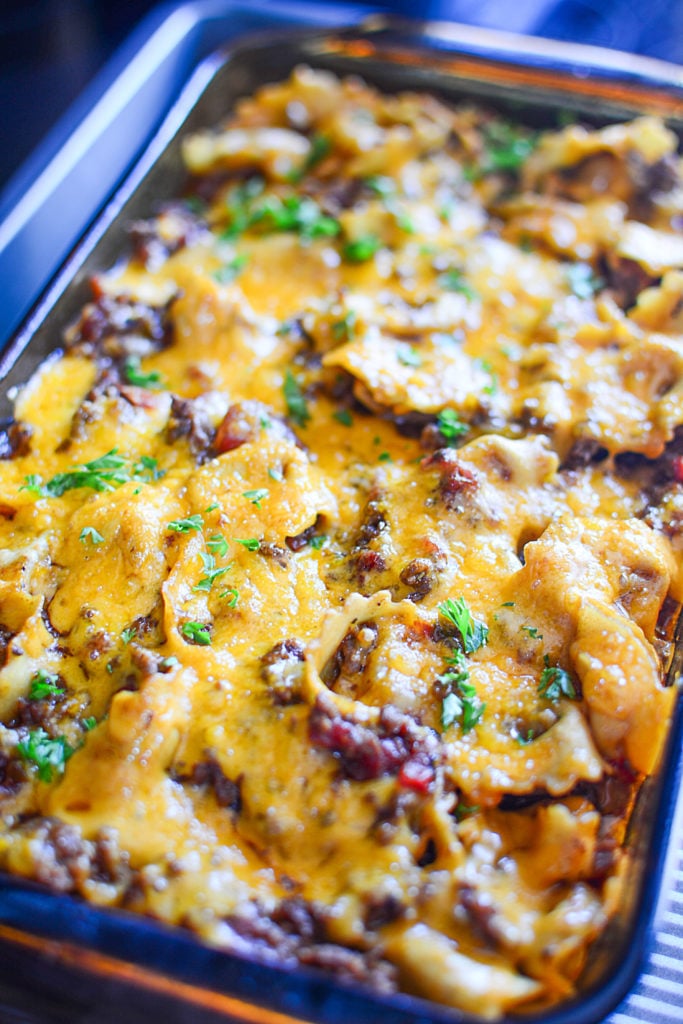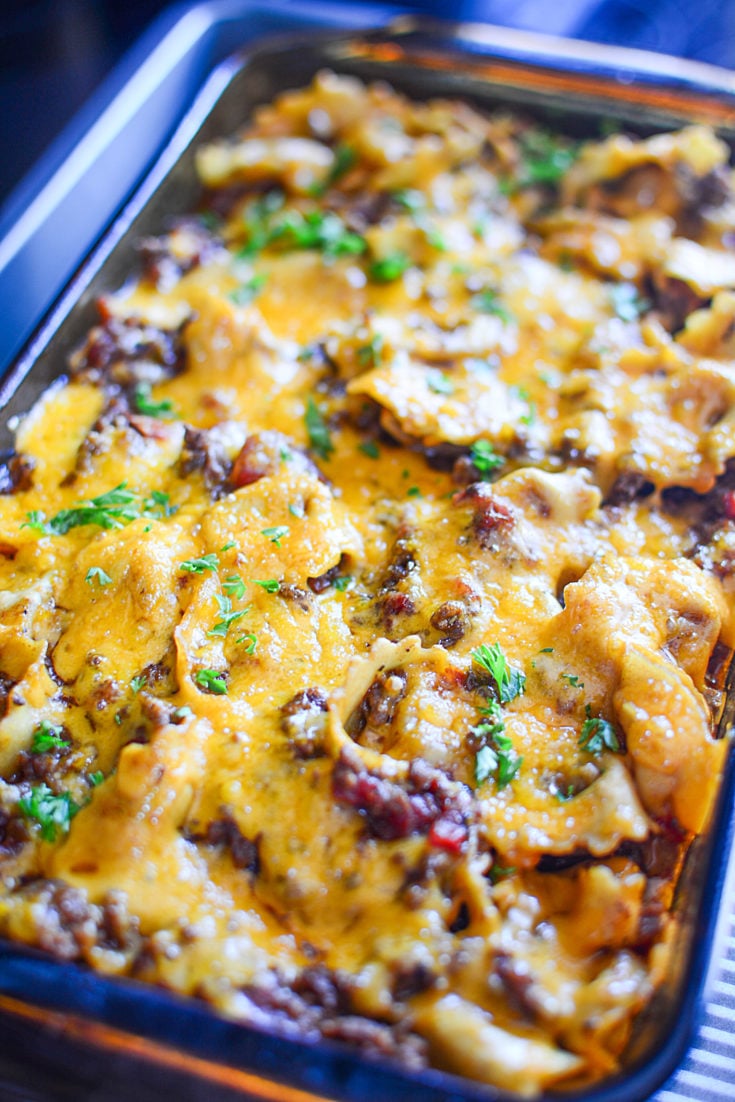 Can I freeze this Taco Tortellini Casserole?
OMG.. I recommend it! Simply make the casserole up to the point where you would top the taco casserole with cheese to brown.
Divide portions into microwave-safe or oven-safe containers and freeze them. Then, on serving day, bake them in the oven at 350 for 18 – 20 minutes or until cooked through, (or microwave them for 3-4 minutes depending on the strength of your microwave). At the last few minutes of cooking, add the freshly grated cheese to get all melty! You can broil them if you are using the oven method!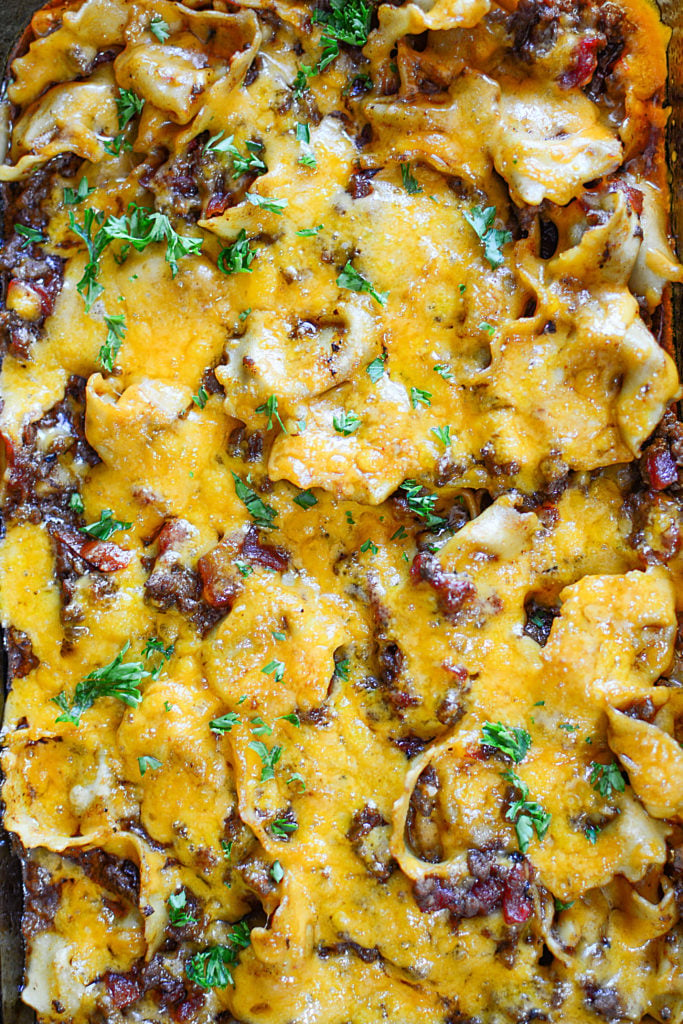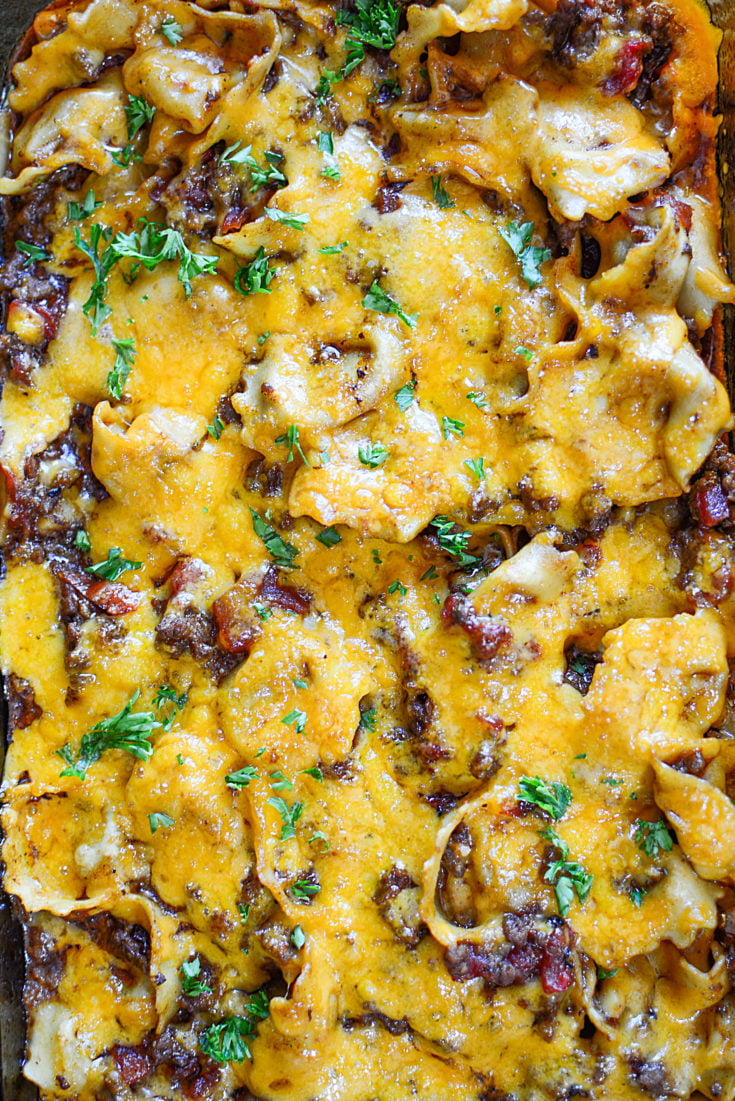 Just letting you know, I've made a few other 'Individual Portioned Dinners" that are PERFECT for busy nights. They require a tiny bit of work up front, but saves SO much time and effort on those busy weeknights or on those evenings you just don't want to do a full-on cook in the kitchen!
Here are a couple:
Individual Spaghetti Dinners
Individual Roasted Turkey Dinners
I intend to make more of these Individual Dinners coming up shortly, so check back for them!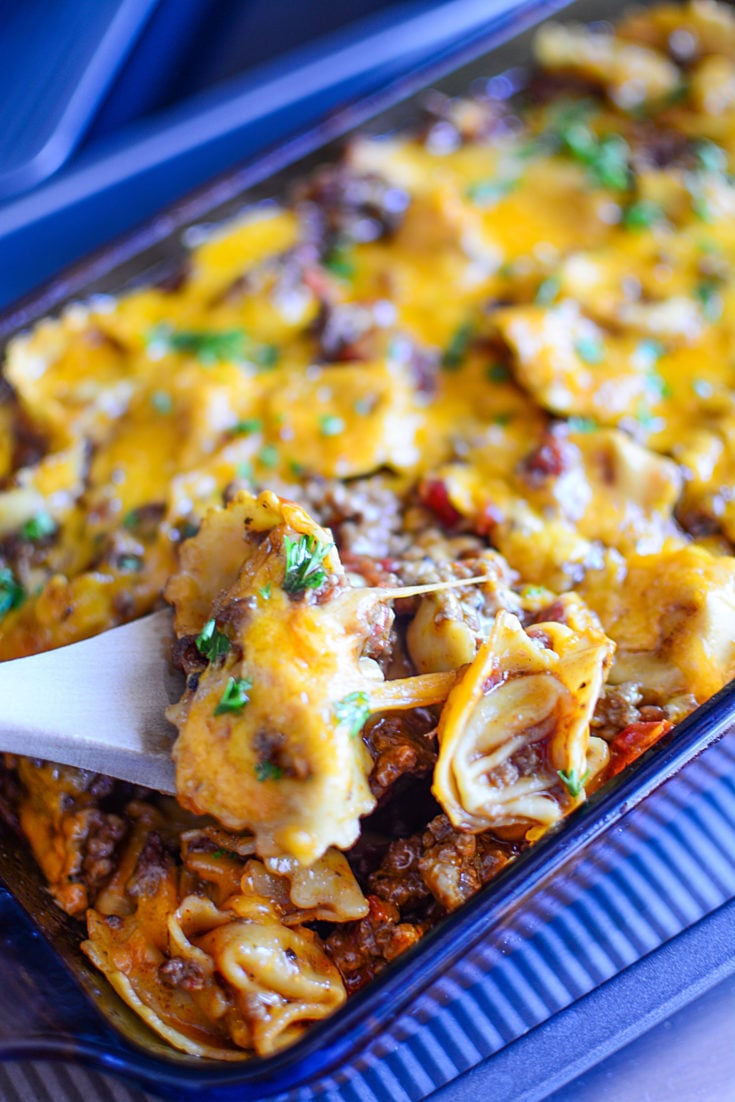 How long will this taco casserole stay good in the fridge?
If you cover it very well, it should stay good for about 4-5 days in the fridge. Again, unless you have it for leftover the very next day, I find that freezing the tortellini casserole in individual portion sizes to reheat later is a much better plan.
You never know what happens later in the week, and you might end up wasting the casserole which would be a shame.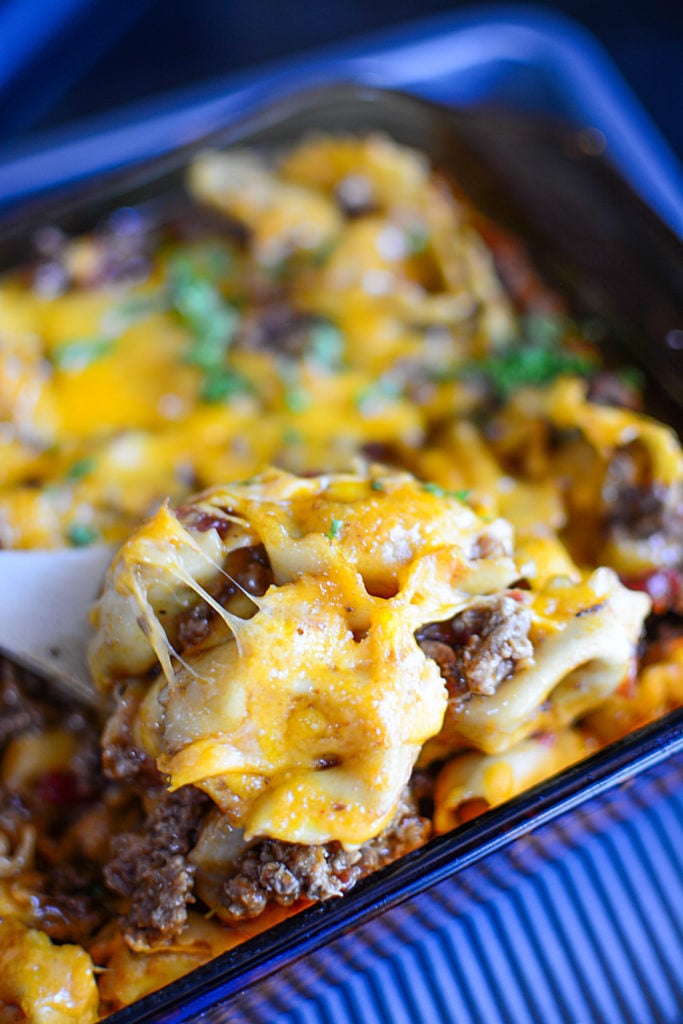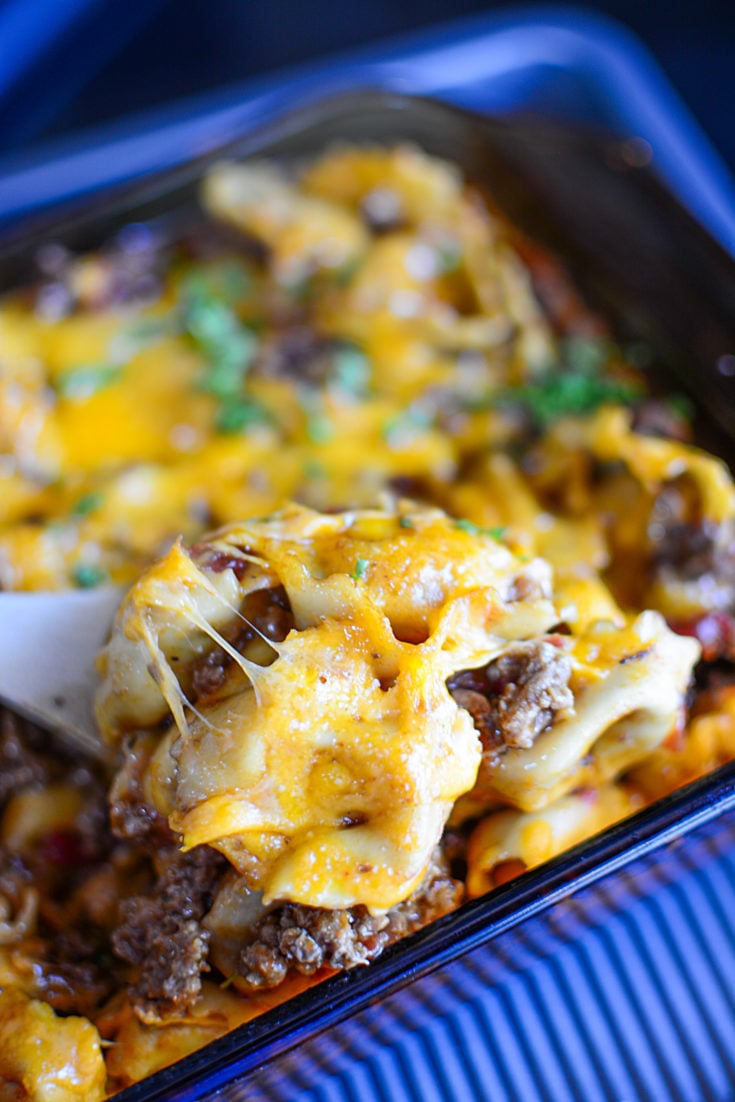 Ok, well there you have it! I hope that you try this fantastic Instant Pot Taco Tortellini Casserole out and let me know what you think.
I put this meal together because it's what I had in the fridge and I'm so glad I did. It's incredibly yummy, filling and satisfying!
When you make this recipe, I'd love to hear what you thought about it! Please leave me a comment below or shoot on over to visit me over and my facebook page! Thanks so much for stopping by The Salty Pot today and I hope you have a fantastic day!!
***Oh, before you go, don't forget to pin this awesome Instant Pot Taco Tortellini Casserole to your favorite Pinterest board to save for later!! ***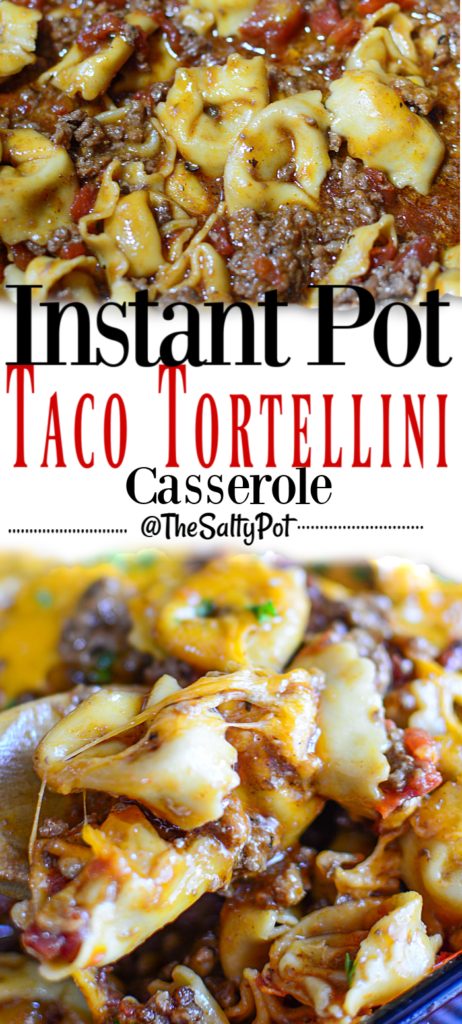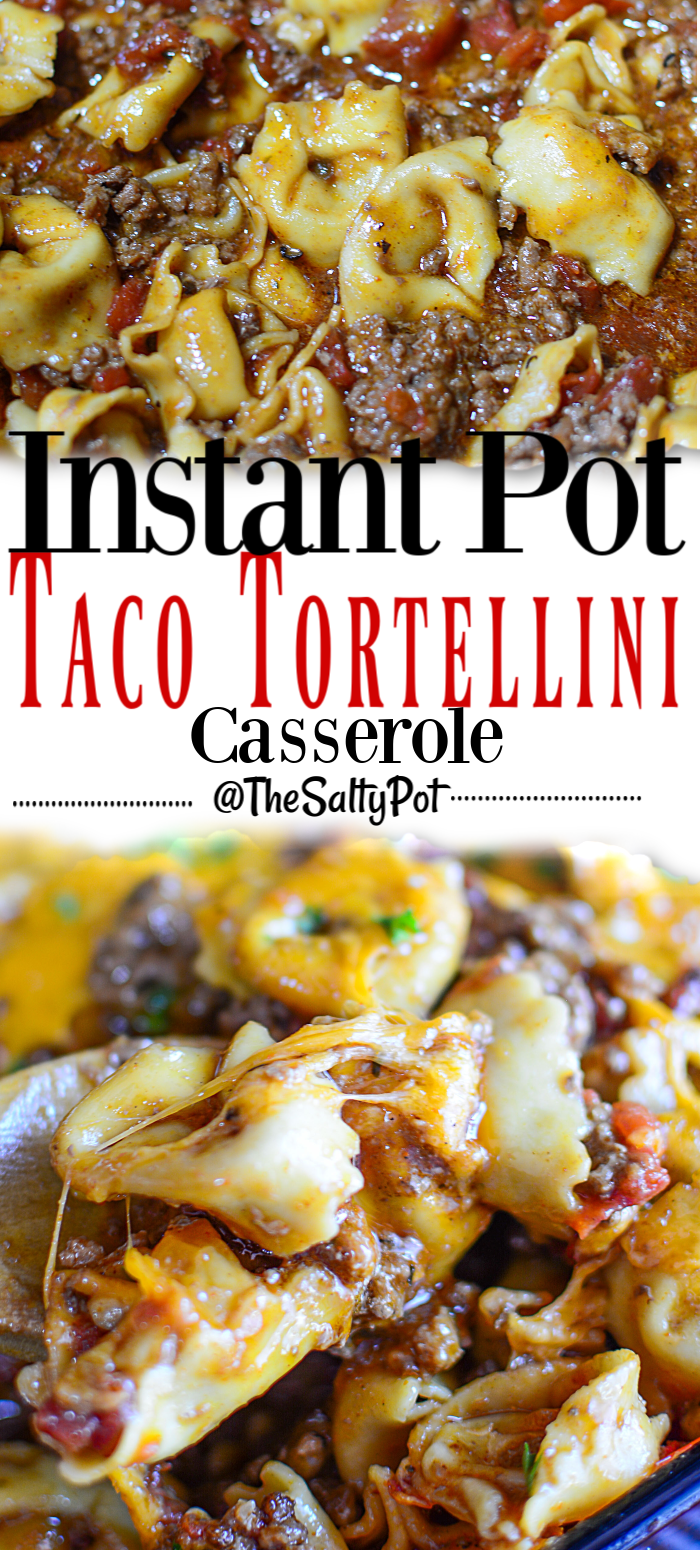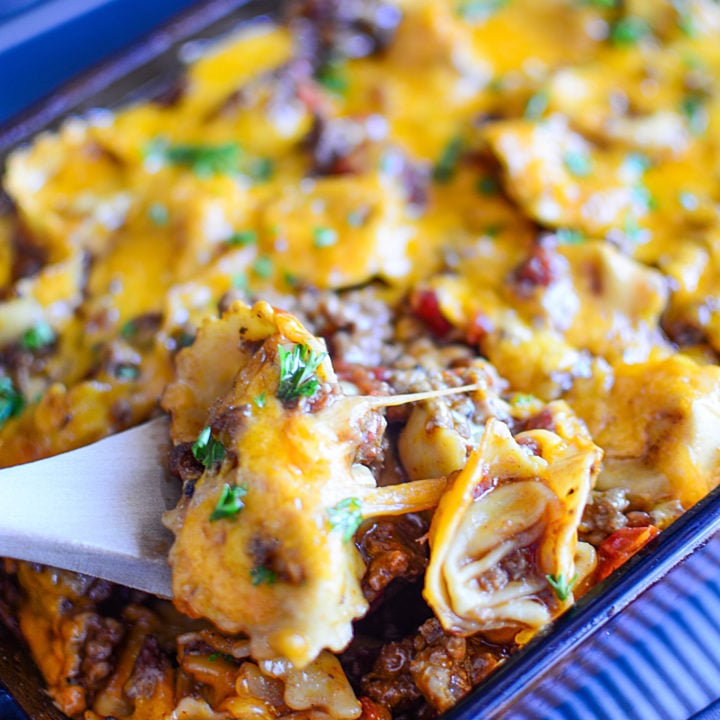 Instant Pot Taco Tortellini Casserole
Additional Time:
5 minutes
This instant pot taco tortellini casserole has everything you love in a taco casserole! Savory beef with taco flavors, soft & cheesy tortellini, saucy tomatoes, and gooey cheese! YUMM!
Ingredients
1 lb ground beef
1 c beef broth
1 packet of taco seasoning *see notes
1 can diced tomatoes, 18-20 oz, drained *see notes
250 grams cheese tortellini *see notes
1 teaspoon garlic, minced
½ teaspoon oregano
as desired salt and pepper
2 c cheddar cheese, shredded *see notes
Instructions
Place frozen beef into the instant pot liner. Add the beef broth (or water).
Place the lid on the top and turn the toggle switch to 'sealing'
Press 'manual' and adjust the time to 20 minutes. When cooking time is complete, carefully do a quick release to release the steam inside the pot.
When the sliver pin drops, and it's safe to open the lid, carefully remove the lid AWAY from your face.
Give the beef a stir as it may be cooked in one large chunk.
Add all the remaining ingredients except 1 cup of the cheese. Add the tortellini on top of the beef and DO NOT STIR the pasta into the beef.
Cover with the lid again, place in the 'sealing' position, and select 'manual' and adjust the time to 'zero' minutes. (see notes)
The pot will come to pressure and when it reaches optimum pressure, it will beep and shut off. (or move to warm). Carefully do another quick release.
The tortellini should be slightly puffy and cooked al dente. Mix everything together, and transfer to a 7x9 or 8x8 oven-safe dish.
Sprinkle the remaining 1 cup of cheese over the top of the casserole, and place under the broiler for 3 - 5 minutes or until the cheese is golden brown and melty.
Remove from the oven
Rest the casserole for about 5 minutes before digging in! Enjoy!
Notes
Feel free to use water if you have no beef broth. Even Chicken broth would work as well if you had no beef broth available.

If you are using homemade taco seasoning, use about 2 Tablespoons. Mix and adjust to your taste preferences.

The cheese tortellini is a fresh pasta purchased usually in the deli section of your grocers. It takes barely any time to cook it in the instant pot.

I used sharp cheddar cheese, but feel free to use any cheese you prefer (or combinations of cheese). Just be sure to choose a cheese that melts well.

I wrote 18 - 20 oz can of tomatoes as it will depend on the brand that you use in your area. Also, if you have access, try and use a can of fire-roasted tomatoes. They would add incredible flavor to your casserole! I didn't have any on hand when I made this taco casserole. *boo* 🙁
STOVETOP METHOD - Simply brown your thawed ground beef (no need for the broth) in a large dutch oven or big fry pan. Add the diced tomatoes, taco seasoning, garlic, oregano, salt, and pepper. Mix well.
In a separate pot, cook the tortellini (or pasta you're using) according to the directions on the container. Drain and add to the beef mixture.
Add half the cheese. Stir in to melt. Transfer to a casserole dish. Top with remaining cheese and broil in the oven until melty and golden.

Nutrition Information:
Yield:

4
Serving Size:

2 cups
Amount Per Serving:
Calories:

765
Total Fat:

43g
Saturated Fat:

20g
Trans Fat:

1g
Unsaturated Fat:

17g
Cholesterol:

183mg
Sodium:

1582mg
Carbohydrates:

37g
Fiber:

3g
Sugar:

3g
Protein:

53g