Did you just receive a new Instant Pot?? Yaaaaay!!! Are you a little intimidated? That's TOTALLY normal! But to ease your fears, I have created an easy to follow Instant Pot Beginners Guide to get you started!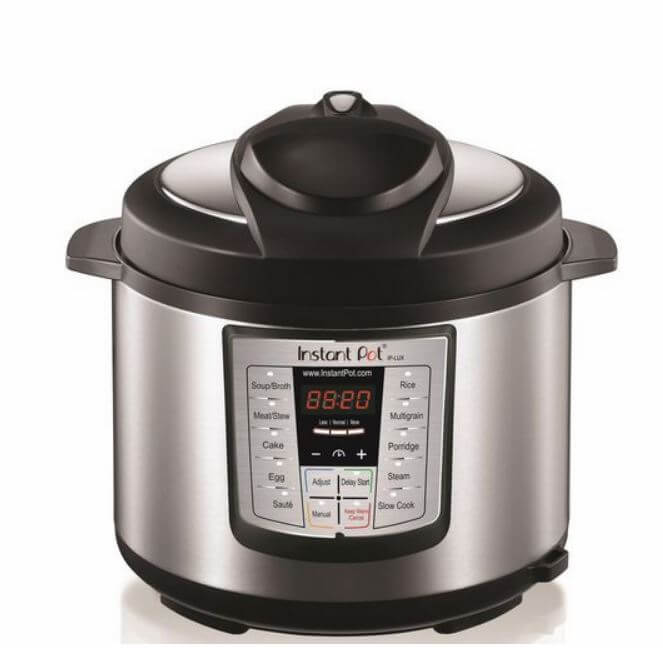 INSTANT POT BEGINNERS GUIDE
I know that when you first open your pressure cooker and start looking over the directions, it can be scary. Plus, we have all heard the horror stories from incorrect usage, right?!?!
It doesn't matter if you call it an Instant Pot, Instapot, or pressure cooker because it is the same thing and it will give you flavorful meals without a lot of hassle!
You all know how much I love cooking and using all the fun kitchen gadgets and appliances on the market. My Instant Pot holds a special place in my heart because the food is so delicious!
…………..There is a huge bonus that I don't have to cook all day too. 🙂
What Is An Instant Pot?
If you haven't heard of an Instant Pot, you have been missing out! You may have grown up with your parents or grandparents canning fruits and vegetables in their pressure cooker. An Instant Pot is the same concept only way better! Many safety features will keep you protected if you use it properly. You can also do several other things with it like:
Sautee Veggies
Brown Meat
Make Fluffy Rice
Homemade Yogurt
Slow cook food
Pressure Cook
Steam vegetables
Use it to keep food warm until you are ready to serve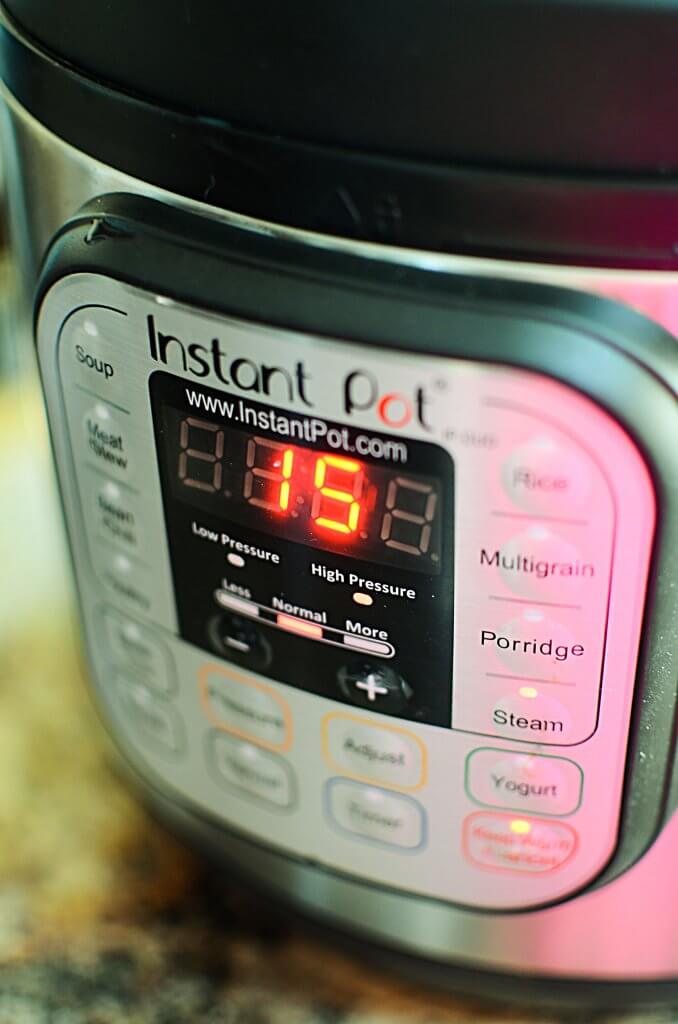 Can I Cook Frozen Meat In Instant Pot?
Yes, that is the beauty of this terrific contraption! You can take chicken, beef or whatever meat you are making right out of the freezer and cook it.
On average, it will take around 50% longer if you use frozen meat. For example, if you toss in some chicken thighs and they usually take 10 minutes to cook, I would increase the time to 15 minutes to ensure they get done.
The best part is that you don't have to agonize if you forgot to thaw your meat out ahead of time. This is fantastic for those nights when you have little time and want to eat at home instead of fast food.
How Do You Clean An Instant Pot?
Cleaning your Instant Pot is pretty easy once you get the hang of it! If you have a dishwasher, you are in luck because the lid, inner pot, sealing ring and trivet are all dishwasher safe! How awesome is that?
I have washed the lid on the upper rack of the dishwasher, with the toggle switch removed from the lid and put in the cutlery container area.
If you wash it by hand, use hot soapy water, and you can get all of those things complete wet without worry. Never wash the cooker base in water!!
Just use a warm soapy damp sponge and wipe any dirty spots. Don't allow it to get too wet; it may kill the entire Instant Pot.
If you notice an odor in your pressure cooker even after you have cleaned it, you can sanitize it by adding 1 cup each white vinegar and water and steam it for 3 minutes. The odor should disappear after this step, but if it doesn't, it might be time to get a new sealing ring. I try to keep several in stock to change them out as needed.
Instant Pot Safety
As long as you follow the guidelines using an Instant Pot is typically very safe. I wanted to give you a view pointers on what you should pay attention to as you cook with your pressure cooker. Take a look at these helpful tips:
Never turn the release valve with your bare hands. It will shoot out a lot of steam at a fast rate and can burn you. Use a wooden spoon or hot pad when you turn it. Also, keep your face away from the steam as well. (Also, there are special steam diverters you can buy that go over the release valve so that steam doesn't release directly onto your cabinets if the Instant Pot is on the counter)
Don't cook with your Instant Pot Pressure Cooker on the stove top. It happens way too often that someone will accidentally turn on the burner without realizing it and then it burns and melts the undercarriage of your machine. Not to only will it wreck your machine, your stove top would be a nightmare to clean up. And that is a very sad day!
When an Instant Pot is being used as anything other than a slow cooker, you should always be home when it is on. That way if something does go wrong you can be there to stop it before damage is done.
Never fill it up past the max line because otherwise, you will have a HUGE mess but more importantly, the appliance may not be able to come to full pressure properly if the contents are over the max line on the pot insert.
Always be sure to check the sealing ring that it's in the correct position in the lid and that the silver pin indicator is free of past food gunk and moves freely.
Read and completely understand the manual's safety guidelines as well.
ALWAYS do a water test as the first operation you perform when you get your Instant Pot.
Be sure the condensation collector in the back is the proper position and clean, clear of any obstructions.
What Is The Difference Between Quick Release And Natural Release?
The concept is pretty straightforward, but it can be very confusing when you are just starting. I will explain each one to you.
Quick Release – Is when you are cooking something like vegetables, and you don't want them to get slimy, so you need to release the steam quickly.
Natural Release – This is when you allow the steam to release naturally and the silver pin drops on its own without you releasing the steam manually.
Combination – Sometimes you will have a recipe that tells you to natural release for so many minutes then do a quick release. Your pressure cooker will start keeping track of time once the pressure begins to release. So if it's supposed to release for 5 minutes naturally, just watch that timer until it hits 5 minutes then finish with a quick release.
What Kind Of Recipes Can I Make With This Pressure Cooker?
There are tons of great recipes to try out! Check out a few below:
Regardless of what you make in the Instant Pot, it will be amazing. Have no fears about working with the appliance. Take it step by step, read the manual thoroughly, follow the safety steps and you'll do awesome!
Personally, I made hard boiled eggs for the first recipe after doing the water test. Those eggs you guys, they were AWESOME and seriously, peeling them was the easiest thing ever!!
You'll fall in love with your new machine as it makes your life so much easier!
Thanks so much for taking a moment to read this information about the Instant Pot that I gathered for you, and I would LOVE to see any photos of the dishes you make!! Follow me on Facebook at https://www.facebook.com/TheSaltyPot/, and we'll catch up there!
***Don't forget to save this Beginners Guide To The Instant Pot Pin to your favorite Pinterest board to save for later!***