AAaaaaaahhh turkey dinner with all the trimmings!! Delicious yes, convenient for a weeknight dinner, not so much. UNTIL NOW! Allow me to show you with Individually Baked Turkey Dinners!
Individually Roasted Turkey Dinners
So we all know and love (well, most of us) those big celebratory turkey dinners with all the sides and trimmings. Yummy! But SO much work.
Too much work to put together for a weeknight dinner – especially when the kids need to go to soccer or dance class!
Guess what? These turkey dinners give you all the flavors of a big roasted turkey dinner, but without ALL THE WORK!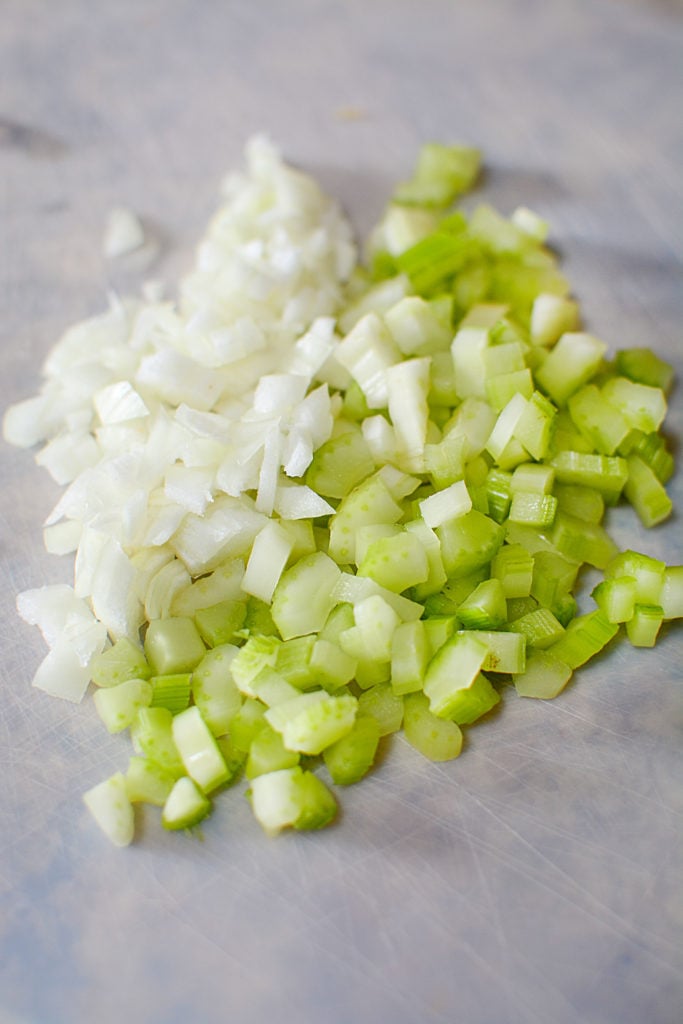 Well, you have to do a bit of work upfront, but the time-saving qualities alone make it soooo worth making these delicious and easy weeknight dinners.
They're similar (in a way) to those typical 'tv dinner' frozen meals, but they are a MILLION times tastier! (not to mention SO MUCH CHEAPER THAN STORE BOUGHT!!). Plus, you don't have to roast an entire turkey!!
Wait.. what?? YESSSS!!! I know right?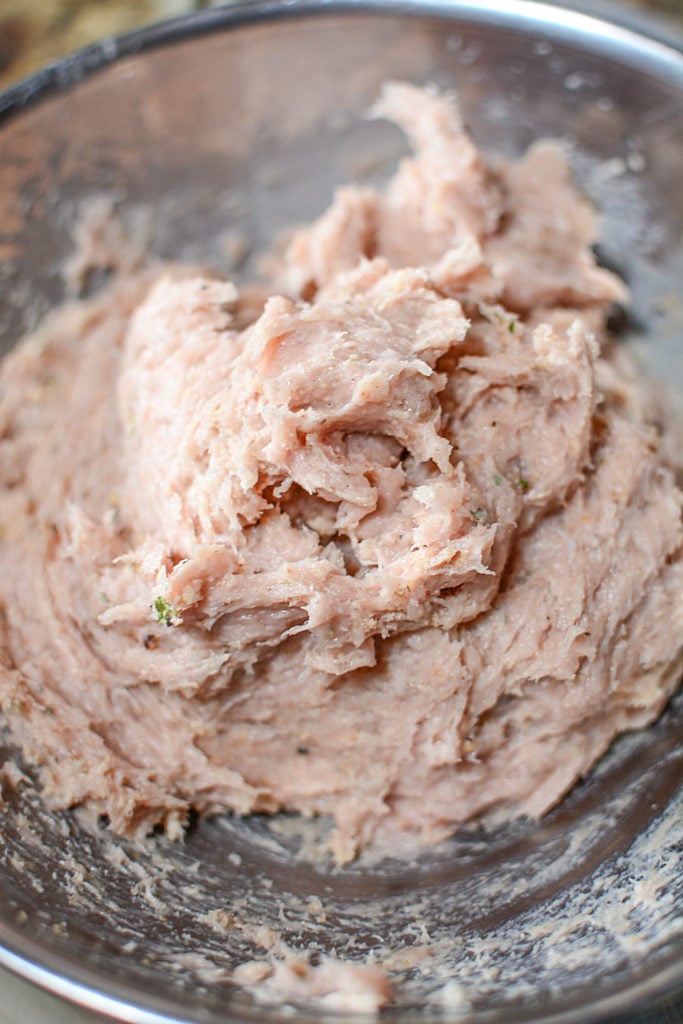 Making Individually Roasted Turkey Dinners:
What do I need to make these make-ahead meals? Well, somewhat sort of similar to your regular turkey dinner but with some shortcuts. Here's what I used:
Ingredients:
Ground Turkey
Boxed Stuffing
Celery and Onion
Can of whole Cranberries
Turkey Gravy packet
Seasonings
Supplies:
I used these 5″ x 1.5″ foil containers. You can get them with lids, but I didn't have that option when I was buying them, so I just used foil as my lids.
Foil (if your containers came with no lids)
These make-ahead turkey dinners are perfect because they're individually frozen. So let's say you get home and the kids are going to a weekly activity that evening. You need to eat FAST, but nutritiously. No golden arches tonight!
You can grab a few of these frozen turkey dinners out of your freezer, pop them in the oven (or even toaster oven!) and heat them, eat and go!
Aaaaaaand, what if the kids whine and cry about having a super tasty turkey dinner?? (you know how kids can be! lol). Well, if you follow and make my recipe for Individually Baked Spaghetti Dinners, you can have the turkey dinner, and they can have the spaghetti and everyone's happy as pie!
mmmmm………………………… pie! (I think I need to make individual small hand pies too now!)
How Long Will It Take Me To Make These Freezer Meals?
That's what's beautiful about these meals. If you have everything you need to be prepped and ready for you to use, then I would say you can EASILY have these dinners put together and ready for the freezer within 30 minutes.
Let's think about that for a moment – 8 make-ahead turkey dinners made in 30 minutes??? What a time-saver, right!?!?! A little bit of work upfront to save LOADS of time later on.
Ok, so yes, are you cooking a huge whole turkey? NO. Is ground turkey a great replacement? Yes, because we season the turkey so that it has those same flavors of a roasted turkey, and it's just as nutritious as whole turkey meat.
Can I Make These Meals Using A Whole Turkey?
My goodness, yes! If you have that kind of time to devote to making these meals, by all means, please do! The only thing to keep in mind is that you'll need to double the other ingredients that we use for the dinners so that means you'll end up with a lot more make-ahead meals – which.. isn't a bad thing, now is it? lol
Alternatively, if you wanted to use whole turkey meat, you could buy a turkey breast, roast that, and use that meat to compile the turkey dinners. You could also purchase a few turkey legs and thighs from your butcher and roast those instead of the breast meat if you prefer dark turkey meat.
If after making these make ahead freezer meals, you have leftover turkey, here are a few recipes to use up that extra turkey meat:
Take the turkey bones and leftover meat and make this delicious bone broth to use for sipping or many other recipes!!
You could make this Basic Chicken Noodle Soup (but of course just use turkey)
Or this Crockpot Cream of Chicken and Rice Soup
You could serve these Buffalo Chicken Boats (using turkey) for lunches
For a super-duper easy, one-pan meal, you could make this Chicken (turkey) Ranch Potato Bake! (soooo delicious!!)
How about some Turkey Caesar Stuffed Sweet Potatoes from Simple Roots? Yum!!
What To Serve As A Side To These Roasted Turkey Dinners
Personally, I would add a nice salad and a green or yellow vegetable. So for instance, you could make a basic green salad, and add some niblet corn. (if you wanted to get really fancy, serve some corn on the cob!)
Today, I paired the individual freezer meal with peas. I used frozen peas because that's what I had, but fresh peas would be an awesome choice. Or, some steamed asparagus would be amazing.
You could serve some mashed potatoes if you had the time to make them, but the stuffing included in the freezer meal really stands in for the starch for the potatoes as well.
But hey, if you like some spuds with your turkey, knock yourself out! You know how well potatoes and gravy are best friends!
Do I have To Use Canned Cranberry Sauce?
Listen, I don't want you to use anything you don't want to. So if you'd rather make some cranberry sauce from scratch, and then use it in the turkey dinners, perfect! Feel free to add or omit anything you might not want or like in the assembly of the dinners.
Also, if packet gravy is not your thing, you could also use some chicken or turkey bone broth, and thicken it making a rue when you are making the meals. Freeze the gravy in an ice cube tray and when you're serving, you could easily heat a portion or two of gravy up as well.
So you see, the turkey dinner can be as convenient or involved in the prep work as you'd like to make it. I prefer to make things easier for me at the moment, and it's not as if I eat packet gravy or canned cranberry sauce every day. But you definitely know what's right for you and your family.
I just know you won't regret making these incredibly cute and handy make-ahead frozen turkey dinners!
When you make these individual freezer meals, I'd love to hear from you! Did you substitute anything? Did you put a twist on my recipe? I'm always looking to hear about different ways of ppl making things, so please reach out and let me know how it went!
And as always, thanks so much for stopping by The Salty Pot today, and I hope you have a really fantastic day!
**DON'T FORGET TO PIN THIS MAKE AHEAD INDIVIDUAL TURKEY DINNERS RECIPE TO YOUR FAVORITE PINTEREST BOARD TO USE FOR LATER!! **
Yield: 8 dinners
MAKE AHEAD MEALS: Individually Roasted Turkey Dinners
These super delicious Individually Roasted Turkey Dinners are perfect for busy weeknights! They give the flavors of a traditional turkey dinner, but are really simple to make, save you time, and are much cheaper than buying those commercially prepared tv dinners!
Ingredients
1 lb ground turkey (see notes)
1 boxed stuffing
1 can whole cranberry sauce
2-3 ribs celery, sliced
1/2 large onion, chopped
1 tsp garlic powder
1 1/2 tsp poultry seasoning
1 tsp onion powder
as desired, salt and pepper
butter for sauteing
Instructions
In a bowl, combine the ground turkey, garlic and onion powders, the poultry seasoning and salt and pepper. Mix well, cover and set in the fridge for now.
In a frying pan, melt the butter and saute the onion and celery until soft and the onion is translucent. Continue on to prepare the stuffing according to the directions on the back of the box. When the stuffing is made, set aside.
Open the cranberry sauce and in a bowl, break it up with a spoon so it's not in one large clump.

Assembly:
Notes
Instead of using ground turkey for this recipe, you can cook a portion of a turkey, like turkey breast or legs and thighs if you prefer dark meat.