Date paste is a great natural sweetener option to use in place of cane sugar that can add flavor to your favorite recipes with fewer calories, a lower spike in blood sugar, and a nutritional boost. Making your own date is easy and an effective way to make a healthy switch.
What Is Date Paste?
Date paste, (or, date puree) is one of the best natural sweeteners made from ground/pureed dates. Dates are naturally very sweet packed with antioxidants, and fiber. This makes dates a wonderful option for those that are looking a healthier, natural sugar to sweeten baked goods, smoothies, and other treats with less of an effect on blood sugar. While you can purchase it at many ethnic grocery stores, making your own date paste allows you to control the ingredients and save money.
What are the Best Dates to use?
Choosing the best dates for this recipe is easy. While there are many types of dates on the market, and honestly, they will all do well with this recipe, there are some preferred or favorites to use.
Medjool is the best variety of dates to buy because they are sweeter and larger than others with an almost caramel-like flavor that works amazingly well in most recipes. These have often been referred to as the king of fruits.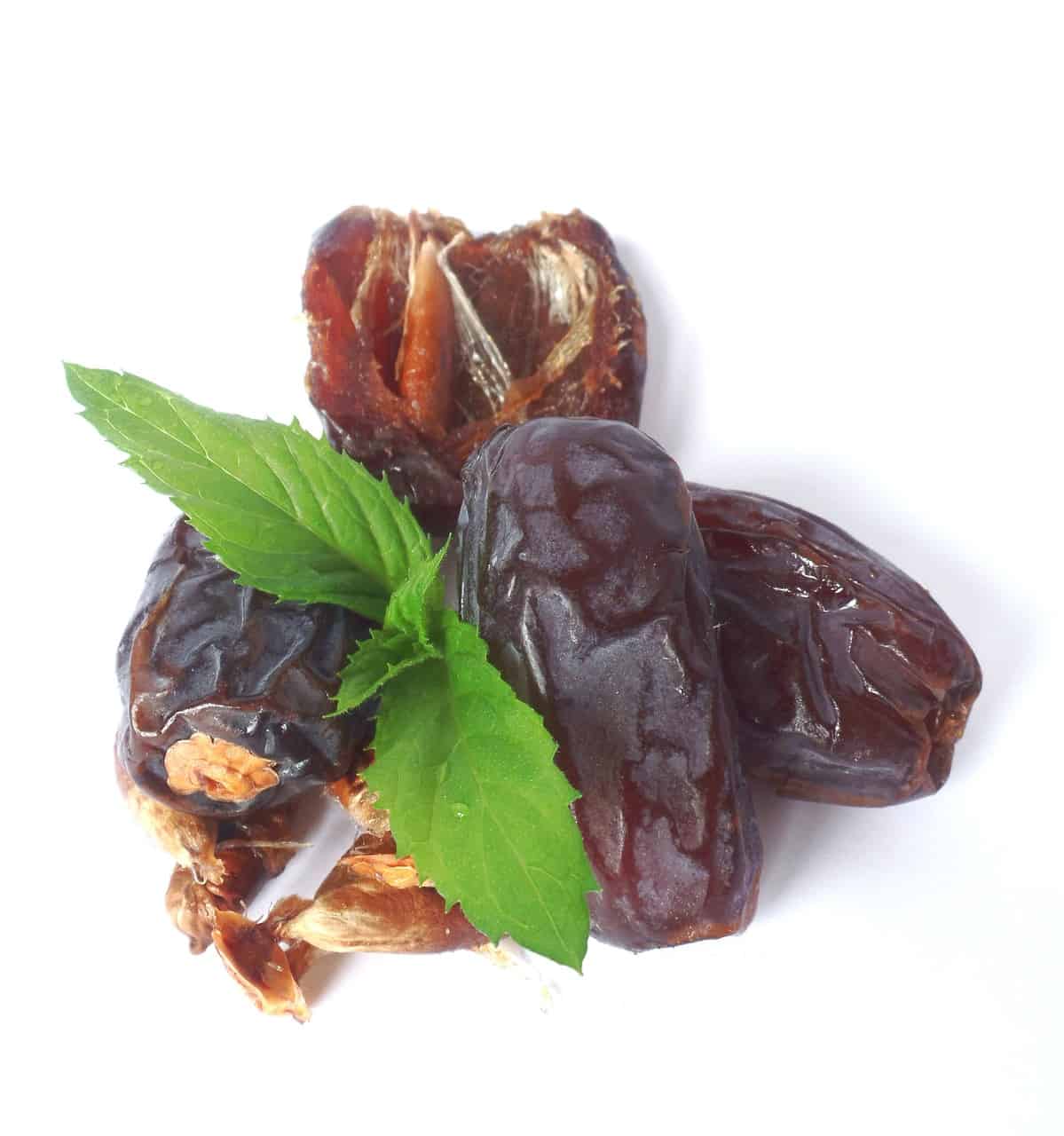 How To Make This Homemade Date Paste Recipe
Place about 20 dates into a pot and cover with water. Heat on the stove on a low simmer until the dates are very soft and can be squished with the end of a fork. This should take about 20 minutes.
Another good option is to simply pour boiling water over them to start soaking the dates and leave them overnight to rehydrate and soften.
After your dates have softened you can then drain off the water but be sure to save about a cup of the date water for the next step.
Move your dates to a food processor and slowly add back some of the water to blend for smoothest results and until you reach the consistency you desire. This can be a thinner paste or even a syrup perfect for putting into your coffee or it can be thick and sturdy making work a wonderful spread on toast or filling for date bars.
What Is The Difference Between Dates and Prunes?
Dates and prunes look similar when you see them at the grocery store but these two dried fruits are very different. Dates tend to be smaller and much sweeter than prunes making them more appealing to use in your baked goods. If your dates are not unpitted they will still contain a small pointed pit. While prunes are often used for sweetening they will not provide the sweetness dates can.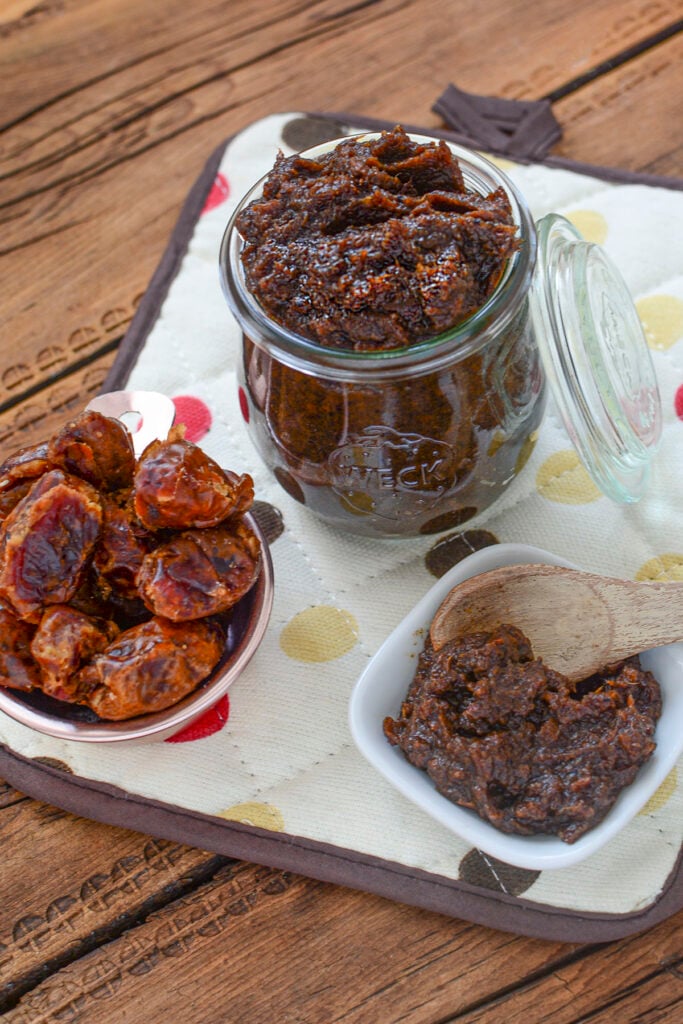 Ways How To Use Date Paste
Once you have made your date paste it is very easy to use as a sugar substitute in different ways. Date paste should be used in a 1-to-1 ratio in place of table sugar in your recipes. This means if you are making a cake with ½ cup of regular sugar you would use ½ cup of date paste as a substitute.
Date puree makes a wonderful healthy alternative to sugar for sweetening smoothies and other great treats. You can use dates to make date bars or other things like these Walnut Date Balls for a wonderful sweet treat packed with antioxidants. Dates are a wonderful healthy alternative to processed sugars.
I like to use it for simply sweetening my coffee or tea in the mornings. Also, try mixing a bit with peanut or other nut butter on toast, or mixing some paste into some greek yogurt with fruit.
You could also use it in savory ways like adding it along with other spices for a meat glaze for pork or chicken.
How to store date paste
Store your own homemade date paste in a glass jar inside your refrigerator until you are ready to use it. Your date paste will remain fresh in the refrigerator for up to a month.
If you would like to make larger batches and store them longer you can freeze your paste for up to a year.
I hope that you'll give this delicious date paste recipe a try. I think you'll love the idea of sweetening something naturally, with such a great nutritional benefit!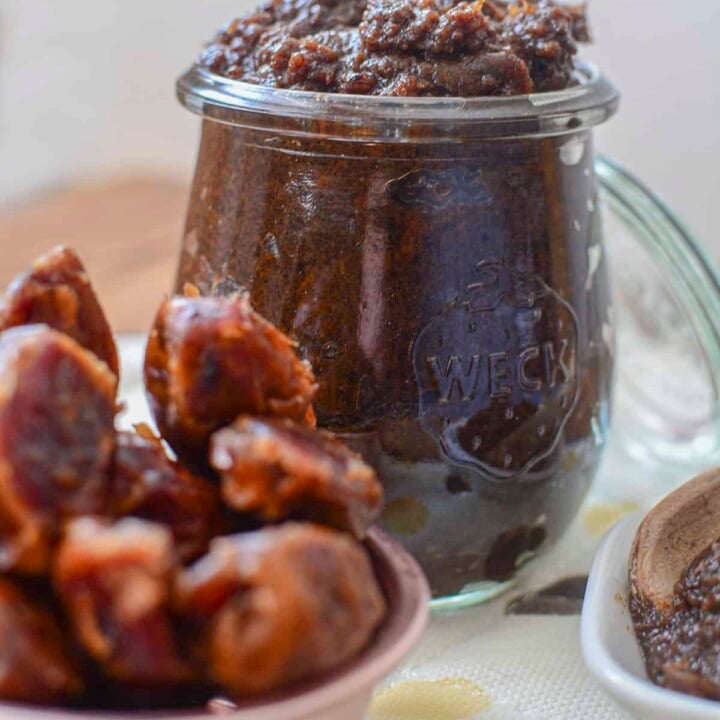 Homemade Date Paste Recipe
This date paste recipe makes a homemade sweetener that's perfect for almost any sugar substitute! Dates are not only nutritious but have a sweet caramel flavor profile which makes them so delicious!
Ingredients
20 dates, pits removed
2c water (or enough to cover the dates by about ½ inch)
Instructions
Place the dates in the saucepan.
Cover with water and begin to heat on the stove slowly.
Bring to a simmer and let them cook for about 25-30 minutes.
Using a fine mesh sieve or a cheesecloth-lined colander, drain the liquids away from the dates *reserving about 1 cup of the liquid*.
Transfer the dates to a food processor and puree the dates to the consistency you prefer. Use the reserved date liquid to loosen up the mixture by adding it in tablespoon quantities.
Transfer the date paste to a container and chill. Enjoy!
Notes
Medjool dates are the best ones to use but any date that is pitted will work for this recipe.
Instead of simmering them, you can pour boiling water over the dates, cover and leave overnight, then proceed to step 4.
Nutrition Information:
Yield:

20
Serving Size:

1 tablespoon
Amount Per Serving:
Calories:

20
Total Fat:

0g
Saturated Fat:

0g
Trans Fat:

0g
Unsaturated Fat:

0g
Cholesterol:

0mg
Sodium:

1mg
Carbohydrates:

5g
Fiber:

1g
Sugar:

5g
Protein:

0g
All nutritional information is based on third-party calculations and is only an estimate. Each recipe and nutritional value will vary depending on the brands you use, measuring methods, and portion sizes per household.