Cabbage is a pretty wonderful and versatile thing, isn't it? Tell ya what – make this instant pot sweet and sour cabbage and 'wonderful' quickly becomes 'AMAZING'!!
Instant Pot Sweet and Sour Cabbage Side Dish!!
Instant pot recipes are one my absolute favorites, and that's because they are so easy to make, and if you're in the mood to whip up a sweet and tangy side dish, this one's the perfect recipe to get started on. Cabbage is one of the healthiest veggies out there, and in this recipe, I've given it a super delicious twist!
Why Red Cabbage?
Wondering why this sweet and sour cabbage recipe specifically calls for red cabbage to be used, are ya?
Well, that's because even though they belong to the same family, red cabbage has added nutrition that the green one doesn't, believe it or not.
Not only does it contain more vitamin K & C than green cabbage, it also has a pigment known as anthocyanin, which gives it its red, pretty color and can also help protect against some nerve-related diseases!
Apart from being rich in nutrients and antioxidants, it has also been known to help fight inflammation in the body and strengthen the bones too.
BTW, if you're wondering how and why apple made it into the recipe, well, that's because apple adds in a touch of sweetness to the dish, and also gives it that extra nutritional boost.
Here's how to get started on it!
Ingredients
With just a handful of ingredients, this is one recipe you just can't go wrong with, and with its amazing taste, you'll be surprised at frequently you'll end up making it, for real.
To make this sweet and sour cabbage, you'll need:
one head of red cabbage

a small apple

balsamic vinegar

honey

and the juice and zest of oranges.
You might need more of the vinegar and orange juice to adjust the taste based on your preference, but these are the measurements I generally stick to.
Making it Right
Making the sweet and sour cabbage is super easy. Start by slicing the cabbage about ¼ inch in thickness and set it aside.
In another bowl, combine the orange juice and zest with balsamic vinegar.
If this mixture isn't 1 cup in measurement yet, you can add a bit of water in it to get it right.

Meanwhile, add the cabbage and apple to the instant pot, pour the liquid in and use manual pressure to cook it for 5 minutes.
Drizzle some honey over the top of the cabbage and mix. That's it. It is all done and ready to serve.
A Bit O'History on the Cabbage!
Red cabbage has gone back in history to the 1500s!!! Can you believe that???
I don't know if they knew how healthy red cabbage (or even just cabbage in general) can be, but it really is an amazing veggie! Low in calories, this recipe is perfect for those trying to keep their weight in check, or even for those following a low carb diet.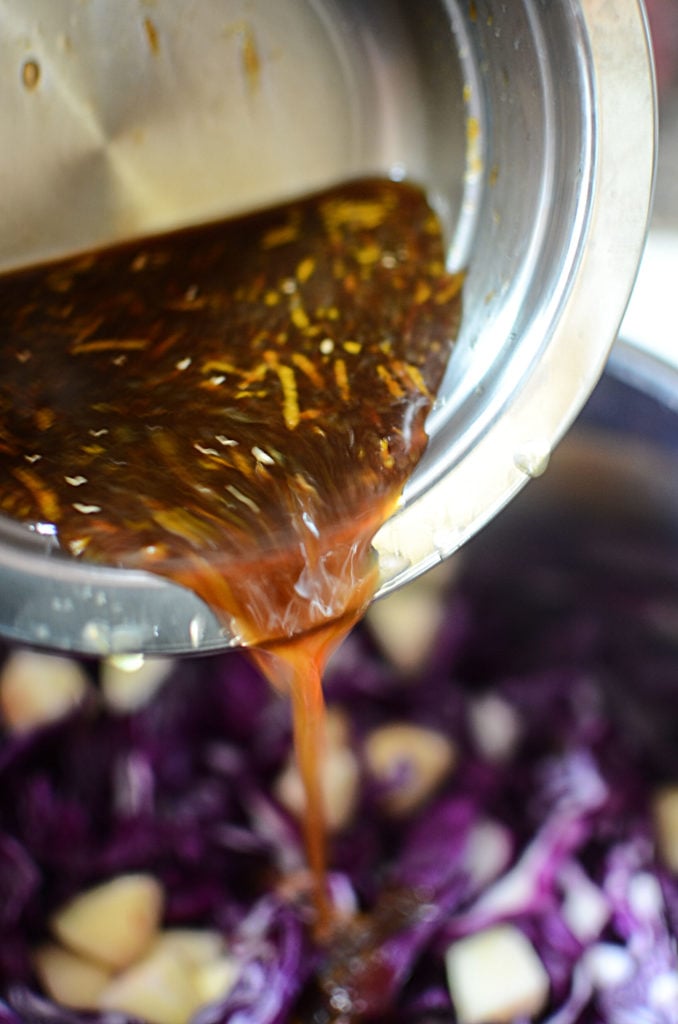 Now, if you're looking for more Instant Pot and cabbage recipes, I made Instant Pot Lazy Cabbage Rolls, (or, Unstuffed Cabbage Rolls), which are TOTALLY amazing. Plus I also have a super yummy Instant Pot Corned Beef and Cabbage recipe that is DIVINE!!! (and I'll just add, super easy!)
Incidentally, if you're not too terribly comfortable working with your Instant Pot, I have put together a Little Guide To Using Your Instant Pot that might help you feel more at ease about using it.
I think that once you start using your pressure cooker a lot more, you'll really find out how much it takes the 'heavy lifting' off your hands in terms of cooking.
Once you get used to working with it, you can make all sorts of different meals like Instant Pot Taco Tortellini Casserole, and Instant Pot Campfire Chili Recipe. Or, how about some yummy Instant pot Sweet and Sour Meatballs?
Any of those dishes will be perfect for a quick, come together plate to go on your table!!
Side Dishes For This Sweet And Sour Cabbage:
You could try a Salt and Pepper Porkchop that would compliment the sweet and sour flavors of the cabbage
Also, a one-pan meal for Smoked Sausage and Potatoes would pair nicely with the Sweet and Sour Cabbage!
Ok, well my lovelies, I hope I've convinced you to give this delicious sweet and sour cabbage recipe a try! Oh! BTW, it's also SUPER economical! Bonus, right??
When you try it, please let me know what you thought by leaving a comment below, or shoot me an email at joanne@thesaltypot.com!
As usual, thank you so much for stopping by The Salty Pot today, and I'll see you here in the next post! Have a fantastic day!!
Instant Pot Sweet and Sour cabbage
Beautiful red cabbage cooked tender in the instant pot with amazing citrus and tangy flavors! This Instant Pot Sweet and Sour Cabbage will be a favorite for weekly dinners!
Ingredients
1 small head of red cabbage
1 apple, peeled
2 oranges, zested and juiced
2 Tablespoons of balsamic vinegar
1 Tablespoon of honey
Water to make up the cup of water if needed.
Instructions
Slice the cabbage up in ¼" thickness. Set aside.
In a separate bowl, add the juice and zest of two oranges, and the balsamic vinegar. Add extra water to bring the measurement up to one cup of liquid if the orange juice and vinegar doesn't make it.
Add the cabbage and apple to the instant pot insert and mix it together well.
Pour the liquid over the cabbage, give it a mix.
Place the lid on the pot and move the toggle switch to 'seal'.
Press manual pressure for 5 minutes.
After cooking time is up, do a quick release. Remove the lid away from your face.
Drizzle the honey over the top of the cabbage and mix.
Transfer to a serving bowl, drizzle any pot juices over the cabbage if you'd like *optional step
Serve and enjoy!
Notes
Use the freshest red cabbage you can find.
Taste the cabbage after cooking and before serving to adjust for sweetness and tang. If you prefer more of a tang add more balsamic vinegar but only a few teaspoons at a time. It's very powerful!
Nutrition Information:
Yield:

6
Serving Size:

1 cup
Amount Per Serving:
Calories:

80
Total Fat:

0g
Saturated Fat:

0g
Trans Fat:

0g
Unsaturated Fat:

0g
Cholesterol:

0mg
Sodium:

31mg
Carbohydrates:

20g
Fiber:

4g
Sugar:

14g
Protein:

2g
***DON'T FORGET TO PIN THIS INSTANT POT SWEET AND SOUR CABBAGE TO YOUR FAVORITE PINTEREST BOARD!***