You know those days when you're craving hot wings, but you're too lazy to put on pants and go in public? Yeah, I had one of those days last week. So to satisfy my craving and not have to "people", I made this instead – Crispy Buttery Buffalo Baked Chicken. Make this now and you can thank me later 😉
Crispy Buttery Buffalo Baked Chicken
Let me tell you something. It was so amazing!! I mean, don't get me wrong, I made some really tasty, crispy baked chicken the other day using homemade seasoned breadcrumbs, …and THAT was incredible, but wow!!! This chicken recipe made a buttery and spicy, crispy yet still juicy chicken roasted until it's all pretty and gorgeous!
This is so seriously easy to make, and seriously easy to eat! You could side these delectable buffalo butter chicken pieces with some carrot and celery sticks with ranch dressing if you really wanted more of a pub experience. But honestly, a side of fries, or even hash browns would be perfect. AND.. get this!!! – If you're following a low carb diet or a keto diet way of eating, try these Low Carb Hash browns I made! They are sooo good and would be perfect with this chicken!
How to make this amazingly tasty Buffalo Chicken:
I started with chicken thighs and legs, basically because those are my favorite pieces of the bird and I find the pieces that retain most of their lovely juiciness when cooked. (Usually, I'd think it's weird to mix the words lovely and juicy in the same context, but here, it fits.) Season them up with seasoning salt (or regular salt is fine), garlic powder and pepper – (optional). Put them in the oven to bake at 350 for about 35 minutes.

The Butter part of the Buttery Buffalo Chicken: (Yum!!)
Now comes the exciting part. In a bowl, melt a few tablespoons of butter. You NEED to use butter here because nothing else will compare or measure up to the taste of it. So if you have margarine, put the chicken away till get you to buy some butter. Lol. OR.. you can always make your own butter, as I did here, in about 5 minutes if you have some whipping cream hanging around! HOMEMADE butter is the crème de la crème (cream/butter.. see what I did there?) of all butter!!
Ok, back to it. Melt the delicious butter. Add the hot sauce. Now, word of caution here – the butter doesn't temper the hotness of the hot sauce, so only use what you think you can handle. I prefer the spicy vinegar sort, like Franks Red Hot or others like that, and I only use a few teaspoons for a quarter cup of butter, but if you like the super-hot, fire up your insides until they melt, then by all means, use your favorite sauce and as much as you want!
3 B's: Basting the Buffalo Baked Chicken:
In the last ten minutes of baking, the skin should be crispy and nice. Begin basting the chicken. Brush the sauce all over the chicken. Bake the chicken for a few more minutes or until the skin starts to get crispier and the sauce is snuggling up onto the chicken. Flip it over, brush on more sauce, and again, bake it until it crisps up more. Lastly, take the buttery chicken out, flip it back over again, and SLATHER what is left of the sauce on the top of the chicken. Put it under the broiler to REALLY get its crisp on! Watch it like a hawk people, because it will go from crispy to burny in seconds.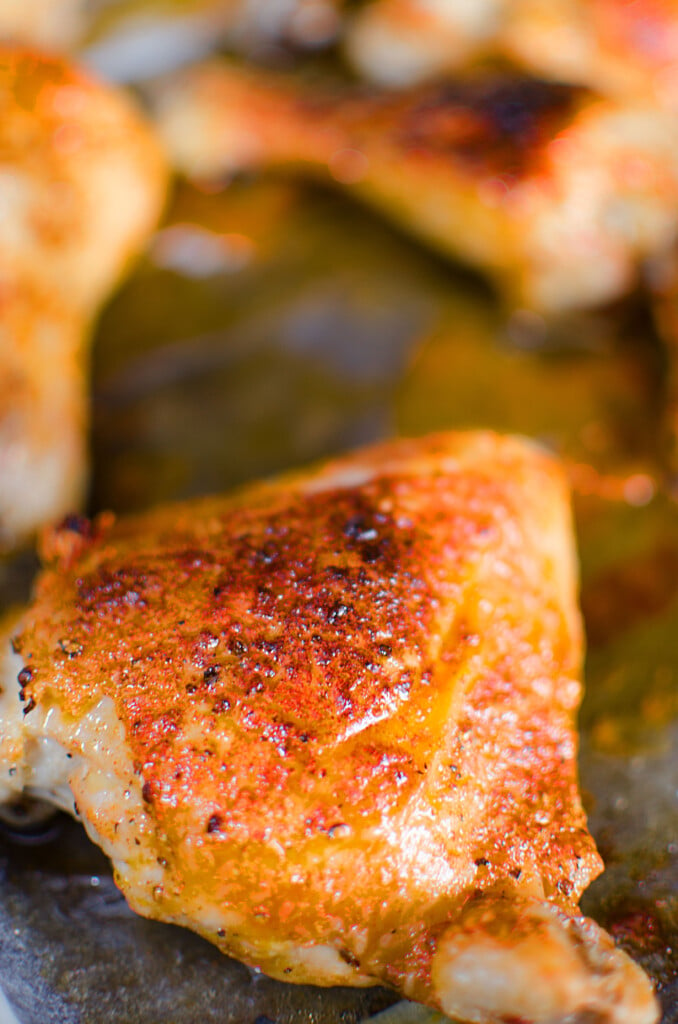 Take it out the crispy buffalo baked chicken when it's done and let rest for about 3 – 5 minutes. Trust me, it will still be hot and delicious, you just want the inside juices to relax and redistribute through the chicken pieces.
So when you've tasted this amazing Crispy Buttery Buffalo Baked Chicken, you will see how ridiculously easy it is to quell that hot wing craving without even having to put your pants on. However, I'd suggest you do, even if it's just for the cooking part of this. More protection that way.
Happy Eating!
Crispy Buttery Buffalo Baked Chicken
Crispy, buttery, buffalo baked chicken is one of those chicken dishes that remind you of good ole pub food. Like buffalo wings? You'll love this chicken.
Ingredients
4 chicken legs
4 chicken thighs
2 Tbsp. hot sauce
½ c Butter, melted
1 teaspoon garlic powder
as desired seasoned salt & pepper
Instructions
Preheat oven to 350
Season chicken pieces with salt, pepper and garlic powder
Bake in the oven for approximately 35 minutes
In a bowl, mix together the butter and the hot sauce
remove the chicken from the oven and baste with the butter mixture
return to the oven for 5 - 6 minutes.
remove from the oven again, turn over and rebaste. Bake again for another 5 – 6 minutes
Lastly, remove from the oven, baste with remaining butter mixture, and broil in the oven until it gets very crispy. Remove and let rest for 5 minutes. Serve and enjoy!
Nutrition Information:
Yield:

4
Serving Size:

1
Amount Per Serving:
Calories:

961
Total Fat:

64g
Saturated Fat:

26g
Trans Fat:

1g
Unsaturated Fat:

33g
Cholesterol:

555mg
Sodium:

738mg
Carbohydrates:

1g
Fiber:

0g
Sugar:

0g
Protein:

93g
All nutritional information is based on third-party calculations and is only an estimate. Each recipe and nutritional value will vary depending on the brands you use, measuring methods, and portion sizes per household.
**OH! DON'T FORGET TO PIN THIS CRISPY BUTTERY BUFFALO BAKED CHICKEN TO YOUR FAVORITE PINTEREST BOARD TO MAKE IT EASY TO USE FOR LATER!!**