Showing you how to cook frozen ground beef in the Instant Pot is easy peasy!
It's a simple matter of timing. Knowing how to get your hamburger ready for a recipe in record time takes so much frustration out of preparing dinner when you're in a hurry.
This post may contain affiliate links. If you make a purchase after clicking a link, I may earn a small commission AT NO COST TO YOU. As an Amazon Affiliate, I earn from qualifying purchases.
Cooking Frozen Ground Beef In Instant Pot
Knowing how to defrost mince (or ground beef) in the Instant Pot is so simple, that you will see how versatile it is. You are going to want to save these directions to use OVER AND OVER again, I promise! Okay, time to get into the details!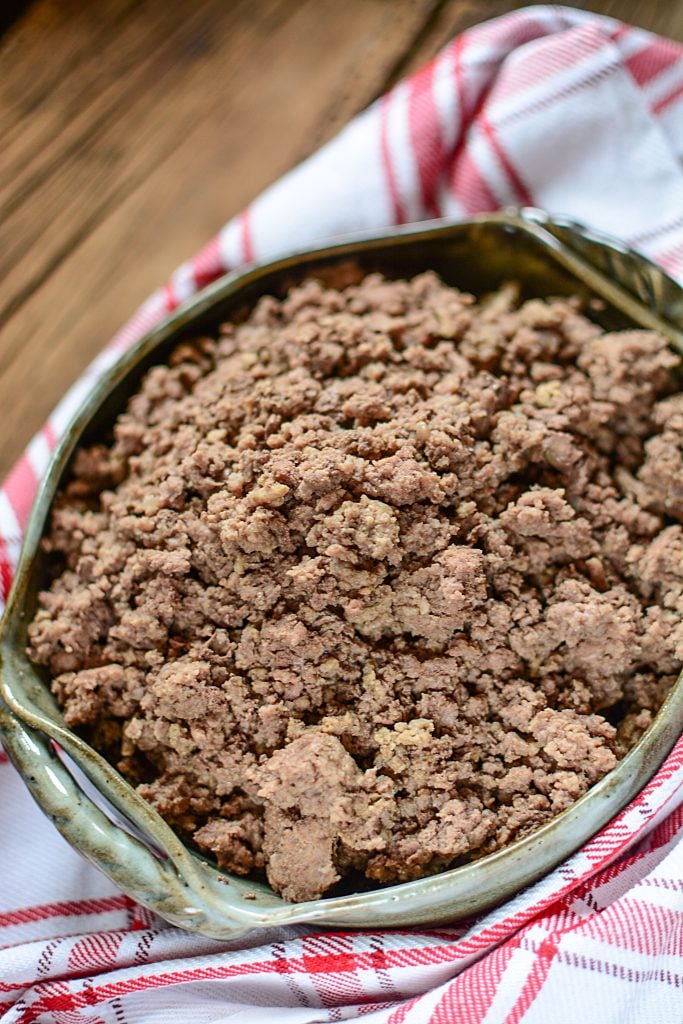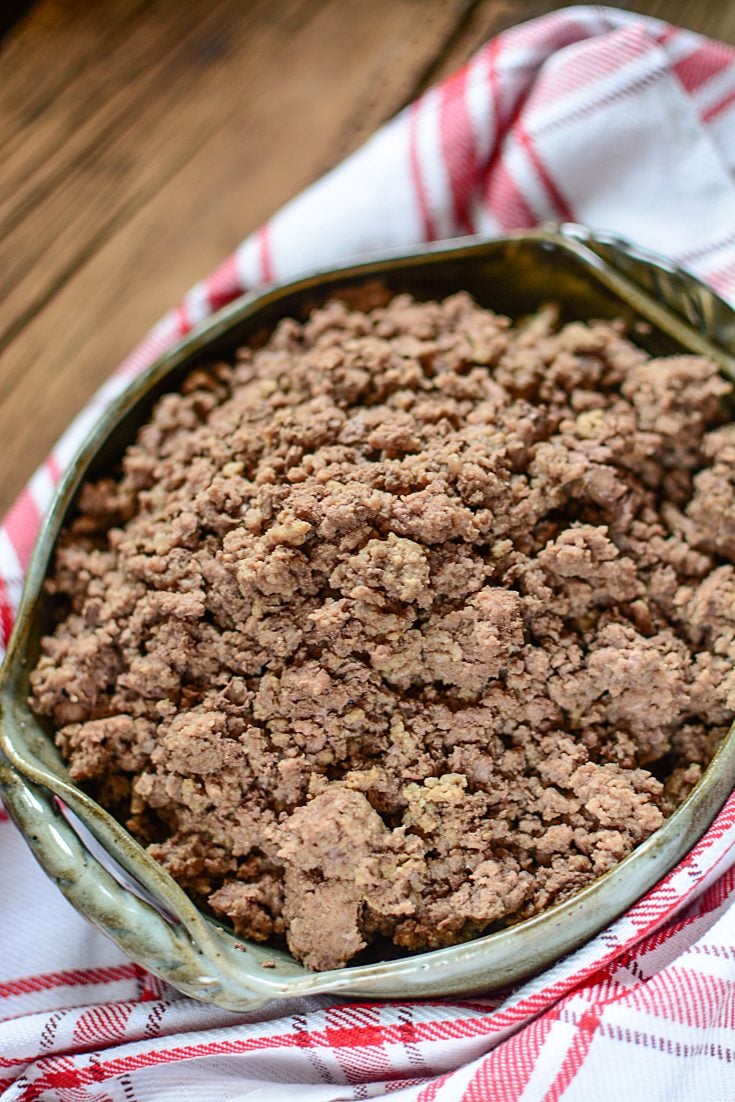 Why Cook Ground Beef In A Pressure Cooker?
When I cook the ground beef from frozen, it is so fast and straightforward to do. Once in a while, I am not great at planning ahead and deciding at the last second what to make. This causes problems when the hamburger is frozen solid!
Placing it in the fridge takes overnight to defrost it, microwaving the meat sometimes ends up half thawed and half-cooked, and it's really not safe to just leave it on the counter to thaw, so pressure cooking it cuts out all that extra waiting time.
There are other reasons to cook ground beef in a pressure cooker. One of my other favorite reasons besides thawing and cooking quickly is that the hamburger becomes so tender and is extra juicy. That flavor is hard to beat and makes all my recipes taste awesome!
SO EASY!!!!
FYI: If you're looking for an alternative way to thaw and cook frozen ground beef not using the Instant Pot, this tutorial teaches you how to thaw it using a stovetop method.
Shopping For The Perfect Ground Beef
When you go to the market, and you see the hamburger section, it can be so overwhelming with all the choices. It's like a field of options and if you don't understand what all of it means you won't know which way is best for you.
Here is a breakdown to help guide you through the ground beef buying process:
Regular Ground Beef – It can have up to 30 percent of fat content in it.
Medium Ground Beef – The fat content in medium ground beef is not allowed to have more than 23 perfect fat.
Lean Ground Beef – When making lean ground beef, it can't be more than 17 percent fat content.
Extra Lean Ground Beef – This has the least amount of fat content and isn't more than 10 percent.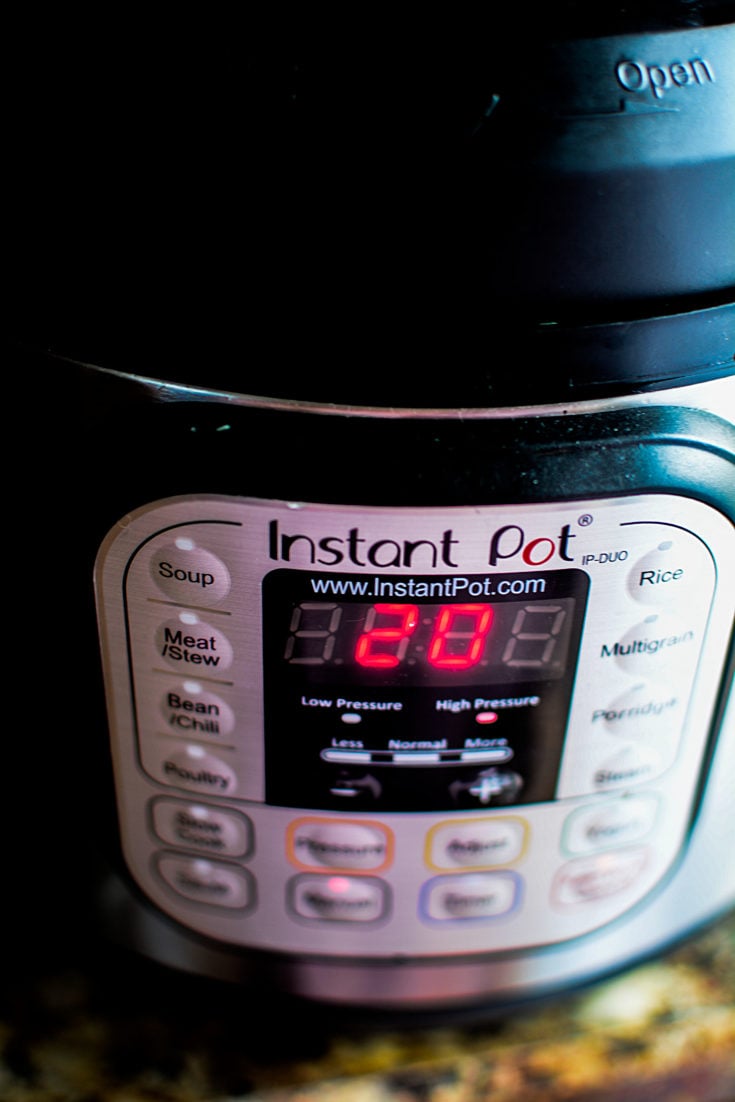 The choice of ground beef that you buy will depend on your preference for fat content. Low carb / Ketogenetic lifestyle followers will choose a higher fat content ground beef, whereas those who are following a lower-fat diet will obviously choose something closer to the lean or extra lean category.
A higher fat content usually results in more flavor, as the old adage goes "Where there's fat, there's flavor". So most people will use more added seasonings to season up the lower fat ground beef.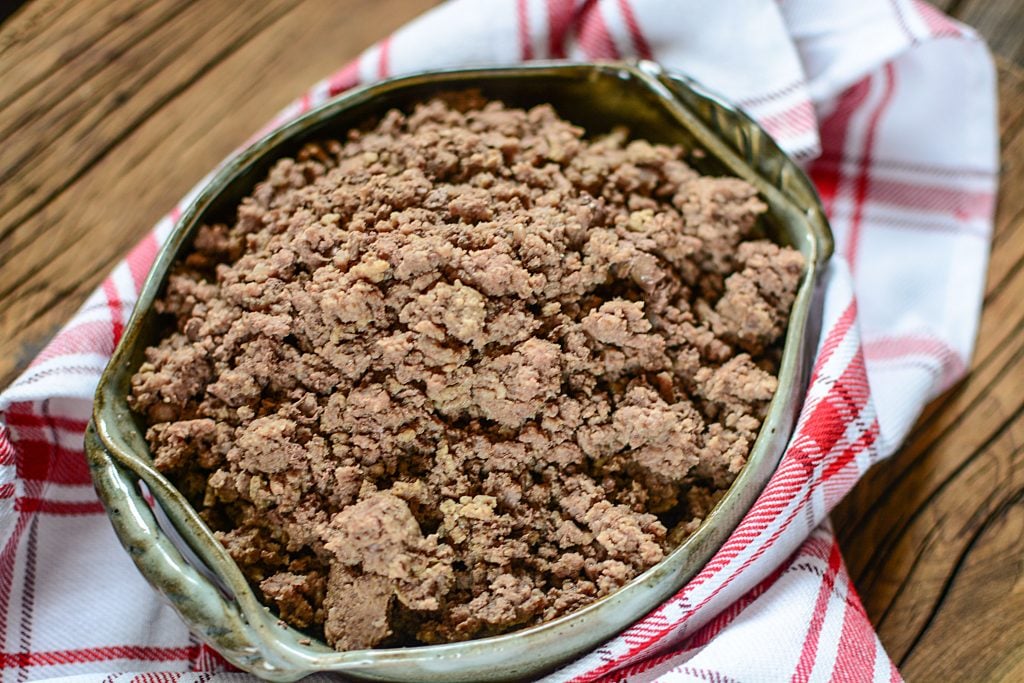 Grass-Fed vs. Grain-Fed Beef
There are a lot of details involved when it comes to understanding the differences between grass-fed and grain-fed cows. The basics are that grass-fed beef is typically more expensive, but it is much healthier to eat. It's filled with vitamins like B6, vitamin E, and vitamin A. The cows start their lives by drinking milk from their moms and grazing on grass and other edible plants.
Grain-Fed beef is much less expensive but doesn't have the antioxidants and vitamins that grass-fed does. Grain-fed beef do eat grains and gets growth hormones. It's basically up to you which one you prefer to eat.
What Can I Make With This Instant Pot Ground Beef?
That's the beauty of cooking this meat in the Instant Pot this way. After the meat is browned, the world's your oyster! (haha.. like food pun?)
You can use this beef for anything you need cooked ground beef for! You could make:
Instant Pot Lazy Lasagna
A quick Beef and Broccoli dish
Beef and Barley Soup
Easy Beef Mac n Cheese
If you are looking for more meats you can cook from frozen you should also try this shredded beef from frozen recipe. Not only is it handy, but mouthwatering as well!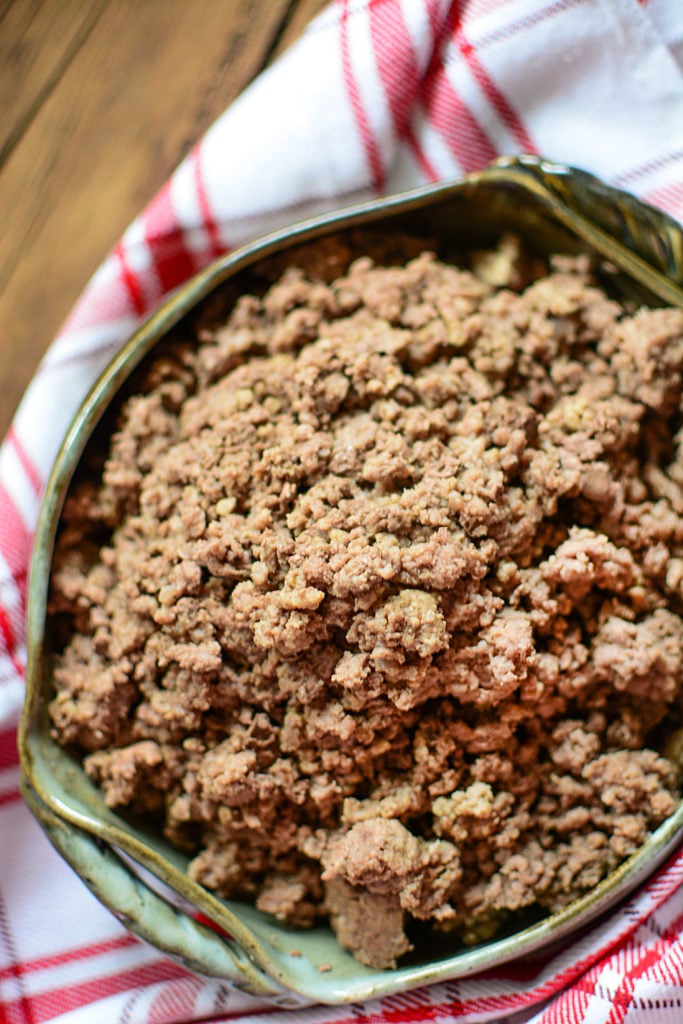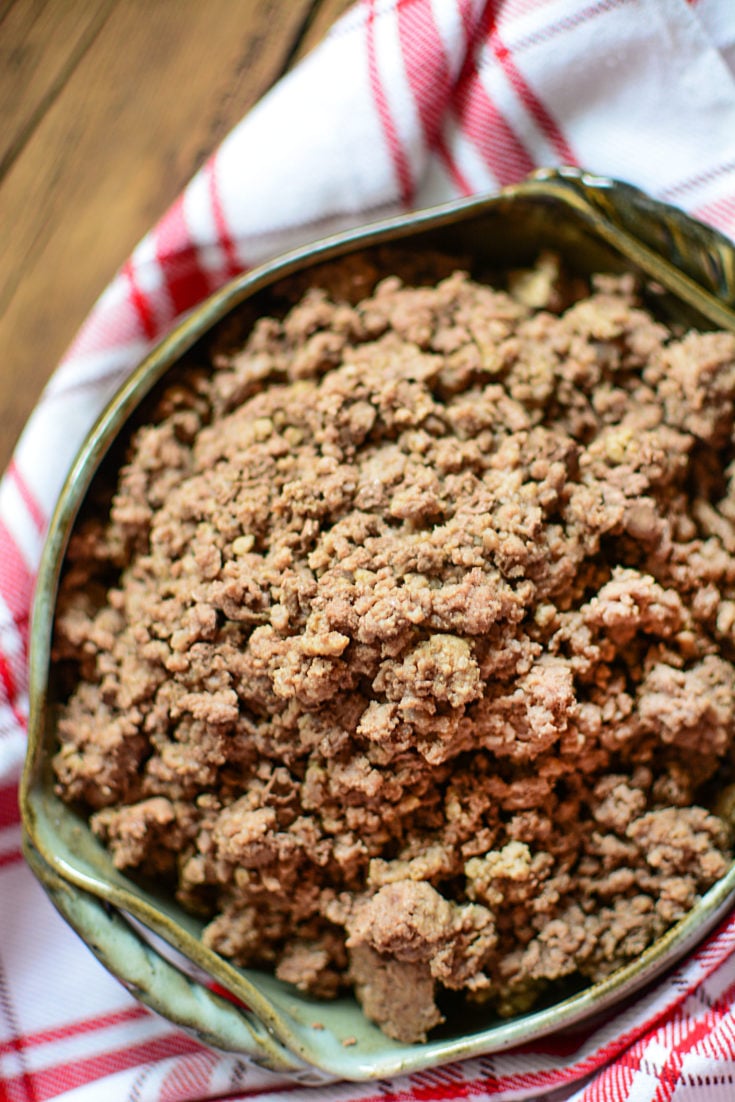 Are you new to Instant Pot pressure cooking? Are you a little hesitant about working with it? Check out my Instant Pot for Beginners Guide to help you feel a little more comfortable around the appliance!
Also, are you looking for more Instant Pot Recipes? Try these scrumptious recipes to add some extra flavor to your life.
I hope this answers your question on how to defrost ground beef. I love the Instant Pot for the "fast" factor on getting dinner together lickety-split!
How To Cook Frozen Ground Beef in the Instant Pot
Yield:
2 lbs cooked ground beef
A super-easy way to have cooked ground beef when you don't have time to let it thaw. Instant Pot cooked ground beef lets you get a jump on dinner when you need to save time!
Ingredients
2 lbs ground beef *see notes
1c water or broth
as desired, salt (optional)
Instructions
Place to ground beef into the Instant Pot
Add the water/broth
Place the lid on and move the toggle switch to 'sealing'
Press manual high pressure for 20 minutes
When cooking time is done, carefully move the switch to "venting" and do a quick release
Remove the lid and either drain the beef of the pot liquid or press saute to evaporate the pot liquid. (Or keep the pot liquid if it works into the recipe you are making)
Alternatively, cool the beef and then divide into specific portions to freeze for later use.
Notes
The instructions are the same if you are using 1 pound of ground beef. You will just have a higher pot liquid ratio to ground meat for the end product.

Adding salt is optional and will depend on the recipes you are using the browned beef for.
Nutrition Information:
Yield:

8 servings
Serving Size:

¼ cup
Amount Per Serving:
Calories:

319
Total Fat:

20g
Saturated Fat:

8g
Trans Fat:

1g
Unsaturated Fat:

9g
Cholesterol:

102mg
Sodium:

220mg
Carbohydrates:

1g
Fiber:

0g
Sugar:

0g
Protein:

31g
***PIN THIS INSTANT POT GROUND BEEF FROM FROZEN PIN TO YOUR FAVORITE PINTEREST BOARD TO USE LATER***