3 Cheese Tortellini Alla Panna is rich and decadent, yet incredibly easy to make, and will easily impress anyone you serve it to.
The tender and cheesy pasta, mixed with the saltiness of the diced ham that's offset by the rich creamy sauce hits all those points that make this dish blissful. The best part is that it will be on the table in under 30 minutes.
This post may contain affiliate links. If you make a purchase after clicking a link, I may earn a small commission AT NO COST TO YOU. As an Amazon Affiliate, I earn from qualifying purchases.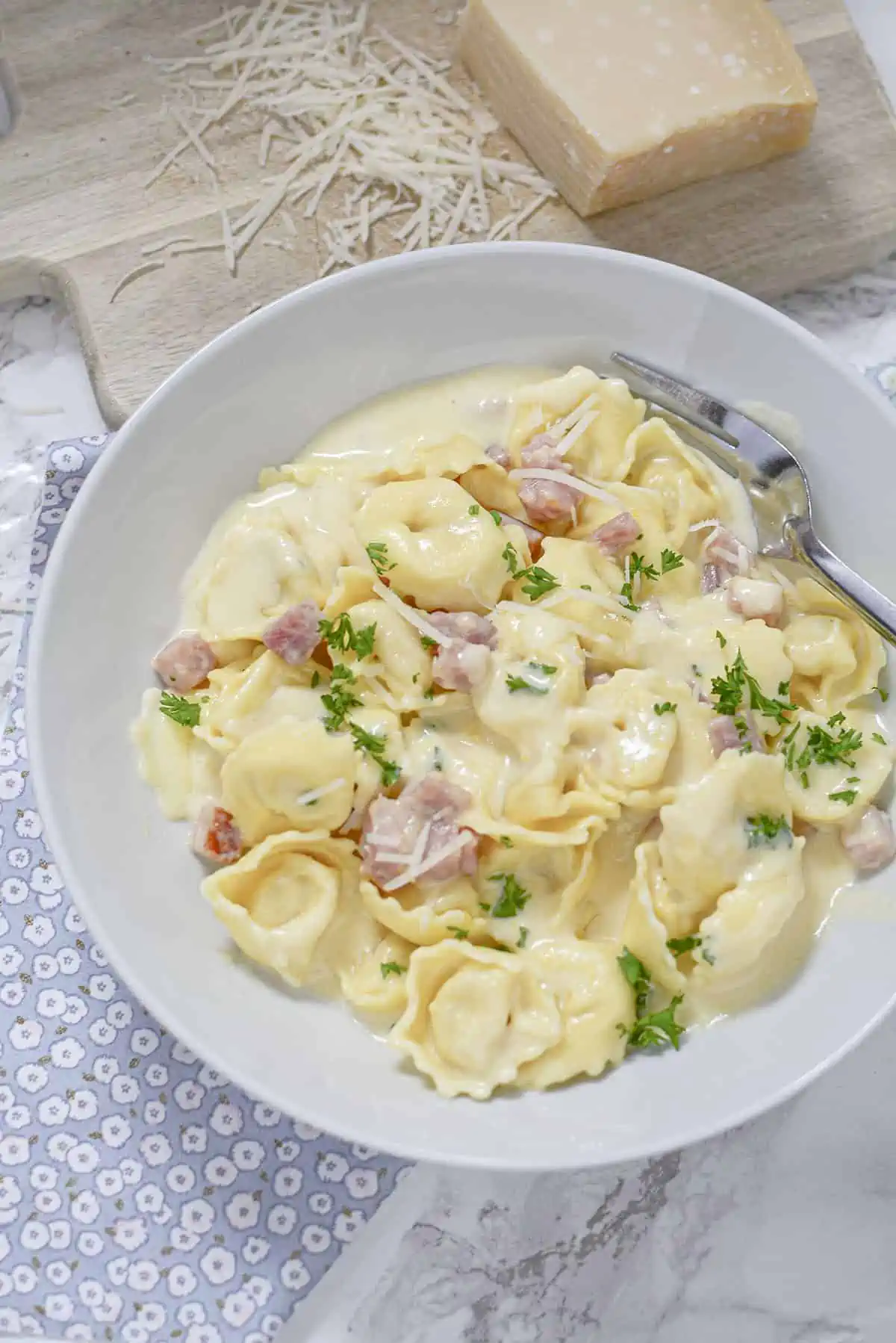 Why I think you'll love this Tortellini Alla Panna with Ham
First of all, it's really simple to make. It tastes like it's a higher-end complicated recipe, but it's definitely not. And that's why it will become a 'GO TO' for when company comes over!
The ingredients are super easy to find. In fact, I got all the things I needed from Walmart. Not sponsored, but just shows how easy it is to get what you need for this pasta recipe.
It's super easy to change up and make your own. Read below and I'll show you all the different possibilities!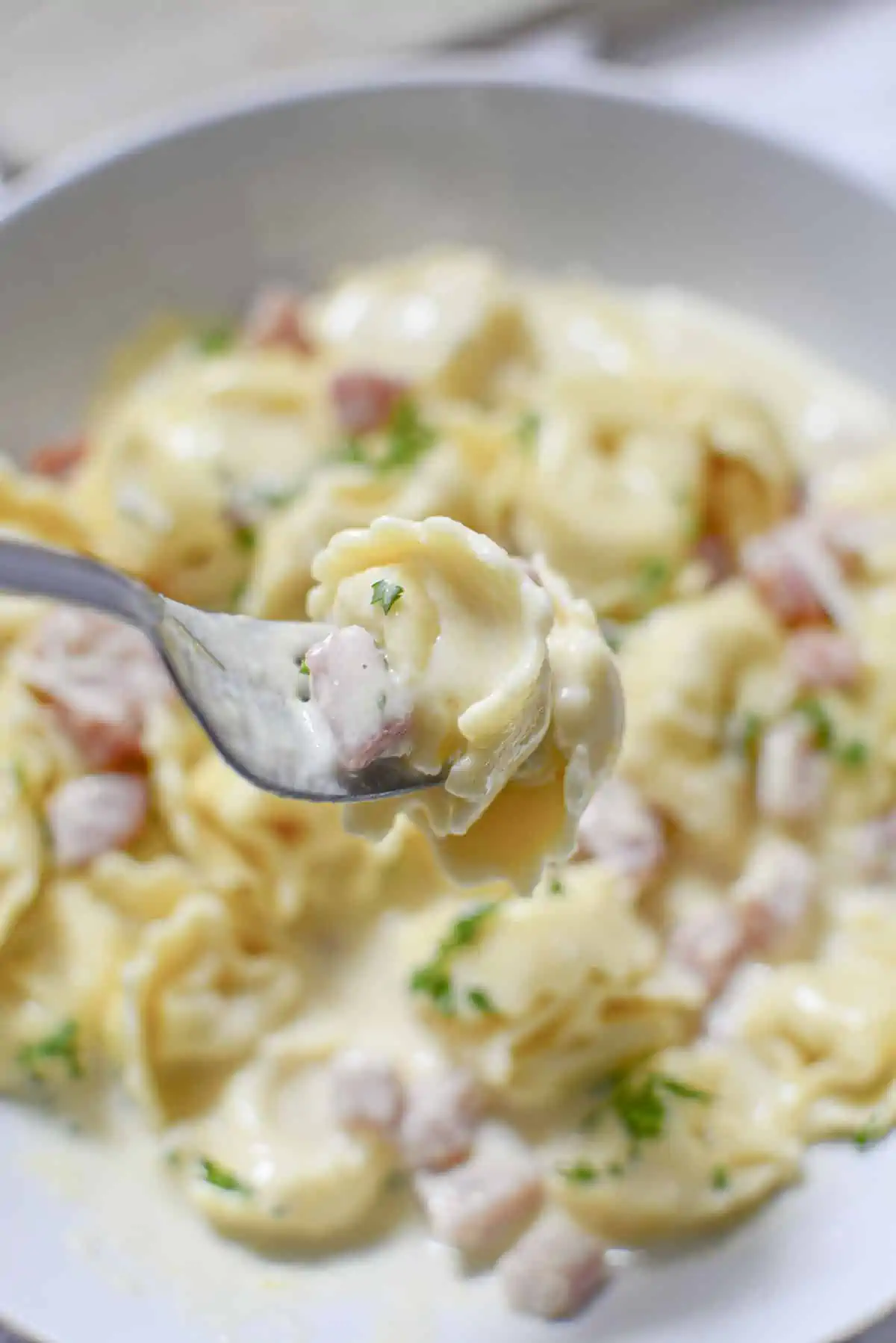 Ingredients You'll Need
Traditionally, all you need for this pasta recipe is the first three ingredients listed, but I like to bring a twist to things!
Tortellini – I used fresh tortellini from the store. If you're like me and always got tortellini and ravioli shapes mixed up, this short article spells out the differences.
Cheese – I used a mixture of Parmigiano Reggiano because that's what I had on hand and it works well. Traditionally, you want to use purely Parmigiana cheese, but I've also used Grana Padano cheese as well.
Cream – Heavy Whipping cream is what brings incredible richness to this recipe. You could save calories and go with a lighter cream (18%) but it may affect its thickening ability and the sauce might be a bit thin.
Ham – I used a bit of ham steak that I had on hand and cut it into tiny cubes to add in, but if you want more authenticity, try adding prosciutto to the dish instead.
Chicken Broth – *Optional. I didn't have a lighter cream on hand, so I used just a touch of chicken broth. You can leave this out, or, if you find the sauce is too thick for your liking, add a bit of reserved pasta water.
How To Make This Creamy Pasta Recipe
Get the tortellini on to boil according to the package instructions. Drain it one minute short of the cooking time instructed, and set it aside.
While the pasta is cooking, saute the ham until heated through.
To start making the alla panna sauce, add the cream and broth and bring to a simmer.
Start adding the grated cheese in increments and stir it into the sauce, adding more after the first amount melts.
Add the freshly cooked tortellini into the sauce and stir gently, covering all the pasta with the sauce.
Add extra broth if the sauce is too thick for your liking.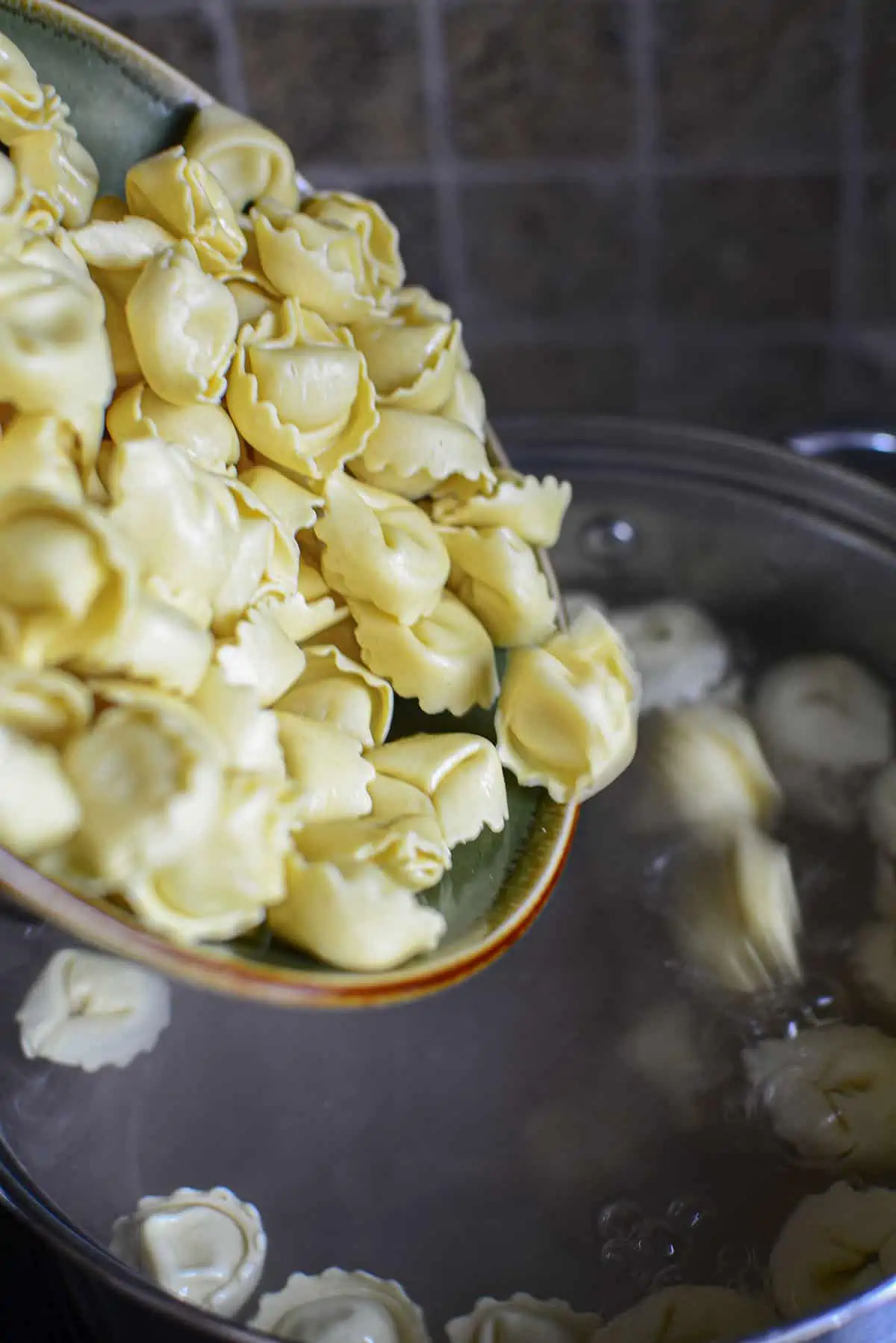 **The recipe card linked below gives exact amounts, directions, hints, and tricks for making this creamy pasta recipe perfect every time.
Putting Your Own Twist On This Recipe
You might want to put your own spin on this recipe after you've made it a few times. Here are some really great ideas on how to do that exact thing!
Frozen Peas: I've added peas a few times to this Tortellini Alla Panna and it's a wonderful addition. Toss them in when you add the tortellini back to the sauce to thaw and heat through. They add a wonderful fresh component to the dish that's delicious.
Asparagus: Adding some asparagus would be incredible with this alla panna meal. Quickly blanch or microwave some cut asparagus and add it at the end when you add the pasta. A quick and easy way is to throw it in the cooking water of the pasta for two minutes before you drain it.
Different Tortellini: I used a 3 cheese variety of tortellini but you can use meat-stuffed tortellini in its place. If you were to use a beef stuffed tortellini, I would forgo using the ham and leave it out.
Different Cheeses: I mentioned earlier that you can switch up the cheese varieties. If parmesan is too pricey at the moment, you can use Pecorino Romano. It's a similar cheese in texture and flavor, but is a sheep cheese and often less expensive, but just as delicious! Asiago would also be a great substitute.
Mushrooms: Adding mushrooms would bring a beautiful earthiness to the flavors of the dish. Slice them up and add them to the pan with the ham. (Note: If you're using a cremini or darker mushroom with dark gills, they will discolor the sauce. Use white button mushrooms or even canned to preserve the creamy color of the sauce.)
Garlic and Onions: Personally, I prefer to keep these out of the dish, but a friend of mine has used them and swears that it brings a wonderful depth of flavor! I say go ahead if you want to put a twist on it!
Make it Spicy: Adding a sprinkling of red chili flakes would definitely switch it up! Be careful not to add too much so that it overpowers the rest of the flavors.
Lemon Zest: I've added lemon zest to the sauce once and it was great! The zest added a brightness to the dish that was loved.
Incidentally, if you end up buying tortellini and have some leftovers that you haven't used, this recipe for Beefy Tortellini Mac and Cheese or Instant Pot Taco Tortellini are some of the best ways I know to use it up!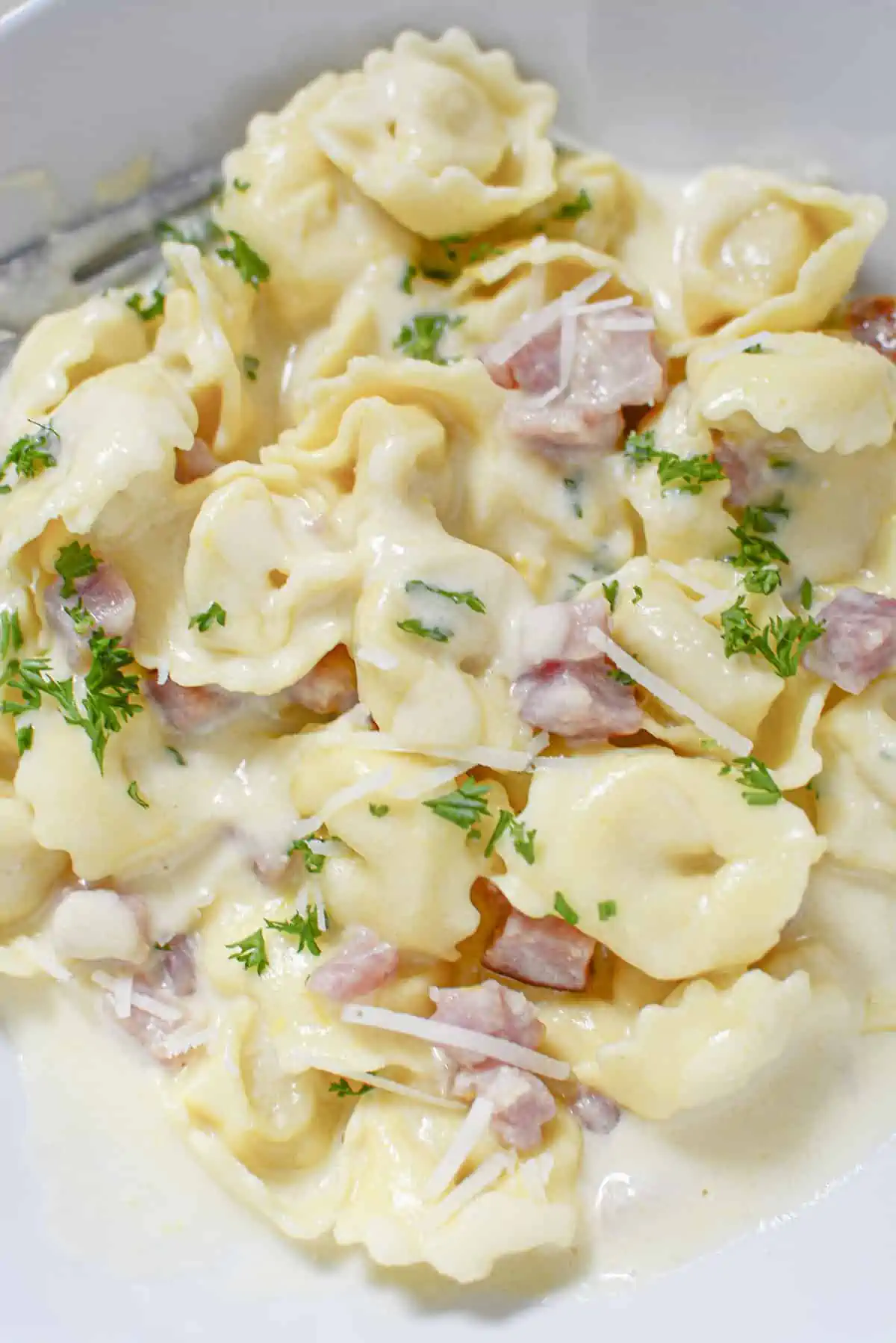 Dealing with the Leftovers
IF, and I literally mean IF you have any leftovers for this delicious creamy pasta, store it in the fridge, covered, for up to 4 days.
When you reheat it, you might find that the sauce is SUPER thick, almost like a paste. Simply add some hot broth or milk in small increments to help loosen it up and get it soft and velvety again.
I haven't tried freezing the leftovers but I'm not sure how they would fare. I think you would still have the thick sauce that would need milk added again to make it saucy again upon thawing. Just be sure to cover the leftovers in an air-tight container in the freezer and they should stay nice for up to a month.
Questions you might have
Can I use Frozen Tortellini?
Absolutely! Just cook it a bit longer than if you bought fresh tortellini. Most likely, the cooking directions will be on the back of the bag.
Can I use Ravioli instead?
Absolutely. The flavors would be very close but ravioli would be larger, and I feel a bit more dense in comparison to tortellini. I like to use tortellini because it has a lot of nooks and crannies to hold the sauce!
What is the meaning of "Alla Panna"?
Alla Panna translates to "with Cream". So the English translation would be "tortellini with cream sauce".
Thank you so much for stopping by The Salty Pot today! If you've made this recipe, please leave a comment and a rating below, I'd love to hear from you! Have a fantastic day 🙂
~Joanne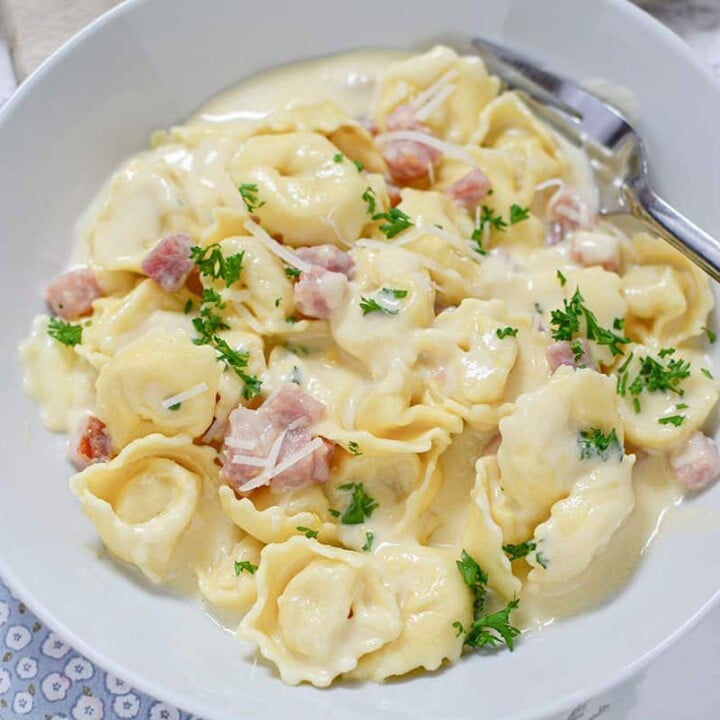 Tortellini Alla Panna
Incredibly rich and delicious, this Tortellini Alla Panna recipe is heaven in a bowl. Made with ricotta tortellini, cream, butter, and parmesan cheese, this easy pasta recipe will be on repeat because it's SO delicious.
Ingredients
16 oz of cheese tortellini (can also use cheese and spinach) (just not meat)
6 oz Ham steak, cubed small, about the size of a pea. *see notes below
1.5 cups parmesan grated
¾ cup chicken broth *see notes below
1 cup heavy cream
salt and pepper as desired
Butter or Oil for frying.
Parsley garnish.
Instructions
1. Boil the tortellini according to the package directions in salted water.
2. While the tortellini are cooking, begin making the sauce. In a skillet, melt
the butter or oil. Add the diced ham. Sauté to heat through, approximately 2 minutes.
3. Add ½ c of broth and the heavy cream. Bring to a low simmer. Season with
salt and pepper.
4. Add the shredded parmesan and stir till the sauce thickens slightly.
5. Add the tortellini. If the sauce gets too thick, add a few tablespoons at a
time of the remaining broth until it's saucy and covers the tortellini nicely.
6. Enjoy!

Add extra parmesan for serving if desired. Garnish with parsley.

Notes
1. No deli ham please, please use a ham steak or whatever will make cubes.
2. ¾ cup of chicken broth may not all be used. It will depend if you need to make the sauce less thick.
3. Feel free to replace the ham with prosciutto for more authenticity.
4. Substitute cheese tortellini for beef tortellini if you prefer.
Nutrition Information:
Yield:

4
Serving Size:

1
Amount Per Serving:
Calories:

797
Total Fat:

42g
Saturated Fat:

24g
Trans Fat:

1g
Unsaturated Fat:

14g
Cholesterol:

167mg
Sodium:

1941mg
Carbohydrates:

67g
Fiber:

4g
Sugar:

5g
Protein:

38g
All nutritional information is based on third-party calculations and is only an estimate. Each recipe and nutritional value will vary depending on the brands you use, measuring methods, and portion sizes per household.