These incredibly tasty Sweet N' Sticky Instant Pot Drumsticks will drum away any hangry feelings you have going on, FAST! (Like what I did there?? *snort*!)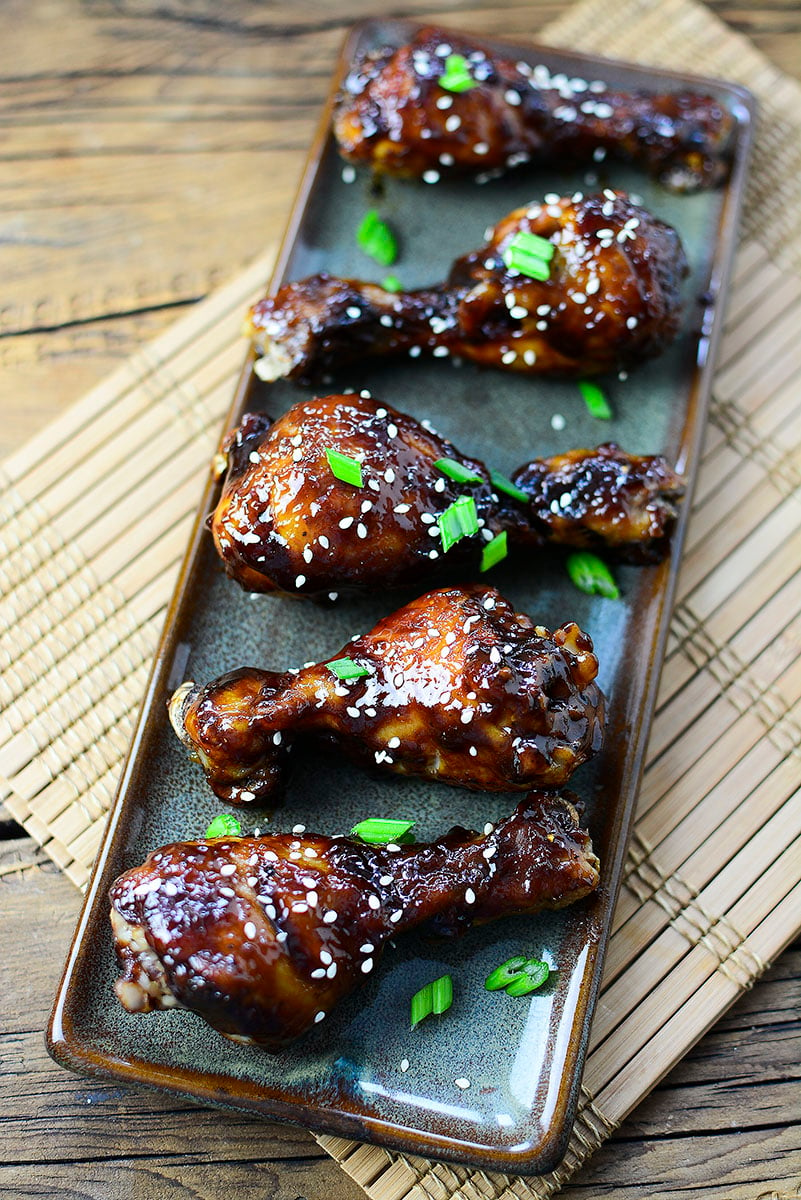 Instant Pot Sweet and Sticky Chicken Drumsticks for the win!
All jokes aside, these Sweet n sticky chicken legs are sort of like an Asian inspired chicken leg recipe, but with a bit of a spin on them. I like using the instant pot for this recipe (or the Ninja Foodi!) because it makes getting dinner on the table SUPER quick and easy!
Ingredients For These Instant Pot Chicken Drumsticks
Chicken legs, obviously, lol
Brown sugar
Soy sauce
Hoisin sauce
Teriyaki sauce
Garlic
Sesame oil
Ginger
Onion powder
Salt and pepper
Now, a little note about the hoisin sauce. You'll want to find the sauce in your local Asian market, or in the Asian section of your local grocery store. If you can't find any, here is a great recipe for hoisin sauce from Andrea at Viet World Kitchen to make your own, if you're so inclined.
Otherwise, feel free to leave it out, but if you can find it, (or make it!), please do, because it will really make a difference in the flavors of the dish.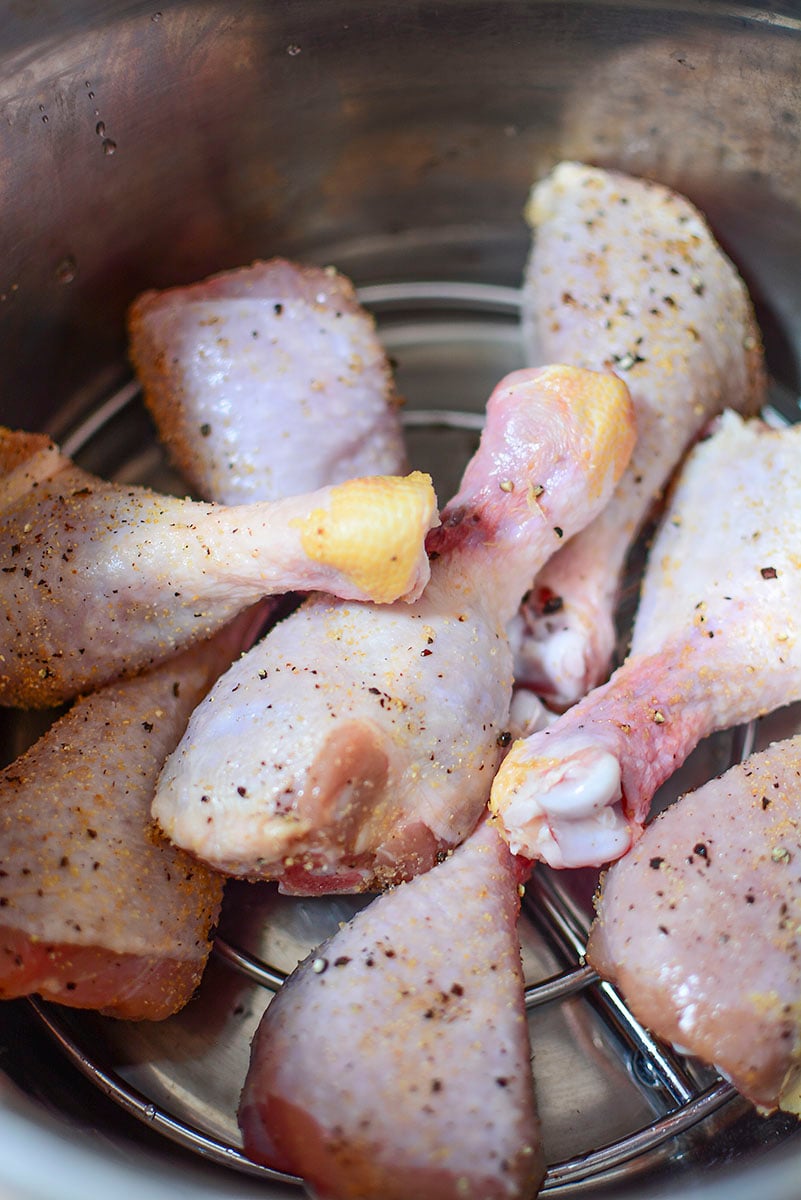 Why The Instant Pot?
Ok, well you certainly don't need to use the instant pot to make these chicken legs, but it really helps! I like using it because
1.– You don't have to babysit the drumsticks while they're in the oven, giving you valuable time to do other things before dinner, like drink a glass of wine… haha
2.– The instant pot cuts down the cooking time because your pressure cooking the legs, and it keeps them moist during the cooking process.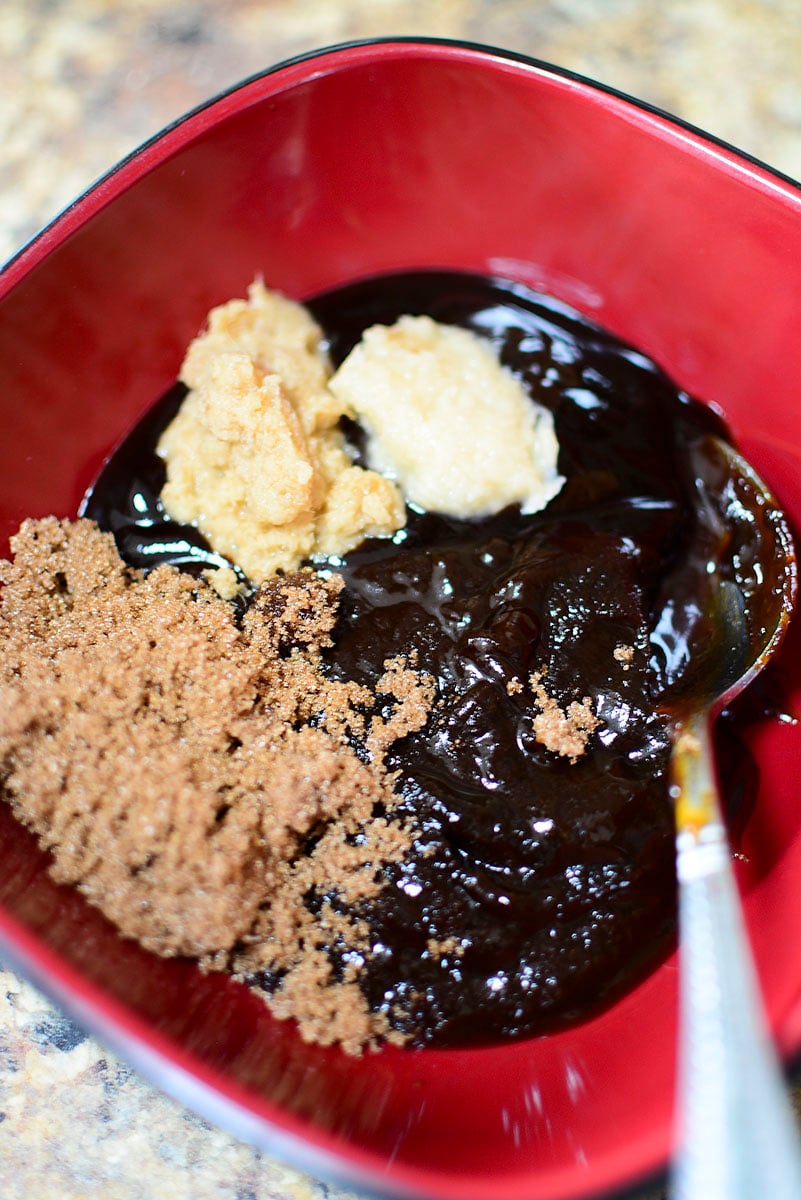 If you have a NINJA FOODI, I would use the Ninja Foodi over the Instant Pot because while they are both pressure cookers, the Ninja Foodi also doubles as an air fryer, and will crisp up those wings like nobody's business!!
But again, if you don't have either one, making these sweet and sticky drumsticks in the oven will be just fine!
Incidentally, if you're new to the Instant Pot or the Ninja Foodi, I have beginner guides to both appliances that you may want to take a peek at to help you feel more comfortable using your new appliance 🙂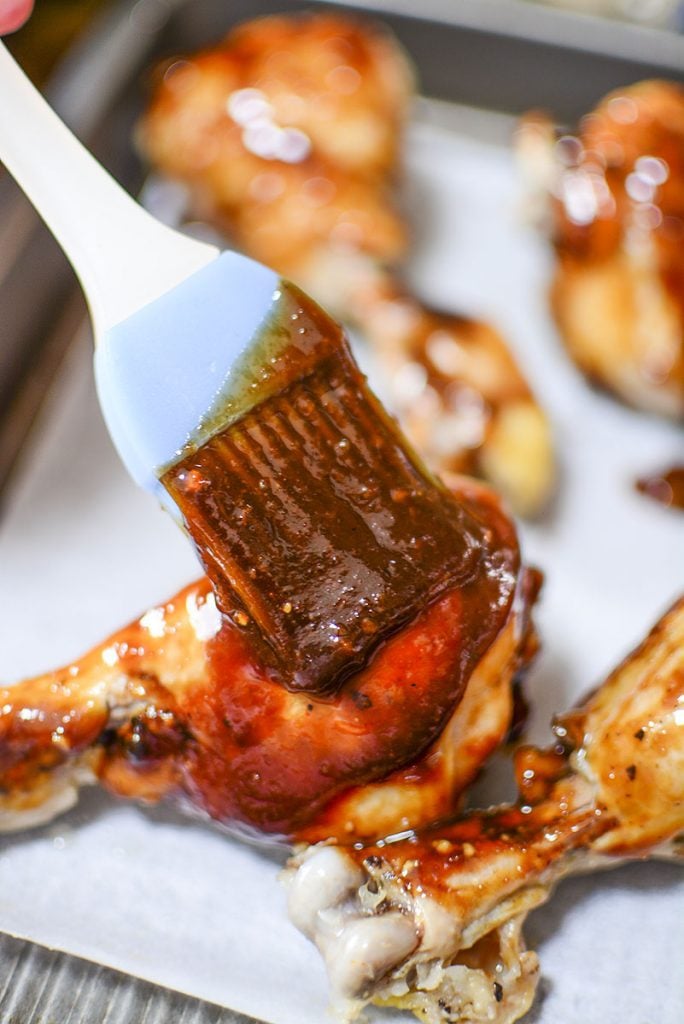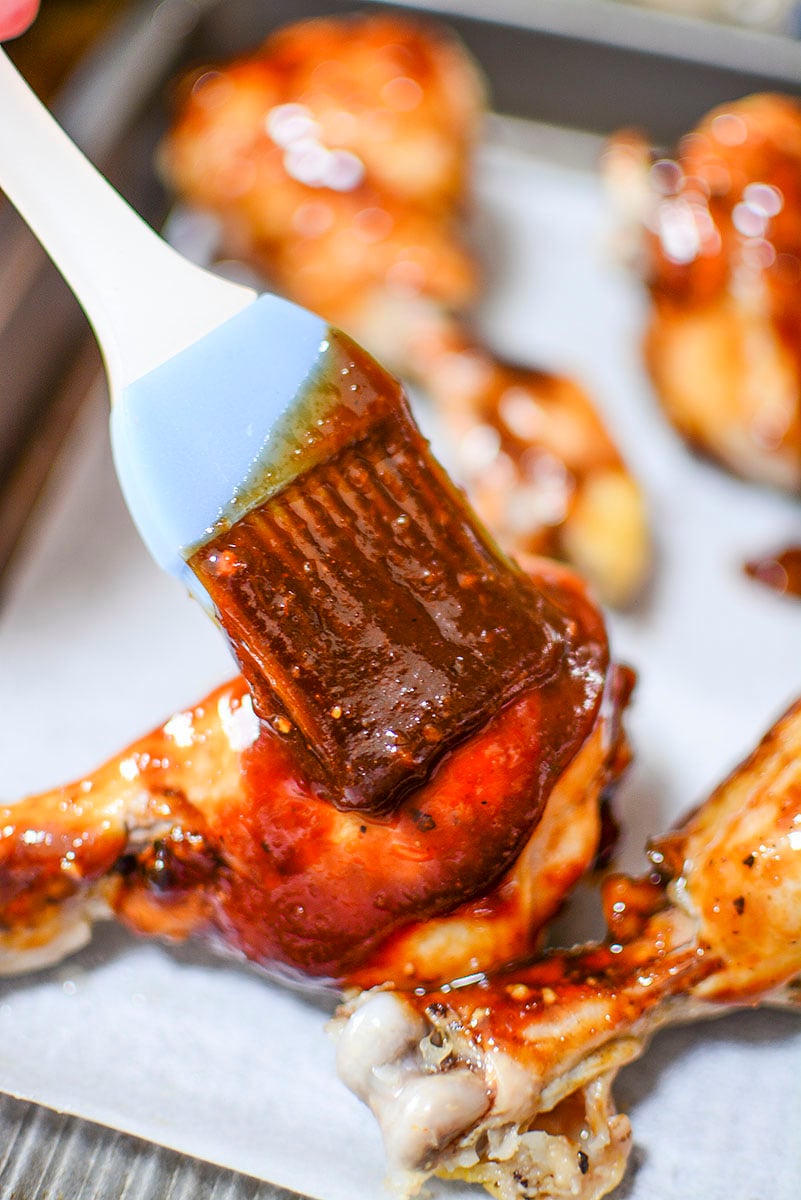 Can I Use Chicken Wings Instead?
My sweet reader, you can use almost any part of the chicken your heart so desires. Making this sweet and sticky chicken recipe using chicken wings would be perfect!
The only difference would be the cooking time, of course. You would basically want to follow the directions for my Ninja Foodi Teriyaki Chicken Wings recipe. The pressure cooking directions will be the same for the Instant Pot. You'll just have to crisp them up in the oven like you do the chicken legs. Easy Peasy!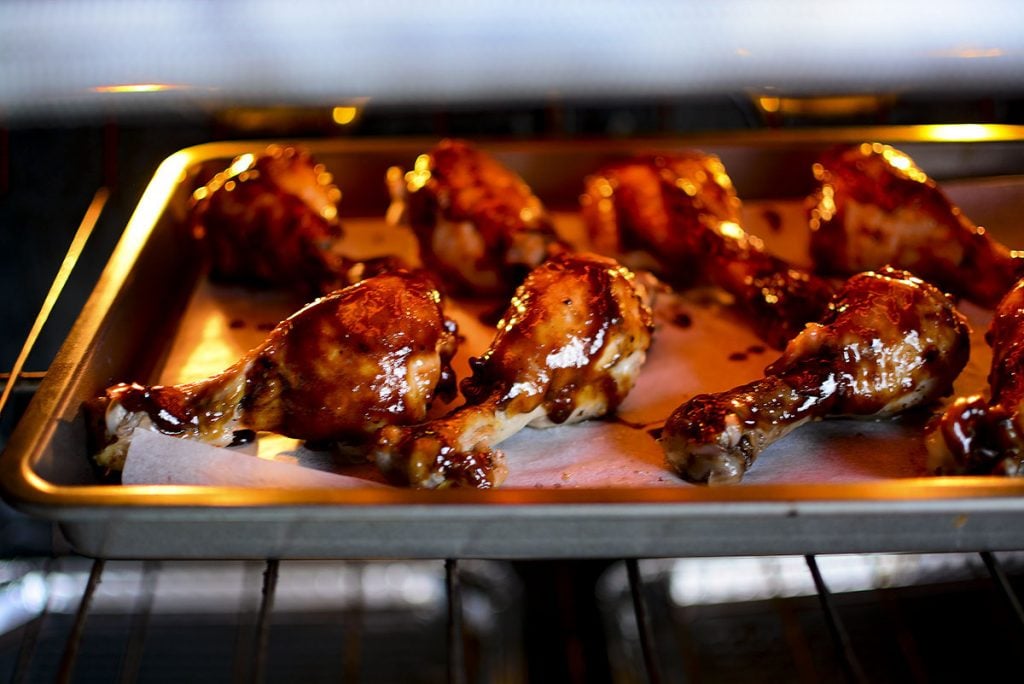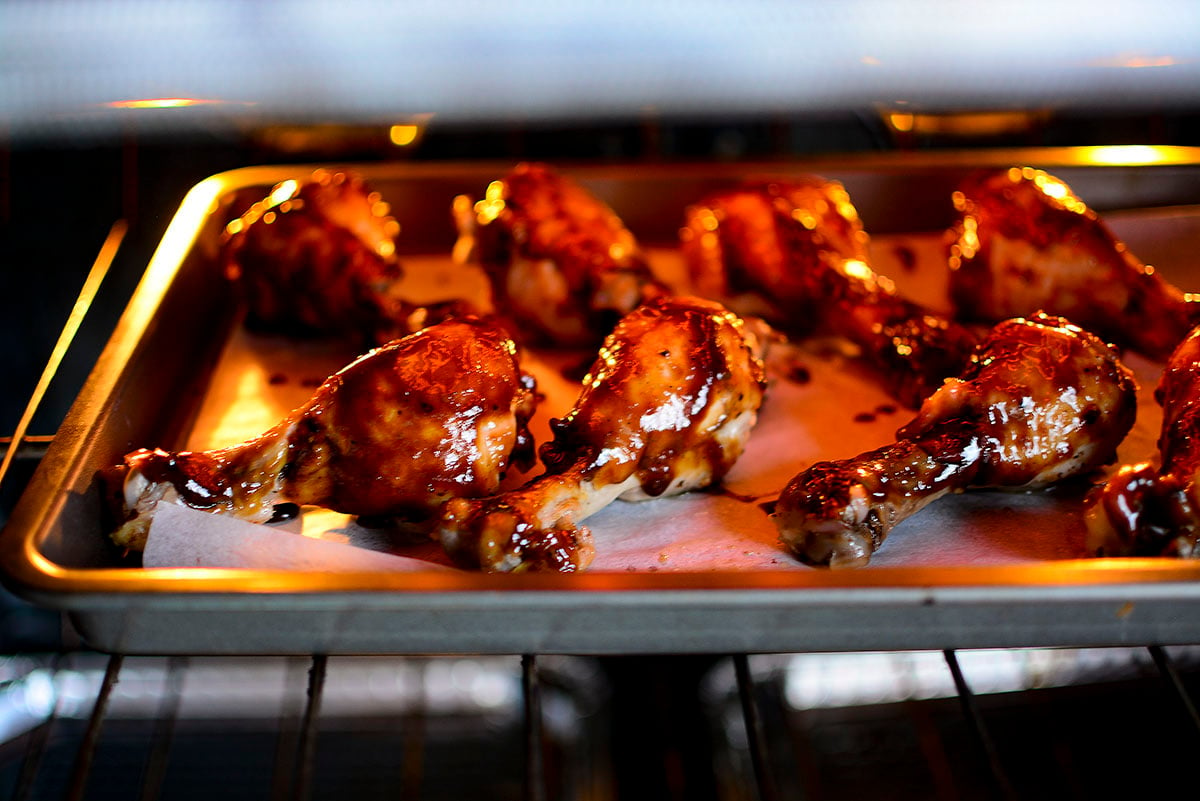 How Long Will They Stay In The Fridge?
If you have them in a container with a tight lid, they'll be good for 4 – 5 days.
What About Freezing These Chicken Legs?
Ok, if you want to freeze these sticky drumsticks, this is what I'd do. I would pressure cook them like normal, but then that's where I'd stop. I would then cool them down and place them in a freezer friendly container.
Upon thawing, I'd reheat them in the oven in a foil covered baking dish with a bit of chicken stock in the bottom of the dish. Then, I would drain any remaining stock, and, brush them with freshly made sauce, and then broil them to crisp them up.
They should stay in the freezer for up to 3 months.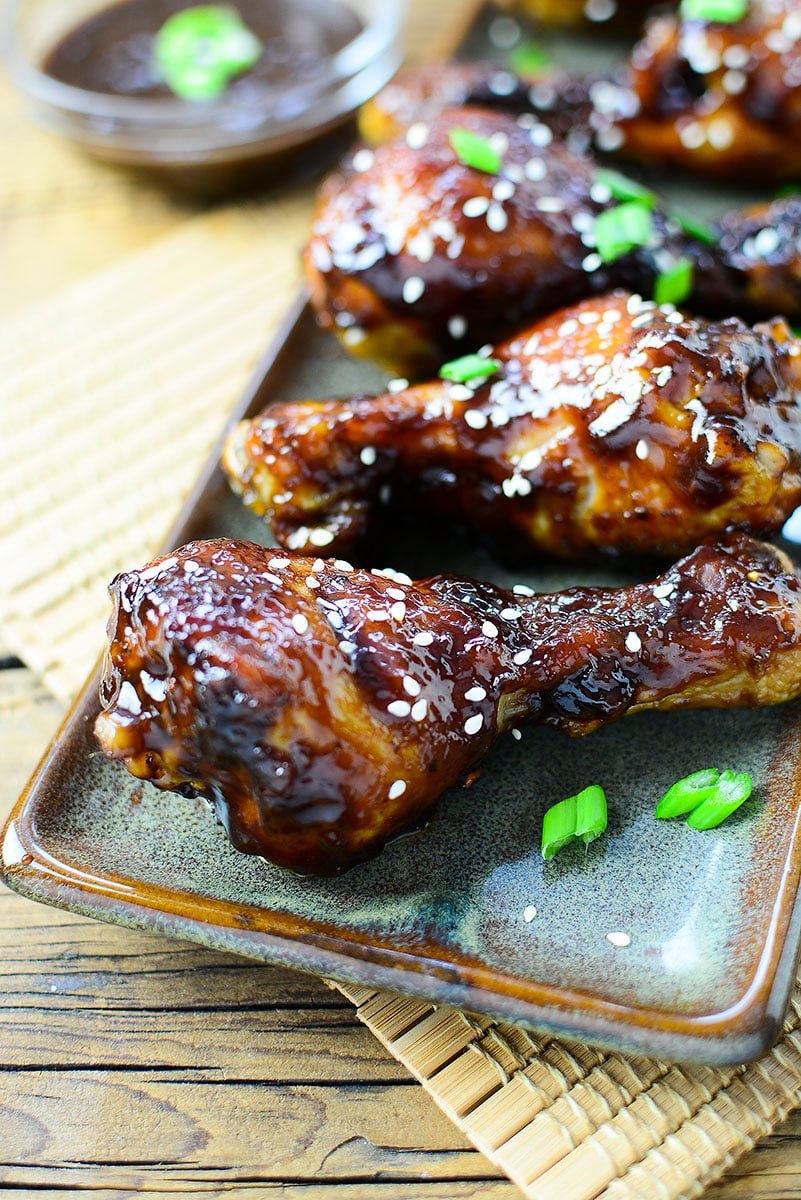 What Can I Serve With These Sticky Drumsticks?
My first go-to would be rice, of course. But you could always serve quinoa or even couscous.
As for another side, some sliced carrots like my 3 Minute Maple Carrots would be outstanding!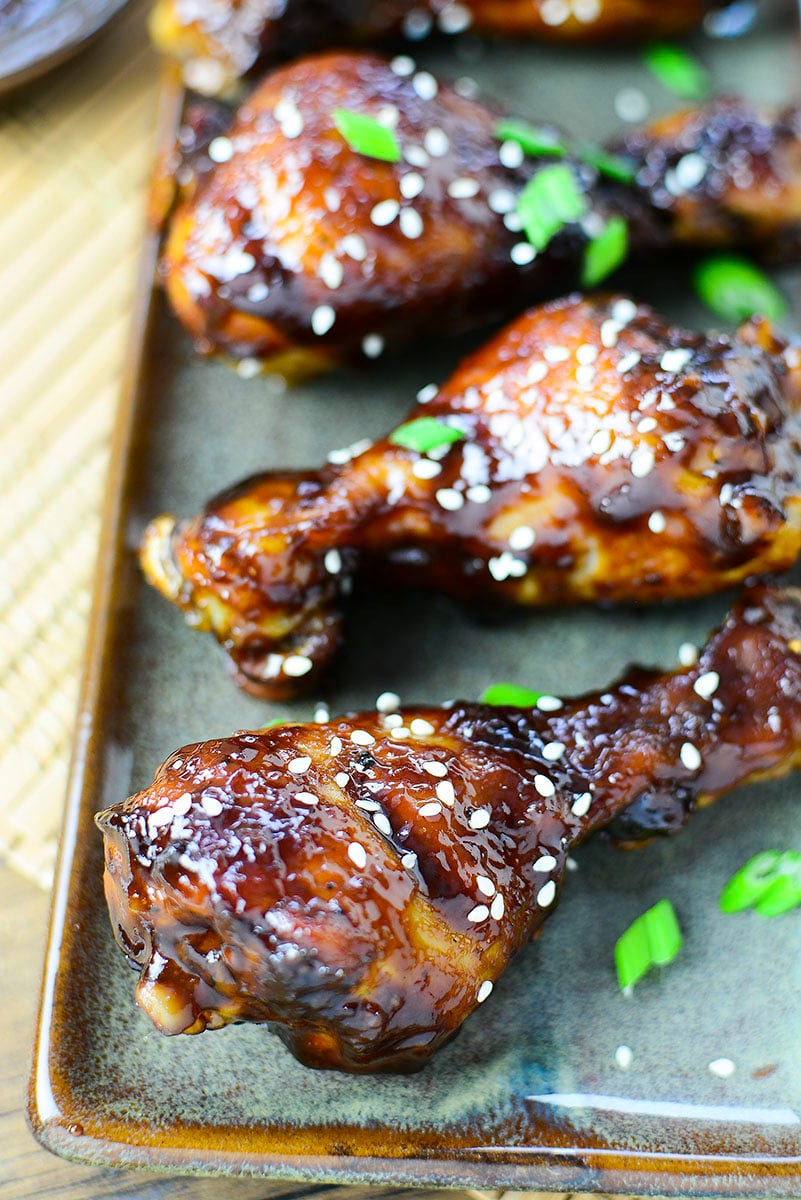 Well, that's it for today, my lovelies! When you make this recipe, please let me know how you made them! Did you use drumsticks or wings? What did you serve as a side? I'd love to hear some new ideas!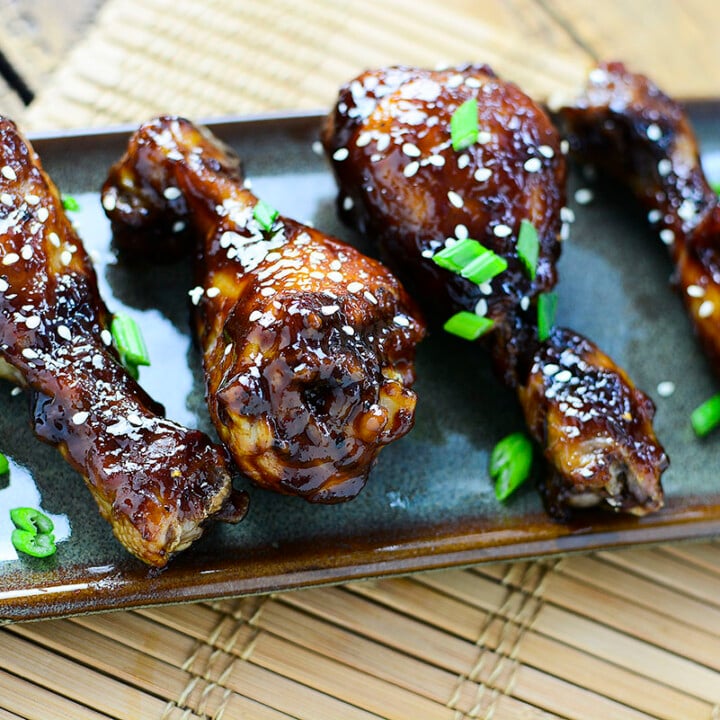 Instant Pot Sweet n' Sticky Chicken Drumsticks
Additional Time:
10 minutes
These Instant Pot Sweet and Sticky Drumsticks are the best of everything you want! Tender, moist chicken, crispy sweet and sticky skin, and super easy to make!
Ingredients
8 chicken drumsticks
1c chicken broth
1/2c hoisin sauce
1/3c teriyaki sauce
1/4c brown sugar
2t garlic, minced
1t ginger, minced
1t garlic powder
as desired, salt and pepper
a few drops of sesame oil
Instructions
Season the legs with salt, pepper, and garlic powder.
Pour the chicken stock into the instant pot stainless steel bowl
Place a trivet at the bottom and lay the drumsticks down trying to space evenly, not crowding them too much.
Place the lid on the instant pot and turn the toggle switch to "seal"
Press manual, high pressure for 15 minutes. After cooking time is up, do a natural release for 10 minutes. Then, turn the toggle switch to "vent' to expel any remaining pressure.
While the drumsticks are cooking, in a bowl, combine the brown sugar, hoisin, teriyaki sauce, garlic, ginger, and the few drops of sesame oil.
Remove the legs and place onto a parchment-lined baking tray.
Turn your oven on to broil
Brush the legs with the hoisin mixture.
Broil the drumsticks for a few minutes per side. WATCH the legs closely so they don't burn. After broiling one side so it's crispy, turn the legs, brush with the sauce again, and broil the other side still crispy.
Notes
Watch the drumsticks closely while they are broiling so they don't burn.
You can use water instead of chicken broth if you're out during the pressure cooking stage.
If the sauce is too thick when you put it together, thin it out with a little water, but only use a few drops at a time so you don't thin it out too much.
Nutrition Information:
Yield:

4 servings
Serving Size:

2 drumsticks
Amount Per Serving:
Calories:

508
Total Fat:

21g
Saturated Fat:

5g
Trans Fat:

0g
Unsaturated Fat:

14g
Cholesterol:

233mg
Sodium:

1915mg
Carbohydrates:

30g
Fiber:

1g
Sugar:

23g
Protein:

47g