This cool Watermelon Vodka Punch is a delicious, super easy, and refreshing drink. Much like my Tropical Mermaid Cocktail, this punch can be whipped up in a hurry if you need a fun cocktail for your next summer party. Whether you make this for your adult friends or make a few adjustments to make it child-appropriate, this fun punch is a huge hit on those hot summer days!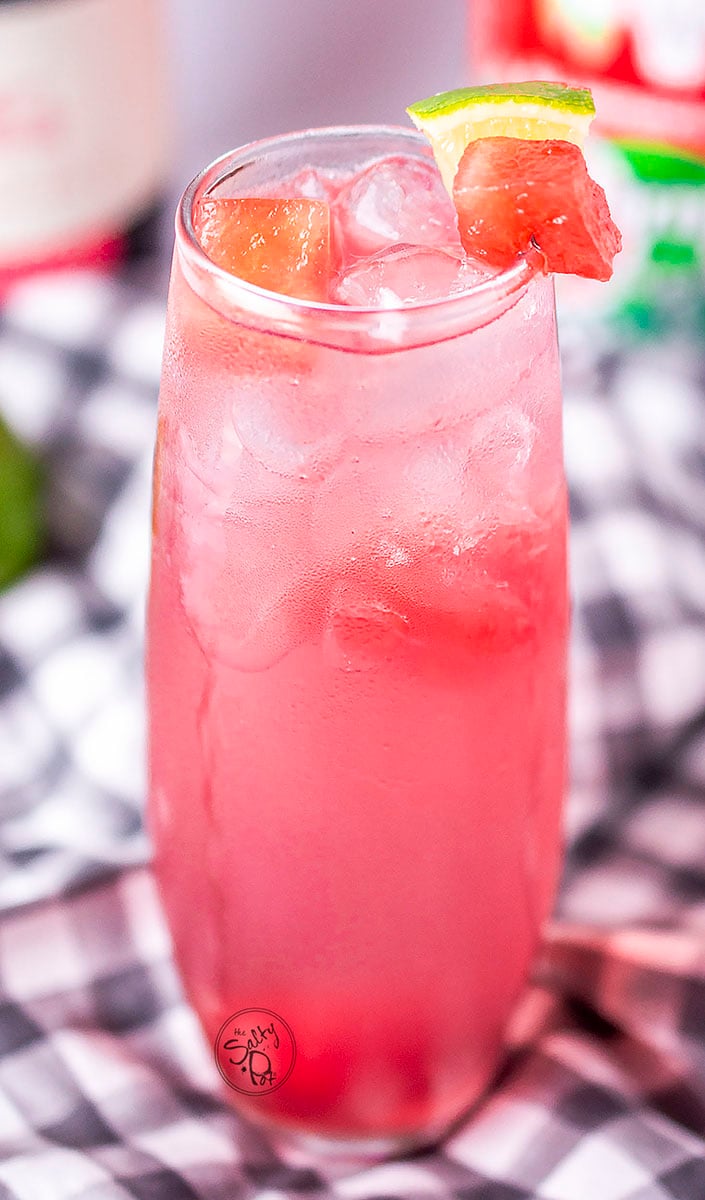 Watermelon drinks for summertime fun!
How to Make Watermelon Vodka Punch
First off, of course, is preparing the watermelon flavors which starts with making a super easy puree.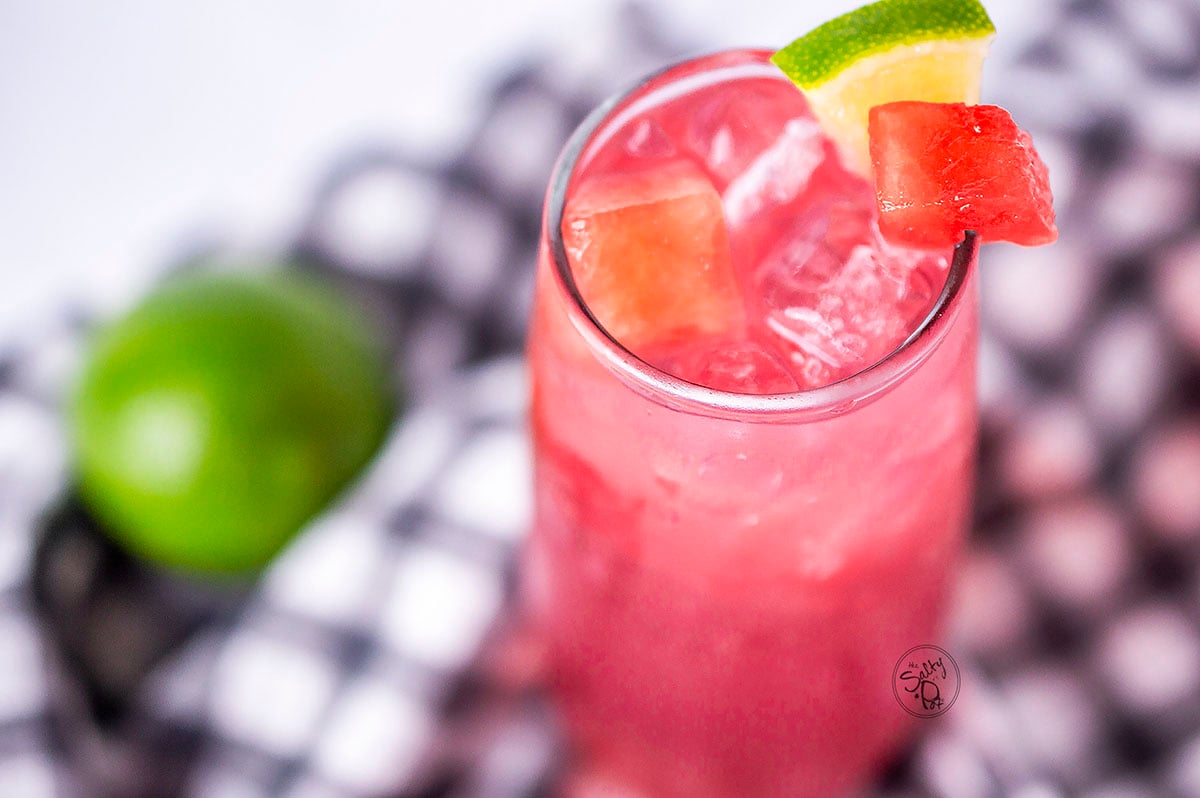 Watermelon Puree
The real star of this watermelon punch is of course the fresh pureed watermelon. Sadly this shouldn't be done ahead of time and instead, be done right before mixing your punch to ensure the freshest flavors. It is very easy to simply run fresh cold watermelon through your blender.
Look for the best (aka sweetest) watermelon you can find in the grocery store. These are generally the ugliest watermelons available with large yellow field spots, lots of brown webbing, and even some black sugar spots if you get lucky.
Cut your watermelon off the green rind into large chunks. Puree in your blender to make as smooth of a blend as you can get. Strain the pulp and seeds to create a watermelon juice base for your watermelon punch.
Making a Simple Syrup
Watermelons don't come with a standard sweetness so sometimes this fruity punch may need a nudge in the sweetness department. Enter the Simple Syrup.
Simple syrup is a basic, easy recipe that anyone can easily make in the kitchen. Once you master making simple syrup, you can use it with flavorings and extracts to change it up in flavored coffees, teas, and other sweet treats.
To make a quick simple syrup place 1 cup of water and 1 cup of cane sugar into a small saucepan. Bring this to a simmer while stirring frequently until the sugar is fully dissolved.
You'll find the syrup will change in consistency, becoming a bit more viscose, similar to your favorite pancake syrup.
This step can be done a few days in advance of your next party and stored in the refrigerator for 3-4 days in an air-tight container.
Want some more summer drinks to serve with this? Check out these suggestions:
Serving This Fruity Punch
Honestly, it's as easy as mixing the watermelon puree, simple syrup, and vodka together in a blender. You'll want to add your lime juice as well. It's ok if you only have bottled lime juice to use, but fresh is definitely better.
Blend together until well combined and then serve over ice. Garnish with a slice of watermelon or a wedge of lime. You could also leave out the lime juice in the blender, and have your guests squeeze the lime around the rim of the glass or into the drink themselves.
One other serving suggestion idea is to add the ice to the blender and make a slushie!!! Those are a huge hit!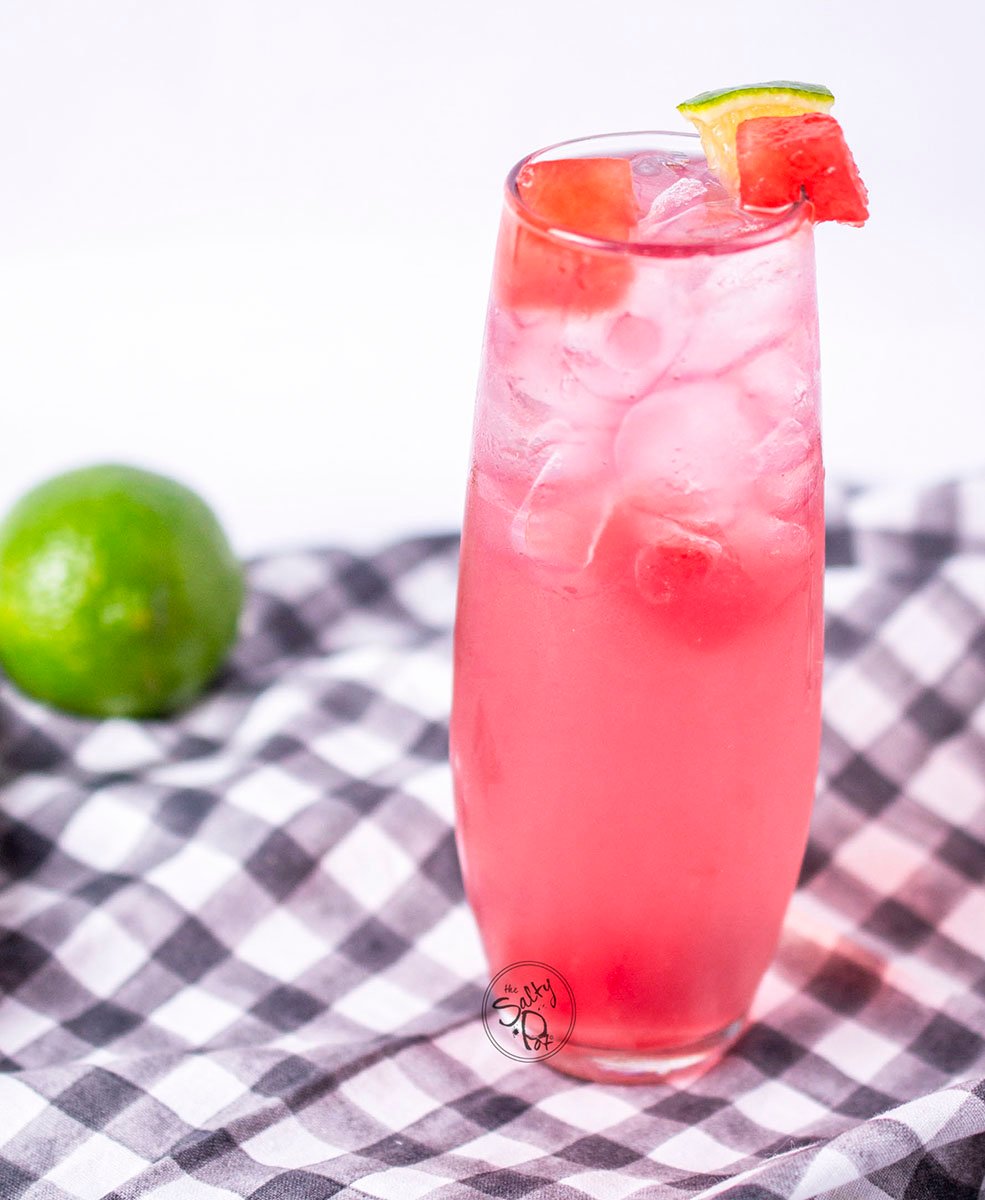 How to change up the flavor of your cooling vodka punch
This is a versatile drink that can be changed simply by altering the ingredients you choose to use.
This recipe uses lime to bring out the sweetness of the watermelon and add a bit of a tang, but if you feel adventurous, you can try shaking a bit of Tajin into the mix! Or, try sprinkling a pinch of red chili flakes into the blender to make a spicy/sweet watermelon punch!
Also, changing up the alcohol you use to something like Jack Daniels whisky or your favorite gin can add a lot of interest. One idea that I will be trying next time is a bit of whipped cream-flavored vodka for a fun twist.
How to make an alcohol-free cool Watermelon Punch.
Not everyone wants to consume alcohol and many families want a kid-safe summer drink to make for a fun gathering. There is no need to leave the kids and non-drinkers out of these delicious watermelon punches.
Instead, make an alcohol-free version replacing the alcohol in this drink with some 7-up, Sprite, or another lemon-lime soda, fruity flavored seltzer, or even a ginger ale to switch up the flavor for a fun family-friendly punchbowl.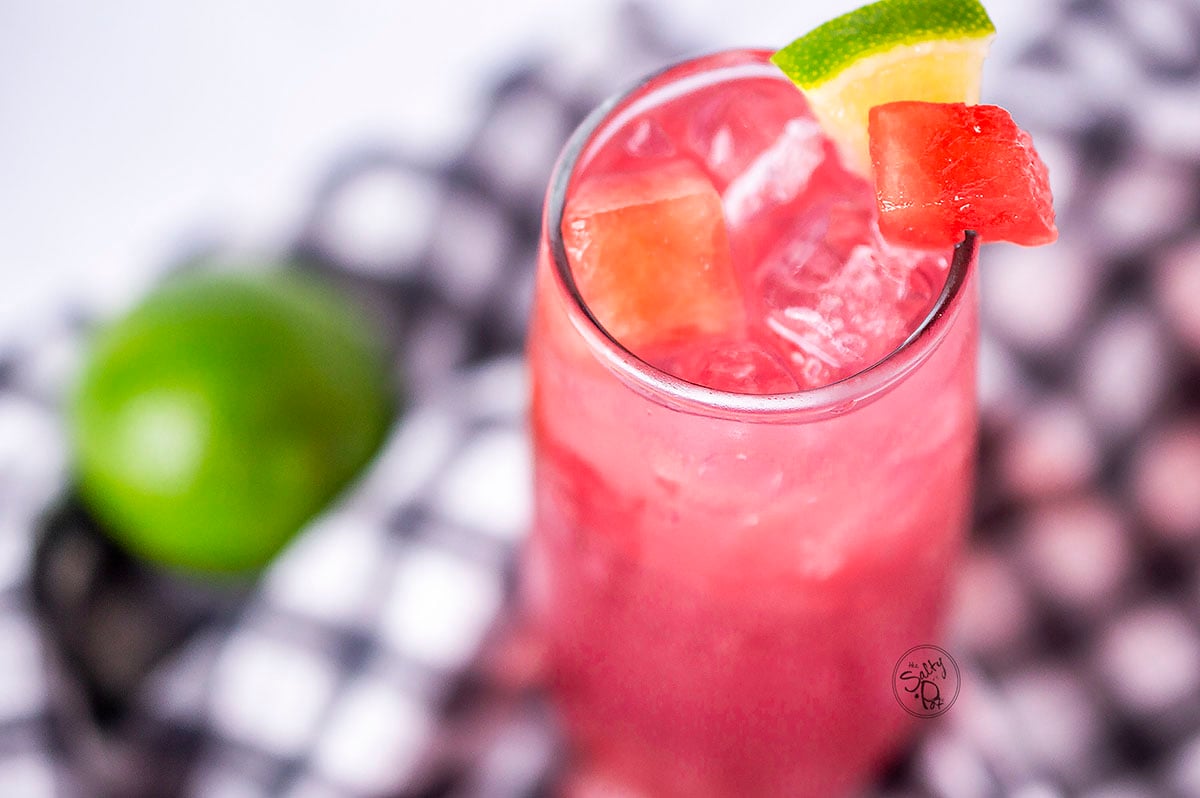 Did you try this fruity Watermelon Vodka cocktail? I'd love to hear what you thought! Please leave a comment below and leave a ***star*** rating in the recipe card below! Thank you so much for stopping by The Salty Pot and I will see you next time!
~Joanne
Cooling Watermelon Vodka Punch
Cool and refreshing, this Watermelon Vodka Punch screams summers by the pool! Sweet watermelon, a little tang from the lime, this fun and delicious drink is a must have for beachy times!
Ingredients
8 ounces fresh watermelon juice (see notes below)
4 ounces Simple Syrup (see recipe below) *optional
2 ounces fresh lime juice
4 ounces vodka (see notes below)
Instructions
Starting out with a 2-3lb watermelon, take all the melon off the rind and place into a blender. Blend it well and then seive/strain out the solids from the juice.
While the melon puree is straining, heat up 1/2 cup of water so that it warms enough to dissolve 1/2 cup of sugar. Stir until the sugar is dissolved.
Juice 2 fresh limes and reserve the juice.
Add the watermelon juice, cooled simple syrup mixture, lime juice and vodka back into the blender. Give it a whirl to blend all the flavors.
Add ice to four glasses and pour the punch over the ice. Garnish with some extra watermelon slices or a lime slice. ENJOY!
Notes
1. You can skip the watermelon puree step by using a purchased watermelon juice instead. If you do this, you may want to monitor the sweetness of the juice when adding the simple syrup. You may not even need the syrup. Taste as you go.
2. Instead of adding ice to each glass, you can add the ice to a blender and transfer the punch to blend it with the ice. This can make a watermelon slushee punch that's equally as delicious!

3. Make this punch non alcoholic by skipping the vodka and using 7-up, Sprite, or a fruity flavored seltzer water. (You may also want to skip the simple syrup if using soda pop).

4. To add even more interest to the watermelon punch, feel free to use a melon or whipped cream flavored vodka.
5. Make the watermelon puree shortly before you want to serve to preserve as much freshness as possible. The simple syrup can be made a few days ahead.
Nutrition Information:
Yield:

4
Serving Size:

1
Amount Per Serving:
Calories:

168
Total Fat:

0g
Saturated Fat:

0g
Trans Fat:

0g
Unsaturated Fat:

0g
Cholesterol:

0mg
Sodium:

38mg
Carbohydrates:

26g
Fiber:

0g
Sugar:

24g
Protein:

0g
All nutritional information is based on third-party calculations and is only an estimate. Each recipe and nutritional value will vary depending on the brands you use, measuring methods, and portion sizes per household.