It's Pumpkin Spice EVERYTHING season!! And in 'everything', I need to include this Instant Pot Pumpkin Spice Coffee Creamer! SOOOO yummmmy!
Instant Pot Pumpkin Spice Coffee Creamer
We all know that with the arrival of fall/autumn, it also rushes in the rage of everything flavored pumpkin spice. Am I one of those people who love pumpkin-spiced everything?
Yes, yes I am.
Hey, I have no shame in the whole pumpkin-spiced game! Haha!
Remember a few months ago when I posted about an Instant Pot Coffee Concentrate? So many people loved this recipe because it's sooooo delicious and so convenient!!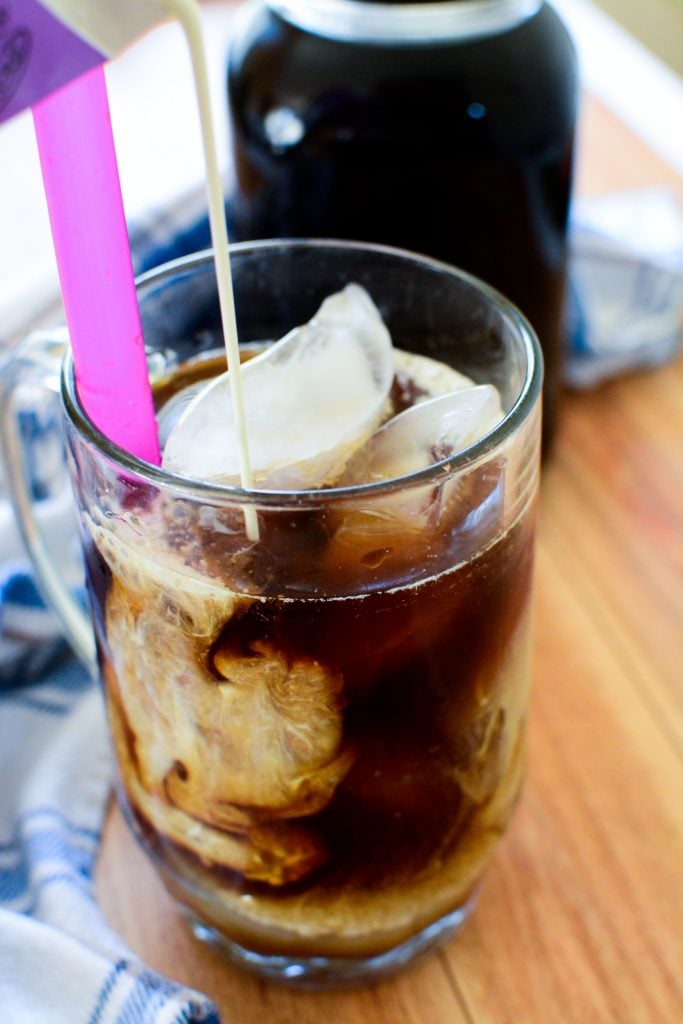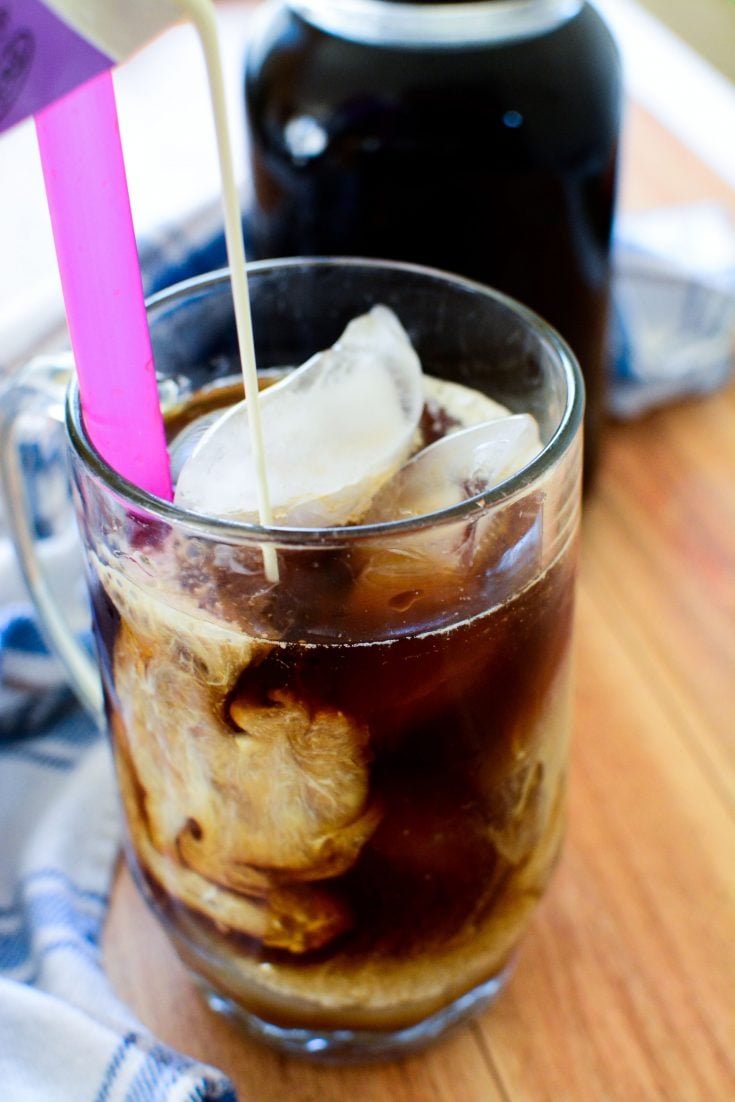 Instant Pot Coffee Concentrate
So this recipe is perfect for that coffee concentrate! While you can have your regular flavored coffee concentrate black or with just added cream and sugar anytime you like, you can totally switch it up by adding this yummy creamer!!
And if you love all those warm autumn flavors, you'll LOVE the flavor and versatility of this pumpkin spiced coffee creamer!
Also, if you're looking for other flavors of Instant Pot Coffee Creamers, check out this Cinnabon™ Copycat coffee creamer!
Homemade Spiced Pumpkin Coffee Creamer
I'm sure that you can buy a pumpkin spiced coffee creamer in the grocery stores. Maybe not? Honestly, I don't know because I never look for it.
I simply make my own. Why though?
For a few different reasons:
1. It's cheaper. You can make a lot more homemade coffee creamer for the price that you'd buy those flavored liquid creamers in the store.
2. You KNOW what you've put into the ingredients! No artificial thickeners or flavor enhancers, etc, etc. All the ingredients are things you can pronounce.
3. They make great gifts. Ok, so it's not a HUGE reason why I make this homemade pumpkin coffee creamer, but it's a great point regardless!
Making the syrup for the pumpkin spice coffee creamer
Why Are We Using The Instant Pot To Make Pumpkin Spiced Creamer?
I love infusing flavors into things in a big way. Using the Instant Pot helps in REALLY infusing the flavors into the syrup that in turn, flavors the creamer.
I used vanilla pods and other spices in this recipe, along with canned pumpkin. (Not pumpkin pie, btw). So using those real spices in the pressure cooker, they really infuse those luscious warm autumn flavors and bring a wonderful depth of flavor to homemade creamer.
If you're new to working with the Instant Pot, take a peek at my Instant Pot Guide for Beginners post, and it may help you feel a bit more comfortable working with this fantastic appliance!
Adding the rest of the ingredients for the instant pot coffee creamer
Do I Have To Use An Instant Pot To Make This Homemade Pumpkin Spice Coffee Creamer?
Not necessarily. You could use any brand pressure cooker you'd prefer. I also have a Ninja Foodi which I would use as well, with no hesitation.
An alternative would be to use a slow cooker, but it will take a lot longer to make, which is totally fine. It may not have the exact depth of flavor than if you used a pressure cooker, but that's completely ok!
You could also do this stovetop without many problems, but again, the depth of the flavors might not be there and you would need to watch the pot so that nothing burns.
It would still be immensely enjoyable to add to your morning coffee! When making this in the slow cooker, I would use the same amount of liquid (Do not add sugar yet though) and drop those cinnamon sticks and vanilla pods in. Cook on high for at least 4 – 5 hours or more – (watch the liquid levels so it doesn't evaporate).
Then when it's done cooking, remove the sticks and add the sugar to make the syrup and continue on with the rest of the directions as usual.
After pressure cooking, sieving the ingredients
Is this homemade creamer really sweet?
I made this creamer quite sweet because honestly, you're only using a small amount and sweetening your coffee to give it those epic pumpkin spice flavors. Warm vanilla, pumpkin, cloves, cinnamon, etc,. It's all such a great pairing, no wonder everyone loves that combination!
Don't worry about it being too sweet. When mixed with the savory smooth black coffee, the sweetness is perfectly balanced out and it won't be grossly sweet. You will always want to mix it or pair it with something when you consume it.
Unless you have a crazy huge sweet tooth, and in that case, you might just love it as it is!
How Can I Make This Coffee Creamer Keto or Low Carb?
Well, one of the ingredients in this creamer is sweetened condensed milk. So while it would take more prep work, you could make this keto-friendly version of sweetened condensed milk by All Day I Dream About Food. (She even has a non-dairy, coconut milk version!)
Adding the other ingredients to make the pumpkin spice coffee creamer
Can I Use Vanilla Extract or Paste Instead Of Vanilla Pods?
Sure! Just know that you'll get a deeper, richer flavor using vanilla pods, or even vanilla paste over vanilla extract. Try and purchase real vanilla extract instead of artificial extract if you can.
If you have a homemade vanilla extract, I would use that but you can use commercially made store-bought vanilla extract if that's all you have on hand.
Can I Put This Instant Pot Pumpkin Spiced Creamer In Milk?
Oh my goodness, absolutely! I would steam or heat up some whole milk and then add a shot of the pumpkin coffee creamer. If you wanted to be super fancy, you could even top the hot pumpkin milk with some whipped cream and a sprinkle or two of pumpkin spice! YUMMMM!!
What NOT To Use In This Coffee Creamer Recipe
As I mentioned in a few other of my instant pot coffee creamer recipes, I was considering adding some powdered creamer because I thought it would make it a bit creamier, and a nice light color for adding to the coffee.
I added some of the powdered coffee whitener, and oh wow. Wow. Just don't do it.
The powdered creamer TOTALLY clumped right up and became little hard bullets in the creamer. There was some sort of reaction with ingredients.
Learn from my mistakes, my lovely readers! LOL
Also, do not use canned pumpkin pie filling. You want PUMPKIN PUREE or plain pumpkin stated on the can.
How long will the homemade spiced pumpkin creamer stay good in the fridge?
As long as you keep it refrigerated, it should stay good for about a week or so. My other instant pot coffee creamers will last longer, but because there is fresh pumpkin added to the creamer, there's a chance of spoilage.
So to be safe, I'd keep it about a week in the fridge with a tight lid on it. Also, if there's any settling, remember to give it a shake before you add it to your coffee.
What Else Can I Use This Homemade Coffee Creamer With?
Lot's of things! Here are a few ideas:
Add to your tea for an enjoyable pumpkin-spiced tea
Put a shot of it in some steamed milk, or alternative kinds of milk for a nice, caffeine-free, comforting drink
Drizzle a tiny bit over your morning oatmeal or steel-cut oats! Yum!
You could also drizzle a bit over some vanilla ice cream and sprinkle some actual pumpkin spice over the top for a new dessert experience
How about adding a few tablespoons to your mashed sweet potato? Yessss! It would be a fantastic addition to that side dish!
When you make this instant pot coffee creamer, I'd love to hear from you!! Did you change up the recipe to make it your own? Let me hear about it!
And as always, thank you SO much for taking your time to visit The Salty Pot today! I hope you have a fantastic, pumpkin spice coffee day!
~Joanne
**OH! DON'T FORGET TO PIN THIS INSTANT POT PUMPKIN SPICE COFFEE CREAMER TO YOUR FAVORITE PINTEREST BOARD TO SAVE FOR LATER!!!**

INSTANT POT PUMPKIN SPICE COFFEE CREAMER
Instant Pot Pumpkin Spice Coffee Creamer has those perfect warm, autumn flavors infused into cream that will make your morning coffee like nothing you've had before.
Ingredients
2c water
1c brown sugar
1c pumpkin puree
1tbsp pumpkin spice
2 cinnamon sticks
1 vanilla pod, sliced lengthwise with the beans scraped out
1 c coffee cream or table cream
1 can sweetened condensed milk.
Instructions
In the Instant Pot bowl, add the water and brown sugar.
Press Saute and bring the water hot enough to melt the brown sugar.
Add the pumpkin, vanilla pod & beans, cinnamon sticks, and pumpkin spice
Place the lid on the top, move the toggle switch to the 'seal' position.
Press 'manual' (on high) for 8 minutes.
When time is complete, do a natural release until the sliver pin drops back into it's lower position.
Place a sieve over a bowl and slowly ladle the mixture from the instant pot into the sieve to remove the puree and extra spices.
Add the table cream and sweetened condensed milk. Mix well.
Enjoy!
Once completely sieved, add the sweetened condensed milk and the table cream.

Notes
Do not use pumpkin pie filling for this recipe.
Nutrition Information:
Yield:

32
Serving Size:

2 tbsp
Amount Per Serving:
Calories:

53
Total Fat:

2g
Saturated Fat:

1g
Trans Fat:

0g
Unsaturated Fat:

1g
Cholesterol:

6mg
Sodium:

37mg
Carbohydrates:

9g
Fiber:

1g
Sugar:

7g
Protein:

1g