Aaaahh.. Haluski! Wait, what? You've never heard of it?? OMG. Thinly sliced fried cabbage with buttery egg noodles.. happiness on a plate. But wait… why not try HALUSKI WITH KIELBASA!!! Even BETTER my friend, even better!!
"Haluski: Seriously, some of the most epic comfort food EVER!"
What The Heck Is Haluski??
Haluski is an Eastern European dish usually consisting of cabbage and noodles. That's the basic idea pretty much.
However, a lot of different varieties have come about from that basic combo, and it usually involves some sort of salty protein like bacon or ham. Today, I'm making it with garlic sausage or kielbasa (which ever term you like to use!)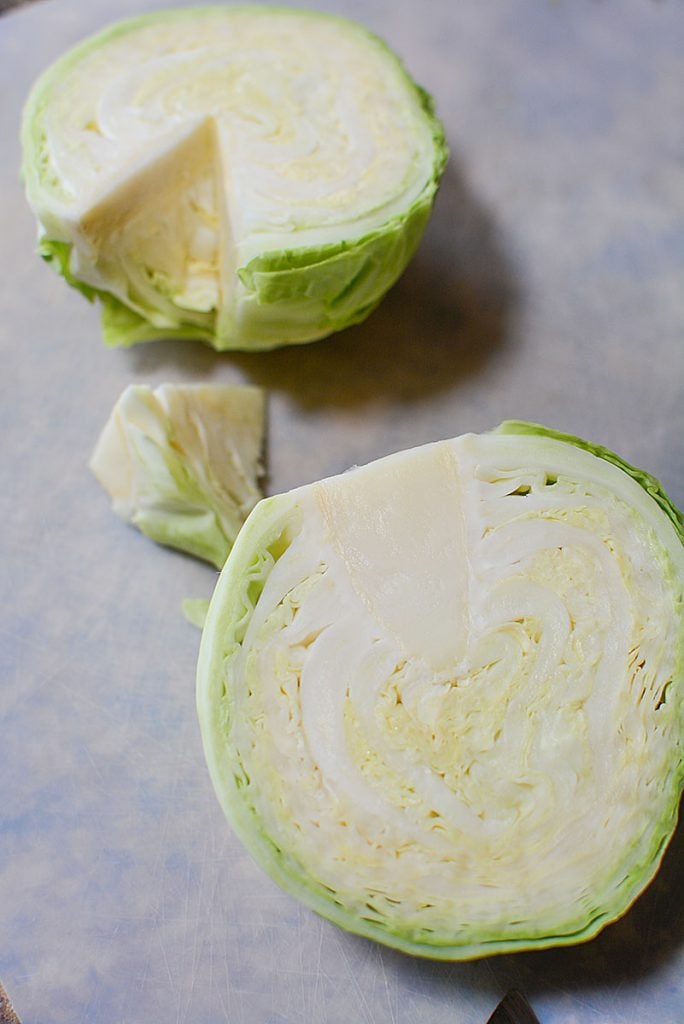 Haluski = Cheap Eats!
Haluski is cheap like borscht as they say. Both cabbage and noodles are pretty inexpensive for the most part.
But don't let those simple ingredients fool you. When you put a few extra things into that recipe, along with some of that good ole seasoning they call 'LOVE'… you have a FAMILY FAVORITE!!
This particular recipe sort of reminds me of my Lazy Cabbage Rolls Recipe that I make (like regular cabbage rolls of course, but omgosh – SO much easier to make and just as (if not more) delicious!.
Of course, this recipe uses egg noodles instead of rice that cabbage rolls use for the starch.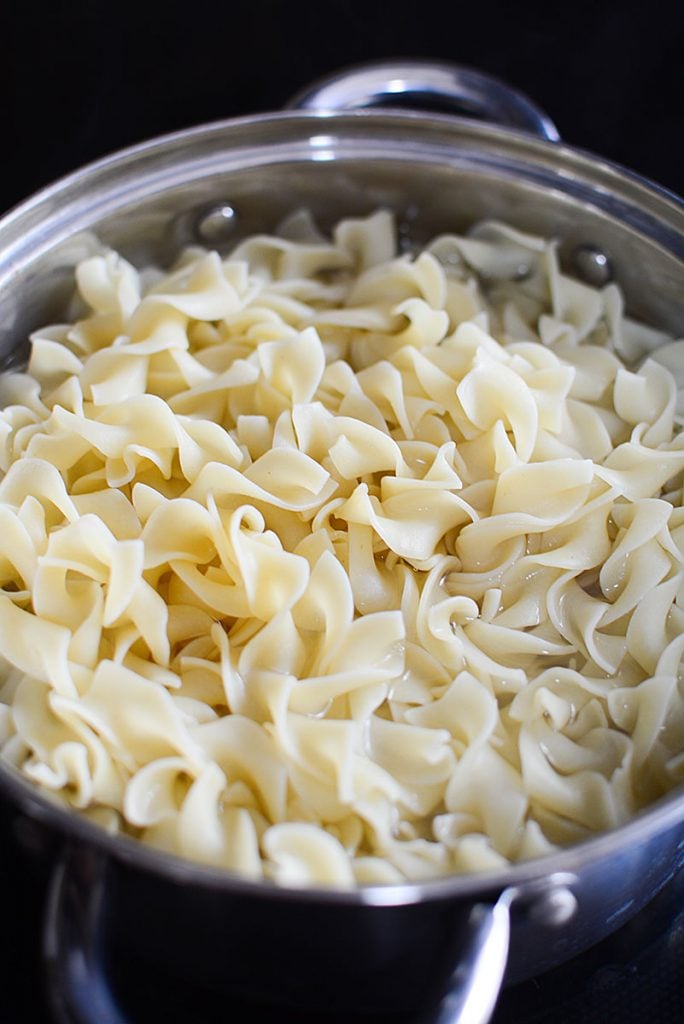 Your Haluski Ingredient List
It's a pretty simple lineup of the usual characters here:
Cabbage (smallest head you can find unless you have other uses for the extra)
Broad Egg Noodles
Onions
Kielbasa (a ring of your favorite)
Garlic (if you want extra garlickyness…hey, it's a word!!)
Dill (fresh if you can, dried is totally fine)
Salt and Pepper
Butter and oil
Can I Use Other Noodles Besides Egg Noodles?
Sure, you could. But really, broad egg noodles are the ones you want to use here. They're richer than regular pasta noodles, soft and tender and they just 'fit' the recipe much better than if you use macaroni or something like that.
But if that's all you have on hand – use them up! I would just cook the noodles past al dente stage to make them softer for this recipe. No mush though! Just softer than al dente.. lol. (I know…. a crazy suggestion for the pasta purists out there, but hey.. it's all about the mouth feel with this recipe!)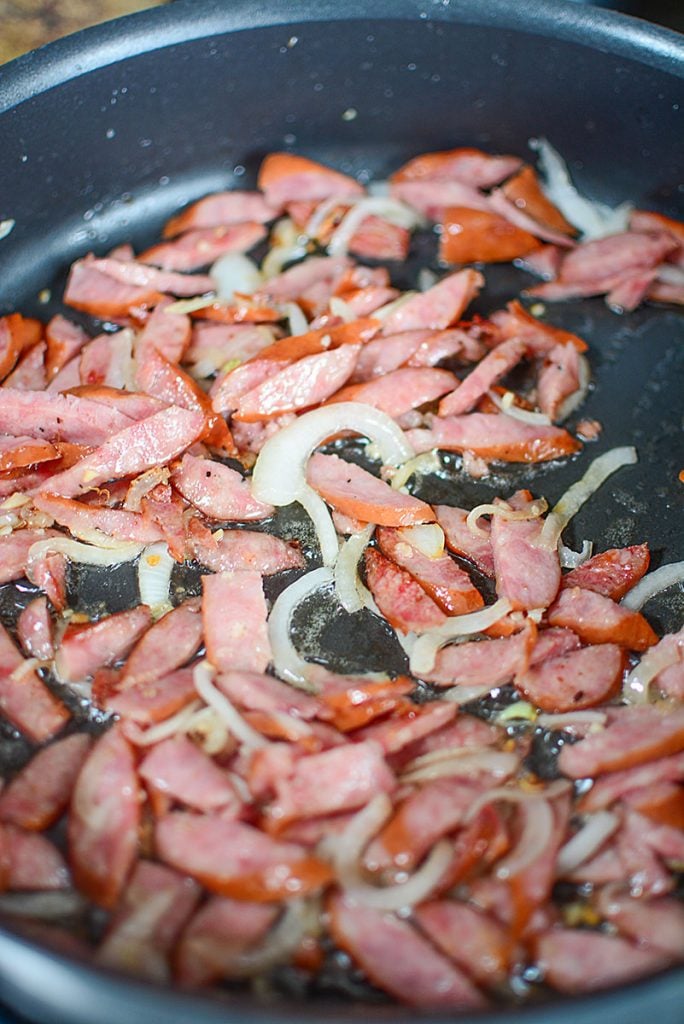 What Kind Of Keilbasa Should I Use?
Honestly…. use your favorite! I prefer a double smoked garlic sausage (kielbasa) but if you prefer a kielbasa without garlic, that's totally fine!
You can get a coarse or fine kielbasa sometimes, and either of those will work. You could also use "farmers' type of kielbasa… really, the possibilities are limited to your preference.
I wouldn't however, use something like an italian sausage bratwurst or any other type of link type sausage here for this recipe. The flavors go really well with any type of keilbasa sausage you'd like to use.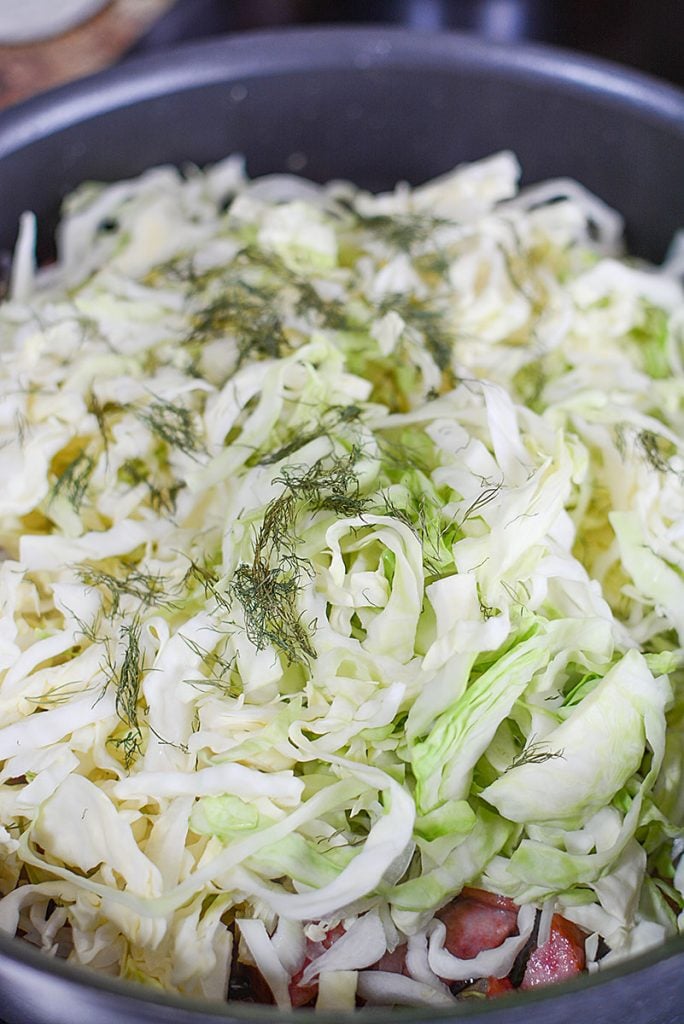 Can I Sub a Different Type of Cabbage?
Ok.. sure, I suppse you could. Savoy would be a decent substitute because it's a bit milder in flavor than regular cabbage and I think is a bit more tender than regular cabbage so you wouldn't have to cook it as long.
And please, don't use red cabbage. That's just wrong, lol. (and it would make your egg noodles pink.. haha!)
Does This Haluski Recipe Freeze Well?
My lovely reader, this haluski recipe freezes like a dream! I froze it in both glass and foil 'take out' type containers and it did very well on the reheat.
I reheated it right from frozen in the glass container in the microwave and it was fantastic.
The foil container, I would advise letting it thaw first, and then transferring to something else to reheat – like another glass container for the microwave or even for a frying pan, I'd put a quarter cup of water at the bottom and place a lid on the pan to steam it hot, and then remove the pan, add some butter and give it a good fry. YUMMM!!
How Do I Make This Haluski With Kielbasa Recipe?
Super simple! Start by slicing your cabbage as thin as you possibly can make it. Using a mandolin really helps here, but if you don't have one, using a sharp knife works just as well. But be super careful with that knife! Work sloly and keep your fingers out of the way!
Get your noodles on to boil. Remember to salt the water for extgra flavor!
Cut up the sausage. You can go with your typical medallion rounds here but I liked to make it a bit more interesting and I stripped up the sausage rounds. Basically for interest as well as I wanted to sort of mimic the thinness of the cabbage strands as well.
Slice up the onions! Get your butter ready to melt in the pan.
So the pan is on the heat. Fry the onions and the sasuage together. Get some charamelization on the sausage if you like that sort of texture.
Add the cabbage. Fry it till it wilts and mixes well with the other ingredients.
Drain and add the noodles. Mix them in and add the dill, salt and pepper. Mix gently. Taste for seasoning and adjust.
Voila! Haluski with Kielbasa is ready to serve!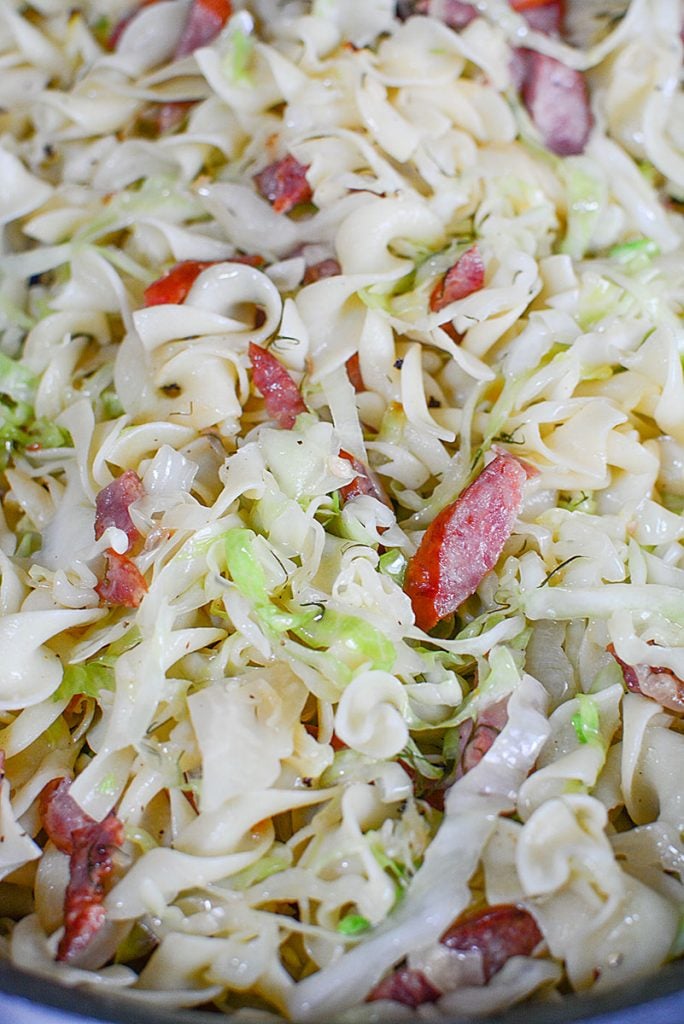 What Can I Serve With Haluski?
Personally, I have this as a one-pan dinner! But, if you would like to serve it with something else, I would use it as a side dish and serve some pork chops with it (or something like a Kasseler would be fantastic!). Roasted chicken would be yummy as well.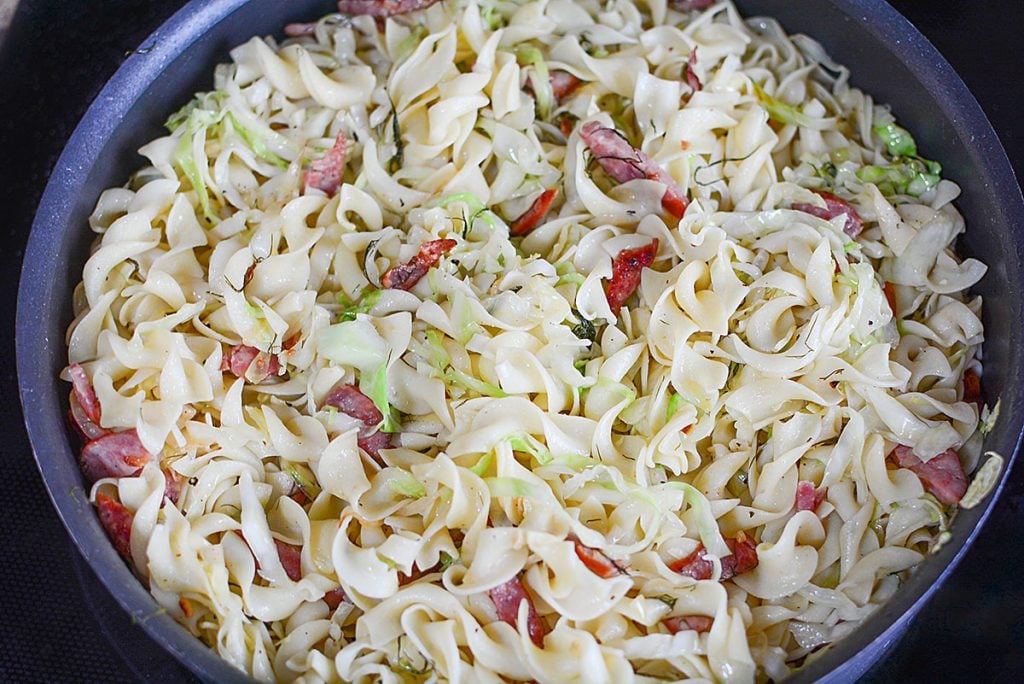 Well my loves, that's it for me today! I hope you try this Haluski with Kielbasa recipe!! I think it's incredibly delicious and sooo easy to make! If you have any questions or comments, please leave them below or shoot me an email over at Joanne@TheSaltyPot.com!
As usual, thank you SO much for stopping by The Salty Pot today and I hope you have a fantastic day!
~Joanne
Haluski with Kielbasa
Yield:
Haluski with Kielbasa
Haluski with Kielbasa is one amazing comfort food dish! It's cheap to make, feeds a lot of people, is filling and best of all, it's DELICIOUS!!
Ingredients
1 bag Broad Egg Noodles (12 ounces)
1 ring Kielbasa (10 - 12 ounces)
1 head Green Cabbage (about 1 ½ - 2 lbs) (see notes)
1 medium Onion
Fresh Dill Weed 2-3 tbsp. (see notes)
1 tablespoon Oil
2 tablespoon Butter
1 teaspoon garlic
salt and pepper to taste
Instructions
Cook the egg noodles according to the package. Drain and add one tablespoon butter. Set aside.
While the noodles are cooking, Slice the cabbage and onions very thin.
Slice the kielbasa in medallions and then into strips if you choose. Leaving them at medallions is fine as well.
Place the oil in the frying pan and begin to saute the sausage, onions and garlic.
When the sausage has some color, add the cabbage and dill. Continue to saute until the cabbage wilts and reduces in size.
Add the noodles. Fold them gently into the cabbage mixture.
Add salt, pepper and butter. Mix and taste. Adjust for seasoning.
Enjoy!
Notes
1. When purchasing the cabbage, buy the smallest head of cabbage you can find. Cabbage, when sliced, goes a long way and if you buy a huge head of it, you'll have to find other uses for it the extra cabbage.
2. Use fresh dill if possible but if you can't find it, using dry dill will also work. You'll want to use less dry dill though because dry is more intense than fresh.
3. Be sure to taste the mixture after everything is added and mixed. Cabbage and noodles can be bland so you'll want to adjust the seasonings to your preference.
4. You can also add a bit of bacon bits if you have them on hand at the end.
Nutrition Information:
Yield:

8
Serving Size:

2 cups
Amount Per Serving:
Calories:

265
Total Fat:

19g
Saturated Fat:

7g
Trans Fat:

0g
Unsaturated Fat:

11g
Cholesterol:

47mg
Sodium:

561mg
Carbohydrates:

17g
Fiber:

3g
Sugar:

6g
Protein:

9g
**Before you go, don't forget to save this Haluski with Kielbasa pin to your favorite Pinterest board to use for later!**