If you know me at all, you know how much I love Fruity Pebbles Cereal, as well as cinnamon rolls. SERIOUSLY. LOVE. THEM. So really, it would just make a whole lotta sense that I'd want to marry the two into some sort of weird breakfast type bun, right?? May I present to you….. FRUITY PEBBLES SWEET ROLLS!!!! Yaaaaaaaaaaaaaaaaaaaaaaaaaaaaaaay!!

Fruity Pebbles Sweet Rolls
So I'll be the first to say that fruity pebbles cereal might not be the most healthy cereal out there. I get it. But you know, once in a while that cereal just hits the spot!
We can't get it easily in our grocery stores here, so I had to go to a local import store to get them. They were priiiiiiiiiiicey!! Whoooo! BUT.. worth every little pebble.
The bag was huge, so I had to come up with a recipe or two (or ten) to use up some of this fantastic fruity flavored cereal. Yes, I could make a version of rice Krispie treats, and they were great. A really nice lunchbox type dessert snack.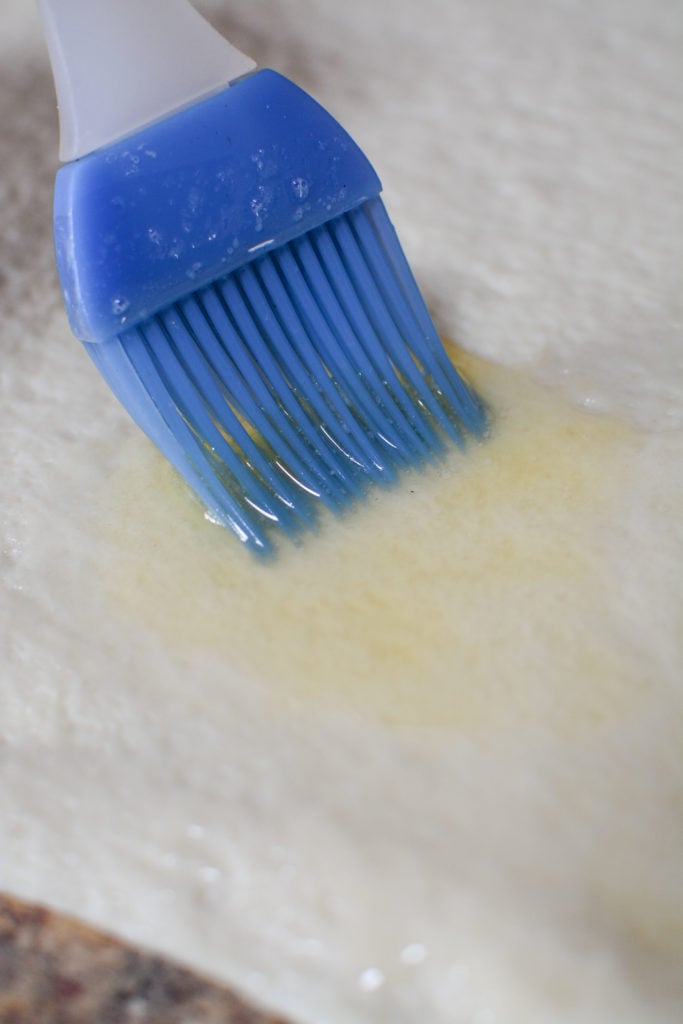 But, my sweet momma gave me the idea to make these Fruity Pebbles Sweet Rolls and wow, I'm glad she did!! They are so incredibly delicious with your morning coffee, (or tea), that you can't help but smile just a little bit! Plus, what child would turn those down??? NOT ONE, I'D BET!!
Again, not an everyday 'healthy' type of breakfast to start your day, but once in a blue moon, having one of these sweet breakfast rolls just makes your tastebuds (and inner child) super happy!
Ingredients You Need To Make These Fruity Pebbles Sweet Rolls
It should go without saying that you need some Fruity Pebbles Cereal. Could you use Fruit Loops? You probably could because fruit loops and fruity pebbles taste quite close in flavor. I would crush the fruit loops into small pieces resembling rice Krispies.
You will also need:
One can of prepared pizza dough. – I know, sounds strange, but you want the pizza dough because the cereal is pretty sweet, and if you add sweet dough, it gets just too cloyingly sweet.
Brown Sugar
Melted Butter
Icing sugar
A bit of milk or cream
Vanilla extract
Making These Awesome Fruity Pebbles Sweet Rolls
Remember to preheat your oven to 325.
Roll out the pizza dough
Add the sugar and butter to the surface of the dough
Add the fruity cereal
Roll up the dough, encasing the ingredients
Cut the rolls and bake.
When they've cooled, glaze.
Pretty simple right?!?!?! Yes…. simple and delicious!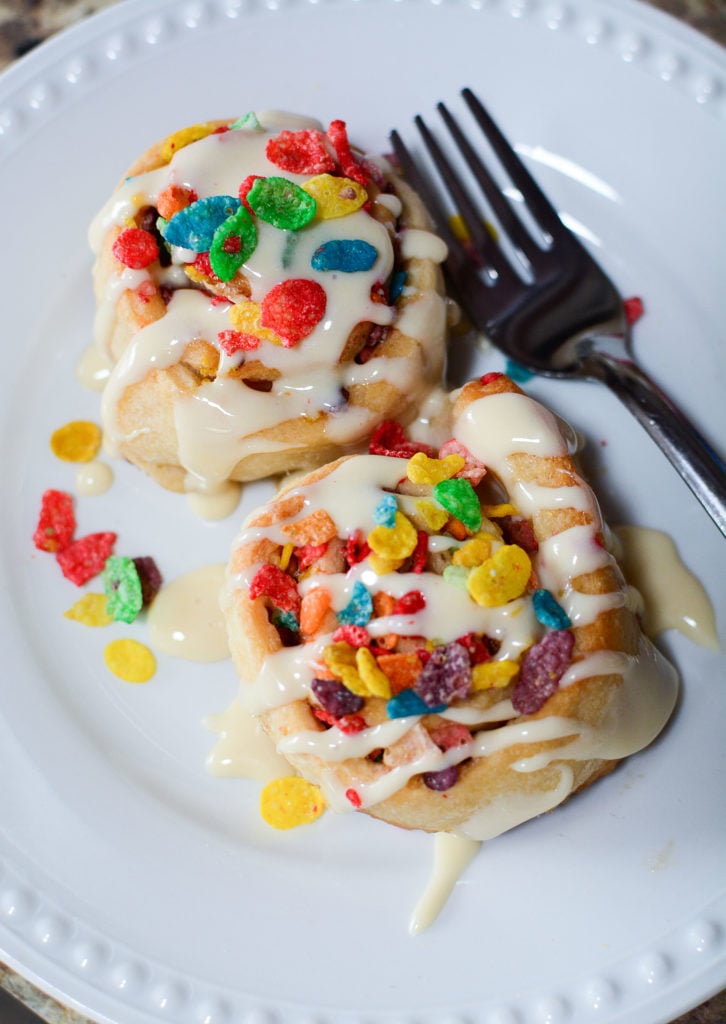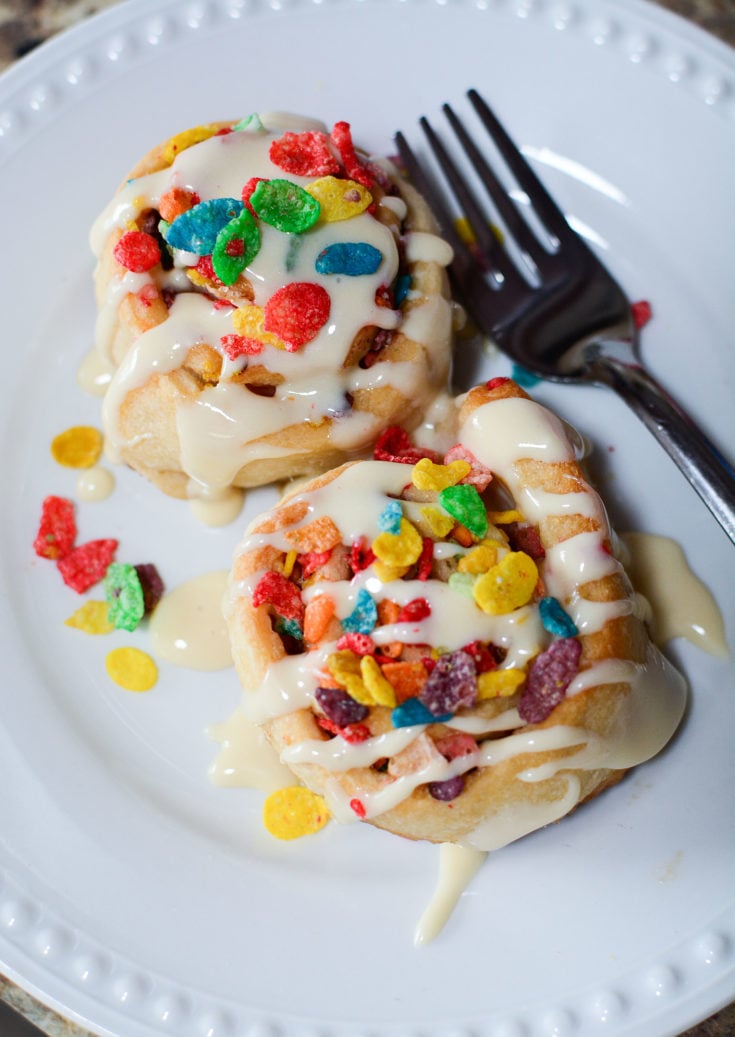 Adding Nuts To These Sweet Rolls
You could if you wanted. Personally, I wanted these to be purely about the fruity pebbles, and not have another added flavor in these sweet rolls. But if you think that adding a nutty element to the rolls would enhance them for you, knock yourself out!
Which Nuts To Add :
I would add nuts like crushed pecans, crushed macadamia nuts, etc. Adding a stronger nut might take away some of the flavors of the cereal.
Can I Use a Croissant or Biscuit Dough Instead of The Pizza Dough?
I think I would be ok using the crescent/croissant dough. Just remember to pinch the seams closed so that it's one big rectangle. Same with the biscuit dough, you can add a few together as I did here in my Grilled Cinnamon Bun Flatbread Breakfast.
By the way – if you're looking for a savory version of these rolls, take a peek at these Garlic Butter Bacon Cheddar Wheels. They're SO delicious and one of the most popular posts on my blog. They make a great side to almost any meal!

Can You Freeze These Fruity Pebbles Sweet Rolls?
I probably wouldn't only because I just don't know how the cereal would react to the thawing process. However, that being said, if you froze them BEFORE you baked them, that might make a difference. So yes, if I was going to freeze them, I would freeze them right up until you bake them.
Of course, though, baking them from frozen will take a much longer time but I think I'd do it that way. If you try to make them this way, please let me know! I'd love to hear how it works out for you!!
So there you have it – a super fun, delicious and decadent little fruity pebbles sweet roll that's perfect for breakfast. Not all the time… but just sometimes 🙂
Thanks so much for stopping by The Salty Pot today, and when you make this fantastic sweet roll dessert, please leave me a comment below and let me know what you thought of them!!
***DON'T FORGET TO ADD THIS FRUITY PEBBLES SWEET ROLL RECIPE TO YOUR FAVORITE PINTEREST BOARD TO SAVE FOR LATER!!***


FRUITY PEBBLE SWEET ROLLS!!!
Additional Time:
10 minutes
A cute twist on the cinnamon bun, these Fruity Pebbles Sweet Rolls are so fun and delicious! They're easy to make and I think you'll find every little one LOVES them!!
Ingredients
1 can Pillsbury pizza dough
1 1/2 c Fruity Pebbles Cereal (see notes)
1 1/2 c Brown Sugar
3/4 c Butter
1 1/2 c Confectioners sugar (icing sugar)
2-3 tbsp cream (see notes)
1 tsp vanilla
Instructions
Open the can of dough and unroll. Preheat your oven to 325.
Brush on 1/2 c butter onto the top of the pizza dough. Be sure to get to the far concerns of the dough.
Sprinkle on 3/4c of the brown sugar onto the top of the butter/dough.
Sprinkle 1 cup of the Fruity Pebbles over the top of the dough. Press slightly to keep them in place, in the dough.
Starting from the long side of the dough, carefully roll the dough up into a long tube shape. Taking a sharp knife, cut the tube shape of dough into rolls. You should get anywhere from 14 - 16 rolls, depending on the thickness of the roll that you make.
Take a 9 x 13 pan and pour the remaining melted butter into the pan. Smear it around so that it reaches the corners. Sprinkle the remaining brown sugar evenly over the butter.
Take all the rolls and place them, cut side down, in the butter/brown sugar mix.
Bake the rolls for 20 - 25 minutes or until golden brown. Be sure to watch them so they don't burn.
After baking, let the rolls completely cool. Meanwhile, mix the glaze.
IN a small bowl, mix together the icing sugar with the cream. Add the cream in small amounts at a time until you reach the consistency of the glaze you prefer.
Drizzle the glaze over the tops of the sweet rolls. Enjoy!
Notes
1. You can use Fruit Loop cereal, but you want to crush the loops into small bits.
2. You can use heavy cream or table cream, whichever you prefer. Add small amounts at a time so that you don't make it thinner that you'd like.
3. If you want to add nuts, add them at the same time you're sprinkling the fruity pebbles over the dough. Crush the nuts into smaller bits, roughly the same size of the pebbles.
Nutrition Information:
Yield:

16
Serving Size:

1 roll
Amount Per Serving:
Calories:

277
Total Fat:

12g
Saturated Fat:

7g
Trans Fat:

0g
Unsaturated Fat:

4g
Cholesterol:

29mg
Sodium:

180mg
Carbohydrates:

41g
Fiber:

0g
Sugar:

29g
Protein:

2g