Don't you just love it when you can come home and dinner is almost ready? Personally, I love it, but really, how often does it happen unless you've ordered in? Well, save the expense of ordering your dinner my friends because with just a tiny bit of pre-planning, you can have MULTIPLE dinners, handy, at your fingertips. Yes, SERIOUSLY!! I present to you: My Individual Freezer Meal Series: Baked Spaghetti!!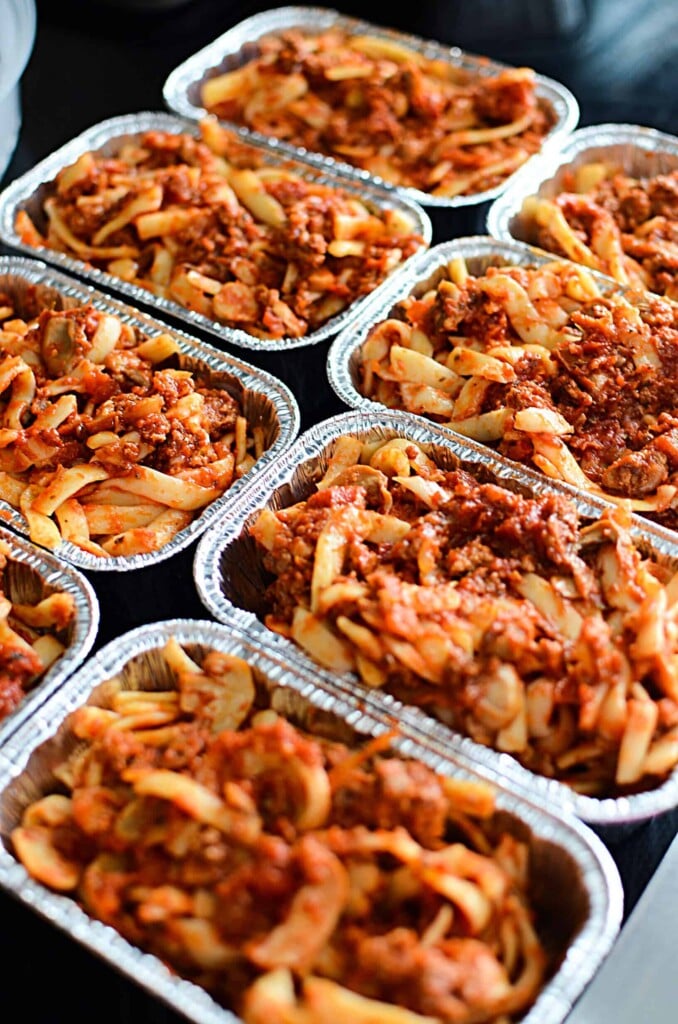 MAKE AHEAD MEALS: Individual Baked Spaghetti
So yes, I've decided to do a series of 5 different, make ahead freezer meal ideas, but all on an individual serving size! Basically because sometimes, there's only 1 or two people eating while others are away/out. Or, maybe there's only one or two to your household, and making spaghetti or big batch meals is just really kinda stupid, unless you're eating these meals for days on end… and let's face it…. eating the same thing day in day out until it's "finished up" is pretty boring.
And then there's the youngin's who just don't want pork chops and mashed potatoes, so you can easily heat one or two of these up for them. And what's ESPECIALLY good about these individual freezer meals? Those busy weekday evenings when it's soccer, football or dance practice and you have to eat and get out the door quickly. Having these healthy make ahead freezer meals available, ensure your kiddo's eat well and save you cash!!
As you can tell, the first in the series of these make ahead meals is this baked spaghetti. Wholy Hanna is this recipe delicious!! And super easy! Why? Because it's done in the slow cooker!! So yeah, sure, you could call this recipe slow cooker spaghetti and meat sauce, but noooo.. not really. It's what you do with everything afterwards that makes it the make ahead part. 🙂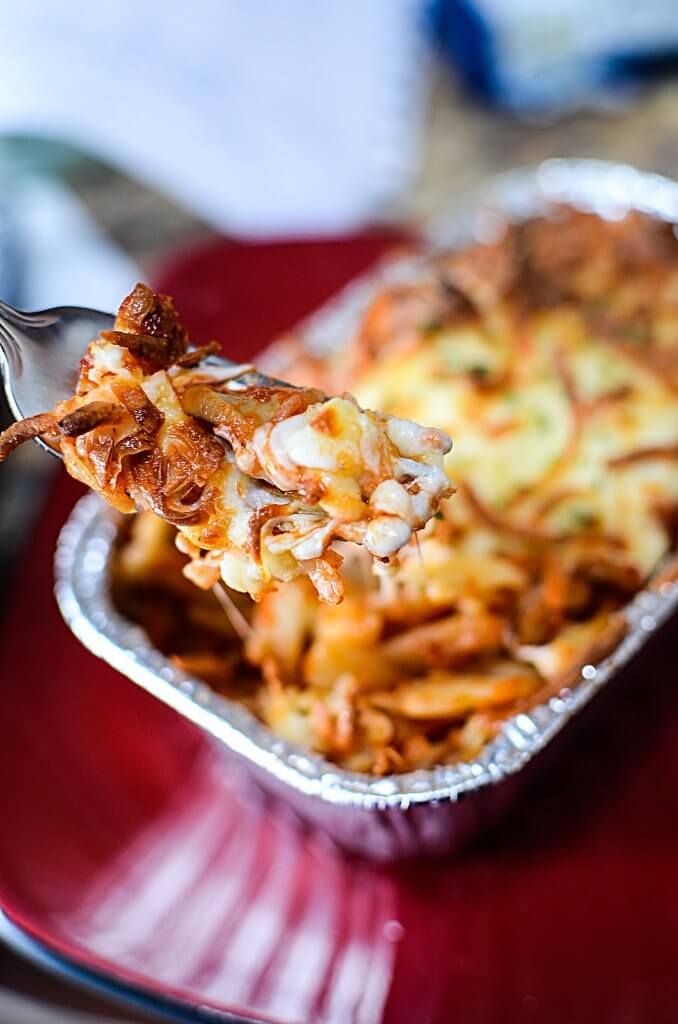 So let's get right into this first Make Ahead Meal: Individual Baked Spaghetti
Your ingredients for this amazing recipe will be:
Ground Beef
Crushed tomatoes
Diced tomatoes
Spaghetti (but I used linguine because that's all I had)
Italian Seasoning
Canned Mushrooms (can use fresh, but I LOVE canned mushrooms)
Diced onions
Salt and Pepper
Parmesan and Mozzarella Cheese
and of course,.. your containers to freeze the meals in.
I encourage you to add any extra ingredients you'd like. Don't like mushrooms? Take them out! Like red chili peppers? Add 'em in! Customize this sauce to how you think you and your family would love it!
Directions for Make Ahead Meals: Individual Baked Spaghetti
Start by sauteing your onions and garlic.
Add your beef and cook it until it's browned. Add your italian seasonings, salt and pepper, and transfer the mixture to the slow cooker pot.
Add the crushed tomatoes
Add the DRAINED mushrooms
Add the diced tomatoes
Give it all a good mixup and put the lid on it.
After you've let it slow cook, then just before finishing the recipe, cook the pasta to al dente. You want it "toothsome" so when you go to reheat this make ahead meal, the pasta will be just perfect. Add the pasta to the bowl and mix well.
Divide the portions amongst the containers evenly. I used these containers here in case you are interested.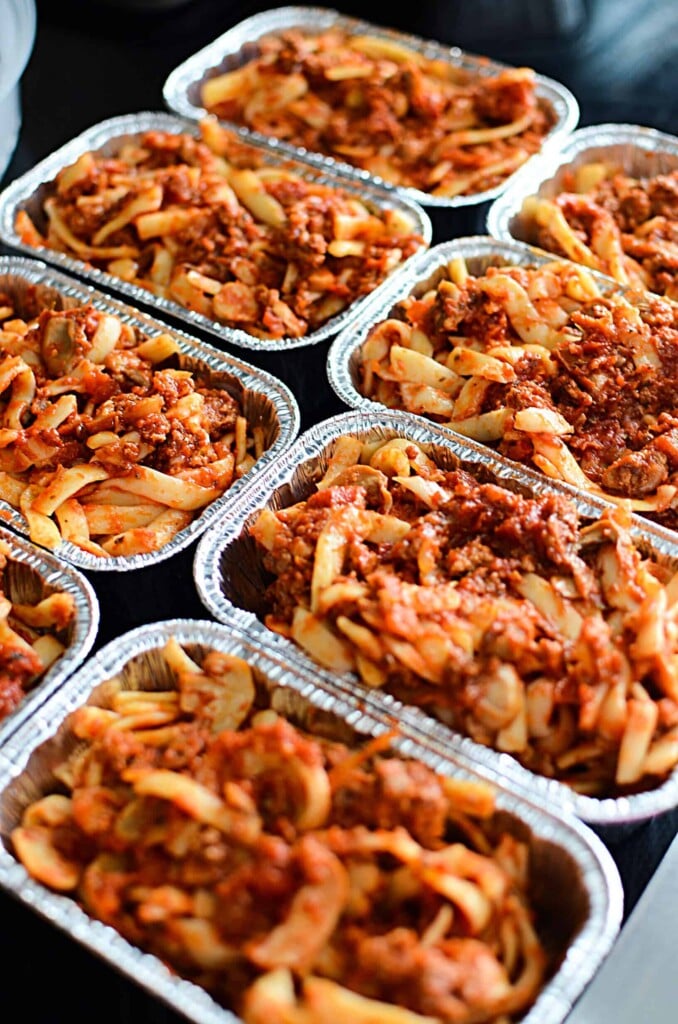 Top with as much parmesan and mozzarella that you would like.
Place the plastic lid on the meal and pop it in the freezer for when you're ready to use it.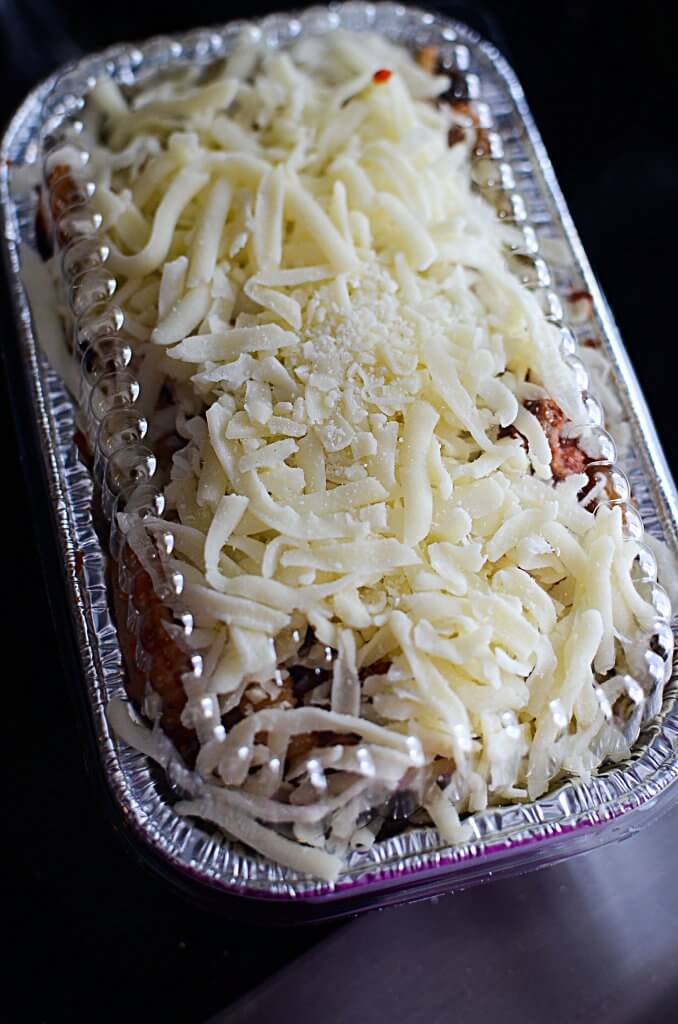 When reheating, I always thaw them before hand. If I know that I will be super busy that night, I take one out of the freezer and leave it in the fridge all day to thaw. By the time I'm ready for dinner, I do one of a few things:
– dump out the contents into a bowl and throw it in the microwave to heat quickly
– take the lid off and place the whole container into the oven (or even better, toaster oven) to reheat.
– If you are wanting to cook them from frozen, I would simple leave them in the oven longer (or microwave, if you are using a non-reactive container).
I've made these for my mother as well (she's sooo over cooking), and she'll leave hers out to thaw for the day, and then actually dump the container into a fry pan and reheat the dish that way. She likes the flavor that frying gives the meat sauce and the pasta. However, if you plan on reheating them this way, I would cook the pasta to pretty much done when you are assembling it, as doing it my mom's way won't give the pasta enough time to get softer.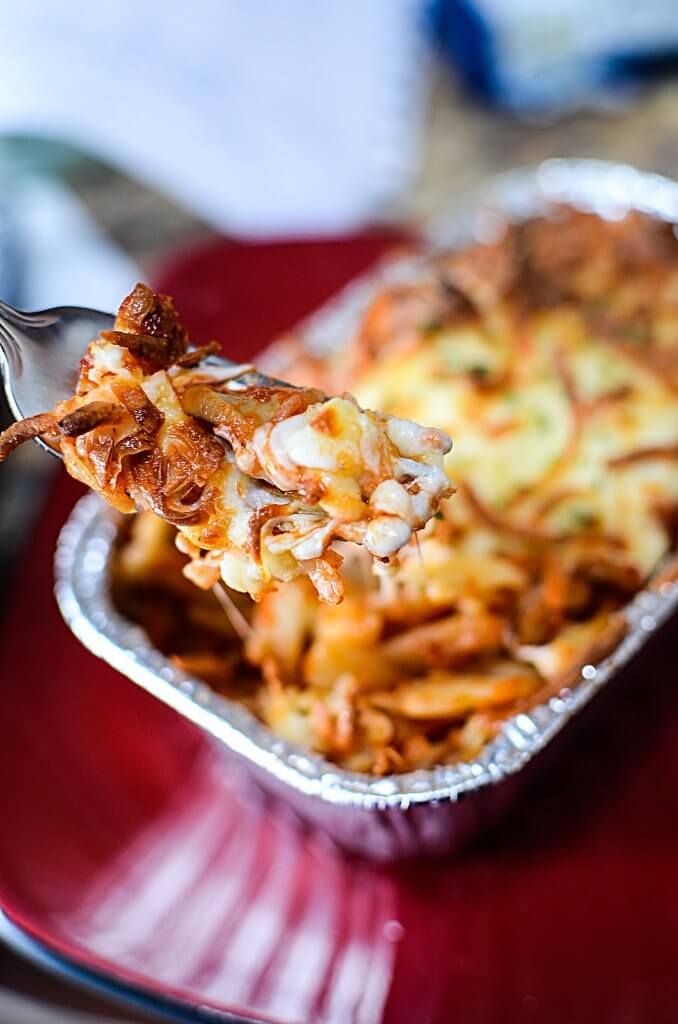 Trust me when I say that these make ahead meals of baked spaghetti will be a hit in your household! Take out four portions, or take out one, it's perfect for whatever you need. If you REALLY want to, and you know you'll be feeding two at a time, then simply use a larger container to freeze a portion big enough for two people!
I hope that you enjoyed taking a peek at this recipe today! I'm all about keeping things simple, and that would include easy make ahead meals. With a WEE bit of planning ahead of time, you can enjoy meals that will save you tons of time in the future. Again, this is the first Make Ahead Meals in the series. I'll be making more in the very near future so keep an eye out for that! Thanks for stopping by The Salty Pot today!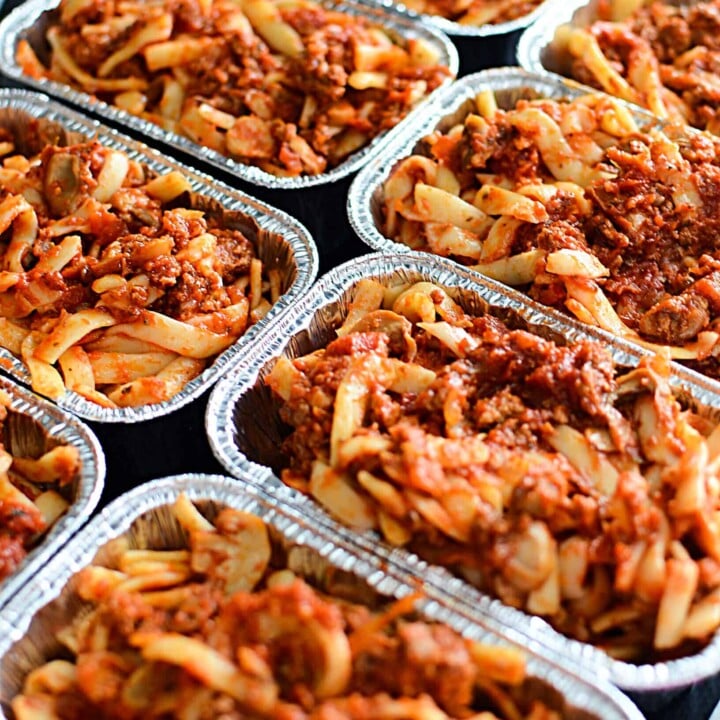 MAKE AHEAD MEALS: INDIVIDUAL BAKED SPAGHETTI
Total Time:
5 hours
15 minutes
Perfect for that busy weeknight, or when you just don't feel like cooking! Healthy make ahead meals are possible with a wee bit of planning - they pay off on those days when you need them the most! Individual Baked Spaghetti with Meat Sauce - How perfect is that!?!?!
Ingredients
1 lb ground beef
28 oz tomatoes, (canned, diced)
28 oz tomatoes, (canned, crushed)
2 teaspoon Italian seasoning, (dried)
2 cans mushrooms, (sliced, drained)
½ onion, (diced)
2 teaspoon garlic, (minced)
1 box spaghetti (I used linguine as that's all I had), (approx 500 gms)
as desired Parmesan, (shredded)
as desired Mozzarella, (shredded)
as desired Salt and pepper
as desired Garlic, (minced)
Instructions
Saute onions and garlic today until translucent
Add the beef and cook until browned. Add garlic, salt and pepper, and Italian Seasoning.
Transfer beef to slow cooker bowl and add the crushed tomatoes, diced tomatoes, mushrooms, and stir together.
Taste for seasoning. Add more salt or seasonings that you may desire.
Cover and let cook for 4 - 5 hours on low, or 2 - 3 hours on high.
Shortly before the sauce is cooked, cook the pasta in salted water until al dente. Drain.
Add the pasta to the meat sauce in the slow cooker. Mix well.
Divide the mixture between 8 foil tins (or whatever containers you are using). Top with as much mozzarella and Parmesan cheese as you wish.
Cover the containers and freeze.
When reheating and preparing for dinner, either thaw the baked pasta during the day in the fridge, or remove completely frozen from the container. Reheat in the microwave (removed from the foil container) OR if a foil container was used, remove the lid and bake in the oven or the toaster oven. Reheating time will depend on the method used. If reheating from frozen, the time required will be longer than if reheating from thawed.
Enjoy!
Nutrition Information:
Yield:

8
Serving Size:

2 cups
Amount Per Serving:
Calories:

235
Total Fat:

11g
Saturated Fat:

4g
Trans Fat:

0g
Unsaturated Fat:

5g
Cholesterol:

54mg
Sodium:

133mg
Carbohydrates:

14g
Fiber:

3g
Sugar:

6g
Protein:

19g
All nutritional information is based on third-party calculations and is only an estimate. Each recipe and nutritional value will vary depending on the brands you use, measuring methods, and portion sizes per household.
*******DON'T FORGET TO PIN THIS MAKE AHEAD MEALS: BAKED SPAGHETTI RECIPE TO YOUR FAVORITE PINTEREST BOARD TO SAVE FOR LATER!! *******