Finding options for beef stew side dishes is sometimes difficult for a number of reasons. Stews can be complex in flavor and texture, and those aspects will often dictate what sort of side is perfect to serve. Let's look at some of the best side dishes for beef stew.
What Side Dish Should I Serve With Stews?
There are so many fantastic side dishes to serve with beef stew. It really comes down to what kind of flavor profile you are wanting to serve along with it.
Comfort Food Side Dishes
When my stew is a good mix of meat and vegetables with a nice amount of gravy, like my Ninja Foodi Beef Stew, I like to serve a starchy-type side. Those types of side dishes for stew usually help to absorb the gravy and compliment the tender stew meat.
Breads
A really nice, artisan sourdough bread like the recipe on Alexandra's Kitchen for Simple Sourdough Bread would fit the ticket when served with a hearty stew.
If you didn't want to make sourdough bread, try something like my No-Knead Dutch Oven Country Style Bread that's super simple to make. If you want even easier than that, try this recipe for my Slow Cooker Bread because the slow cooker does most of the work!
Keep in mind that with any of the bread listed above, you can slice it, toast it up, and slather it with garlic butter to make a delicious side of garlic toast for the meal!
Lastly, if you want a quick soda bread to make, this recipe for Cheddar N'Dill Bread is perfect for a stew that has a Guinness gravy base.
Rolls/Buns
If you're not really feeling sliced bread, serving rolls or buns might be the answer. Beautiful and tasty when served with butter, they are the perfect dunking partner for that rich, flavorful gravy that's part of your beef stew dinner.
I have a recipe on the blog that's really popular and very easy to make. Easy Cheddar Buns or Garlic Butter Bacon Cheddar Wheels are unique, easy to make, and would add even more flavor to side with your stew.
Biscuits
Much like rolls, biscuits are a perfect vehicle for soaking up delicious beef gravy in your stew. Biscuits like these Easy Homemade Biscuits are made without using yeast and take less time to put together than a yeast roll.
Alternatively, why not bake the biscuits ON TOP of the stew in the last few minutes that it cooks as I did for my Crock Pot Chunky Chicken Stew and Biscuits recipe? It's a great way to add even more interest and flavors to your stew, and it saves dirtying up more dishes!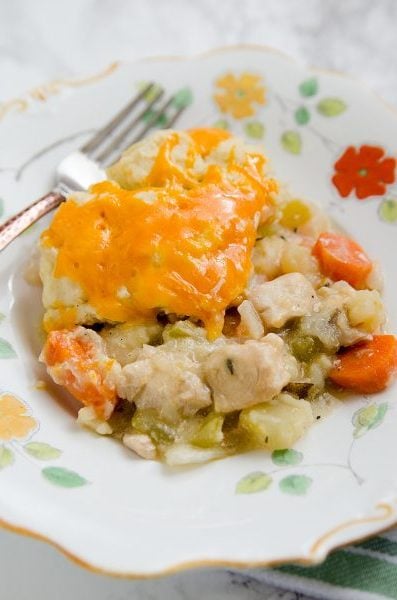 Potatoes
So many options here! Of course, the classic way would be simple mashed potatoes. And that's fine, but why not level up a bit if you have the time?
This Creamy Instant Pot Mashed Potatoes and Onions or my Instant Pot Loaded Mashed Potatoes are the PERFECT side to serve with a rich beef stew that doesn't contain potatoes.
The stew can be served right on top so each bite gets some mashed potatoes and stew. Another option instead of mashed white potatoes, try serving some mashed sweet potatoes. They're higher in fiber, and the sweet flavors contrast beautifully against the savory notes of the hearty stew. Perfection.
Another great idea for serving a potato side would be to make these Crockpot Baked Potatoes. When they're roasted, you could easily serve the stew right on top of a sliced open potato! YUM!
Lastly how about Rosemary Roasted Potato Wedges? I'd love these for dipping, just like toast soldiers!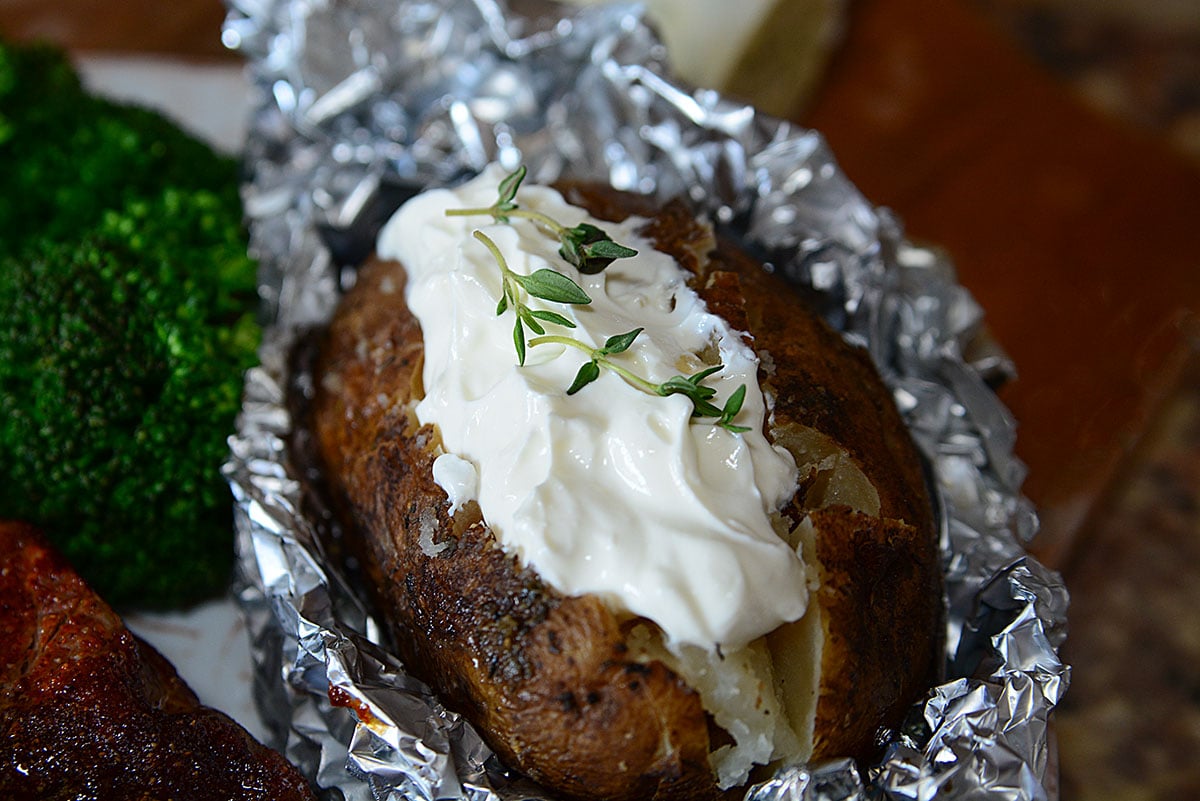 Rice
Rice is another great option to serve with stew. Much like potatoes, it helps absorb some of the gravy while also adding bulk to the stew, stretching the meal even further.
You can make plain, buttered white rice really quickly as I did in my Ninja Foodi (the directions would be the same if you made it in any pressure cooker or instant pot).
To fancy it up a bit, you could make brown rice, wild rice, or rice pilaf. Note that both the brown rice and wild rice will take longer than plain white rice, however, they both have way more healthy nutrients than plain white rice as well.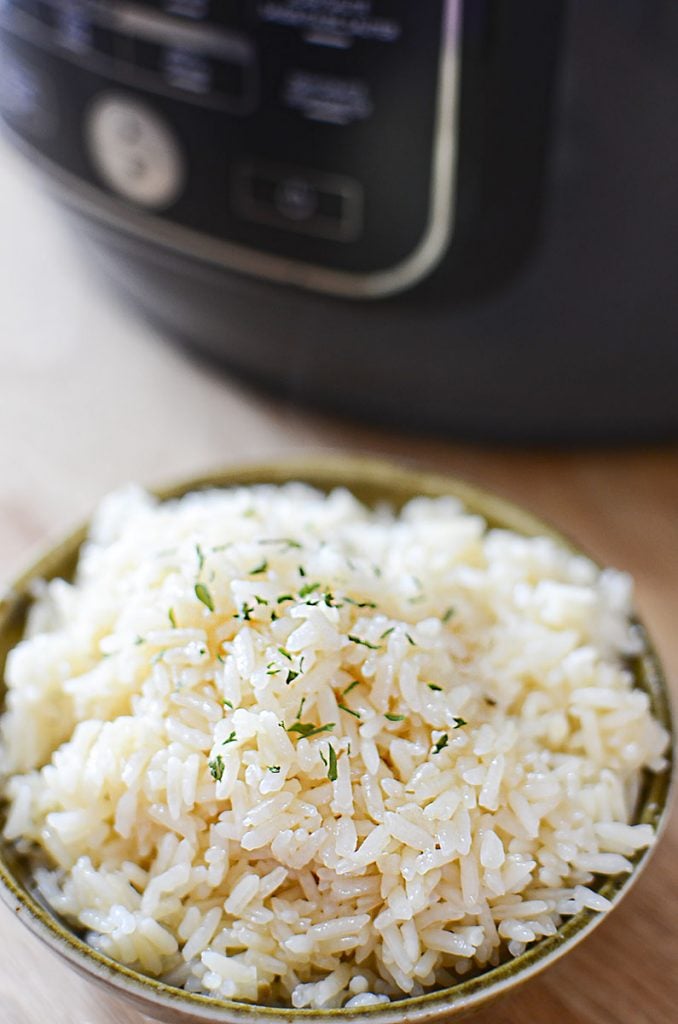 Polenta
Polenta is similar to a soft mashed potato but made of boiled cornmeal. And much like mashed potatoes, the Smooth and Creamy Polenta will carry that tender meat and gravy in super tasty ways.
Alternatively, you can spice it up a notch and make something similar to bun/bread and make a Jalapeno Skillet Cornbread which would be a perfect companion to your stew if you added some heat the dish itself to echo those flavors.
Pasta
If your family isn't hot on bread or potatoes, you could also look at serving some pasta noodles either on the side or serving the stew on top, much like in a stroganoff style.
Quinoa
Quinoa is a grain and acts very similar to rice. however, quinoa cooks much faster than regular rice. This Easy Cheesy Quinoa would taste so delicious with a beef stew!
Non-Starchy or Low Carb Sides
Sometimes the beef stews we make need a lighter, yet filling side. Again, there are a lot of options to serve as a side with beef stew.
Cauliflower Rice
Cauliflower rice (or Caulilofwer Mashed Fauxtatoes) is a popular low-carb replacement for rice. It's easily made and can be adjusted to be even more nutritious by adding extra veggies and making it into a Cauliflower Rice Pilaf.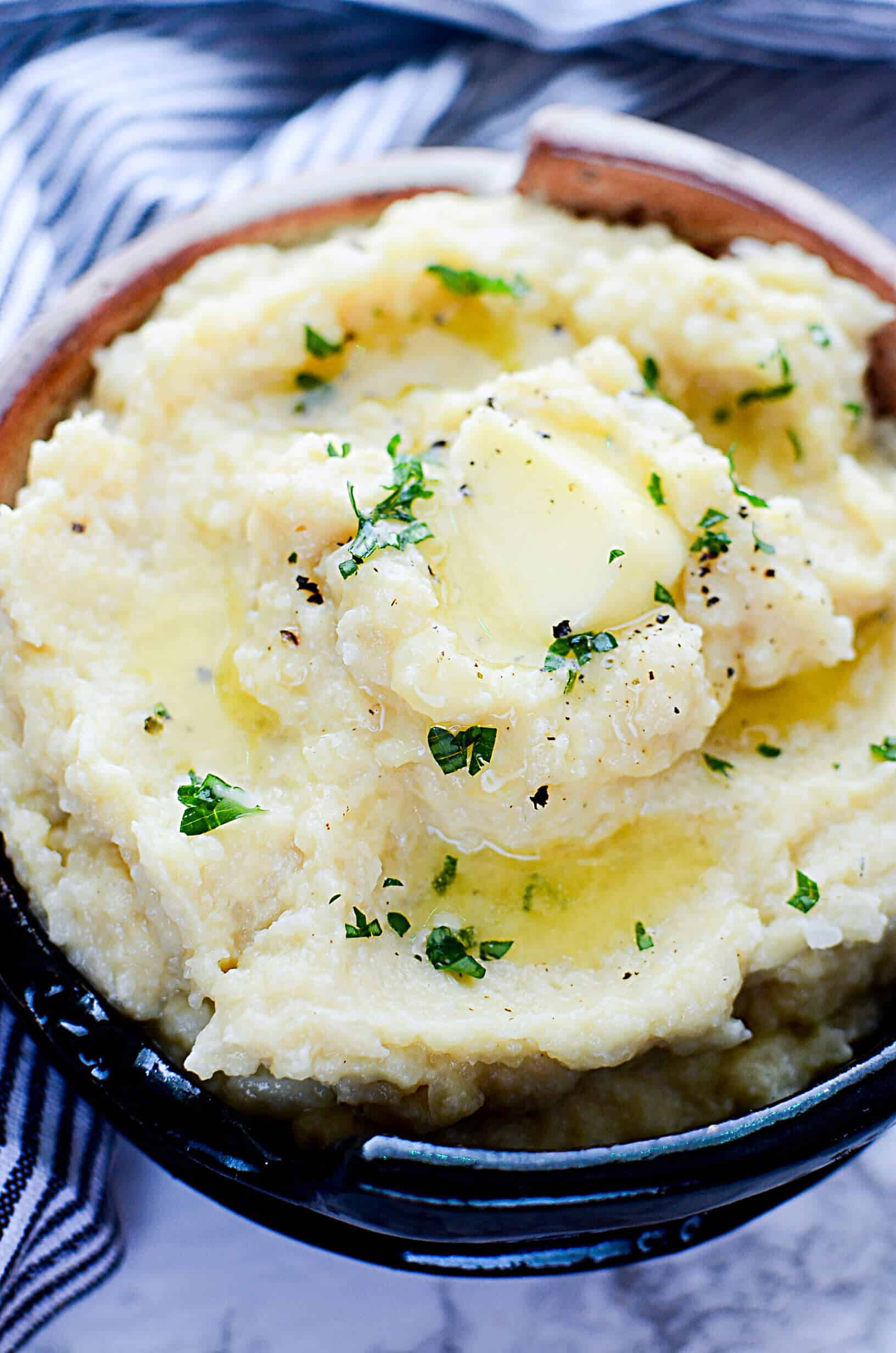 Low Carb Hashbrowns
Believe it or not, these Low Carb Skillet Hashbrowns would be super delicious alongside some stew.
Alternatively, instead of cooking the stew with potatoes, subbing in whole radishes is an excellent replacement for the higher-carb regular potatoes.
Salads
Green leafy and veggie salads with dressing that cuts through the richness of the stew are great but of course, would need to serve in a bowl on the side.
For a twist on the leafy salad, why not try a refreshing Creamy Cucumber Tomato Salad that will help cut through the fattiness of the beef and vegetable stew that gives a fun textural component to things. The creaminess adds some indulgence, but the freshness helps enhance the entire meal.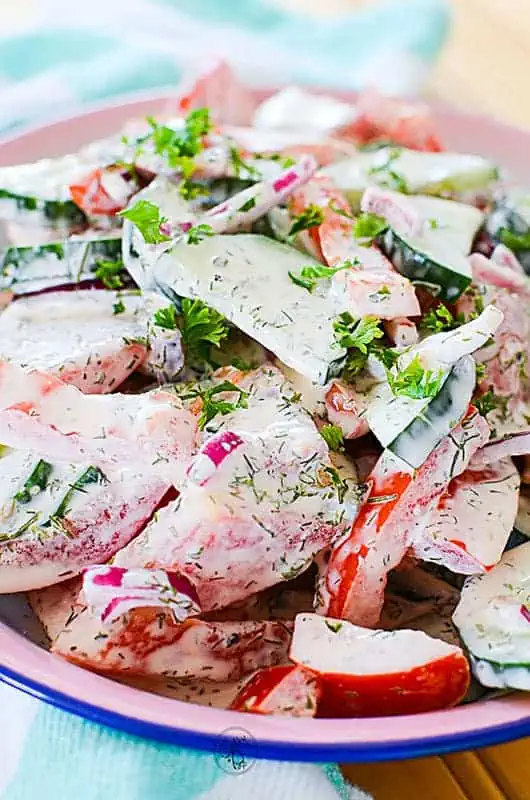 PICKLES AND CONDIMENTS
I like to serve a small plate of different pickles and ferments (like sauerkraut) on the side of meals with rich flavorful meats like my Instant Pot 3 Packet Roast.
Different veggies that I've served are ones like my mom's recipe for Bucket Pickles (that are SUPER easy to make) and her Beet Pickles recipe that adds such a nice sweet/sour contrasting flavor that goes so well with Beef.
Well, my dear reader, I hope I've given you enough ideas on what sides dishes you could serve with your beef stew recipe. If you have any other great sides that you serve, please comment and share below so we all have some new suggestions!
Thank you so much for stopping by The Salty Pot today, and I hope you have a fantastic day!