Aren't potatoes just so amazing? So versatile and while they're awesome on their own, adding things to make them a dish like this Instant Pot Loaded Mashed Potatoes pretty much makes them ROCK.
INSTANT POT LOADED MASHED POTATOES
Using the Instant Pot to make these mashed potatoes literally makes the job of creating these creamy mashed potatoes so much easier. No watching the stove top pot in case it boils over and makes A HUGE MESS.
You can literally leave the kitchen and do other fun things like paint a painting, or crochet a blanket…. oh who are we kidding. We'd all be practicing our margarita making while those potatoes cooked!
Anyway.. super easy, super tasty, incredibly awesome, loaded mashed potatoes to make as a side dish. I kid you not.
Get the peeled potatoes into the pot. You don't have to peel them if you don't want to, either! (see, more and more easy as we go along!)
Get that lid on and get them cookin'!
After cooking, add the seasonings and mash!
After mashing, add your mix-ins!
Place in a serving dish and add the remaining toppings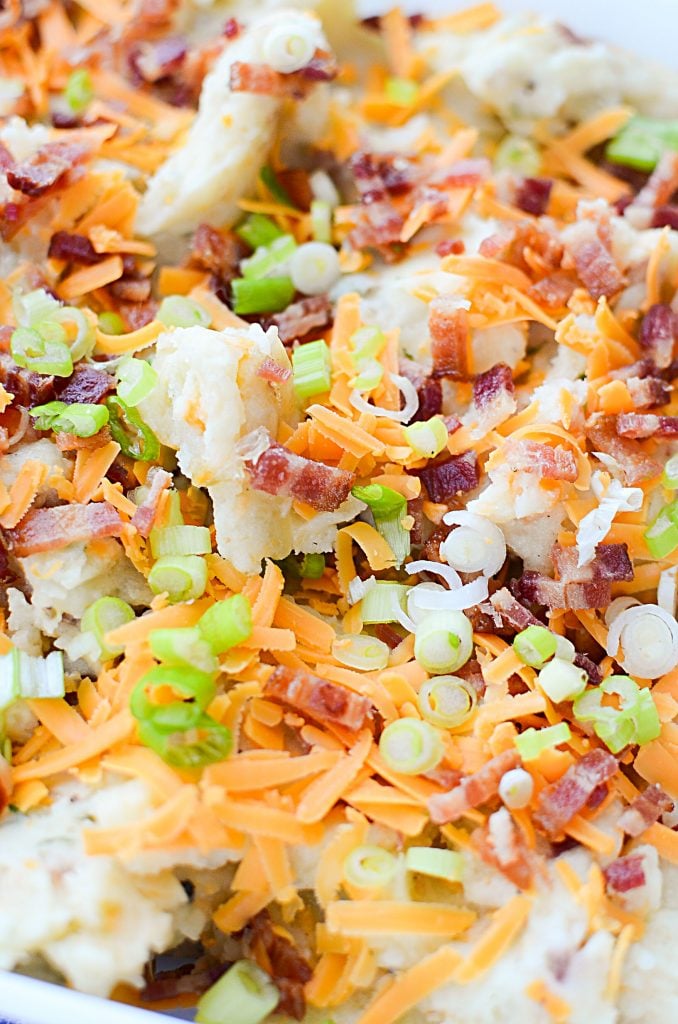 Serve from here if you'd like, OR, place the dish under the broiler (considering its heat safe) for a minute or two just to melt the cheese!
What Could I Serve With These Mashed Potatoes?
These delicious loaded potatoes could be served with almost anything! How about:
Instant Pot Pineapple BBQ Ribs
BBQ Sheet Pan Chicken
Crispy Chicken Thighs with Lemon Butter Sauce
Country Lime Chili Ribs
So pretty don't you think? 🙂
Soooo yummy too!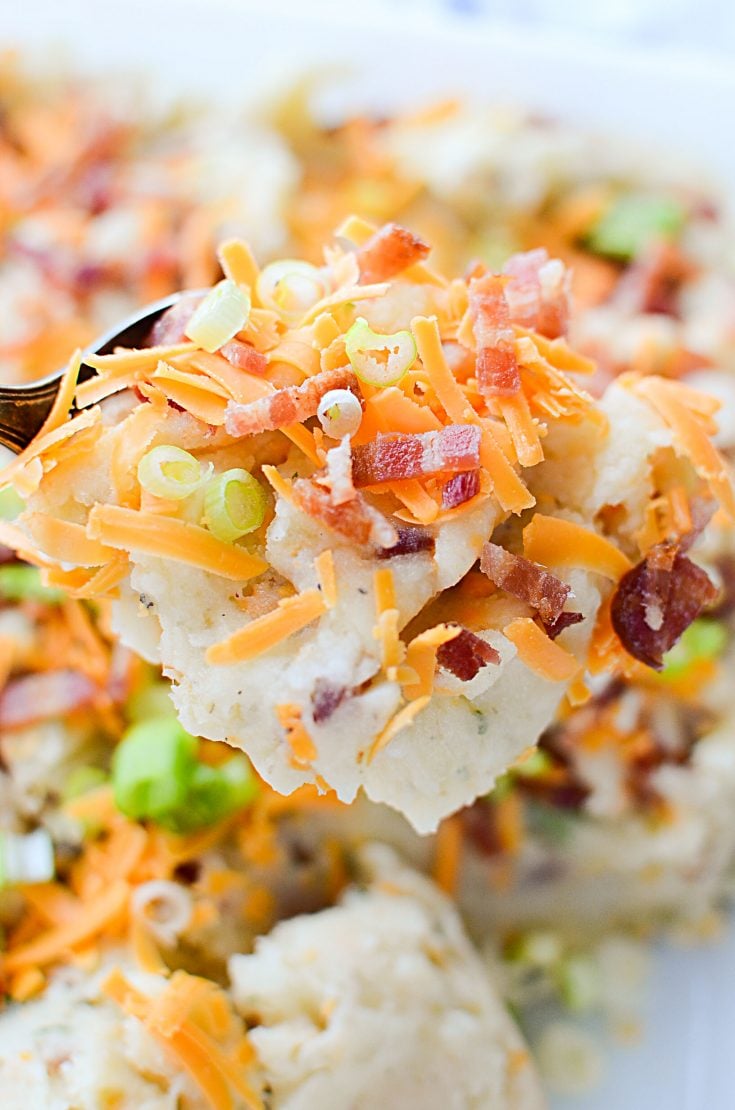 Loaded Mashed Potatoes Optional Ideas
There are lots of ways you can change up this loaded potatoes recipe! I like to do things a little different, so we don't get bored from time to time! Here are the best things to try out:
Cauliflower – If you are watching your carb intake, don't worry you can substitute half the potatoes for cauliflower. No one will even notice the difference!
Ground Beef – Transform these loaded mashed potatoes into a special treat by mixing in some ground hamburger! So good, and it tastes like shepherd's pie!
Cheese – Change up that cheese! You don't have to limit loaded mashed potato casserole to just cheddar! Try some mozzarella, provolone or gouda! Go crazy because it will be amazing no matter what you choose.
Sour Cream – Oh My Goodness! You can't forget the sour cream. Add a dollop on top or mix it in. Either way, it's so good.
Ranch Dressing – Okay, it's totally normal to add ranch dressing to everything, so why not these loaded mashed potatoes?
How Full Can You Fill An Instant Pot?
When you are making instant pot mashed potatoes or anything else, it's important not to fill it past the max fill line. If you do, you may end up with a giant mess or undercooked food. Plus, the texture and flavor will not be good either. Either way, it spells disaster!
Can I Save Leftover Mashed Potatoes?
Of course, you can save leftover mashed potatoes! Keep any leftovers in the fridge or freezer in an airtight container. Glass or plastic works fine, so use what you have. To heat them up, simply place in the refrigerator overnight and toss into the oven. I bake them at 350 degrees F. until the cheese is melted and they are warm the whole way through. You can also microwave them if you are in a hurry.
Are Potatoes Good For You?
I know there is a lot of hype about potatoes being unhealthy. It's not that they are unhealthy, it's just that we need to make sure we aren't eating them all the time with tons of toppings! Each time you eat a potato you are getting vitamin C and potassium! So, if you are watching your carb intake, you may want to skip white potatoes, but otherwise, eat up! They are nutritious, tasty, and the perfect food for any occasion.
Can I Make This Recipe With Sweet Potatoes?
Oh yes! You absolutely can make this instant pot loaded mashed potatoes recipe with sweet potatoes. All you have to do is follow the instructions I gave except substitute sweet potatoes. The unique flavor and sweetness of a sweet potato go lovely with the salty bacon and cheddar cheese. It's seriously so yummy! Give it a try, because I am sure you will love it.
How Do I Know If Loaded Mashed Potatoes Have Gone Bad?
You will immediately notice the mashed potatoes being runny, and an odor if they have started to go bad. You may also notice there is mold growing. If you see any signs that the potatoes are bad, get rid of them because there is no sense in making yourself sick!
**DON'T FORGET TO PIN THIS INSTANT POT LOADED POTATOES RECIPE TO YOUR FAVORITE PINTEREST BOARD SAVE FOR LATER!**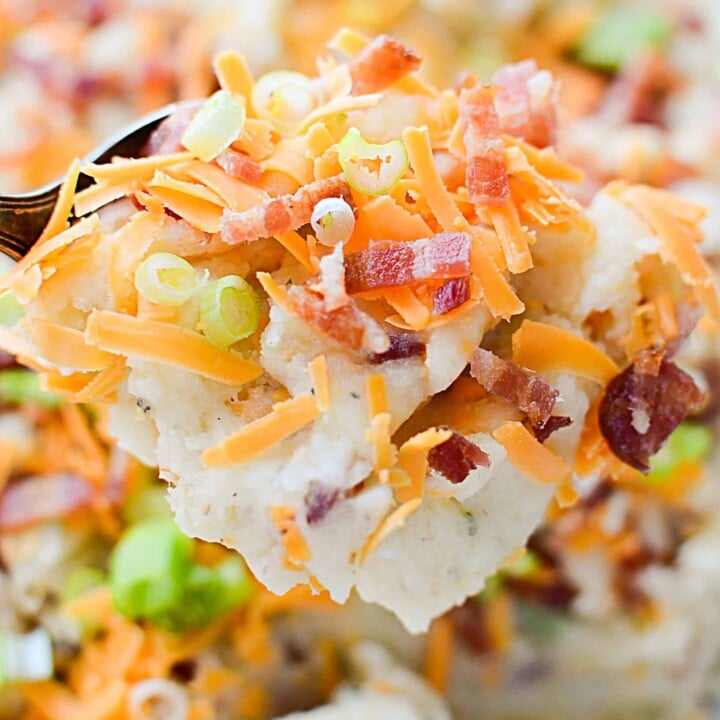 Instant Pot Loaded Mashed Potatoes
Additional Time:
5 minutes
These Instant Pot Loaded Mashed Potatoes are so creamy, so savory, so cheesy, so bacon-y, they literally are like eating a loaded baked potato - without the baking part!
Ingredients
2 Lb Potatoes, peeled and cut in quarters (see notes)
1 cup chicken stock or water
1 cup cheddar cheese, shredded
5 - 6 pieces of cooked bacon, diced
2 green onions (scallions), diced
¼ c butter
⅛ c milk (see notes)
½ teaspoon garlic powder
1 teaspoon thyme
as desired, salt and pepper
Instructions
Place the trivet in the bottom of the instant pot bowl.
Transfer all the potatoes onto the trivet
Pour in the chicken stock or water
Place the lid on the top of the Instant Pot, and turn the toggle switch to seal.
Select Manual, high, for 14 minutes.
While the potatoes are done cooking, do a quick release to expel all the pressure in the pot. Be careful of the steam!
Remove the lid and carefully drain the potatoes and remove them to a bowl.
Add the butter, milk, garlic powder, thyme, salt and pepper. Mash the potatoes to your desired consistency.
Reserve ⅓ of the bacon, cheddar and onion to the side. Add the remaining topping ingredients to the potatoes and fold them in. Careful not to mix too much as that will make the potatoes gluey.
Transfer the potatoes to a serving dish, and sprinkle the remaining toppings on top of the potatoes.
Notes
Notes:
You can peel the potatoes or leave the skins on. I peel them this time, but I usually prefer to leave the skins on as they give extra nutrients and texture. Also, I prefer to use russets for mashed potatoes, but you can use what you have on hand.
The ⅛c of milk is an approximate. Slowly begin mashing the potatoes with half of the ⅛c, and then add the rest if needed. Depending on the potatoes you use, you might have to add up to ¼c of milk. Alternatively, you can also use sour cream if you prefer, to add some extra tang.
Lastly, when putting the toppings on the potatoes. You can leave them as is, or choose to place them under the broiler for a minute or two to melt the cheese.
Nutrition Information:
Yield:

10
Serving Size:

½ cup
Amount Per Serving:
Calories:

215
Total Fat:

11g
Saturated Fat:

6g
Trans Fat:

0g
Unsaturated Fat:

4g
Cholesterol:

31mg
Sodium:

302mg
Carbohydrates:

21g
Fiber:

2g
Sugar:

2g
Protein:

8g