These crock pot baked potatoes are fluffy, easy to make and absolutely delicious. I know, I know, you wouldn't think it, but it's true!
Easy Crock Pot Baked Potatoes Side Dish!
Looking to whip up a quick side dish that requires minimal effort? You can never go wrong with potatoes, and if you've got a few Russet potatoes lying around, this one's the perfect recipe to get started with.
Why Specifically Russet Potatoes For Baked Potatoes?
Browse through the farmer's market or a grocery store and you'll come across several different kinds of potatoes. Most russets (and sweet potatoes) in particular have impressive starch content and are perfect for frying and baking.
The waxy kind of potatoes (fingerling, Yukon gold, and red-skinned variants) work well for soups and salads since they hold their shape pretty well.
And then there are all-purpose potatoes- the blue and purple potatoes which are great for pretty much everything- mashing, baking, and roasting. (not to mention fun colors!!)
It is always a good idea to have your basic potato varieties cleared so that you don't end up having a potato salad that resembles a mashed potato mixture, and a mashed potato that doesn't seem to have the right amount of creaminess and fluffy texture to it.
Ahem.
Don't ask me how I know.
Ok, moving on….
Why Make The Potatoes In The Slow Cooker?
Baked potatoes are awesome when made in the slow cooker for a few reasons:
1. They won't heat up the kitchen by putting them in the oven to roast
2. You can 'set them and forget them' in the slow cooker. You become an amazing double, triple or even multitasker!
3. Use less power than working the oven for a few potatoes.
Directions For Making The Spuds
So let's dive right into this crock pot baked potato recipe, shall we? Here's how I made it.
I started by coating 3 Russet potatoes in oil and seasonings.

Pierce the potatoes all over and wrap them in foil.

Put them in the crockpot and you're off to the races!

That's it. It's that easy!
The reason why these crock pot roasted potatoes are perfect for those who have a busy schedule is that you can put set them up in the cooker and leave for work, and find them ready once you get back home. Easy peasy right?
And yes, you can also plan meals around them- which is another plus!
What Can I Do With Leftover Potatoes?
This is part of the beauty of leftover slow-cooked baked potatoes! They're really versatile and there's no reason to waste the extras.
How about making some Chicken Ranch Potato Bake with the leftover potatoes? Add a bit of rotisserie chicken and you have a fantastic one-pan meal!
You could heat and then mash them up, caramelize some onions, and make this Mashed Potatoes with Caramelized Onions and Bacon! That recipe is always a hit when I make it! It's done with the Instant Pot, but you can use the leftover mashed potatoes to make a half recipe!
Or, check out Julia's Album. She has a fantastic recipe for Breakfast Flank Steak & Eggs with Guacamole. Replace the tortilla with leftover cubed potatoes and you have a morning breakfast worth waking up early for!!!
Tips & Tricks For Even Better Baked Potatoes
You might be confused about how many you need to make, but the beauty of this easy recipe is that even if you have leftovers, you can easily put them to good use- since they are super versatile.
You can bake up to six potatoes in the slow cooker at once time. Just keep remembering to give them a flip and rotate them once during cooking time.
When picking the potatoes, pick medium-sized, oblong-shaped potatoes. They should have no major blemishes on them, and if there are some eyes or bruises, carefully cut them out.
If the potato is soft in spots or has a smell, then discard it. It's old and shouldn't be used.

What about Freezing These Slow Cooker Bake Potatoes?
Yes, you sure can. After roasting them, I would keep them in their foil jackets and put them (cooled) into a freezer-safe container or plastic bag.
You can freeze them like that, and then thaw them ahead of time (overnight is perfect in the fridge).
You can reheat them in the microwave (removed from the foil jackets of course), or you can dice them up and pan-fry them for skillet potatoes! Just remember to add a bit of seasoning to the potatoes.

If you need a thickener to some soups, take a frozen potato out of the package, remove the foil jacket, microwave to thaw, and then cut or mash and add to your soup for a thickener.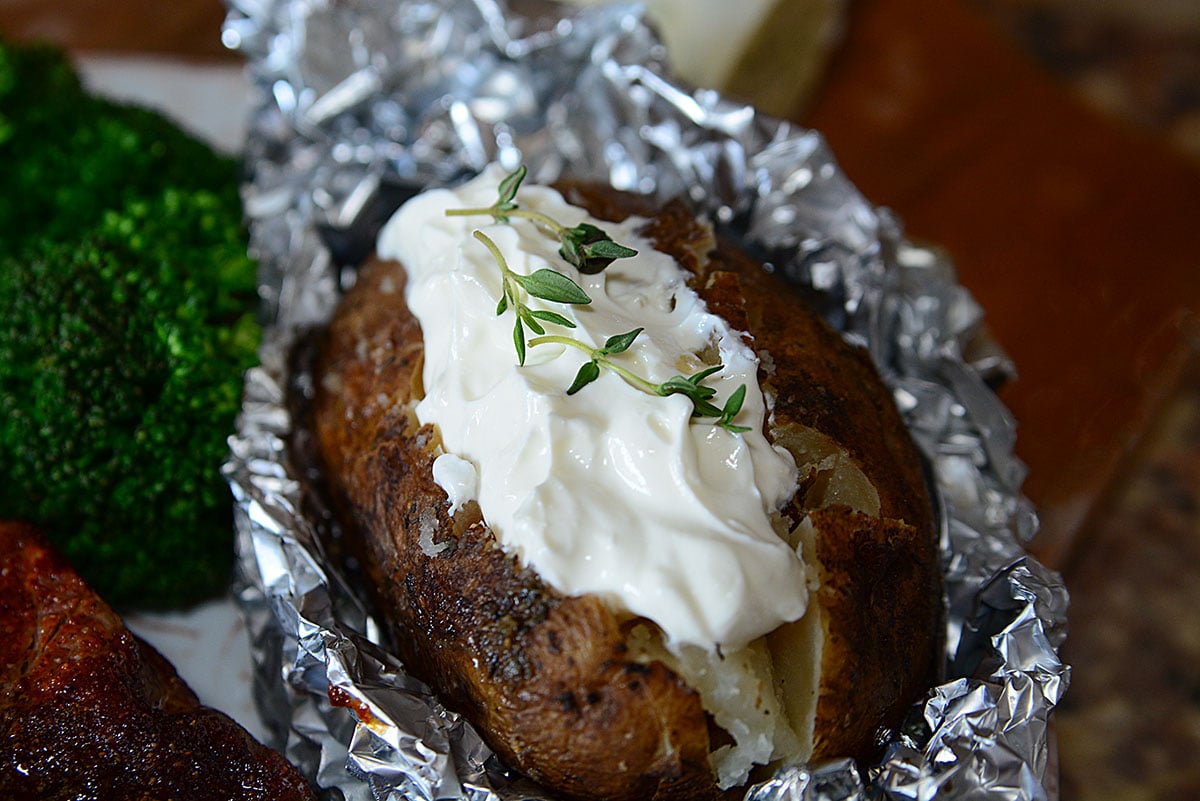 Ok, so that's about it for making Crock Pot Roasted Potatoes!! I hope that when you try this recipe you'll give me a shout in the comments on a quick email at joanne@thesaltypot.com and let me know what you thought of it!
How did you switch it up? Did you make it exactly like I did? What ideas do you have to make with the leftover baked potatoes??
Thank you so much for stopping by The Salty Pot today, and I really wish you have an excellent day today!! See you next time!
Crock Pot Baked Potatoes
Total Time:
6 hours
10 minutes
A super easy and efficient way to cook/roast baked potatoes in the slow cooker! I like to season mine before they go in the pot for cooking, and after following my method, you'll want to make baked potatoes in the slow cooker every single time! (Especially when you're busy!!)
Ingredients
3 medium-sized russet potatoes (see notes)
1 tablespoon olive oil
½ teaspoon Italian seasoning
as desired, salt and pepper
Instructions
Wash and pat dry the potatoes. With a fork, pierce the potatoes all over.
Place them in a bowl and drizzle the oil, seasoning and salt and pepper over them.
With clean hands, spread the seasoning/oil mixture evenly over all the potatoes.
Cut three sheets of aluminum foil and wrap each potato in one piece of foil.
Place them in the slow cooker for 2-3 hours on high, or 6-8 hours on low.
After cooking time is up, check for doneness by inserting a fork. If the fork goes in easy, the potatoes are done. If there is a lot of resistance or the fork sticks in the potato and doesn't want to come out easily, then it will need more time.
When the potatoes are finished, remove carefully by using oven mitts and open up the foil. Slice the potato lengthwise and dress with preferred toppings.
Enjoy!
Notes
If your potatoes are larger than a medium sized potato (about 5 ounces or so), then the cooking time may be a little longer. Please adjust your time accordingly.
***HEY, WHILE YOU'RE HERE, DON'T FORGET TO PIN THIS CROCK POT ROASTED POTATOES RECIPE TO YOUR FAVORITE PINTEREST BOARD TO USE FOR LATER!***