Air fryer zucchini sticks are crispy, crunchy, and delicious without leaving an oily aftertaste in your mouth. Put any condiments you like with them, ketchup, ranch, or even a little dusting of salt, they make a perfect snack or side, anytime.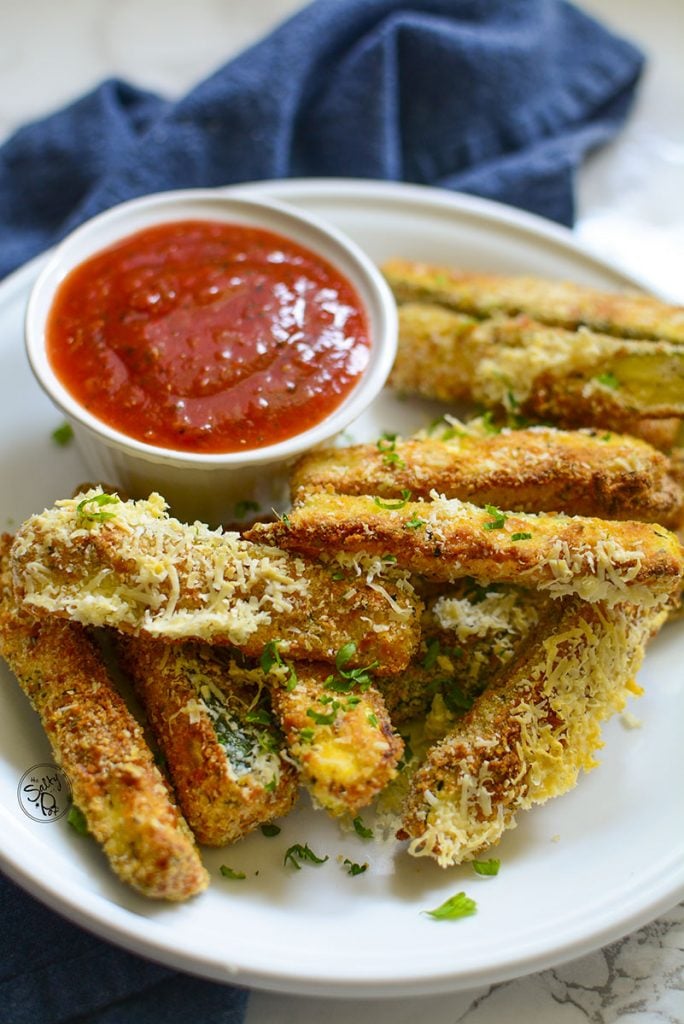 Air Frying Vegetables = A new way to get your five a day!
Air Fryer Zucchini Sticks
With just 4 simple ingredients and a few minutes of cooking time, these little delicious zucchini snacks are the perfect snack or side to whip up when you're hosting some friends.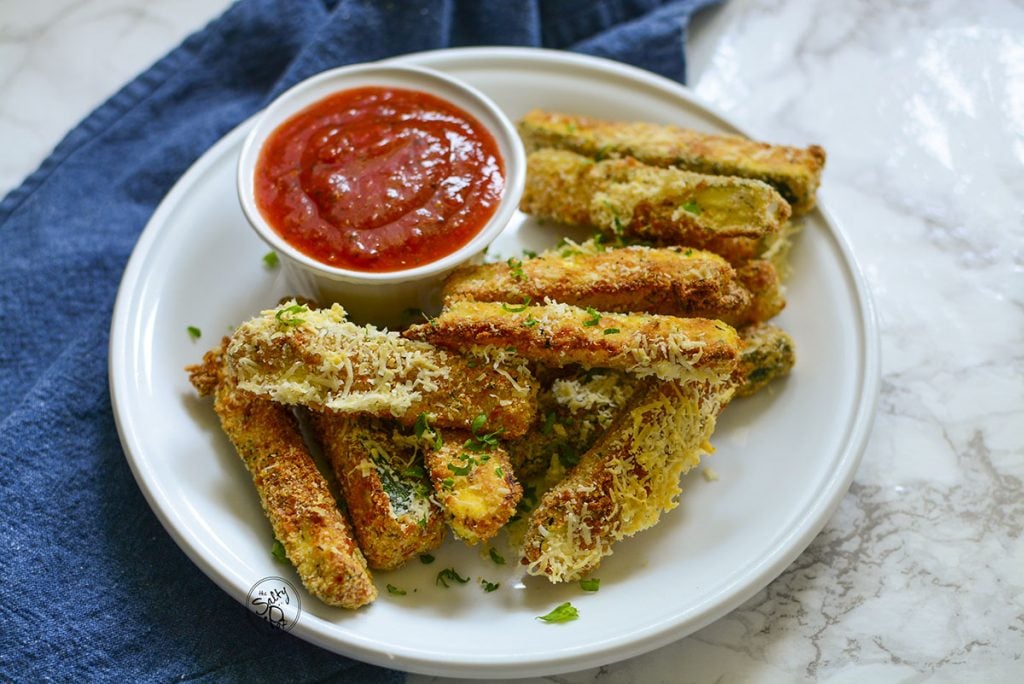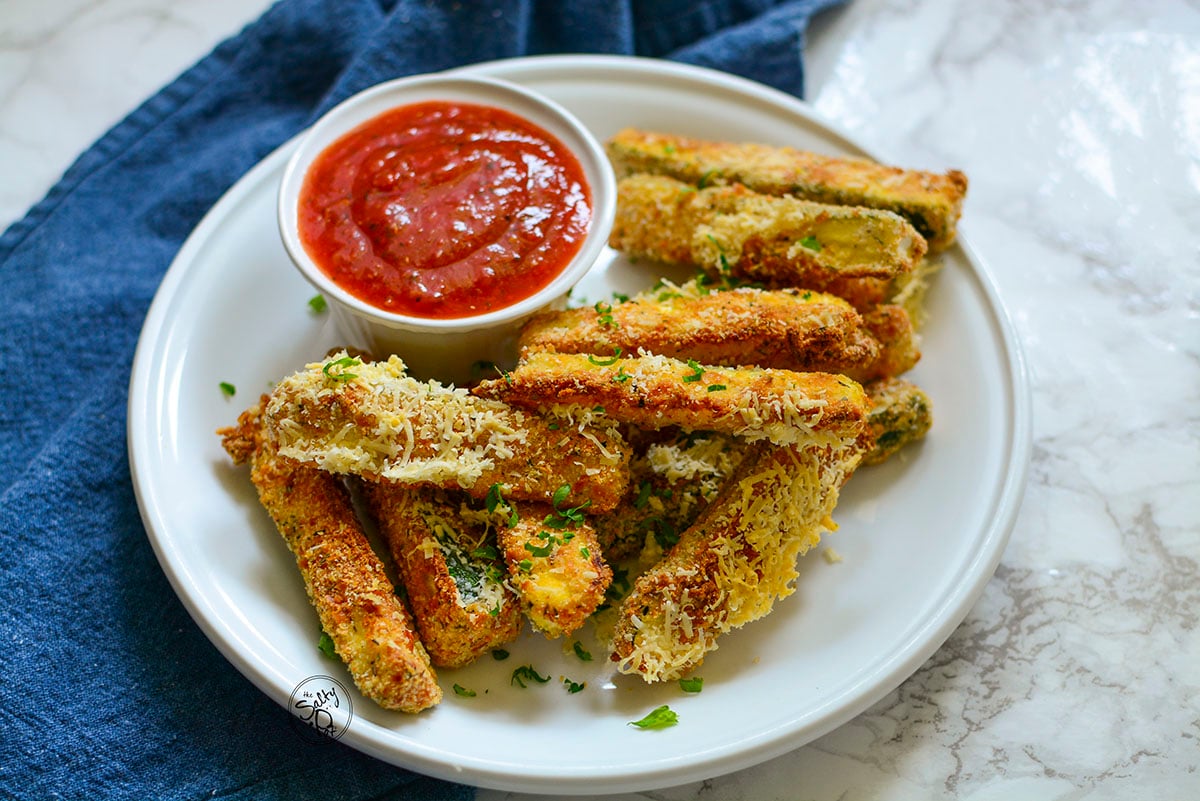 Air Fryer Veggie Fries
These air fryer zucchini sticks are super crispy, flavorful, and are healthy too! What I love the most about this recipe is the fact that it needs just a handful of kitchen essentials.
No fancy ingredients, no extra effort. Super simple, and super delicious. You just can't go wrong with them.
Plus, they're air-fried, which means they're much healthier than most other fried sides you might want to make.
Why Zucchini?
There's so much more to this green veggie than just being popular as a low-carb option. Zucchini is packed with vitamin C, potassium, and magnesium. It is also an excellent source of carotenoids which have been found to help maintain your heart and bone health.
Super low calorie, you can eat a lot of them for a filling side dish!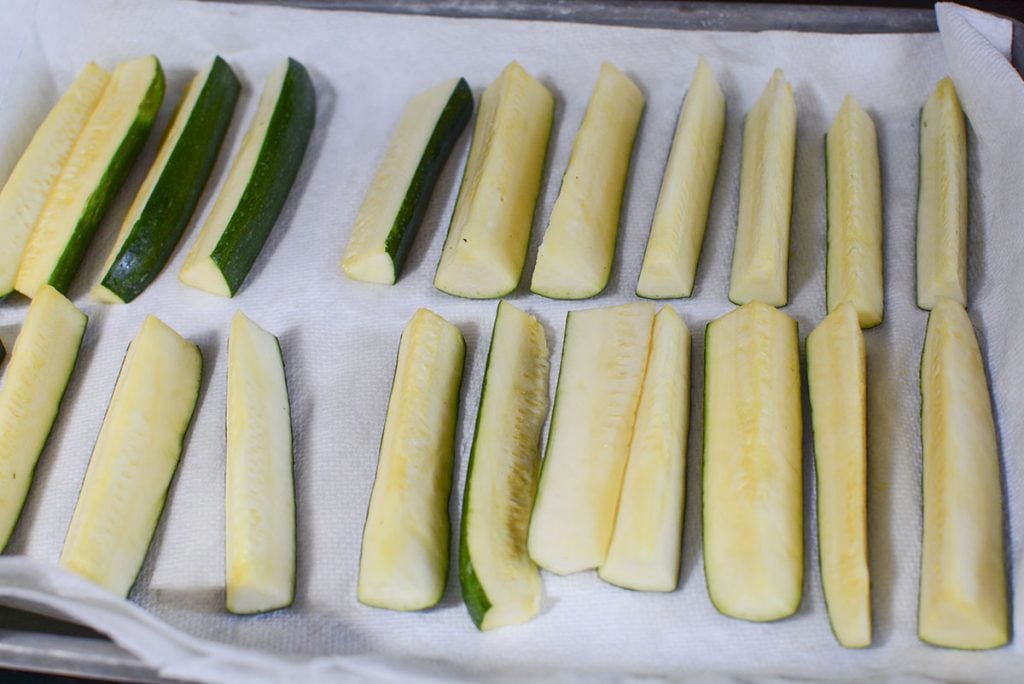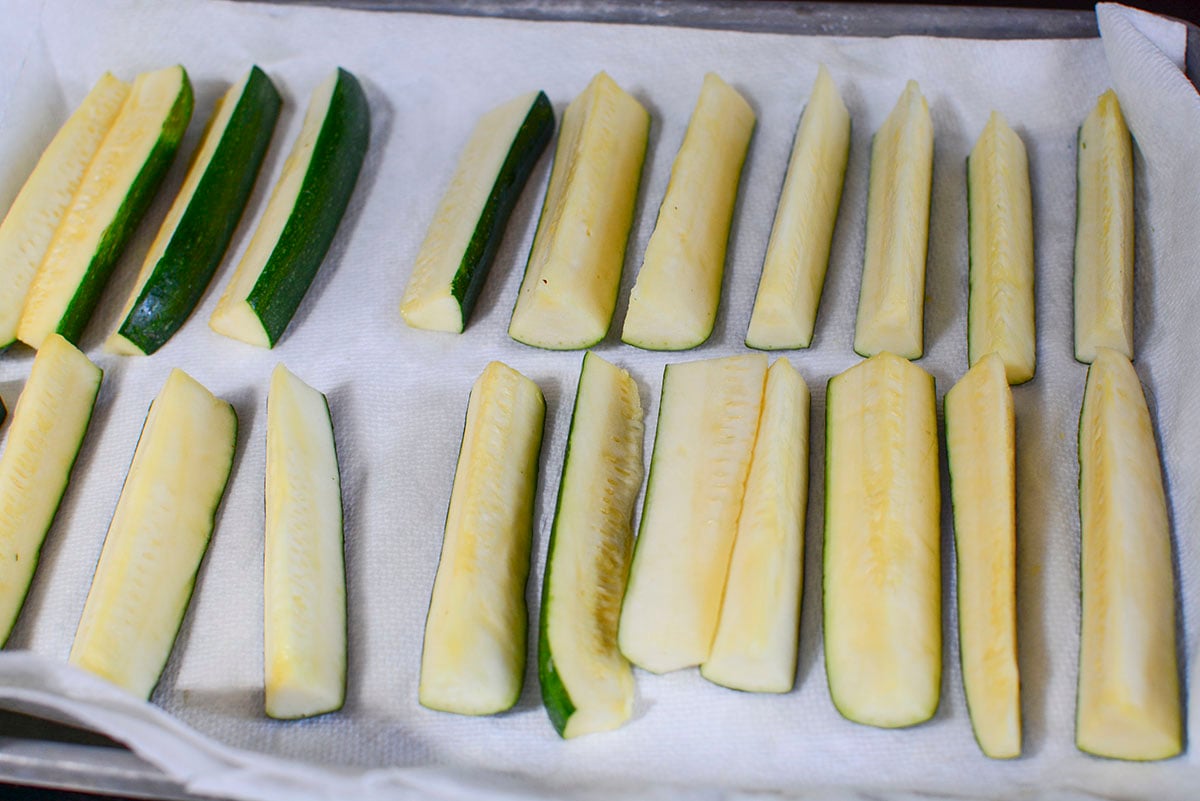 Ingredients For the Zucchini Fries
Zucchini: I used 2 zucchinis, washed them and chopped off their ends. Then, I sliced them in half, and then cut each half into 3-4 sticks.
Eggs: Whisked, with a bit of seasoning if you prefer.
Flour: To coat the zucchini sticks.
Breadcrumbs: For the crispy crumbly outer coating.
Parmesan Cheese: I grated my own, but you can use pre-shredded. If you use the type in the green container, you'll want to mix it in with the breadcrumb mixture so it sticks better to the egg.
Salt: You'll need a regular salt to draw out some of the moisture in the vegetable.
How to Make Them
Making zucchini sticks is actually pretty easy. Start off by prepping the vegetable by slicing them to the size of sticks. Then, sprinkle a bit of salt on to help draw out the water from the zucchini.
Then, create a breading station with a container each of flour, whisked eggs, and bread crumbs.
You can also choose to use Ziploc bags for the flour and the breadcrumbs instead of shallow containers. I did exactly that because that's what I found easier.
Now, coat each zucchini stick in flour, then dip it in the whisked egg mixture and finally coat with the breadcrumbs.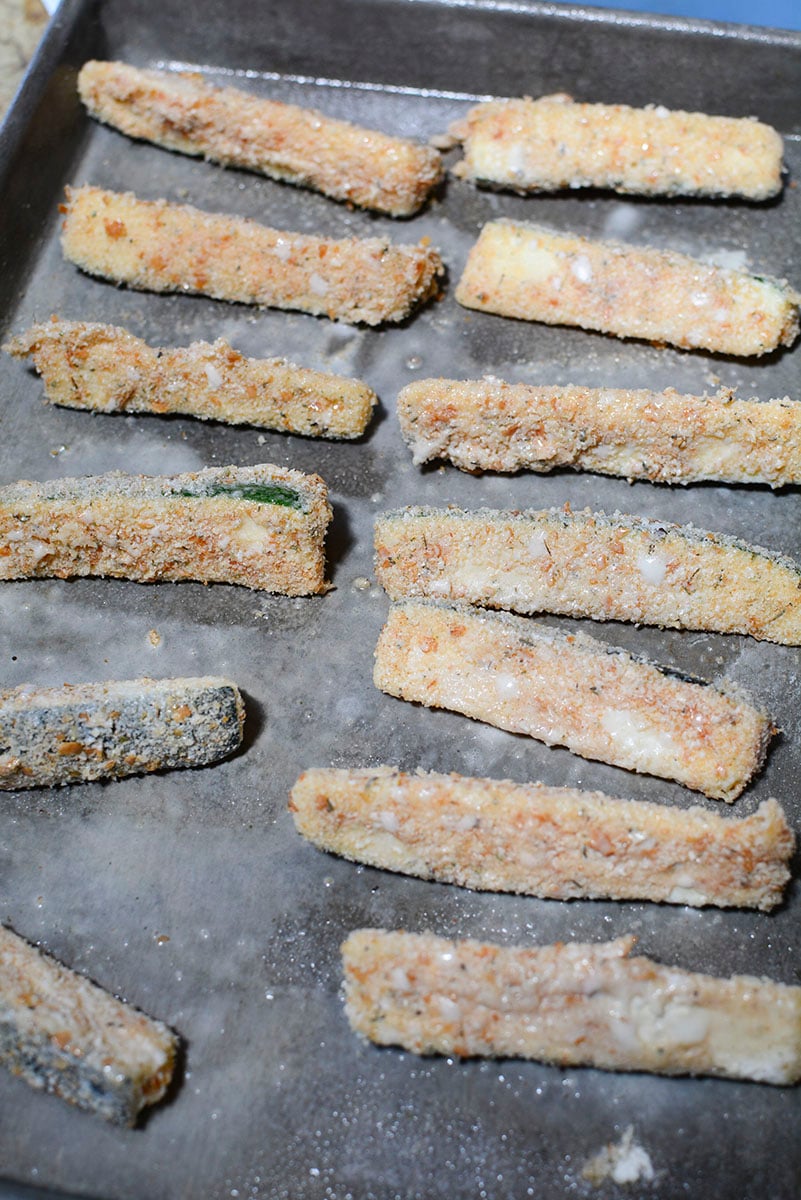 You can also use seasoned breadcrumbs to lend the zucchini sticks even more flavor. In fact, you could make these breadcrumbs and store them for a ton of different recipes- fried chicken, fish, and even as a topping on your casseroles.
After that, all you need to do is spray a bit of cooking spray on the top. I use this awesome Oil Mister that works so well for coating them. Then it's just air frying them until they're nice and crisp. The air fryer I used was the Cosori 3.7Qt. I wrote a review on it if you are interested in seeing what I thought was good and bad about it.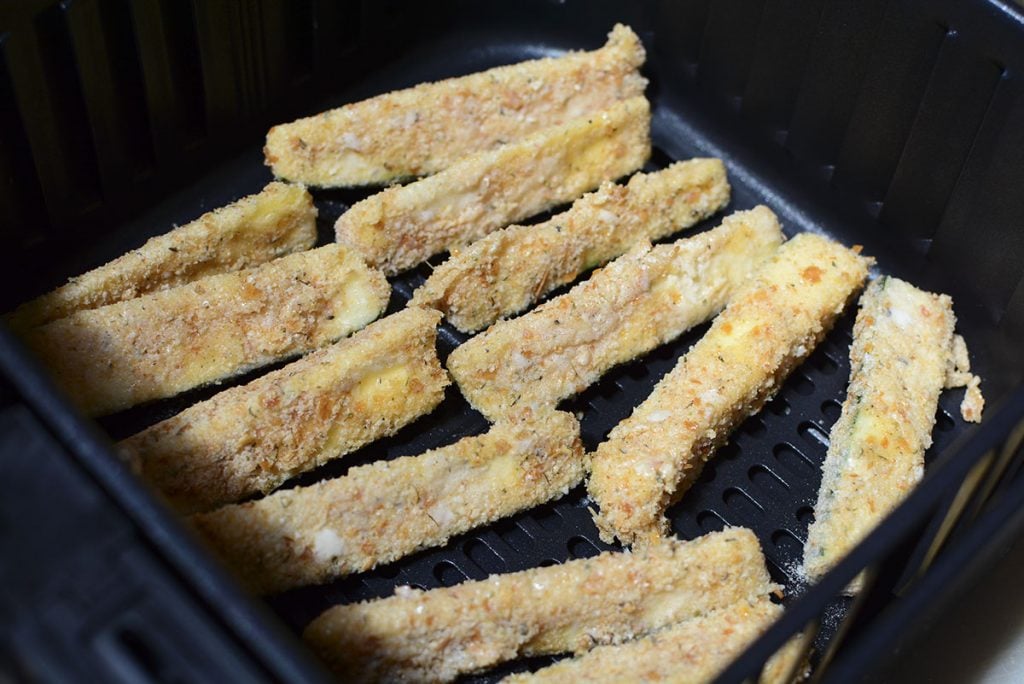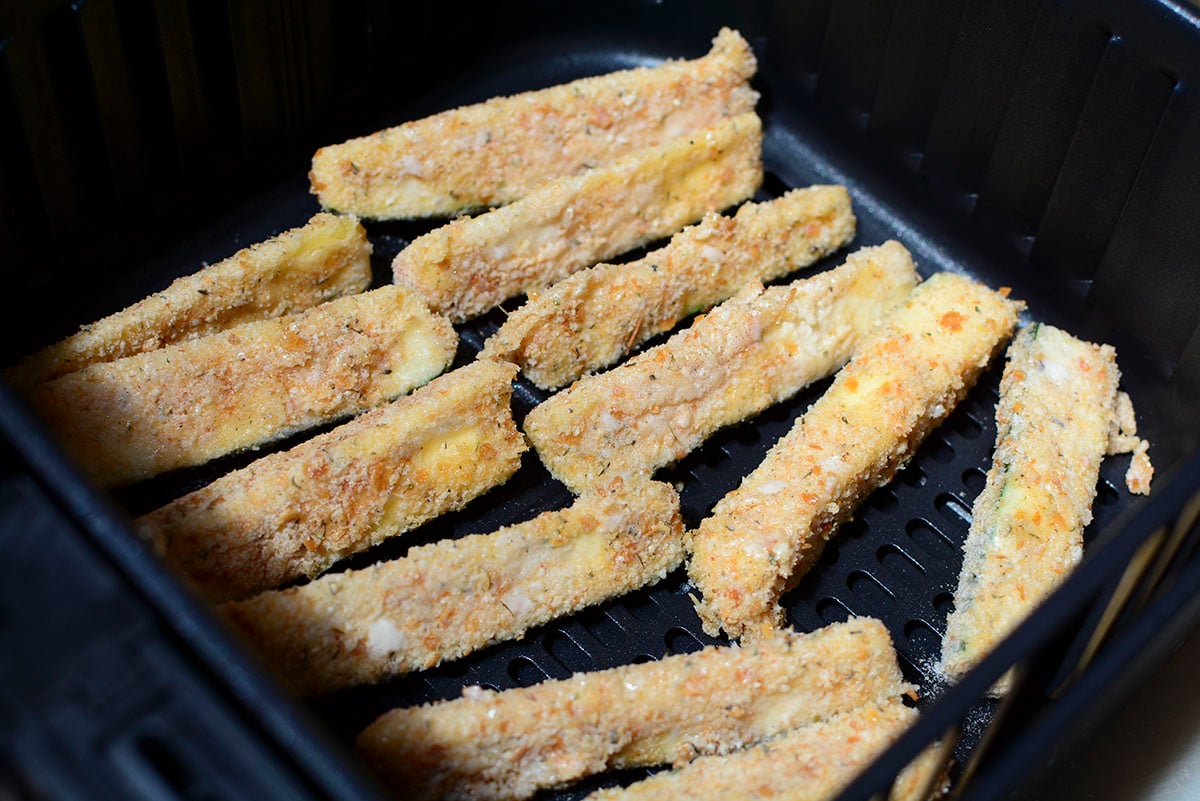 Can I Make These In The Oven?
Absolutely. If you don't have an air fryer, making these courgette (another name for zucchini or squash) fries can be made in the oven. You'll need high heat and you'll want to flip them halfway through cooking to help ensure that crispy coating on both sides.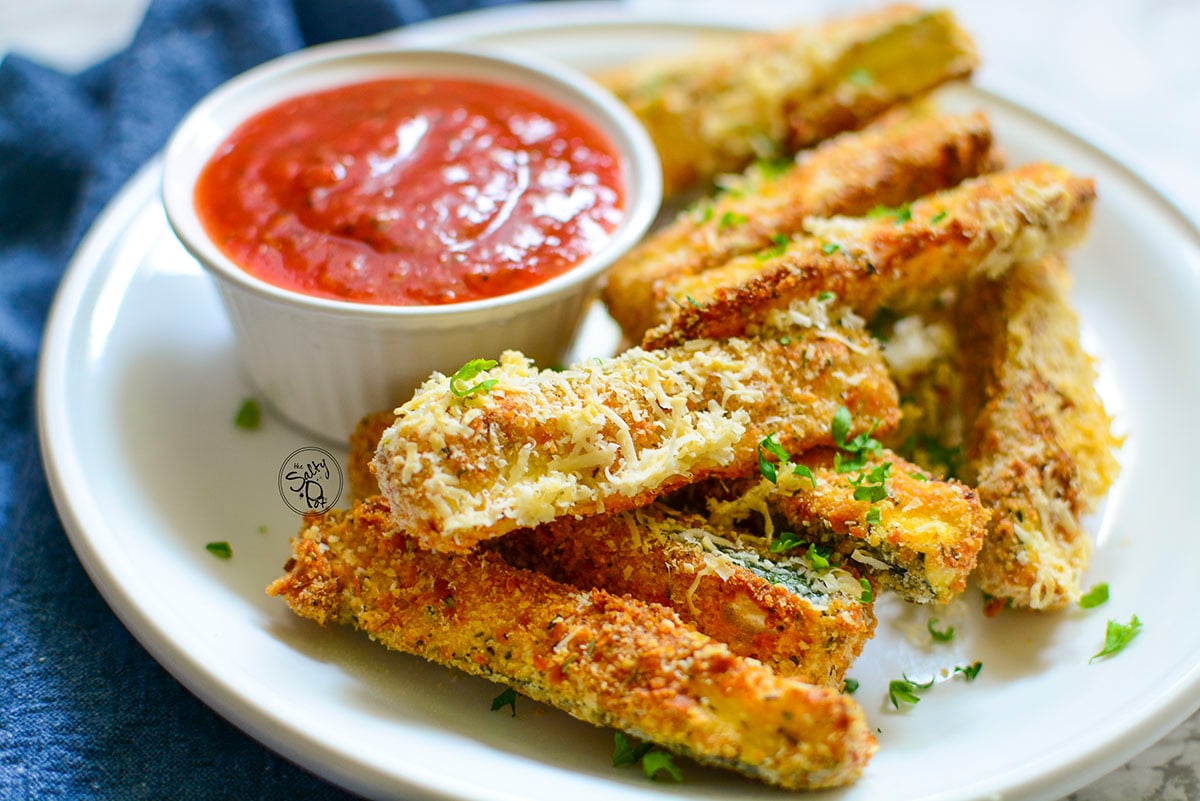 Should I Peel the Zucchini?
I would suggest that you don't. The zucchini peel not only has added vitamins and nutrients, it helps hold up the structure of the 'fry' or 'stick', helping to make them crispier while frying.
If you're concerned about sprays or pesticides in the skin, you can try using a DIY veggie wash beforehand, or try buying organic zucchinis.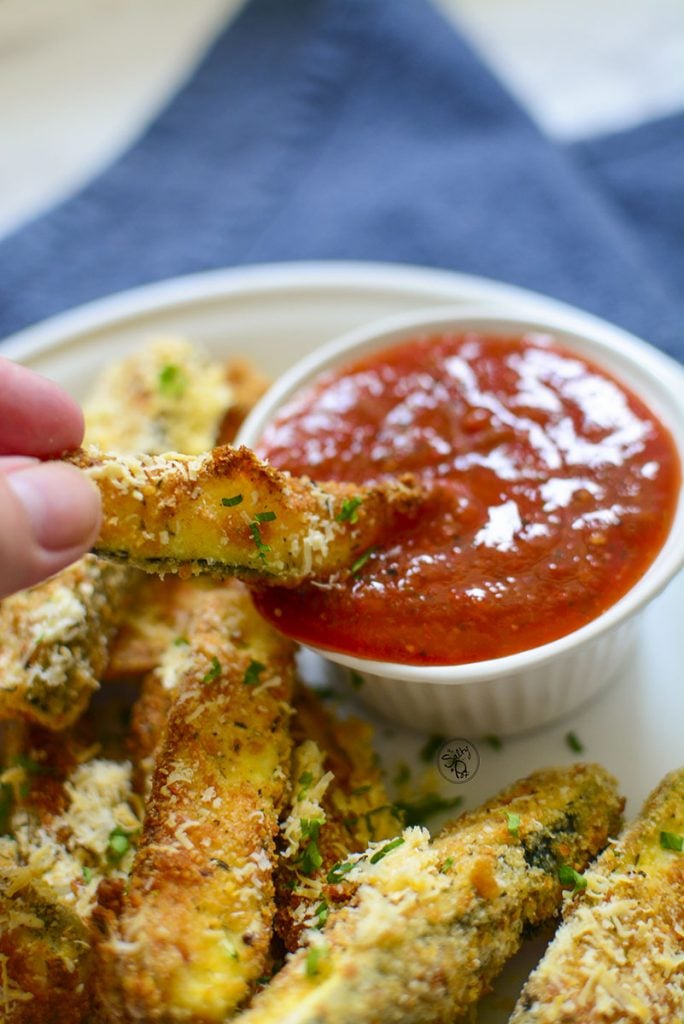 Serving Ideas & Suggestions
What I absolutely love about these air fryer zucchini sticks is the fact that they're super versatile. You can serve them as is, or eat them with some marinara sauce as I did.
These can also taste great with some hot sauce, ranch dressing, ketchup or tzatziki dip!
They'll pair with almost anything if you want to serve them as a side veggie to any protein. In fact, my Air Fryer Roast Beef would be perfect with these fries! And for dessert, try these Air Fryer Mini Apple Tarts!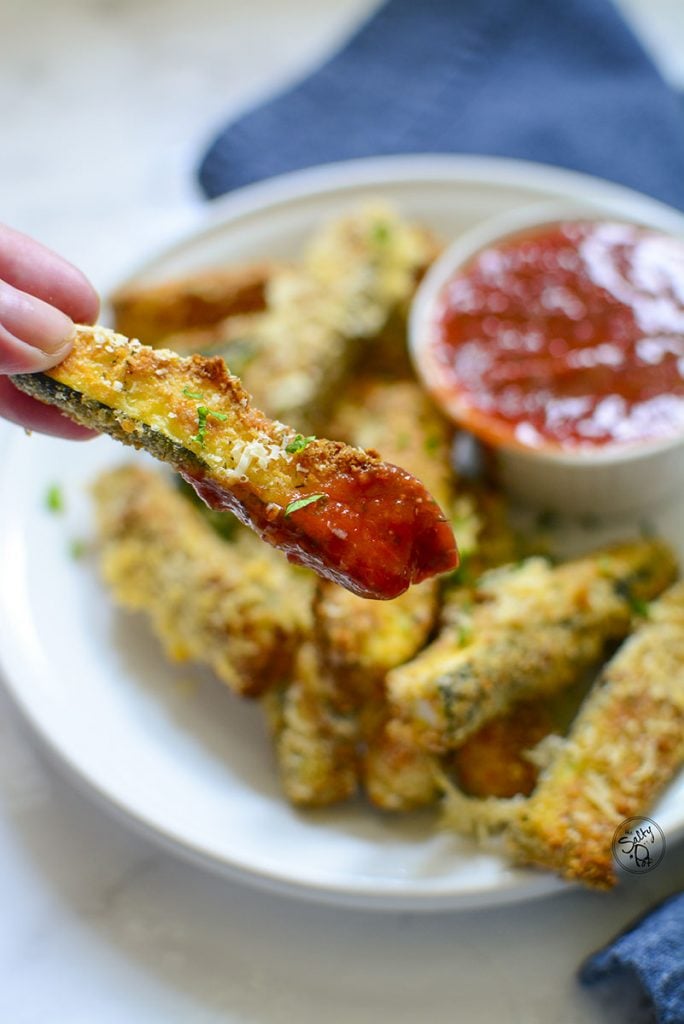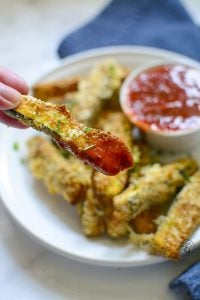 Storage Tips
You might be tempted to make and store these for later, but these are not one of the types of foods that freeze well. Zucchini doesn't retain its original texture and tends to turn mushy and soggy once you defrost it.
You can choose to refrigerate it- it'll stay good for just a few days, but remember to pop them in the air fryer once again for a few minutes before you serve to just crisp them up a bit.

**Don't Forget To Pin This Recipe To Your Favorite Pinterest Board To Use For Later**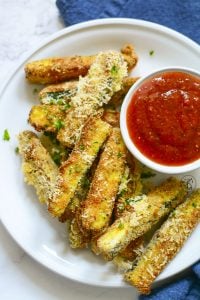 Thank you for stopping by The Salty Pot today!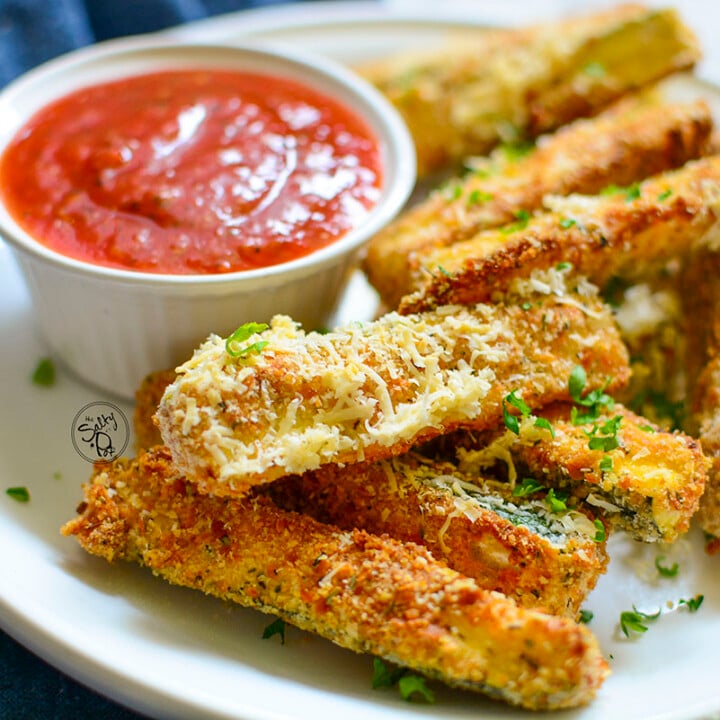 Air Fryer Zucchini Sticks
Additional Time:
2 minutes
Deliciously crispy and cheesy, these Air Fryer Zucchini Sticks are easy to make. Great for dipping in all kinds of sauces, they make the perfect side dish and are a winner with little kids!
Ingredients
2 zucchini, medium (washed and dried)
1 teaspoon salt
½ c flour, all purpose
1c seasoned breadcrumbs (see notes)
1 egg, beaten
¼ c Parmesan cheese, grated (see notes)
parsley for garnish
Your favorite Dipping sauce
Instructions
Cut the ends off each zucchini, then cut in half width-wise. Cut each half of the zucchinis, in half again (this time lengthwise), and then cut each of those halves, into three sticks. You should have approximately 12 sticks.
Sprinkle the salt over the sticks. Place them onto a paper towel-lined pan to absorb the excess moisture coming from the vegetable. Leave for approximately 30 minutes.
Take an extra paper towel and blot off as much moisture as possible.
Set up your breading station. In a shallow bowl, place the beaten egg. You can place the flour and seasoned breadcrumbs into separate shallow bowls as well, or, put them into ziplock bags as I did.
Start to preheat the air fryer for 10 minutes at 350.
Drop one zucchini stick into the flour. Coat lightly. Then dip it into the egg, making sure the egg sticks to the flour coating. Then drop into the breadcrumbs and coat well. Place onto a large platter.
Spray the coated zucchini with non-stick cooking spray or with an oil mister.
Place in the air fryer and begin to air-fry.
Fry for 8 minutes, checking on them halfway through. Give them a shake to crisp up the other side.
After the 8 minutes is up, or when the fries look golden, sprinkle the parmesan cheese over the tops of the sticks. Close the drawer of the air fryer and let them sit for two minutes, with the residual heat softening the cheese. Remove and serve! Enjoy!
Notes
For the seasoned breadcrumbs, if you don't have any on hand, or don't want to make your own, you can also purchase panko breadcrumbs.
You can use the parmesan cheese that comes in the green tin, but if you can grate your own fresh cheese, the flavor is so much better.
Nutrition Information:
Yield:

2
Serving Size:

6 sticks
Amount Per Serving:
Calories:

493
Total Fat:

11g
Saturated Fat:

4g
Trans Fat:

0g
Unsaturated Fat:

6g
Cholesterol:

105mg
Sodium:

2499mg
Carbohydrates:

78g
Fiber:

7g
Sugar:

11g
Protein:

22g
All nutritional information is based on third-party calculations and is only an estimate. Each recipe and nutritional value will vary depending on the brands you use, measuring methods, and portion sizes per household.