Creamy cucumber tomato salad. We've all had a really great one, have we not? Some are better than others, but I can assure you, this is the ULTIMATE creamy cucumber tomato salad you'll try.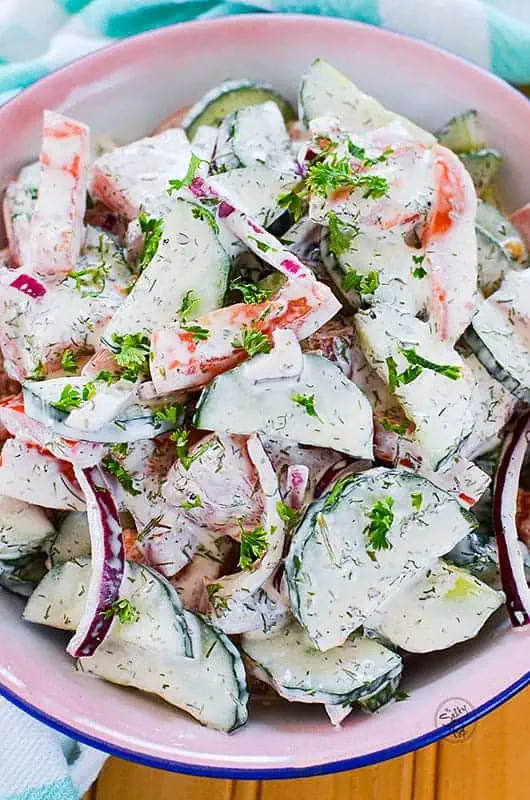 The Best Creamy Cucumber Tomato Salad
I don't know about you, but cucumbers SCREAM summer to me. They are so fresh, juicy, and almost taste like you'd expect summer to taste if you could eat summer.
Same goes for tomatoes. So when you're combining those two, WOW, I mean, come on, how can you get even more summery flavors all at once?
Keep on a' readin', and I'll tell you how 😉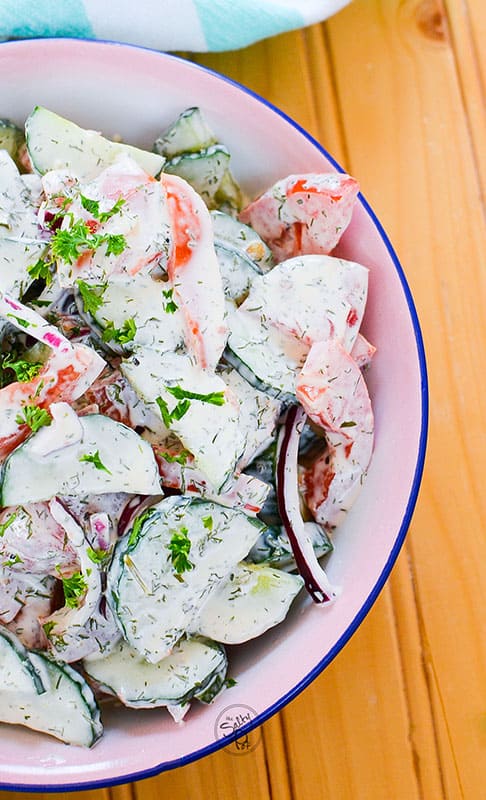 Oh, and by the way, if you're looking for ANOTHER creamy salad to serve with along with this one, I have a Creamy Dill Pickle Veggie Pasta Salad that always gets rave reviews when I serve it at different functions. No joke!
And while we are on the topic of all things summer and salads, you can always check out this other collection of 20 Sensational Summer Salads that I put together. Can you tell I like all this fresh and salady?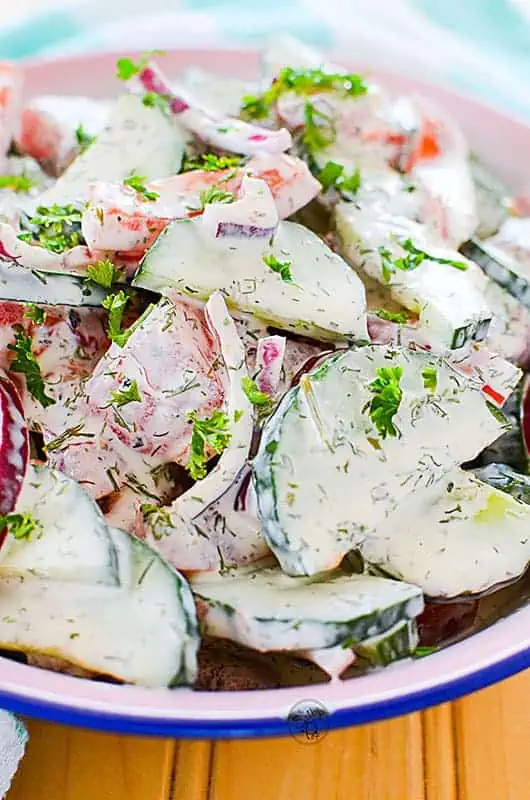 How Do I Pick The Cucumbers and Tomatoes For This Salad?
Easy! With a few pointers, you'll have a super tastilicious salad to serve that anyone would like.
With both the tomatoes and the cucumbers, you'll want to remember to buy them as red and green as possible. The brighter and deeper the color, the more mature the veggie will be, and that usually translates to tastier as well.
Firmness. You really want a firm cucumber with no soft spots because soft spots mean the vegetable is older than what we'd want for this salad. Tomatoes would be the same way, however, there is a bit of a difference.
Tomatoes should be firm, but not hard, and also, no major bruises or soft spots.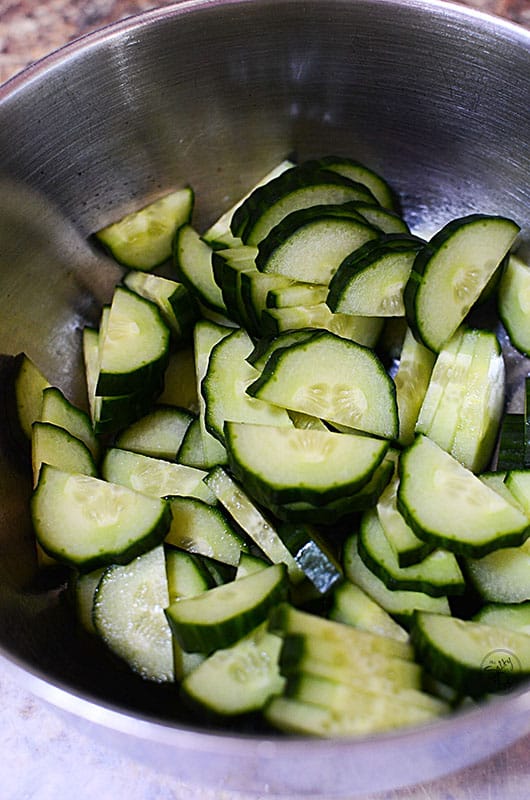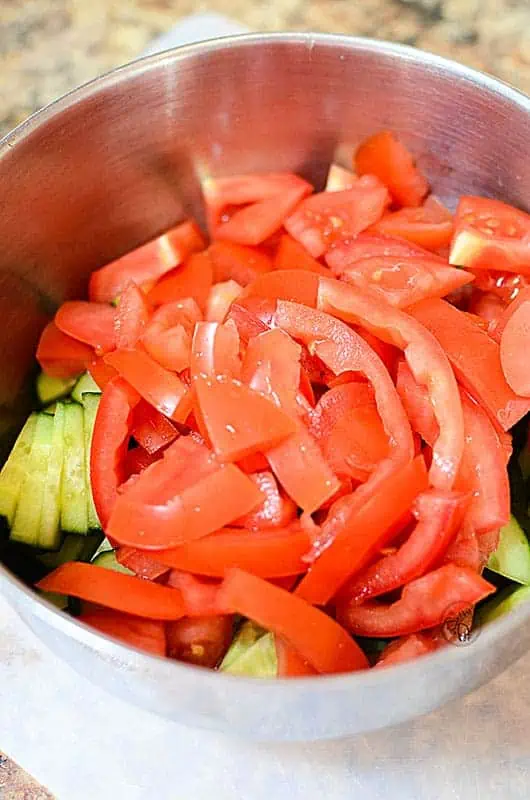 Do I Have To Use Red Onion? Can I Use White Onion Instead?
Yes, not a problem. I used red onion (or purple onion, whichever you prefer to say) because red onion is usually more subtle in flavor to a white onion. That being said, white onions such as sweet onions, (Vidalia, Wala Wala, etc) would be a good choice as well.
Plus, I like the purple/red color the onion gives to the salad. Makes it purdier, ya know?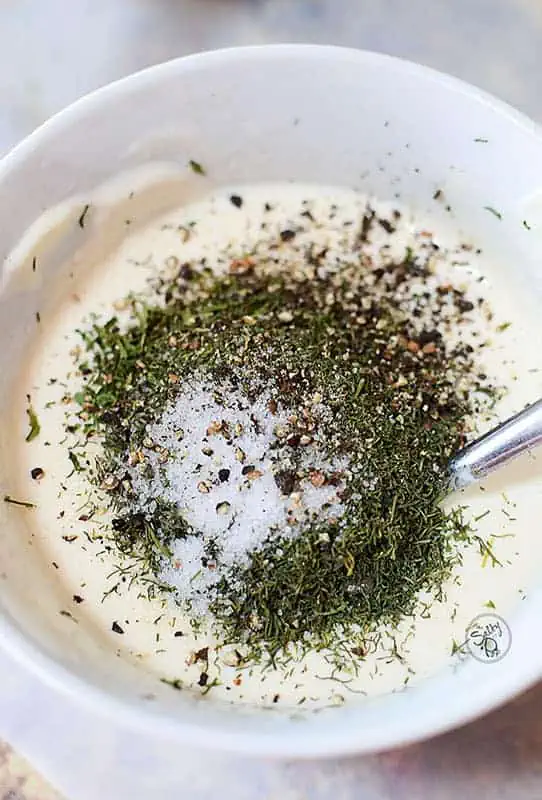 What Makes This Salad So Creamy?
It's all in the sour cream and mayonnaise that you use. The recipe calls for a full-fat mayonnaise, and please when choosing one, use a homemade version or an organic one. The health and flavor factor will thank you!
As for the sour cream, find a full-fat sour cream as well. If you get a reduced fat, then the producers have sacrificed a creamy texture for lower fat (and added extra 'frankeningredients') to make it thicker. The closer to whole ingredients, the better.
I can hear you now – what??? All that fat?? Dear, when you're dividing that salad between 8 servings, the calories aren't that much.
Plus, it's WORTH IT! Trust me on this one!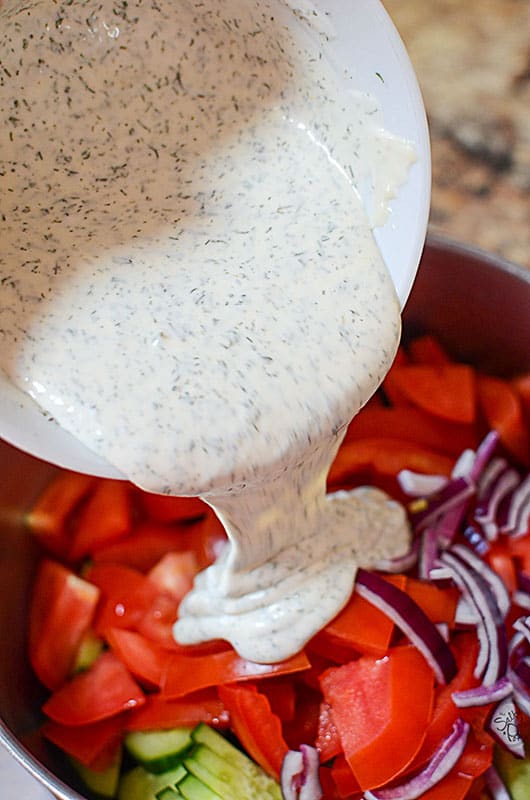 Can I Use Yogurt Instead?
Absolutely. I would recommend using a greek yogurt when possible, as it's thickest, and again, watch for ones using the most basic ingredients and not adding a lot of chemicals. I would replace the sour cream and ¼ of the mayonnaise so it would be a half and half ratio between the yogurt and the mayonnaise.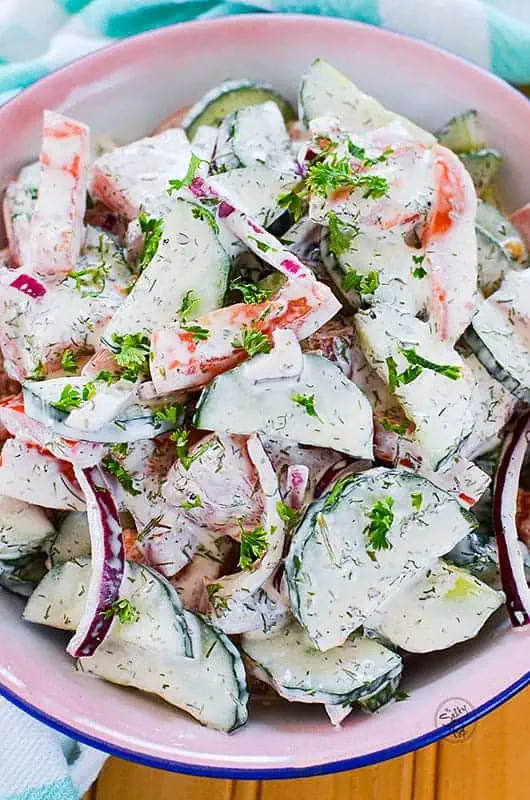 How Far Ahead Can I Make This Cucumber Tomato Salad?
I would make it the morning you want to serve it. Remember that the veggies have a lot of water so I would dress it a few hours before you want to serve it because the vegetables may release some of their liquid thus watering down the dressing too much.
Plus, you want those veggies as fresh tasting as possible!
What Can I Serve Along With This Vegetable Salad?
I would serve almost anything with this salad, but especially anything grilled!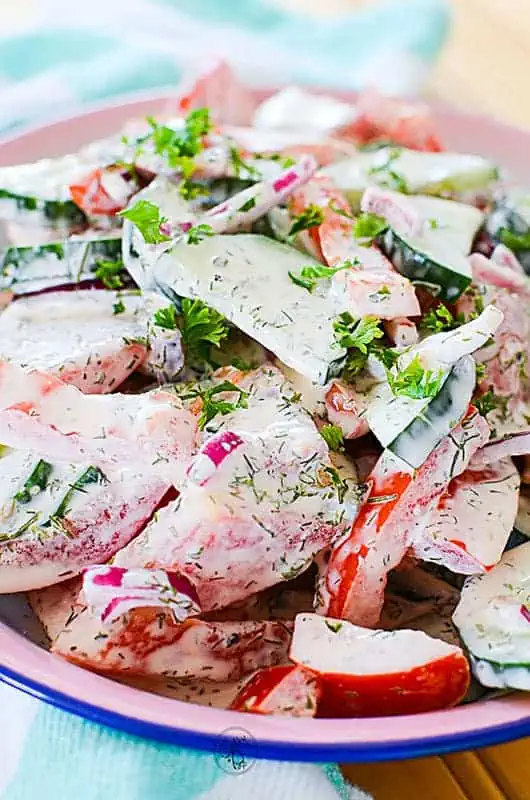 Well, I hope that when you taste this creamy cucumber tomato salad with dill, you think it's the best you've ever had.  Let me know what you think below in the comments, I'd love to hear from you! Thanks so much for stopping by The Salty Pot today, and I hope you have a fantastic day!
**OH! DON'T FORGET TO SAVE THIS CREAMY CUCUMBER TOMATO SALAD PIN TO YOUR FAVORITE PINTEREST BOARD TO USE FOR LATER!!**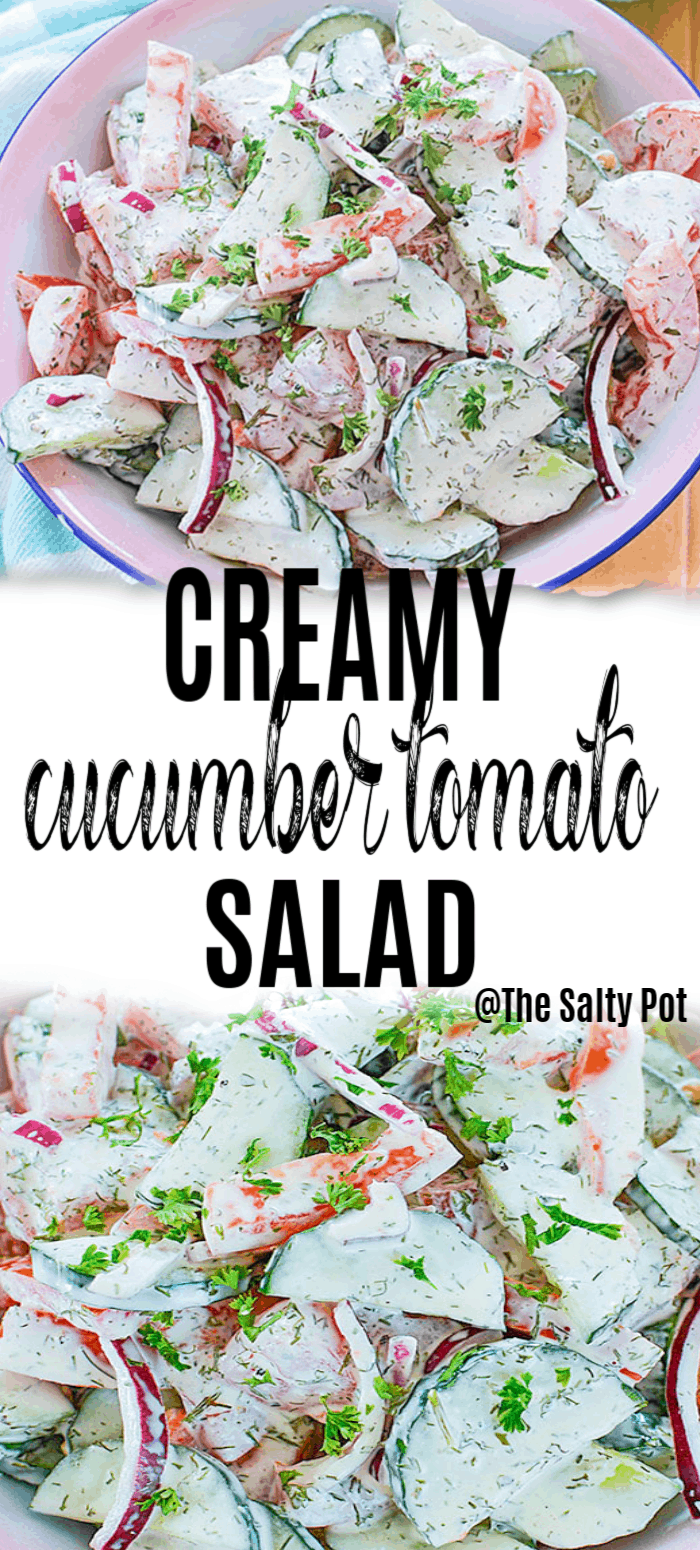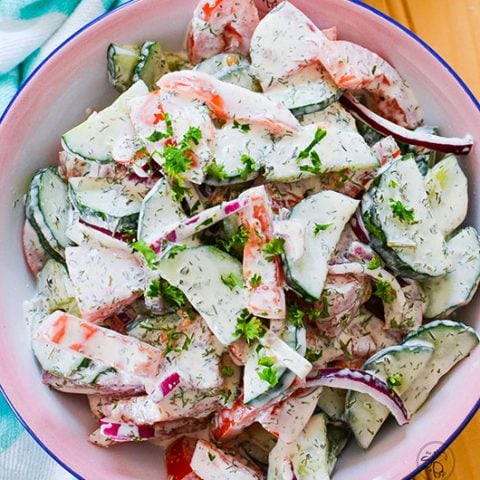 The Best Creamy Cucumber Tomato Salad with Dill
The best creamy cucumber tomato salad with dill that you will ever taste! Creamy, crisp and fresh tasting, when this salad comes together, it screams everything that is good about summer!
Ingredients
2 tomatoes, large, de-seeded *see notes below
1 english cucumber, large
¼ red onion, sliced
¾ c mayonnaise, full fat
¼ c sour cream, full fat (18% or more if you can find it)
1 Tbsp. Apple Cider Vinegar
⅛ teaspoon garlic powder
1 Tbsp. dill, dried (double that if using fresh dill)
as desired, salt and pepper
Instructions
Combine the sliced tomatoes and cucumbers into a bowl.
Add the purple/red onion slices
In a separate bowl, combine the mayonnaise, sour cream, apple cider vinegar, and seasonings. Mix well. Taste it at this point. Adjust according to preferences.
Add the dressing to the bowl of vegetables and fold carefully to coat everything.
Cover and chill for at least 30 minutes up to a few hours. Fold again just before serving.
Notes
To de-seed a tomato, cut the tomato into wedges. Then, with a sharp paring knife, cut away the seedy/watery portion of the tomato wedge, leaving the meaty outside rind portion. Discard (or eat!) the seedy portion and slice the meaty portion into thinner slices.
Nutrition Information:
Yield:

8
Serving Size:

1 cup
Amount Per Serving:
Calories:

170
Total Fat:

17g
Saturated Fat:

3g
Trans Fat:

0g
Unsaturated Fat:

13g
Cholesterol:

13mg
Sodium:

174mg
Carbohydrates:

4g
Fiber:

1g
Sugar:

2g
Protein:

1g