My mom always made bucket pickles only we called them pail pickles, (used to be made in an ice cream pail), or they can be referred to as refrigerator pickles also. It doesn't matter what you call them, because they are terrific and you won't care about the name once you taste them. 

What Do Pail Pickles Taste Like?
When you bite into these crunchy sweet and tangy pail pickles, you will be hooked. They taste sort of like a bread and butter pickle (as they call them), but better. 
Sweet (from the sugar), with a bit of tang from the vinegar, a slight sweet onion flavor, and the mustard seeds help impart some of that homemade type of taste you'd be used to if you ate homemade pickles as a kid.
But trust me on this one, you are going to forget all about store-bought pickles, and you won't have to worry about added preservatives and ingredients. I love knowing what goes into my food, and I know many of you do too.
Plus, you can save a bunch of money when you make stuff from scratch!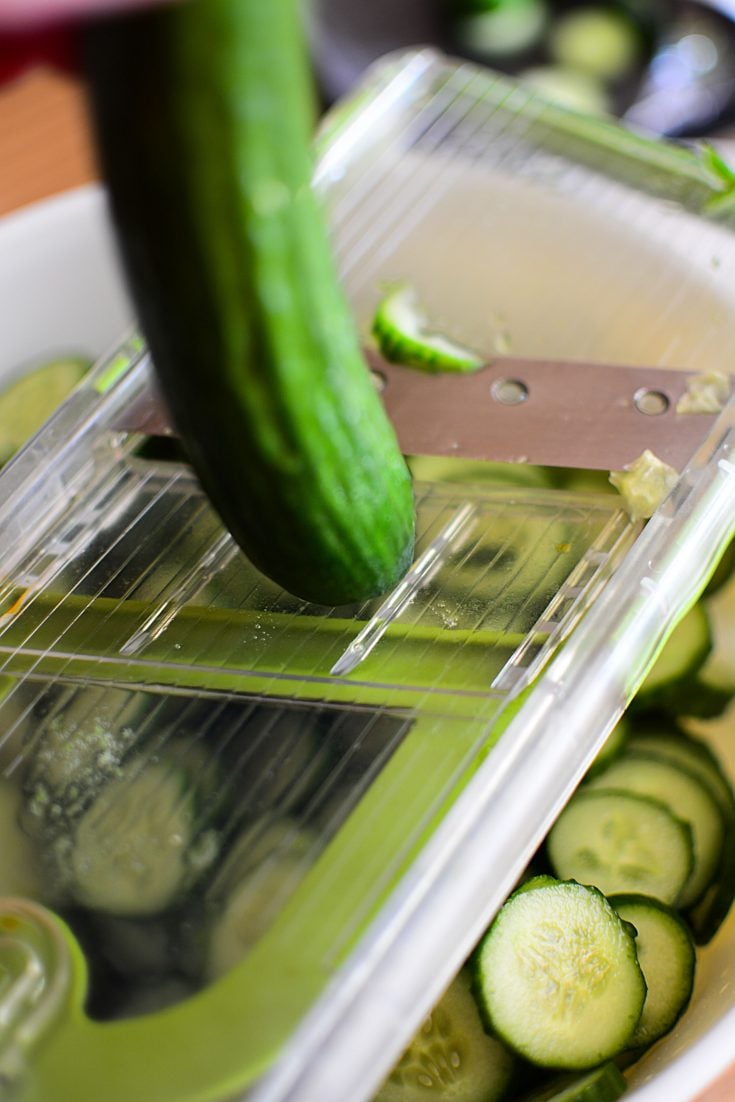 Slicing the cucumbers with the mandoline
What Kind Of Pickles Do I Need?
While you can use pretty much any kind of cucumber you have, my go-to favorites are small baby cucumbers, otherwise known as Egyptian cucumbers.  Many people use small pickling cucumbers, and they work wonderfully too.
Long English cucumbers are another fantastic option to try.  There is no wrong answer, so try out a few ways to see what works for you.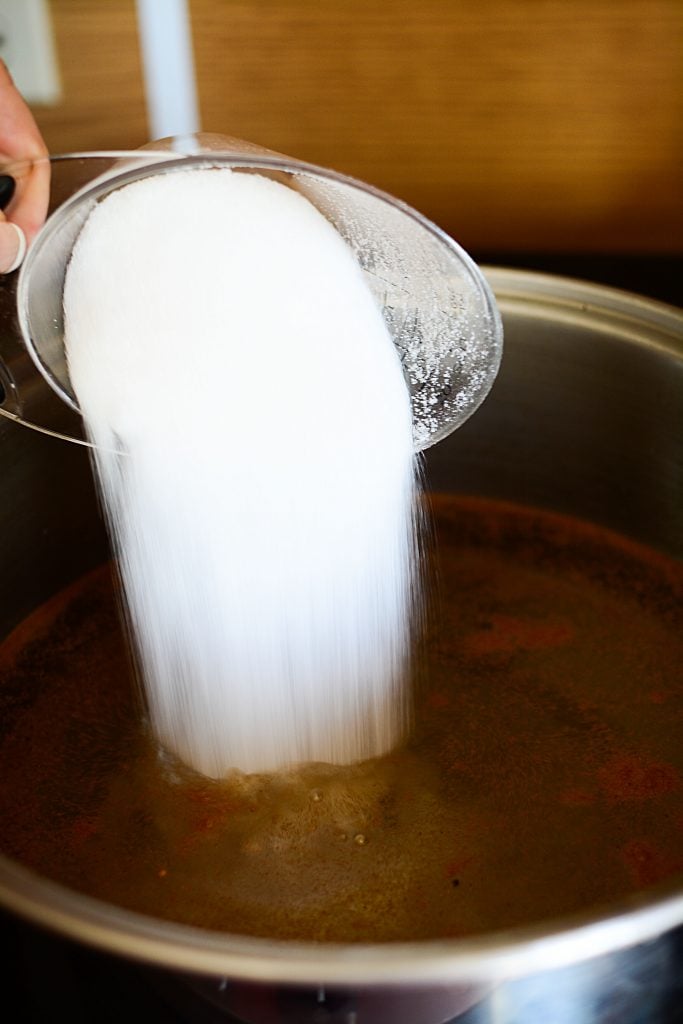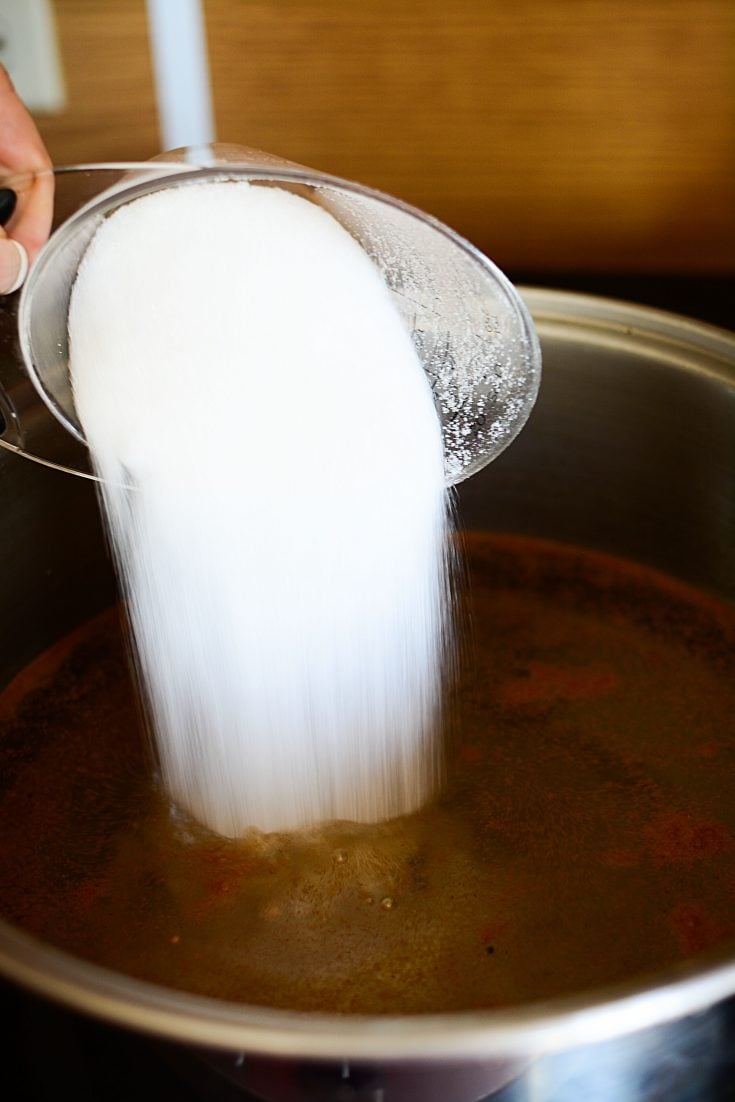 Adding the sugar to pickle brine
How To Slice Cucumbers For Bucket Pickles
No matter how you slice them, refrigerator pickles are packed full of flavor and super simple to throw together. Here are a few options to cut the cucumbers.
Cut the cucumbers by hand. This is a little more time-consuming, but very efficient if you don't have a mandolin. Begin by cutting the ends of the cucumbers as you don't want to use the end pieces for the pickles.
Then, with a sharp knife, carefully slice the cucumbers into medallions, say ⅛″ – ¼″ thick.
 
Use a mandoline. If you don't feel confident in making uniform cuts; you can use a mandoline instead. They are straightforward to use and often a lot quicker to slice the cucumbers. Just put the cucumber in the mandoline and start slicing away.  Be VERY careful when you reach the end of the cucumber so that you don't slice your fingers! 
Incidentally, if you're using the mandoline to slice the cucumbers, you could also use it to slice the onions as well. This makes short work of slicing them with fewer tears!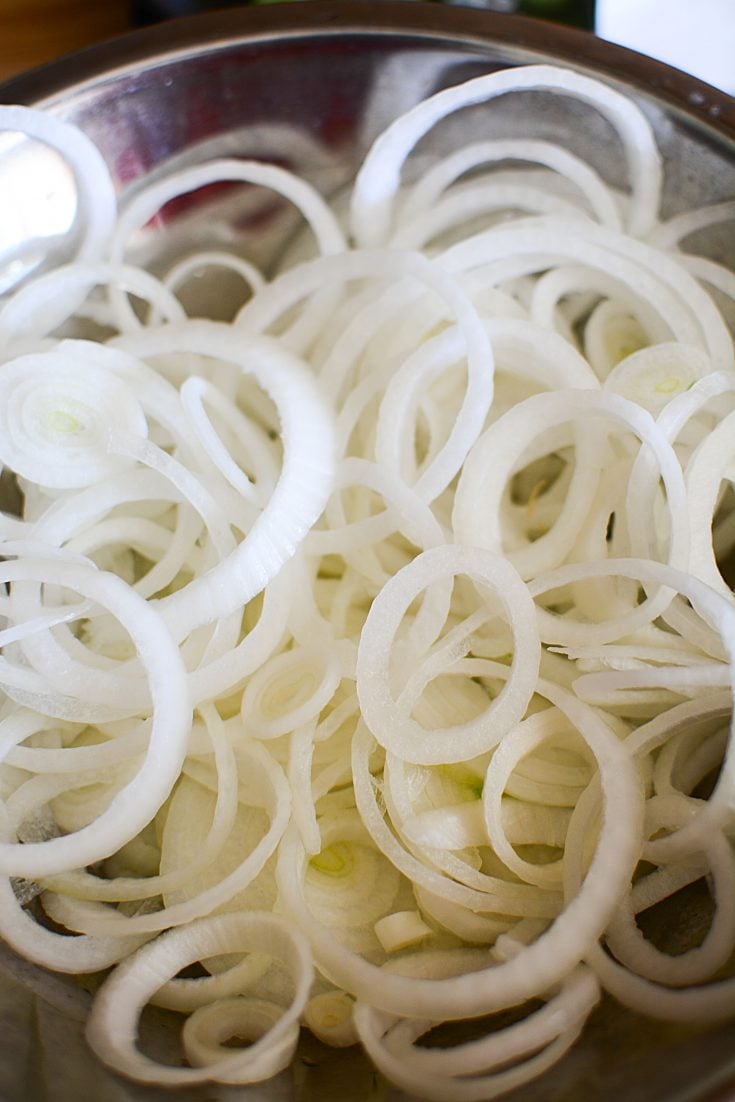 Onions sliced on the mandoline
Refrigerator Pickling vs. Canning
You may be wondering why making pickles in the refrigerator is easier than canning. While both methods are great and result in homemade food you can enjoy, I wanted to explain some of the differences. 
Refrigerator Bucket Pickles
There is literally no effort other than cutting ingredients. You simply put everything in a BPA free, food-safe bucket and let it sit for 1 week. (Alternatively, you can use mason jars as well)
Refrigerator pickles last around 6 months. 
You don't need any special equipment for making bucket pickles.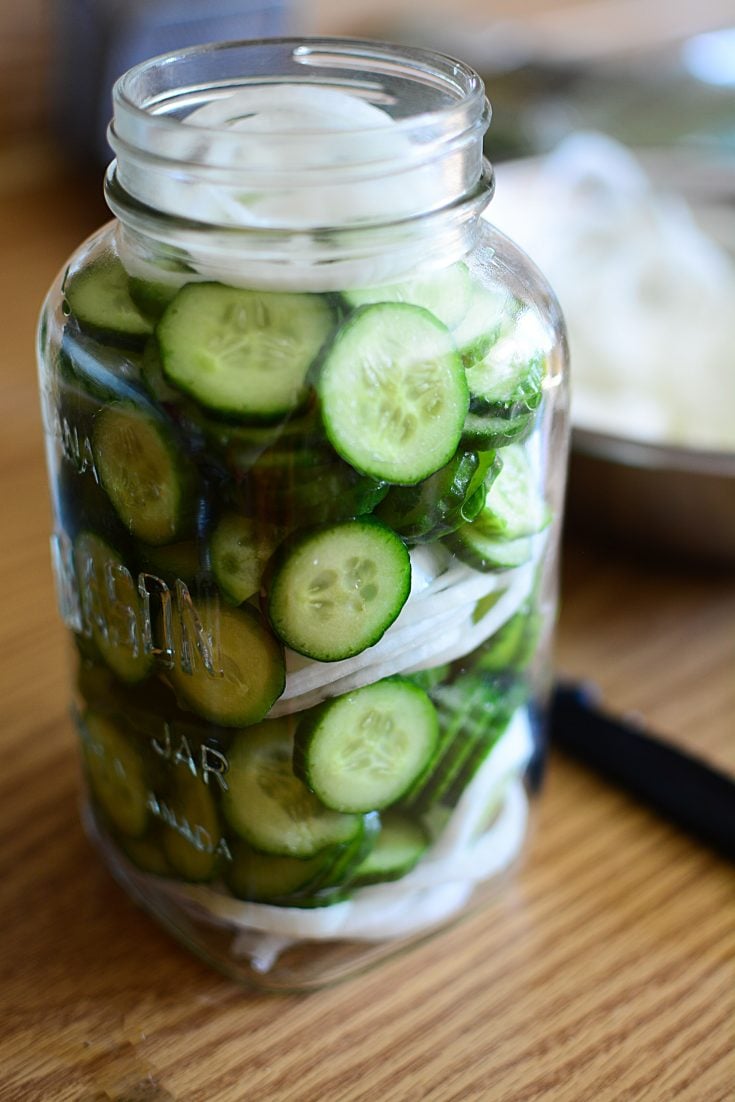 The mason jar ready for the brine
Canning Pickles
You will need either a pressure cooker or a water bath to make the pickles. While it does effectively preserve food, it does take some effort on your part. 
You can also hot pack the pickles if you prefer (Thanks for the suggestion Dyenna!)
Canned pickles do last 1-2 years in the pantry so that you will have them a long time. 
You are going to need some type of pressure/water bath canner and a few other supplies to can pickles.
Bucket Pickles Varieties
You can actually make a few different varieties of bucket pickles. Try some of these variations:
Spicy Seasonings – Sprinkle in your favorite spicy seasonings to add some heat to the pickles. 
Cauliflower – Pickled cauliflower is seriously so good. 
Beans – If you haven't tried pickled green beans yet, then it's time to try!
Carrots – They add some pretty color to any dish, but they have a wonderful flavor when pickled too. 
Jalapenos – Another way to add some heat and they are amazing!
Beets – Pickled beets are like candy!!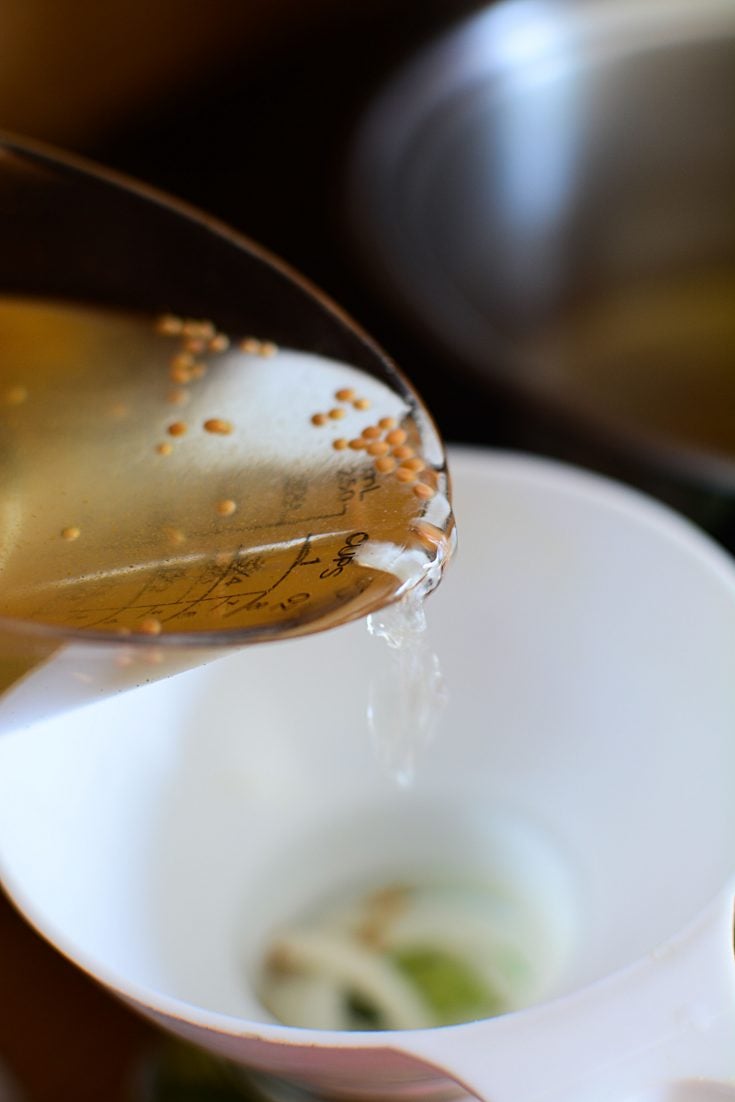 Brine being poured into the mason jar
How Long Will These Bucket Pickles Last In the Fridge?
Under proper refrigeration, they will last up to 3-4 months. Usually, they don't last that long!
I have had them in my fridge for up to 6 months once and they were fine, but you can totally use your discretion. The fact that they are submerged in a vinegar-type brine will help hold their freshness.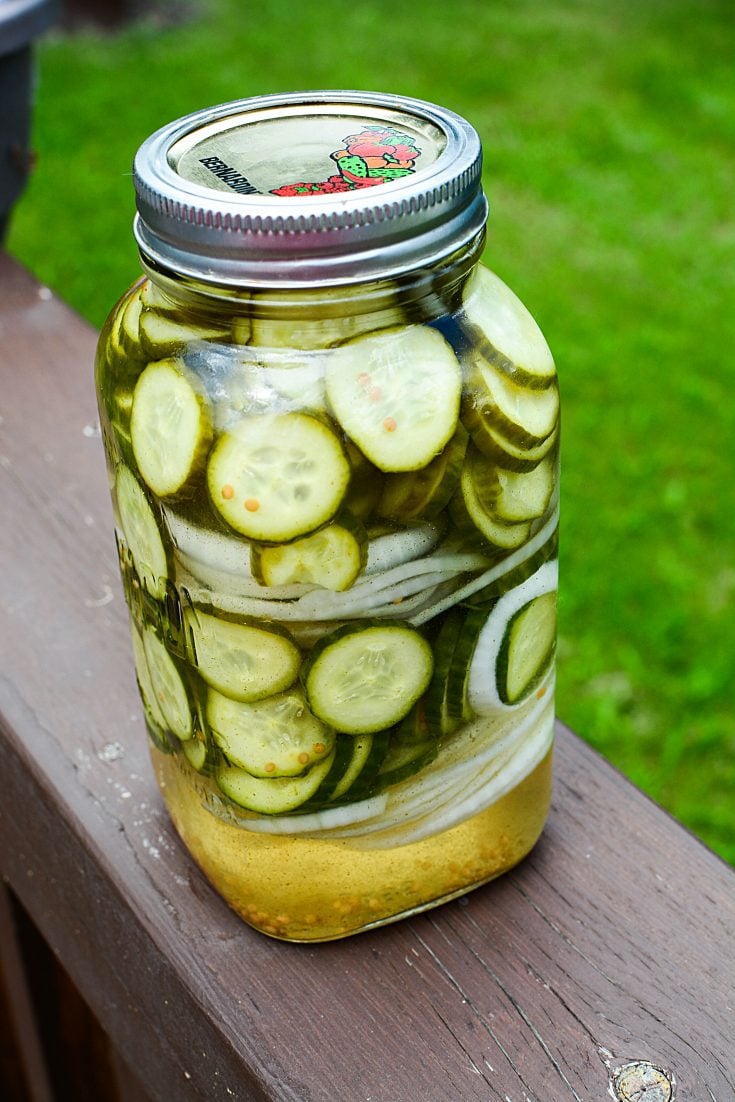 More Pickle & Cucumber Recipes
Can't get enough pickles? Have extra cucumbers left over? Try some of these other amazing recipes: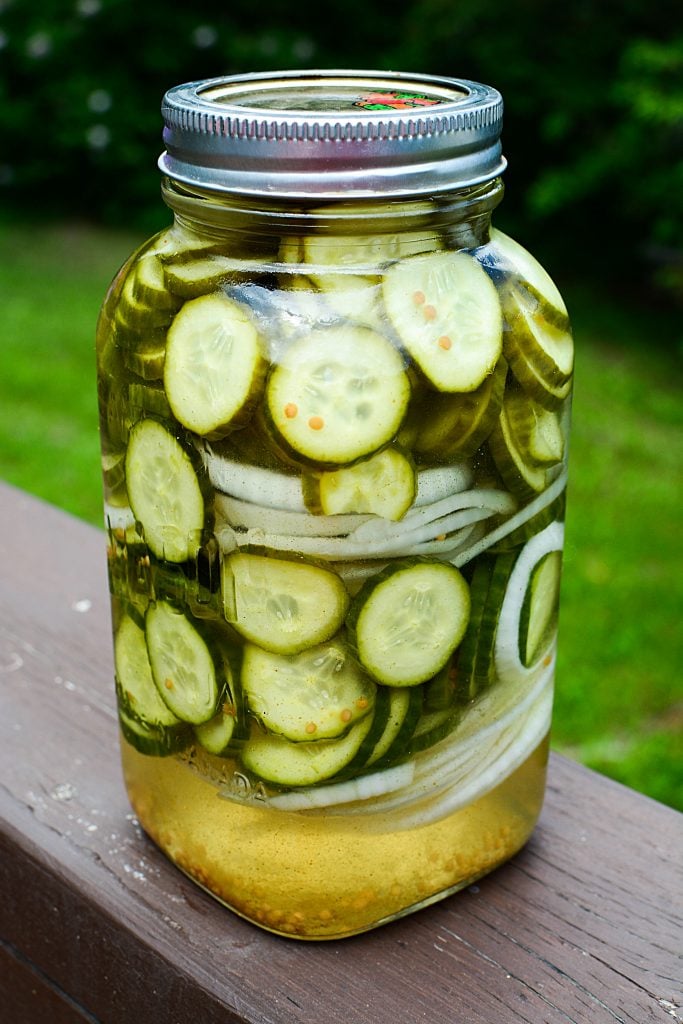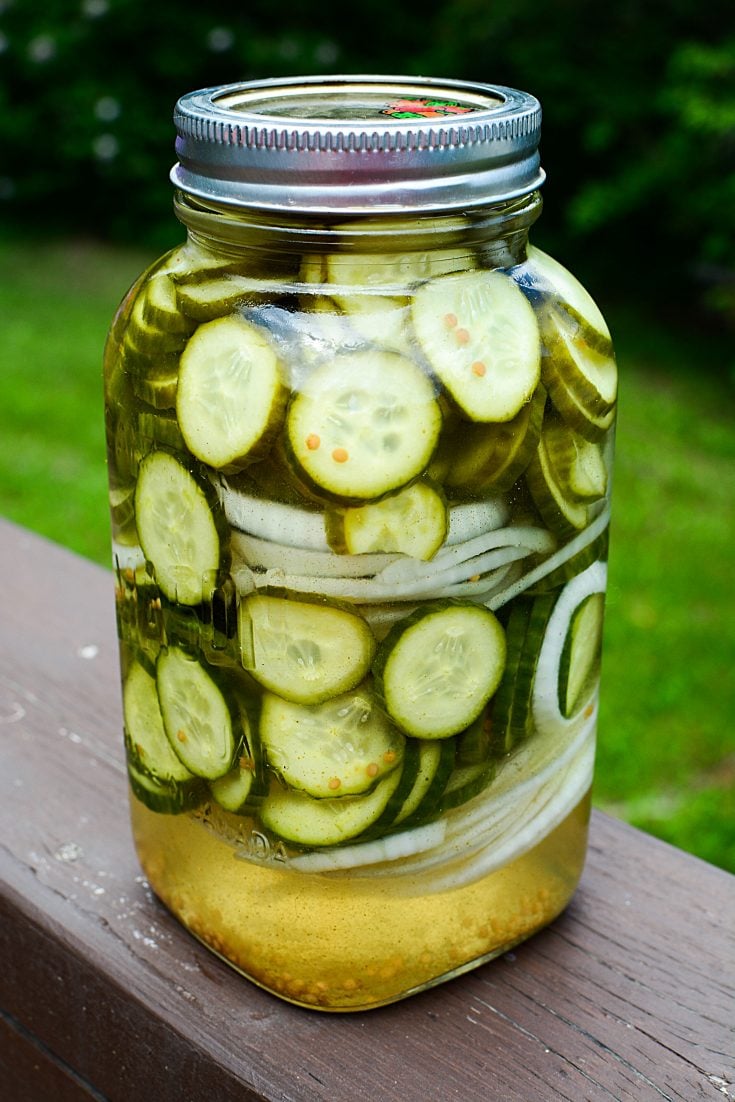 Well, I hope there's enough information here that you feel totally confident in making these bucket pickles! I hope you make great use of your garden cucumbers (or store-bought!). 
Please comment below if you have any questions or give me a shout and let me know how these turned out for you! Thanks so much for stopping by The Salty Pot today, and I really hope you have a fantastic day!!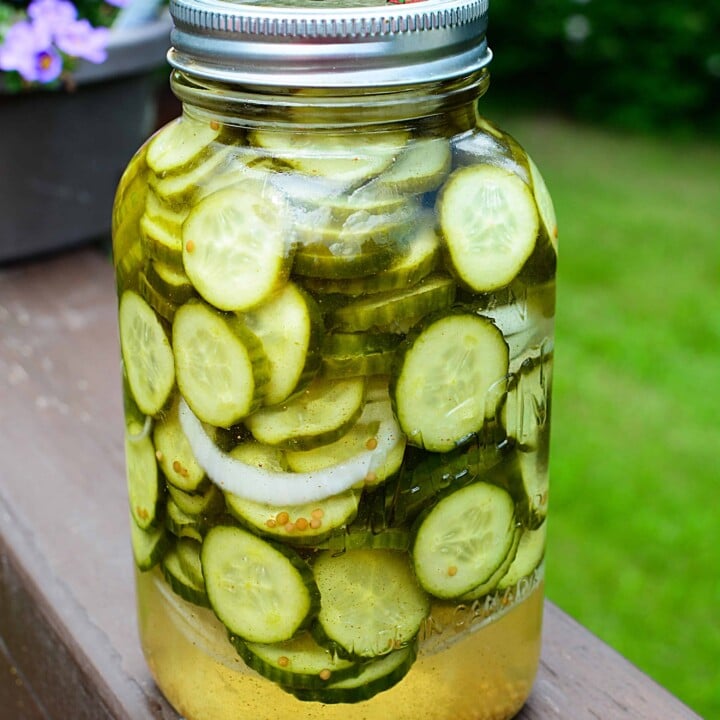 How To Make Your Own Delicious Bucket Pickles
Yield:
2 quarts of pickles
Sweet and tangy, these bucket (often called pail) pickles are the easiest ways to make pickles! Similar in taste to bread and butter pickles, there's no canning involved to making these summertime favorites!!
Ingredients
12 - 15 baby cucumbers (or Egyptian cucumbers)
1-2 sweet onions
2c water
2c vinegar
1 teaspoon pickling salt
1 teaspoon mustard seed
1 teaspoon celery seed
1 ¼c sugar
Instructions
Slice both the cucumber and onions. Place into your bucket/ice cream pail/mason jars
Heat the water to the boiling point.
Carefully add the vinegar and sugar. Stir until the vinegar dissolves
Add the pickling salt, mustard seed, and celery seed.
Carefully cover the cucumbers and onions with brine.
Cover and let sit in the fridge for 1 - 3 weeks before eating. The longer, the stronger the flavor will develop.
Notes
1. Taste the brine before you put it in the with the cucumbers. Adjust for your flavor preferences. If you like the brine, you'll love the cucumbers.
2. Choose cucumbers that are firm and blemish-free. Same with the onions. Use sweet onions rather than regular onions as they will taste much better with the brine.
3. These pickles will last a long time in the fridge. They make an excellent side to any dish!
4. Be sure the bucket you use is BPA free.
Nutrition Information:
Yield:

128
Serving Size:

1 tablespoon
Amount Per Serving:
Calories:

5
Total Fat:

0g
Saturated Fat:

0g
Trans Fat:

0g
Unsaturated Fat:

0g
Cholesterol:

0mg
Sodium:

5mg
Carbohydrates:

1g
Fiber:

0g
Sugar:

1g
Protein:

0g
All nutritional information is based on third-party calculations and is only an estimate. Each recipe and nutritional value will vary depending on the brands you use, measuring methods, and portion sizes per household.
***DON'T FORGET TO PIN THIS BUCKET PICKLES RECIPE PIN TO YOUR FAVORITE PINTEREST BOARD TO SAVE FOR LATER***