YES, my friend.. that's right. I said Crock Pot Chicken With Biscuits Stew! So everything you love about the marriage of chicken and biscuits, but done in a hearty way, in your friendly crockpot (or slow cooker) !!!!!
CROCK POT CHICKEN WITH BISCUITS STEW
Living up here in Canada, we still have some chilly nights, you know. Chilly nights and crazy busy schedules will beg for this super easy, super tasty, and oh.. did I say SUPER EASY, Slow Cooker Chunky Chicken with Biscuits Stew.
Seriously. Trust me when I say it's super easy. You could set it up in the morning, and by the time you get home, BOOM!!! A nourishing dinner is practically ready!
Key is to this kick-butt tasty dinner is a 6-minute prep. That's it, folks… 6 minutes!
Grab everything out of the fridge 'vintage Rachel Ray" style (everything piled in your arms) and tumble it onto the counter. Get to choppin' chick!! (… or guy).
How To Put Together This Slow Cooker Chicken Stew
First, you'll want to chunk up some chicken breast – throw it into the bottom of the slow cooker. I like to line mine with parchment paper because no one has time for scrubbing crud!
**** NOTE: If you have an Instant Pot, do not line the bowl with parchment paper, but feel free to saute the chicken and onions separately on the "saute" function to brown and soften before adding the carrots. When you add the carrots, simply turn the IP function to "slow cooker" and carry on with the recipe.
Then, top the chicken with celery, carrots, potatoes, and onion.

Next step now, mix the soup and herbs along with the garlic, salt, and pepper. Pour over the top of the chicken and veggies. Turn on low (or high if you're in the fast lane) and voila,.. you're off to the races!
Go to work, concentrate on that proposal to the end of the workday, and pick up the little ones' dance costume from the cleaners, get home, pour the wine and finish off the dinner. Phew! Guess what?
Even finishing off this slow cooker chicken & biscuits dinner is easy!
Mix the cornstarch and water together… turn the crockpot onto high, take off the lid, and pour into the stew to thicken. Stir.
In a bowl, mix up the Bisquick and stir it into a dough. Drop by spoonfuls onto the top of the chicken. Sprinkle on the cheddar and cover!!
It takes hardly any time at all!! In fact.. if I was a gambling gal, (but I'm not because I'm too cheap for that… BUT..) I'd say that setting the table is more work than making this delectable Chicken Stew with Biscuits.
For real.
What About A Biscuit Alternative?
So there are a few different things you can do here for topping this crock pot chicken stew delight! You can use the Bisquick solution, OR, if you have them handy, you can use a can of Pillsbury biscuit dough.
What Are Some Other Ways For Me To Switch This Crock Pot Chicken and Biscuits Up?
Thanks for asking!! Really, it's so versatile. Here are a few ideas for switch-ups:
– Instead of cutting the breasts up in pieces, how about leaving the chicken breast whole while it cooks, then when they are cooked, shred them. Add them back to the pot, then continue on with the recipe. Your result is a fantastic pulled-chicken type of dish!
– You could add ½ a bag of frozen vegetables to the chicken as well as what the recipe calls for and volume up the meal a bit!
– You could change out the chicken for a tougher and inexpensive cut of beef. Cut into cubes and the slow cooker would work it's magic to produce super tender beef morsels for a different type of stew!
– You could use other pieces of chicken as well if you wanted. I would recommend removing the skin before adding them to the slow cooker as it would get all flabby and soft. Eww… flabby and soft chicken skin. (shudder).

Do You Have Other Crock Pot Recipes?
Sure! As you know, I'm all about the simplicity and ease of things, so these slow cooker dinner recipes are simple to make and super yummy!!
Slow Cooker Sausage Casserole With Green Beans and Potatoes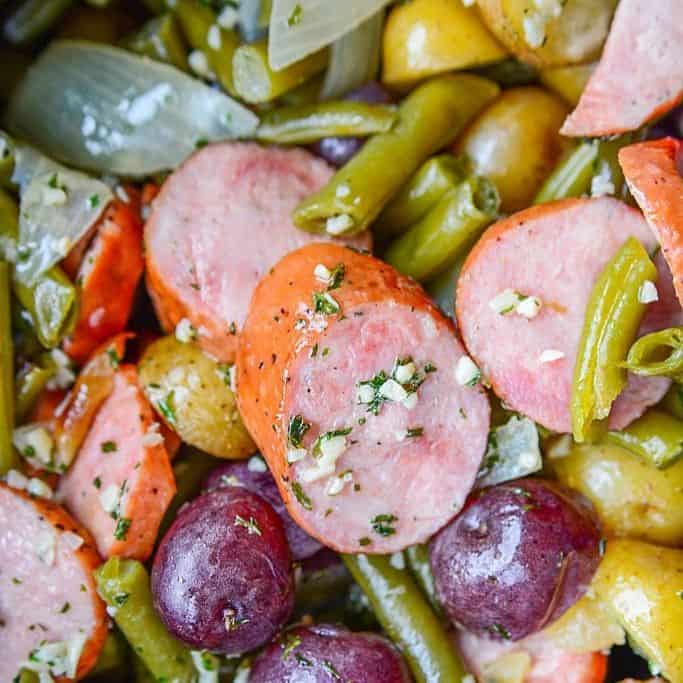 CrockPot Teriyaki Chicken Sandwiches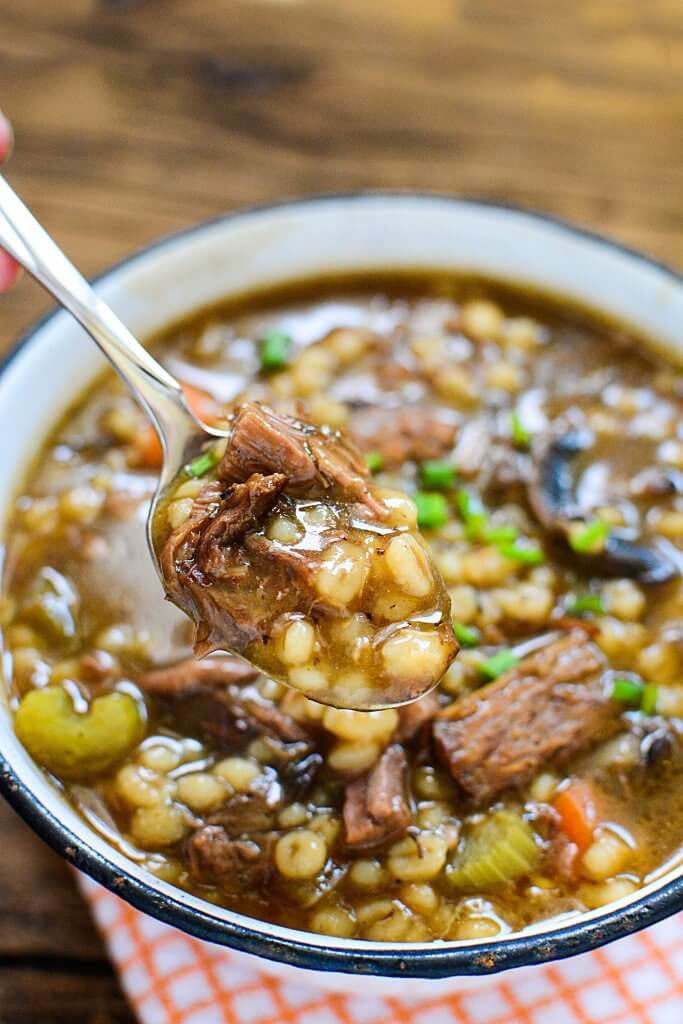 Let me know… how would you change this recipe or would leave it in all its perfectness? I'd love to hear your thoughts on this recipe. Thanks so much for stopping by The Salty Pot today and I hope you have a fantastic day!!!
***BEFORE YOU GO, DON'T FORGET TO PIN THIS CROCK POT CHICKEN AND BISCUITS STEW TO YOUR FAVORITE PINTEREST BOARD TO USE FOR LATER!!***
CROCK POT CHICKEN AND BISCUITS STEW
Total Time:
4 hours
6 minutes
A crock pot chicken and biscuits stew dinner that's a super yummy, easy, and comforting dish! And, it only takes 6 minutes of prep... so it's perfect for busy parents!
Ingredients
1 lb chicken breast, cubed
1/2 onion, chopped
2 carrots, chopped
2 celery stalks, chopped
2 potatoes, chopped (see notes)
1 can cream of chicken soup
2c chicken broth
1 tsp garlic, minced
3 tbsp cornstarch
3 tbsp water
as desired salt and pepper
1 c cheddar, shredded
1 pkt Bisquick dough,
Instructions
Put diced chicken into the slow cooker bowl and season with salt and pepper
Add the onions, carrots, celery and potaotes to the slow cooker bowl. (*note: If you are using an Instant Pot, you can saute the chicken and onions on the "saute" button to brown and soften before adding the rest of the ingredients and then pressing the "slow cooker" function.)
Mix the soup and the broth together, adding the italian seasoning
Add the broth mixture to the crock pot bowl.
Cook on low for 4 - 5 hours on high, 7 - 8 hours on low
Mix the water and cornstarch together until smooth and add it to the slow cooker bowl, give it a stir. Make up the biscuit dough and pinch small amounts of the dough and drop them on the top of the stew. When complete, sprinkle with the cheddar.
Let it cook another 1/2 hour or so or until the biscuits are cooked through.
Enjoy!
Notes
If you don't want ot use Bisquick, you can use a can of pillsbury biscuits, or make your own!
Nutrition Information:
Yield:

6
Serving Size:

1 cup
Amount Per Serving:
Calories:

588
Total Fat:

25g
Saturated Fat:

10g
Trans Fat:

0g
Unsaturated Fat:

12g
Cholesterol:

89mg
Sodium:

1331mg
Carbohydrates:

55g
Fiber:

3g
Sugar:

5g
Protein:

34g