This Keto Blueberry Sauce has that fresh blueberry flavor, the texture of yummy blueberries and a sweetness that you'd expect from a fruit sauce, but without the added sugar.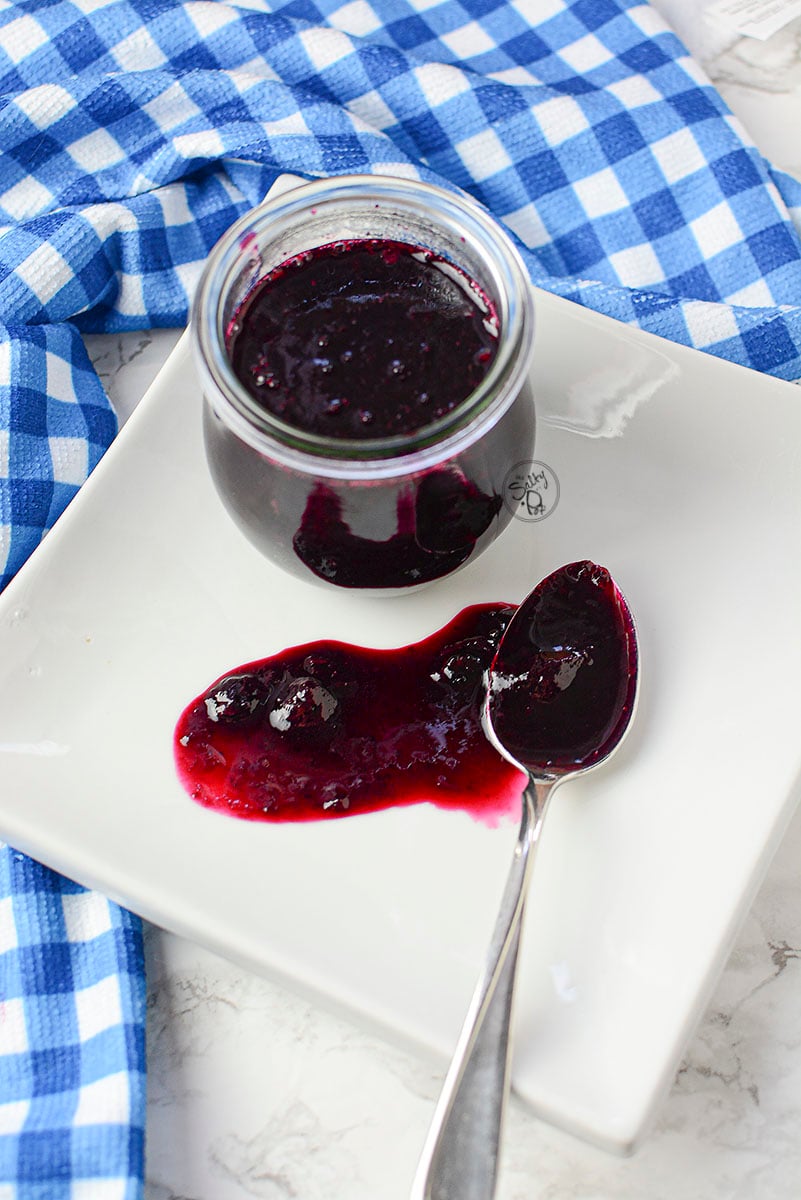 Easy Keto Blueberry Sauce Recipe
Whether you're moving into a healthy eating plan and trying to limit your intake of processed and packaged foods, or are just following the keto diet- here's a blueberry sauce recipe that you'll absolutely love.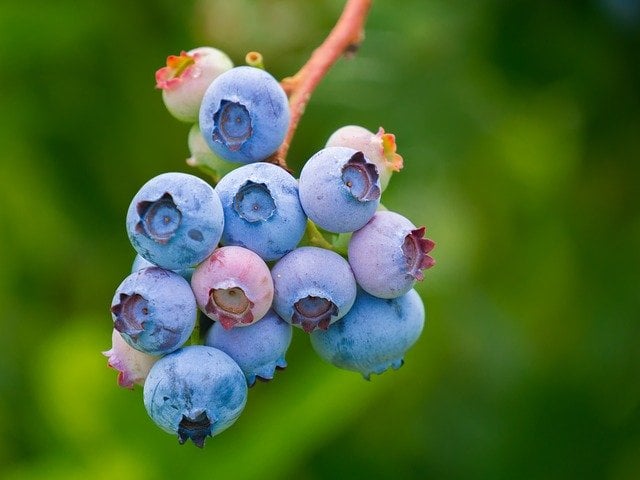 Ingredients For Keto Blueberry Sauce
Blueberries – You can use fresh or frozen here. If you're choosing to use frozen, just be sure to thaw and drain them before starting to make your sauce.
Monk Fruit – I used the granular version and monk fruit measures 1:1 like sugar.
Water – Yep, just plain ol' water here. lol
Lemon Juice – This is optional. I've made it twice, once using it and once not. The lemon juice adds a nice brightness to the sauce and I used it when using frozen berries. Totally optional though.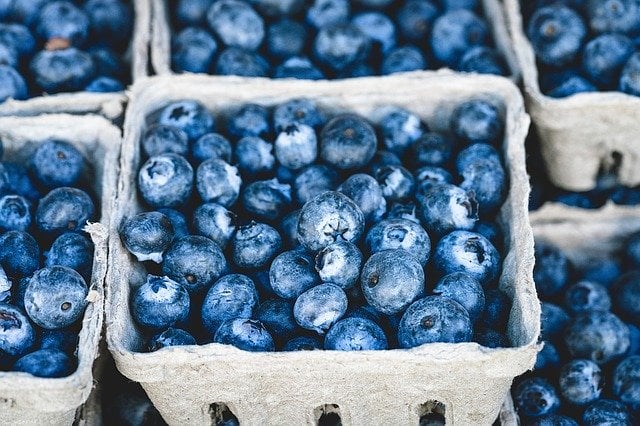 Sweet Cravings and Blueberry Nutrition
If you're on a keto diet, you're probably already taking steps to limit your sugar consumption. But if you've got a sweet tooth and are hit by a craving, dealing with it can get quite difficult.
This blueberry sauce can be a great way to satiate that sweet tooth and still stick to your keto way of eating. Plus, you'll also be getting all the health benefits from the blueberries. Blueberries are packed full of antioxidants, potassium and vitamin C which offer huge anti-inflammatory health benefits.
Lastly, they're also loaded with fiber and are naturally sweet- no wonder they're regarded as one of the healthiest fruits out there!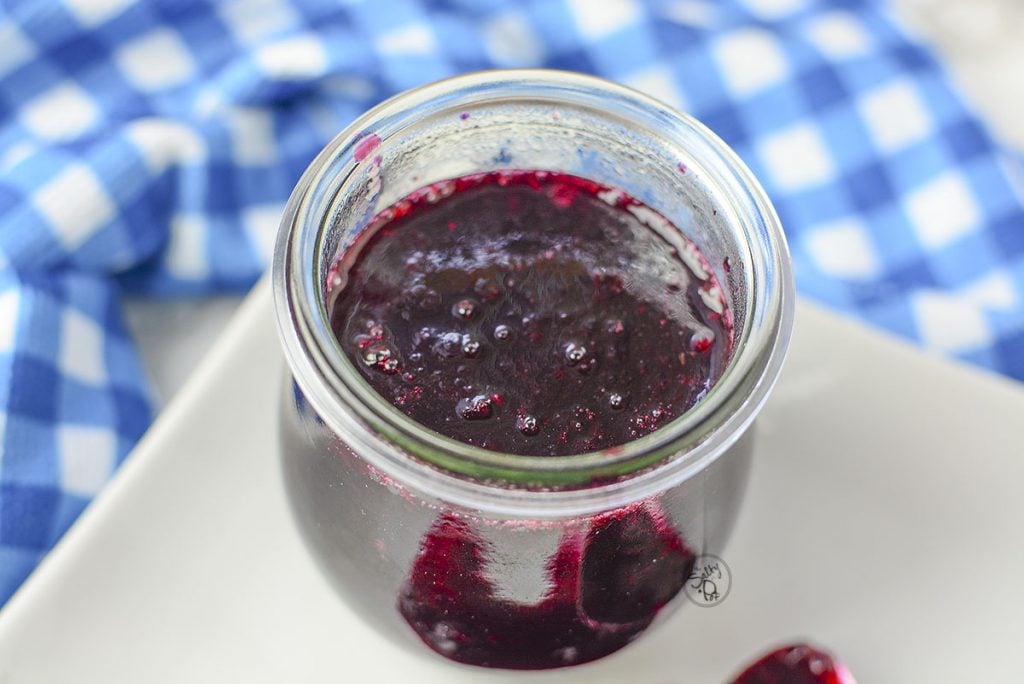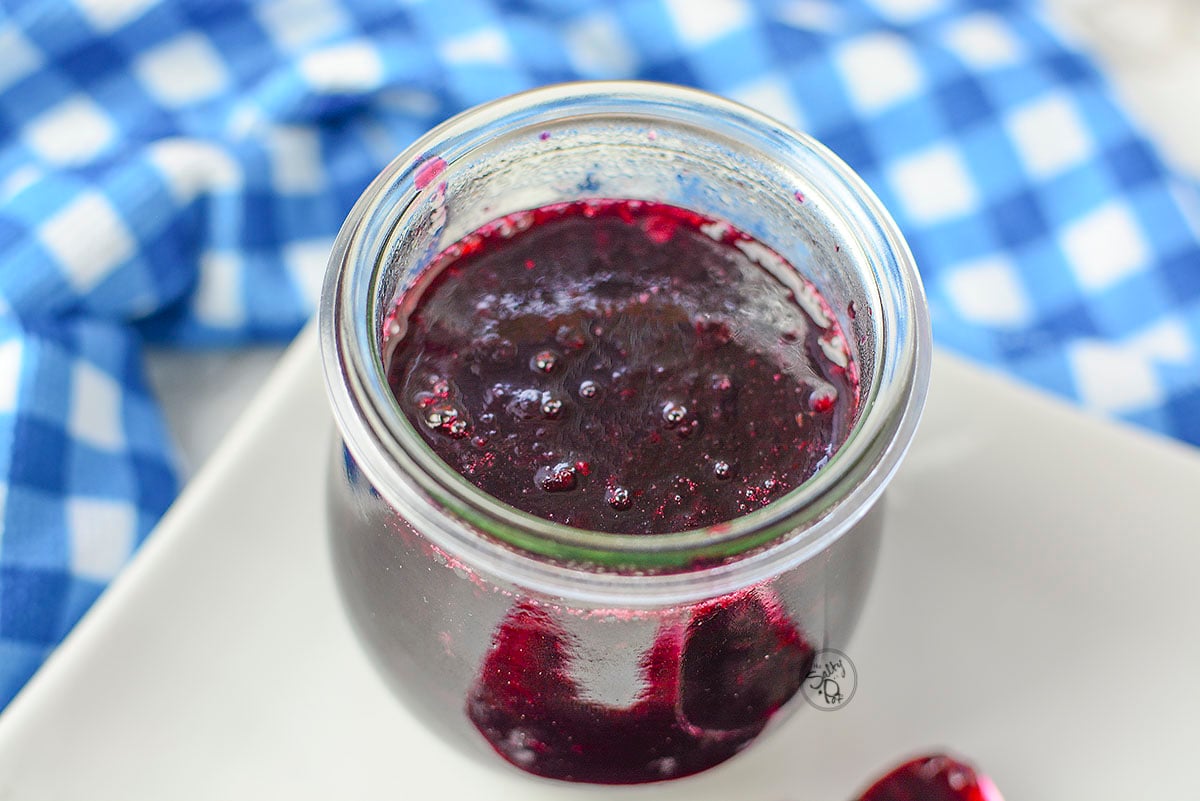 So How is the Sauce Sweetened?
This keto blueberry sauce is naturally sweet thanks to the sugar content in the berries, and I've also added a bit of monk fruit into it. Monk fruit is actually a small sweet gourd that resembles a melon. It doesn't spike blood sugars so it's a great alternative for diabetics, and it doesn't have that funny aftertaste that some artificial sweeteners can have.
I used the granular form, but if you wanted to not wait for the sugar to dissolve, you can use monk fruit in a powdered form. You can purchase it or even make your own by putting some granular monk fruit into a high powered blender and whiz it up for "convectioner's sugar".
That being said though, if you don't have monk fruit, you can add any other artificial sweetener you prefer.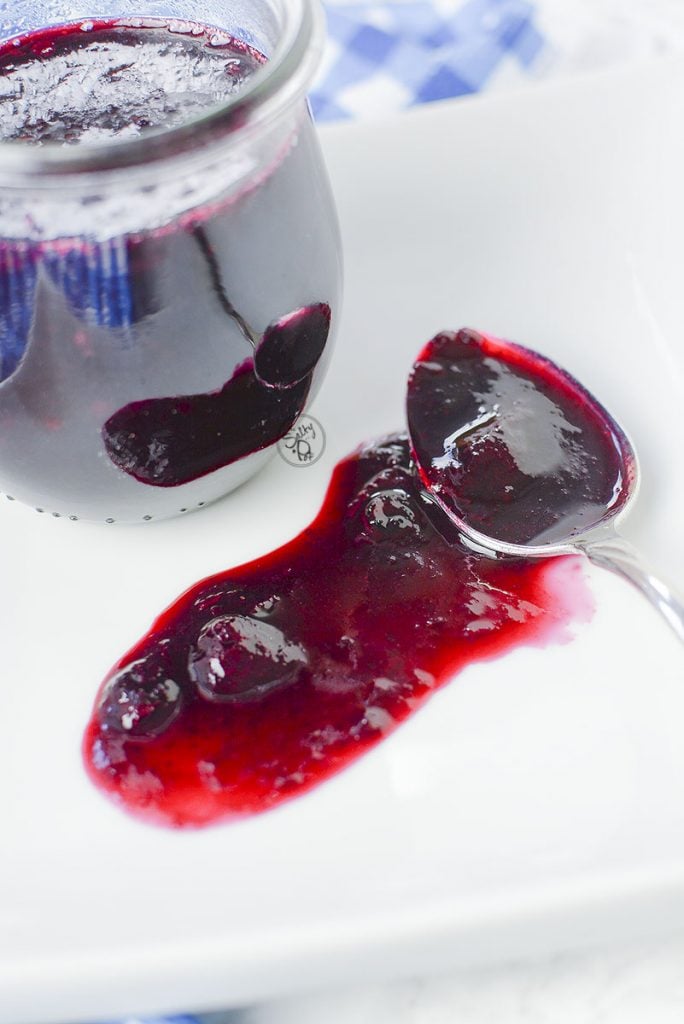 So How Do I Put it to Use?
Believe it or not, there are tons of ways you can put this keto blueberry sauce to use- it is actually that versatile.
Got some plain keto ice-cream? Lend it some flavor by drizzling a bit of this gorgeous sauce on it. Got a basic cheesecake you'd like to take up a notch? This sauce is just the perfect answer.
You can also whip up a delicious chia seed pudding parfait with this sauce- or literally any other keto friendly dessert you're craving for.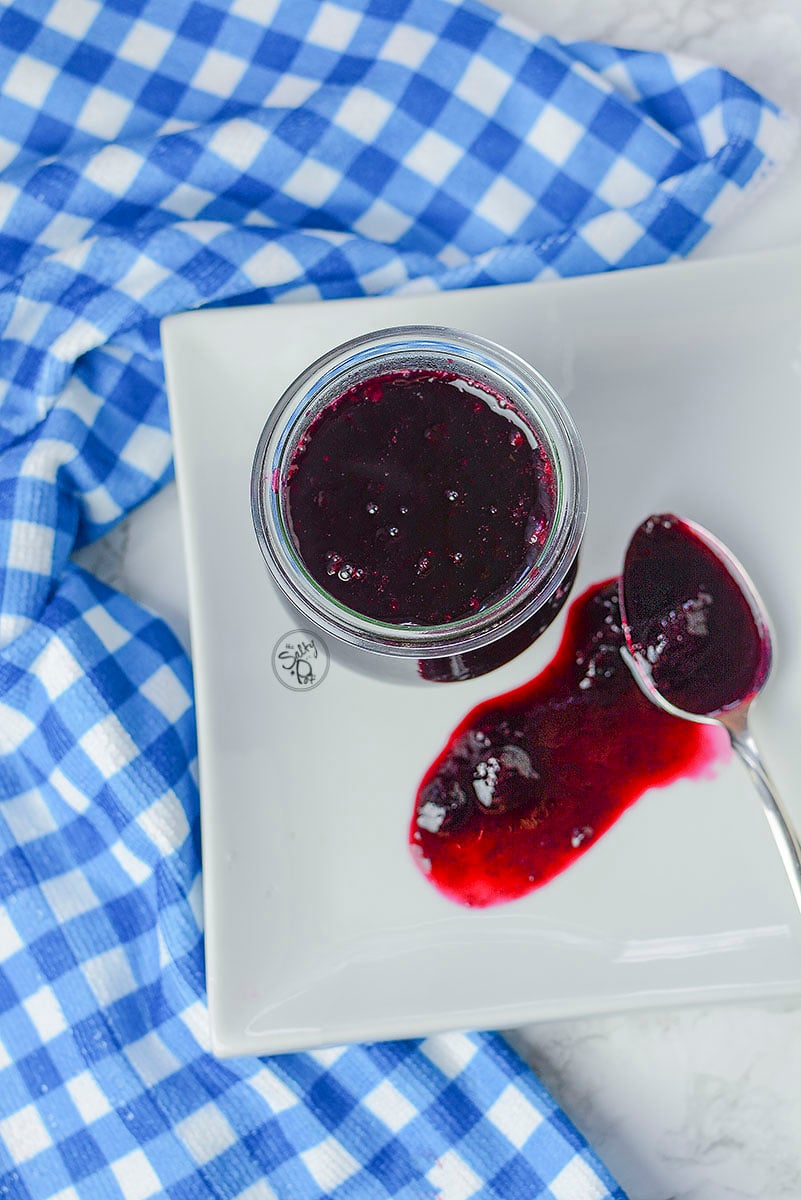 Freezing the Blueberry Sauce
Whip up a batch of this delicious sauce and you can store some of it in the freezer in an airtight container- it can stay good in there for up to 3 months.
And if you're looking to use it more frequently, it can stay fresh in your fridge for around 7-10 days. Just make sure you use a clean spoon to scoop it out!
Of course, if the sauce smells funky or has mold growing on it before that time, simply throw it away.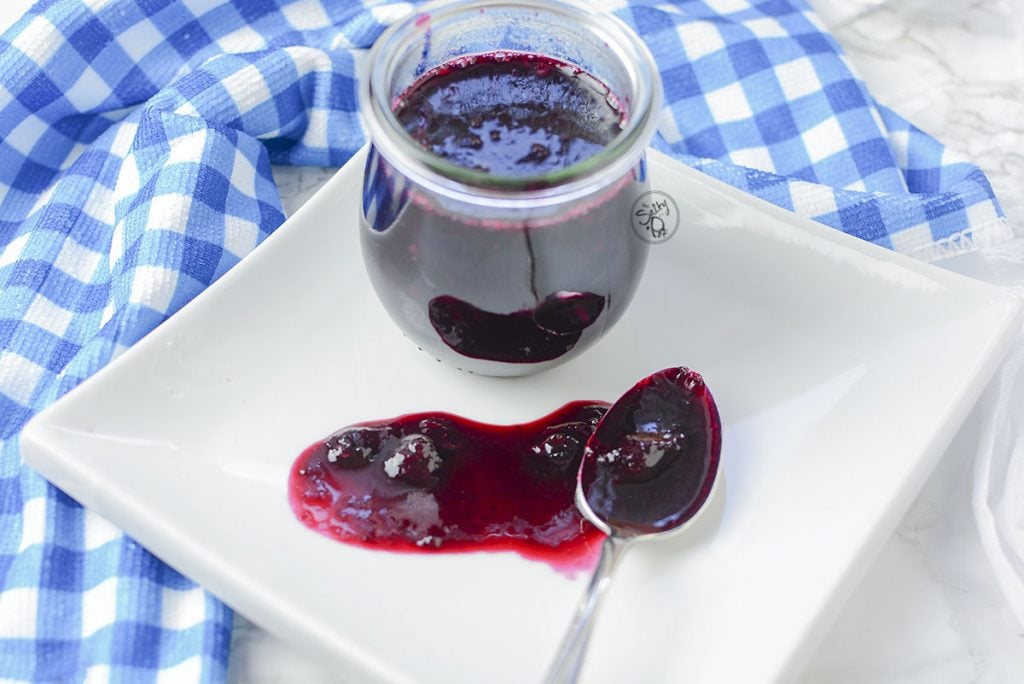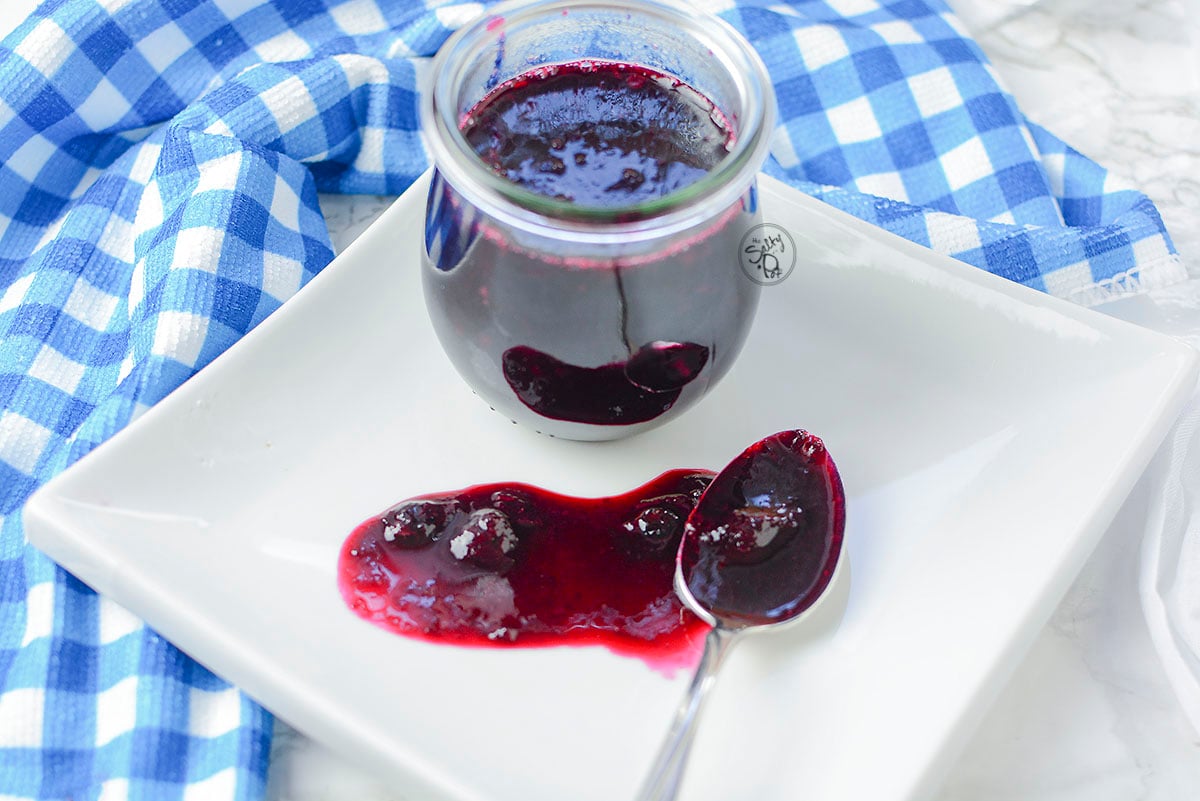 How Can I Make Sure My Sauce is the Right Texture?
A lot of times, you might end up with a sauce or jam that is runny. To thicken it, you can use xanthan gum. Xanthan gum is a popular stabilizer or thickener- you can find it in most food specialty stores.
Lastly, if xanthan gum isn't something readily available to you, simply simmering the sauce down to reduce the liquids will thicken it. If you choose this option, I would hold off on sweetening it as reducing the liquids will also increase the sweetness, possibly making the blueberry sauce too sweet for your liking.
More Low/No Sugar Recipes
If you're looking for a few more no sugar added keto recipes, check these out below!
Sugar-free Peach Freezer Jam
No Sugar Added Lychee Freezer Jam
20+ Ideas For Low Carb Sweets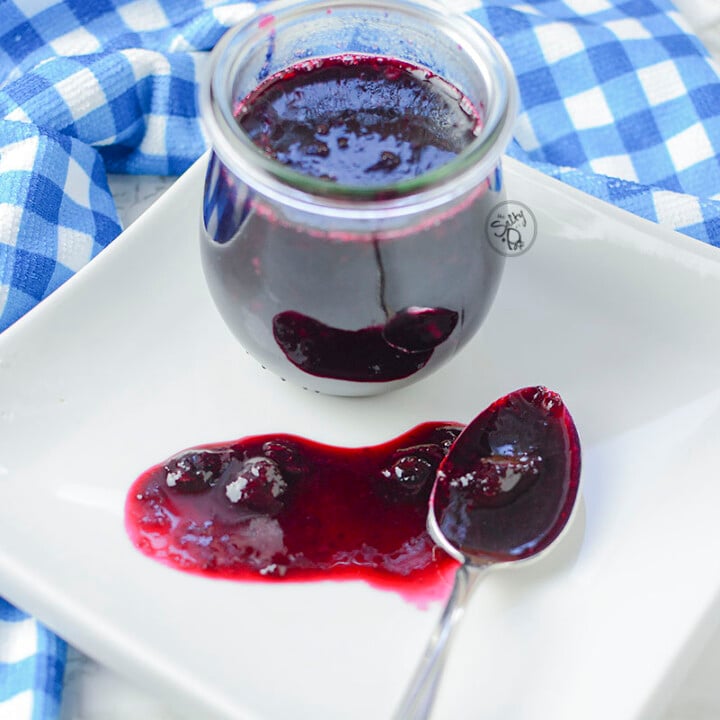 Keto Blueberry Sauce
Sweet and fruity, this Keto Blueberry Sauce is a perfect addition for any place you'd use a regular fruit sauce. Fresh and bright the added monkfruit brings that soft sweetness without adding regular sugar.
Ingredients
½ pint fresh blueberries
¼c water
2 tablespoon monk fruit
½ teaspoon vanilla extract
1 teaspoon lemon juice (optional)
⅛ teaspoon Xantham gum (Optional)
Instructions
1. Empty the blueberries into a saucepan.
2. Add the water and optional lemon juice. (see notes)
3. Bring the blueberries to a boil. Then, turn the heat to a good simmer and continue to simmer for about 20 - 30 minutes until the blueberries burst and break down in the pot. (See notes)
4. Add the monk fruit sweetener and stir to dissolve.
5. If using xantham gum, add it now to thicken the sauce. OR, if you're not using the xantham gum, continue to simmer the sauce to reduce the liquids. (See notes!!)
6. Once the sauce has reached the consistency of a thin syrup, the sauce is ready. (See notes).
Notes
1. You can try using a fork or a heavy wooden spoon to help break down the berries once they've been in the liquid for a little while. Once you see the berries cracking open, then you can help it along by squishing them a bit.
2. If you are adding the lemon juice, do not add the vanilla and vice versa.
3. If you are choosing not to use the xanthan gum and reducing the sauce instead, do not add the sugar until you've achieved the desired thickness consistency that you want for the sauce. If you add the sugar too early and then reduce, the sugar only intensifies in flavor. So try adding the monk fruit in ½ tablespoon measurements after you've reduced the sauce and taste for desired sweetness.
4. You can strain the solids from the sauce if you prefer not to have texture. I prefer the texture from the berries so I like to leave it in.
Nutrition Information:
Yield:

12
Serving Size:

1 tablespoon
Amount Per Serving:
Calories:

9
Total Fat:

0g
Saturated Fat:

0g
Trans Fat:

0g
Unsaturated Fat:

0g
Cholesterol:

0mg
Sodium:

0mg
Carbohydrates:

2g
Fiber:

0g
Sugar:

1g
Protein:

0g
All nutritional information is based on third party calculations and is only an estimate. Each recipe and nutritional value will vary depending on the brands you use, measuring methods and portion sizes per household.