This recipe for refrigerator beet pickles are truly the best I've ever tasted. The sweet, tangy, and earthy flavors are incredibly delicious and the recipe is super simple to make.
Easy Refrigerator Beets
This was Grandma's pickled beets recipe (and then my Mom's recipe). Now it's my pickled beet recipe and I love it because beet pickles are so versatile!
Pickled beets can really take any bland dish up a few notches! They lend your sandwiches, salads, tacos and a lot of other dishes a nice punch of flavor, and a cool crunchy texture.
What's best is the fact that they're crazy easy to make as well, and that's exactly why I'm here with this quick pickled beets recipe. Btw, they make awesome gifts as well!!
Ready to begin? Let's go!
Selecting The Beets
Pretty easy job here. Beets keep really well for a long period of time but will have tell-tale signs of when they might be a bit old. Here are some helpful hints to look for when purchasing beets:
– medium-sized and very firm
– skin is not wrinkled or soft
– if you can purchase them with the tops still attached, do it! The tops are can be put in salads, sauteed like kale or spinach, and also add a great nutritional punch!
– have a nice earthy scent
There are many different types of beets you can purchase. Mainly, the grocers will carry the 'table beet', the deep red tuber we are all used to seeing in the stores. But, there are a few other kinds to consider such as the Golden Beet and Candycane Beets! You can use any sort you prefer.
Prepping and pickling beets is easy!
Making Refrigerator Beet Pickles
Start by scrubbing the beets thoroughly and cutting off both the root and leaf ends of the beet.
Fill up a medium-sized pot with water. Cover and cook the beets until they are done. Remove the beets and let cool slightly so that you can handle them.
The beets should peel super easy now. Just rub your finger over the outside and you'll see the skin separate off the beet.
4. Next, drain your pot, reserving around 2 cups of the beet water. Use this beet water to make part of the brine that you'll use to encase the beets in.
5. Make the brine with the water, sugar, vinegar and spices.
6. After the brine is made you'll want to have your very clean and dry mason jars ready to go. Cut your beets into slices or cubes or whatever shape you want your pickles to be in. Pack the jar as full as you can, but still leaving about an inch space at the top.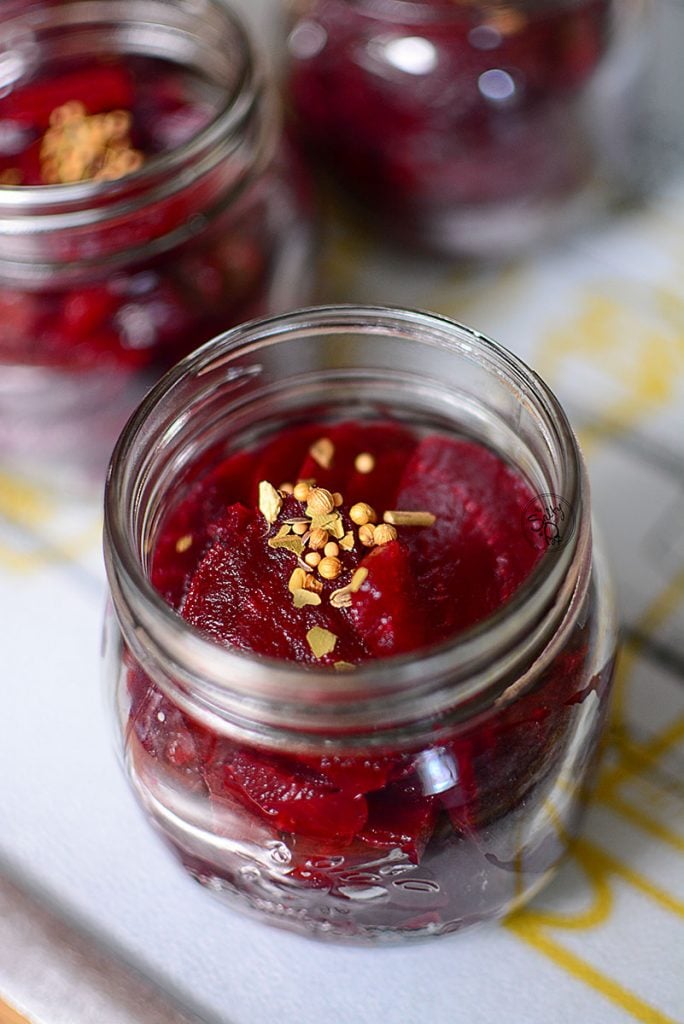 7. Carefully pour your prepared brine over the beets to about ½″ from the top of the jar and so that all the beets are covered. This is important that the beets be covered in the brine, for safety purposes, as well as brining/pickling purposes.
8. I like to take a super clean knife and poke it into the jar to release any air pockets that might have been trapped. You can sprinkle a bit of extra pickling spice over the top of the beets, wipe the rims of the jar and put on the top. Let them come to room temp and then put them in the fridge.
How Long Will The Beet Pickles Keep In The Refrigerator?
So, you're wondering if pickled beets go bad? They take a very long time to go bad because the vinegar and sugar brine helps preserve the beets. The vinegar and sugar also help flavor the beets so you'll want to give them about 5 days to get a great pickle taste, but I have been known to start eating them after 3 days.
The longer they are in the jar of course, the better for the flavor! They will keep in the fridge for at least up to a month (if they last that long!!).
But of course, if you open them and they smell funky or look a little off, don't eat them and simply discard.
**NOTE: It's important to note that these easy beet pickles are not shelf stable, meaning you can't leave them in the pantry like other pickles you buy unopened from the store. These pickled beets MUST be kept in the fridge to be safe to consume.
Putting The Refrigerator Beet Pickles to Use
Now that you're done pickling the beets, it's time to put them to use!
These old fashioned pickled beets can be used in so many ways. Of course, just as a side pickle condiment to your dinner plate is fantastic. But, you can add them on a charcuterie tray for beautiful color and flavor.
Try dicing a few pieces up and sprinkle them over salads, or Better Homes and Gardens has a nice recipe using beets in sandwiches.
Darn Good Veggies has a fantastic recipe for Pickled Beet Hummus that you could try as well!
When you try making these refrigerated pickled beets, I'd LOVE to hear your feedback! If you enjoy beets, you'll love this recipe! Thanks for stopping by The Salty Pot today, and I hope you have a fantastic day!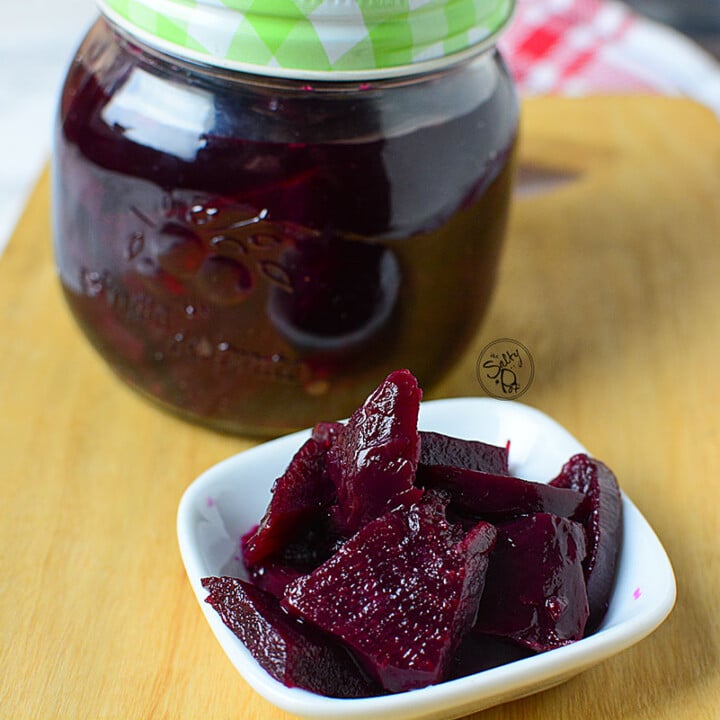 THE BEST REFRIGERATOR BEET PICKLES
Total Time:
2 hours
5 minutes
Sweet and tangy, these refrigerator beet pickles are the perfect condiment to add to practically any dish! Meats and poultry, salads and sandwiches!
Ingredients
6 c beets / or 6 medium size beets
1 ½ c brown sugar
2 ¼ c vinegar
1 c water (reserved beet juice)
¼ teaspoon salt
1 teaspoon pickling spice
water for boiling
EQUIPMENT FOR THE RECIPE
3 pint jars with lids
Clean cloth for wiping jar rims
Large mouth funnel
Instructions
(See Prep Notes Before Beginning The Recipe!)
1. Scrub the beets really well to remove any dirt. With a sharp knife, cut the root and top ends of the beets off. Be careful with this step and beets are very firm and cutting them is tough. Add enough water to cover the beets (at least 2 cups).
2. Cover and boil the beets until a fork can be inserted easily (35-45 minutes). Remove from the heat and take out the beets, reserving 2 c of beet cooking water. *see notes
3. When the beets cool enough to handle, remove the skin by just rubbing them with your fingers. You may want to use gloves with this step as beets can stain your hands.
4. Slice the beets into the size of the pickles you want. These can be slices or cubes. Add them to the jars and pack them tightly.
5. In a heavy bottomed pot, add the vinegar, brown sugar, salt and pickling spice to the reserved beet juice. Bring to a boil, boil for one minute and turn off the heat.
6. Using the jar funnel, carefully add the hot brine to the beets, pouring slowly and stopping ½" from the rim of the jar.
7. Take a clean butter knife and poke around the beets in the jar to release any air bubbles. Wipe the rims with a damp clean cloth.
8. Place the lids on the jars and let the beets cool to room temperature before transferring the beets to the fridge. *see notes
Notes
Prep Notes: Have your clean and dry jars ready to go with the lids set aside. Also, have a clean, large funnel that fits the opening of the jars as well as a damp clean cloth to wipe the rims of the jars. ***NOTE: THIS RECIPE IS NOT FOR SHELF STABLE PICKLED BEETS. This recipe makes pickled beets that MUST be kept in the refrigerator only.

When cutting the beets into the slices or cubes, we used an egg slicer to make uniform slices. Just a helpful hint. A sharp knife works just as well.

Use the funnel to fill the jar with both the beets and the brine. It makes life much easier. Even if you think the rims of the jars are clean after filling, it is still recommended to wipe them to reduce the chances of any bacteria affecting the beets.
Nutrition Information:
Yield:

48
Serving Size:

2 tablespoons
Amount Per Serving:
Calories:

45
Total Fat:

0g
Saturated Fat:

0g
Trans Fat:

0g
Unsaturated Fat:

0g
Cholesterol:

0mg
Sodium:

36mg
Carbohydrates:

11g
Fiber:

1g
Sugar:

10g
Protein:

0g
All nutritional information is based on third-party calculations and is only an estimate. Each recipe and nutritional value will vary depending on the brands you use, measuring methods, and portion sizes per household.
***DON'T FORGET TO PIN THIS REFRIGERATOR BEET PICKLES RECIPE TO YOUR FAVORITE PINTEREST BOARD TO USE FOR LATER!!***