Slow cooker bread??? YES!!!! Ok ok ok… pull up a chair and sit down, I have something amazing to tell you! You absolutely can make bread in your slow cooker,– perfectly fresh homemade bread!!! No need to own a bread machine or turn your oven on to cook a loaf of bread anymore. Doesn't that make you happy?!?!?!?! (It's the little things in life, folks!!)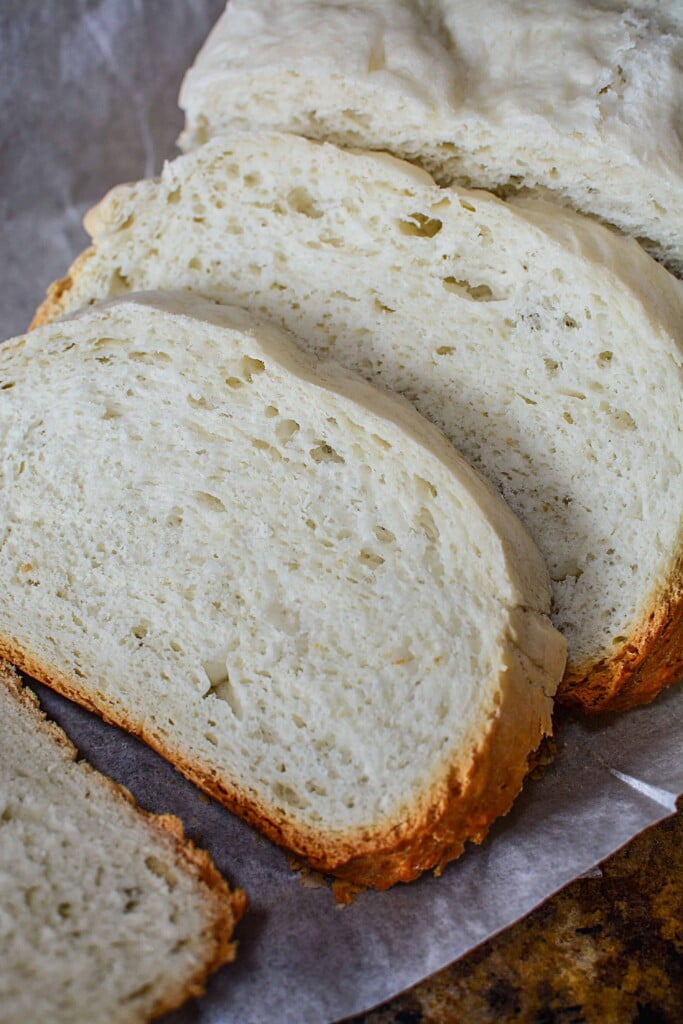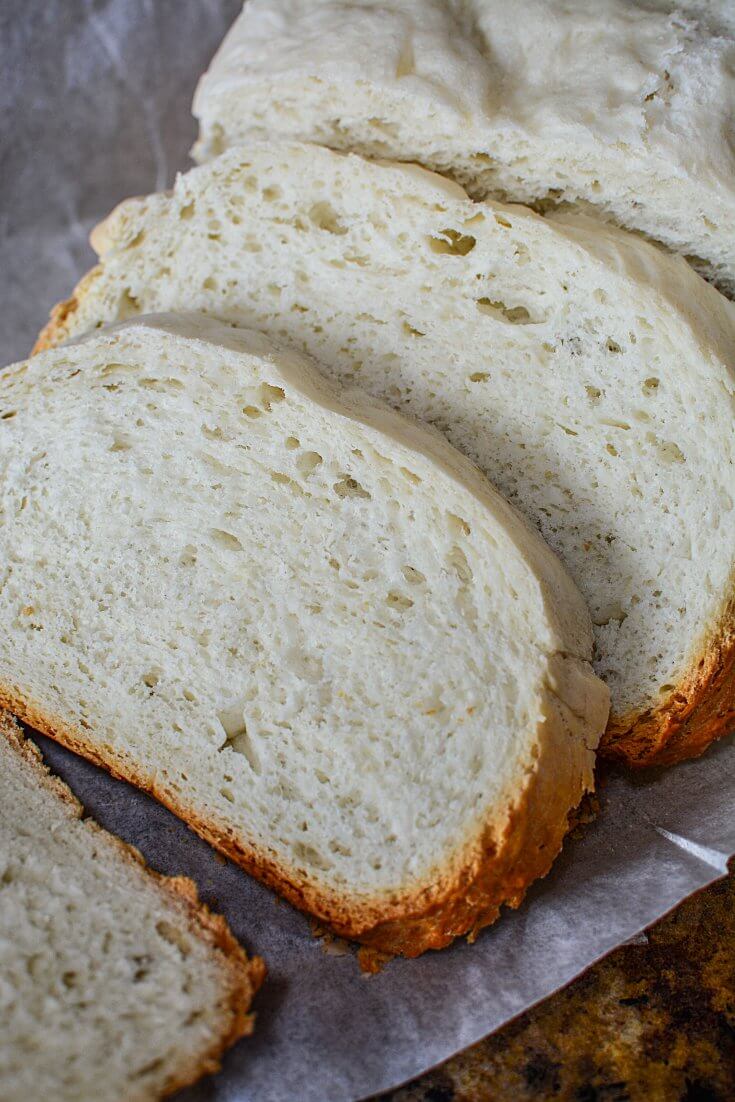 How To Make Slow Cooker Bread
Pull out your slow cooker and get to making some of the tastiest homemade bread. Best of all this bread is a great base, so you can add other ingredients to transform the flavor. Whether you want to toss in some
oats,

flaxseed,

sunflower seeds

pumpkin seeds

herbs and spices (think garlic and parsley!)

or anything else that the very thought makes you salivate! LOL
Really, it's a fundamental bread recipe that can be easily adapted, but let me be clear, this is sinfully divine all on its own.
What I love about slow cooker bread is there is ZERO hassle with it. You pull out your slow cooker, mix up the ingredients and let the slow cooker do the work. This soup is great to slice and toss in the toaster with a dollop of butter and jam or serve with some soup for dipping. The little crevices soak up all the sauce from bread and gravy perfectly.
I've tried making this recipe a few times, and finally found a way for it to work perfectly. It's definitely my favorite slow cooker bread, and I wanted to take the time to share on my blog!
How Does Slow Cooker Bread Work?
The beauty of a slow cooker is it reaches around 200 degrees on the high setting depending on what brand of slow cooker you own. That is about the best temperature to cook most styles of breads. It does take a little practice to get the exact timing right to master getting it cooked through and having a moist bread at the end. I suggest just giving it a go the first time out of the gate, following the directions, and then perfecting it from there. Once you have the recipe down, the possibilities in variety are ENDLESS.
OK.. SO How do I make this fantastic Slow Cooker Bread?? ….(you ask..lol)
Grab a stand mixer or even a bowl and add in your warm water (around 100 degrees), sugar, and mix it in, and then sprinkle in your yeast. Let your yeast activate and become frothy. This should happen within the first 5-10 minutes. If your yeast doesn't begin to bubble, the water was either to warm, or the yeast is bad.
Then in a bowl toss in your flour and salt and set aside. Once the yeast is activated, slowly incorporate the flour and salt mixture into the wet mixture. Once well-incorporated add in your oil.
Knead your dough for around in your stand mixer, using a dough hook, for 5 minutes so that it can become elastic in texture. I did end up adding one tablespoon of water in this step to help the dough come together the way I wanted it to. You of course can do it vintage style and do it by hand which is perfectly fine!! I did it with my mixer only because I was a bit short on time.


Then line your slow cooker with parchment paper, and put the dough in the center of the slow cooker. Place a clean tea towel over the slow cooker and then seal the lid like normal. This helps eliminate condensation from falling on top of the bread in the slow cooker, which you do not want.
Cook for around 1 ½ – 2 hours. The sides will be golden brown, and you can even stick a toothpick in for it to come out clean. Then turn the heat off and let it sit inside the slow cooker for 5-10 minutes with the lid off. If you want to, you can always make up a quick egg wash after it's done cooking, and brush it onto the bread and throw it under the broiler for a few minutes to brown up on the top. Again, I'm not that fancy for my bread, and having it this way was just fine with me.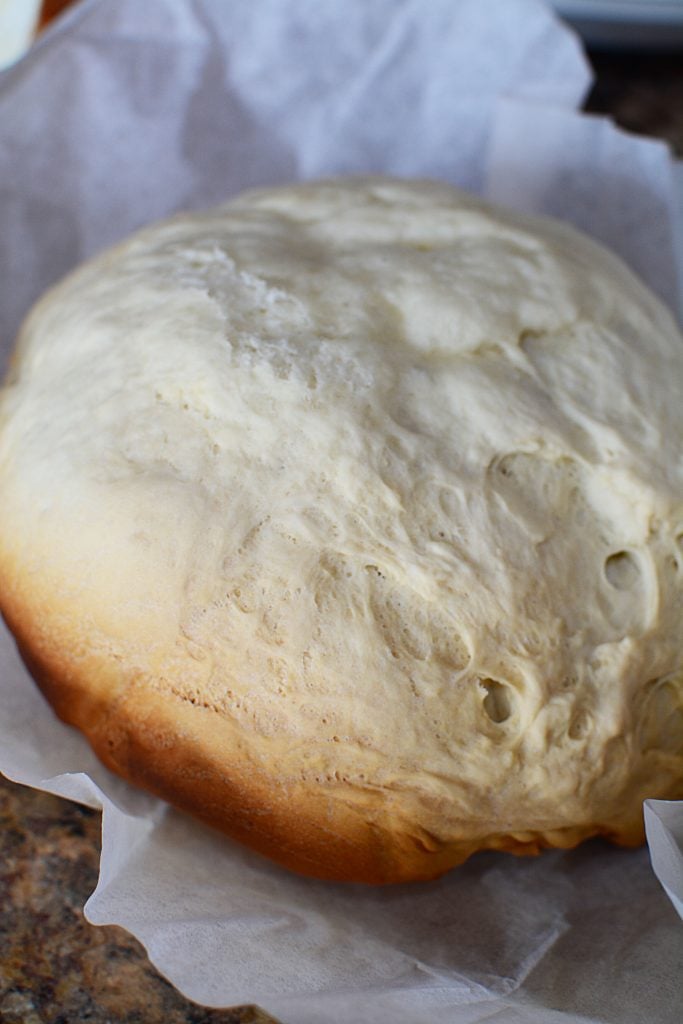 Quick And Easy!
I hope you enjoyed this little tutorial on how to make slow cooker bread, and that I was successful in showing you how easy it is. I wrote about it on my facebook page. If you'd like to check out the post, click here!! (And if you decided to hang out with me for a bit, feel free to give the page a "like". I'd love to see you there!)
If you are a fan of homemade bread than I highly recommend giving this recipe a try. Also, if you'd like to try my NO KNEAD Crusty Country Bread, click the recipe HERE. This is equally as easy as the slow cooker bread (maybe even easier, actually) and requires NO kneading!! I personally am a huge fan of homemade bread, and I am always up for trying out new recipes, and this Slow Cooker Bread, my friends, is a home run!
how to make slow cooker bread
Total Time:
2 hours
20 minutes
You absolutely can make slow cooker bread,-- ..YES!! Perfectly fresh homemade bread!!! No need to own a bread machine or turn your oven on to cook a loaf of bread anymore. Doesn't that make you happy?!?!?!?!
Ingredients
1 pkg yeast
1 c very warm water + 1 tbsp, separated.
1 teaspoon sugar
2 tablespoon avocado oil, olive oil works as well
1 teaspoon salt
2 ½ c flour
Instructions
Place 1 cup of water, sugar and yeast into the mixer bowl
Let bloom for 10 minutes
Slowly add the flour in small amounts.
Add the salt
Add the oil
Keep mixing for 5 minutes at least until the dough is smooth and elastic. (You may have to add the extra 1 tablespoon water at this point to help it all stick together)
Line a slow cooker bowl with parchment, or use a slow cooker liner.
Place the bread in the center of the bowl and place a clean tea towel over the cooker. Place the lid on top.
Cook on low for 1 ½ - 2 hours.
Remove the lid and the towel and let sit for a few minutes with the heat off.
Remove from the cooker insert using the parchment and let it cool completely before slicing.
**read the instructions above if you want to add extra "color" the top of your bread.