If you're following a low-carb or keto way of eating, we all know the pain of missing our beloved mashed potatoes. And yes, there's the option of replacing them with mashed cauliflower. It works, and it's a close sub, but THIS recipe my friends, shows you how to make cauliflower mashed potatoes SUPER delicious!! And the secret ingredient takes it to the next level!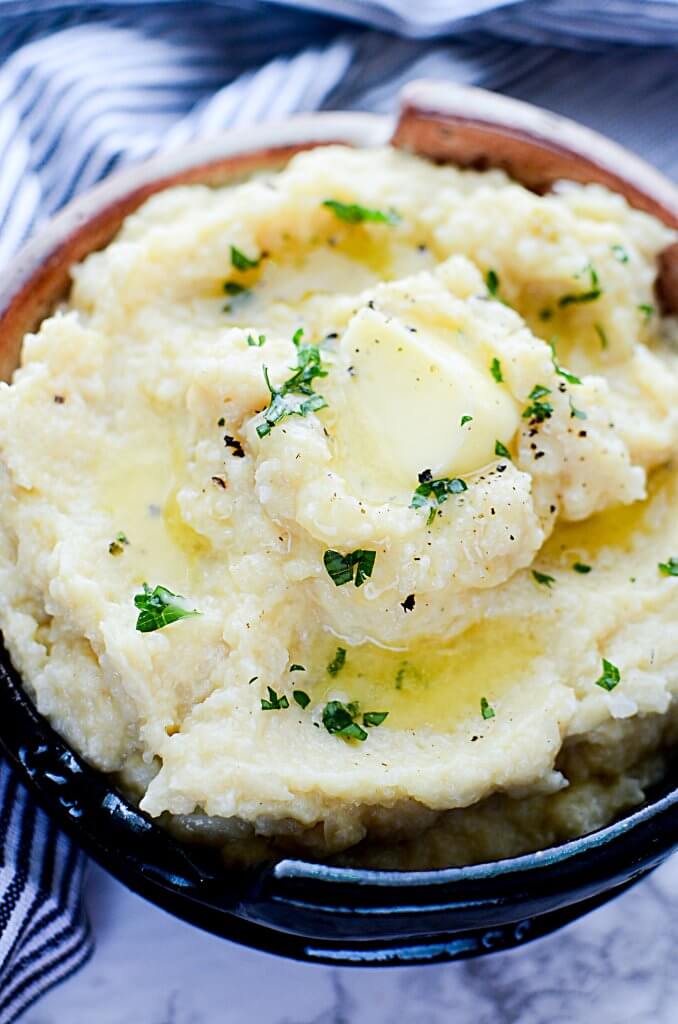 HOW TO MAKE CAULIFLOWER MASHED POTATOES
So because potatoes are off the menu, whatever we can do to make the cauliflower mimic the taste and mouthfeel of mashed spuds, the better right? They need to be creamy, yummy, buttery and have that certain starchy mouthfeel or sorts.
One of the major (and I'd go as far as saying crucial) factors is that the cauliflower should be as dry as you can get it before mashing. Cauliflower usually contains boatloads of water, so in cooking it, a lot of it seeps out of the vegetable, making things pretty damn soggy. We need to get rid of it.
The second is creaminess. The creamier, the better for these faux-tatoes. You can add cream cheese as I've seen some recipes do, but I prefer to use egg yolks. They lend a really nice creaminess (along with the butter), but they don't add that "tang" from the cream cheese that I'm not too excited about. However, if you like the tanginess, ADD BOTH in these cauliflower mashed potatoes!! They would be the ultimate creamy mashed cauliflower for sure!!
The Secret Ingredient in this Story of How to Make Cauliflower Mashed Potatoes Super Delicious!!
Now for the secret ingredient. In showing you this recipe on how to make cauliflower mashed potatoes even more epic, I hope this method will make you (almost) forget about regular mashed potatoes forever! In the mashing of these fauxtatoes, I've added 3 tbsps of oat fiber!!!
I find that the fiber really helps in soaking up extra moisture and just gives it that little bit of a starchy mouthfeel that regular mashed potatoes have. Oat fiber is an insoluble fiber and has virtually no calories. It's a very fine powder ground up from the hulls of oats. It is super beneficial for constipation sufferers. Here's more info on oat fiber if you're interested! Oat fiber vs Oat Bran by Gwen over at Gwen's Nest.
So yes, if you are super strict Keto, then this recipe might not be quite for you as oat products would not be totally compliant. However, it's only 3 tbsps worth, it's pure fiber, so you're not counting it as a carb here.  So if you are low-carb, or loosely following the keto way of life, this recipe will be a good fit and make you super happy!
However, if you can't get the oat fiber in this recipe today, it's totally fine and these fauxtatoes will STILL taste amazing, especially with the egg yolks. They make them SO creamy!!!
Steps on how to make cauliflower mashed potatoes:
To begin with, you'll want to cut your cauliflower into smaller-sized florets. Cut them off the main stalk off of the vegetable.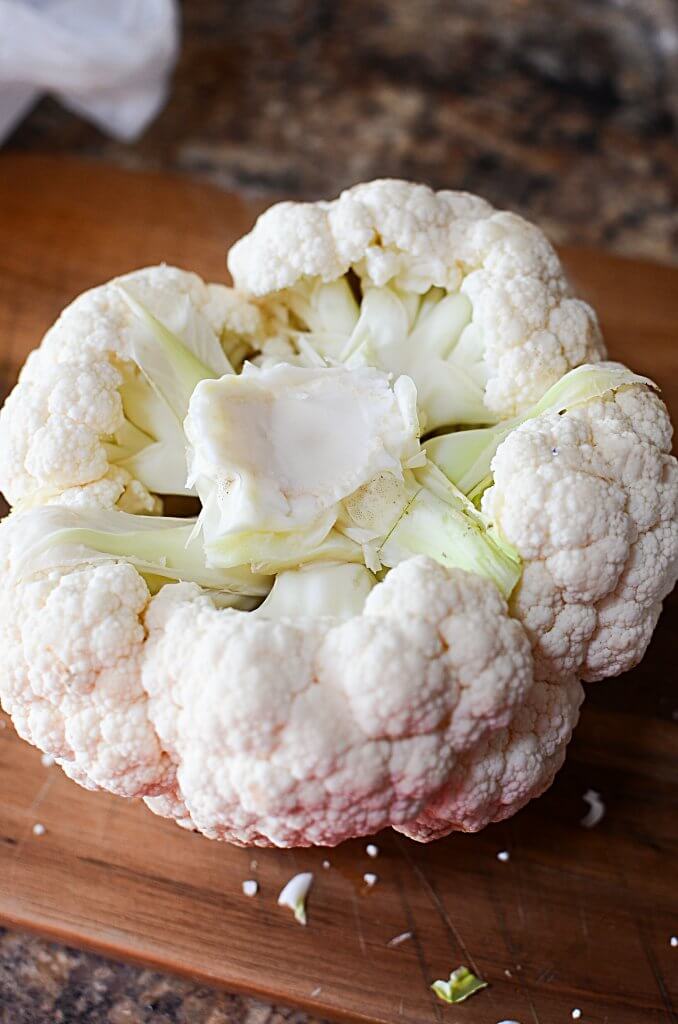 Don't throw away the main stalk! Place it in a ziplock bag after chopping it up and use it to add to soups and stocks for extra flavor!!
So I'm using my Instant Pot for today's recipe, but you can also use a Ninja Foodi pressure cooker, as the cooking times will the same. You can also do this stovetop, just cook the cauliflower to a VERY soft stage.
Place ½ cup of water (or chicken stock, which is what I used) in the Instant Pot or Ninja Foodi and put the trivet in the inner pot. I like using the trivet as it keeps a lot of the vegetables off the bottom of the pot. If this doesn't bother, you, you can forgo the trivet.
Add the cauliflower to the pot on top of the trivet and then put on the lid. Cook on 'steam" for 15 minutes and then do a natural release for 10 minutes. We want the cauliflower super soft here, ok?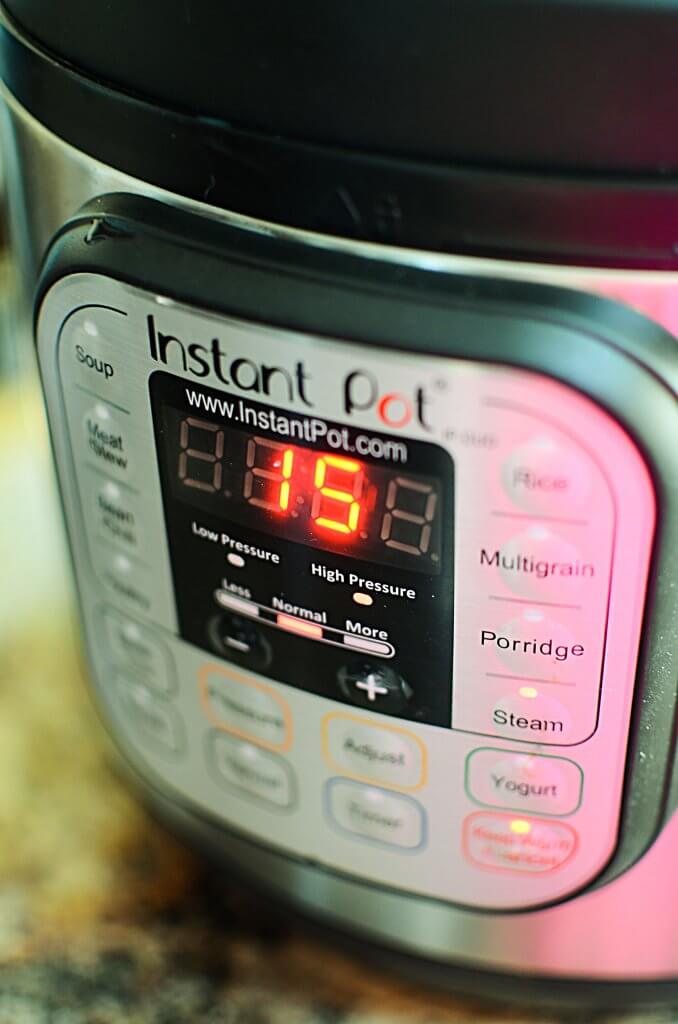 After ten minutes, release whatever steam is left inside the pot. With protected hands, lift out the insert and drain the cauliflower into a colander. (Remove the trivet at this point).
Place the cauliflower back into the pot insert and return it to the Instant Pot / Ninja Foodi. Put the machine onto saute briefly in order to try and evaporate as much moisture in the pot as possible.
Turn off the saute option and add the butter, egg yolks, parmesan cheese, pepper, garlic powder, and the oat fiber. Mash these faux potatoes to your heart's content! I prefer a bit of texture to my mash, but if you want a super smooth mash, use an immersion blender to really get the mashed cauliflower super smooth.
Upon serving, add more butter and a sprinkle of pepper. You could add some salt after tasting, but remember that parmesan cheese is salty, so you don't want to oversalt your "spuds".
So, to recap the steps on how to make cauliflower mashed potatoes:
Cut up the cauliflower florets
Add the water/stock to the instant pot
Add the cauliflower
Cook
Drain the water
Saute briefly
Add the other ingredients
Mash very well
Serve with optional extra butter
If you're looking for other low-carb recipes, please take a peek at this recipe for Buttery Buffalo Chicken that these cauliflower mashed potatoes would go so well with:

OR these Sausage Stuffed Peppers with Parmesan Cheese


***** DON'T FORGET TO PIN HOW TO MAKE CAULIFLOWER MASHED POTATOES TO YOUR FAVORITE PINTEREST BOARD FOR SAFEKEEPING *****



Instant Pot / Ninja Foodi Cauliflower Mashed Potatoes
Additional Time:
10 minutes
Following a low carb / keto lifestyle? Looking for info on how to make cauliflower mashed potatoes? I got you covered! Here's a recipe on how to make cauliflower mashed potatoes with a secret ingredient. They will be the best mashed cauliflower potatoes you've ever had!!
Ingredients
1 head cauliflower, (large head)
½ c water or chicken stock, (I used stock)
2 egg yolks
½ c grated parmesan
3 tablespoon oat fiber
2 tablespoon butter, (generous tablespoons)
1 tablespoon butter (for garnish)
as desired salt, pepper, and garlic powder, (be cautious of the added salt)
Instructions
Cut the cauliflower into large bite size chunks
Place it on a trivet which has been placed in the bottom of the Instant Pot bowl, and water or stock added.
Place the lid on the pot and twist into position. Move the toggle switch to "sealing"
Press "steam" for 15 minutes. When the time is up, do a natural release for 10 minutes.
After 10 minutes, release any remaining steam and remove the lid. Empty the content (trivet as well) into a colander. Drain as much of the liquid as possible.
Return the cauliflower back to the bowl and place the IP on saute for a few minutes to further evaporate any extra moisture.
Turn off the saute function and add the butter, parmesan, egg yolks, seasoning and oat fiber. Mash everything very well.
You can serve it at this point if you prefer a bit of a chunkier mash, but if you want a smooth puree mash, use an immersion blender to get that extra smoothness.
Enjoy!
Nutrition Information:
Yield:

4
Serving Size:

1 cup
Amount Per Serving:
Calories:

223
Total Fat:

16g
Saturated Fat:

8g
Trans Fat:

0g
Unsaturated Fat:

6g
Cholesterol:

127mg
Sodium:

530mg
Carbohydrates:

13g
Fiber:

4g
Sugar:

4g
Protein:

9g
All nutritional information is based on third-party calculations and is only an estimate. Each recipe and nutritional value will vary depending on the brands you use, measuring methods, and portion sizes per household.