Cinnamon Toast Crunch Peach Cobbler is something I'll bet you've never tried before. Juicy warm peaches, surrounded by delicious cinnamon toast flavors with a little crunch that's just perfect to keep the whole thing interesting.
This dessert doesn't disappoint.
This post may contain affiliate links. If you make a purchase after clicking a link, I may earn a small commission AT NO COST TO YOU. As an Amazon Affiliate, I earn from qualifying purchases.
Peach Cobbler with Cinnamon Toast Cereal
Recipes using peaches are fantastic aren't they? I've made a few for the blog, like my Delicious Peach Blueberry Crisp and my Slow Cooker Coconut Peach Steel Cut Oats. This peach cobbler is a great dessert but when done right it can even be a fun treat to serve with breakfast. And for added interest, this peach recipe uses Cinnamon Toast Crunch making it the perfect addition to breakfast in place of a bowl of cereal.
Pair it with some scrambled eggs and sausage for a fun and filling special occasion breakfast or top with vanilla ice cream for an after-dinner dessert.
Why You'll Love this Cinnamon Cereal Peach Cobbler Recipe
I made this peach cobbler dessert in two ways, so you could pick which worked best for you.
The first method is just like a 'dump' cake method where the cereal is on the bottom, cake mix on top with butter.
The second method is similar but the twist is that I added extra crushed cinnamon toast crunch cereal to the top as well. This adds a fun and flavorful addition to this recipe and almost makes it a Cinnamon toast Crunch Peach Crisp!
This is a great way to make the cobbler easier to toss together because all of the topping ingredients including cinnamon and sugar are already mixed ready to go.
A great tip is sometimes the grocery stores have two-for-one deals on cereals, so this peach recipe is a great way to use up any extras you might have on hand.
Little things like this are great for reducing waste and helping to save money which is vital in today's economy.
Ingredients
The ingredients are similar to a regular peach dump cake, but of course with a few special ingredients.
Cinnamon Toast Crunch Cereal – You don't have to use the brand-name toast crunch cereal made by General Mills. If your local grocery store has house brands of this same cereal, feel free to use that if it's cheaper.
Canned Peaches – Canned peaches are convenient to use. Make sure you drain the juice before you add it to the recipe. You can use fresh peaches if they're in season, but you may want to peel the peaches before you use them.
Walnuts – If you don't have walnuts on hand, pecans will be a great substitution.
White Cake Mix – The popular brands of boxed cake mix are the ones you want for this recipe as they are standard sizes.
Butter – Salted and unsalted butter is ok to use for this fun peach cobbler recipe.
Making This Peach Cobbler
You can make this cobbler the same as you would any other cobbler except that you add the cereal, peaches, and nuts on the bottom, then add the cake mix and butter on top. The cereal on the bottom acts as a nice little bed for the peaches to sit on and also adds volume to the dessert.
SALTY POT TIP: If you are using an off-brand of cereal that doesn't have as much flavor you may want to add a bit more cinnamon!
The Second Way to Make This Cinnamon Cereal Peach Cobbler
The main difference between the first way and the second way to make this fruit cobbler is the way the butter is brought into the recipe, and as well, the way that you reserve some of the cereal/nut toppings to sprinkle on top of the cake mix.
It's easy to do because you do not need to make the cinnamon sugar crumb topping for your cobbler because the cereal is already the perfect blend. Simply crush (or leave whole) and use as is. It gets nice and toasty in the oven and adds fantastic texture and more yummy flavors to the dessert.
Variations of Cinnamon Toast Cereal Fruit Cobbler
The truth is while this easy fruit cobbler is made with peaches it is far from the only option for this recipe. Much like my Rhubarb and Pear Crumble recipe, or my Blueberry and Peach Crisp recipe, you can make this dessert substituting any fruit both fresh and canned that you may have in your pantry or freezer.
Also, this is a great recipe to keep in your recipe cards for baking up a quick and easy dessert using fruit you have on hand or whatever happens to be on sale at the time.
From blueberries to apples you can use this recipe as a base to make a wonderful and delicious cobbler.
Speaking of cobblers, I had always wondered what the difference was between a cobbler, a crisp and a pandowdy were. I did some reading, and this is what I found out!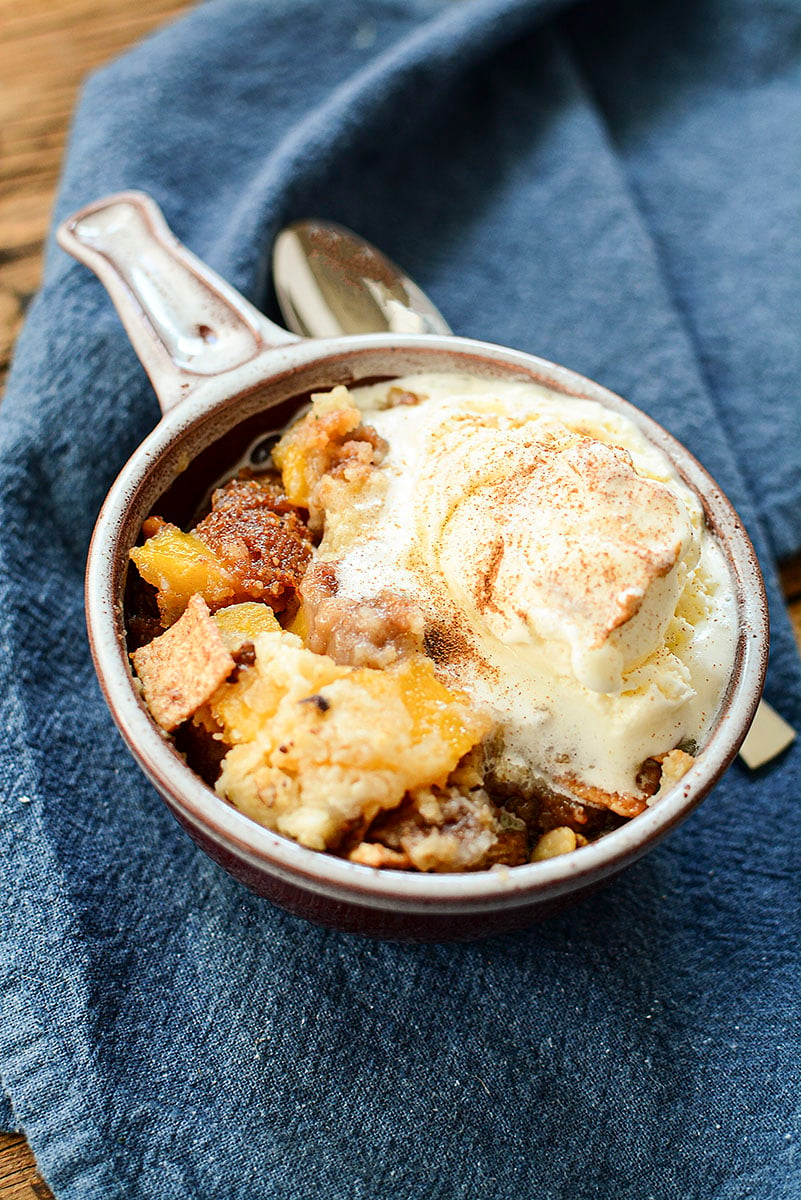 Do I Have to Use Cinnamon Toast Crunch Cereal?
Once you dive in you may be wondering if you can switch things up even more. While cinnamon toast crunch will give you a classic cobbler flavor with its cinnamon and sugar it is far from the only option.
Most cereals can easily have cinnamon and sugar added to use as a base to keep the flavor or you can take things up a step and go away from the classic cobbler and try something like Honey Grahams for a sweet and crunch topping. Even Honey Nut Cheerios would be a fun option that can change things up.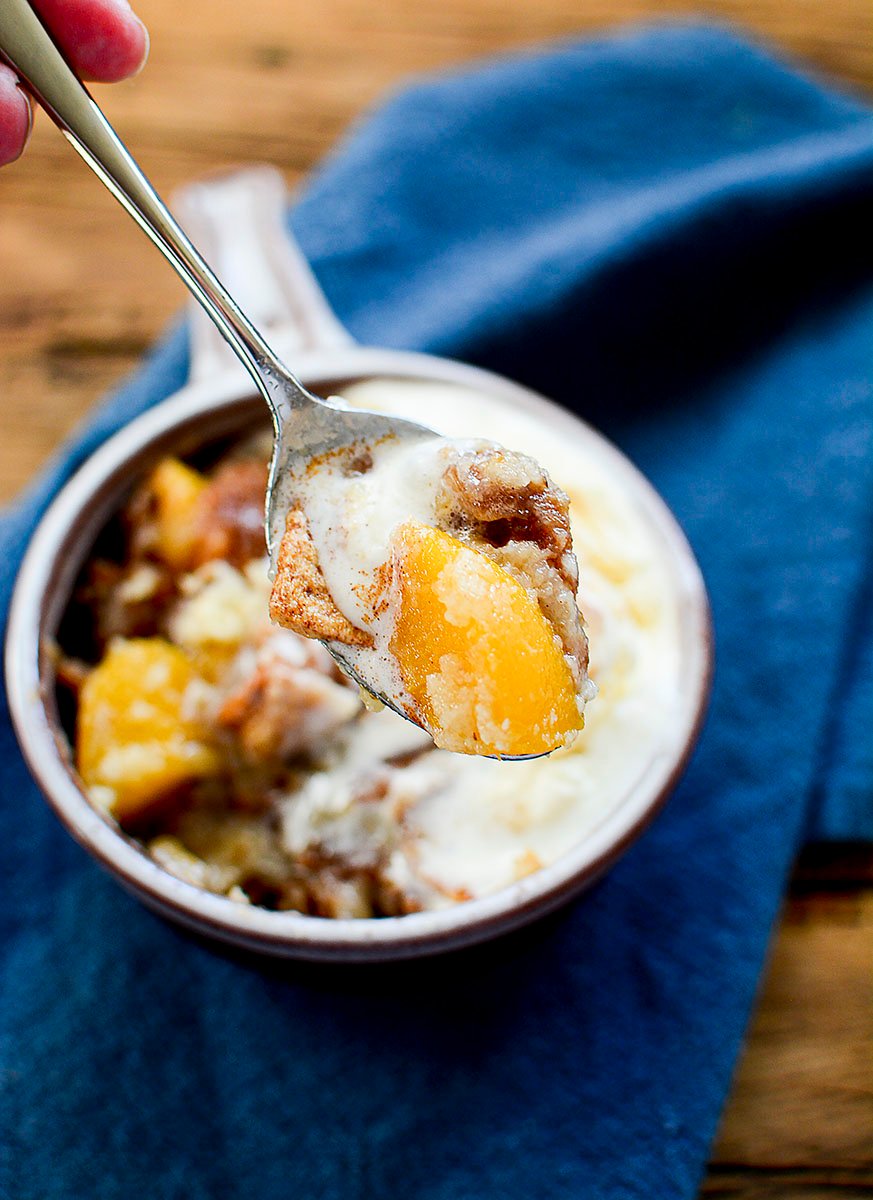 I would recommend using a 'sturdy' type cereal that doesn't go soft in milk that easily. Anything with flakes such a Corn Flakes or Frosted Flakes won't work as they will get much too soft in the cooking process.
Have you tried making this Cinnamon Toast Crunch Peach Cobbler? Let me know what you thought of it in the comments below and please leave a ***STAR RATING*** in the recipe card. Have a wonderful day!
~Joanne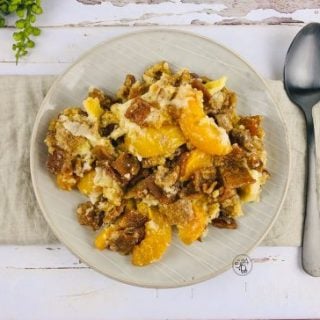 Cinnamon Toast Crunch Peach Cobbler
Total Time:
1 hour
5 minutes
A simple but delicious dessert, this cinnamon Toast Crunch Peach Cobbler comes together quickly and can feed a crowd. Serve warm with ice cream, or even in the morning alongside a cup of coffee and an egg!
Ingredients
1 box Cinnamon Toast Crunch cereal
2 cans Peaches, sliced, in syrup
1 cup Walnuts, chopped
1 box French Vanilla cake mix
½ cup Butter, melted
Instructions
Preheat oven to 350 degrees or 180C
Spray a 9 x 13 baking dish with nonstick spray or grease generously with butter.
Scatter the entire box of cereal over the bottom of the baking dish. ***SEE NOTES
Add both cans of UNDRAINED peaches on top of the cereal.
Sprinkle walnuts over the peaches evenly.
Sprinkle the cake mix over top the peaches and walnuts as evenly as possible.
Drizzle the melted butter over top of the cake mix, ensuring that the butter covers most of the cake mix to prevent dry spots.
Bake 40 - 50 minutes removing with the top is cooked through and golden brown.
Let rest for 5 minutes
Serve with ice cream or a drizzle of fresh heavy whipping cream.
Notes
Directions for the second way to make this peach dessert:
In step 3, when sprinkling the cereal over the bottom of the pan, reserve 1 ½ cups of the cereal and crush it coarsely with your hand. Set aside, as well as a handful of the walnuts as well.
Carry on with the rest of the steps until after the cake mix is sprinkled over the top. Sprinkle the remaining crushed cereal and nuts over the top of the cake mix. Continue on with step 7.
If you want to substitute frozen thawed peaches for canned peaches, you could use
Nutrition Information:
Yield:

8
Serving Size:

½ c
Amount Per Serving:
Calories:

505
Total Fat:

24g
Saturated Fat:

9g
Trans Fat:

1g
Unsaturated Fat:

13g
Cholesterol:

31mg
Sodium:

597mg
Carbohydrates:

70g
Fiber:

3g
Sugar:

38g
Protein:

5g
All nutritional information is based on third-party calculations and is only an estimate. Each recipe and nutritional value will vary depending on the brands you use, measuring methods, and portion sizes per household.