Need Easy Caramelized Onions? Not sure how to make them? I gotcha' covered!!
*** DON'T FORGET TO PIN THIS EASY CARAMELIZED ONION RECIPE TO YOUR FAVORITE PINTEREST BOARD TO USE FOR LATER***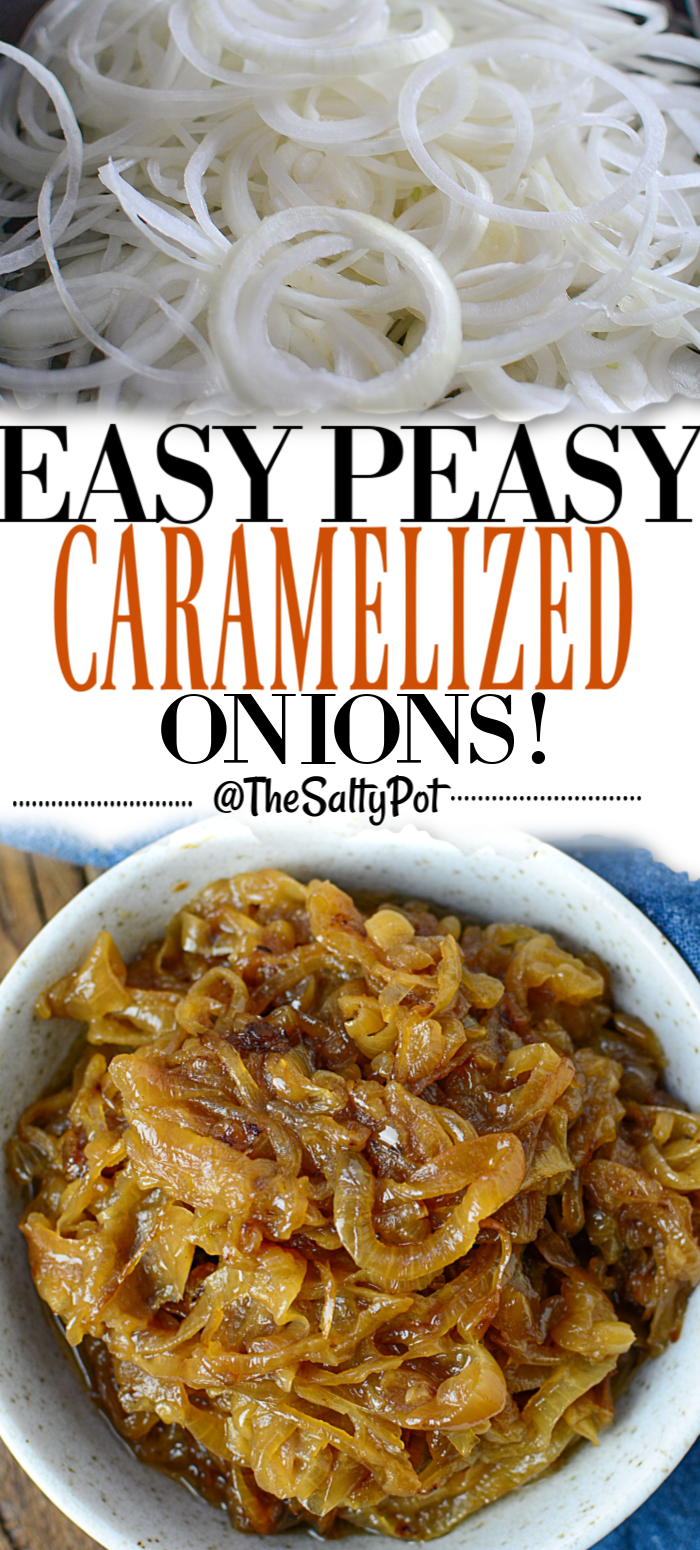 This post may contain affiliate links. If you make a purchase after clicking a link, I may earn a small commission AT NO COST TO YOU. As an Amazon Affiliate, I earn from qualifying purchases.
Easy Caramelized Onions
So, let me start by saying that caramelizing onions is pretty darn simple.
CARAMELIZE: (according to the Cambridge English Dictionary):
to cook a food with sugar so that the food becomes sweet and often brown:
caramelized onions/nuts
It's sort of like sauteing onions, but over a lower heat so the sugar content in the onions can develop a nice golden brown color. As I said, it's really easy to do – it just takes a tad bit of time.

Why It's So Easy To Make Caramelized Onions
It's really easy to brown onions like this because while you have to watch them a bit, you're cooking on low heat, so they won't be so quick to burn.
You don't REALLY need to stand there and continuously stir them over and over. You can give them a stir, walk away for a few minutes, and then come back and stir again.
Don't rush the process because if you fried the onions on a higher heat, they will burn and become bitter.
*gag*… reminds me of one time I had an operation and the anesthesia stuff brings a taste in your mouth like burnt onions….. but that's another story! lol

Making Those Fried Onions Right!
Start by removing the outer layers of your onions that papery and tough. With a sharp knife, CAREFULLY begin by slicing 1/8 – 1/4″ slices. I used a mandoline like this one, OR even this simpler one would work just as well (I used to have the simpler one and it worked great!).
Anyway, these mandolines make life SO. MUCH. EASIER! – another reason that these caramelized onions are easy to make!
Put the butter to melt over low heat in your heaviest bottomed pan, or even better, one like this cast iron pan I used. I LOVE this cast iron pan.
It comes pre-seasoned and ready to go. It has constant even heat, and wow, let me tell you how awesome a seared steak comes out in this pan!! Woo!
Ok.. back to the onion recipe:
After the butter is melted, add your sliced onions. Sprinkle a tiny pinch of salt over the onions to encourage them to let go of the liquid in the cells of the onion.
Give them a stir over medium-low heat. Set a timer for 5 minutes and go do a few other things in the kitchen.
Five minutes later, come back and give'em another stir up. Repeat this little cycle a good 5 – 7 times. Each time you give them a stir, you'll see the fried onions begin to wilt and then eventually start to turn a golden brown.
While these delicious caramelized onions are super easy to make, there is no such thing as a "quick caramelized onion". To make them properly, with a golden color and no bitterness, you need to take that time to allow them to slowly brown.
What Kind Of Onions Should Should I Use?
Honestly, pretty much any onion will do. Having said that, the sugar content of the onion will depend on how much (and how long it takes) caramelization you get on your onions.
The sweeter the onions, the easier and quicker they will begin to brown.
Wait.. what? Sugar in Onions?????
You bet my gorgeous lovely!! Sugar is very present in onions! Even when those little buggers are making your eyes cry and sting, they definitely do contain sugar!
Some onions are sweeter than others and if you want really nice, sweet, perfect caramelized onions, try and find the sweetest onions, to begin with.
For example:
Vidalia Onions
Walla Walla (these two are among the sweetest you can easily purchase and are sweet enough to eat raw on salads and burgers!)
Yellow Sweet Onions
But any onion variety will work but may just take a little longer to get those beautiful golden caramelized colors on them. You even make caramelized shallots!!
Tip: If you're using an onion that's not as sweet as you'd like it to be, you can add a tablespoon of brown sugar to the mix to help the sweetness along but really, wait until the caramelization process is done to add the sugar.
Can I Make Caramelized Onions In A Slow Cooker
Absolutely!! Making browned onions in a slow cooker is even easier than stovetop cooking them, but they take a very long time to make them. So if you know you're going to need the onions for a recipe, you can make them ahead of time in the slow cooker.
The method would be about the same, you would add the butter to the slow cooker and add the onions with a pinch of salt.
Cook them on low for 7 – 8 hours, checking them from to time to be sure they aren't burning. You wouldn't have to add extra liquid to the slow cooker as there is a lot of liquid in the onions to begin with but it will take that length of time to evaporate and brown the onions.
But it is super easy! And if you were going to go through all that, I would make A LOT of them to use for later!
Can I Buy Caramelized Onions Somewhere?
Well yes, you can. There are different brands of browned onions out there on the market like this jar that's easy to purchase. Or, often, in bigger grocery stores, that have deli's that might have ready-made caramelized onions to purchase.
You might find them by the olives and fire-roasted peppers area.
However, you should know that they will probably be a lot more expensive than if you were to make them yourself, but those are great options in case you don't have the time to make them yourself.
Can Carmaleized Onions Be Frozen?
You bet you can freeze caramelized onions!! Simple dimple!!
After you make them, cool them right down to room temp. Place them into an airtight freezer bag and freeze them flat and spread out so it's not one big clump at the bottom of the bag.
That way, you use as little or as much as you want by just cutting a section off with a sharp knife!
Using Up Your Easy Caramelized Onions
Ok.. so now, you've made the browned onions, what if you underestimated how much you actually needed- the thing is, you probably just got yourself a lot of caramelized onions, and you don't know what to do with them.
Well, here's a little help. Read on to discover some really cool and delicious ways to put that stuff to use!
Tart Them Up!
Make a classic onion tart with puffed pastry! You can make it even more fancy with creme fraiche and bacon! Super tasty and your guests think you're all cheffy and stuff!
Mix Up The Casserole!
Adding them to almost any casserole will not only improve texture but will also bring a depth of flavor that just brings it to another level! Especially a casserole that has something like ham or bacon that's slightly salty, like this Cheesy Ham and Hashbrown Casserole!
Pizza It!
Seriously? Yes, you read that right. Caramelized onions taste out of the world when you use them as a pizza topping, especially when they have reached that rich, golden brown stage. You can pair them up with some goat cheese and arugula leaves for a really classy homemade pizza dinner.
Whip Up a Philly Cheese Steak Sandwich!
One of the best ways to put caramelized onions to use is to whip it into a Philly cheesesteak sandwich. Team it up with some roast beef, slices of cheese and cooked bell peppers and sandwich it between the slices of a bread roll and toast until the cheese melts!
Add it to that Soup!
Of course, the first thing that probably came to your mind was whipping up a nice French onion soup, and yes, you can never go wrong with that one. But if you're not really in the mood for a heavy, cheesy soup, you can just add a little bit of the onions to almost any soup you're creating and lend it that amazing warmth and smokiness without any extra effort at all!
Top that Burger!
Those tender caramelized onions can actually take your burgers and sandwiches up a notch! In fact, they can turn your simple grilled cheese sandwich into a heavenly gourmet-level creation. Don't believe me? Just give it a shot!
Make that Pasta Sauce
You'll be surprised at the amazing depth of flavor caramelized onions can add to your homemade pasta sauces- regardless of which one it is! Even if it is a classic marinara sauce you're making, start with some pureed caramelized onions and then go as you usually would.
Top the Taters!
Top those baked potatoes with those caramelized onions! Add a bit of sour cream, some bacon, – ohmygoodness!!!!!! Yummmaaayyyy!!
Apart from these, there are a few other awesome ways to put caramelized onions to use!
You can top them on bruschetta with some cheese and serve them as an awesome appetizer.

Try sneaking them into your breakfast omelet and lend it a superb flavor.

Adding them to a basic salad that needs to get that 'wow' factor and a different texture.

And of course, they make for a delicious stuffing for your roast dishes!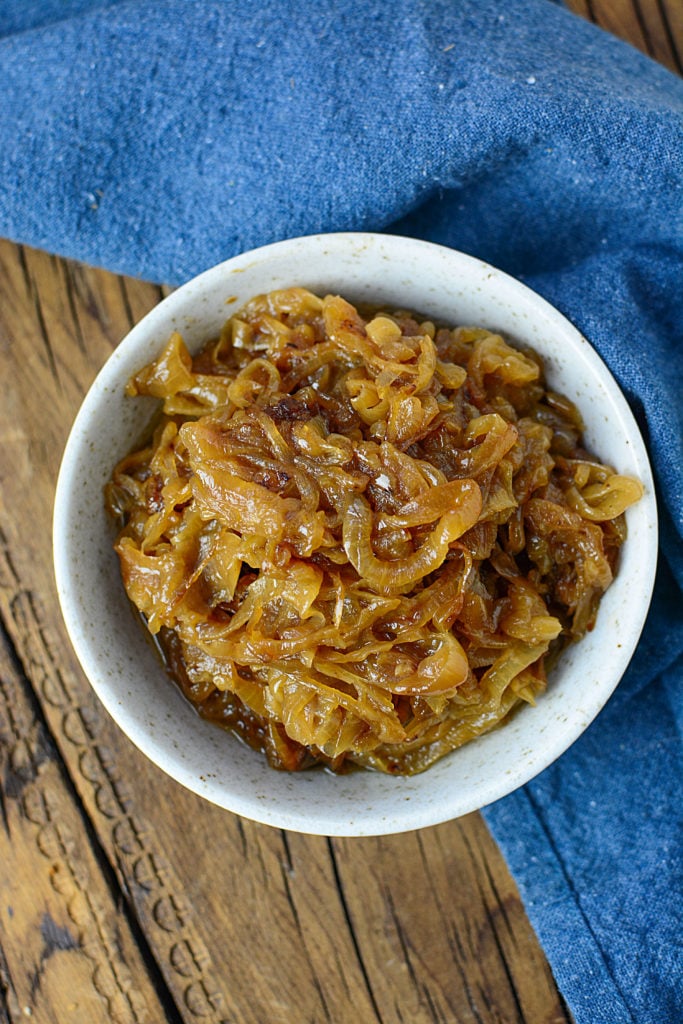 So, my lovely reader, you can see just how easy to make, and how versatile caramelized onions are! Forget about those harsh, onion breath leaving raw onions that you hated. These caramelized onions are soft, sweet and savory, and add such amazing flavor to SO many dishes!
When you make these opinions, I'd LOVE to hear what you put them on! How did you use them? Give me some new and great ideas that I can add to this post and share with everyone else! Thanks so much for stopping by The Salty Pot today, and I hope you have a really super day!! Talk with you next time!
~Joanne
Easy Caramelized Onions
These seriously delicious and easy caramelized onions can transform so many different dishes from wimpy to WOW! Even die-hard onions haters will like these onions!!
Ingredients
2 large sweet onions
2 tbsp butter
pinch of salt
1 tbsp of oil
Instructions
Remove the papery outer layers of the onions.
Carefully using a sharp knife or a mandoline, create slices approximately 1/4" to and 1/8" thick.
In a heavy-bottomed or cast iron pan, add the oil over medium-low heat.
Add the onions, the butter and the pinch of salt.
Begin to slowly fry the onions. Every five minutes or so, come back to visit the pan and give the onions another stir. The onions will begin to wilt and lose volume but gain a golden brown color.
Check the post for all the versatile ways to use the onions! Enjoy!
Notes
1. The sweeter the onion you use, the easier and sweeter the caramelized onions will be. Check the post for suggestions of the onions to use.
2. Make extra onions so you can freeze them and use them in the future!

3. Adding fresh thyme to the onions adds even more depth of flavor and go particularly well in tarts and on top of roasted pork.
4. If you find the onions are getting a bit dry as they saute, adding a bit more butter will help prevent that, as well as add even MORE flavor to those tasty onions!

Nutrition Information:
Yield:

8
Serving Size:

2 tablespoons
Amount Per Serving:
Calories:

67
Total Fat:

5g
Saturated Fat:

2g
Trans Fat:

0g
Unsaturated Fat:

2g
Cholesterol:

8mg
Sodium:

46mg
Carbohydrates:

6g
Fiber:

1g
Sugar:

4g
Protein:

1g