Introducing Eazy Caramelized Onions: where minimal effort meets maximum flavor! While these onions take their time cooking low and slow, your actual hands-on time is minimal. The result? Golden, buttery onions that are irresistibly sweet and literally melt-in-your-mouth delicious!
How To Make Easy Caramelized Onions
So, let me start by saying that caramelizing onions is pretty darn simple.
It's sort of like sauteing onions, but over lower heat so the sugar content in the onions can develop a nice golden brown color and nicer depth of flavor. While the actual effort you put in is minimal, the pan you use does all the heavy lifting for this method.
Ingredients You'll Need For This Onion Recipe
Onions: Of course, these are the stars of the show. You'll want the freshest onions you can get your hands on, and while almost any type of onion will do, there are some varieties that caramelize better than others.
Butter: This is not imperative, but I really think that adding butter to this recipe really goes a long way in the flavor. Especially when cooked low and slow, the butter can brown slightly and adds so much richness to the final product.
Oil: Oil is used to get the caramelizing started. Oil has a higher smoke point than butter, so it will help prevent your butter from burning.
Salt: To help draw out some of the moisture in the onions, and enhance the sweetness of the onions.
Making Those Rich Caramelized Onions The Right Way!
A quick overview of the recipe is as follows:
Prepare the onions for slicing.
Slice the onions ¼ inch thick or so.
Saute them with the butter and oil for a period of time until they brown. Check them often to stir.
Remove from the pan and enjoy!
***Salty Pot Tip: While these delicious caramelized onions are super easy to make, there is no such thing as "quick caramelized onions". Some people like to add sugar to the onions to quicken the process, however, that simply caramelizes the sugar ON the onions. I'd call them "quick browned onions" because doing it that way doesn't help to deepen that umami flavor you want with true caramelized onions. To make them properly, with a golden color and no bitterness, you need to take the time to allow them to slowly brown.
*** Detailed information such as exact amounts and directions, along with handy tips and tricks to make this onion recipe right every time is in the printable recipe card at the bottom of this post.
Do I Need Special Equipment To Make These Golden Brown Onions?
Special equipment? No. The imperative items are a good knife for slicing and a frying pan. Having said that, there are things out there that make this process so much easier and I think that when you make these onions the first time, you'll want to invest in this affordable equipment to make these onions over and over and over.
Knife: A good comfortable-in-your-hand knife is fine for this process. Just be sure it's sharp because a dull knife can cause injury in the kitchen that you don't want.
Mandoline: The ideal equipment for slicing the onions is a mandoline. Most mandolines can adjust the slicing thickness, they cut the onions evenly and in a fraction of the time if you were using a knife. In my opinion, they're safer than a knife because they come with a hand guard, and the right mandoline is so versatile; you can slice so many other things besides onions with them.
Frying Pan: A large frying pan is needed for this recipe. The onions start out with a lot of volume, but shrink as they caramelize. Most large frying pans will do.
Cast Iron Pan: This is the IDEAL for making caramelized onions. The cast iron pan allows a nice fond (golden bits at the bottom of the pan that are pure flavor) to develop, they heat evenly, and they add a deeper flavor to the onions. Also, it's nice to use a pan that's at least 12″ wide. The smaller the pan, the onions will simply steam before they actually fry – making the process longer. Don't crowd the pan.
What Kind Of Onions Should Should I Use?
There are, of course, some onions that are better than others to use for this process. I'll be the first to say that almost any variety of onion can be used because they all contain natural sugars – just different amounts. But if you want to start with the best onions to use, use these:
Vidalia Onions
Walla Walla (these two are among the sweetest you can easily purchase and are sweet enough to eat raw on salads and burgers!)
Yellow Sweet Onions
Use any variety you have on hand, but know that it may just take a little longer to get those beautiful golden caramelized colors on them. You can even make caramelized shallots!!
The sweeter the onions, the easier and quicker they will begin to brown.
****Salty Pot Tip: Don't rush the process because if you fry the onions on a higher heat, they can burn and become bitter.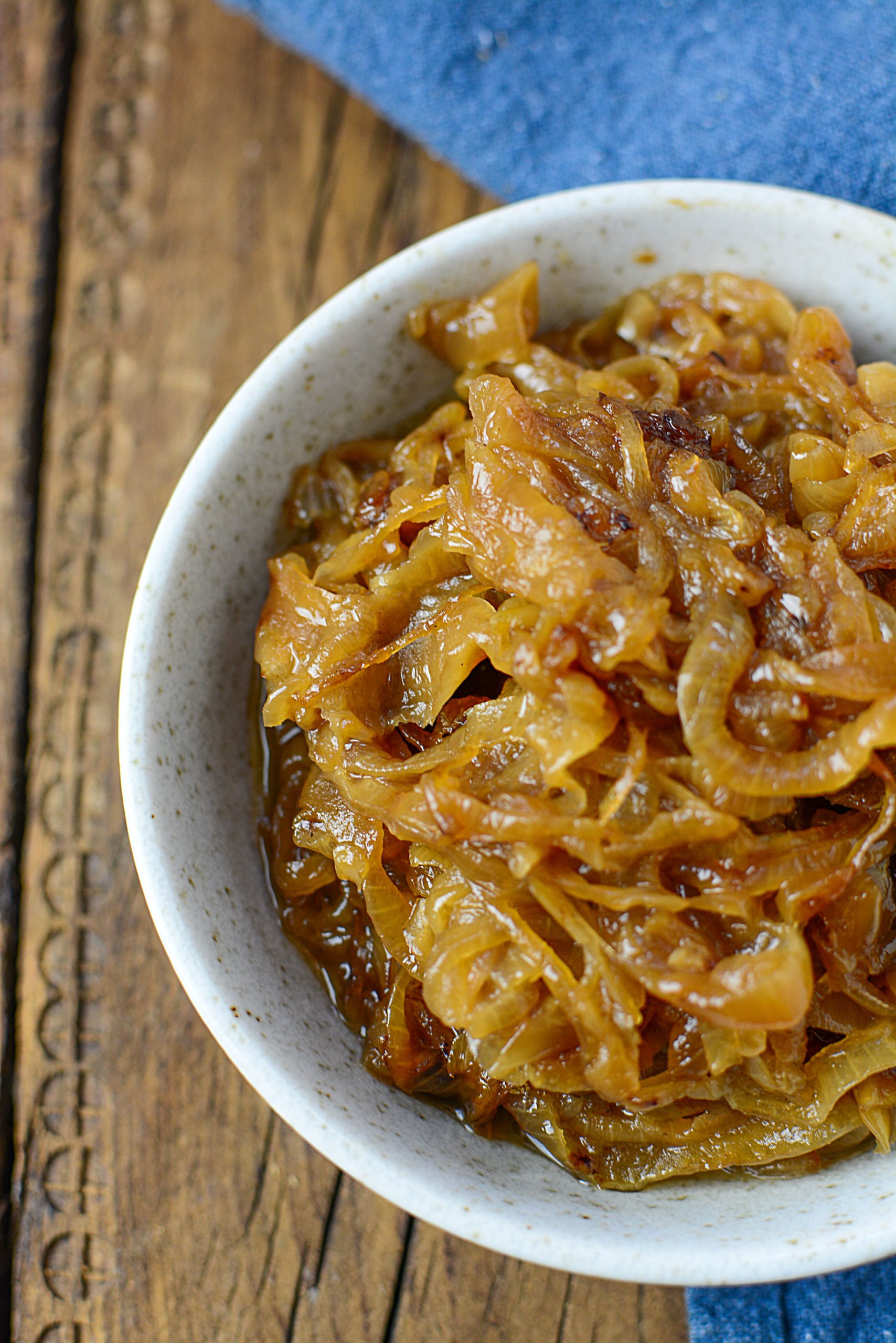 Can I Make Caramelized Onions In A Slow Cooker?
Absolutely. Making browned onions in a slow cooker is even easier than stovetop cooking them, but it takes a very long time to make them. So if you know you're going to need the onions for an upcoming recipe, you can make them ahead of time in the slow cooker, a day or two ahead.
The method would be about the same as sauteeing them on the stovetop. You would add the butter to the slow cooker and add the onions with a pinch of salt. (Omit the oil).
Cook them on low for 7 – 8 hours, checking them from to time to give them a stir and be sure they aren't burning. You wouldn't have to add extra liquid to the slow cooker as there is a lot of liquid in the onions to begin with but it will take that length of time to evaporate and brown the onions.
If you find the onions are still holding onto a lot of the liquid in the pot, leave the lid ajar for the last few hours of cooking until you've reached that gorgeous golden, sticky, and buttery stage with them.
Can You Freeze Caramelized Onions?
You bet you can freeze caramelized onions!! Simple dimple!!
After you make them cool them right down to room temp. Place them into an airtight freezer bag, freeze them flat, and spread them out so there's not one big clump at the bottom of the bag.
That way, you use as little or as much as you want by just cutting a section off with a sharp knife!
Can I Buy Caramelized Onions Somewhere?
Well yes, you can. There are different brands of browned onions out there on the market like this jar that's easy to purchase. Or, often, in bigger grocery stores, that have deli's that might have ready-made caramelized onions to purchase.
You might find them by the olives and fire-roasted peppers area.
However, you should know that they will probably be a lot more expensive than if you were to make them yourself, and they likely won't be as delicious as the buttery, jammy, and sweet ones you can make yourself, but those are great options in case you don't have the time.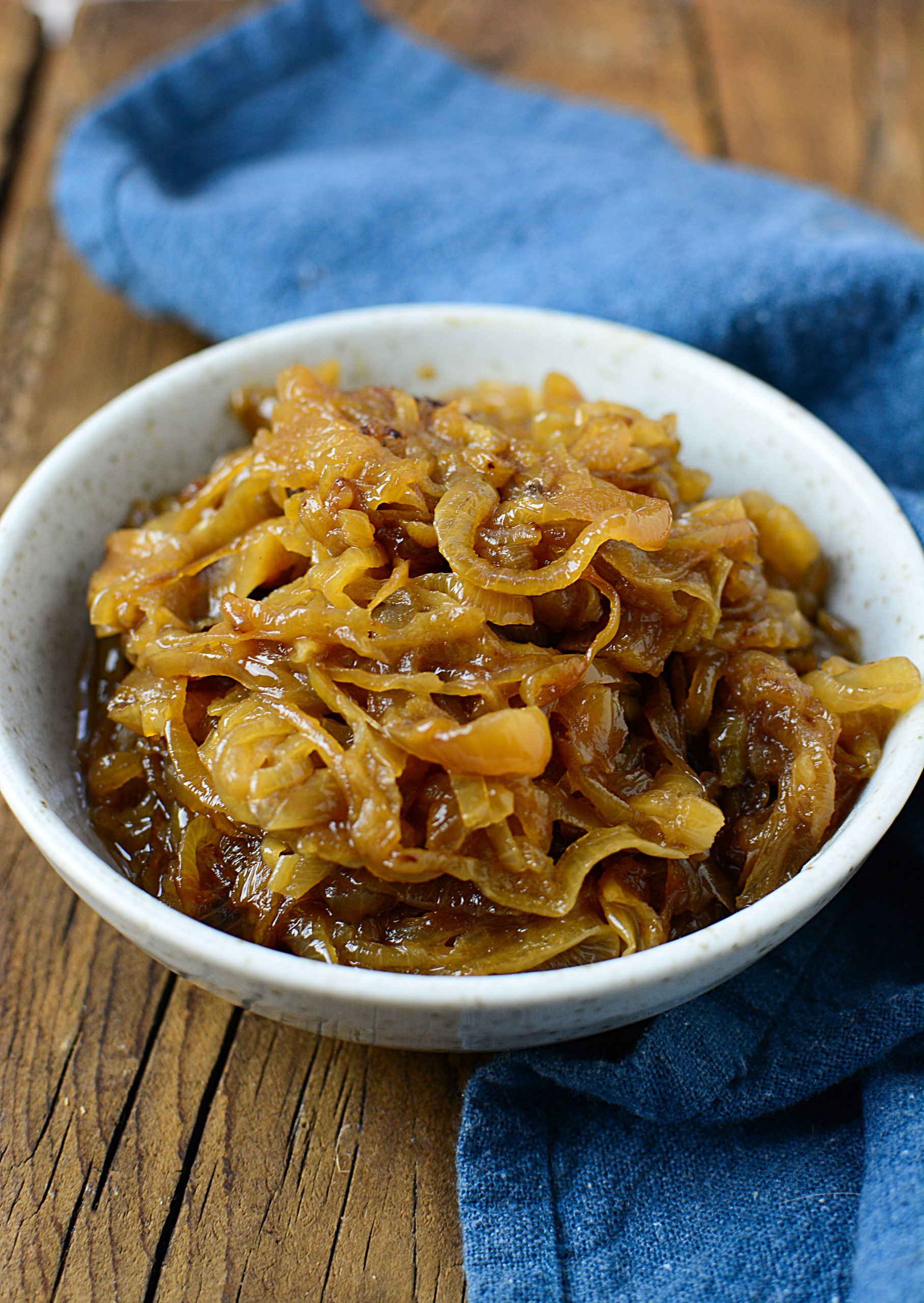 Using Your Golden Onions
Ok.. so now, you've made the onions, how do you serve them?
Onion Tarts: Make a classic onion tart with puffed pastry! You can make it even more fancy with creme fraiche and bacon! Super tasty, and super easy, and your guests will be impressed.
Easy French Onion Soup: The onions would add superior depth and flavor to homemade French onion soup.
Pork: An excellent twist on a classic pairing of pork chops and onions, this recipe for Baked Pork Necks in BBQ sauce is an excellent use of caramelized onions. Mix them in with the roasted pork and the result would be divine!
Casseroles: Adding them to almost any casserole will not only improve texture but will also bring a depth of flavor that just brings it to another level! I've topped my Instant Pot Mashed Potatoes with Caramelized Onions, and adding them into dishes that have something like ham or bacon that's slightly salty, like this  Cheesy Ham and Hashbrown Casserole! is absolutely divine.
Toppers for Pizza and Burgers and Sandwiches: Try them with a Philly Cheese Steak Sandwich, on easy Slider Recipes, or a fun topping on pizza. Steaks with onions is a must as well as the old classic, liver and onions.
Apart from these, there are a few other awesome ways to put caramelized onions to use!
You can top them on bruschetta with some cheese and serve them as an awesome appetizer.

Try sneaking them into your breakfast omelet and lend it a superb flavor.

Adding them to a basic salad that needs to get that 'wow' factor and a different texture.

And of course, they make for a delicious stuffing for your roast dishes!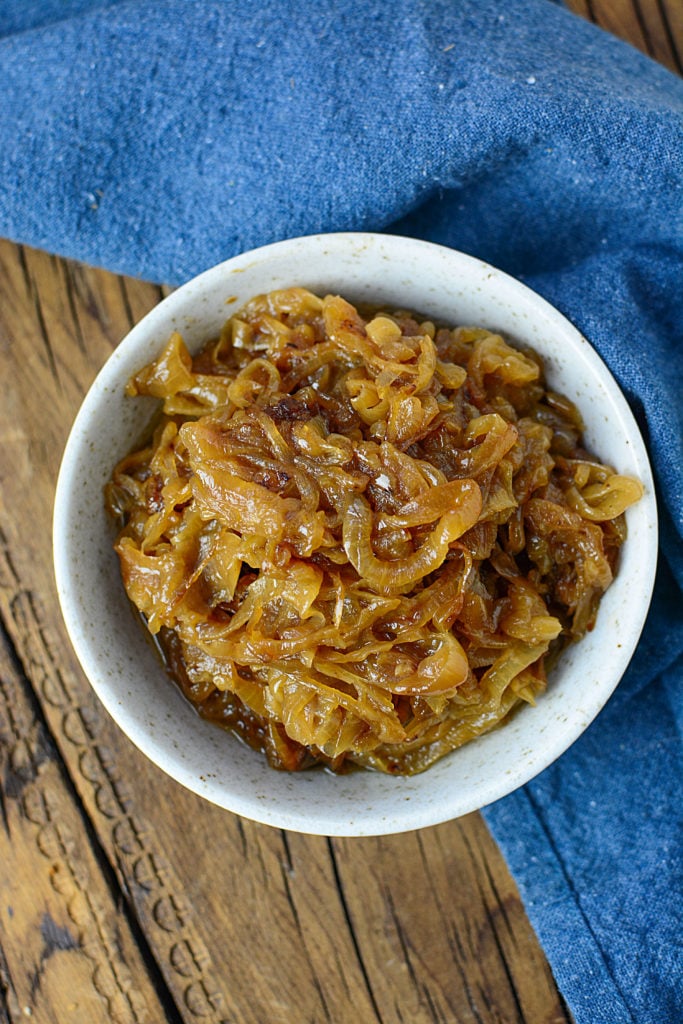 When you make these opinions, I'd LOVE to hear what you put them on! How did you use them? Give me some new and great ideas that I can add to this post and share with everyone else! Thanks so much for stopping by The Salty Pot today, and I hope you have a really super day!! Talk with you next time!
~Joanne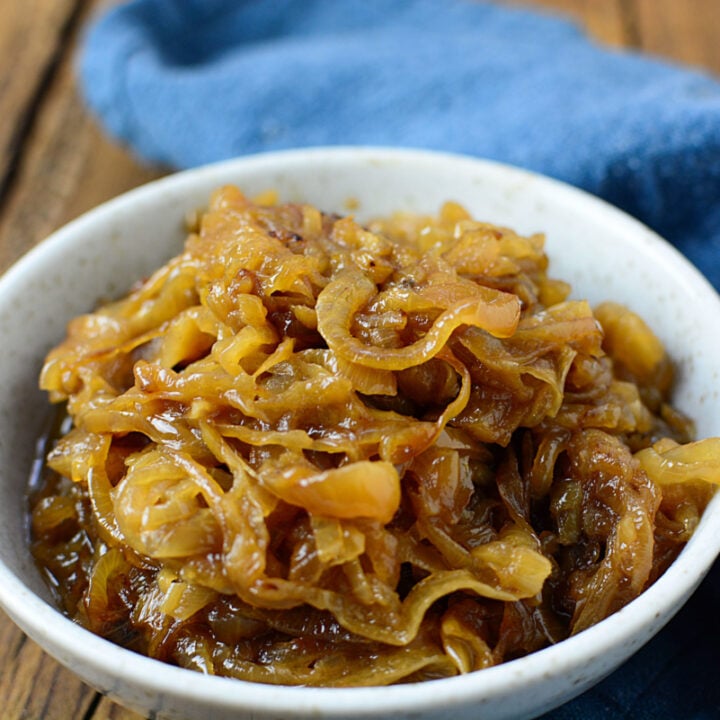 Easy Caramelized Onions Recipe
Eazy Caramelized Onions is where minimal effort meets maximum flavor! Your minimal effort results in golden, buttery onions that are irresistibly sweet and melt-in-your-mouth delicious!
Ingredients
2 large sweet onions
2 tablespoon butter
pinch of salt
1 tablespoon of oil
Instructions
Remove the papery outer layers of the onions.
Carefully using a sharp knife or a mandoline, create slices approximately ¼" thick.
In a heavy-bottomed or cast iron pan, add the oil over medium-low heat.
Add the onions, the butter and the pinch of salt.
Begin to slowly fry the onions. Every five minutes or so, come back to visit the pan and give the onions another stir. The onions will begin to wilt and lose volume but gain a golden brown color.
After about 35 - 40 minutes, there should be enough browning and sweetness with the onions.
Check the post for all the versatile ways to use the onions! Enjoy!
Notes
1. The sweeter the onion you use, the easier and sweeter the caramelized onions will be. Check the post for suggestions on the onions to use.
2. Make extra onions so you can freeze them and use them in the future!
3. Adding fresh thyme to the onions adds even more depth of flavor and goes particularly well in tarts and on top of roasted pork.
4. If you find the onions are getting a bit dry as they saute, adding a bit more butter will help prevent that, as well as add even MORE flavor to those tasty onions!
5. Remember not to use the lid on the onions as this will trap any moisture that you're trying to evaporate. The evaporation of the water in the onions concentrates the sugar in the onions.
6. While these delicious caramelized onions are super easy to make, there is no such thing as a  "quick caramelized onion". To make them properly, with a golden color and no bitterness, you need to take the time to allow them to slowly brown. 
Nutrition Information:
Yield:

4
Serving Size:

¼ cup
Amount Per Serving:
Calories:

135
Total Fat:

9g
Saturated Fat:

4g
Trans Fat:

0g
Unsaturated Fat:

5g
Cholesterol:

15mg
Sodium:

92mg
Carbohydrates:

13g
Fiber:

1g
Sugar:

8g
Protein:

1g
All nutritional information is based on third-party calculations and is only an estimate. Each recipe and nutritional value will vary depending on the brands you use, measuring methods, and portion sizes per household.