3 Packet Chicken?? Is that the same as 3 Envelope Chicken? Yes my dear readers, they are both the same, and they are both DELICIOUS 😉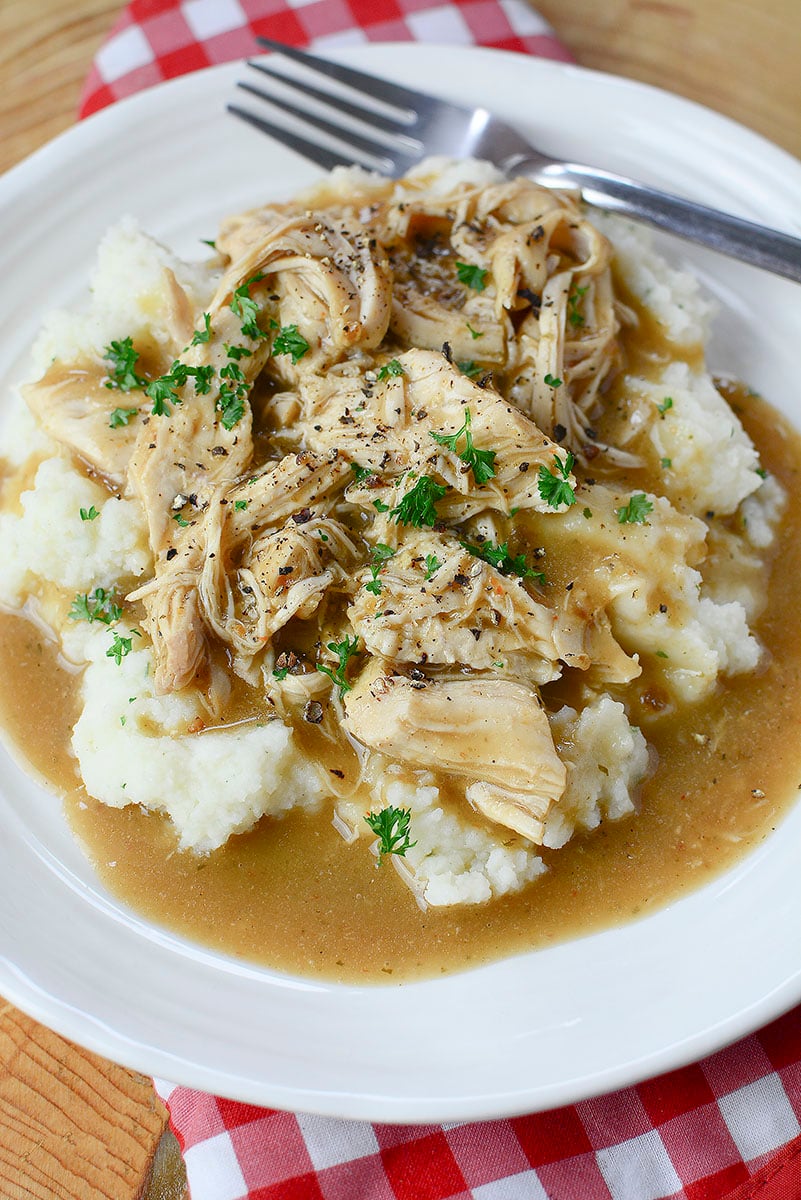 3 Packet Chicken = Easy Deliciousness!!
So, if you've been around here for a bit, you'll know that one of my MOST FAVORITE and most popular recipes on the blog is my Crazy Delicious Instant Pot 3 Packet Roast.
It's literally the epitome of what I think a roast should be. Savory, yummy, lots of dark thick gravy cascading over soft, fluffy mountainous mashed potatoes. (Dramatically worded, but accurate, trust me on that one. lol)
So naturally, it just makes sense that I would try it with a different protein, right? Hence, Instant Pot 3 Packet Chicken. You could also call it 3 Envelope chicken as I mentioned earlier, but call it what you like, but just don't call me late for dinner! lol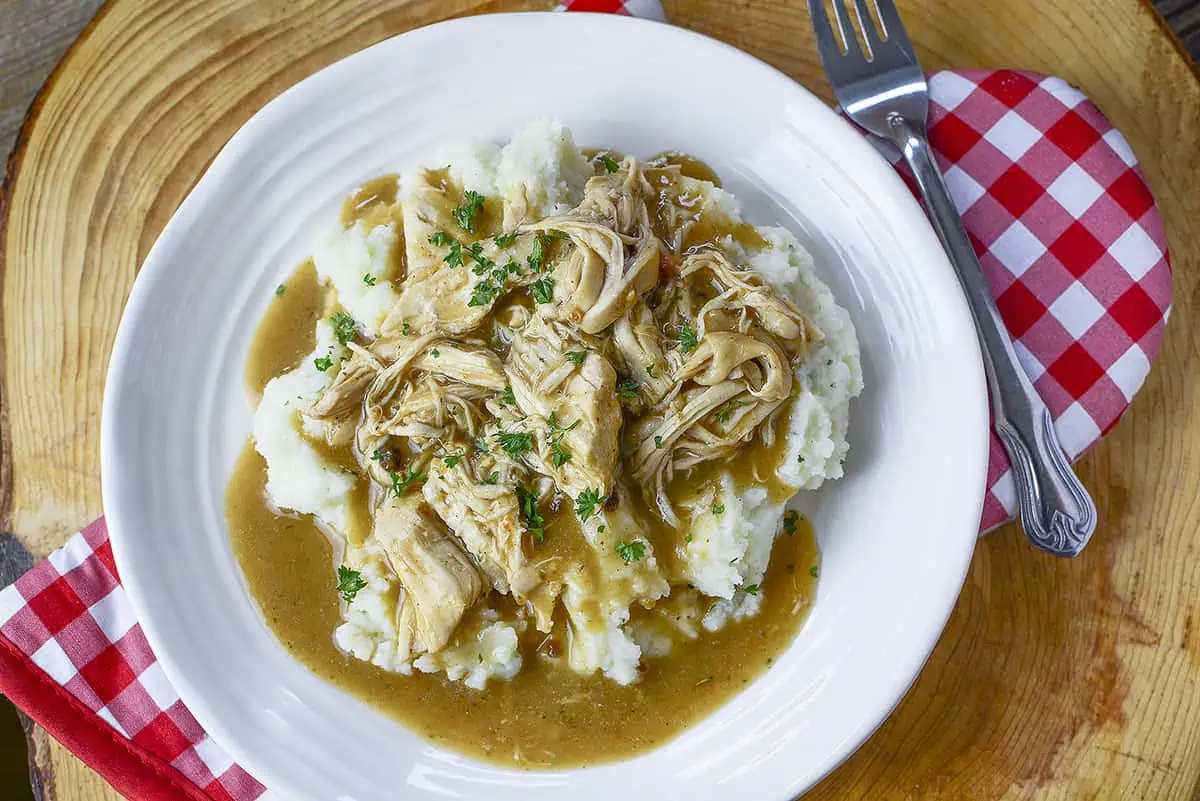 SUPER EASY 3-ENVELOPE INSTANT POT DINNER!
Ingredients Needed For This Instant Pot Chicken Dinner
Well, let's get right to the crux of the list. You need three seasoning packets. Yes, you read that right. 3 packets.
Btw, if you're new to cooking with your Instant Pot – I have a handy little guide called Instant Pot Cooking for Beginners. Take a peek at it – it may make you feel a bit comfier working with your brand new appliance!
How To Make 3 Packet Chicken In The Instant Pot
Place the broth in the instant pot bowl, and lay the seasoned chicken breasts into the bottom of the cooking bowl.
Mix all the seasoning packets together and whisk the dry powders until incorporated. Sprinkle on top of the chicken.
Place the lid on the Instant Pot, and pressure cook. After cooking time is up, move the switch "venting" and let any extra pressure release.
Transfer all the chicken to a plate and with two forks, shred all the chicken.
Mix the gravy that's been made in the bottom of the Instant Pot. If you prefer a thicker gravy, add the cornstarch slurry.
Return the chicken to the gravy mix, serve, and enjoy!
All the specific ingredient amounts and cooking times will be in the printable recipe card located at the bottom of this post.
Other Questions You Might Have About This 3 Envelope Chicken Recipe:
What if I don't have an Instant Pot? – That's not a problem at all! Simply look at the recipe card below, and there are notes at the end of the recipe. I'll give instructions on other ways to use to make this dish!

Can I use Italian Dressing (liquid) instead of the powder packet? – Honestly, I haven't tried that yet, but I plan on trying it out and seeing how it works!

Can I use water instead of chicken broth? – Absolutely. If you're worried about the sodium content, I would opt to use a low/no added sodium broth only because it adds even more flavor, but if you don't have that on hand, water is totally fine! You definitely need liquid in the bottom of the pot though, because it helps make the gravy, and you also need liquid for the instant pot to be able to build pressure and cook the chicken.

What else can I serve with this instant pot chicken dinner besides potatoes? I'm bored with mashed potatoes! – Well, there are tons of great sides! You could try mashed cauliflower for a lower carb option, rice, of course, quinoa, or even a thick/broad pasta like egg noodles would be SUPER delicious with the chicken!
You could also serve this chicken and gravy over a few pieces of toast! Sounds crazy but don't knock it till you try it!
Other than that, any green veg (peas, broccoli, etc) would pair great, or even some Cesar salad!

Can I use my Ninja Foodi for this recipe? – For sure! Pretty much any pressure cooker will make this recipe.

How long will this chicken dish stay good in the fridge? – Covered in an airtight container, (separate from the potatoes), this 3-packet chicken dish should be good for up to 5 days.

Can I freeze this chicken dinner? – Ok, a few things here. If you wanted to cook it and then freeze it to reheat at a later date, I'd say yes, it's totally fine for that. My only advice on that would be that you be careful on the reheat that you don't overcook the breasts – in which case I'd probably make it with thighs instead as they are more forgiving. It's practically impossible to overcook chicken thighs.. haha! Also, keep it in the freezer in an airtight freezer-friendly container for up to 2 months.

If you wanted to freeze this dish raw, this is what I'd do. I'd place the chicken breasts in a freezer bag. Sprinkle the 3 packets in the bag, mush it around, get all the air out of it and freeze it that way. On cook day, I'd place them in the Instant Pot (frozen) and go from there. The cook time should be the same but just know it will take much longer for the pot to come to temperature before it starts counting down the time. Don't forget to add the liquid to the pot when you add the frozen chicken!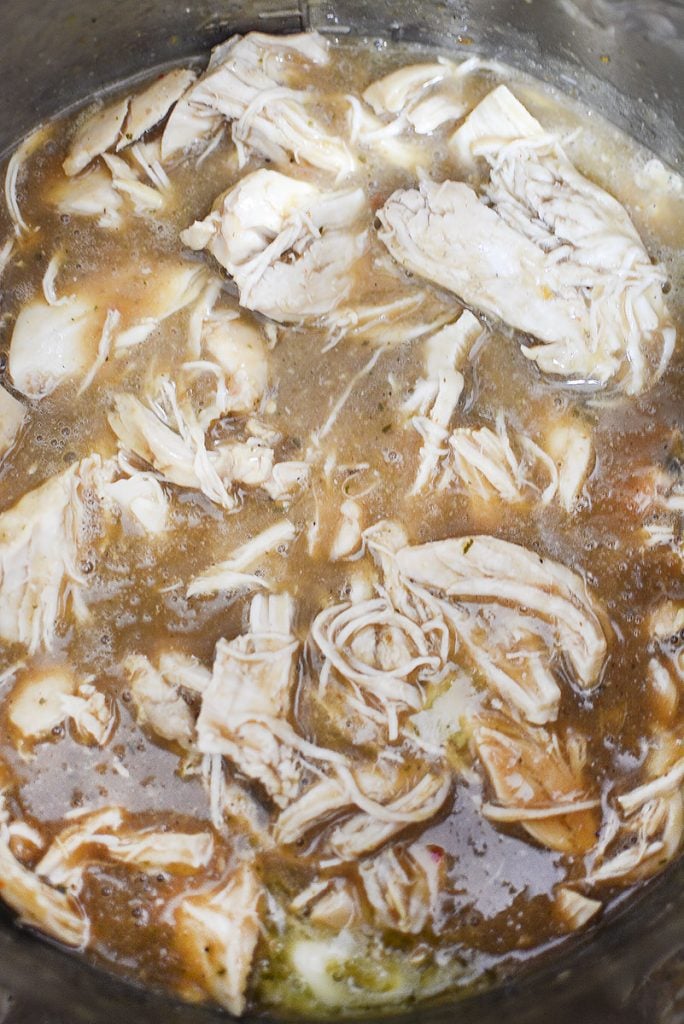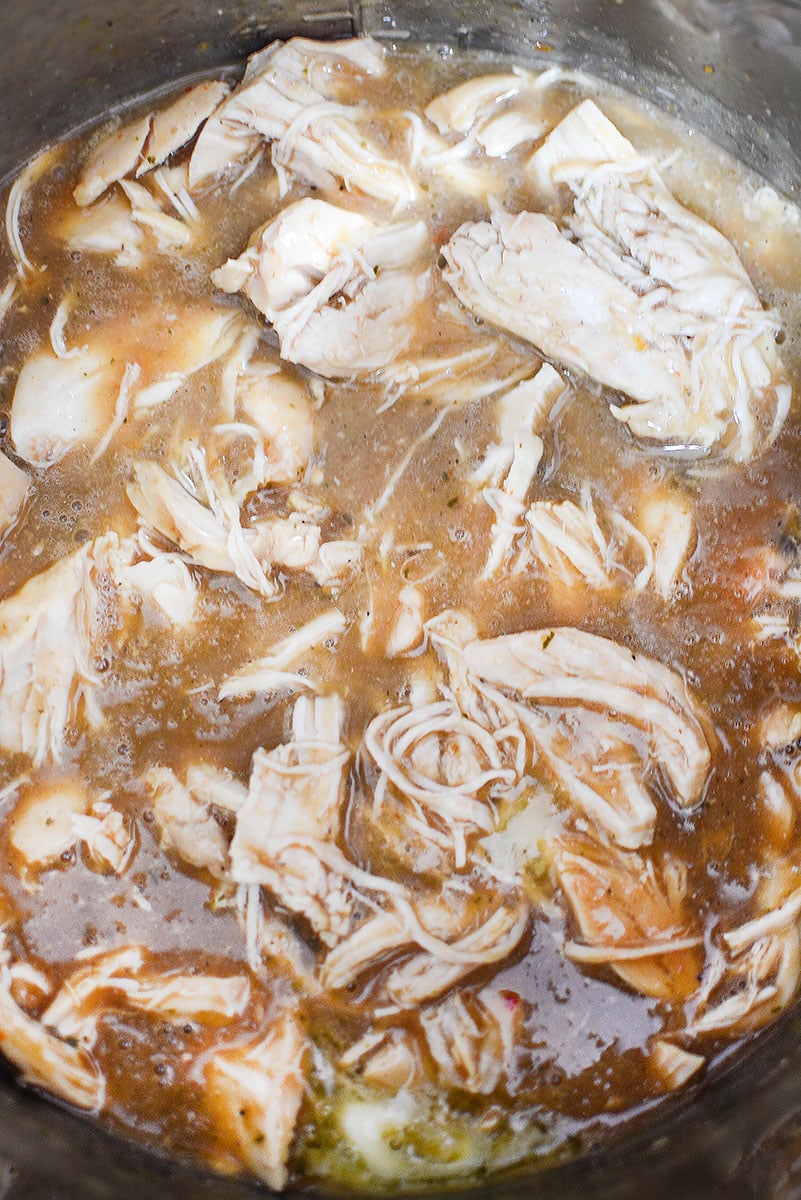 I'm Afraid That This 3 Envelope Chicken Will Be Too Salty!
Honestly, I've had no problems with this at all. However, if you're really worried about it, I suggest using only half of each packet. Then, when you're done cooking, give the gravy a taste. If it's not flavorful enough, add the rest of the packets. If it's just right, then it's just right, and save the extra in the packets for next time!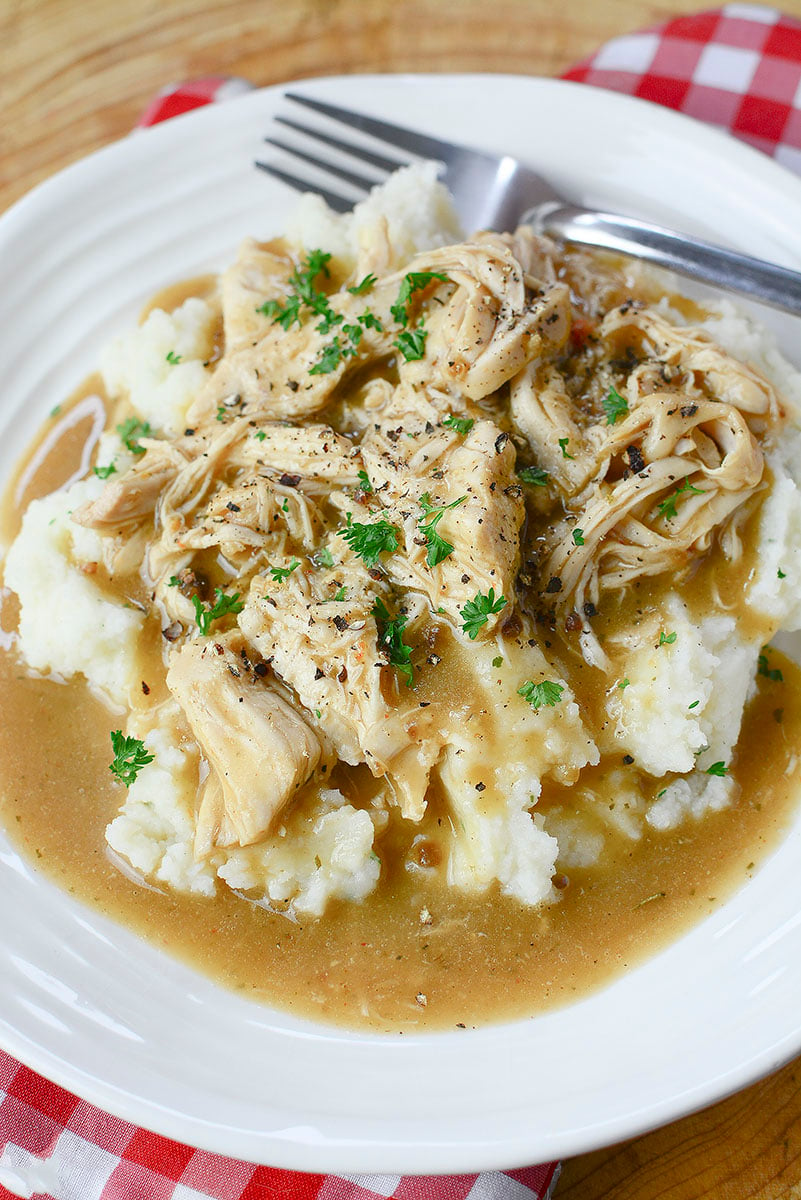 Do You Have Any More Easy Instant Pot Recipes?
I most absolutely do! I have a super creamy and filling Instant Pot Clam Chowder Soup that is out of this world! (Lots of clams!!). I also have a 3 Minute Maple Cinnamon Carrots recipe, and an Instant Pot Taco Tortellini recipe as well! I have many more Instant Pot and Ninja Foodi recipes on the blog – I invite you to click on over and take a quick peek at them!!
I hope I've convinced you to try this super delicious 3 Packet Chicken recipe! When you try it, please leave a comment (or you can email me directly at joanne@thesaltypot), and let me know what you thought of the recipe, or how you might have changed it up. I'm always down for new ideas!!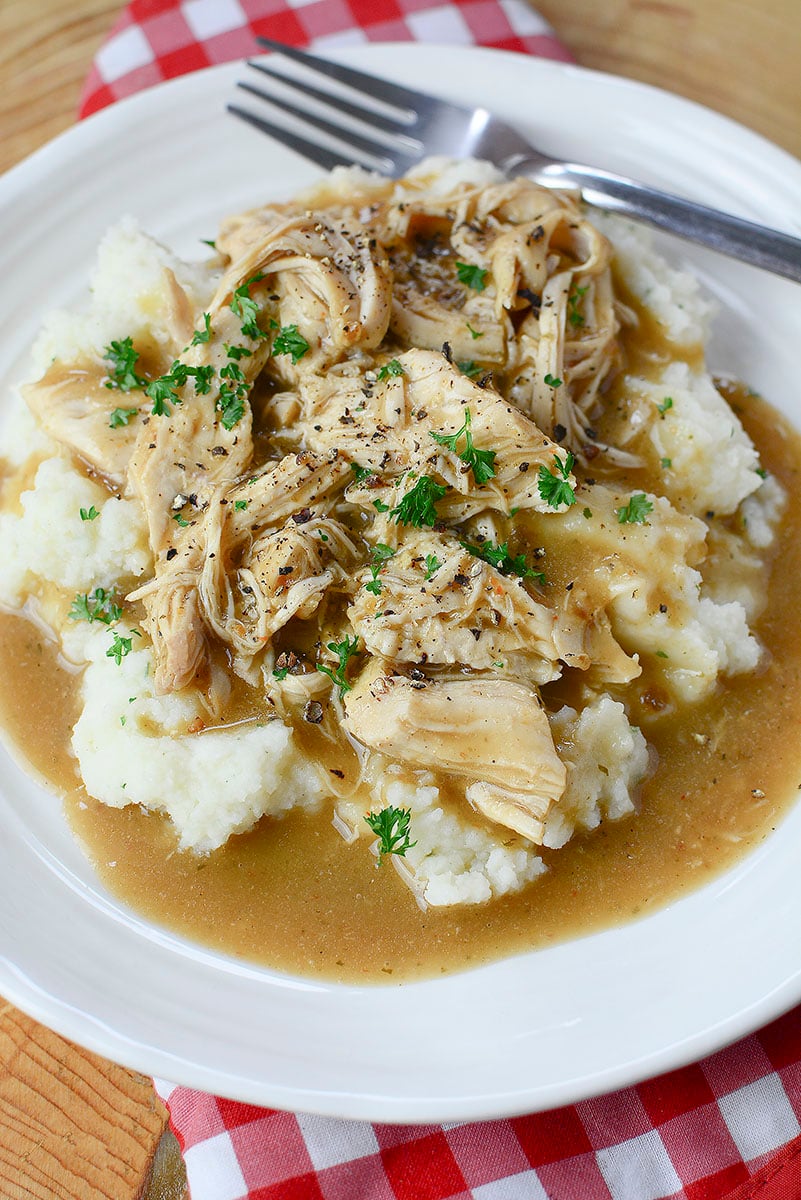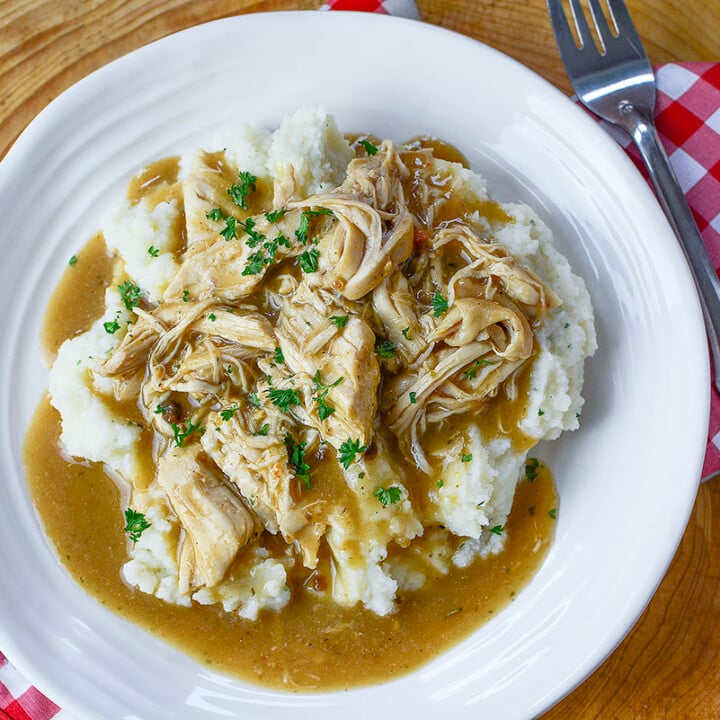 Instant Pot 3 Packet Chicken
Additional Time:
10 minutes
This Instant Pot 3 Packet Chicken is the epitome of comfort food! Tender, juicy chicken shredded with lots of savory gravy for buttery mashed potatoes!! Perfect for any day of the week!
Ingredients
4 chicken breasts (approx 1 ½ lbs)
1 Hidden Valley Ranch packet
1 Chicken Gravy packet
1 Italian Dressing packet
1c chicken broth (or water)
as desired, salt and pepper
1 tablespoon cornstarch (optional, see notes below)
2 tablespoon water (optional, see notes below)
Instructions
Season chicken with salt and pepper
Pour the chicken broth into the Instant Pot cooking bowl liner
Place the chicken in the bottom of the bowl liner
In a bowl, mix all 3 packets together well
Sprinkle over top the chicken breasts.
Place the lid onto the Instant Pot and cook on manual, high pressure for 10 minutes. Don't forget to move the toggle switch at the top to "sealing"!
After the 10 minute cook time is complete, let the IP do a natural release. After ten minutes, move the toggle switch to "vent" and let any extra pressure be released.
Transfer all the cooked chicken to a plate. With two forks, shred the chicken into the size of shreds that you prefer.
Mix the gravy in the bottom of the Instant Pot. If you would like it thicker, add the cornstarch slurry. If you like the consistency of the gravy as it is, simply return the chicken to the gravy and mix. (See notes for thickening the gravy below).
Serve over mashed potatoes and enjoy!
Notes
The cornstarch slurry is used when you want a thicker gravy. The chicken gravy packet usually has a thickener in it, but you might find after cooking, the gravy is still too thin for your liking you may want to add a cornstarch slurry.
To thicken the gravy - Mix together the cornstarch and water in a small bowl and pour into the gravy mixture BEFORE you return the chicken to the Instant Pot bowl. The extra heat should be enough to thicken the gravy. If it's not, then press the saute button and stir the mixture until it's thickened. Then return the shredded chicken to the gravy and stir.
To make this 3 packet chicken in a slow cooker: Add everything to the slow cooker bowl and cook on low for 7 - 8 hours or high for 5 - 6. Remove the chicken and shred, then add back to the gravy. For thickening the gravy, follow the instructions above.
Nutrition Information:
Yield:

4
Serving Size:

1 ½ c
Amount Per Serving:
Calories:

241
Total Fat:

7g
Saturated Fat:

2g
Trans Fat:

0g
Unsaturated Fat:

5g
Cholesterol:

105mg
Sodium:

520mg
Carbohydrates:

4g
Fiber:

0g
Sugar:

1g
Protein:

38g