So you love those Greek/Mediterranean flavors? Want an easy way to make pork chops with those flavors?? I gotcha covered with these Grilled Mediterranean Pork Chops!!!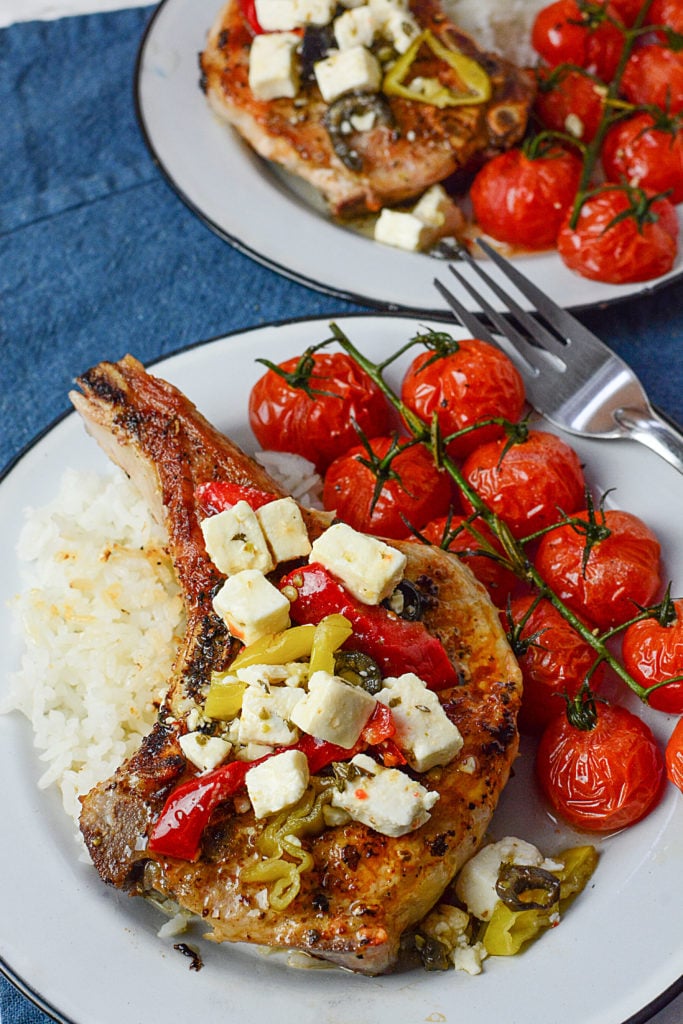 GRILLED MEDITERRANEAN PORK CHOPS
I absolutely love those flavors of feta cheese, black olives, oregano, etc. They're typical of Mediterranean flavors, but for sure that's not all-encompassing. There are many other flavors that can be under the umbrella of Mediterranean flavors, but these are my favorite!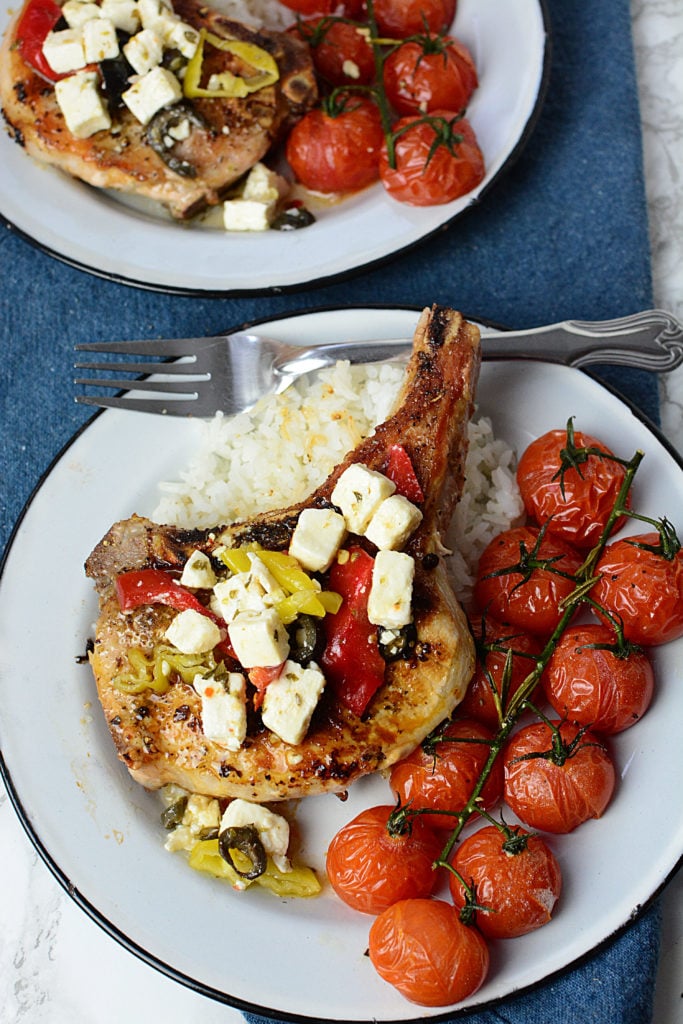 Ingredients For These Mediterranean Chops
Ok, so, typically, when I make these delicious chops, I would use ingredients such as:
– cubed feta cheese
– black olives
– olive oil
– lemon juice
– oregano
– garlic
– salt and pepper.
But! Guess what? Today, I tried something a bit different. I picked up this 'antipasto' mix of almost those same flavors I described above. The only difference was that they also added spicy banana peppers to the mix.
I was totally cool with that!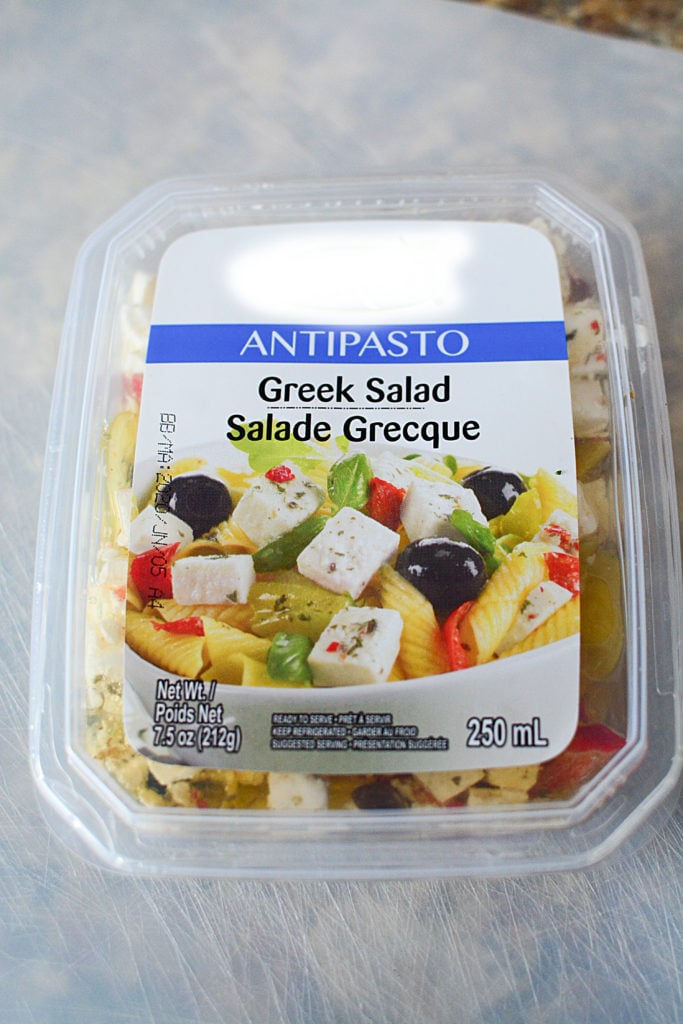 Here's a pic of the prepared mix I am talking about:

It has feta cheese, black olives, red peppers, spices, etc all encased in oil (olive oil, I think). I blocked out the name because this post isn't sponsored by anyone, and I didn't want any readers to think they needed to find this EXACT brand. Trust me, ANY brand of this mix will do.
Heck, I've even seen this type of mix in the kiosks where they sell all sorts of different olives where you scoop the amount you want into a container.
You can buy these mixes to throw into cooked pasta to make a greek pasta salad. But today I wanted to use them with my pork chops! If you can't find this type of mix, it's no problem. Just pick up the ingredients I listed above to make the normal recipe of these Mediterranean Pork Chops.
What Type Of Pork Chop Is Best To Use?
Well, my dear reader, I'd say that ANY type of chop will be perfect! Use what you have on hand, or whatever is on sale! You can use:
– Boneless pork loin chops
– Fast fry bone-in chops (just watch the grilling time for those!)
– Bone-in thick chops
– Boneless pork steaks
– Country-style pork ribs even!
What If I Don't Have A Barbeque/Grill?
Again, NO problem! In fact, I didn't use my grill to cook these chops because it is currently under a 100 feet of snow right now, seeing that it's the beginning of January.. lol. I used a GRILL PAN on my stovetop to make up these delicious chops!
Making These Chops Right!
Ok, so first you'll want to season the chops. I used salt and pepper, garlic and some oregano. You can let sit, packaged up in the fridge for a while (even overnight!) if you want. Today, I only let them sit for an hour.
Get the grill piping hot to get some nice grill marks on the chops, then turn down the heat. You want to not move the chops around as much as possible to develop those marks!
Another option is to finish them in the oven if you prefer, but I wanted things to be easy, so I did everything on the stovetop this time around.
When using the grill pan, you can add some good olive or avocado oil in the pan to prevent sticking, but if you find that antipasto mix I showed you earlier, simply use a bit of that oil to fry those chops in. It will definitely add some awesome flavor!
When the chops are done grilling, remove from the heat and let them rest a few minutes. Then, when plating, scoop some of the antipasto mix over the top of the grilled pork chops. OHHHH MY GOODNESS!! These chops are SO incredibly delicious!!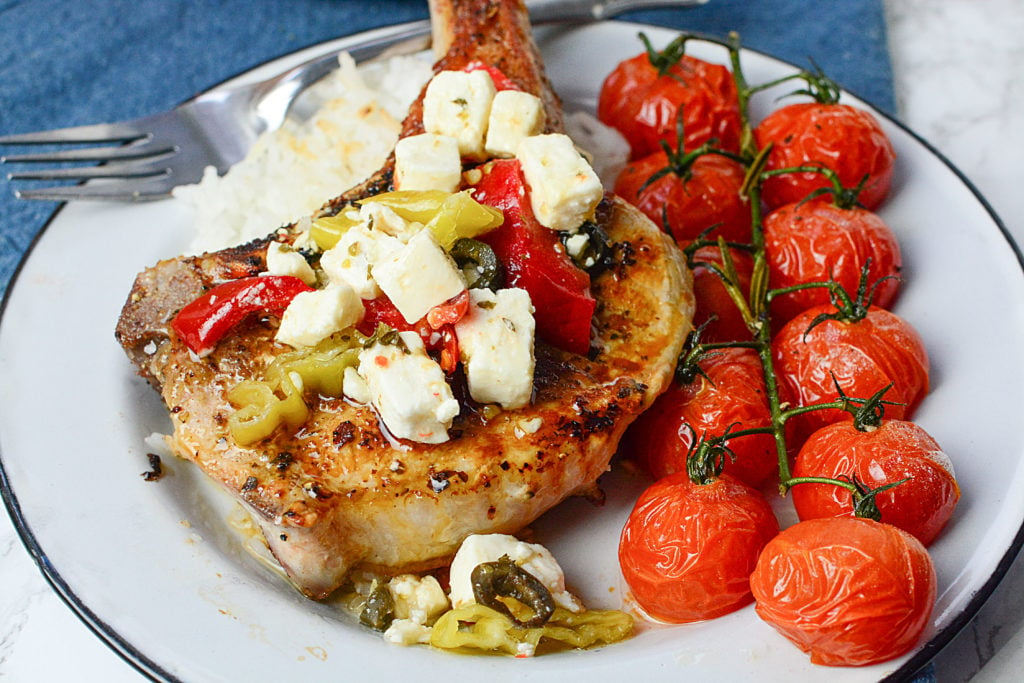 Sides For The Grilled Pork Chops
You can serve all sorts of different things. For instance:
Roasted Mediterranean Tomatoes on the Vine – That recipe is for the tomatoes you see in the photo!
Pasta salad – you could pair the pasta and the pork together and use the antipasto mix to echo the flavors in each item!
Corn
Asparagus would be awesome and great color contrasts on the plate!
Roasted Lemon Potatoes would be incredible!
Sliced cucumber salad
and of course, a greek salad would be perfect!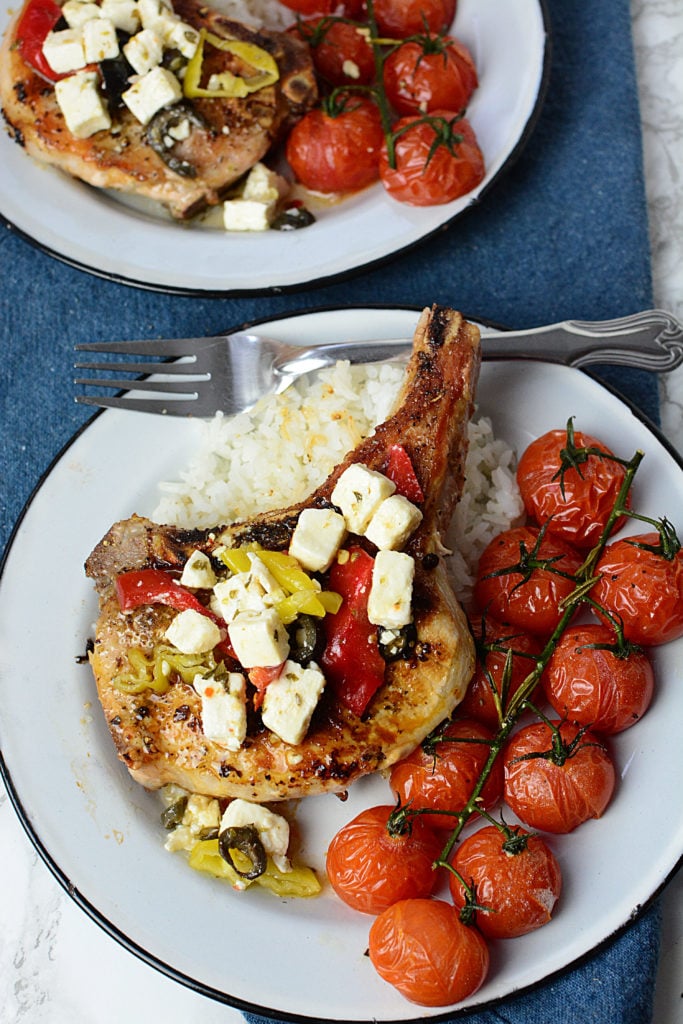 Can I Freeze These Grilled Pork Chops?
For sure! However, if you freeze them with the antipasto mix on top of them, you'll want to remove the cubed feta cheese off the chops before you heat them up. Otherwise, the cheese will melt on top of the pork and then that's not so great.. lol
How Long Will The Grilled Chops Last in the Fridge?
After they are cooked, I'd keep them up to five days in the fridge. Keep in mind, internal temperature for cooked pork chops would be 145 degrees with a 3-minute rest, according to Pork Temperatures.
***Hey! While you're here, don't forget to pin this Grilled Mediterranean Pork Chops recipe to your favorite Pinterest board to use for later!! ***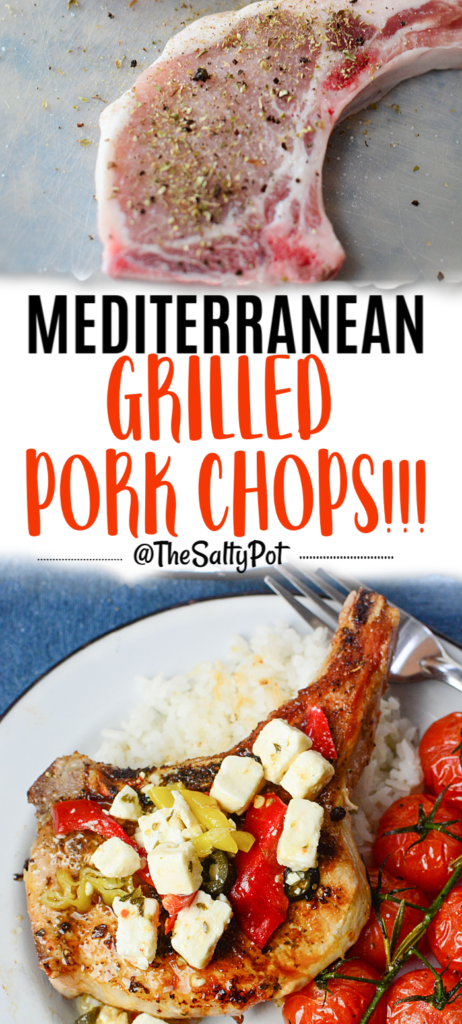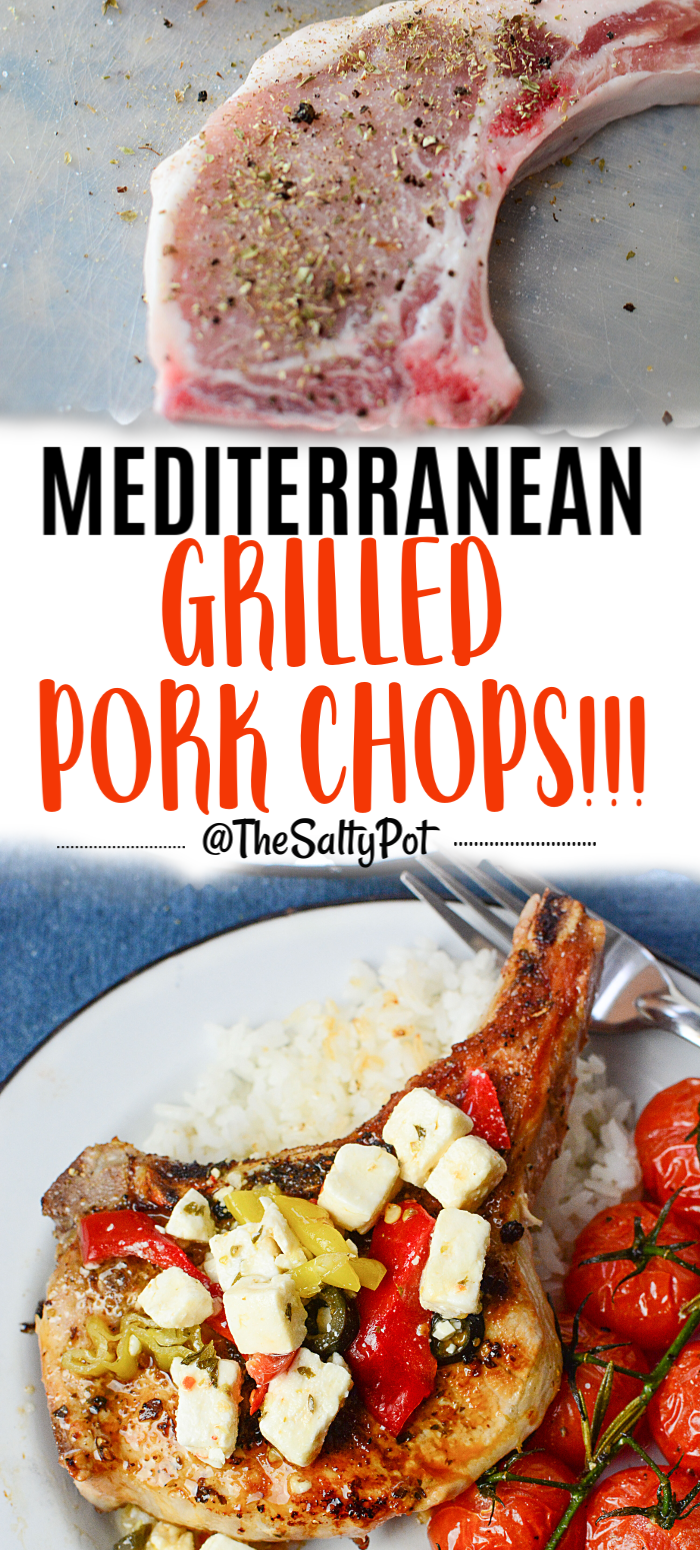 So my lovelies, I hope that this recipe sees it's way to your dinner table. When you make these awesome grilled Mediterranean pork chops, why not drop me a line and let me know what you thought of them?!?! Also, if you have any questions, comment below, and I'll answer them asap!
Thanks so much for stopping by The Salty Pot today, and I hope you have a truly awesome day!! See you next time!
~Joanne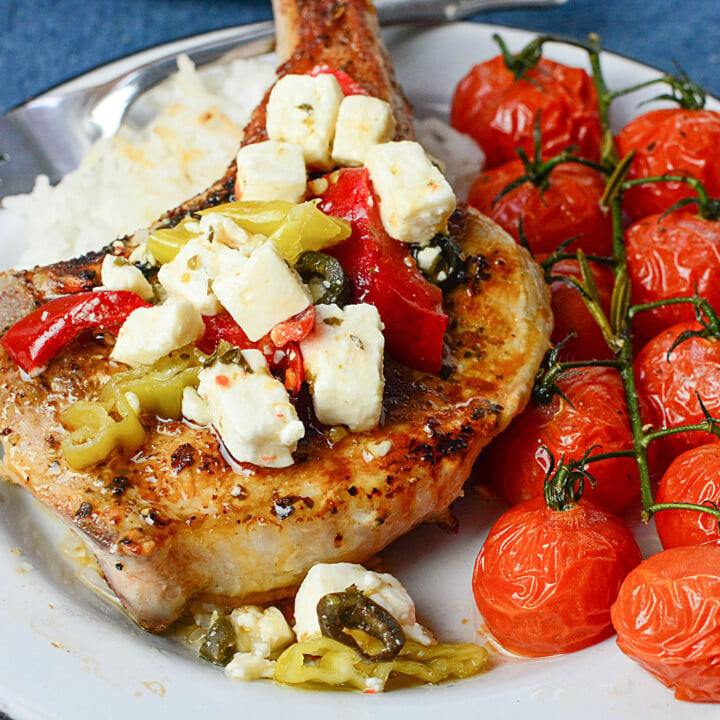 Grilled Mediterranean Pork Chops
Additional Time:
3 minutes
If you like those grilled Mediterranean flavors, this grilled pork chop recipe is for you! Juicy with the savory flavors of feta cheese, black olives, oregano, and lemon, these chops are so incredibly delicious that you'll want to add them to your regular rotation!
Ingredients
2 pork chops (see notes)
as desired, salt and pepper
1 tsp garlic powder
1 tsp oregano
1/2 c cubed feta cheese
2 tbsp olive oil
2 tbsp sliced black olives
splash of lemon juice
Instructions
Season the pork chops with salt, pepper, garlic powder, and oregano. Season both sides.
Heat up a grill pan and oil the pan to prevent sticking.
Place the chops in the pan and try not to move them around much as possible except to flip. Grill over high heat to develop the grill marks on both sides, and then turn down the heat to medium-low to let them cook through to an internal temp of 145.
While the chops are grilling, in a bowl, mix together the cheese, black olives, oil and splash of lemon juice.
When the chops are finished grilling, let them rest for 3 minutes.
Upon serving, spoon the feta cheese mixture over the top of the chops. Enjoy!
Notes
1. Use any pork chop type that you would prefer. If you use fast fry chops, be careful of the grilling time as they will cook through a lot faster than a chop that might be a 1/2" thick or so.
2. If you purchase the pre made antipasto mix, feel free to use some of the oil that the veggies and cheese are packed in, to fry the chops in.
3. Grilling temperatures for the pork chops is 145 degrees. Using a meat thermometer makes this job accurate to test!
Nutrition Information:
Yield:

2
Serving Size:

1 chop
Amount Per Serving:
Calories:

565
Total Fat:

40g
Saturated Fat:

13g
Trans Fat:

0g
Unsaturated Fat:

23g
Cholesterol:

165mg
Sodium:

643mg
Carbohydrates:

4g
Fiber:

1g
Sugar:

2g
Protein:

46g