Oh my gosh! If you have a craving for some good old comfort food, this Instant Pot Clam Chowder Recipe is just what you need! This is by far the BEST clam chowder I have ever tasted and I am (almost) willing to bet you will think that too!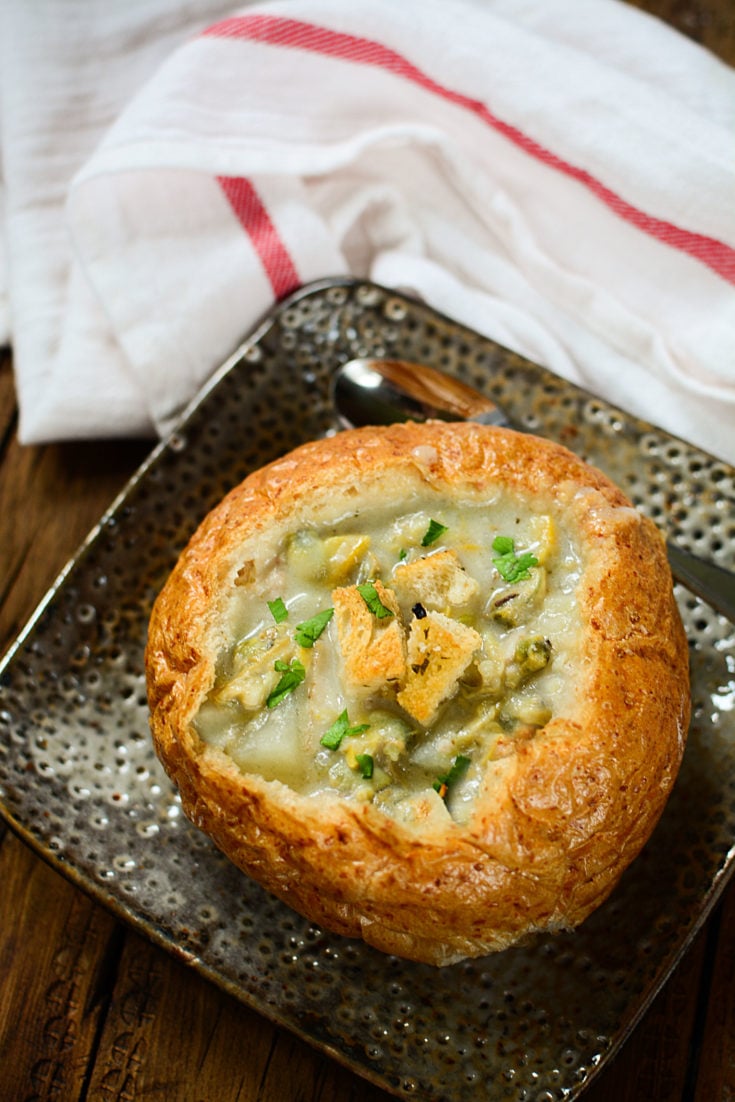 I love to serve this easy Instant Pot clam chowder on a cool fall or frigid winter night. It keeps you warm and it makes great leftovers too. Sometimes, I will make a large batch and eat on it for several days.
You would be surprised how many meals you can make out of one batch of this Instant Pot clam chowder. Try it with some hot bread because you know how well comforting soup and soft fresh bread go together!
Hey, also, don't forget to check out my Instant Pot Beginners Guide because it has TONS and TONS of helpful tips and information.
What Is Clam Chowder?
Okay, if you don't know what clam chowder is, we need to have a serious talk! It's a creamy white thick chowder that has flavorful clams, delicious bacon and it's loaded with potatoes.
It's truly an amazing (and I might even say, the epitome of) comfort food that will fill you up and keep you full. You may have eaten clam chowder at a restaurant in the past, but as with a lot of easy diner-type food, we always find when we make it at home, it's WAY better.
This is your chance to give it a try, because you are going to love the amazing flavor combination you get.
How To Make Clam Chowder
Want to find out how to make the best Instant Pot clam chowder ever? Keep reading, and here's the bonus – with the Instant Pot, you don't even have to put in a ton of effort! Check it out:
First Step: Drain the clams and reserve the juice for later. Then turn on the saute function on the Instant Pot and cook the bacon, celery, onion, garlic, and Italian seasoning.
The bacon should be crispy and the onions translucent.
Second Step: Pour in the wine and let it sautee for another minute. Then toss in the chopped potatoes and cook for 2 minutes.
Third Step: Pour in the clam juice and broth of your choice. I used my homemade instant pot fish broth.
Fourth Step: Make sure the steam release valve is set to sealing. Cook on high pressure for 3 minutes and then do a 5-minute natural release. Then finish with a quick release.
Fifth Step: Remove the lid, stir and put in the whipping cream. Add a little bit of salt or other seasonings you like.
Sixth Step: Using an immersion blender, blend the soup until it reaches the texture you like. I like it chunky, but you can make it smooth if you want.
Seventh Step: Place the clams in the chowder and let the soup rest for 5 minutes to heat the clams through. Then serve!
How Can I Make This Instant Pot Clam Chowder Low Carb?
If you are looking for a keto clam chowder, you are in luck! You can easily take this Instant Pot chowder and transform it into a low carb dream recipe. Plus, it's super EASY to do too!
All you have to do is simply leave out the potatoes. Then to thicken the sauce use xanthan gum mixed with a bit of water, and it will turn out beautifully every time.
New England vs. Manhattan Clam Chowder
My recipe is a New England clam chowder. New England clam chowder is a cream-based clam soup You will almost always find crispy bacon and briny clams in this version.
When it comes to the Manhattan clam chowder, it has a tomato-based broth and there isn't any cream that's been added. Both clam chowders are full of flavor and will make your taste buds happy. So, I say try them both!
How Long Does Instant Pot Clam Chowder Last In Fridge?
You can keep this Instant Pot clam chowder in an airtight container in the fridge for up to 4 days. To reheat it, just warm it up in a saucepan on the stove (medium-high heat) until it's hot. You can also warm it in the microwave if you would rather. Just cover it with a paper towel so it doesn't splatter.
Unfortunately, this easy Instant Pot clam chowder doesn't hold well in the freezer. When it comes to clams they aren't the easiest to freeze because of their texture changes.
Want More Instant Pot Recipes?
If you can't get enough Instant Pot recipes, you are in luck! Here are some amazing ones to try out. 🙂
When you try this Instant Pot Clam Chowder, I'd love it if you let me know what you thought of the recipe! Did you make any changes? Improve it? Let's hear about it!! In the meantime, let me thank you for stopping by The Salty Pot today, and I hope you have a really fantastic day!!
***DON'T FORGET TO PIN THIS INSTANT POT CLAM CHOWDER SOUP RECIPE TO YOUR FAVORITE PINTEREST PIN TO USE FOR LATER!!***
Hearty Instant Pot Clam Chowder Soup
Additional Time:
5 minutes
A super hearty and delicious instant pot clam chowder soup. Made in a snap in the instant pot, and packed full of yummy clams, this creamy, hearty, and yummy soup will be requested again and again!
Ingredients
3 cans clams, drained & reserve juice
2 cups seafood/fish/chicken broth
6 slices of MINCED bacon
½ minced onion
2 ribs celery, chopped
1 lb potatoes, peeled and chopped
1 cup heavy whipping cream
¼ c white wine
1 teaspoon garlic, minced
1 teaspoon italian seasoning
1-2 bay leaves
salt and pepper as desired
Instructions
Drain the clams and reserve the juice. (you want around 2 cups of clam juice, but if there is not enough, add the seafood/fish/or chicken broth to make up the two cups.)
Press saute on the instant pot and add the bacon, celery, onion, garlic, and Italian seasoning. Saute until the bacon becomes cooked and the onion is translucent.
Add the wine and saute for another minute or so.
Add the chopped potatoes. Saute for another minute or two.
Add the 2 cups of clam juice and add another the seafood/fish/chicken broth.
Move the toggle switch to the "seal' position and cook on manual, high pressure for 3 minutes, with a natural release of 5 minutes.
After cooking time is complete, move the toggle switch to 'vent' and release any remaining steam.
Remove the lid, and give it a stir. Add the whipping cream.
Taste for seasoning (may need more salt, depending on how 'briney' the clams are).
With an immersion blender (or potato masher), begin to blend the soup to your desired texture. I prefer it thick but still with some potato chunks and other veggie bits. But if you want it super smooth, puree to your heart's content. 🙂
Add the clams and stir. The clams will warm through from the heat of the soup.
Notes
1. Feel free to omit the white wine if you prefer, or use a non-alcoholic white wine.
2. When sauteing the bacon and other ingredients, you shouldn't need any butter as the bacon will render the fat, but if the mixture is too dry, add a teaspoon of butter for better browning.