Seriously my lovies, this is Instant Pot Spiced Apple Butter is one of the easiest, (and I'll bet the best) spiced apple butter recipes you've ever made!
Easy Fall Recipe: Homemade Apple Butter
Fall is the perfect time to put those fresh and juicy apples to use! If you've managed to get your hands on a few and you're looking for some good recipes to try out beyond apple pies, here's an easy, must try recipe you can recreate with minimal effort and time- Homemade Apple Butter!
What Exactly Is Apple Butter?
In its simplest form, apple butter is just a concentrated form of applesauce- but with added spices and simmered for a much longer period of time which allows it to thicken and have that nice caramelized flavor too.
Ready to go ahead and give it a try? Here's everything you need to know before you do!
Picking the Right Apples For Apple Butter
Softer varieties of apples usually work best when you're trying to make apple butter. Granny Smith apples are generally good for baking, but if you're making applesauce or apple butter, opt for varieties like Ambrosia, Macintosh, Fuji or Gala.
Honeycrisp are wonderful apples. Juicy and sweet/tart but expensive. So you want to really find something on sale, or if you have (or know someone who has) an apple tree, you're in business!
You can also try and mix up the varieties to get the best flavor.
Why Use an Instant Pot?
While most apple butter recipes will tell you to use a regular cooking pot, I used an instant pot when I made it. The pressure from the instant pot didn't just cut down the cooking time considerably (great for you if you're trying to speed things up a bit) but also helped evaporate the moisture from the mixture quickly and thicken it faster- using the saute function.
Incidentally, if you're new to using an Instant Pot, I have a good little beginner's guide that may help you feel a little more comfortable around using it.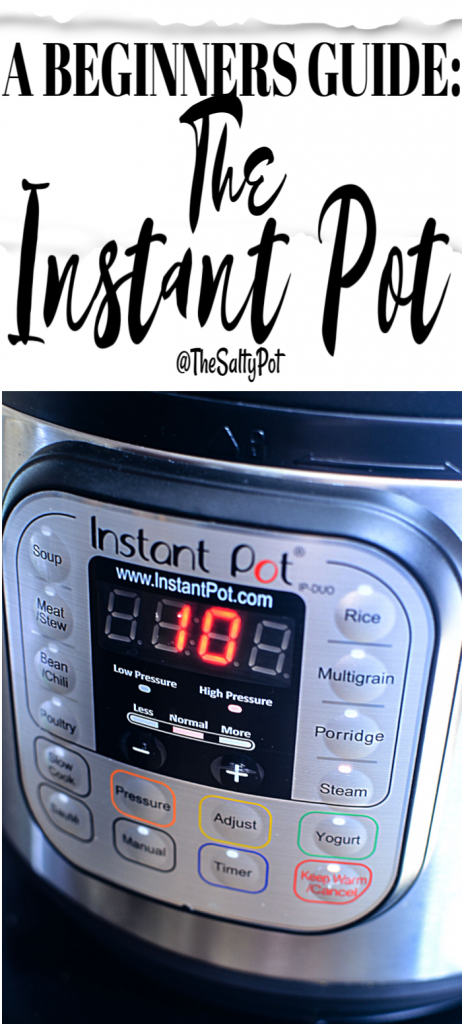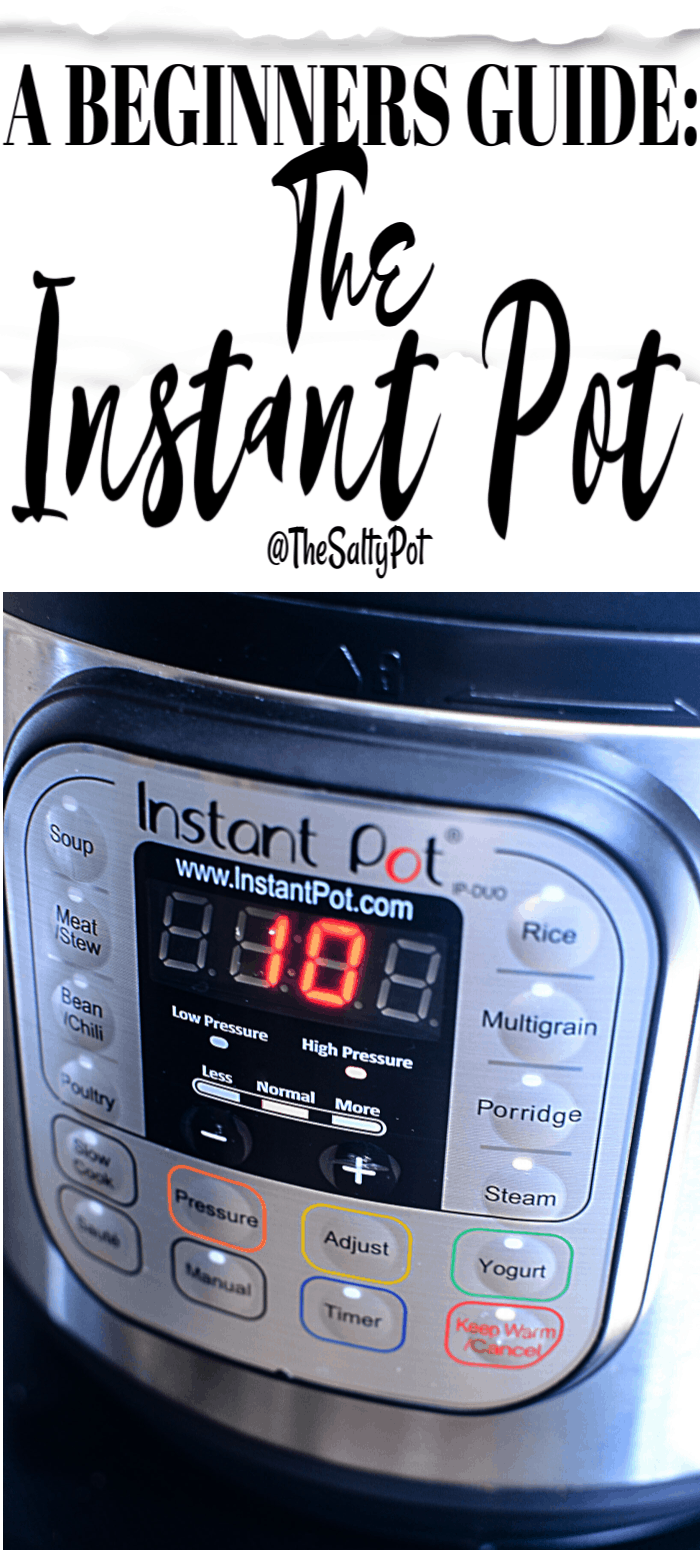 Do I Have To Use An Instant Pot For This Apple Butter?
No not at all! There's nothing wrong with using the traditional stove top method to make your apple butter. It will take a lot longer to make because the pressure cooker (Instant Pot, Ninja Foodi, etc) help speed up the cooking time. Then when you use the saute function, it helps evaporate a lot of the moisture, concentrating those lovely flavors!
What About Using My Slow Cooker To Make Apple Butter?
For sure! Here's a great recipe to try for slow cooker apple butter from Erin Brighton at Camp Brighton Blog. She uses molasses in hers which hmmm… I think I'll have to try on my next batch!!!
How To Use Your Homemade Apple Butter
Apple butter is undoubtedly one of the easiest and versatile creations you could be whipping up with your apples. You can use it as a replacement for pumpkin sauce or applesauce or top your morning waffles or pancakes with it.
It also tastes great when spread on toast or added into your bowl of oatmeal.
If you're making roast chicken or turkey, or a slow cooked pork roast, you can also brush it on the top of it towards the end for a nice glaze and flavor.
Also, don't forget about pork chops! Apple butter would be outstanding on them! Yum!
And of course, it tastes great with your cookies, cakes, and other baked goodies too!
Storing Your Instant Pot Apple Butter
Whether you're using store bought, canned apple butter or making the homemade variety, you need to refrigerate it to increase its shelf life- no doubt about that!
Homemade apple butter should stay good in your refrigerator for up to a month. You should have no problems with it lasting as long as you're using a super clean glass jar and a clean spoon every single time you use it.
Of course, don't eat it if it has a funky smell, a weird texture, or anything green and hairy growing on the top 😉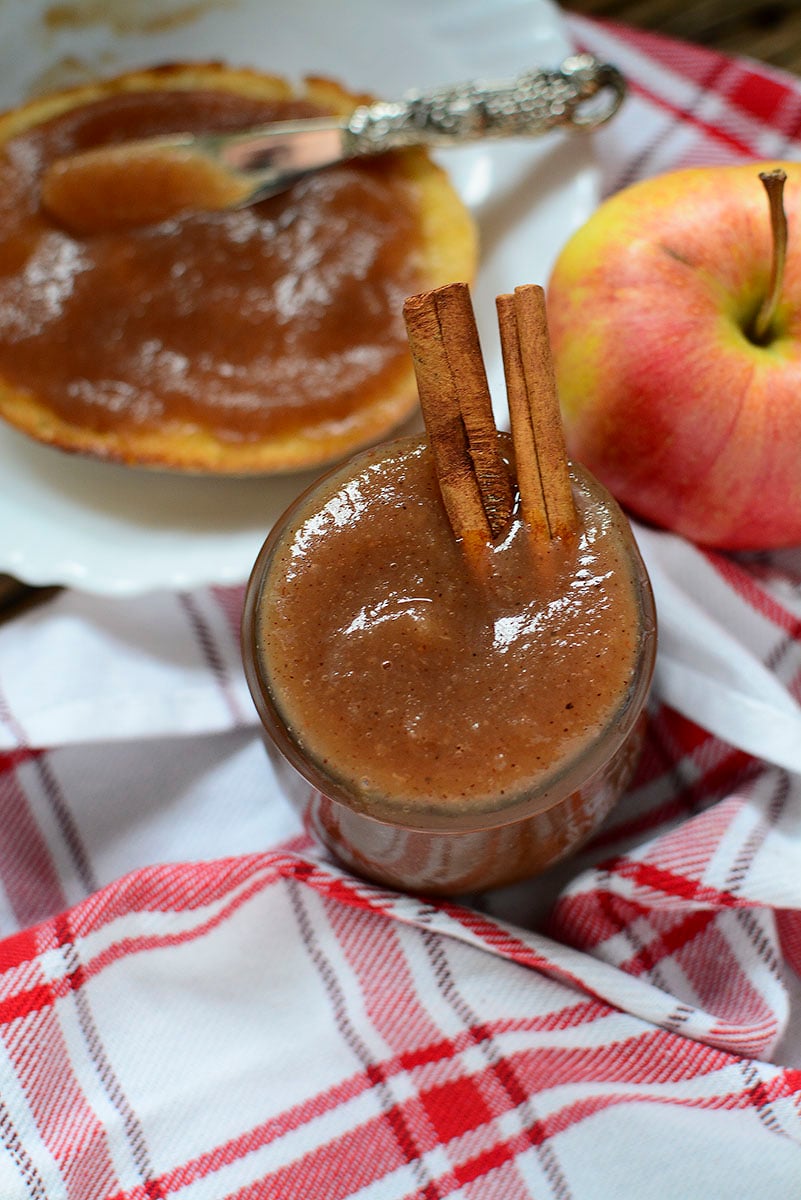 What About Freezing Apple Butter?
Yes, of course, you can always make it in a big batch and pop it into the freezer- it can stay good in there for up to a year.
Just remember to not overfill the containers when you're planning to freeze the apple butter- leave at least half an inch of space at the top.
I would also freeze it in smaller sized containers so you're not having to thaw large amounts at a time and risking that it might go bad.
Can I Just Use Apple Pie Spice Instead Of Those Other Seasonings?
Absolutely! Feel free to add or omit anything you think might be tasty in your apple butter.
Well my dear reader, I hope I've convinced you to give making your very own Instant Pot Apple Butter a try! If you're looking for a few other apple recipes, why not check out:
Super easy and crazy delicious Spiced Caramel Apple Crumble!
These adorable little Apple Pecan Croissants with Butterscotch Schnapps Sauce!
Slow Cooker Apple Blueberry Cobbler
And.. if those aren't enough.. here are 50 MORE APPLE RECIPE IDEAS!!

Instant Pot Spiced Apple Butter
Additional Time:
15 minutes
Sweet with wonderful apple flavors, warmed with fall spices, this Instant Pot Spiced Apple Butter is simple to make and will become one of your favorite condiments!
Ingredients
4 ½ -5 lbs apples, peeled and cored. (see notes)
¼ - ⅓c brown sugar (see notes)
1 teaspoon cinnamon
1 teaspoon vanilla
DASH nutmeg
Dash salt
1 tablespoon lemon juice
⅓c apple juice (see notes)
Instructions
1. Take your peeled and cored apples and add them to the Instant Pot inner cooking pot.
2. Add the water/juice, cinnamon, vanilla, ¼ c sugar, nutmeg, salt and lemon juice.
3. Place the lid on the pot and move the toggle switch to "seal"
4. Press the manual button and dial in 15 minutes. After pressure cooking time has finished, do a natural release for 20 minutes.
5. Turn the unit off, release any remaining pressure from the pot by turning the toggle switch to "vent", and open the lid (away from you) when all steam is expelled. Give the mixture a stir.
6. Take an immersion blender and carefully blend the mixture so that it's nice and smooth. (see notes if you don't have an immersion blender!!!)
6. After blending, press the saute button. Begin to saute the apple mixture and keep stirring so you don't burn it. Stir fairly consistently as the moisture evaporates and the flavor intensifies.
7. Taste the butter as it reduces to assess the sugar levels. If your apples are sweet, you won't have to add more sugar. If you prefer it sweeter, feel free to add more as you like.
8. When the consistency is thick, spreadable and saucy, it's ready to go!



Notes
1. The number of apples you use will depend on the size of the apples you begin with. Use the number of apples that will weigh in around the 4 ½ to 5 lb mark.
2. The amount of sugar you use will depend on how sweet your apples are to begin with. Only use the small amount to begin with and then adjust as you go.
3. Feel free to use water or juice as the liquid. If your apples are juicy, you can cut back on the amount of water, but really, I just use the ⅓c and if the apples produce a lot of moisture, I saute it off after the pressure cooking steps are done.
4. If you don't have an immersion blender, you can CAREFULLY spoon small batches into your blender to make it smooth. HINTS: remove the center plastic cup in the lid and cover with a heavy dishcloth. The steam from the apple mixture can cause it to bubble up and burn, so you must cover the center hole with a thick cloth to prevent burning yourself.
Nutrition Information:
Yield:

96 tablespoons
Serving Size:

1 tablespoon
Amount Per Serving:
Calories:

57
Total Fat:

0g
Saturated Fat:

0g
Trans Fat:

0g
Unsaturated Fat:

0g
Cholesterol:

0mg
Sodium:

3mg
Carbohydrates:

15g
Fiber:

3g
Sugar:

11g
Protein:

0g